Here's our comparison of insulated vs uninsulated patio covers with pros and cons, cost and best features.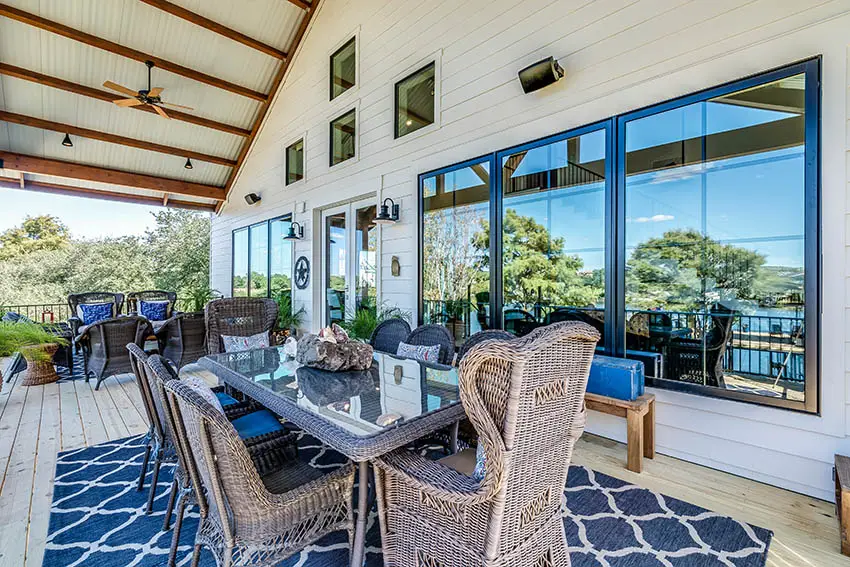 When looking into getting a patio cover there are a few selections that need to be chosen: type, material and size. There will be a big price difference based on these selections.
Researching the climate you are in and the features that are important to you beforehand can make for an easier selection process.
Differences Between an Insulated vs Uninsulated Patio Cover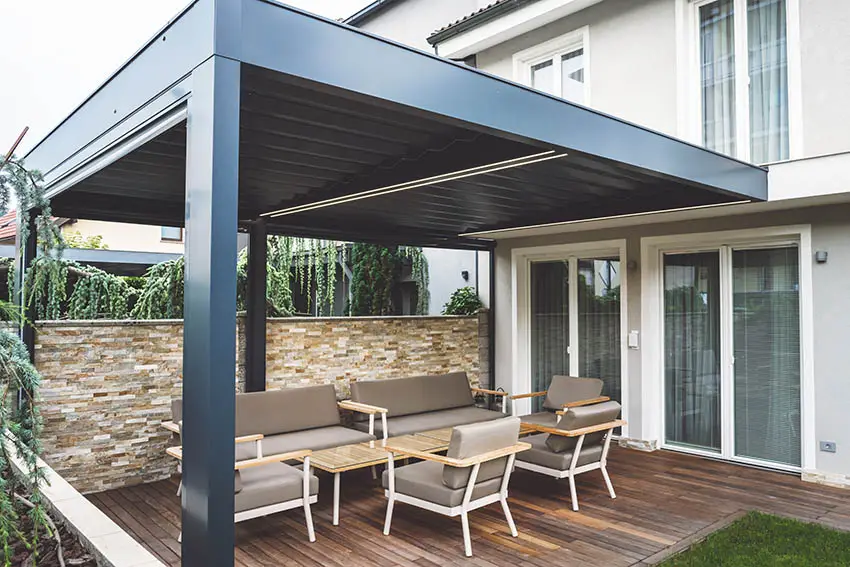 The biggest difference between and insulated and uninsulated patio cover is going to be the temperature depending on the specific location. An insulated roof can help prevent heat from penetrating as much through to the patio.
Another factor that should be taken into consideration is how many sides the cover has open; this can change the effectiveness of each of the products.
Some patio covers only include only a top, and others can have sides enclosing it in. Insulated covers typically have more sides than an uninsulated top to help with the temperature control.
Based on the materials selected that can also be a large factor in deciding where to go with insulated versus uninsulated patio covers.
Insulated patio covers need to be a solid surface so there is a place to put the insulation in the material.
When it comes to uninsulated patio covers there are solid options as well as lattice options for added style to match the design you are looking for.
Insulated vs Uninsulated Patio Cover Pros and Cons

Insulated Pros:
Better looking – Insulated patio covers can be more attractive, and add more value to a home if you get the right kind.
Prevents heat penetration – These are beneficial to the home value because of their ability to retain the temperature of a space as well as protect it from certain outdoor elements.
Conceal cabling – An insulated roof cover can conceal electrical wiring for ceiling fans and lights.
Add resale value – An insulated roof cover can be a benefit to many different types of patios and increase their value.
Insulated Cons:
Higher cost – With the cost of insulated patio covers being significantly higher than the typical uninsulated choice one may choose to reap the functional quality benefits over the aesthetics benefits.
This can be done by choosing a cheaper, less attractive cover. There are also a few less options that are available for insulated patio covers. Price is also a pretty big con if you are not ready to spend much.
Limited color choices – Most insulated patio covers come in only a few color choices.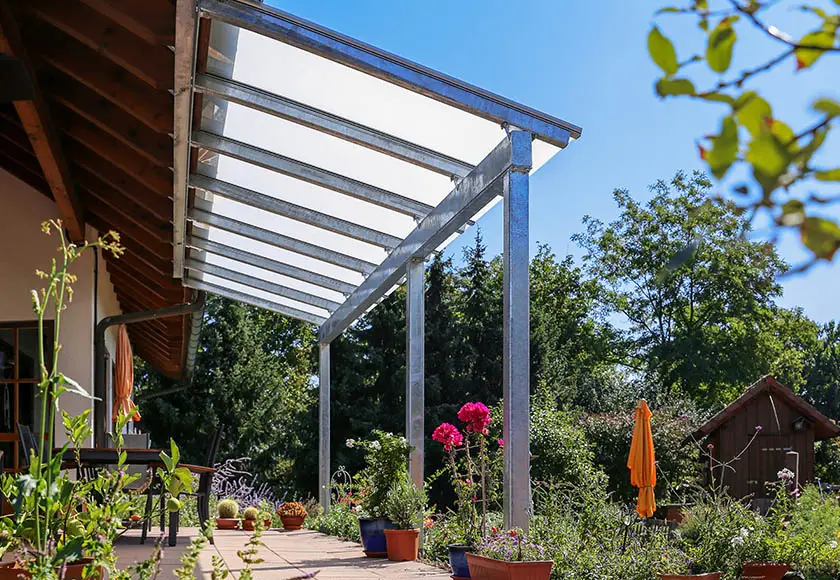 Uninsulated Pros:
Cheaper – Uninsulated patio covers tend to be cheaper than the insulated ones, depending on design.
Versatility – Uninsulated covers can also be more versatile as they have the ability to be lighter weight without the insulation bogging it down.
Provide shade – Uninsulated covers still provide shade to the patio which can help with some temperature regulation in the daytime.
Uninsulated Cons:
No temperature control – Unfortunately uninsulated patio covers do not provide ultimate temperature control like the insulated ones.
Longevity – Depending on the material the uninsulated model could be less likely to last that long, especially if wood is the option selected, vinyl would be a better choice for a longer life span.
Uninsulated Patio Cover Cost
An uninsulated patio cover could range in cost depending on the material selected. Uninsulated patio covers are less expensive than insulated ones. Some of the most popular options are listed below.
Aluminum: Aluminum covers are the standard and typically run about $10 to $15 per square foot.
Wooden: A solid wooden cover could be about $7 to $14 per square foot, with a lattice top being about half that, since it requires half as much wood.
Vinyl: A solid vinyl patio cover could run about $4 to $6 per square foot, with a lattice top being about $2 to $4.5 per square foot.
Installation can be an add on when it comes to patio covers, unless you would like to complete it as a DIY. Uninsulated patio covers are something that can be done with minimal experience, and sometimes comes in kits made for do it yourselfers.
Insulated Patio Cover Cost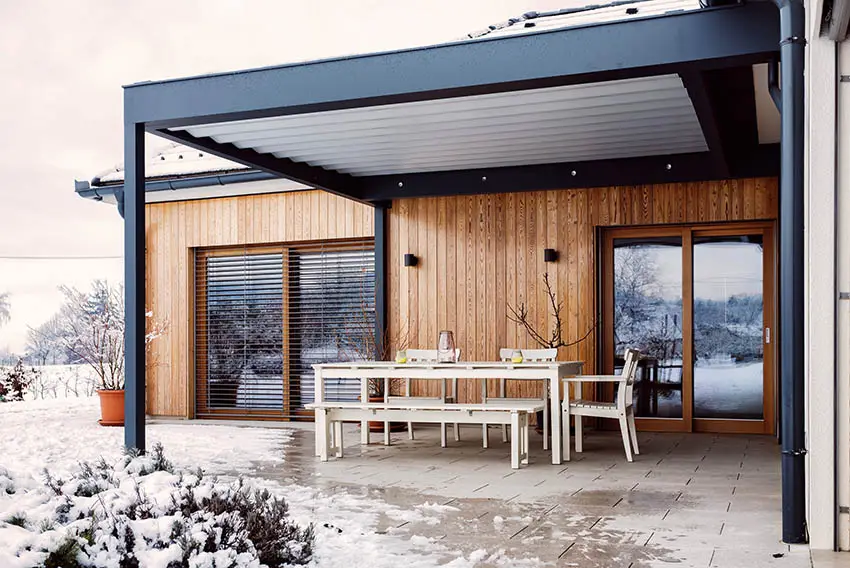 Insulated covers are required to have structural foam inside, which means there are not as many different materials to pick from.
The average price for an insulated patio cover that is attached to a home is about $14 per square foot. If the patio cover is to be freestanding it can run closer to $20 per square foot.
These prices can be raised based on need for professional installation or any work that needs to be done in conjuncture with the installation of an attached patio cover.
Are Insulated Patio Covers Worth It?
Insulated patio covers are the most beneficial in climates that have a vast change throughout the year. The insulated cover is also most effective when there I not any airflow to change the temperature of the space naturally.
Insulated patio covers can last longer than uninsulated patio covers when they are properly cared for.
For more related information visit our page on enclosed patio designs.