This comparison of cantilever vs offset umbrella designs features what they are, their pros and cons, differences, cost, and which umbrella is best for your patio.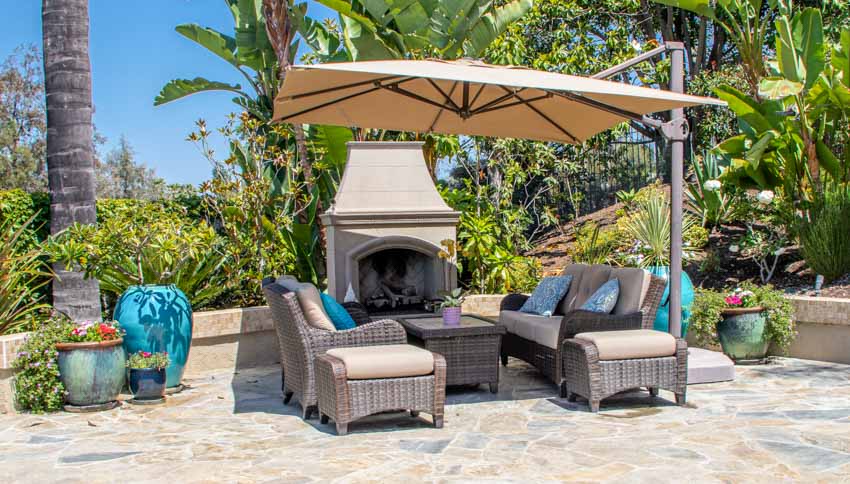 Enjoying the sun's warmth without exposing your skin to UV rays can be possible by using an umbrella. More than just protection against too much heat, the umbrella can also be the focal point of your patio to bring people together. And this will make it a lot easier to design your patio. But what would be the best kind to use?
Two of the most popular options you can explore are the cantilever umbrella and offset umbrella. These two umbrellas are both a favorite of many homeowners that they are sometimes interchanged with one another. This is why learning and exploring more about them will help you distinguish one from the other.
What Is A Cantilever Umbrella?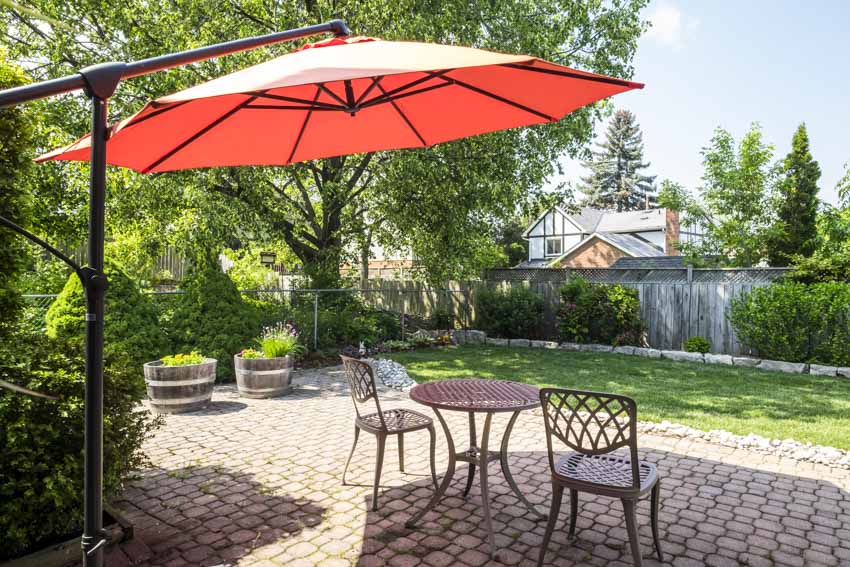 Considered the ideal umbrella option for your patio, a cantilever umbrella can easily cover an entire seating area. It is designed with a pole that can be extended from one side of the umbrella up to the center of the area through a clip system and an adjustable pin.
Cantilever umbrellas have different designs based on how far it extends out from the canopy top and how far down it hangs from the pole. This is where you will need to take into account the size of the area where you will be using the umbrella.
They can range from 9-foot coverage to 16-foot coverage so you have quite a bit of range to choose from. Read more about patio umbrella sizes here.

Popular for different types of patios, this umbrella offers limited space coverage since the pole tends to also be limited to one side of the home's patio. With this in mind, you will need to be precise on the dimensions and the area you will need to install the umbrella.
Cantilever umbrellas are recommended to have long poles to help with their stability since the weight is focused on one point only. Lowering and raising the umbrellas need to be done carefully to avoid tipping them over, especially when the winds are strong.
These cantilever umbrellas also come in versions that do not include a post. One example of this is the wall-mounted cantilever umbrella. It will not include a side post or base that normally helps with the stability but attaching it to the wall will also offer the same stability.
Cantilever Umbrella Pros And Cons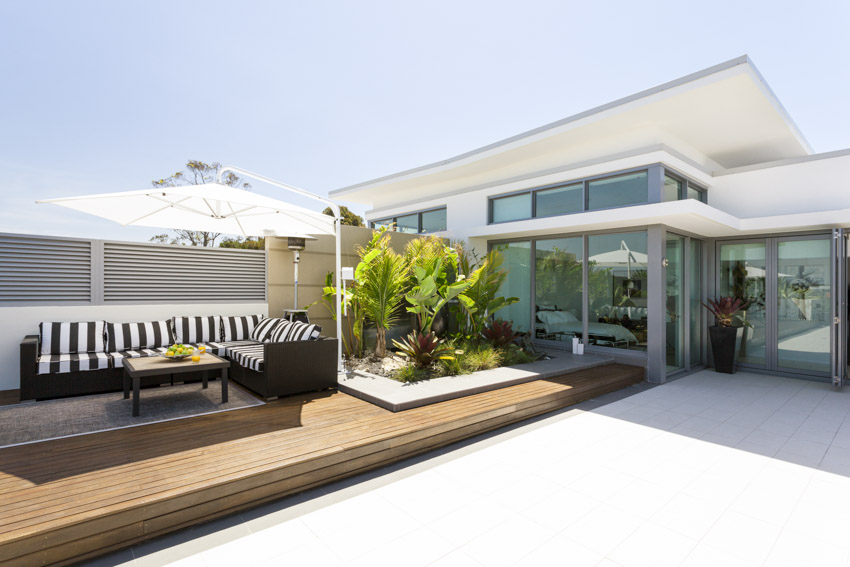 If you're highly considering a cantilever umbrella, you will need to take into account the different benefits and drawbacks you will face in using one. Exploring them will also solidify your decision on whether this is the best option or not.
Cantilever Umbrella Pros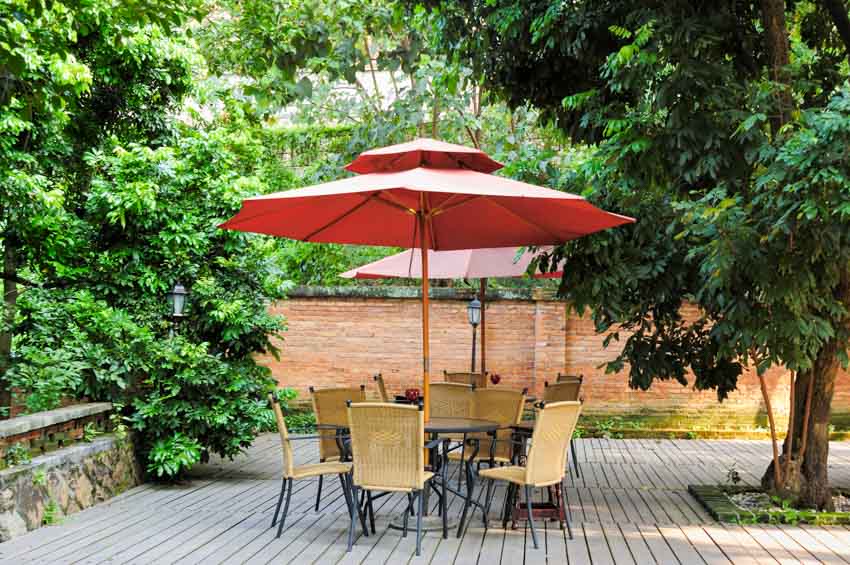 Here are some of the advantages you can expect to enjoy if you choose to install a cantilever umbrella on your patio.
• Features more shade coverage: Compared to offset umbrellas, cantilever umbrellas can provide more shade coverage when in smaller and limited areas since the pole is not connected to the other end
• More flexible and lightweight: Since it has a more lightweight and less bulky design, this type of patio umbrella is easier to move around, even in areas with high foot traffic.
• Offers longer lifespan: Cantilever umbrellas are durable and can easily be folded, wound up, or rolled, especially during harsh weather where harmful elements might damage the umbrella. This increases the lifespan of the umbrella, making it an excellent investment to consider.
• Comes in a variety of styles: With the easy development in technology, different designs, and features have been integrated into cantilever umbrellas, from simple durability additions to sun protection abilities.
• Can be used only when needed: Cantilever umbrellas are extremely easy to use and can easily be removed and stored whenever they are not needed.
• Requires less maintenance: More than just being made from quality materials like steel (rust-resistant), these umbrellas also have fewer moving parts so you don't have to worry about them breaking down and needing replacement.
Cantilever Umbrella Cons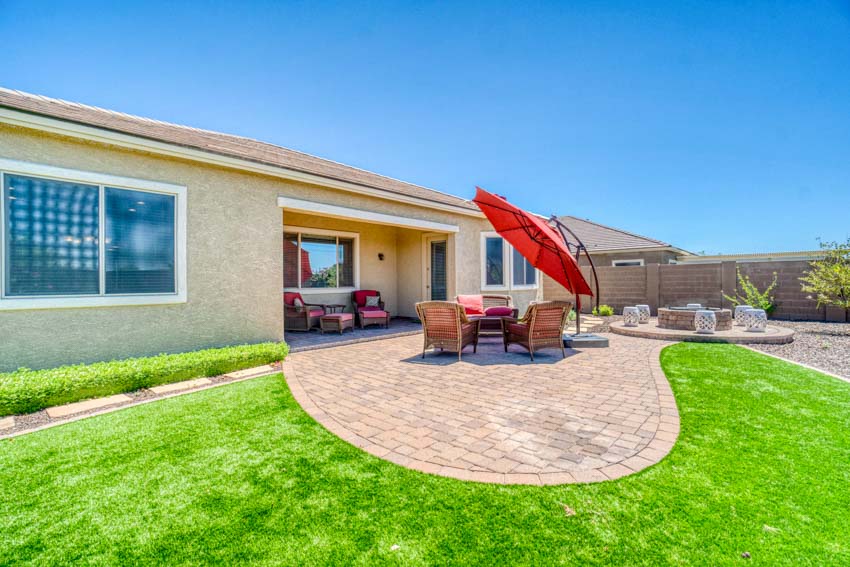 With all of these advantages, there is also the negative side of cantilever umbrellas that you need to learn about before committing to this type of umbrella. Some of these are the following:
• Less sturdy than other patio umbrellas: Since it only has one point anchoring the umbrella, it can be less stable compared to the two-point anchors of many patio umbrellas.
• May blow over during high wind conditions: Since this type of umbrella is lightweight, it has the tendency to blow over if there's heavy wind, especially with only one anchor and more surface area exposed.
• Harder to open and close: You will need to manually pull on the umbrella to open or close them whenever needed so make sure to be careful to avoid damaging the umbrella.
What Is An Offset Umbrella?

An offset umbrella is another type of patio umbrella you can consider for your home. It features a large shade coverage ideal for large areas too like poolside cabanas and decks, rooftop patios, and gardens.
Similar to the cantilever umbrella, it is only anchored to one point and is usually attached to the ground with a pole. This pole is usually attached to one side of the base, which means that you won't be able to move it.
And it can be made from various materials, including aluminum, fiberglass, or steel, depending on the design. The materials can affect the durability and weight of the poles. The most common offset umbrella comes with an aluminum frame and base paired with either acrylic fabric or shade cloth.
Poles used in offset cabinets can cover 10 to 18 feet in diameter and easily extend from the canopy to one side that's been anchored to the ground. It's the reason why it's also called a side post patio umbrella.
Positioning the post on one side allows better rotation for the umbrella, giving you the option of moving the angle of the umbrella to where the sun is. Unlike stationary patio umbrellas, you can easily adjust an offset umbrella to create shade wherever it is needed.
Offset umbrellas, especially gigantic ones, often come with stabilizing weights that are installed at the base of the umbrella. These weights help to keep the umbrella secured on the ground since it can easily blow over in high wind conditions.
Offset Umbrella Pros And Cons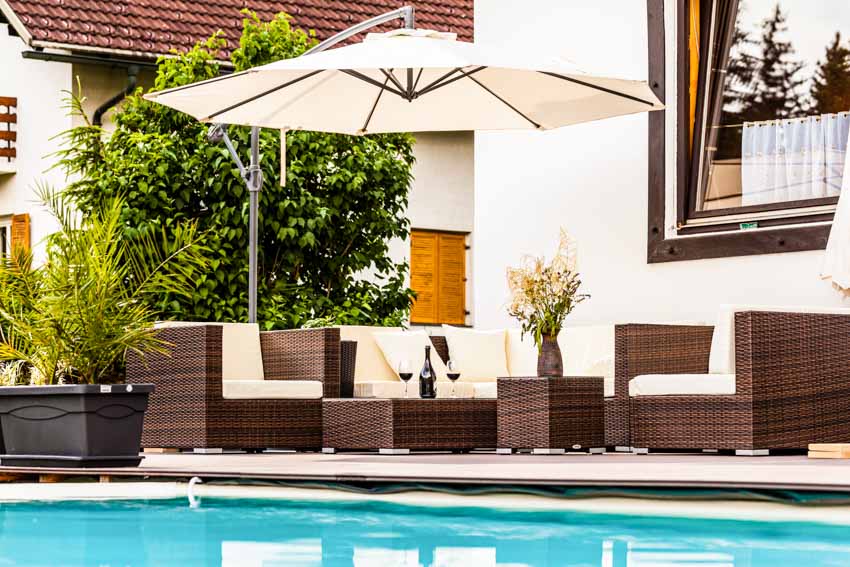 If you're exploring all the possibilities of using an offset umbrella, you will also need to take into account the pros and cons that come with it. This is an excellent option to consider if you don't want to use a stationary umbrella.
Offset Umbrella Pros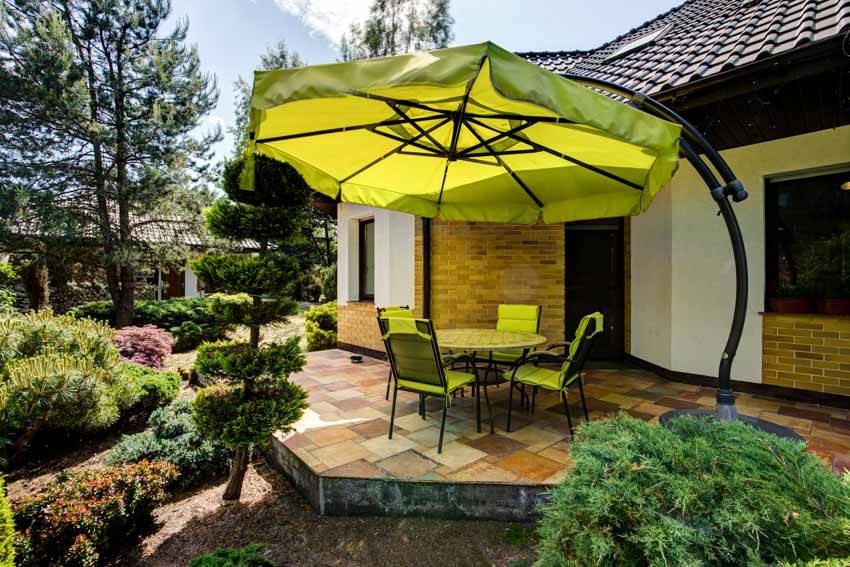 Offset umbrellas can be considered an excellent option because of the benefits you can get from using them. To be more sure about your decision, here are the advantages you can be sure to enjoy.
• Relatively affordable to purchase: Most of the materials used in making offset umbrellas are inexpensive and so you can easily afford one to use for most types of porches.
• Easy to assemble: Offset umbrellas are easy to put together and you can just follow the assembly instructions that come with the package from the manufacturers. Make sure you know how to position the umbrella stand, considering it's not the standard pole that's positioned in the middle.
• Highly durable: Compared to cantilever umbrellas, offset umbrellas are more durable and can resist daily wear and tear.
• Highly flexible: The design of an offset umbrella allows for an easy rotation where you can change the angle of the shade based on where the sun is currently located.
• Designed to provide maximum shade: Considering the arrangement of the post on the side, this type of umbrella delivers a lot of shade area underneath.
• Thicker and waterproof fabric: Offset umbrellas are made from thicker fabrics that can provide excellent sun protection of UPF 50+, which is way better compared to other types of patio umbrellas. The fabric is most often waterproof and won't allow water to penetrate inside.
• Low maintenance: The fabrics used for offset umbrellas are mostly fade-resistant and require low maintenance.
Offset Umbrella Cons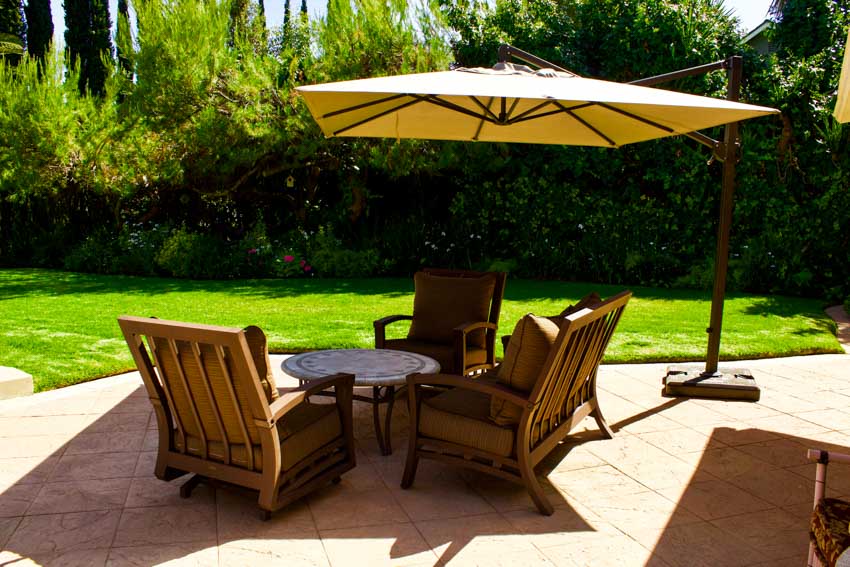 To balance everything out, you also need to take into account the different drawbacks that you will also need to be okay with once you decide on choosing an offset umbrella compared to other types.
• Requires additional space: Since the pole is anchored to the ground, this offset umbrella demands more space around to account for moving tables and chairs in and out of the umbrella.
• Offers less flexibility: While this type of umbrella can be moved depending on the position of the sun, it is still less flexible compared to cantilever umbrellas though it is more flexible when compared to stationary umbrellas.
• Designed for minimal movement: While durable, the offset umbrellas are designed to have less movement when the winds are rough and have the tendency to be blown over, especially since it only has a single point that anchors the umbrella into the ground.
• Structured to be heavier: Offset umbrellas are designed to be heavier since they have the tendency to blow over with high winds and so stabilizing weights are integrated on the base to anchor it to the ground better.
Difference Between Cantilever And Offset Umbrella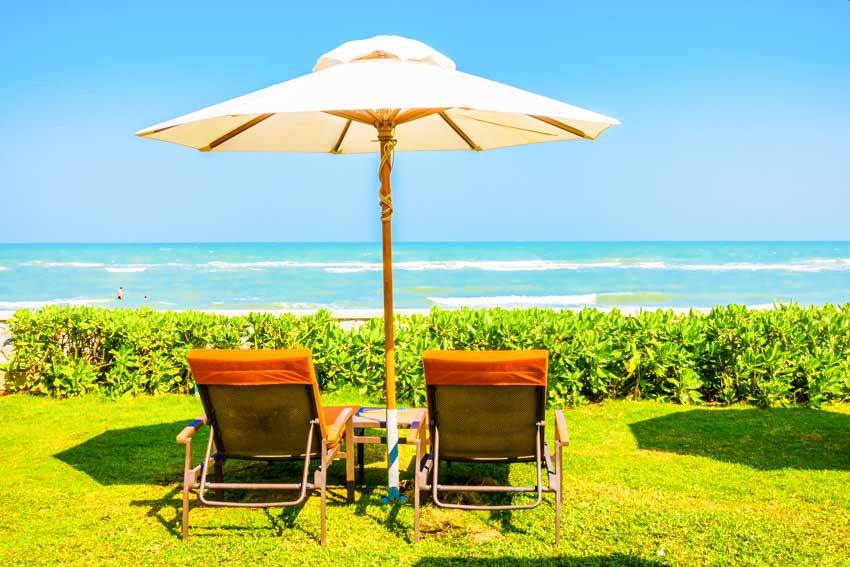 Now that you've explored the advantages and disadvantages of both cantilever and offset umbrellas, the next step to take when making a decision between these two is to compare them with each other. Here is a summary of their differences to help you make a decision.
Factors to Consider
Cantilever Umbrella
Offset Umbrella

Base

Sturdy base

Offset & tilted from the center

Pole

Slightly curved

Crank-style (Allows tilting)

Material

Same with offset but with additional support pole

Aluminum or wood for main support pole

Risk of toppling

Increased risk

Optional accessories

Similar with each other: Optional LED and fiber optic add-on speakers and add-on lighting kids

Total cost

Slightly more affordable

Slightly more expensive

Availability

Can easily be purchased at major outdoor furniture stores and hardware stores

Features available

Basic features

More features available
Both cantilever and offset umbrellas are designed to provide as much large surface area as possible for more shade to accommodate the sitting area. And while there are factors that differ from each other, they both offer excellent shade and coverage for protection against weather elements like rain, snow, and wind gusts.
Cantilever Vs Offset Umbrella Cost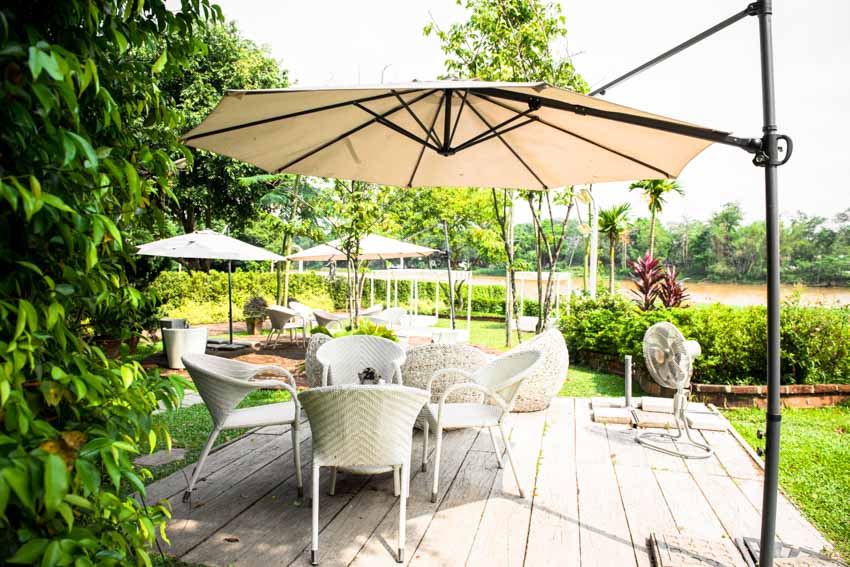 When it comes to the cost of both cantilever and offset umbrellas, there is not much difference between the two. While the cantilever umbrella is offered at a slightly higher price, it's not that much different. And along with the increase in price, features are also added to compensate for that raise.
The majority of cost of these two types of umbrellas will be mostly determined by the materials used, including the following:
• Base
• Support pole
• Fabric
• Optional accessories
With the variety of materials that these different parts can come in, the cost will highly depend on them. So if you're considering the cost, make sure to consider the materials they are made from.
Is A Cantilever Umbrella Better Than Offset Umbrellas?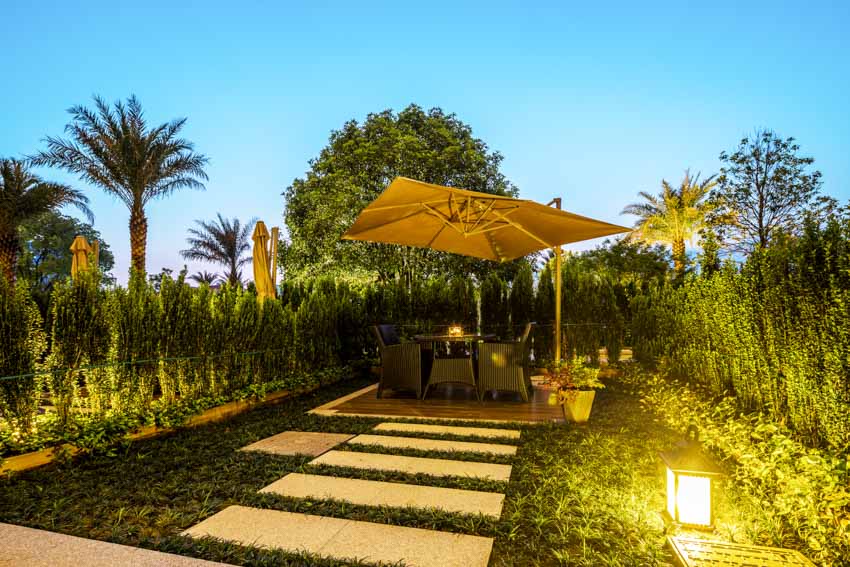 Cantilever umbrellas are very similar to offset umbrellas that they are even often interchanged with each other. But is one better than the other?
Cantilever umbrellas are slightly more expensive than offset umbrellas for a reason. If you prioritize functionality above cost, a cantilever umbrella is an ideal option for you. It offers better stability with its sturdy base and curved supporting pole that forms triangular support.
In addition to that, you can also conveniently and easily lower the height of the umbrella from the ground. It also showcases a more modern aesthetics and appearance so you can consider this factor.
An offset patio umbrella, on the other hand, is the ideal option if you have a limited budget and prioritize the cost above other factors. It is also lightweight so if you want to be able to move the umbrella around, this type is preferred compared to a cantilever umbrella.
Choosing among these two types of patio umbrellas can be easy and you can simply point out the priority you're focusing on with your choice. For functionality, choose a cantilever umbrella. For cost-effectiveness, choose an offset umbrella.
See more related content in our article about the best patio umbrella alternatives on this page.