Here's our guide to the best patio furniture layout tools including free online software tools for you to start conceptualizing and designing your dream patio layout.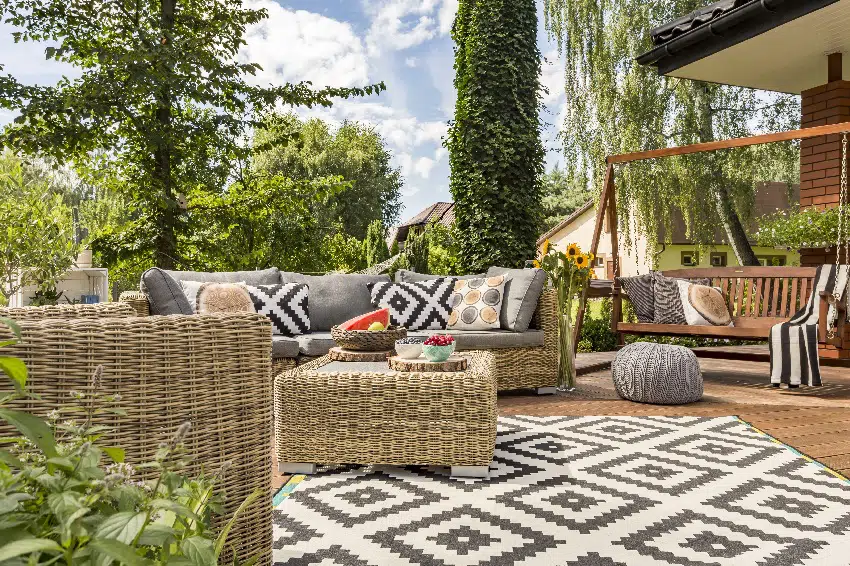 Creating mood boards on Pinterest barely scratches the surface of what designing a patio entails. You can always reach out to architects and other designers, but communicating what you want may be difficult without seeing it first.
Get help in visualizing your concepts using these patio furniture layout tools.
What Is A Patio Furniture Layout Tool?
Patio furniture layout tools make designing your patios easier by letting you work on a blank canvas using 2D and 3D features before executing your idea. Thus, you avoid committing mistakes and have more time to refine your designs.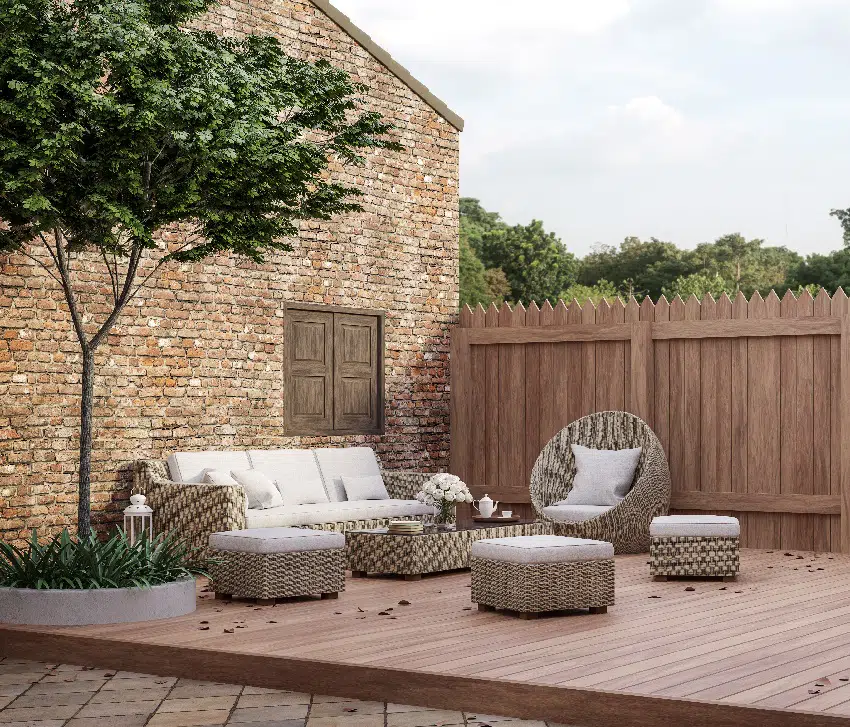 Experiment with different patio tiles, patio furniture, and other design elements in a matter of minutes. See our gallery of beautiful patio ideas here.
Free Online Patio Furniture Layout Tools
Not everyone has the time to master sophisticated design software like AutoCAD and SketchUp Pro. Find a user-friendly patio layout tool that's right for you.
Planner 5D
The creators behind Planner 5D believe that everyone should have the chance to design their dream homes. Lauded for its 3D renders and augmented reality capabilities, Planner 5D has a simple interface that is easy to navigate even for novices.
Key Features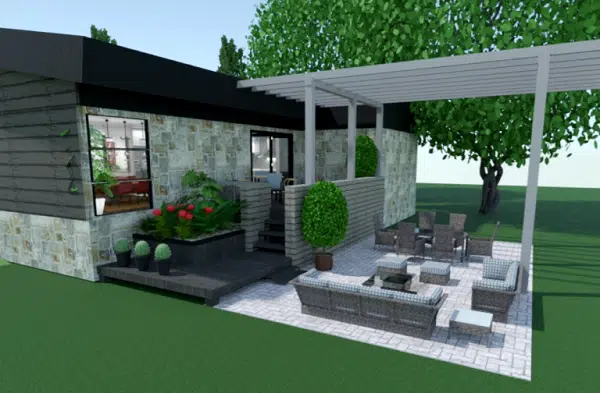 Interactive 3D and 2D plans: Upload your floor plan and let the tool do its job by rendering it automatically. This feature saves you from building your layout from scratch.
Automated Furniture Arrangement: If you constantly find yourself in a rut when arranging furniture, worry not. Planner 5D has ready-made furniture arrangements for you to use and customize.
Augmented Reality Tour: Walk-around tours are usually available in other more advanced 3D software. Fortunately, you can get close and personal with your design through AR.
The free package of Planner 5D includes access to most features. Subscribe to their monthly plan for only $14 to view their full catalog. Start using Planner 5D here.
Roomsketcher
Roomsketcher is less advanced yet may be more practical than Planner 5D. But, don't let the simple graphics and user interface of this app fool you. Many interactive design features are available, especially if you are one of their VIP and pro members.
Key Features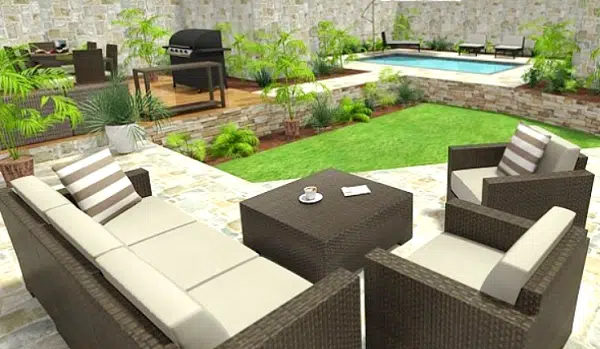 Mobile Apps: Whether you're designing from your computer or tablet, you can access your plans through RoomSketcher Web or RoomSketcher App.
3D Photos and Floor Plans: Get professional 3D renders and images like a real designer.
360 Views and Live 3D: The 360 Views feature gives a full perspective from all angles. You can also take a tour by activating the Live 3D mode.
The only downside to this tool is the freemium offers 2D features. Although limited, they are enough for simple patio layout needs. Anything more advanced requires a membership fee of $49 a year.
Roomsketcher website
HomeByMe
HomeByMe presents all the tools you may need to create your patio in 3D. They have 2D and 3D renders, panoramic views, walk-around tours, and a mobile app to boot. You can also furnish your patio with furniture and accessories from Pottery Barn, Crate & Barrel, and Wayfair.
Key Features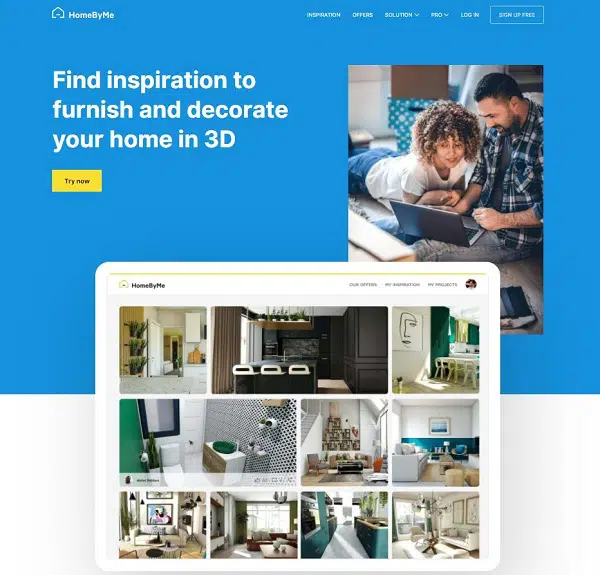 Customizable Furniture: Their collection showcases furniture from well-known brands that are customizable according to size, color, and texture.
HomeByMe Community: Share your work and get real-time feedback from the members of the HomeByMe community. You can also browse through their gallery of designs for inspiration.
Interior Design Service: HomeByMe Pro offers unlimited high-quality realistic renders, professional usage rights, and other advanced tools for commercial purposes.
Create your patio designs on the HomeByMe website.
Homestyler
Homestyler is a user-friendly design tool first developed by Autodesk. Similar to the other apps, you can create 3D images and floor plans of your patio. You can also import your blueprints for easier customization.
Key Features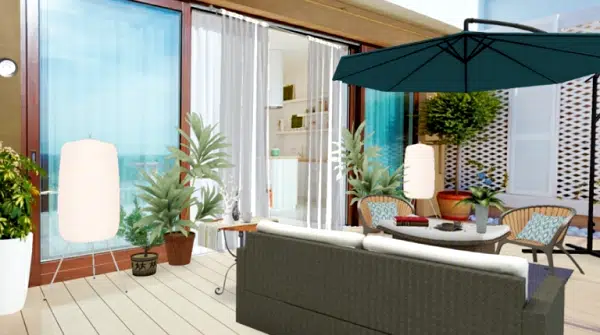 Real Furniture Library: Choose from a well-curated library of furniture that you can also purchase on their website.
720 Panorama View and Sunlight Effect: Design like a pro and add sunlight to your patio's 3D renders for a more realistic look. You can also take a tour from top to bottom using 720 Panorama View.
Homestyler App: The app version allows you to take a picture of your space and design on the spot.
Homestyler is free to use, but you can upgrade for more advanced features, starting from a monthly fee of $19.99. These features include ultra HD rendering, 4K rendering, video rendering, and interactive light mix.
Homestyler website.
Room Planner Design Software by Patios USA
Patios USA is a one-stop-shop for outdoor furniture from established brands. If you plan on buying from them, take advantage of their Room Planner and design in 2D on their website.
Key Features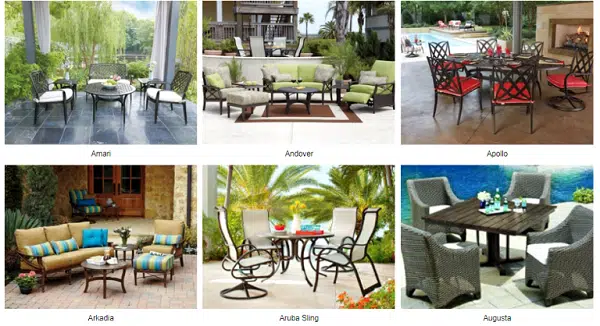 Branded Furniture Collection: Patios USA carries premium outdoor furniture brands like Castelle, Tommy Bahama, and Winston.
Design Consultants: You can request a quotation and ask for advice from their design consultants.
Access their design tool and catalog from the Patios USA website.
Outdoor Furniture Planner by Polywood
Not a fan of creating floor plans? Get furniture recommendations using Outdoor Furniture Planner by Polywood. Polywood is a furniture brand specializing in recycled chairs, benches, tables, and many more. They provide sustainable furniture perfect for environmentalist homeowners.
Key Features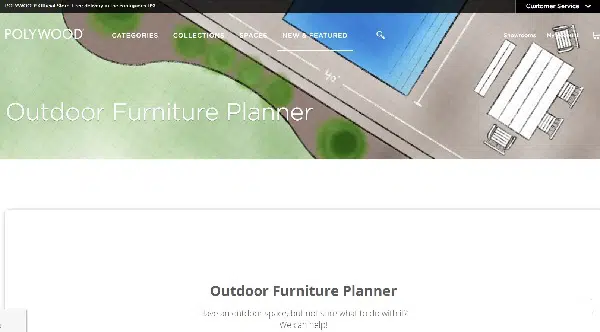 Personalized Furniture Suggestion: Some furniture from their collection will be suggested based on your answers to their style and design quiz.
Polywood Furniture Collection: You can directly purchase and customize the color of their eco-friendly furniture on their website.
Polywood website
Gensun Casual Outdoor Room Planner
Many homeowners dream of having an outdoor kitchen for weekend barbecues and dinners. Gensun boasts a collection of outdoor furniture and kitchen sets to upgrade your patio experience. You can access their online outdoor planner here.
Key Features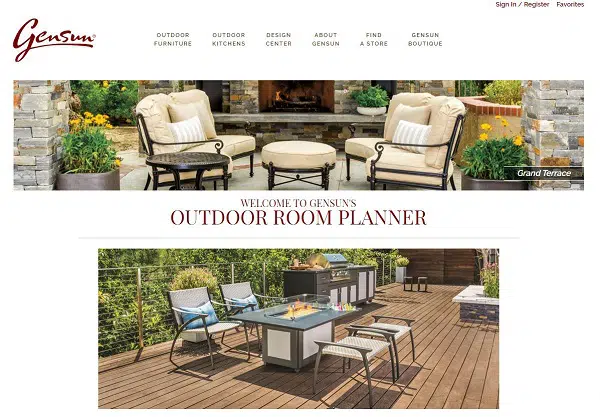 Ready-made Plans: Do you need furniture layout only? Or would you like to set up a kitchen and a firepit?
Ready-made plans quickly set you up fast so you can focus on your design.
Gensun Outdoor Collection: Full kitchen set, table mount fire pit, grills, and outdoor furniture are just a few of what you will see in their collection.
Get a preview of how Gensun furniture and fixtures fit your patio before purchasing.
GensunCasual website
My PatioDesign
Unlike other tools that let you design first hand, My Patio Design is worth mentioning for its downloadable and ready-to-use patio designs.
Their collection includes multiple 3D layouts for your pavement, pergola, grill station, and full-package patio designs. All you have to do is select a plan you like starting from $25 and gain full access to the construction and design details you may need.
Key Features
Detailed blueprints: Their plans include floor details like elevation to avoid mistakes during installation.
Materials List and How To's: The design packet includes what materials you need to style your outdoor space and recommended suppliers.
They also have step-by-step instructions and other tips to get the job done efficiently.
MyPatioDesign website
Everyone deserves to have a relaxing and well-designed patio. Use these patio furniture layout tools and take a step closer to achieving your dream patio. You can also check out some of the best patio design ideas for inspiration here.