Here's the best carpet colors for gray walls with options like dark brown, mustard yellow, lime green, gold, orange soda and more to help you achieve the perfect home interior.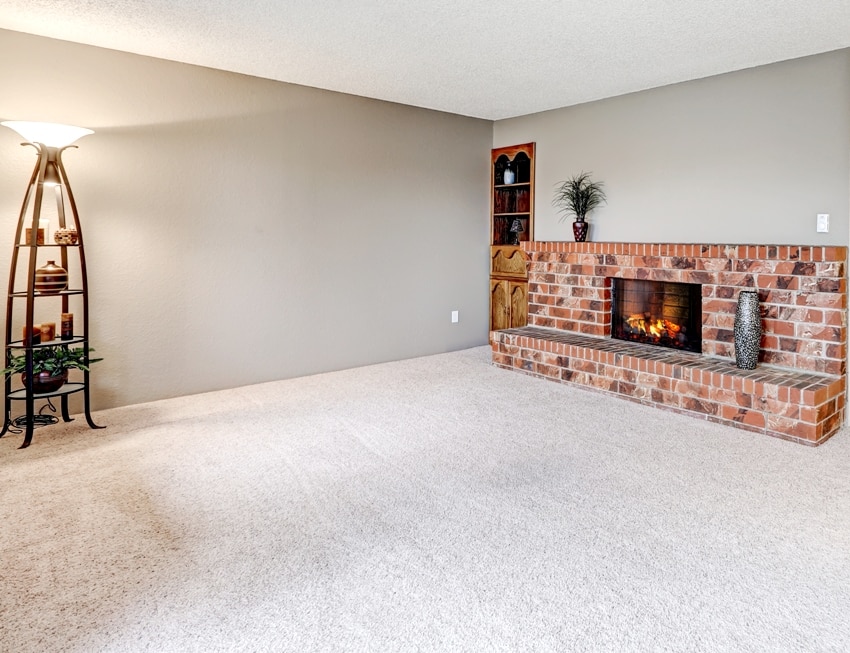 The color gray is the undeniably true proponent of the interior designing renaissance and if you're planning to paint your walls gray, you're off to quite a good start in your home upgrade.
Technology and innovation have paved the way for a wide plethora of gray shades for you to discover and play around with.
Gone were the days of those austere and hardware-like gray shades. They're basically everywhere and they can fit into any type of color or design theme that you can think of these days. You can use them in monochromatic designs, minimalist ones, or even as a base for that block of color you've always desired.
What Color Carpet With Gray Walls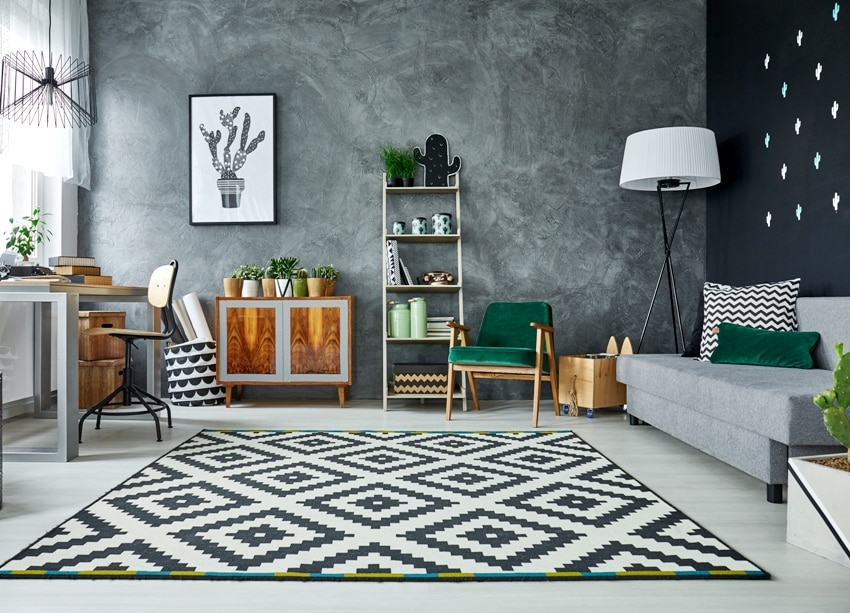 What's great about the gray wall palette is that they can range from the barely there colors to the moodier and deeper hues. They can be the perfect backdrop as wall options and they're bound to suit every room of the house and in every style possible.
But let's say you're far beyond that. Let's say you're already decided on your gray walls. The next decision to make is the color of the carpets to match them. Read on because we'll lay your options out for you down below.
Dark Gray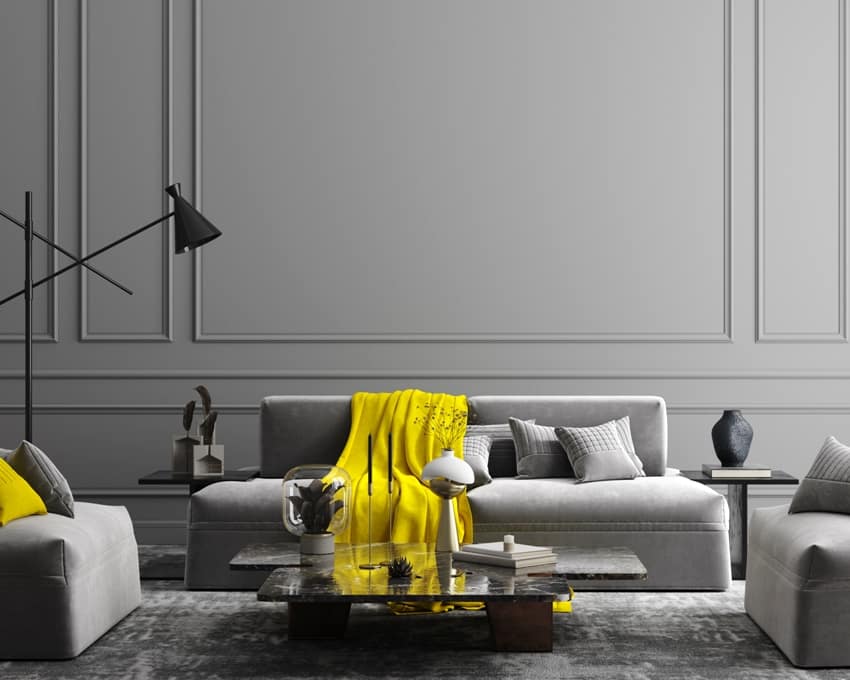 Lighter walls are fairly easy to work with as they basically serve as neutrals and with the right elements, you can pair a neutral up with literally anything.
If you want to go for a monochromatic look for added dimensionality, a deep pile carpet in a darker color of gray will go well with your light gray walls.
Dark Brown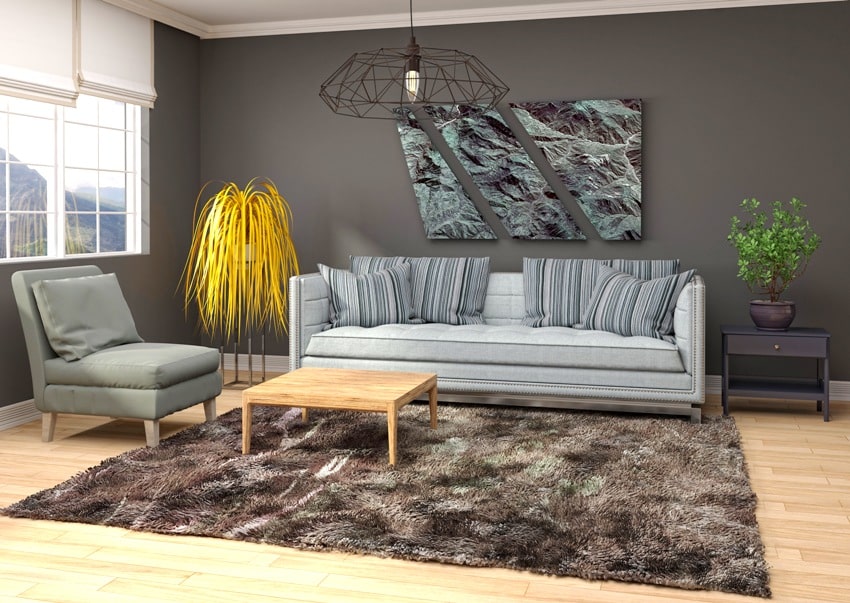 A dark brown carpet won't be such a bad idea, either. It's a great carpet color to pair with light gray walls as it can create a sense of warmth in the space that you're adding it to.
There are times wherein certain shades of gray run the risk of making the room feel small and oppressive. Adding in the warmth of a brown carpet can lighten it up a bit. See what colors go good with brown here.
Light, Barely There Gray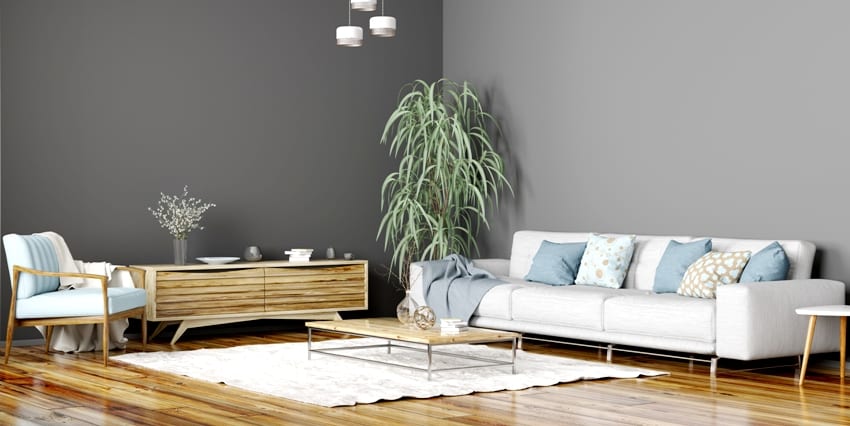 There are instances wherein you might want to go for a monochromatic and cohesive look for the room but your dark gray walls have already absorbed a lot of the light. One easy way to lift the look of the room a little is to go for light barely there gray carpets.
It can create an interesting dark and light contrast while still at the same time maintain a cohesiveness to the color palette of the room. Make sure to pair it with furnishings that are also light colored so as not to make the space look overwhelming.
Reflective materials such as rose gold, silver or chrome can also lend some additional light to the space that you're furnishing.
Beige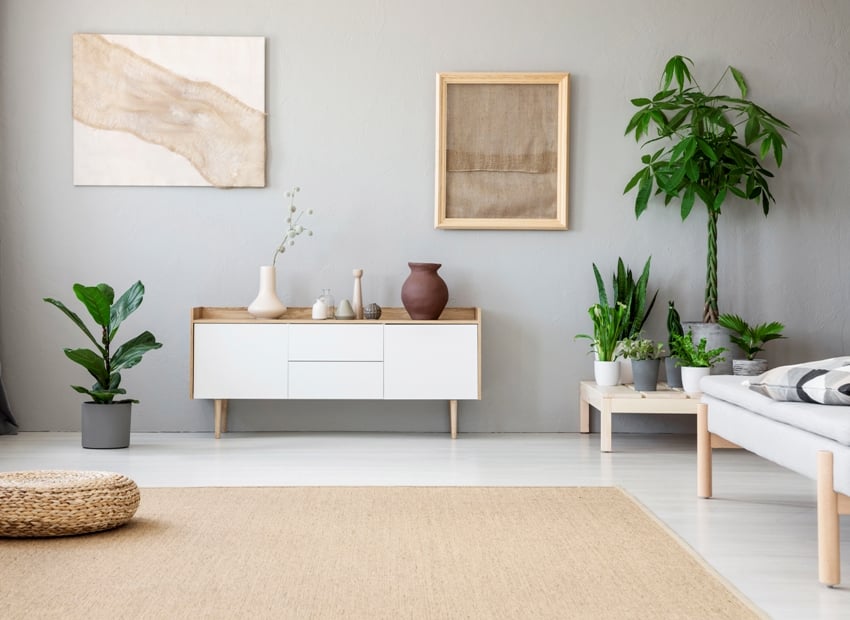 Beige and gray colors are a match made in heaven and the same can be said about pairings for your gray walls.
Gray will create a striking contrast for you while the beige in the carpet will provide you with a base that's somewhat muted, allowing you to play around a little bit with the colors for the rest of the other things that you're planning to add to the room.
Beige adds in a visual kind of warmth that keeps the room from looking too cold or austere because of the gray walls. If you want a touch of luxury, go for a carpet that borders a little bit between beige and cream.
Natural Fiber Carpets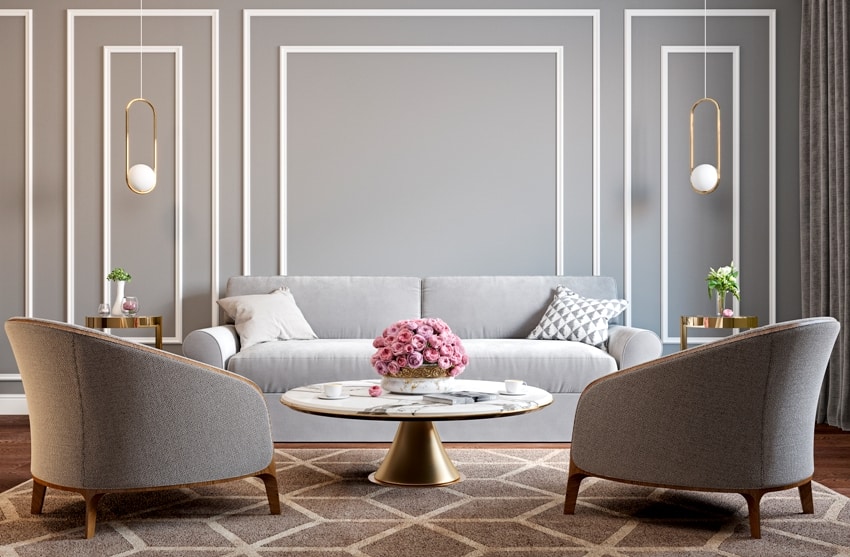 You can go for any type of natural fiber or grass type carpet for gray walls, too. They're perfect for adding texture to the room while at the same time, bringing in that much needed warmth in their colors. See types of carpets for more ideas.
Raw fiber carpets are usually neutral and they can bring in a modern yet at the same time earthy feel to the room that you're furnishing.
You can play around with the types of carpet weaves that you want to go for and you can be rest assured that they're going to look extra stunning against your gray walls.
Mustard Yellow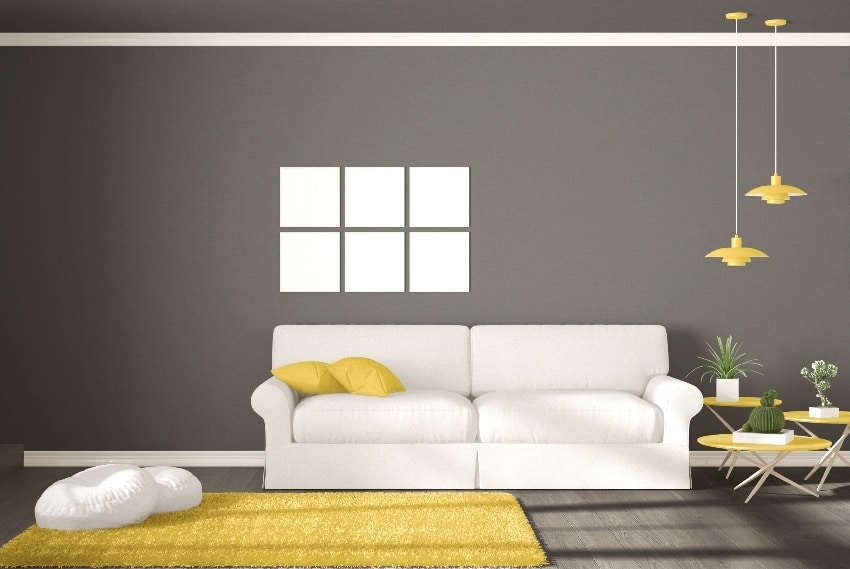 Contrary to what you might think, gray walls don't just go well with neutral or muted colors alone. If you want that pop of color, a mustard yellow carpet can be the perfect pairing for your walls.
And because it has a warm undertone, you can play around with the furniture pieces that you're planning to add in as well.
Royal or Navy Blue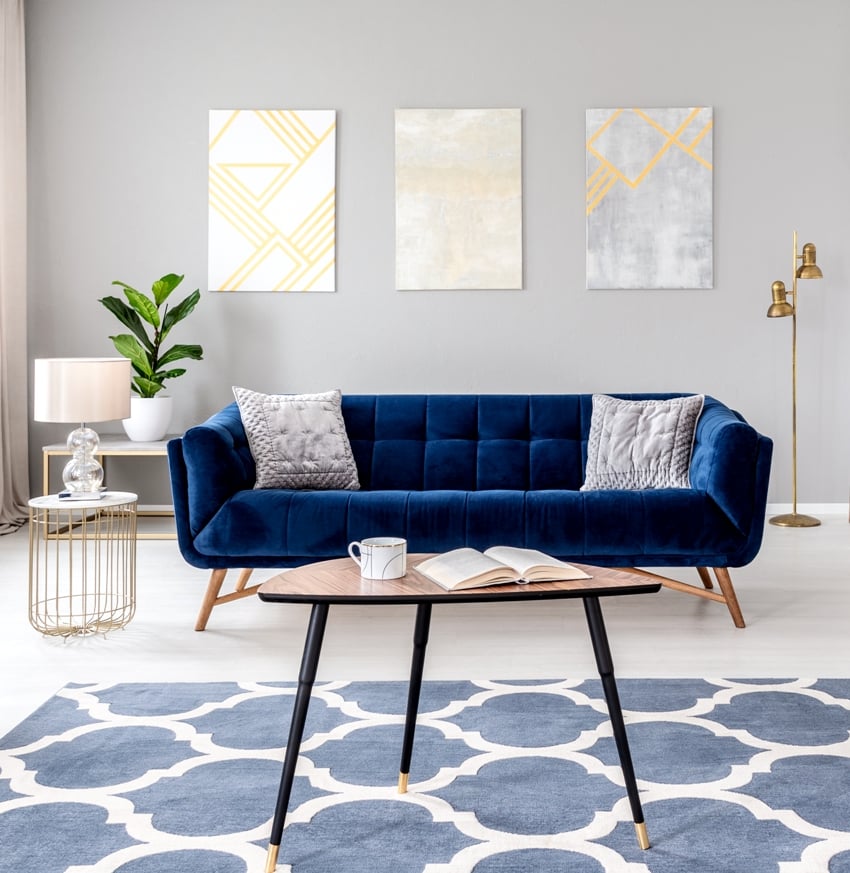 Another color that goes perfectly well with gray is blue. A rich deep-hued royal or navy blue carpet can go very well with muted gray walls.
Gray blue can provide you with that coastal beach house vibe that's both relaxing and very cool to the eyes.
Burgundy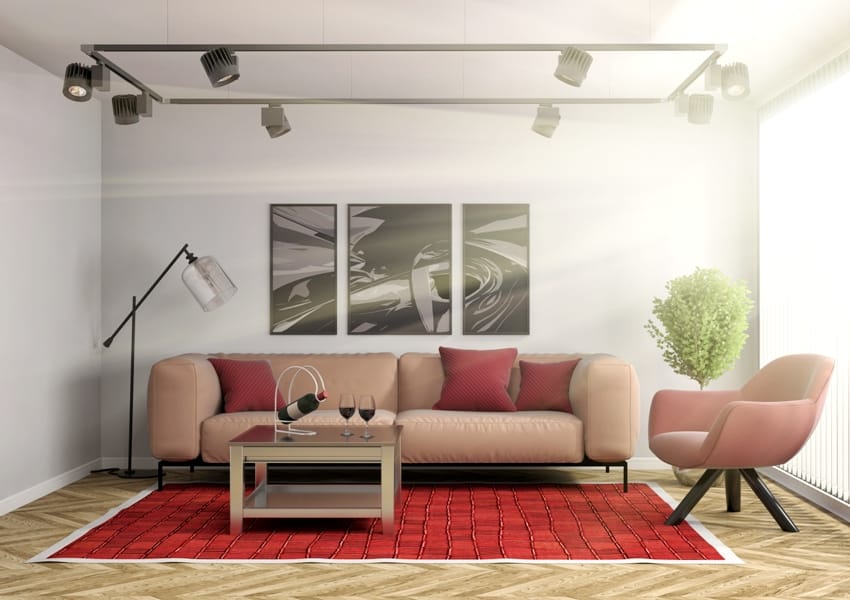 Another great pop of color that you can throw in to your carpet pairing is burgundy. It feels extra luxurious and comfortable and you can go with the richer colored ones if you're up for it. Read more about what colors go good with burgundy here.
if you want to go for burgundy shades that are both warm and elegant, we highly recommend pairing your gray walls with a rich wine-red carpet or with a royal grape-colored one.
Gold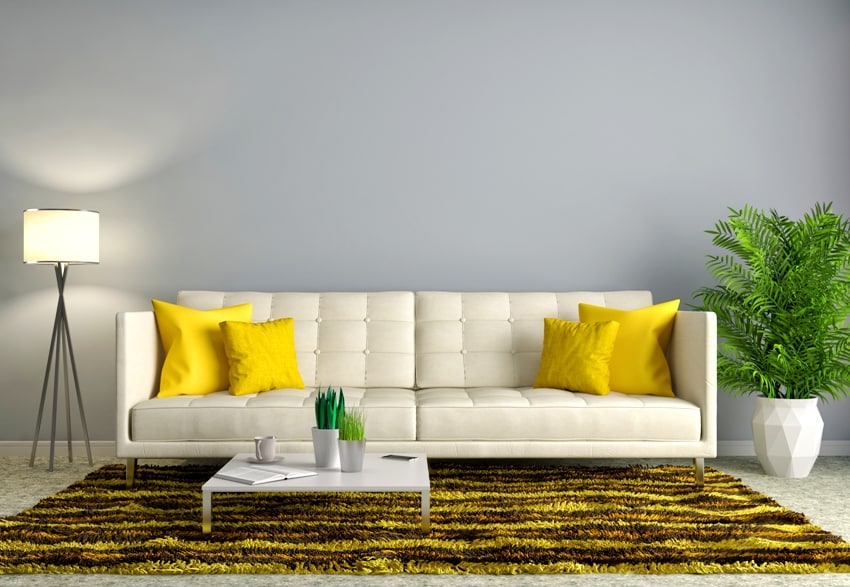 It might not be your usual run of the mill go-to pairing with gray walls but a gold colored carpet can really make the space pop.
An attention grabbing accent color like gold is an unexpected choice but can turn up the glam in the space that you're upgrading.
Lime Green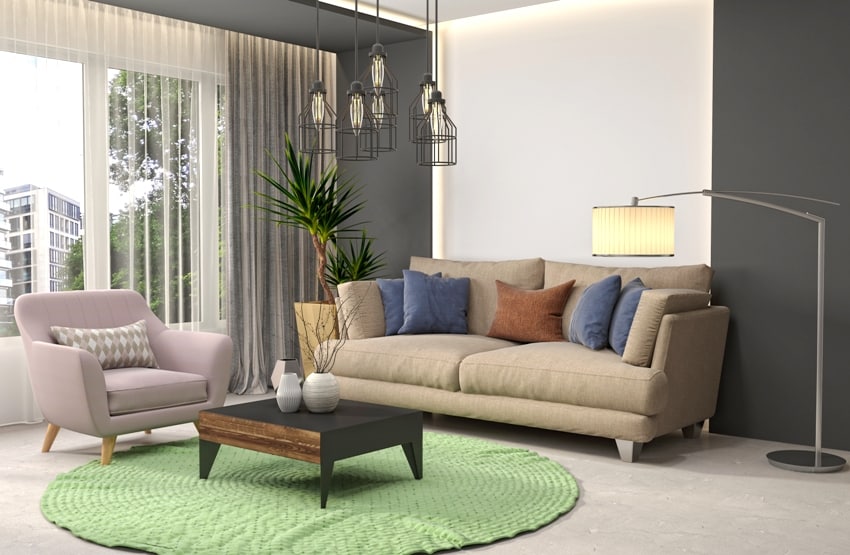 If you want to go for a décor that's classic and timeless for your gray walls, you can't go wrong with a lime green carpet. You don't always have to rely on muted colors as a pairing for your grays.
A bright pop of color such as an invigorating lime green can bring in a funky and energetic vibe that can liven up the space and can add a sense of personality into an otherwise gray colored room.
Orange Soda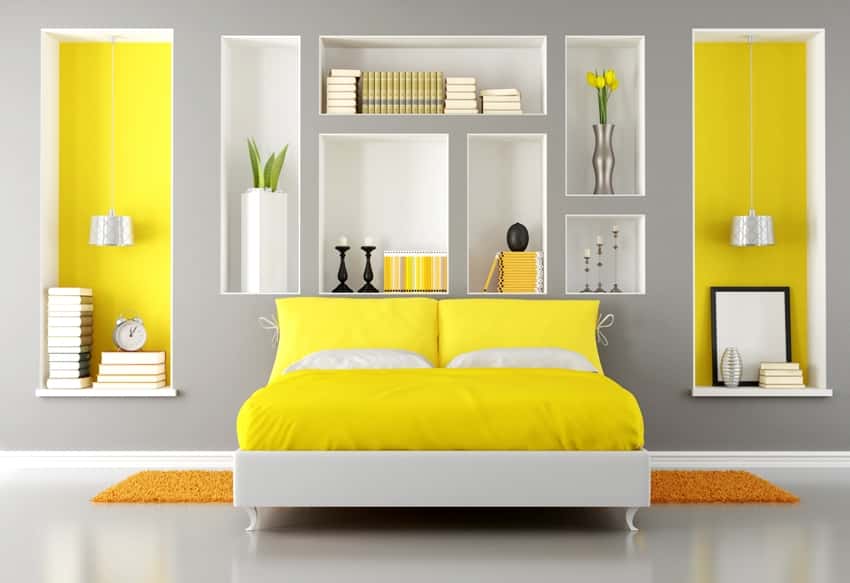 This is another unexpected pop of color that can go well with gray walls. It's something evocative and can bring in the vibe of the urban city life. It's eye catching and has a creative flair into an otherwise calming palette.
For more related ideas, visit our guide to what color wood floor goes with gray walls here.