Here we cover what colors go good with burgundy including wall paint colors, colors that match with dark burgundy, light burgundy, burgundy carpet, and furniture for your home interior.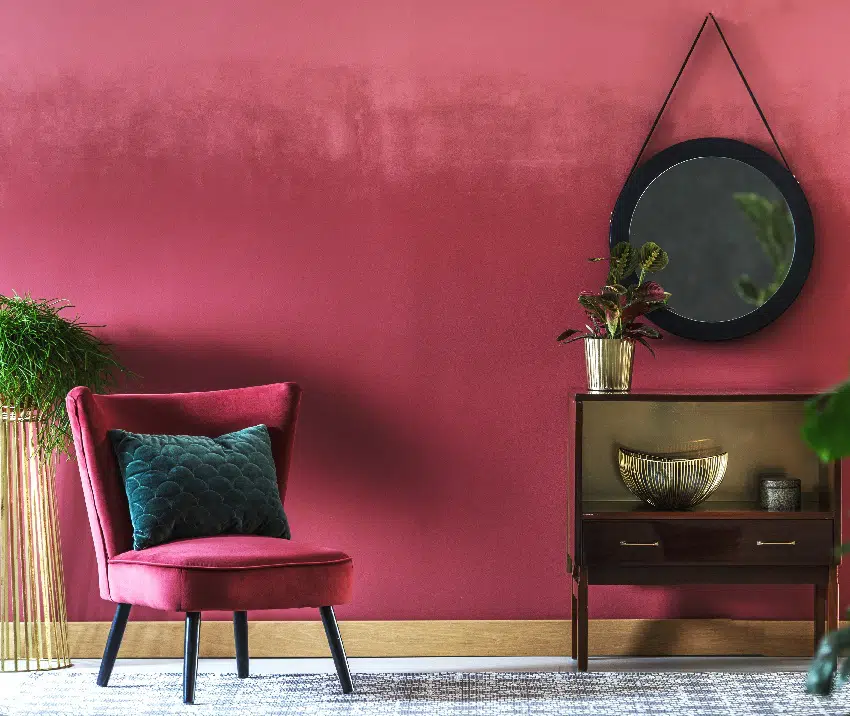 Burgundy is an unusual color for the home interiors mainly because it isn't part of the primary color wheel to begin with. It's sort of a hybrid.
It's a cross between red and brown and has hints of a purple hue in it. it isn't maroon though as it's a shade or two lighter than the said color but it's quite common for the two to get confused at times.
Burgundy is a color that's interesting in its psychology as well. It's a deep and rich color that signifies power and a certain sense of authority, mainly because it is so closely associated with red.
At times, burgundy is seen as the more serious, less fun relative of the red shade but they couldn't be more wrong. It harnesses the passion and excitement of red while its tone of seriousness depicts drive and ambition. It's quite a heady color to go for in your home interiors.
Despite its somewhat confusing origins, burgundy is an invigorating color that exudes energy and sophistication. Burgundy is rarely tied to any negative emotions.
And if this is something you want for your home interiors, then there are some things to consider in order for you to make sure that you are making wise design decisions.
Paint Colors That Go With Burgundy
Here we share our best combinations of color schemes that work with the color burgundy.
Burgundy and Navy Blue
Both of these colors are rich and warm. They pair quite easily because of that but a word of caution, having them in large amounts can turn out to be quite overwhelming so make sure that you pick only select walls and surface areas when you're doing this.
Follow the 60-30-10 rule when it comes to mixing and matching these paint colors. Always start with a neutral shade of your choice at 60%, and then add in your navy blues at 30%, and because burgundy is such a strong color, keep it at 10%. Read more about choosing paint colors that flow from room to room.
Burgundy and White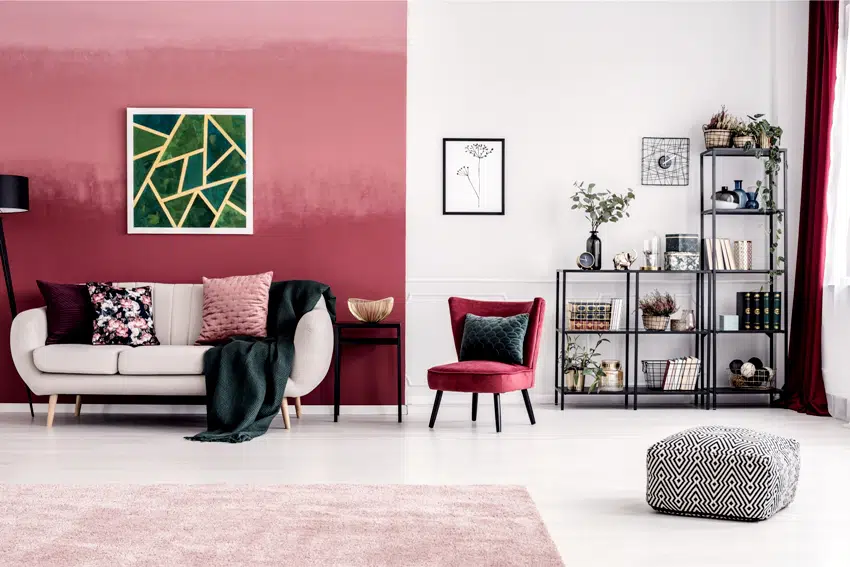 Burgundy is a color that is usually a bit more on the heavy side so it would make sense to pair it with a weightless color like white. You can even incorporate it in a painted stencil on white walls or paint the upper walls white and the lower area burgundy.
This sense of deepness in the color will enable you to ground the room. This adds depth and character to the walls and can make for quite a visually striking contrast.
Burgundy and Brown
If what you're going for is something that's a bit more on the moody and masculine side for your interiors, then burgundy mixed with browns can work well for you.
This will work best if you have spaces in the home that you would want to inject feelings of warmth and coziness into, such as a den or a library of sorts.
Paint the walls burgundy and add in neutral brown shades to level off the weight. It will make sure that the space doesn't end up looking too heavy. Find out more ideas on what colors go good with brown here.
Burgundy and Beige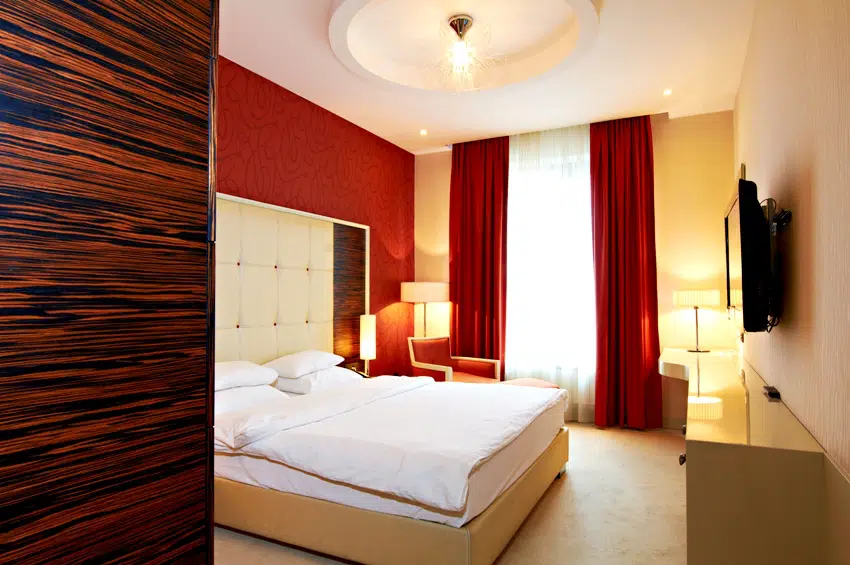 This is another spin on the burgundy plus neutrals formula. Touches of burgundy can really make a beige room come alive.
You can also paint your walls burgundy and then pair it with beige accents be it on the walls or on the leathers and fabrics on your furniture pieces. Beige can feel a bit too monochromatic at times and bringing in the stark contrast of burgundy can really help level it off, making the look work for the room.
Colors That Go With Dark Burgundy
Dark burgundy is the go-to color for fall and here are its perfect matches if you're a bit in a rut. We get it, burgundy isn't the easiest color to work with. But here are some pairings you might find helpful:
Dark Burgundy and Peach
Peach is the number one complement to the deep color of dark burgundy. It works because it's the neutral extension of the color and can offer up a sense of continuity when used together in a space.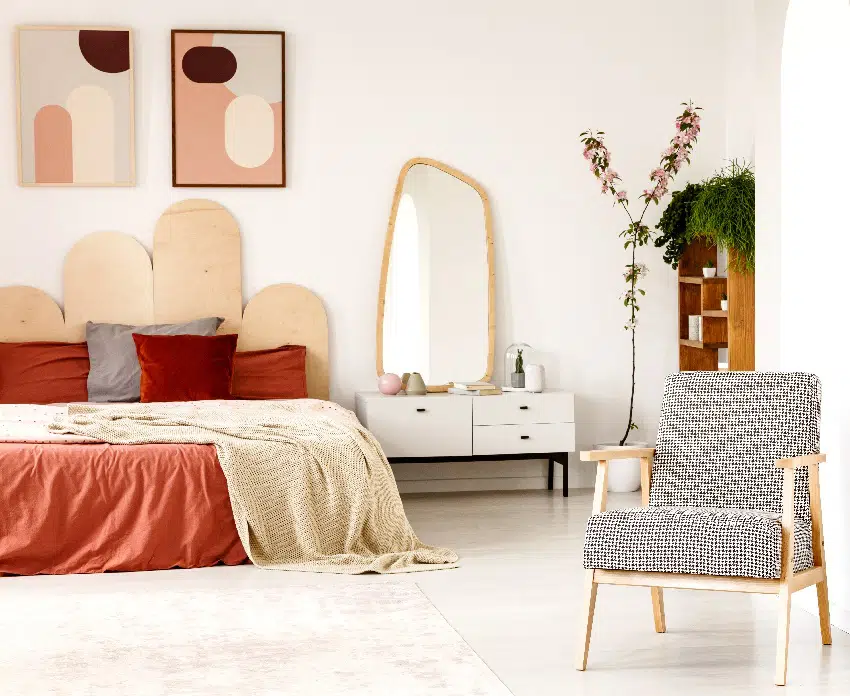 Peach can also look sweet and nice and work well with lightening up any type of space that will otherwise get weighed down by the dark burgundy shade. Bringing them together will make your space look fresh and light.
Dark Burgundy and Light Pinks
Although pink may be a color that's more on the feminine side, it's still something that can work immensely great with dark burgundy shades. Go for pink shades that are on the light and medium ranges.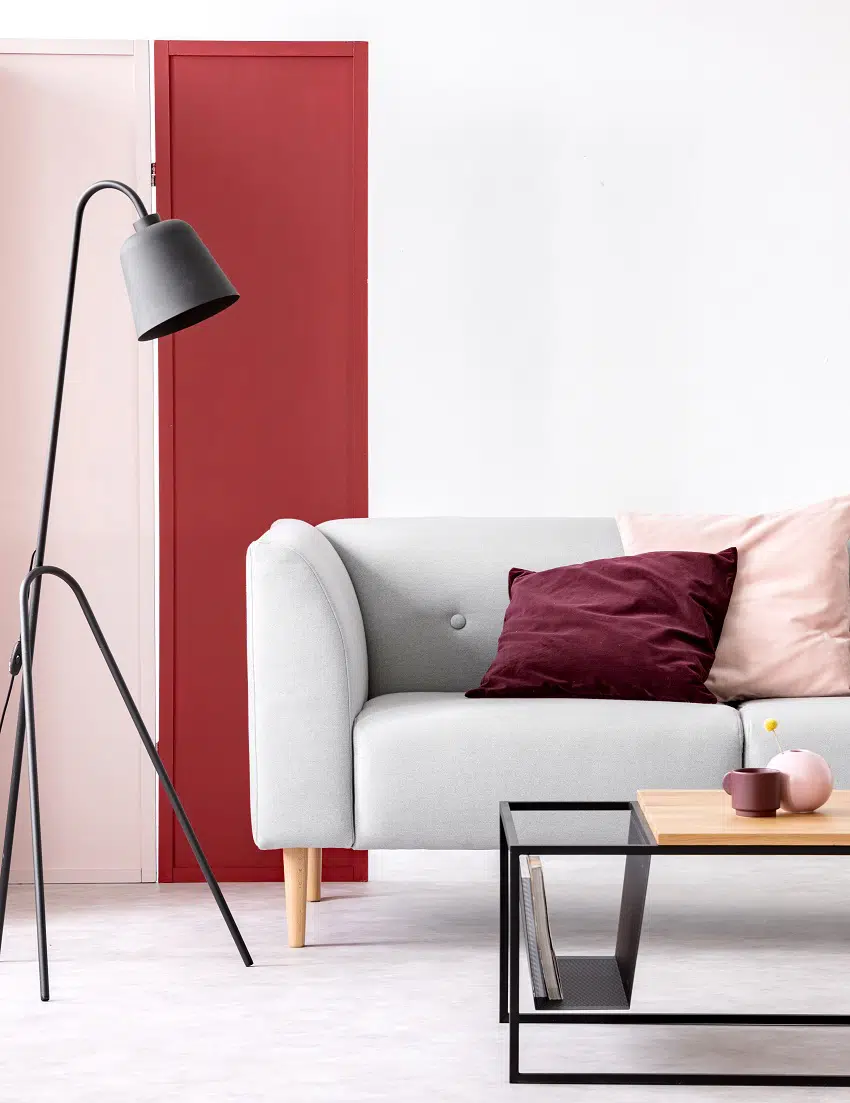 Stay away from the striking pink colors as the look of the space can end up being way too heavy and it will compete with the dark burgundy, which you should be preserving as your focal color.
Dark Burgundy and Yellow
This is a bit of an unorthodox matchup but it's one that works. Admittedly, it can be a bit of a strong look for any room so to be on the side of caution, go for the lighter shades of yellow.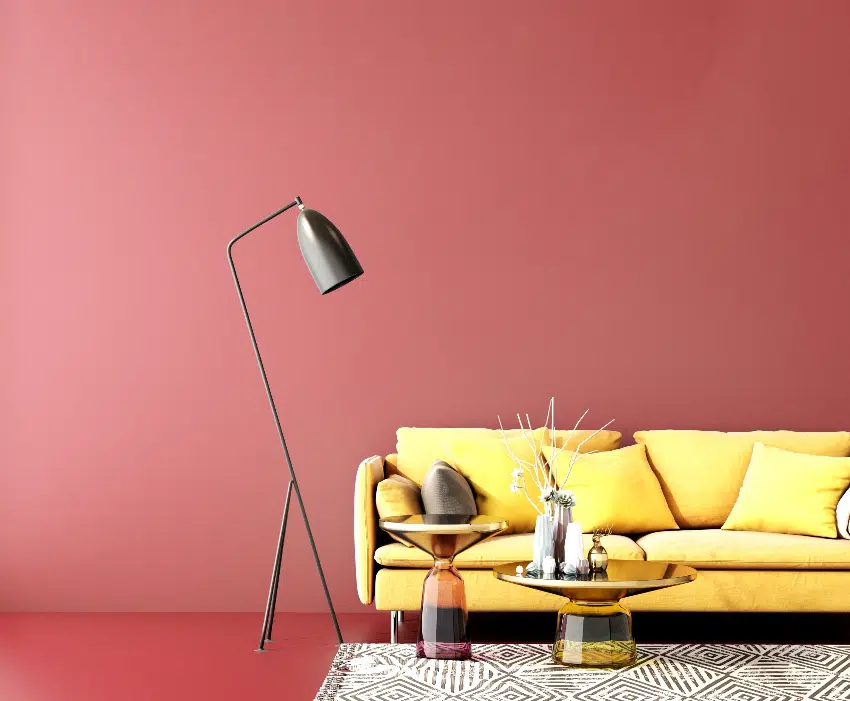 The two colors are associated with the colors of fall so including this in your interiors can turn out to be the perfect transition.
Colors That Go With Burgundy Carpet
It depends on the kind of space that you want to create. If you want to go for a look that is more formal or traditional, go with neutrals that are more on the earth tones.
Burgundy is a color that's basically a combination of red and brown. Neutral shades of browns paired with a burgundy carpet makes for a more masculine, more serious look in the room.
If you want to go for a lighter and more feminine look, then it would be best to pair your burgundy carpet with the lighter shades in the red color wheel. Light pinks, peaches, and other similar colors can pair well with your carpet.
To be on the side of caution, it certainly wouldn't hurt to bring in some shades of white as well just to further lighten the look up.
Colors That Go With Burgundy Furniture
A burgundy piece of furniture such as a sofa can easily dominate a space in your home. It makes sense to in turn, design-wise, consider it as the focal point of the room.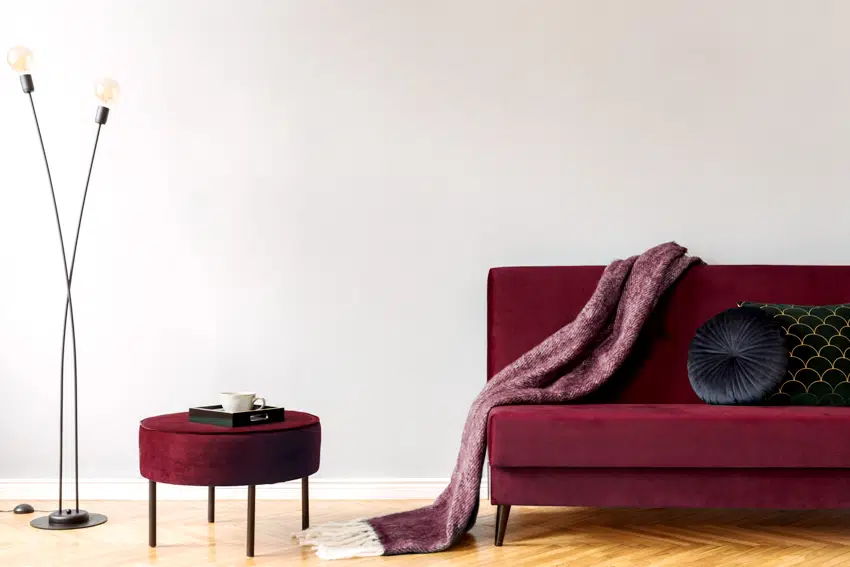 Although the best bet for this is to pair it with neutrals or whites on the walls, it is also important to note that your options certainly aren't limited.
Think about the color scheme and mood you'd like to go for and work your way from there. If you want the furniture to be the focal point of the room, paint all the walls the same color or go for a gradient that's close to each other in the color wheel.
If you want to create more interesting points though and don't want the furniture to be the main focus of the room, try creating an accent wall that's in stark contrast compared to the rest.
To get help with color matching ideas check out this article about the best paint color apps.