Get ideas for window coverings for basement windows including different types of blinds, shutters, curtains, shades, drapery panels, film, and inserts.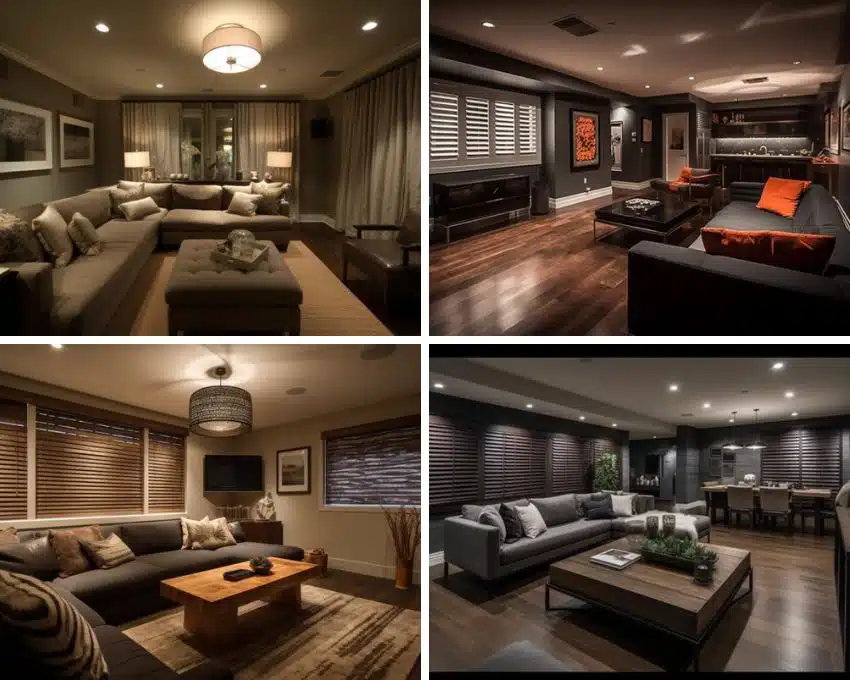 One of the things that are often overlooked when it comes to the aspect of design and home décor is basement windows. This is quite unfortunate because the reality is that they actually play a significant role when it comes to the overall appearance as well as the functionality of the home in general.
On top of the fact that they're great for letting natural light in, they can also function as emergency exits. They offer excellent climate control functions as they can make your home more energy efficient because they can affect the temperature settings indoors.
Take note, though, that basement windows can also be quite challenging. They can be sources of design, security, and even privacy issues. In this article, we will review the different types of window treatments you can use for your basement windows.
They can be in the form of window films, shutters, blinds, and curtains. There are advantages and disadvantages to every type of window treatment out there. Still, there are factors you ought to consider when deciding on picking out the best window treatment for your basement windows.
Quicklook: Different Window Coverings For Basements
• Wood Window Blinds
• Faux Wood Blinds
• Vertical Blinds
• Motorized Blinds
• Roller Shades
• Blackout Shades
• Window Shutters
• Curtains
• Drapaery Panels
• Window Film
• Window Insert
Wood Window Blinds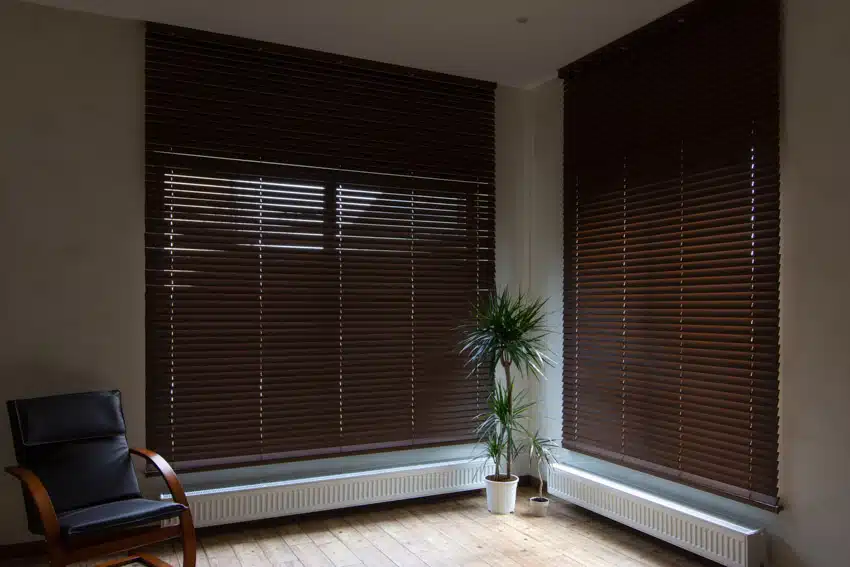 Wood window blinds are popular window treatments that you can use for your basement windows. They're comprised of thin slats of wood and are usually arranged horizontally. Either tapes or cords or a combination holds them together.
They're convenient to use and allow you to control your privacy for your basement windows. The amount of light coming in. All you need to do is tilt the slats. This will either lower or raise the entire set of blinds.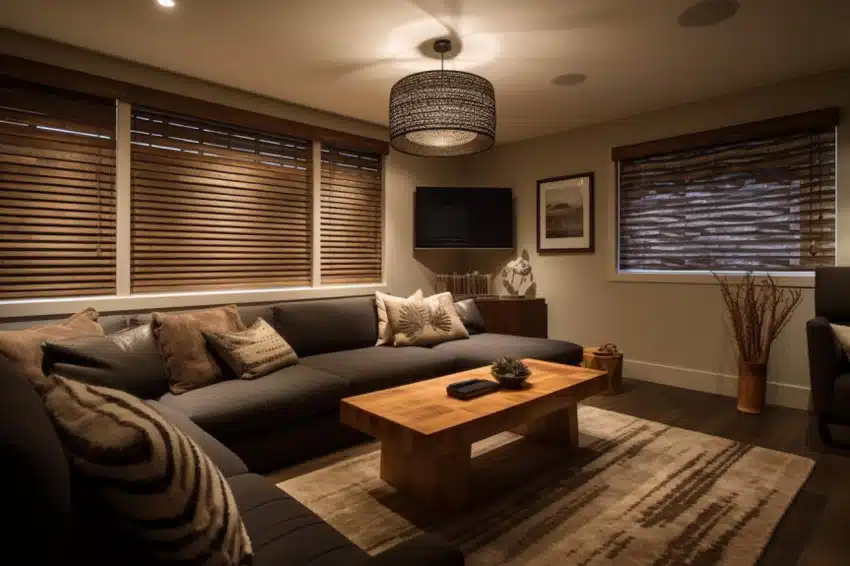 Wood window blinds are available in a wide variety of wood types. They can come in either cherry, bamboo, oak, or basswood.
You can also have them stained to match the décor of your basement space. They're pretty popular because they can match both traditional and contemporary basement windows.
You'll come up with a basement look that's timeless and classic while, at the same time, long-lasting and durable as well. Take note, though, that if your basement is particularly humid, it may crack or get warped over time.
Faux Wood Blinds
Faux wood blinds are also nicknamed imitation wood blinds. This type of window treatment efficiently imitates the look and feel of real wood blinds. They're cheaper, though, because they're made of synthetic materials.
Faux wood blinds are attractive because they are made from composite materials such as engineered wood with resin or PVC.
These blinds are designed to replicate the texture and look of natural and actual wood. They have an advantage, though, as their materials are more durable and highly resistant to humidity and moisture.
This makes them really great options to consider in the basement windows. They are also less expensive. So technically speaking, you're getting the look and feel of natural wood without the high price tag that comes along with it.
The only downside to this is that these faux wood blinds may offer a different amount of insulation than real wood blinds do.
Vertical Blinds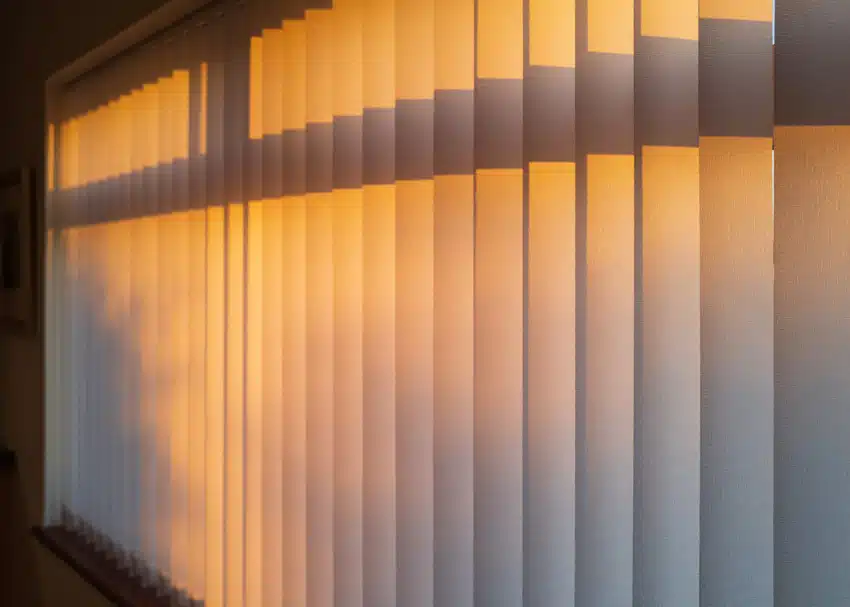 Vertical blinds are excellent to use for basement windows. They're practical because not only are they versatile design-wise, but they're also great for controlling privacy and light in the basement space. Vertical blinds have slats that are arranged vertically, and they can be pulled or tilted to the side.
This will allow you to control the privacy and light in the basement area. Basements are notorious for having high variable and little natural light, so vertical blinds are beneficial.
On top of all this, they are also relatively easy to maintain and clean. Moisture and dust are prevalent in the basement, and this extra bit of easy maintenance can make all the difference.
As for the aspect of design, vertical blinds come in a wide range of textures and colors. What this means is that you will be able to easily choose a style and color that perfectly complements your basement design layout. They can also come in a wide variety of materials. It can come in fabric or vinyl, depending on your preferences.
Take note, though, that vertical blinds come with certain downsides. For example, suppose you have small or irregular basement window sizes. In that case, they may not be a good fit. If you also have young children or pets at home, you need to be aware that they might be prone to get tangled up or damaged.
Motorized Blinds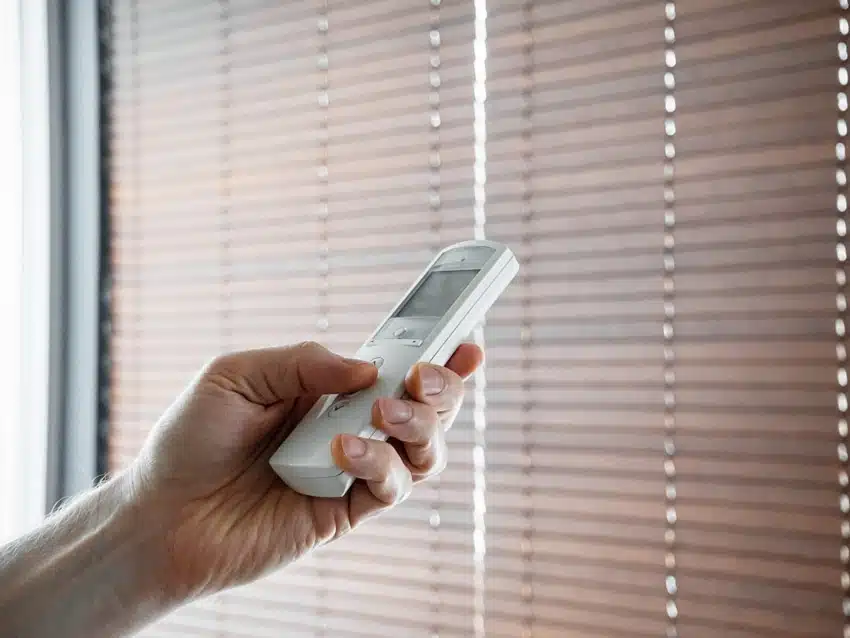 Motorized blinds can be great window treatments to consider for your basement windows. Suppose you want something that can quickly and conveniently control privacy and light. In that case, they're an excellent option for you to consider at the end of the day.
What's so great about motorized blinds is that they can be adjusted via a smartphone app or remote control. This means that you can easily customize the amount of light that enters your basement area without ever having to manually do it or even having to be in the actual room, to begin with.
These blinds are great for basement windows that are hard to reach or if you happen to have people at home who have mobility issues. It takes out the challenges of physical exertion.
This is particularly handy to have in the basement, where windows are often positioned awkwardly or in places that are hard to reach. And in addition to all of these, motorized blinds are also energy efficient.
You can have them pre-programmed to close and open automatically. You can adjust it based on the time of the day and the amount of sunlight that comes into the room.
This allows you to reduce heat loss during the cold winter months while keeping the basement cool during the hot summer months. What this translates to is compounded energy savings over time.
However, note that motorized blinds can be more expensive than the traditional window shades you're acquainted with. On top of this, you can only install them if they require professional installation. You'll also have to adjust the blinds during a power outage manually.
Roller Shades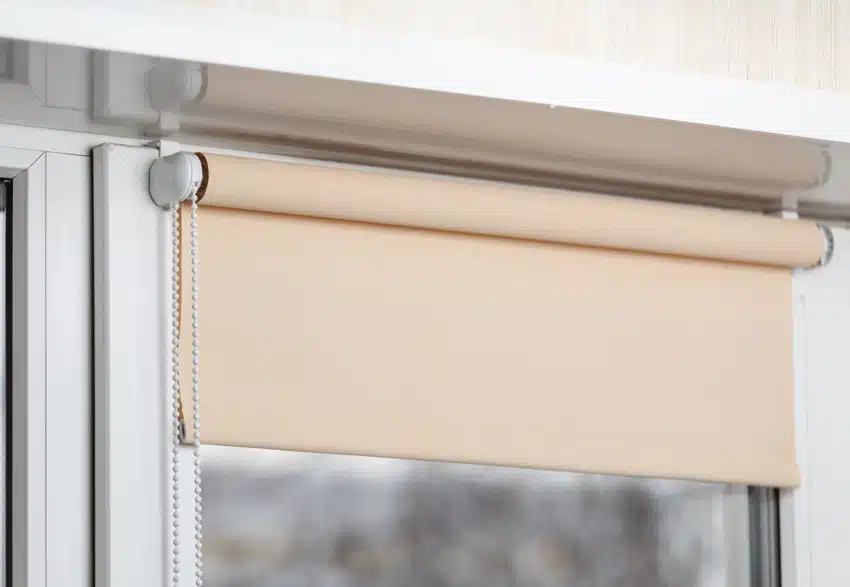 Roller shades are great window treatments to consider for your basement windows. They have a functional, sleek, and simple design that can be customized based on your needs. These shades are made of a single piece of fabric that can go up or down. This will allow you to control the privacy or light in the basement area.
Fabric roller shades not only meet the basic needs of privacy and light control, they also blend well into any decorating scheme. – More Creative Window Treatments, Home Decorating Institute Staff
Roller shades offer unparalleled versatility regarding window treatments for your basement area. You'll have the choice of a wide range of colors and fabrics, each providing different functionalities from blackout materials to light filtering, and more.
These shades can also be customized precisely to the measurements and shape of your window, which is especially beneficial for those with windows that don't conform to standard sizes. With roller shades, you're guaranteed the perfect fit and level of light control in your basement.
Roller shades provide simple installation, operation and even cleaning with just a dusting or a wipe down. However, compared to blinds and shutters, roller shades offer less insulation and are more prone to wrinkling or getting damaged over time when made of lighter materials.
The thickness or sheerness of the fabric can also affect the level of privacy in the room it is installed in. Roller shades offer convenience and ease at the expense of longevity and insulation.
Blackout Shades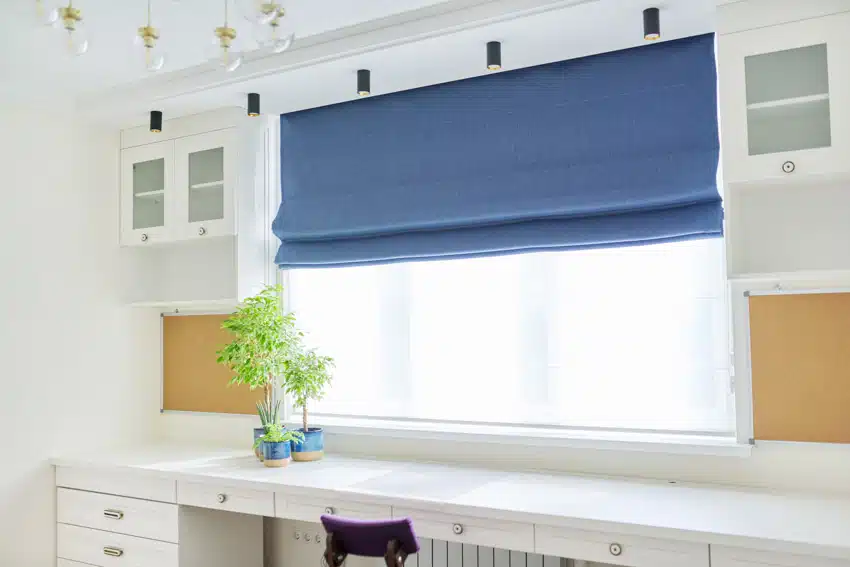 Blackout shades are excellent window treatments for your basement windows, especially if you're keen on maintaining a certain level of privacy or completely blocking light out of the space.
These shades are often made of an opaque material with a certain level of denseness, enabling it to effectively block light from entering your basement area.
On top of blocking light out, there are a lot of benefits that come along with using blackout shades as a window treatment as well. They're great at reducing noise pollution as well as improving energy efficiency. They're great window treatments to consider if you live in a busy area.
They also come in various designs, from cellular shades to roller shades. If you want the added insulation and style, you can pair them with other window treatments, such as drapes or curtains. Take note, though, that this only works for sunnier basements.
Typical basement windows can have reduced amounts of natural light, so blackout windows are only sometimes recommended if your basement is exceptionally bright.
Window Shutters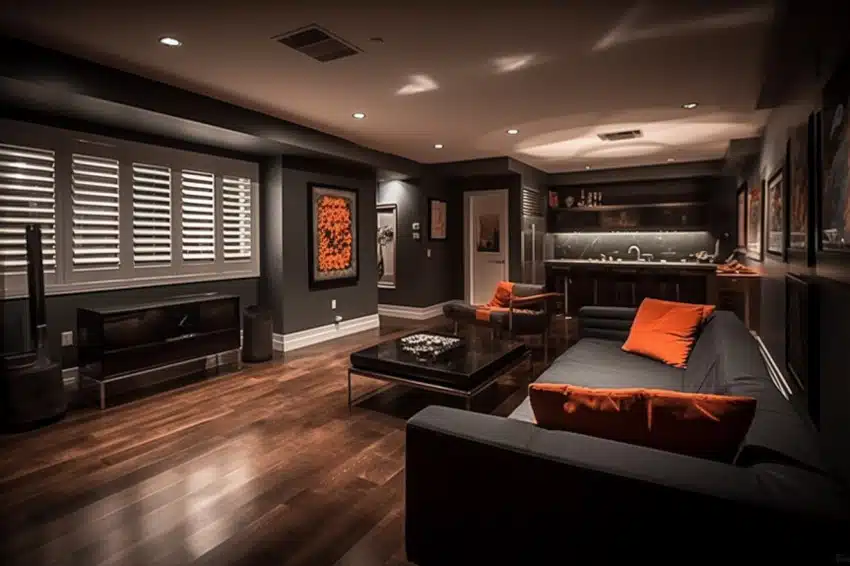 Window shutters are made up of horizontal slats encased in a solid frame. They can be adjusted to control privacy, ventilation, and actual lighting. What's really versatile about them is that they can be installed on the exteriors or interiors of your basement windows.
They're typically made from composite materials, vinyl, or wood. They come in two main types: traditional shutters and plantation shutters. Traditional types of shutters usually have smaller slats and are more suitable for smaller windows. In contrast, plantation shutters come with wider slats and are recommended for much larger windows.
These window treatments can be closed or opened using a tilt rod located on its frame, allowing you to adjust the slats' position accordingly as you see fit. The more modern versions of these window treatments have hidden tilt rods, providing a cleaner and far more seamless look.
They deliver an elegant and classic room to the space while also allowing you to control the amount of light that streams in and how much privacy you have in the area.
Curtains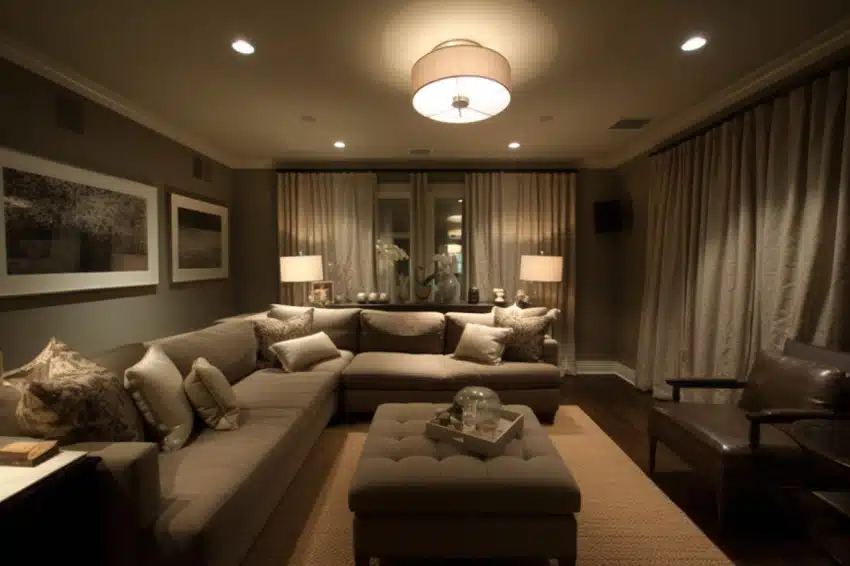 One of the most popular window treatments out there are curtains. These window treatments are made of fabric and installed for aesthetic and functional purposes for windows. They usually hang up from rails or rods just above the window frame.
They can be opened and closed either manually or by using a cord with a mechanism installed along with the curtains and the rods or rails they're hung up from.
They come in various fabrics, patterns, colors, and styles and are versatile. There's bound to be a specific type that will fit right into your basement's design theme. Here are some of the most popular types of curtains:
Sheer curtains: Sheer curtain fabric types are lightweight, allowing a lot of natural light to stream in a while, providing a small degree of privacy. They're recommended for basement windows where there is limited natural light.
Blackout curtains: These curtains are opaque, and they're designed for the function of completely blocking light out and providing the maximum amount of privacy possible.
Thermal curtains: These curtains are comprised of insulating materials. They're great for keeping the heat in during the cold months and the cold out during the winter months.
Printed curtains: These curtains are meant for aesthetics. They usually have patterns and designs that add character or visual interest to your basement space.
Drapery Panels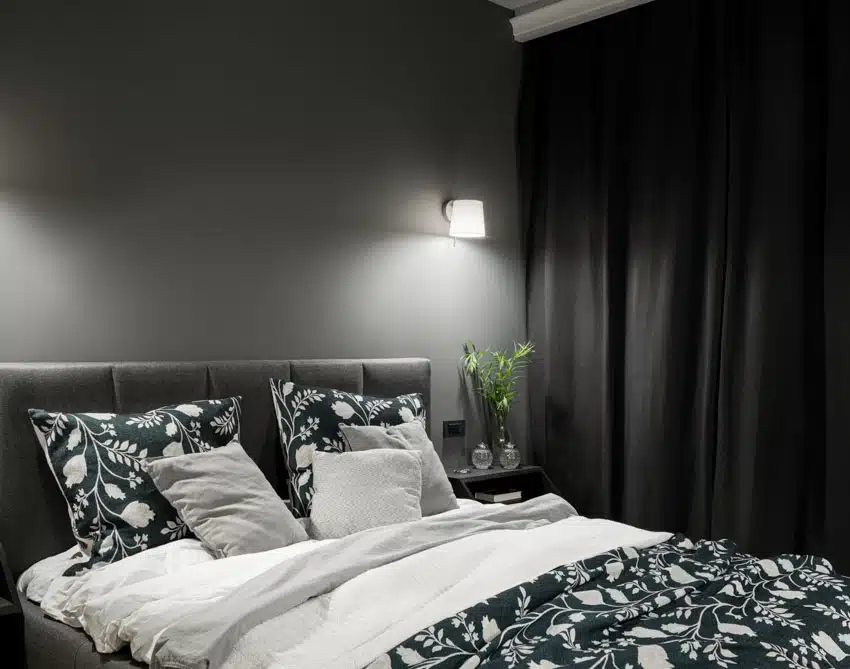 Draper panels are pieces of fabric that are hung from rods or rails. They're a type of curtain meant to cover windows, doorways, and entryways.
They come with various functions or purposes, from being used as decorative accents providing insulation, providing light control, and providing privacy.
They can be customized to fit specific dimensions, perfect for irregularly shaped basement windows. They can come in back tabs, rod pockets, tab tops, grommet, or pinch pleat styles.
Window Film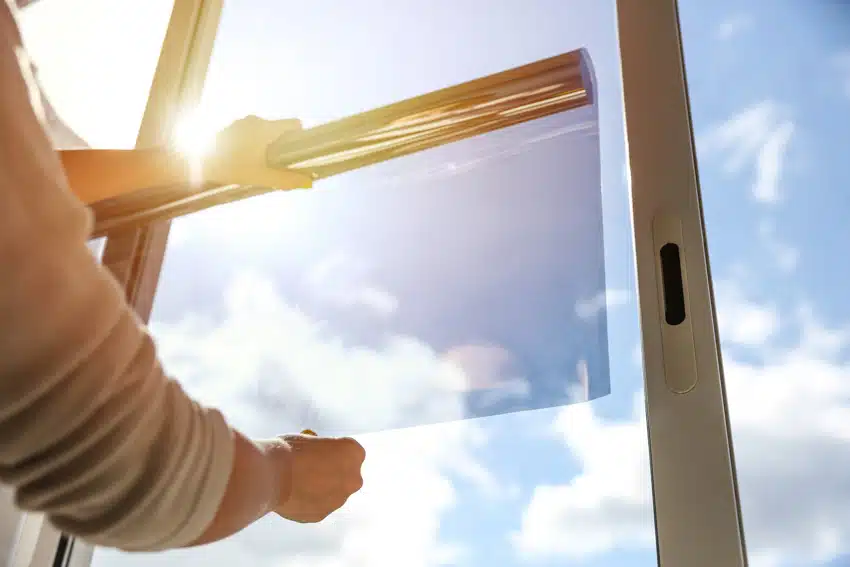 A window film is a thin sheet of film that's adhered to a window glass's surface to improve its appearance and performance. It can be made from various materials, from polymer, vinyl, or polyester.
And depending on your preferences, it can vary in thickness as well. Decorative films are meant for aesthetics, making them ideal for a modern basement.
Solar control window films are built to block light out and reduce UV radiation and solar heat, effectively reducing energy costs and preventing furniture and other stored materials from fading. Security window films, conversely, are meant to improve the shatter resistance and overall strength of your basement windows.
They can be beneficial as deterrents against storm damage, break-ins, or just your usual run-of-the-mill shattered glass accidents. The installation of a window film needs to be very precise, so make sure that you either get a professional to install it or follow the manufacturer's instructions down to a T.
Window Inserts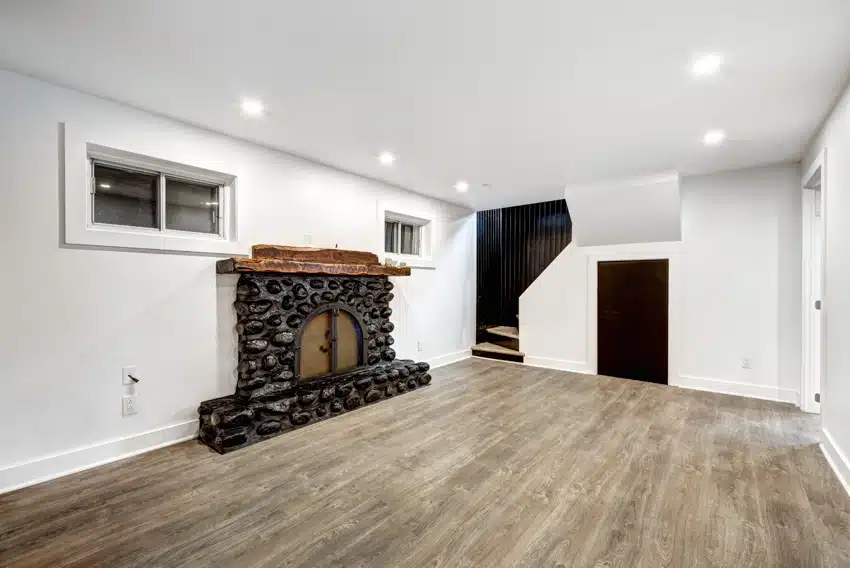 Window inserts can be considered retrofit window treatments that you can install inside your existing basement window frames. They're great for improving sound insulation and energy efficiency and are sometimes regarded as interior storm windows.
They can be made from various polycarbonate, acrylic, or glass materials. They're meant to fit inside your basement windows and provide an air gap to improve insulation. They also work well when limiting noise transmission and heat transfer.
Window inserts can come in sliding, casement, or double-hung window designs. They're typically easy to install or remove without needing special skills or tools.
Best Basement Window Material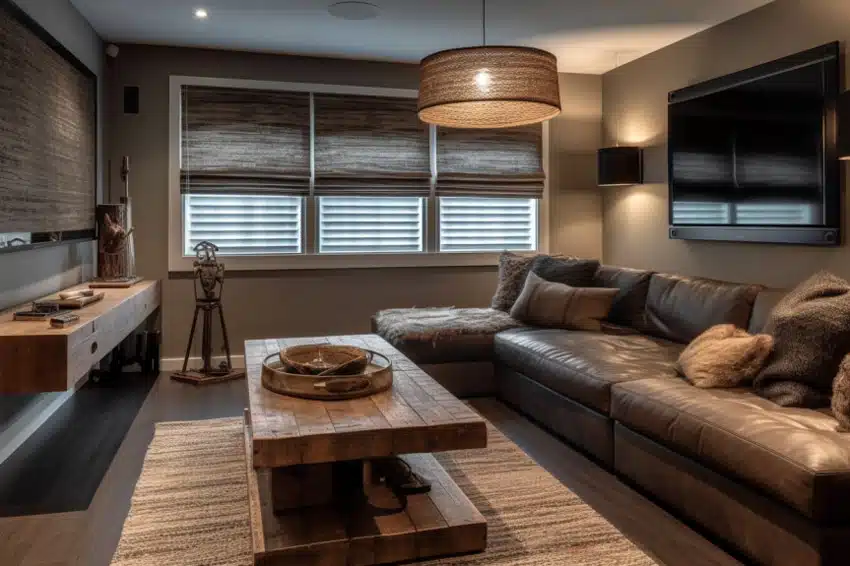 The best basement window material for you can be highly subjective as it depends on different variables, such as your budget and preferences, how you intend to use your basement, and the climate in your area. However, from a general aspect, here are some of the best materials to consider:
Wood: This is one of the most common and traditional materials to use for windows. They're easy to source and great for adding warmth and character to the space.
Take note, though, that for basement window use, you need to make sure that you use treated wood, as this material can be prone to rot and decay, especially when exposed to high moisture and humidity levels in the basement.
Aluminum: This material is lightweight and impressively strong and is highly recommended to use in the basement. It is also resistant to rust and corrosion and can be low maintenance.
Fiberglass: This material is lightweight, highly durable, and quite recommended for basement windows. It also protects against decay, rust, moisture, and humidity.
Vinyl: This is a great and affordable option for basement windows. It's durable, inexpensive, easy to maintain, and highly durable. Similar to aluminum and fiberglass, it is also impressively resistant to rot and decay.
How To Decorate Basement Windows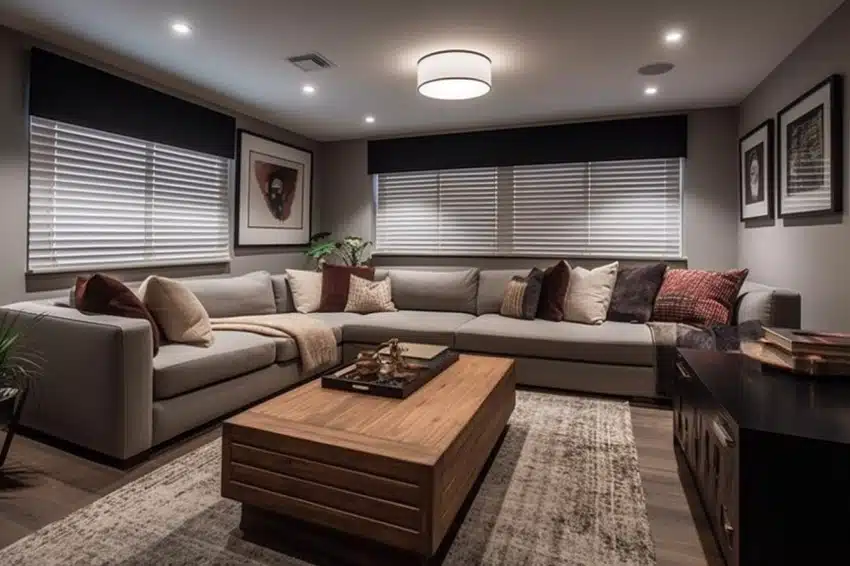 If you want to add warmth and personality, decorating your basement windows can be a massive leap from the cold and dank space it typically is. Here are some more ideas to improve it:
Add Window Trim: Window trims are decorative elements added along the perimeter of your basement window frames to provide a more finished and enhanced look at the end of the day.
They can draw attention to the window and complement the overall look and style of the room. You can customize it accordingly, from the thickness to the material and color. It's relatively easy to install and easily accomplished with basic DIY skills and tools.
Add Mirrors: Since basements are dark spaces with little natural light coming in, adding mirrors to your windows can be a good idea to consider.
Mirrors reflect light, making them effective in brightening the space. You also get the added illusion of more space, reducing your need for artificial basement lighting and helping you save up on energy costs even more.
Paint Molding: Adding paint molding to your basement windows is a practical and easy way to improve the overall appearance of the windows and the entire basement area. It can add some visual interest and enhance the aesthetics of the space.
It also helps protect the window frame and the surrounding walls near the window, protecting it from dings and scratches. This will amp up your window's protection against moisture as it prevents droplets from permeating through the wall cavity around the window frames.
How To Make Basement Windows Bigger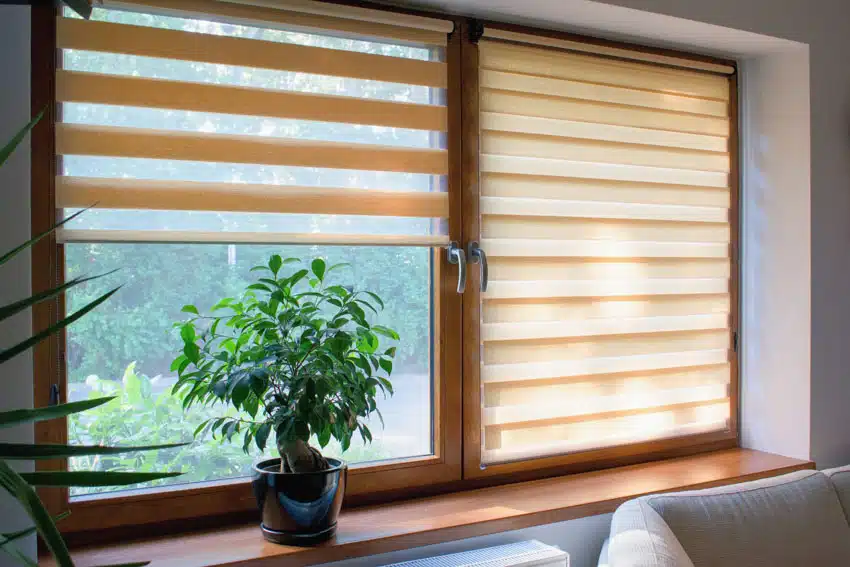 Making your basement windows bigger is a major undertaking as it involves cutting through your home's foundation. You need to manage your expectations ahead of time, as it can be an expensive and complicated process to go through with. Do not take this project on by yourself. It would be best if you hire a professional contractor. Here are some general steps on how to get that done:
Consult with your contractor. You will need professionals who have experience both in foundation work and ins window installation as well. They will usually give you a basic rundown of how feasible the project is, and they can provide you with estimated costs and valuable recommendations.
Decide on what your new window size will be. It would be best if you considered whether or not it's safe to make the necessary structural modifications while at it.
You must also take stock of your load-bearing basement walls while you're at it. You must ensure that this new window size meets the safety regulations dictated by your local building codes.
Once the new window size is noted, the following process cuts through the foundation. Your contractor will use special tools to cut through your home's foundation so that an opening for this new window size will be created accordingly. This involves precision and a lot of careful planning so that the home's structural integrity will not be compromised.
Then comes the installation of the new window frame. Once the contractor has cut through the foundation, a new window frame designed to fit into the new opening will sit in place. Your existing frame can be modified, or a brand-new one can be installed.
The new window is then installed and secured in place. The contractor will take care of adequately sealing it so that there aren't any air drafts or leakages in the future. According to Energy.gov properly sealing your windows can help save 5% to 30% in energy costs per year.

And lastly comes the finishing of both the interiors and exteriors. This is usually done with some trim and drywall. Any other aesthetic finishing touches will also be on the contractor's end. Still, you also have the option to do this yourself.
See more related content in our article about securing basement windows on this page.