Here's our guide to curtain fabric types with the different materials, designs, tips on how to choose curtain fabrics, and the best options for interior design.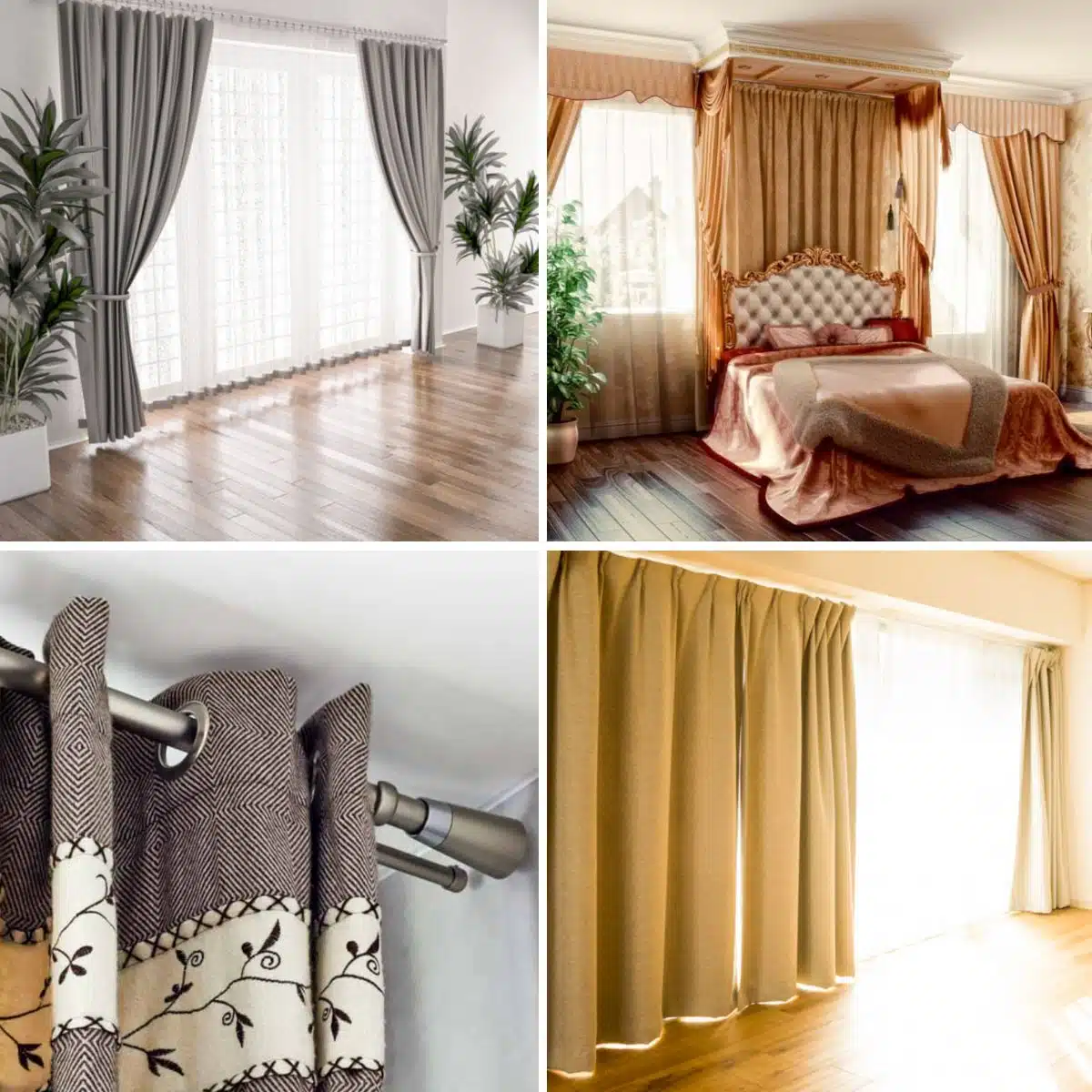 Adding curtains to your home gives it a totally different vibe, from a refreshing ambiance to a formal and elegant look. So, whichever vibe you have going for your home, you can spruce it up and level it up using curtains. And even if you have a different ambiance in each room, you can emphasize their differences with the help of different types of curtains.
One factor that affects the general aesthetics and ambiance of curtains is the fabric they're made of. It will also be a vital factor that can decide the curtain you choose for your home since it will also affect other characteristics like texture, price, and other functions you can take advantage of.
Types of Curtain Fabrics
These different fabrics have their respective advantages and disadvantages you can explore to choose the ideal curtain fabric and help customize the design of your home.
Cotton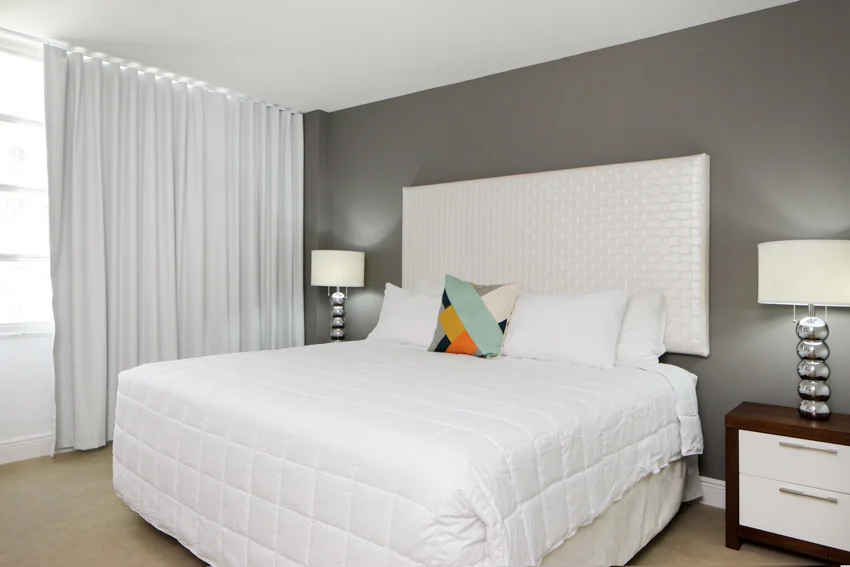 When it comes to traditional curtains, cotton is a popular option for homeowners. Ideal for the bedrooms and common areas like the living and dining rooms, cotton curtain fabric types can easily be used for traditional and rustic styles but can also deliver a modern vibe when it needs to.
Benefits: While known to feel soft and simple, here are some notable benefits you can expect from cotton as a curtain fabric:
• Incredibly versatile: Cotton can be formed in different shapes and have dyes of different colors and prints of different patterns.
• Wide options to consider: With different dimensions, weights, thicknesses, and care levels, cotton can have different types, including Madras cotton, twill cotton, cotton duck, and Gingham cotton. There are also quilting and dressmaking cotton, as well as canvas cotton, so there is a wide range of choices you can consider.
The results also showed that curtain fabrics made of cotton/linen showed highest mosquito repellent retention capacity and highest resistance against washing compared to cotton or cotton/viscose or polyester based curtain fabrics. – Functional Finishes for Textiles: Improving Comfort, Performance and Protection, 2014
• Cost-effective: Cotton is a popular cost-effective fabric with affordable initial price and maintenance requirements, making it suitable even for homeowners with a tight budget.
• Excellent for filtering light: As a curtain fabric, cotton works excellently in filtering light. If you want more privacy and to block sunlight from entering the room, choose a dark-colored tight weave cotton curtain or have a cotton panel lined on the window.
• Easy cleaning: Cotton is easy to clean and can be washed in a standard washing machine with cold water on a delicate cycle and then just hang it to dry.
• Light and airy feel: If you want to add an airy vibe to your room, cotton is the right fabric to go since the light material is gentle in filtering light and can even be used for a sheer curtain.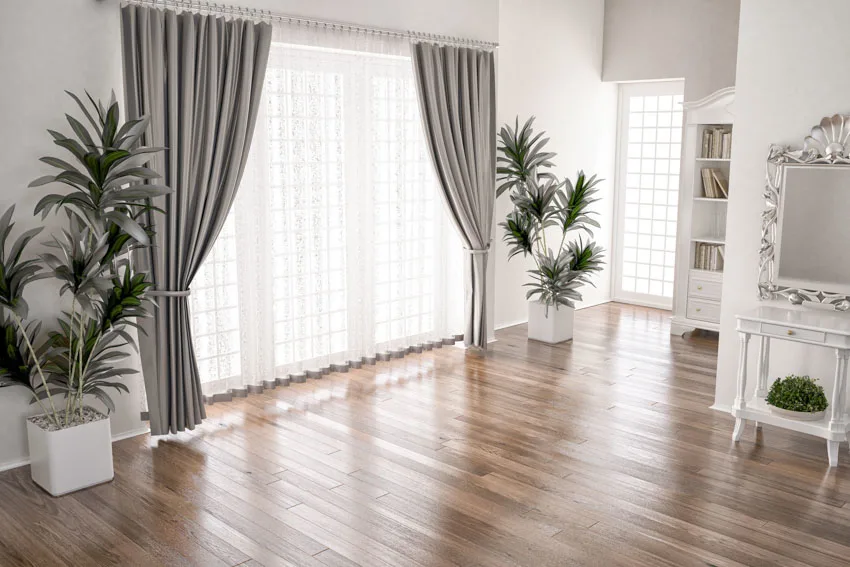 Cotton is a beneficial curtain fabric but there are downsides you need to know about, including the following:
• Fades over time (When exposed to direct sunlight)
• Susceptible to mildew buildup
• Prone to shrinkage
• Needs to be lined properly for good coverage
• Doesn't feel luxurious compared to other high-quality fabrics
Polyester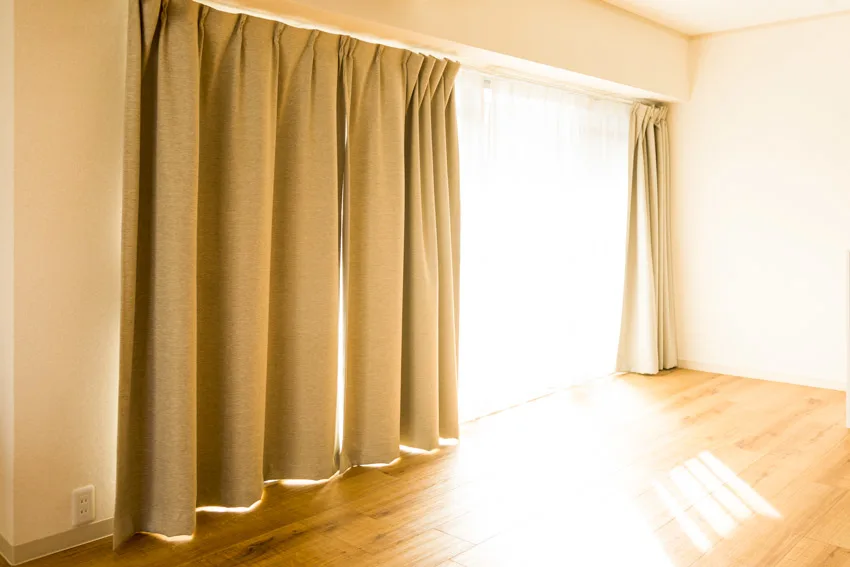 Polyester is another popular choice when considering fabrics for your curtains. It is widely used in living rooms and bedrooms but is avoided in the kitchen.
Benefits: Polyester is a common fabric with extraordinary advantages you can make the most of, including the following:
• Highly durable: Polyester is sturdy and doesn't easily tear. The material is also not prone to wrinkling, stretching, and shrinking.
• Affordable: This fabric is offered at a low price in the market, making it a perfect option for first-time homeowners and those on a tight budget.
• Low-maintenance: Polyester curtain fabric types are machine-washable and can be cleaned on a delicate tumble dry and low-heat setting.
• A wide range of options: You can have a variety of patterns and colors to choose from to help you match the curtains to the interior of your home and room.
• Mold and mildew resistant: Polyester is not susceptible to the buildup of mold and mildew, making it cleaner and more hygienic.
There are several drawbacks to Polyester curtains that you need to learn about, including the following:
• It is flammable and can be dangerous when used in the kitchen.
• It doesn't facilitate good airflow, which is a big disadvantage if you like to enjoy fresh air through your window.
• It can absorb odor easily.
• Removing stains is a big chore so you might prefer dark-colored polyester curtains if you have pets and kids at home.
Linen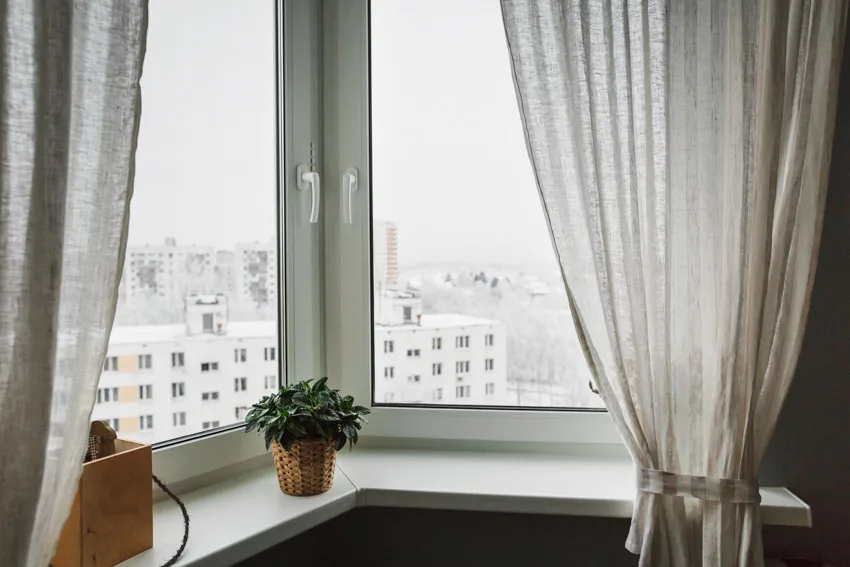 Linen is a natural fiber that makes an excellent curtain fabric, which is sought-after for its casual billowy, and airy look. While it is made from cotton, linen is denser in structure with more thickness and form.
Benefits: Linen types of curtains can spruce up your living room and are ideal for areas you spend a lot of time in. Here are some advantages you can experience with this specific curtain fabric.
• Stunning aesthetic value: Its billowy look makes linen curtains popular since it offers a refreshing and picture-perfect look you'd love to see in your home.
• A range of choices: You can have different styles and colors to choose from with linen, giving you the freedom to customize and mix and match. If you do mix them up it may be a good idea to keep the types of curtain rods the same to create a cohesive design.

• Excellently filters natural light: Despite being thick, linen curtain fabric types easily allow light to penetrate the fabric. You can allow natural light to come in without sacrificing your privacy in the process. And the curtains can help you regulate the temperature in your home.
• Can last for years: Given proper and regular maintenance, linen curtains can last for years.
• Gets better with time: Linen curtains look better and elegantly drape better with every wash.
• Won't fade: Even with constant moisture with the sunlight, linen won't fade and look worn out.
To avoid further surprises, here are some of the possible hassles you have to deal with linen curtains:
• Have the tendency to hang stiffly
• Prone to mildew and mold
• Can only be dry cleaned
• Easily wrinkles so it needs to be hung immediately
• Comes with a high price tag
Silk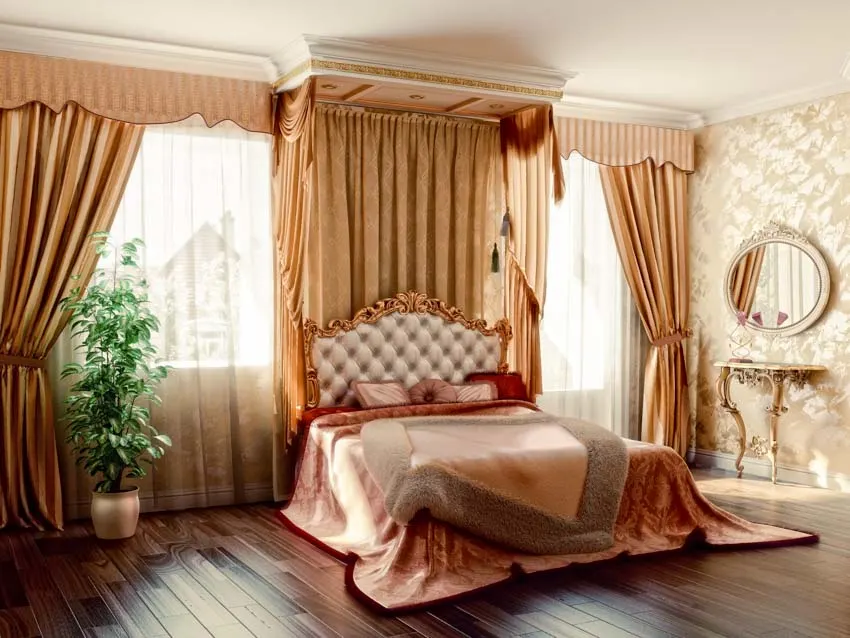 Silk is known for luxury and elegance and this applies even when the material is made into a curtain. Silk curtains are ideal for elegant windows and common areas where their aesthetics will be well-appreciated like the dining rooms and living rooms.
Benefits: Silk is a natural fabric spun from spider silk and when turned into curtains, they add a formal and romantic vibe to the room. Here are some benefits you can get from choosing silk curtains:
• Adds aesthetic value to your home: Most would choose silk curtain fabric types though because of their aesthetic value rather than their functionality and if you want to show luxury at home, this is one way to do so.
• Excellent weight and durability: Since it is quite hefty, it drapes well and you can allow it to pool to the floor, which is also not a problem since it is durable enough (Though it might not be a practical choice).
• A wide variety of options: It comes in different colors, designs, and patterns you can skim through to choose a specific one ideal for your home decor.
• Excellently blocks out light: If you like to block the light from entering your room, silk curtains can do that excellently and can make a good blackout curtain. It also protects your privacy well.
• Helps regulate indoor temperature: More than just blocking light, it also keeps cool or warm air in, making sure that whether it's winter or summer, you get to keep the temperature you're comfortable with.
• Offers the option for faux silk: If you have a limited budget but want the luxurious aesthetics of silk curtains, faux silk curtains are available. The silk/cotton or silk/linen blend is more durable, affordable, and easier to wash than its authentic version.
Some of the drawbacks you can expect in choosing silk curtains are the following:
• Can only be dry-cleaned
• Prone to sun damage when exposed directly to UV rays
• Costly initial price and maintenance needs
• Required meticulous and specialized care
Velvet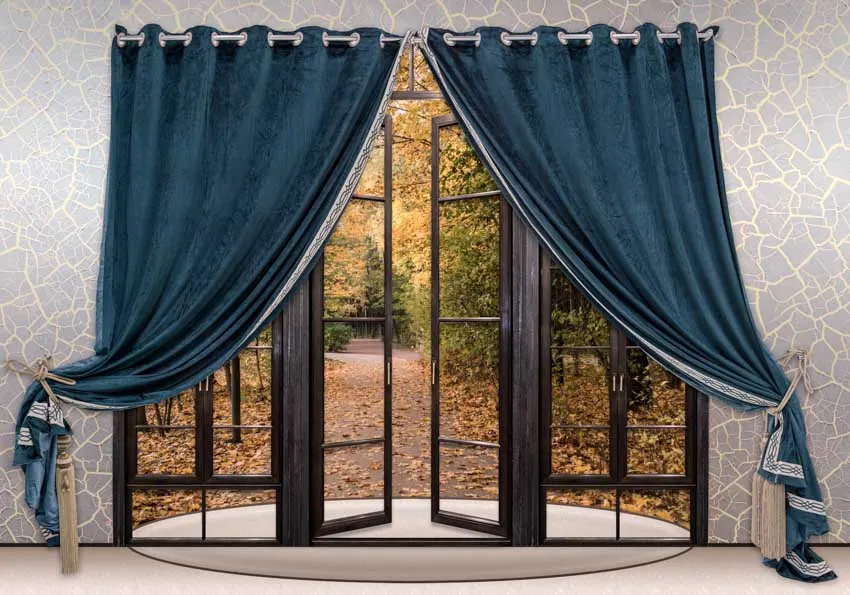 If you want another elegant and luxurious option for your curtains, velvet is a consideration to explore. Not all velvet can be used as curtains so make sure you choose well, and decide whether you want synthetic or natural fiber for your curtains.

Velvet curtains are ideal for grand and traditional master bedrooms, as well as sophisticated dining rooms. If you are still looking for a reason to choose this particular curtain fabric, here are several to choose from:
• Excellent element for insulation: Velvet is thick and heavy, capable of keeping the warm or cold air inside the room and blocking cold drafts from entering your home.
• Promotes your privacy: Besides blocking airflow, velvet curtain fabric types are solid and sturdy to keep nosy neighbors and strangers away from your windows.
• Blocks light: If you want to have a dark room and enjoy a cozy ambiance during a movie night or game night, velvet curtains can help you set up that vibe.
You can install velvet curtains and benefit from these advantages but it also comes with the following hassles:
• Requires meticulous care, which includes dry cleaning and using a steamer (You can't iron it)
• Tendency to easily accumulate dust and pet hair
• Needs to be regularly cleaned to keep the fabric and color Well
• Requires wall studs where the curtain poles are attached to install the curtains right
Acrylic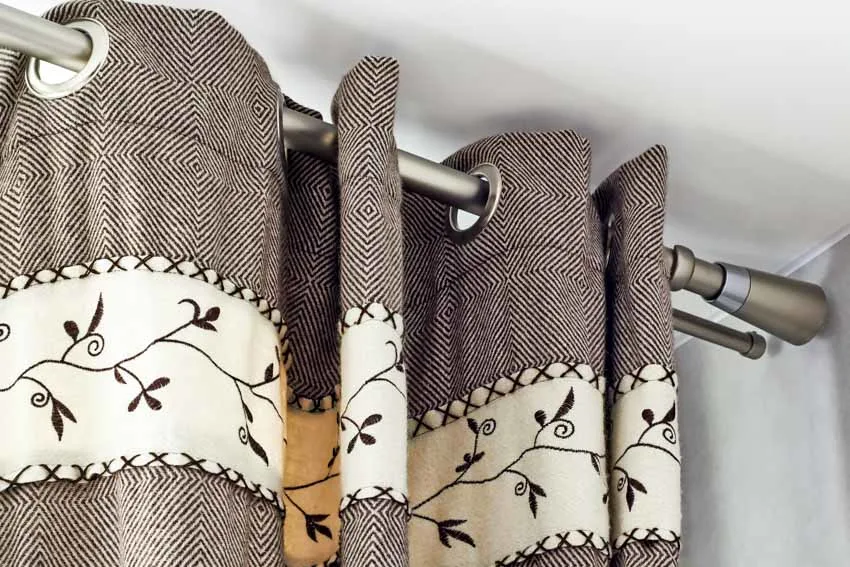 Acrylic is a lightweight curtain fabric that showcases a similar texture to wool. It is a practical choice and can offer you several benefits you can take advantage of.
Benefits: Besides the curtain fabric's luxurious aesthetics and soft or crisp hand, it also provides the following advantages when turned into a curtain:
• Drapes beautifully on the window: Soft to touch and so elegantly drapes on your windows.
• Offers excellent insulation: It can be a good option to regulate the temperature inside your home or room.
• Hypoallergenic: If you have pets, this curtain fabric is a good option to take into account.
• Mildew and mold resistant: This fabric is a healthy choice since you won't have to worry about the issues you will face with mold and mildew buildup.
• Effortlessly disperse moisture: While acrylic curtain fabric types easily attract moisture, they also easily disperse moisture so they dry up fast.
Brocade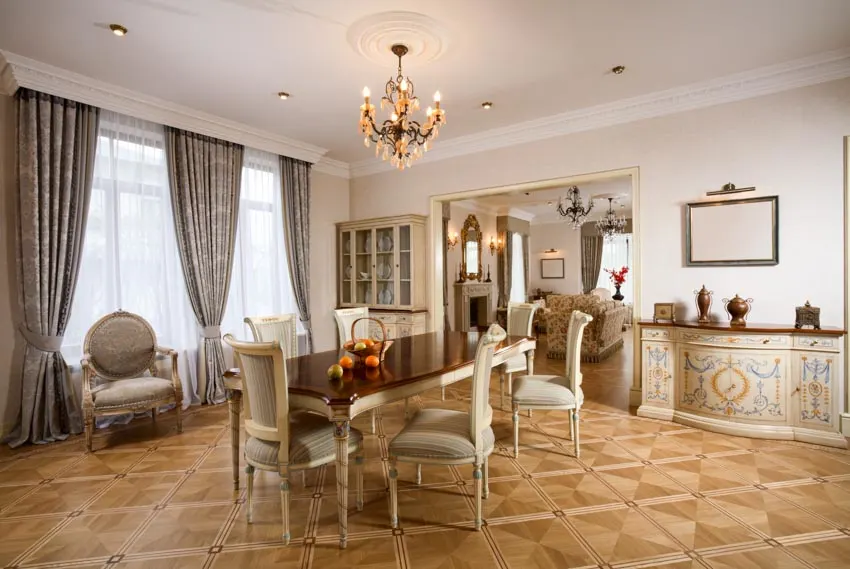 Brocade is not just a simple curtain fabric but is actually elaborately woven, giving it more value and sophistication. Considered a specialty drapery fabric, brocade may not be as functional compared to other curtain fabrics but it also features specific benefits you can enjoy.
Benefits: Brocade can be made using silk or cotton fibers, depending on the makers. Check out these benefits you can get from having brocade curtain fabric types:
• Rich patterns in a variety of colors: Usually come with floral patterns but there are many other patterns to choose from.
• Elegant and luxurious aesthetics: With how this curtain fabric is woven, you will definitely get an elegant look to add to your home's aesthetics.
One thing you need to remember though is that since it is woven, it is expensive. And you will need to make sure that it is properly lined to keep the drape and pattern when you use it.
Rayon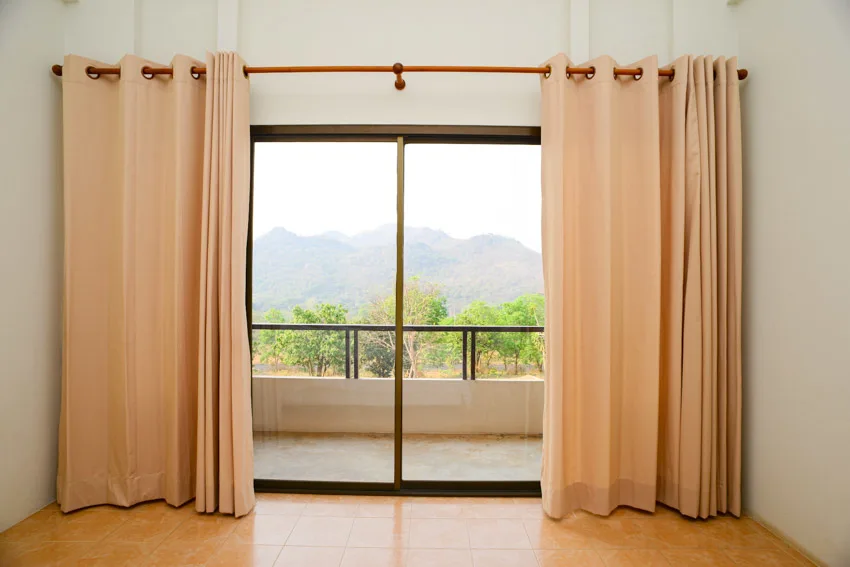 While can be woven using natural fibers, Rayon is a popular functional option. Similar to polyester, it is practical in its usage and provides the following benefits.
Benefits:
• Versatile: Rayon curtain fabric types can be used in almost all of the rooms in your home, wherever you plan to install it.
• Soft and breathable: This curtain fabric imitates natural fibers, which is why it has a luxurious feel to it that's similar to linen and silk.
• Strong and durable: Rayon is durable and strong enough for tear and wear but make sure you only dry clean it since the fabric can be damaged if you use a washing machine.
• Excellent light filtering: It doesn't completely block out light but offers great light filtering.
Lace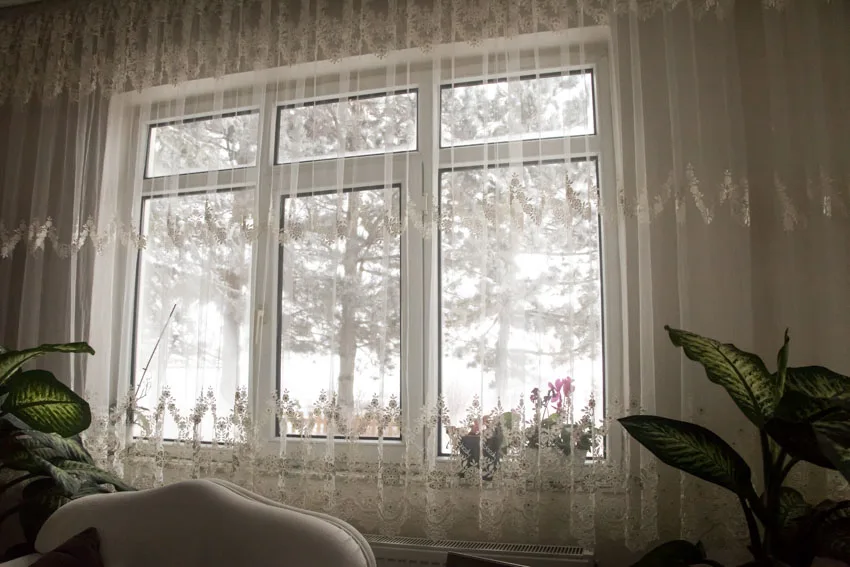 Lace is a romantic and traditional fabric that you can use for your curtains in the bedrooms, dining rooms, kitchens, and living rooms. With an open weave, it can easily be used as a sheer curtain but needs to be paired with another solid fabric if it will be used as a window curtain because it is delicate.
Most types of this fabric are expensive materials for dressmaking but Calais lace and Leavers lace are two types of lace fabric you can use for curtains.
Benefits: The fabric can be made from polyester, linen, and cotton fabrics but can also be handcrafted or machine-made. Check out the following benefits you can enjoy from choosing lace curtain fabric types.
• Country and history appeal: While this curtain fabric may seem rustic and old-school, you can match it with modern decor too with the right accents and elements.
• Diffuses natural light: It does not block sunlight but can elegantly filter it.
• Light and airy vibe: Lace is a lightweight, popular sheer fabric with this open and freeing feel.
• Offered in different colors: While white is the traditional color of lace, there are many fabrics that come in neutral colors and a few in bold colors you can use to your advantage.
• Versatility: Lace as a curtain can be modified to match your needs since you can make a lace hybrid of half sheer and half lace curtains or a curtain where only the end of the panel is made from lace.
Washing your lace curtains requires hand-washing. If you will use a washing machine, put the curtains in a protective mesh bag and turn it on a delicate cycle then hang them dry.
If the curtains have stains, make sure to pre-treat the stains beforehand. Other drawbacks you may encounter with lace curtains are the following:
• The fabric is so delicate that it can easily be snagged and torn.
• Lace curtains can't be standalone and need to be paired with more durable material.
• It is prone to staining and discoloration, especially if you use ivory or white lace.
• You might be required to regularly clean your lace curtain and can be expensive to do so.
Voile
Voile is an open weave crisp fabric that can be 100% cotton or polyester, depending on its maker. It is famous to be used as a sheer curtain ideally installed in wide and tall types of windows, doorways, and living rooms.
Benefits: Voile is a curtain fabric that delivers both modern and contemporary vibes and provides several benefits to explore.
• Airy and dreamy aesthetics: This fabric has the same sheet and delicate look as chiffon, giving a light, dreamy, and nostalgic feels to it.
• Excellent light filtering: Being lightweight and good material for sheer curtains, voile curtain fabric types are good for filtering light but not so much when it comes to insulation, blocking noises and light, and privacy.
• Can be machine-washed: While hand-washing is recommended, you can wash it using a washing machine but make sure to place it on a protective mesh bag under a delicate cycle and pre-treat stains before washing them.
Curtain Fabric Designs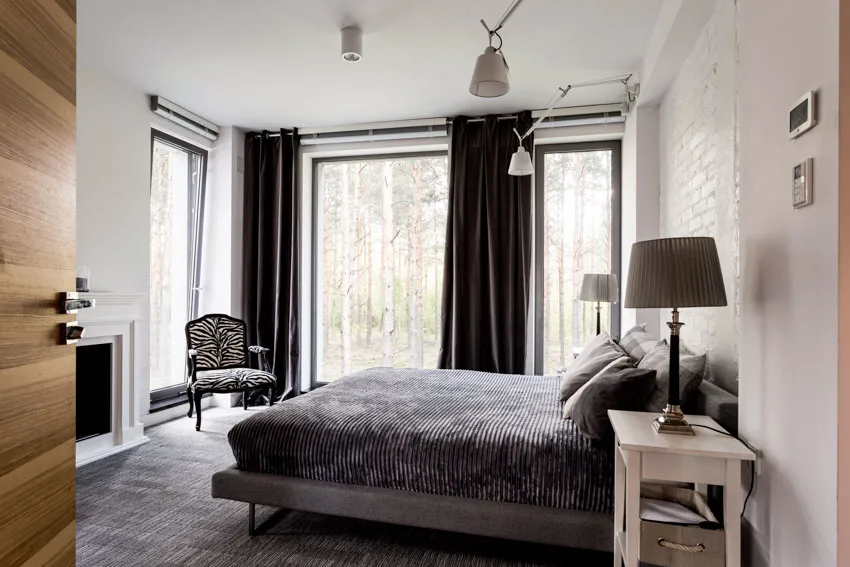 Besides fibers and materials of the curtain fabrics that differ from each other, you might also want to consider the different designs they come in when deliberating the ideal curtain fabric for your home. Designs can be based on their major purpose in the first place and can turn a room to have a different ambiance.
In choosing the curtain fabric design, make sure you match it with your style and personality to ground the entire ensemble to your identity and character. Balance your choice in terms of both aesthetics and functionality.
Explore the options you have when it comes to the designs of your curtain fabrics and then choose the one that can spruce up your home without straying away from the ambiance you're going for.
Decorative Curtains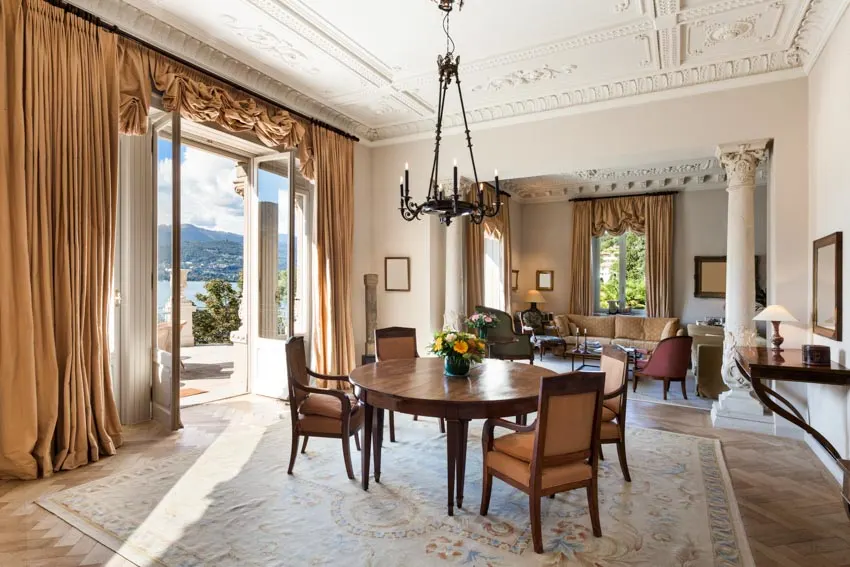 Decorative curtains simply mean that they were made primarily to add aesthetic value to the rooms they will be installed in. These curtains can be made from fabrics that prioritize aesthetics and deliver a particular look.
Some of the fabrics that are usually made into decorative curtains include the following:
• Linens
• Velvet curtains (regal and traditional look)
• Silk & faux silk
• Warp sateens
• Brocade
• Cotton and cotton-blends
Of course, more than the different fabrics to choose from, colors, patterns, and textures can affect the aesthetics your decorative curtains may have. Read more about how to choose curtain color on this page.

Lightweight Curtain Panels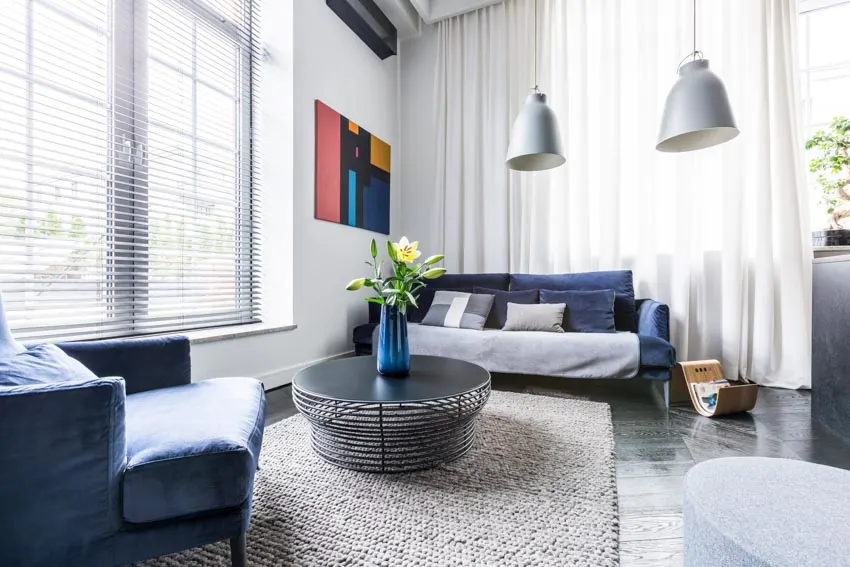 Lightweight curtain panels are window treatments that serve more as a decorative element rather than a functional one. Since these curtains are lightweight, they won't have anything to say much when it comes to insulation, privacy, and the blocking of light and noise.
For lightweight curtain fabric types with simpler and plainer designs and patterns, they usually serve as temporary options for renters and first-time homeowners who have not chosen a more long-lasting curtain option. They can also be easily installed and taken down.
Lined Curtains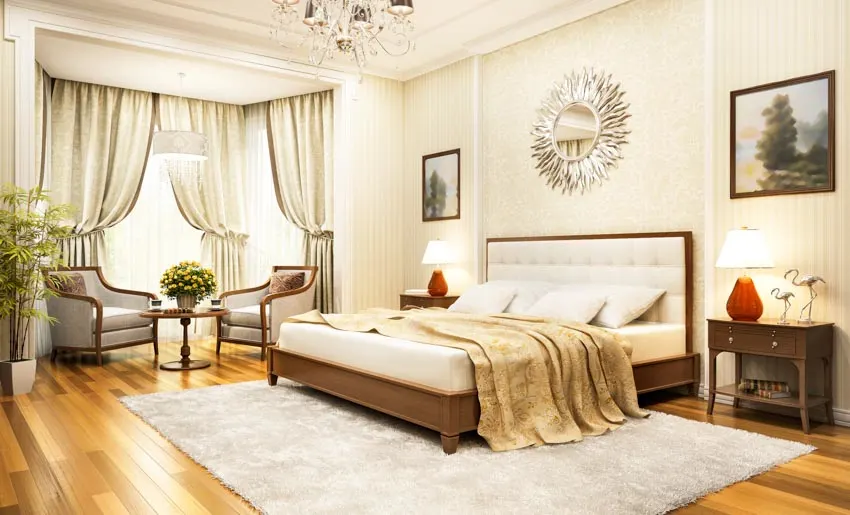 Lined curtains feature a clear and professional finish to their look compared to other types of curtains. Since they are lined, these curtains are incredibly functional, supporting excellent insulation, high privacy, and noise, light, and airflow blockages.
Most of the line curtains look aesthetically pleasing when drawn closed and seen from the outside rather than indoors. Resistant to fading, they are usually more durable in order for them to remain functional for a longer period of time.
If you want to save money and lower your utility bill, line curtains can help you since they restrict airflow and so can help keep the room warm during the winter and cold during the summer.
And if you want to protect your wooden furniture and other important items in your room, these lined curtains can block the UV rays from creating permanent damage to them.
One of the most common linings is made from white or unbleached cotton. Other fabrics used for lining include polyester and cotton mix, thermal, and blackout. You can also have an additional layer of fabric along with the lined curtain to add more body and insulation if you feel like the one you have is not enough.
Sheer Curtains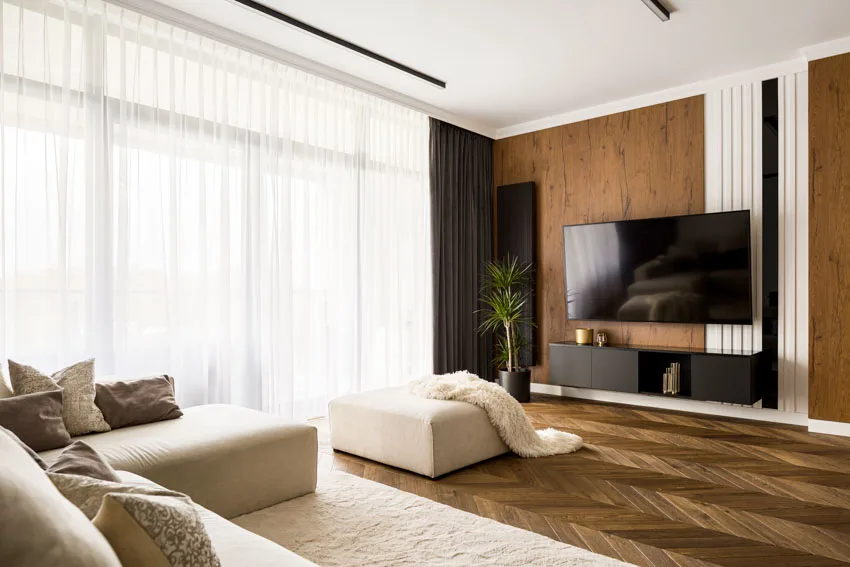 Sheer curtains are popular for being lightweight and airy, made from very thin fabric in order to successfully accomplish the sheer and light-through effect in the curtains. Some of the advantages of choosing sheer curtains include:
• Offer some level of privacy without restricting natural light from entering the room through your window
• Versatile to act as a standalone curtain or an accent curtain to add to a solid curtain
• Can come in a variety of colors, styles, and fabrics
• Showcase a romantic and feminine vibe to it (Especially when in white lace)
• Easier to install and handle since they are lightweight
More than just these advantages though, there are also some drawbacks you have to consider when you choose sheer curtains.
1. Privacy can only be guaranteed from a distance
2. Some fabrics of sheer curtains are too delicate to work with
3. Poor insulation and noise-reduction features
4. Careful washing and maintenance since they can be delicate
5. Prone to snags and tears
Blackout Curtains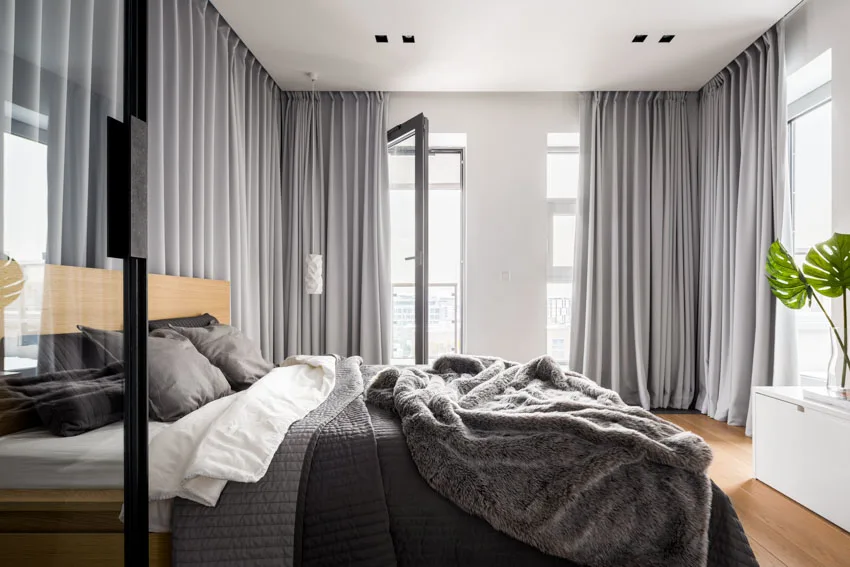 Blackout curtains are designed to block light from entering the room through your window, whether it's the natural light or artificial ones from street lights. Here are some benefits you can take into account when considering blackout curtains:
• You get restful sleep at night since darkness is vital in achieving high-quality sleep
• Makes it possible to nap during the day
• Helps insulate your room since some of these blackout curtains also restrict airflow and transfer of heat
• Guarantees your privacy
Most blackout curtains must be handed washed to clean. You can start by vacuuming the curtain panels. Then remove the curtains from the rod and try spot cleaning them with a household laundry soap. You can read more about how to clean blackout curtains here.
Thermal Curtains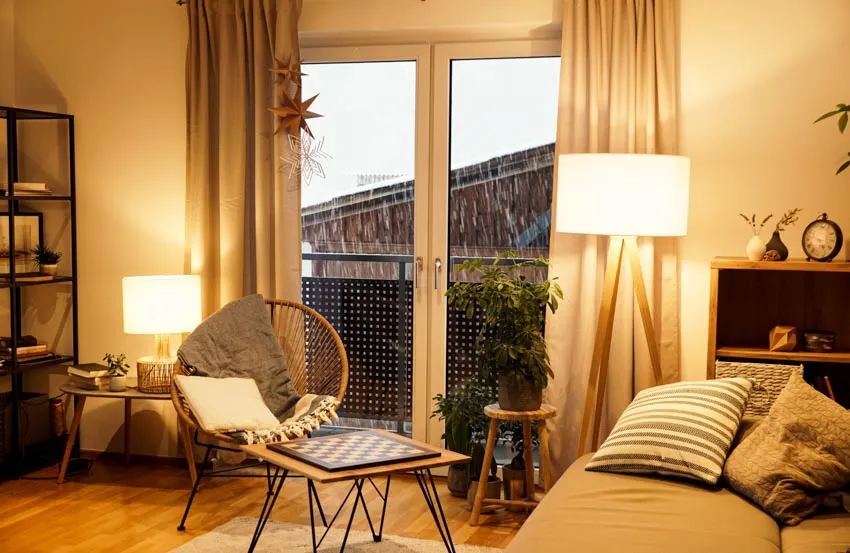 Thermal curtain fabric types are are the best option for homes in harsh colder or warmer climates. Its main advantage is its thickness which provides extra insulation when installed on windows to protect the room and home from a cold drafts or heat. Thermal curtain material is made of cotton or polyester.
• Can help keep out the cold and heat
• Can help reduce energy bills
• Can help save energy
• Block sunlight
• Provide maximum privacy
Metallic Fabrics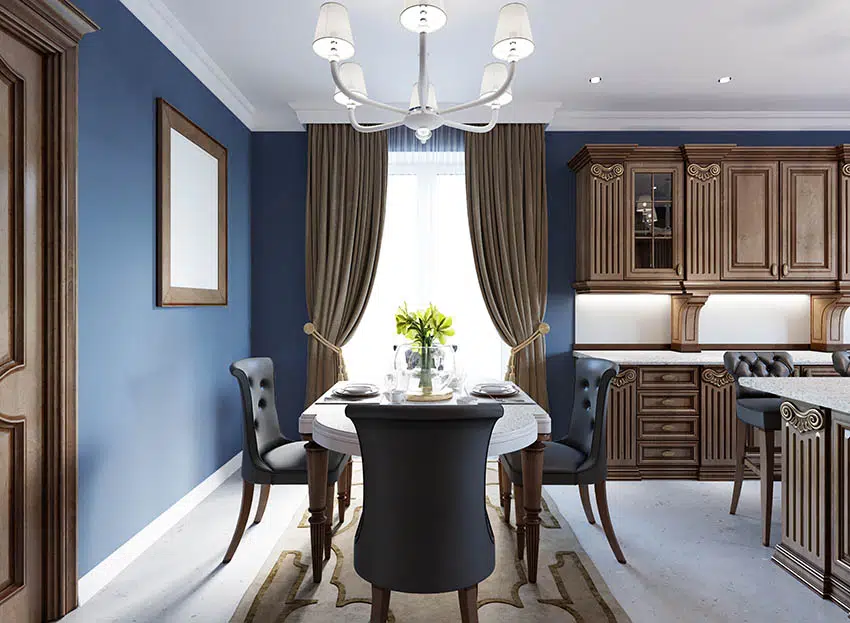 Metallic fabrics such as gold, silver, and bronze can add an instant flair in a room and are a modern and unusual choice. Metallic fabrics come in a range of textures and patterns and can be used to make a statement in a modern space.
• Can give your room a modern look

• Offers sound insulation
• Easier to clean
• Wide assortment of color choices

• Offers privacy
Jacquard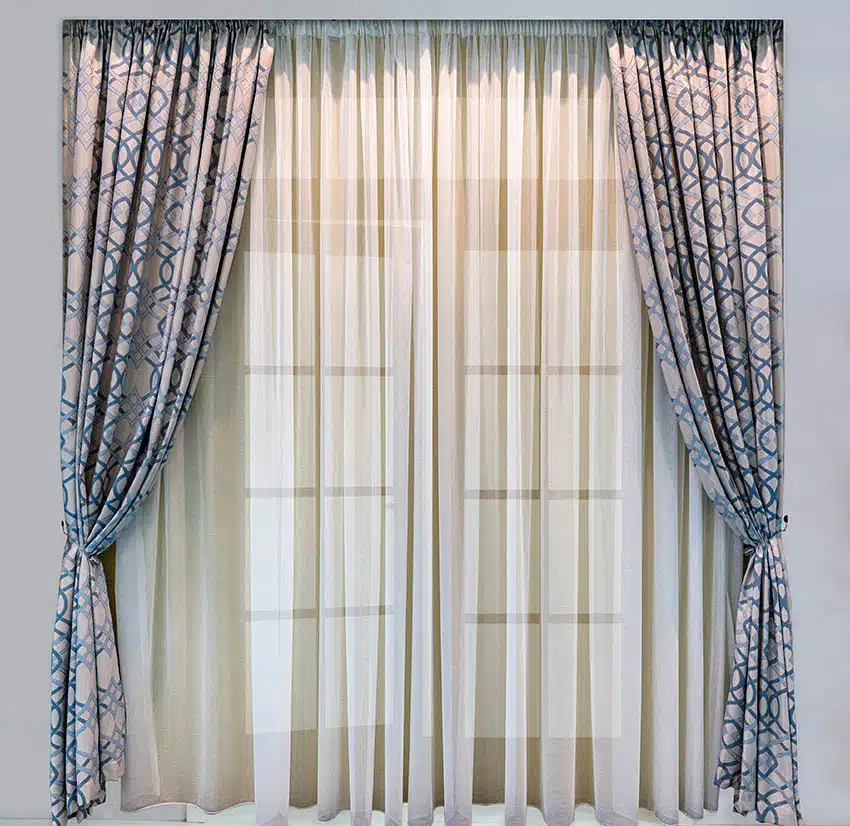 When aiming to add texture, jacquard fabric is a great option as it has raised three dimensional patterns while adding volume to a window treatment.
Jacquard curtains come in a variety of patterns and colors which brings a luxurious and traditional feel to a room. They are made from all sorts of fibers such as cotton, silk, and synthetic fabrics.
• Intricate designs and patterns
• Resistant to fading
• Wrinkle resistance
• A luxurious look

• Variety of materials to choose from
Ombre Fabrics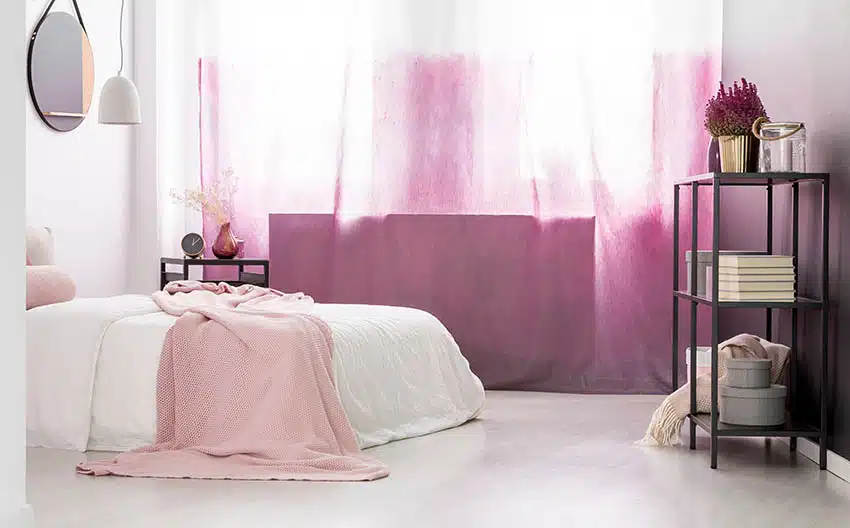 Ombre fabrics are a type of fabric that features a gradual color change from light to dark or from one color to another. These are usually made out of cotton, silk, wool, and polyester.
There are also variations of ombre fabrics, such as dip-dyed fabrics with a more abrupt color transition or ombré fabrics with a geometric pattern with a gradient effect.
• Interesting and usual material and designs

• Many styles and colors available

• Insulating from heat and cold

• Can be machine washed and easy to clean

Outdoor Curtains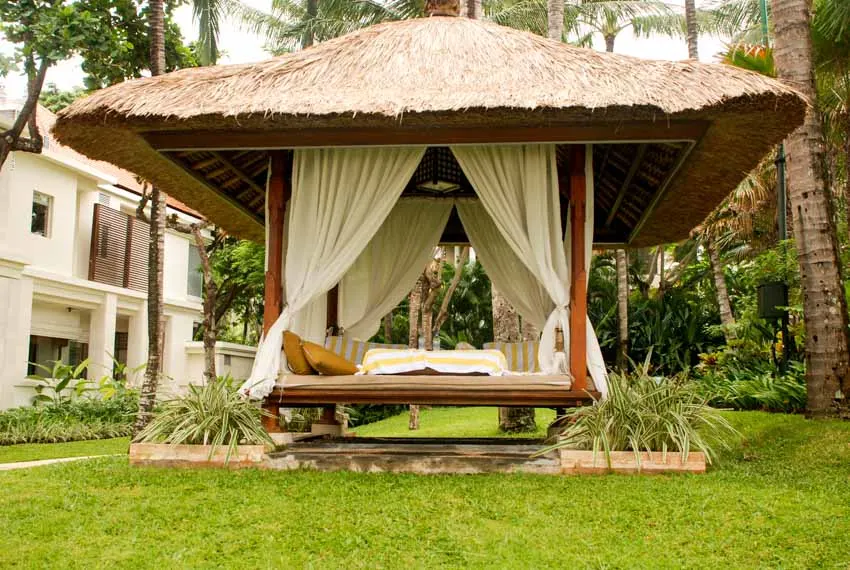 Outdoor curtains are precisely what they are named, which are curtains installed outside the home rather than the usual indoor curtains. These curtains are used by homeowners who want to guarantee their privacy starting from the patio.
Made from more durable and thicker fabrics, here are some benefits you can get from outdoor curtains:
• Allows you to enjoy the outdoor space you have whatever the weather may be
• Keeps out weather elements from creating possible damage to your patio
• Normally moisture, mold, and mildew resistant
• Comes in UV resistant option (Colors do not fade even with sun exposure)
How to Choose Curtain Fabrics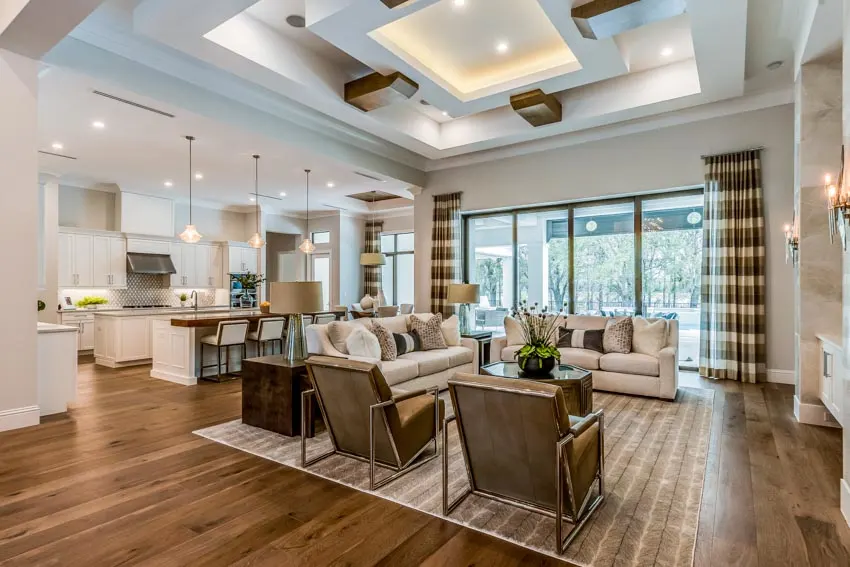 Choosing the right curtain fabric entails taking into account several factors that will solidify the purpose of the curtains you will install and the style you have going for your room and home.
Besides these two, these factors will always play a role in your decision:
• Your current budget or the cost you are willing to invest: When it comes to budget, linens are more affordable than silk and lace. Take into account the initial prices they come in, as well as the maintenance cost they might require once you choose them.
• The level of privacy you want to have: Blackout curtains can be considered the best option if you want optimal privacy but this always blocks out light and so you will have to make do with the darkness. If you want natural light to filter through though but still value a level of privacy, sheer curtains can be an option.
• The care and maintenance you can commit to: Some curtain fabrics require special care and maintenance because they are less durable and are delicate like lace and silk. Make sure you know what you're dealing with before you purchase them.
• Other features of the curtain fabric that you provide high importance to: Insulation is an excellent by-product of blackout curtains so if you want a warm room in the winter and a cold one in the summer without emptying your pockets from high utility bills, these curtains can help you.
---
Ask the Designer – How to Choose Curtain Fabrics
We spoke with interior designer Danielle Porter about her thought process regarding choosing curtains fabrics and here's her top recommendations:
Designing your home can often feel like it takes forever, but before you know it, everything seems to magically come together at the 11th hour. No matter the extent of your design work – whether you're sprucing up and doing some additional decorating, taking on an aesthetic overhaul, or going for a complete renovation – we always recommend looking at your space holistically.
When you think about all the decisions that need to be made, it's easy to get overwhelmed. However, if you fall in love with a sofa but don't consider that it really doesn't go with your area rug, or it clashes with your antique side chairs, you've really just created more design problems for yourself. Taking into account all products and finishes allows you to ensure a cohesive aesthetic at the end of the project.
This is particularly important when it comes to fabrics. Fabrics can be fun to select because they come in a multitude of colors, patterns, styles, and textures, and they bring in lots of personality, but they can also clash really easily if they are not well-coordinated. We always advise selecting them together with physical samples, in your space when you can.
When it comes to window treatments, there are a few directions you can take with different types of fabrics. First and foremost – always consider the hierarchy of your space. Are your curtains the feature? Are they part of the background to blend in?
Understanding hierarchy will help you determine the type of fabric and pattern you're looking for. For example, if you have a boldly patterned couch – a simple, solid, textured curtain in a slightly lighter tone can connect to the couch without competing with it.
Second, always consider your light screening and privacy needs, as your curtains may need to be paired with blinds or other solutions, to achieve the desired effect based on the transparency of the curtain fabric.
Some of the most common options for fabrics are:
Cotton
Velvet
Polyester
Linen
Silk
Acrylic
Brocade
Rayon
Lace
Voile
Fabrics like cotton, linen, lace, and voile are all lighter-weight fabrics and help bring some texture and color to a space without weight it down. They'll also filter in light, so if you have nosy neighbors or windows that get a lot of glare, be sure to pair these with a blind or shade of some kind to maximize the control of the space and keep it comfortable.
Velvet, silk, and brocade are on the opposite end of the spectrum – heavyweight, hold form, and block almost all light from coming in. They also help give an extra layer of insulation because of their weight and construction, which is an added bonus in colder climates.
Beyond privacy and light blocking, all of these fabrics translate into very different, specific aesthetics, and while we always recommend selecting a curtain fabric with a physical sample in hand, it's even better if you can get a large sample and hang it vertically on your wall – that's the most true-to-life way to decide.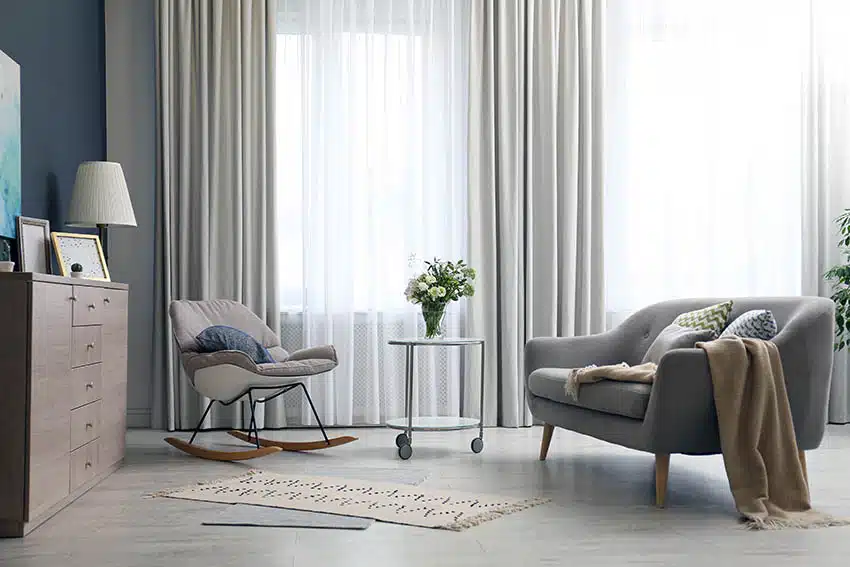 ---
We asked architect and designer Ellen Siloy how she recommends choosing curtain fabrics for her room projects and here's her response.
Solid or Print? The style and current elements in an interior are the first cues on how to choose between a solid or printed curtain fabric. Remember that prints can add visual weight and draw the eyes to the curtain area, especially if there are limited patterns on the rest of the ensemble.
A minimalistic interior with plain colors can benefit from a patterned curtain, balanced off by the added details. The curtain details are also an important consideration. Geometric patterns are usually reserved for modern or contemporary interiors, while botanical prints are great for traditional homes.
Fabric Thickness. The fabric thickness can influence ventilation and natural lighting seeping through. The function of the room will determine the best curtain fabric thickness to choose. GSM, or grams per square meter, is the typical rating unit used to determine thickness.
• Lightweight fabrics (30 t 150 GSM) chiffon, linen, organza, cheesecloth, lace, voile
• Medium-weight fabrics (150 to 350 GSM) sateen, oxford, velvet, taffeta, and charmeuse.
• Heavy weight fabrics (350+ GSM), upholstery fabric, brocade
Cotton's GSM varies depending on the temperature. During the summer months, it has a GSM of 180 to 220 GSM while the winter season increases its GSM to 300.
Matching Curtains with Room Colors
1. Complement – One of the easiest ways to match curtains with the room color is to use complementary hues. Remember to complement and not use the same curtain color as your walls.
The best tip when choosing a complementary color is to use a curtain shade that is a degree lower or higher than your wall color.
2. Feel the Room – Mood and Atmosphere. Aside from the room function, aim for a color that complements the intended overall mood. Bright walls usually give a sense of calm, and adding a curtain color that is subdued or light neutral enhances the ethereal feel.
3. Use Sample Swatches – Test before Committing. Before committing to a curtain color, consider testing a few options by holding up swatches to the wall or bringing home a few curtain panels.
This can help you see how the color looks in different lighting conditions and how it complements the other decor elements in the room.
---
The Best Type of Fabrics for Curtains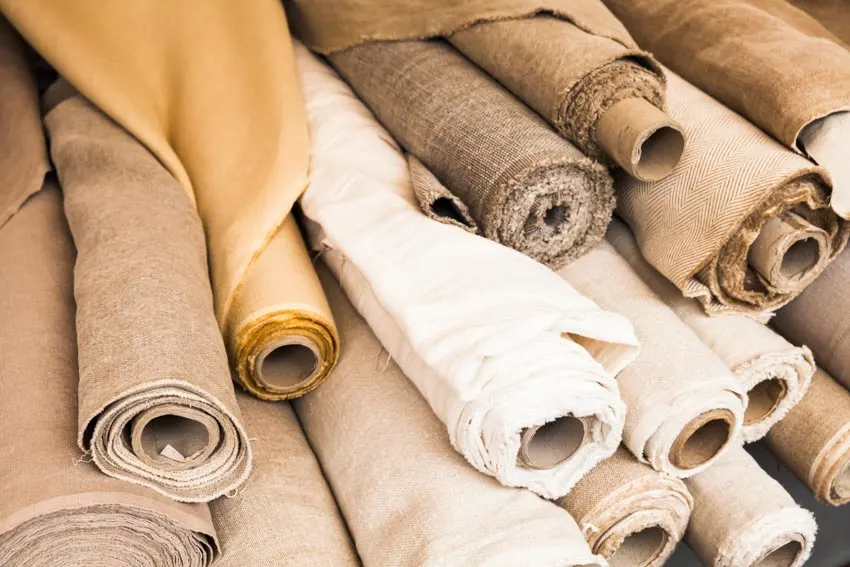 If you're looking for fabric for a regular curtain, you don't need the most expensive or the thickest option you can find. The best fabrics for standard curtains are the ones that can meet you halfway in terms of price, privacy, aesthetics, and other offered features.
Here's some of the best curtain fabrics to use:

• Cotton
• Linen
• Synthetic fabrics (Polyester and Nylon)
• Synthetic blends (Like poly-cotton)
• Velvet
• Silk
• Brocade, and Damask
Best Type of Fabric for Blackout Curtains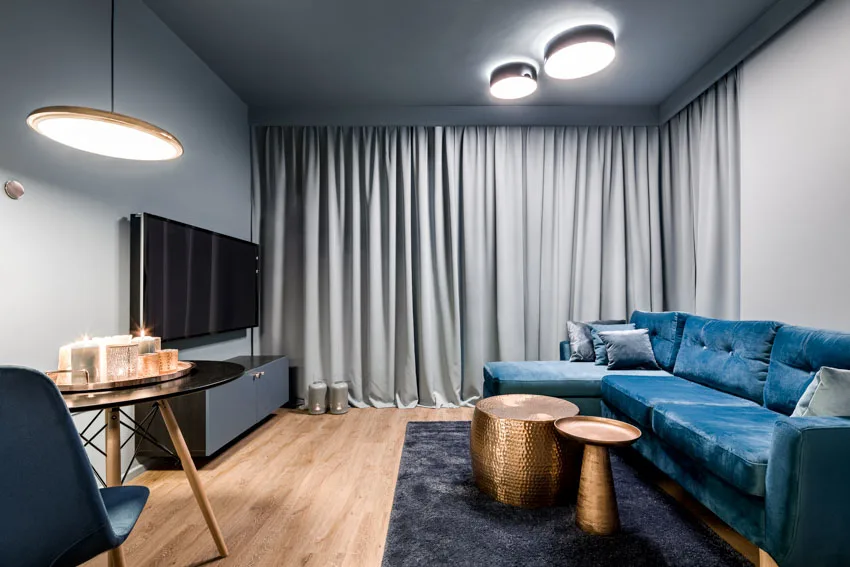 Blackout curtains need to be thick and dark enough to block out the light and help with other factors such as noise and cold air. When it comes to the fabrics that can properly help these curtains do their job there are several good choices.

Here are some of the best blackout curtain fabrics to consider:
• Multi-layered synthetic materials (polyester and nylon)
• Lined brocade
• Lined cotton twill
• Heavy twill fabric
• Medium-weight synthetic suede
If you want a blackout curtain for the night and a lighter curtain for the day you can try to layer sheers with blackout curtains. This will give you some privacy during the day but still allow plenty of natural light in to the room.
Best Sheer Curtain Fabrics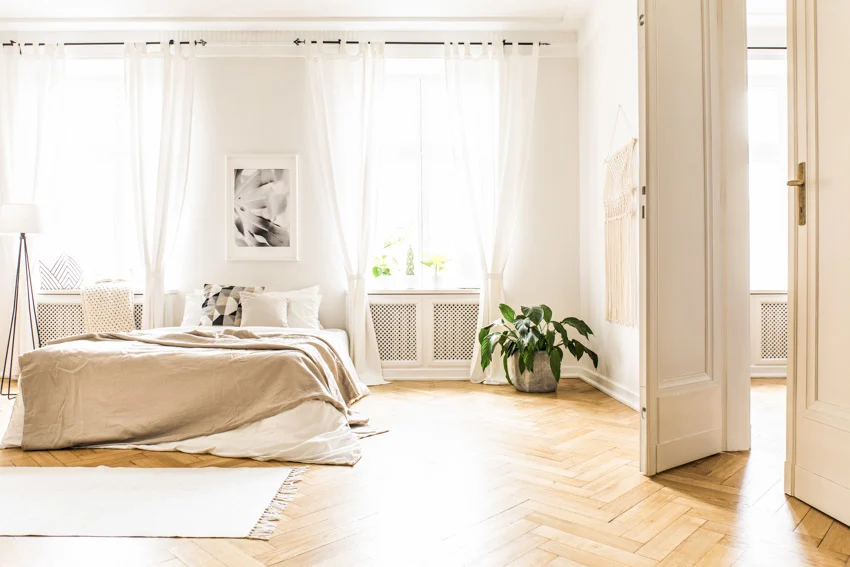 In contrast with blackout curtains, sheer curtains need to be lightweight and airy, allowing light to easily filter through the fabric and enter your room through your windows. Most of them are very thin and privacy can be an issue depending on the distance.
Here are the best sheer curtain fabrics to use:

• Voile
• Chiffon fabric
• Cotton
• Polyester
• Poly-cotton
• Lace
Sheer curtains are almost transparent but they provide a level of privacy you can be comfortable in. If you are not okay with how sheer they are, you can pair them with a solid curtain so that they can serve as an accent instead and add aesthetic value to your room. Read more about different ways to hang sheer curtains here.

Best Curtain Fabric for Living Room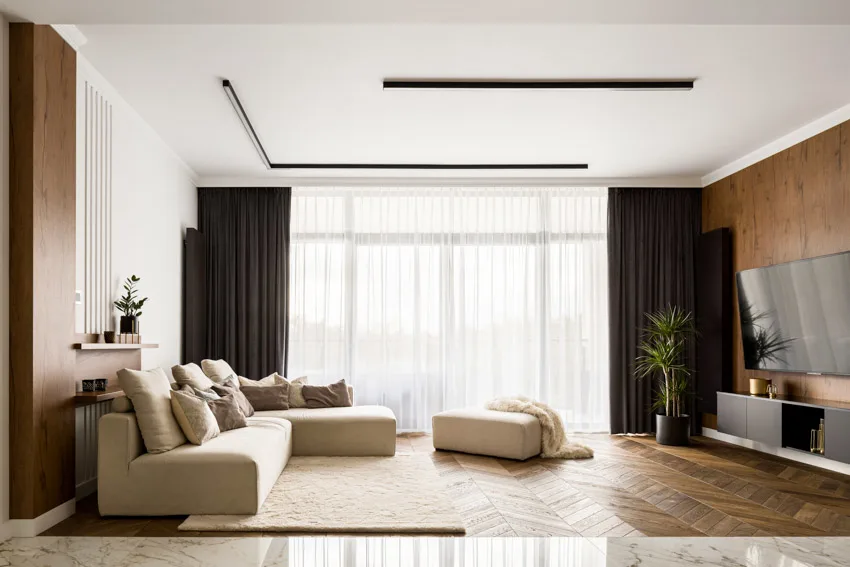 The living room is a common area you're bound to entertain guests in. You can go for flashy and aesthetically pleasing curtain fabrics like velvet, silk, and lace. Linen and polyester can work too for the different types of living room windows if you want something that's usual and standard.
Going for sheer curtains is also not an issue since it's a common area in the first place and won't require that much privacy. And if just want them for accent, pair them with another fabric that's more durable and solid in texture.
Best Bedroom Curtain Fabrics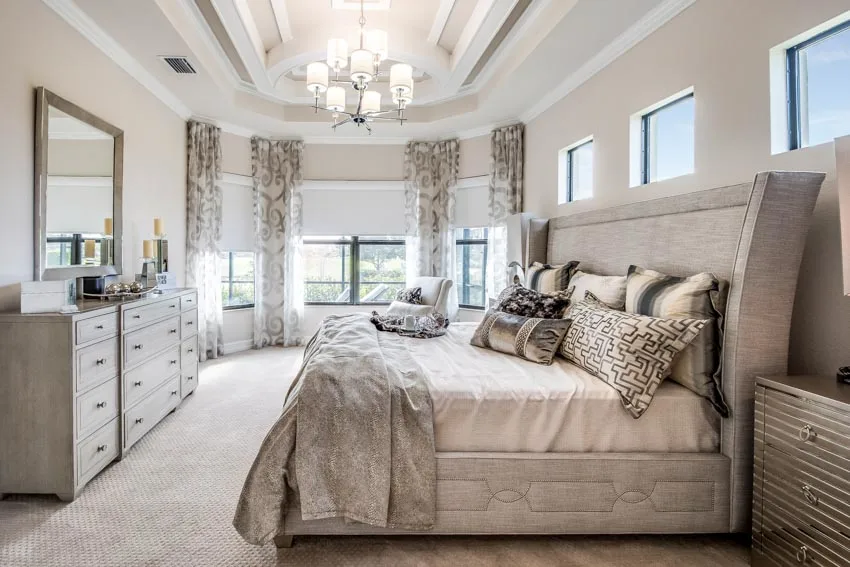 For bedroom curtains, you want something that can preserve your privacy and provide you with the best comfort.
If you value healthy and restful sleep, blackout curtains will be ideal for you. You get optimal privacy and the necessary darkness to support your REM cycle.
If you want something stunning to look at, silk and lace can be great mood-lifters but make sure you know the level of privacy you can have if you choose these curtain fabrics, especially if you are using them as a standalone.
Your Infographic Guide to Fabrics for Curtains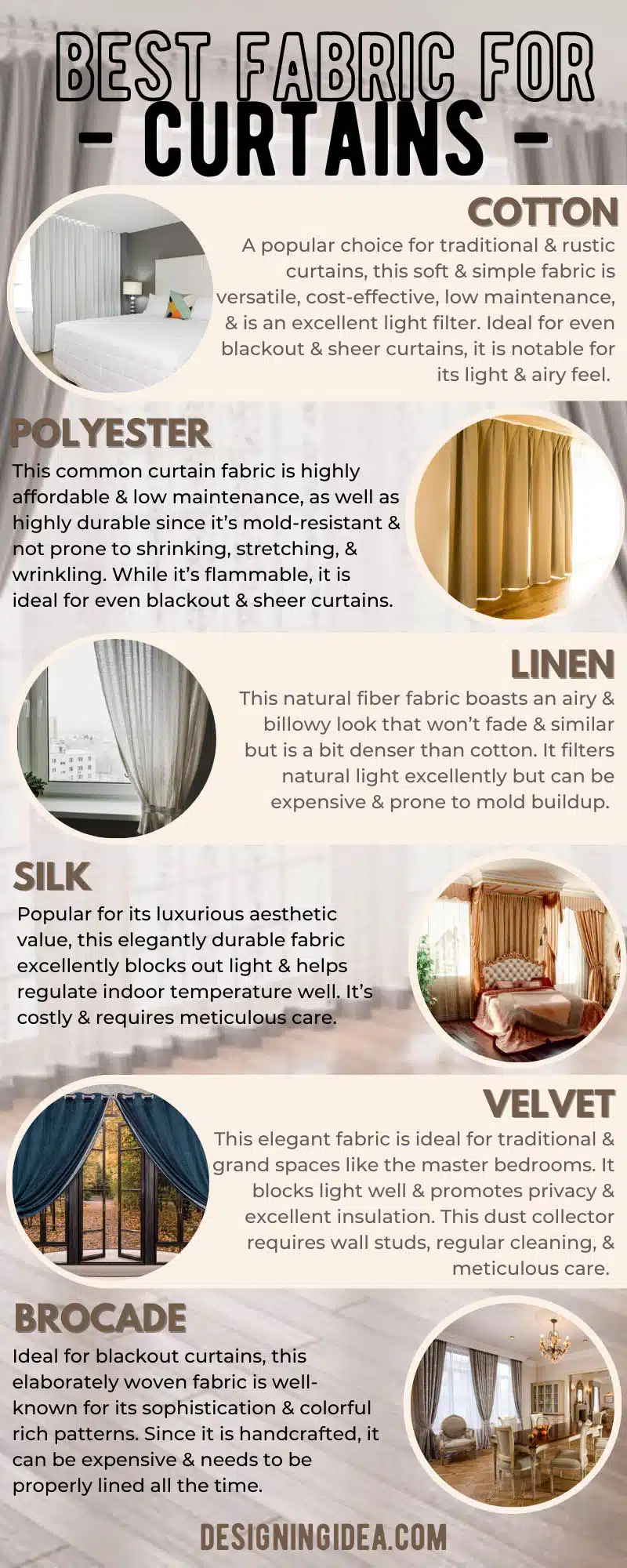 See more related content in our article about side panel curtains on this page.