This complete guide to bluestone countertops covers pros and cons, cost, alternatives, and tips on how to clean and polish a bluestone countertop in your kitchen and bathroom.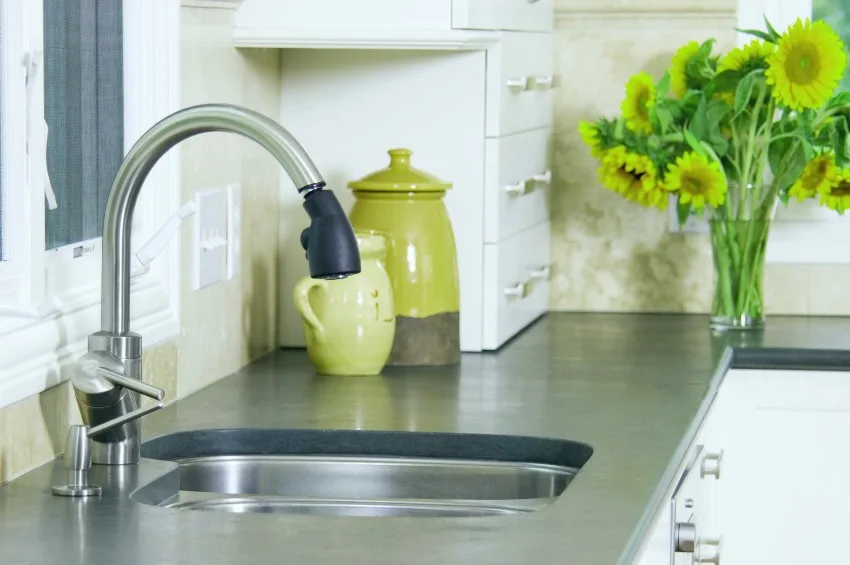 Renovating your kitchen or bathroom involves one exciting thing and that's sprucing up your countertop! While skimming through materials can be overwhelming, it can also be fun, along with designing and customizing these countertops.
Bluestone countertop is a good consideration and starting point, especially with its popularity among homeowners. This popularity is because of its ability to seamlessly match with other materials and styles. In addition to that, it's also incredibly durable and highly customizable so you can build these countertops based on your preference.
Choosing a bluestone countertop also points to choosing the functions and aesthetics that come with it, as well as accepting its pros and cons
What Are Bluestone Countertops?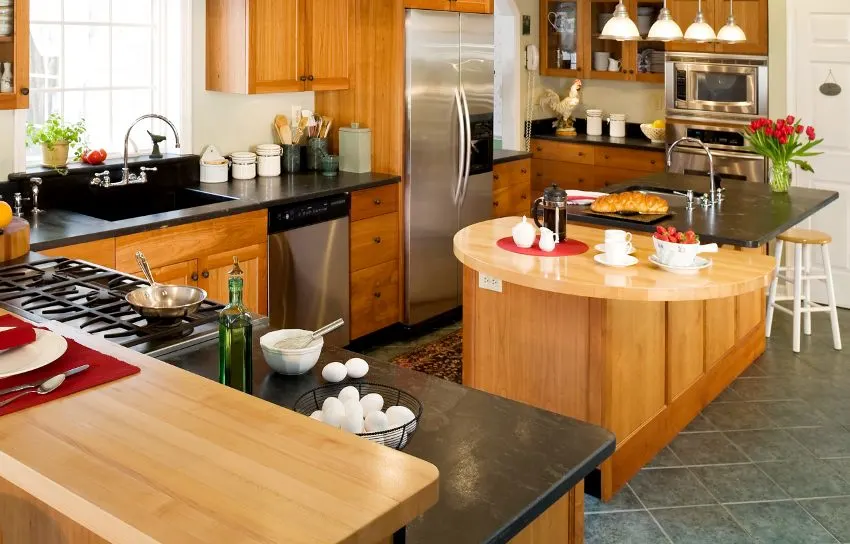 When you choose bluestone countertops, what are you actually choosing? Well, bluestone countertops refer to a wide set of considerations worldwide and may come in different names. Europe's dolerite is called bluestone, as well as America's feldspathic sandstone and Australia's salt basalt.
Bluestone is hard but highly porous, which makes it necessary to seal the surface to lengthen its lifespan and protect the material from damage from outside elements. Slabs can be honed and polished to be smooth but tiles and pavers are more likely to be rough. Most bluestones have gray-green and blue-gray hues, and there are some that look shiny and metallic because they contain mica.
Since bluestone is a porous material, it requires a penetrating and lasting sealer, especially if you want to install it in areas constantly exposed to moisture and other damaging elements. This includes outdoor areas and common spaces like kitchens and bathrooms.
Reapplication is necessary though since sealer can fade and be compromised after some time. And this can be hastened by spilled drinks and splashed liquids and oils.
There is a variety of ways you can use bluestone at home and that includes both outdoors and indoors. When it comes outdoors, you can use it for wall cladding and outdoor areas like patios. And for indoors, bluestone can be great for bathroom and kitchen floors, especially countertops.
Bluestone countertops are popular because of their high-quality aesthetics and resistance to stains and acids. The surface of the countertops can be honed, polished, or fine-ribbed, depending on your preference.
And they can be cut in shapes that you want them to have. In addition to that, there are also edge treatments you can consider, from thermal and rock-faced to half bull-nose and bull-nose.
Before you make those decisions though, let's explore the pros and cons of blue countertops that you need to be aware of.
Bluestone Countertops Pros And Cons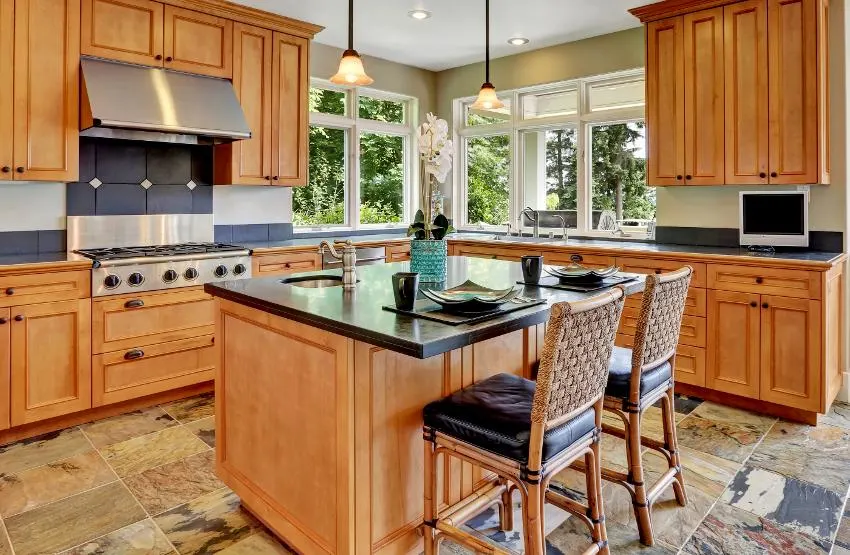 Bluestone countertops, like all other materials, have benefits and drawbacks you need to consider before making the final decision of choosing them for your bathroom or kitchen. If you can accept the drawbacks and see them as worth experiencing because of the benefits they offer then it's a good option.
Pros of Bluestone Countertops

To start, here are some of the advantages you can expect:
• High durability – Bluestone countertop is considered a durable option and can last for decades when properly installed.
• Wear and tear resistance – Capable of standing up to a significant amount of wear and tear, perfect for common areas like kitchen and bathroom
• Stain resistance – It is stain-resistant because of being incredibly dense, making it a perfect option for the kitchen, where food preparation will involve spills and splashes (both liquid and solid food particles)
• A wide variety of colors – Comes in a wide range of shades, including greenish-blue, deep blue, and light gray
• Stunning aesthetics – Showcases incredible aesthetic impact and impression
• Easily customizable – Can be tailored in different cuts and may even be available in gold, red, and brown colors despite being a bluestone
• Moisture resistance – While being a porous material, bluestone countertops have moisture resistance especially when sealed properly and constantly
• Resistant to temperature changes – Handles changes in temperature well so you won't have to worry about the countertop cracking because of it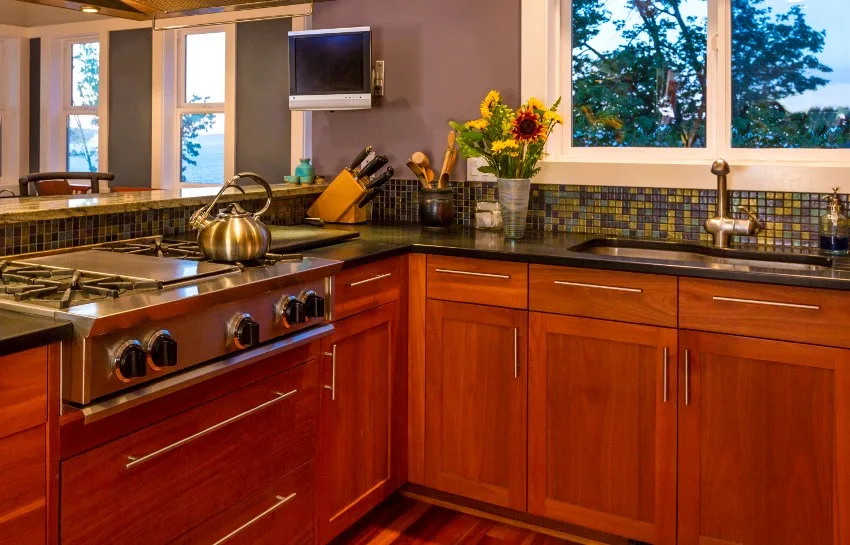 Cons of Bluestone Countertops

With these advantages, you also need to accept the disadvantages that are on the other side of the coin. Here are some of the drawbacks you will experience in choosing bluestone countertops.
• Vulnerable to water damage if not sealed – Since bluestone is a porous natural stone, you need to seal the surface so that it can stand up well against moisture and you need to do this frequently since its effectiveness fade through time
• Higher cost – The cost can be significantly more compared to other materials used for countertops like concrete, especially with the maintenance cost that comes with regular sealing
• Tends to be on the heavy side – Bluestone countertops are considerably heavier than other natural stones, which means that you will need help in the installation process
• May break and crack – While it is durable, dropping something heavy on the countertop will lead to the surface cracking or breaking
• Shows efflorescence – Water damage can lead to this discoloration that appears like a dry white powder on the surface of the bluestone countertop
Bluestone Countertop Cost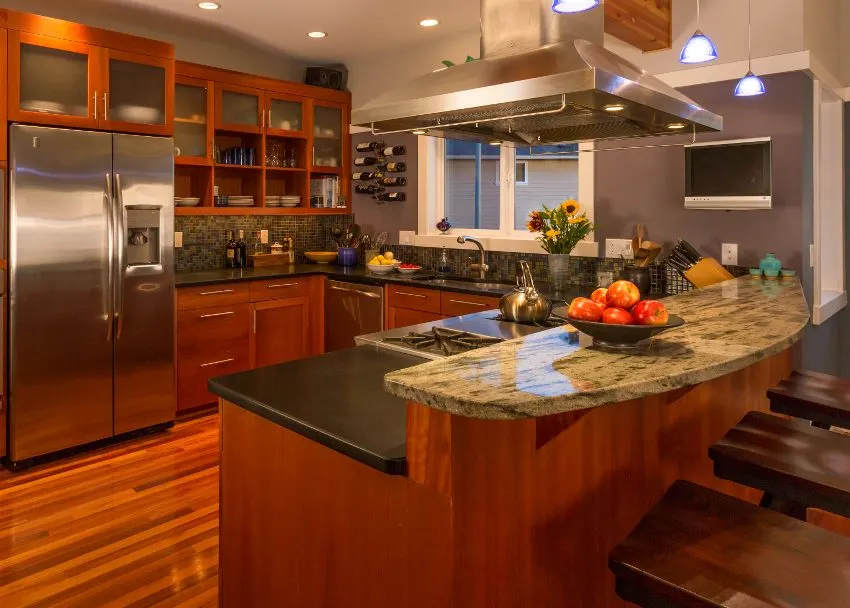 After setting on having a bluestone countertop, you also need to take into account the cost of getting one installed at home. In considering the cost of your bluestone countertop, you will need to look at three elements including the materials, installation, and the cleaning and maintenance of having one.
The cost of the materials for your bluestone countertops falls between $2,100 and $3,600 for a 50 feet worth of bluestone. To be specific, it can range from $70 to $120 per square foot. And when it comes to labor for the installation, you can either DIY the project (which means that it's free) or hire experts in an hourly manner or in one whole project.
A 50 square feet of bluestone countertop can set you back $550 to $750 for its installation. If you plan to DIY the project though, you need to have the necessary tools for cutting the soap and installing them to build the countertop. If not, purchasing the tools can cost you around $100 to $300.
Finally, choosing to have a bluestone countertop means that you have to deal with the cleaning and the regular sealing for the countertop to be protected and last longer. You will need to purchase the sealer and if you don't know how to use it then the labor fee to hire experts will also need to be considered.
Bluestone Kitchen Countertops
Bluestone kitchen countertops have beautiful aesthetics that will fit nicely in your home. One of the most vital things to talk about regarding bluestone kitchen countertops is proper and frequent sealing.
Bluestone kitchen countertops are more exposed to moisture and staining because of food preparation, with food particles splashing everywhere and spills you need to wipe off immediately. More than just sealing, make sure you also avoid placing hot pans and pots on the countertop and scratching it with sharp items like a knife.
Blue is a highly compatible color and you can customize and design these countertops to showcase a particular vibe and ambiance. You just need to match the countertops to the right set of accessories and decor, as well as have the right color to contribute to your kitchen's style and appeal.
Here are some combinations worth considering:
• Classic and rustic appeal – Match these blue countertops with hardwood flooring, wooden cabinets, and an accent of overhead lighting can do the trick. You may also visit our gallery of rustic kitchen island ideas here.
• Luxurious and dramatic kitchen – Install your bluestone countertop as a large center island to be a feature element in the kitchen and surround it with the most advanced appliances to show off your investment (You can even add something metallic to the decor for a more futuristic feel)
• Warm and welcoming kitchen – Yellow walls, light wood flooring, and large windows that let the natural light in can be grouped with a bluestone countertop to create this bright and warm ambiance and appeal. If you want something more discreet than that then simply include slightly warmer shades, light-colored flooring, and pretty lights.
Bluestone Countertop For Outdoor Kitchen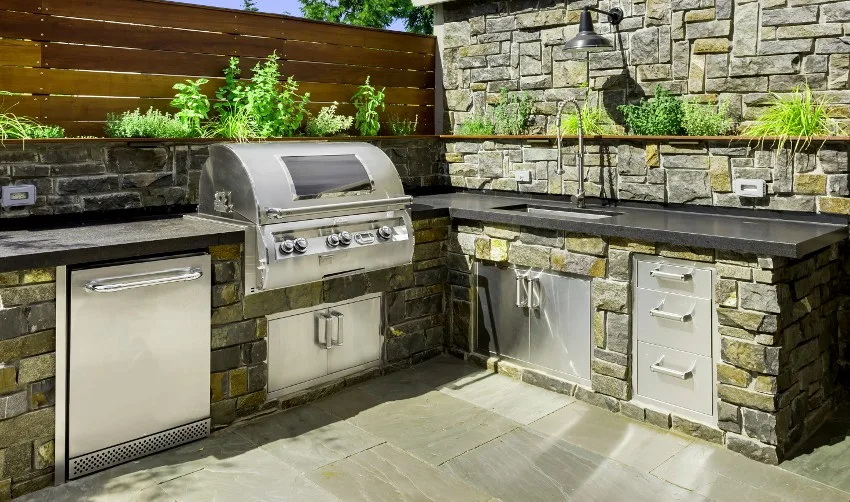 One of the best things about a bluestone countertop is that it can be used for an outdoor kitchen design. Other materials are not compatible outdoors because of their characteristics but it's different with bluestone countertops since they are durable and can resist acids and staining, especially when properly sealed.
With aesthetics, a bluestone countertop looks refreshing in a natural setup outdoors With its finish, diamond sawn is a good option for the countertop since it showcases a plain and smooth finish.
You also need to make sure to be updated with your sealing, on top of the finishing, to protect the countertop since it is more susceptible to weathering elements being located outdoors. Find out more designs in our gallery of outdoor kitchen countertops.
How To Clean A Bluestone Countertop
Cleaning your bluestone countertop is not a complicated task but this difficulty is dependent on the kind of stain and mess you are dealing with. If it's just basic cleanup, you only need three things – water, a scrub brush, and dish soap.
Here are simple steps for cleaning bluestone countertops:

1. Start the cleanup process by wiping the surface with a dry sponge or cloth, getting rid of debris and crumbs on the countertop.
2. After you're sure that the countertop is debris-free, mix part dish soap and part water to create a solution with many suds and apply the solution to the countertop.
3. Scrub the surface with your brush and pay more attention to areas that have distinct stains and grimes to remove them.
4. Rinse the countertop with water and you can either let it dry naturally or wipe it down with a dry cloth.
If you encounter a persistent and stubborn stain, you can use a stronger cleaning solution for that particular area and let it sit for a few minutes so that the stain can fully absorb the solution. You can choose a pH-neutral cleaner that's food safe and designed for natural stone countertops in the first place.
You also have the option to use an oxidizing agent to easily lift grime and stain off your countertop. Use a stiff bristle brush for blooming patches and efflorescence.
For outdoor bluestone countertops, an alkaline cleaner can deal with the more organic stains and grimes, especially those from plant and animal waste. And if you are catering to inorganic stains, acidic cleaners are better to remove this difficult and stubborn stain.
Prevention is always better than coming up with a solution so avoid surface staining as much as you can.
• If you see debris or stain that you can remove immediately, do it as soon as you can.
• Spills need to be wiped off as soon as possible to prevent further damage but if it's a worse and stubborn stain then you can take your time and deal with it later on.
• For outdoor countertops, remove fallen branches, leaves, and other plant matters that may bleed and stain the countertop after some time.
How To Polish A Bluestone Countertop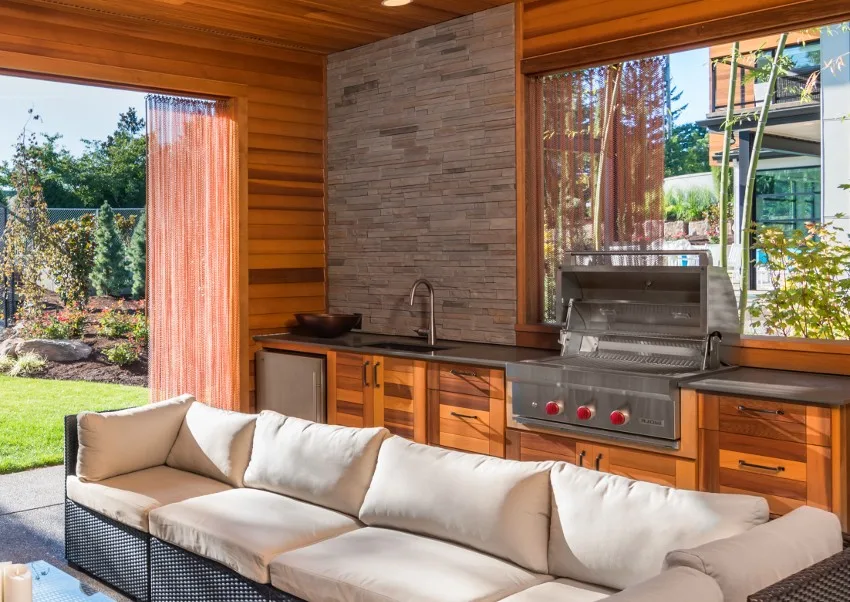 If you want to keep the shine of your bluestone countertop, you need to polish it and know how to do it properly. Besides the basic regular cleaning, you can add polishing to the ritual and treat your countertop with mineral oil.
You simply need to apply mineral oil to a cloth and wipe it on your countertop's surface. You can use the cloth you've used when you first oiled your countertop if you were able to keep it clean. Polish your bluestone countertop once a month or whenever you see your countertop getting duller and lighter.
Bluestone Countertop Sealer
Sealing is one of the most important tasks you do for the maintenance of your bluestone countertop. Since it is a porous material, sealing is necessary to protect the countertop from getting damaged easily. This will help your bluestone countertop to last for a long time.
The sealing in the countertop gets compromised and fae over time, which is why it is necessary to reapply the sealer often. How often? That depends on the sealer you chose and the elements you've exposed your countertop to.
And no, applying a thick sealer is not a good option for the sealer to last longer since, in the end, it can only produce a white bad-looking buildup.
If you don't know what sealer to use, here are some characteristics to look out for:
• Food-safe and labeled specifically for countertops
• Water-resistant and oil-repellent
• Deep penetration into the countertop pores for fewer applications and coating
• Offers rich color enhancement – If you want to improve the color of your countertops
Alternatives To Bluestone Countertops
There are many materials you can use as alternatives to be used for your countertops. Natural stones are excellent for countertops, and you have the option of going for a soft stone or hard stone, or even something different than that if you prefer it.
You can take into account the durability of the materials, as well as their price and value as an investment. Here are some options you can consider as alternatives: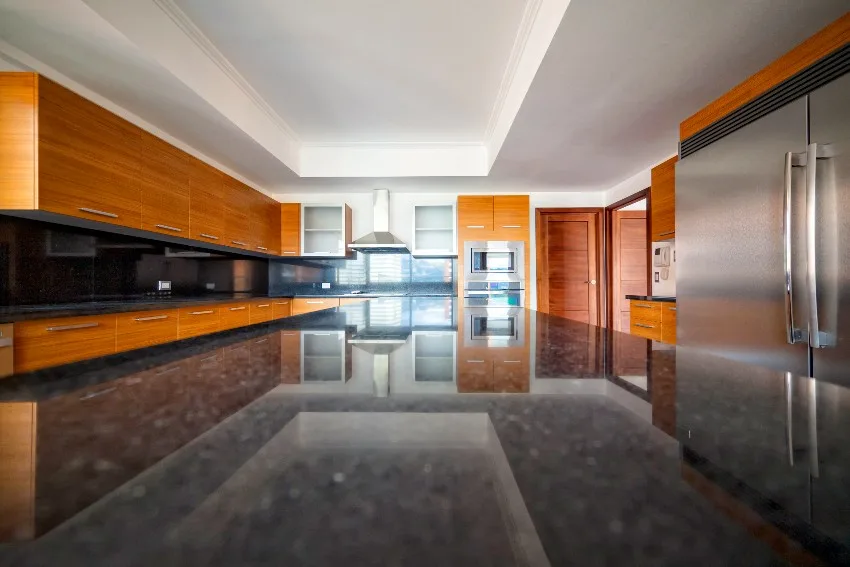 • Granite – A durable natural stone that's stain-resistant, UV-resistant, and affordable ($50 to $100 per square foot) but you need to make sure not to choose a dark-colored countertop that easily absorbs heat and can turn your countertop into a furnace. Check out more granite countertops designs here.
• Tile – One of the most affordable alternatives ($10 to $30 per square foot,) tile countertops have a wide range of colors, patterns, and styles to consider. They are easy to install but prone to cracking and awful grout staining.
• Concrete – Concrete countertops are a top trend that features a clean and contemporary look but may be prone to cracking if not properly installed (May cost about $100 per square foot)
For more related designs visit our gallery of limestone kitchen countertops.