Here we share our gallery of rustic kitchen island ideas with farmhouse, industrial, seating & DIY designs.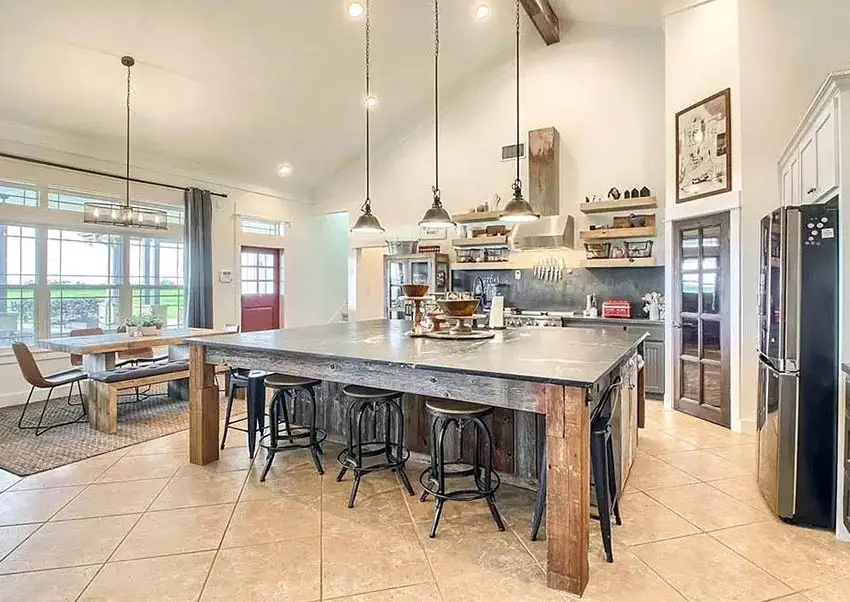 Kitchen islands has evolved from its original function of simply being an additional kitchen working area and space divider, into becoming a multi-use dining/bar area, and eventually, has become a popular focal point in modern kitchens.
Nowadays, you'll find a kitchen island even in smaller kitchens. Their functions vary according to size, but because they are usually placed in the center of the kitchen, it's easier to play around with its colors and finishes.
Rustic style kitchen islands have particularly gained popularity. Whether in classic or contemporary kitchens, you will often see people add a rustic kitchen island to lend a hand in adding a different element in the kitchen.
The kitchen above has a massive rustic kitchen island that uses repurposed farmhouse wood kept in its natural finish, and topped with black marble counter top. Vintage style counter stools were also used to go with the kitchen island.
Below are some examples of a variety of rustic kitchen islands ideas you can take inspiration from:
Rustic Farmhouse
When you talk about rustic kitchens you will often hear about rustic farmhouse style. What is the farmhouse kitchen style? This is basically referring to farmhouse-inspired interiors, described for their natural and "rough" look.
Wood is a common material for these spaces, and it often emanates a casual and homey atmosphere, where you're not afraid to put things out of place and not perfectly aligned.
These spaces usually borrow design details from farmhouses such as shiplap, natural wood finishes, stones and bricks, barn doors and black metal hardware.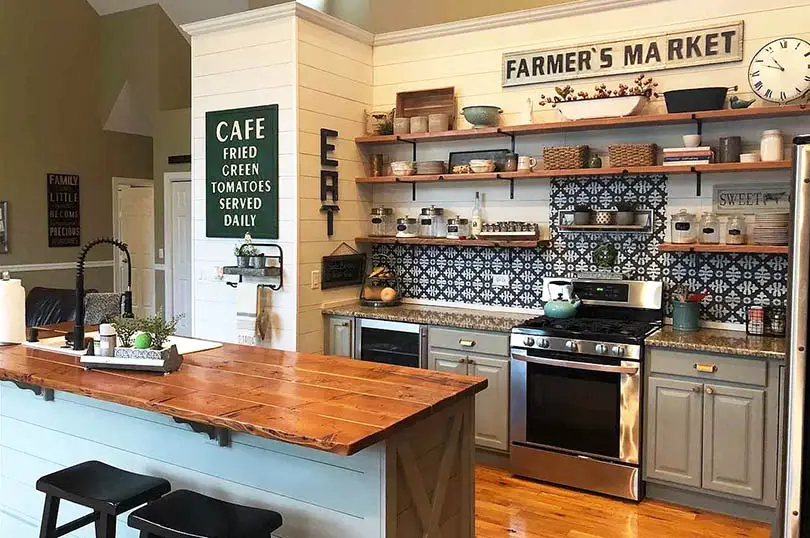 Taking inspiration from farmhouses, this rustic style kitchen applies farmhouse elements into its small kitchen island. Shiplap boards with decorative crossbucks on the side panels.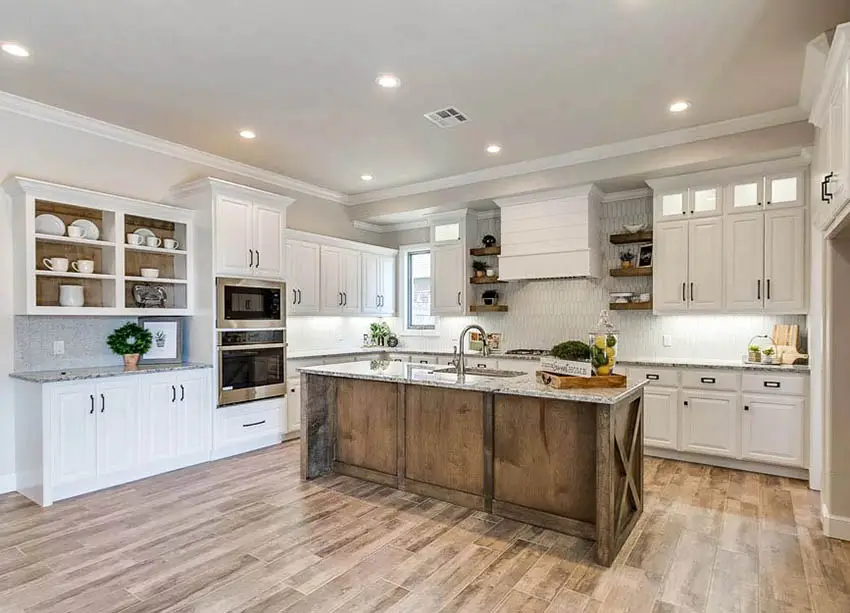 Adding a kitchen island with a natural wood base definitely upgrades the look of any plain-looking kitchen. This kitchen uses farmhouse style kitchen island to pair with the all-white kitchen cabinets. The dark stain on the wood adds more depth and texture to the whole space.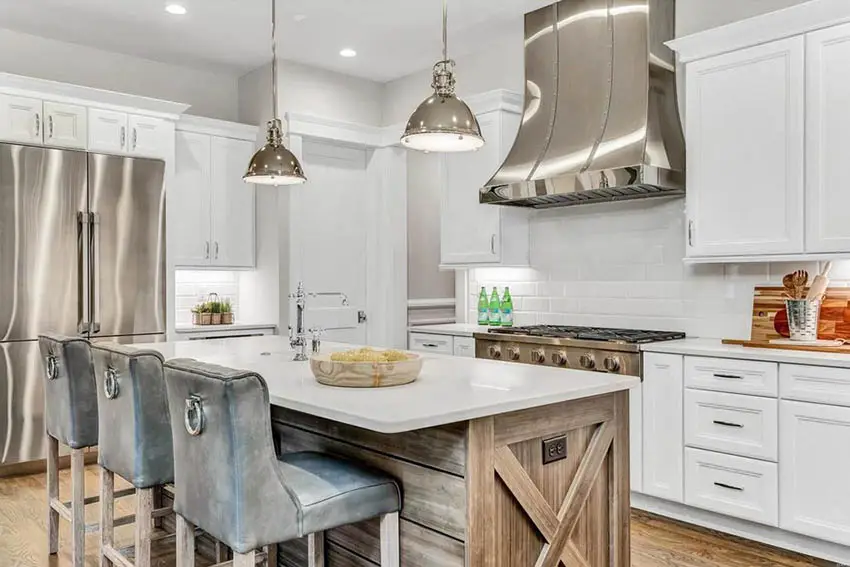 Since the walls and kitchen cabinets are all white, the addition of farmhouse-inspired kitchen island with a washed wood finish helps balance the white surfaces.
The wood and white quartz countertop of the design also has matching counter stools with gray leather seats. The barn style kitchen island siding shows interesting character with its criss-cross style similar to a real barn door.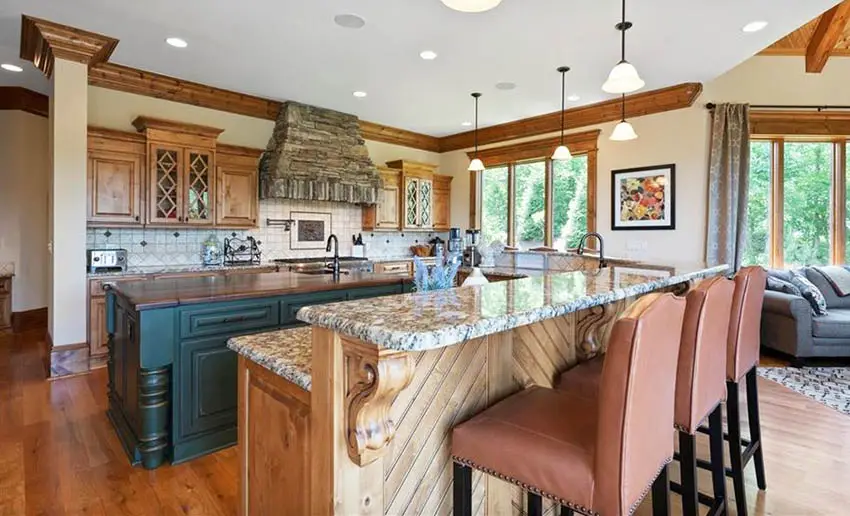 This kitchen design features two rustic islands. The outer is a wood breakfast bar island with beige granite countertops with a wraparound design. The inner rustic island has a dark green patina with decorative leg posts and a wood butcher block countertop.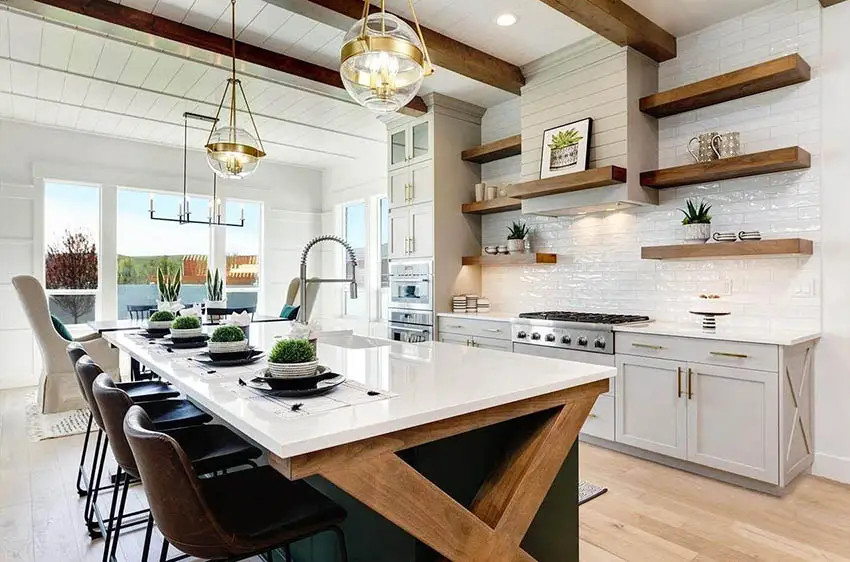 Adding a few natural wood pieces in this rustic contemporary kitchen instantly gives this space a more rustic vibe. The small kitchen adds a kitchen island with solid wood crossbuck end legs and is paired with modern white solid surface.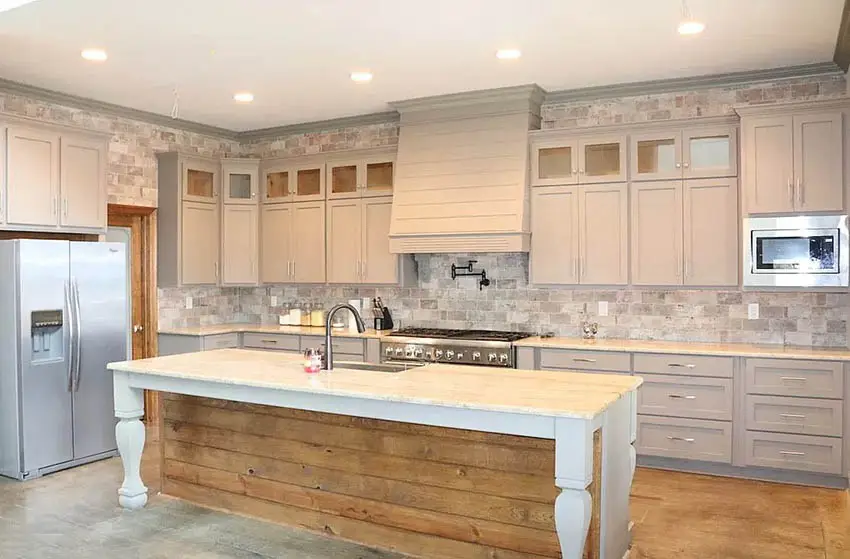 You can always your extra flooring material as cladding for your kitchen island, especially if it has no existing moldings that would make it difficult to attach. This kitchen uses matching wood material of its floors and the front of the kitchen island – a quick and easy rustic style kitchen island.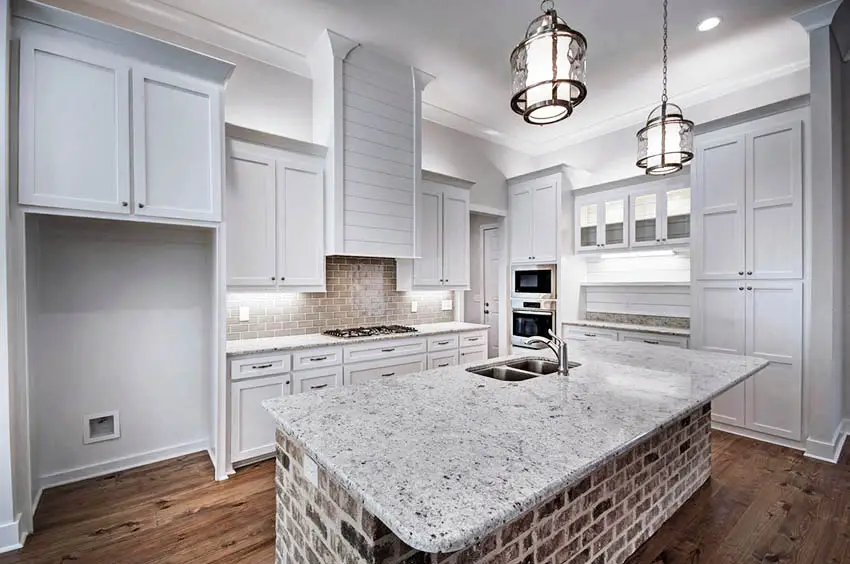 If you already have a bold wooden flooring and don't want to add more wood finish into your kitchen, you can alternatively use bricks and still get a rustic style kitchen island. In this example, faux brick panels were installed on the kitchen island countertop, adding a refreshing change of texture to the all-white kitchen.
Rustic Island with Seating
The most popular use of rustic kitchen islands is as an extra seating/dining area. The are often paired with vintage-style or wood counter stools/seating. Rustic kitchen islands also often are a product of repurposed wood pieces, especially wood farmhouses or barn doors.
Before deciding on your kitchen island, though, take size into great consideration. There should be enough space around the kitchen island for traffic flow, around 36 inches to 48 inches is ideal. If you have counter seats, make sure it has enough overhang to stow your seats in, so that it doesn't obstruct traffic flow.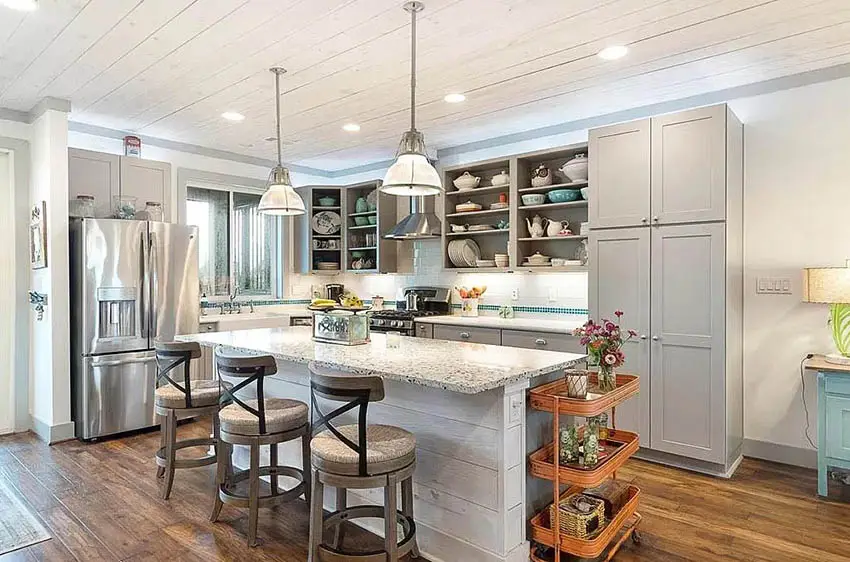 If you want to keep your color scheme and want a more rustic feel to your kitchen island at the same time, you can try using tinted wood for your kitchen island. In this kitchen, the light gray scheme was maintained by using gray-tinted wood.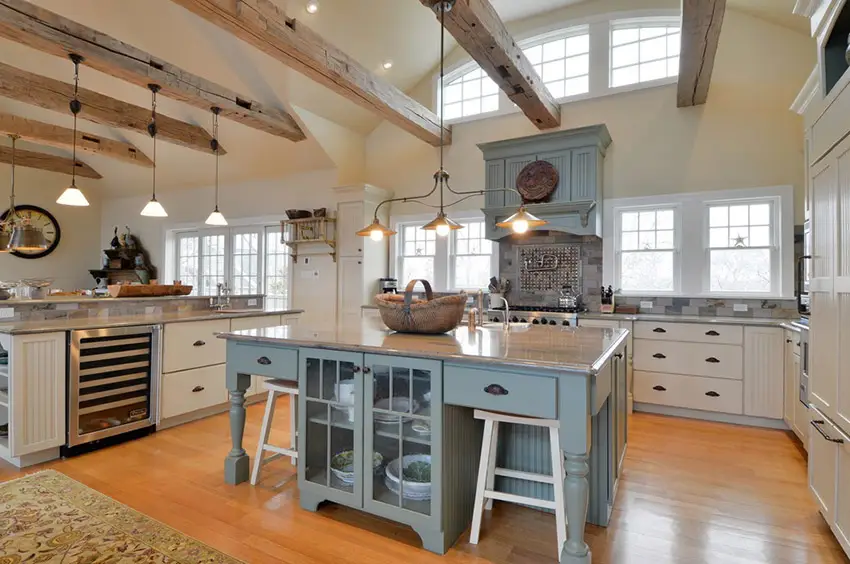 This large kitchen island is a classic example of rustic kitchen islands. It uses a combination of paneled wood, turned legs, beadboard panels and greige-painted solid wood. The result is a chic kitchen island that adds a subtle pop of color to the space.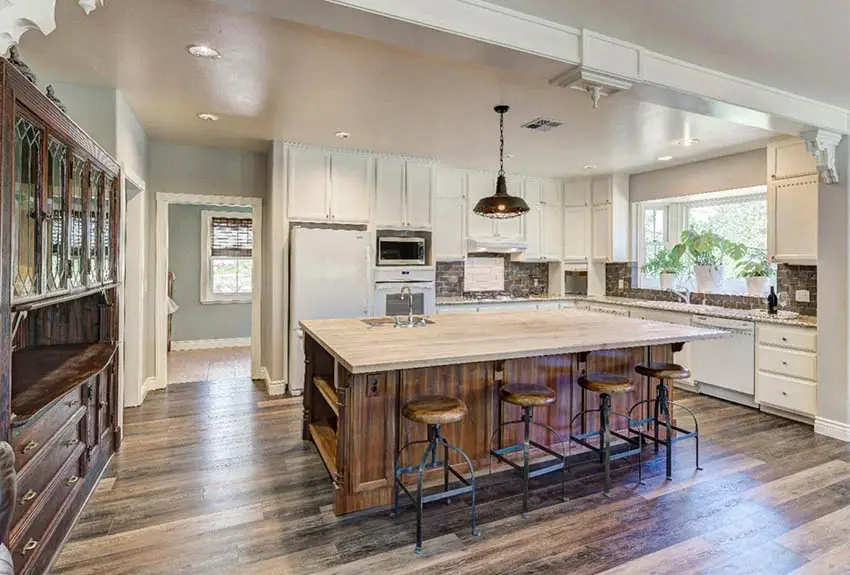 This traditional kitchen with white cabinets features a rustic island with unfinished wood countertops and stained base with wood bar stools.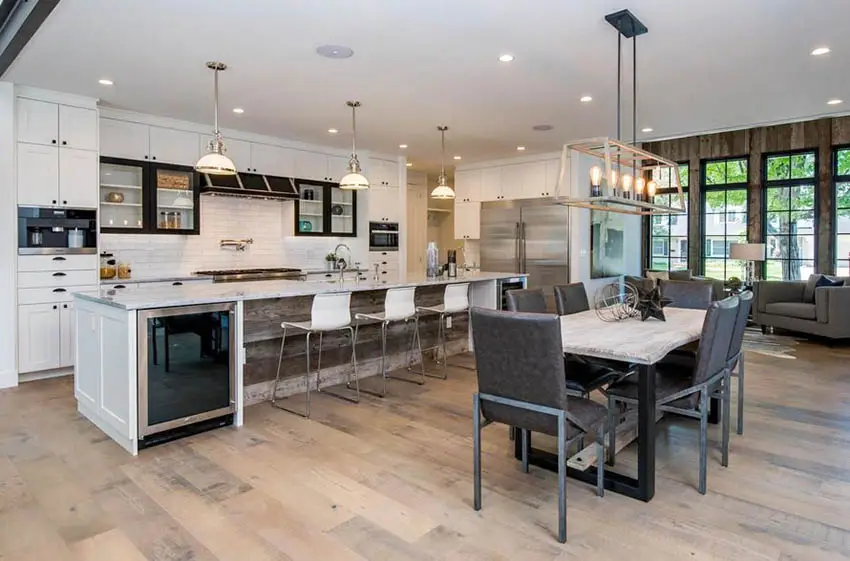 Featuring a medley of rustic, industrial and classic, you can easily see the different elements put together in this kitchen/ It features an industrial style dining area, paired with a classic kitchen and a kitchen island with weathered wood on the front to add a rustic flavor to the space.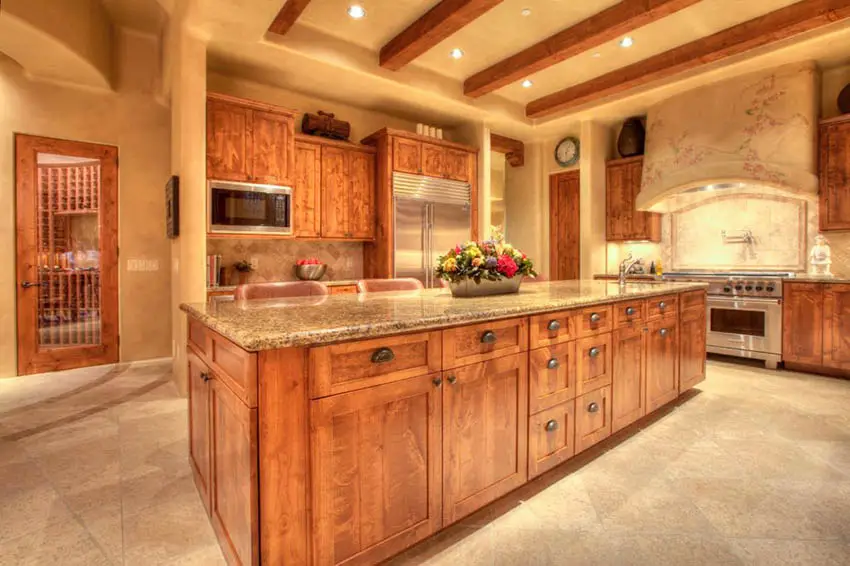 With its rich wood stained kitchen island this design really stands out under its recessed lighting and beige granite countertops. The rustic style really stands out with features like its open wood beams and decorative oven hood with travertine backsplash.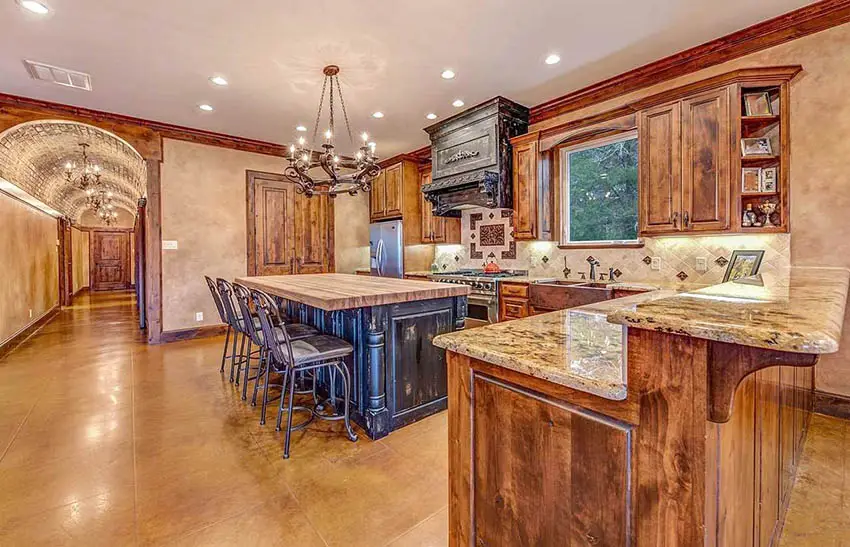 This beautiful kitchen design features several types of wood finishes giving it a rich rustic ambiance. The kitchen island features a dark distressed wood finish with butcher block countertops.
The main rustic cabinets with solid wood have a stained finish that contrast against the dark wood colors of the island and custom oven hood.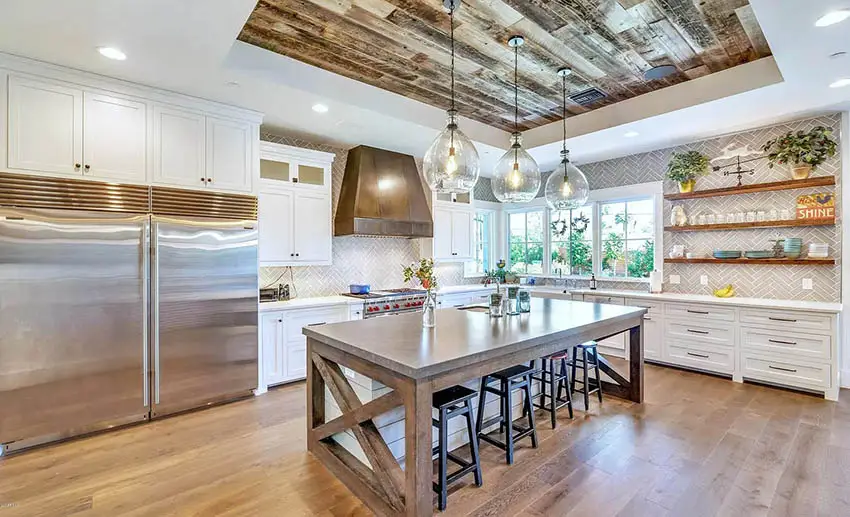 This beautiful open concept kitchen design features a rustic industrial style island with concrete countertops and wood base. A wood accent ceiling provides additional drama and character to the space.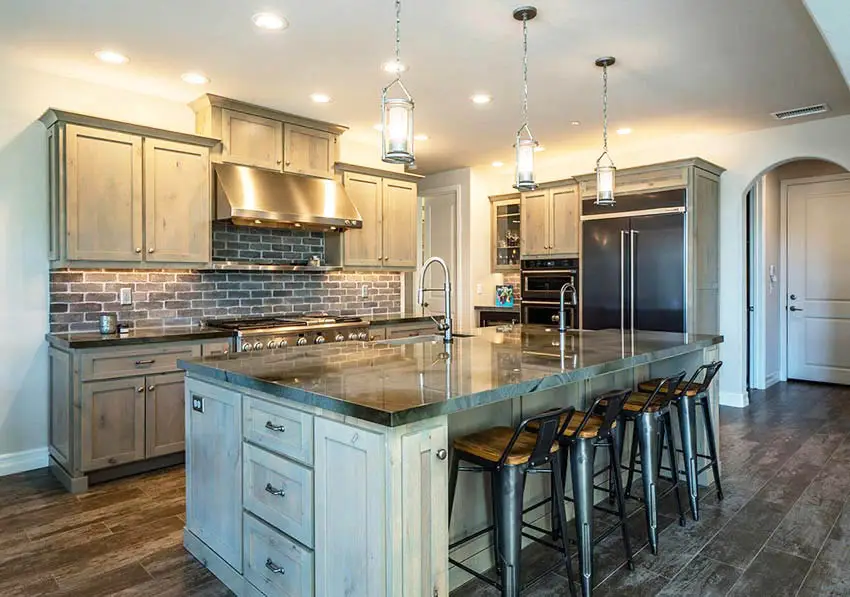 Rustic kitchen island ideas such as this with concrete countertops and the rough wood finish of the kitchen island help to give it a rustic feel.
The light gray wash helps keep the room from feeling too subdued and coordinates well with the gray washed brick backsplash.
Hardwood flooring, brick backsplash and brushed cabinet hardware also help reinforce the theme.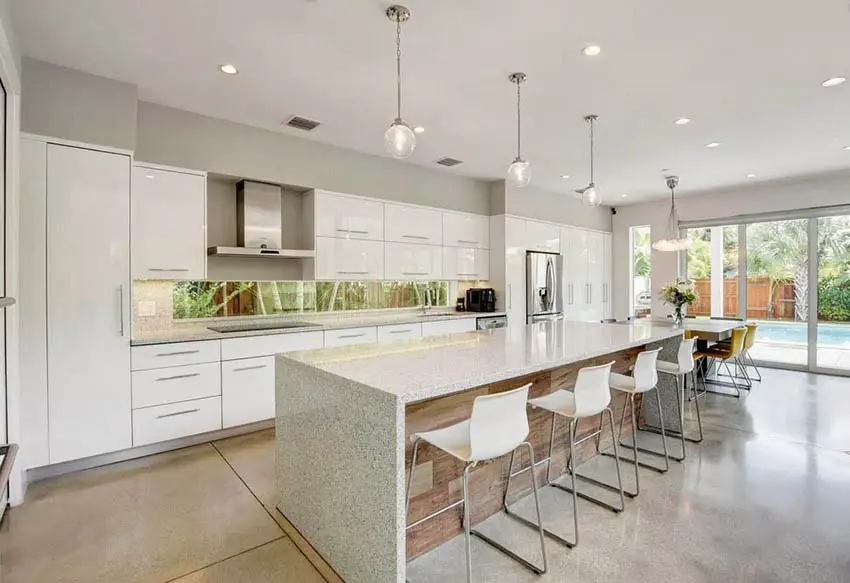 Using wood laminates or wood vinyls to clad the front of your kitchen island is a budget-friendly alternative that can easily your kitchen island into a more rustic style.
In this example, wood finish vinyl planks were used, giving it a clean and seamless look that blends with the modern design of the kitchen.
If you don't want your kitchen island to stand out too much, but just want to add a little bit of texture and pattern to your space, consider getting wood planks/finishes that is close to the color of your current kitchen cabinets, like the bleached wood used in this example.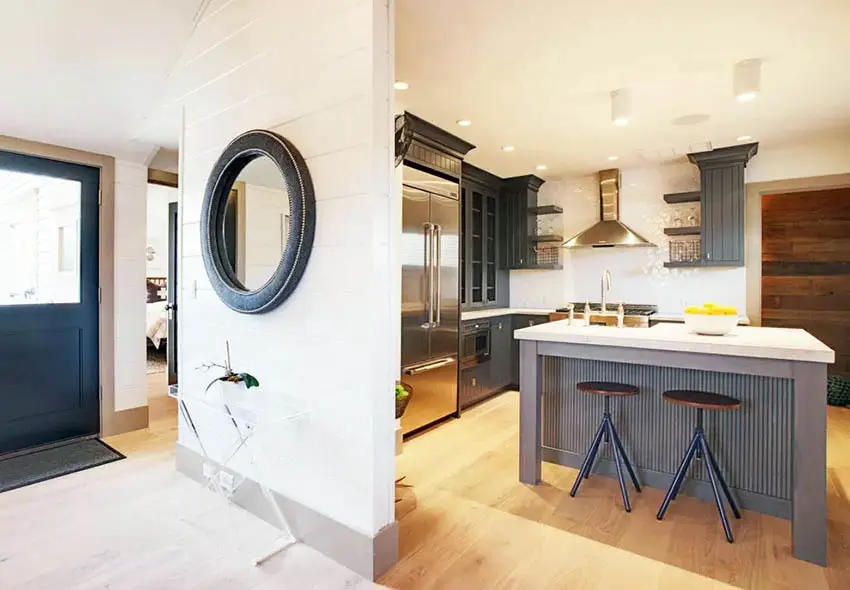 This small kitchen combines dark-gray cabinets with gray-washed finish for the kitchen island, adding a softer color into the space.
The small kitchen island has space for counter stools, and also has a built-in sink, making up for the lack of counter space.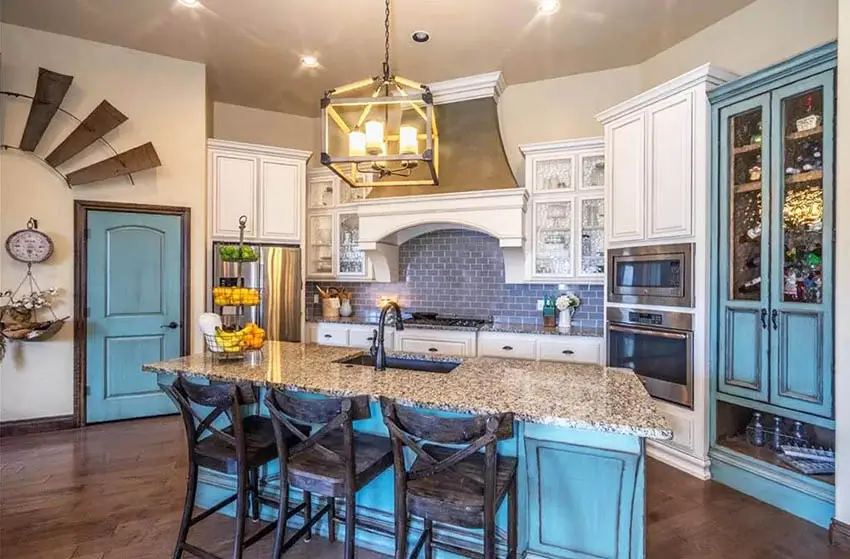 For this classic kitchen, no additional refinishing was necessary, as the turquoise paint on the kitchen island naturally aged and faded to a beautiful antiqued finish.
The bright color was toned down by age, and complements the white kitchen cabinets nicely.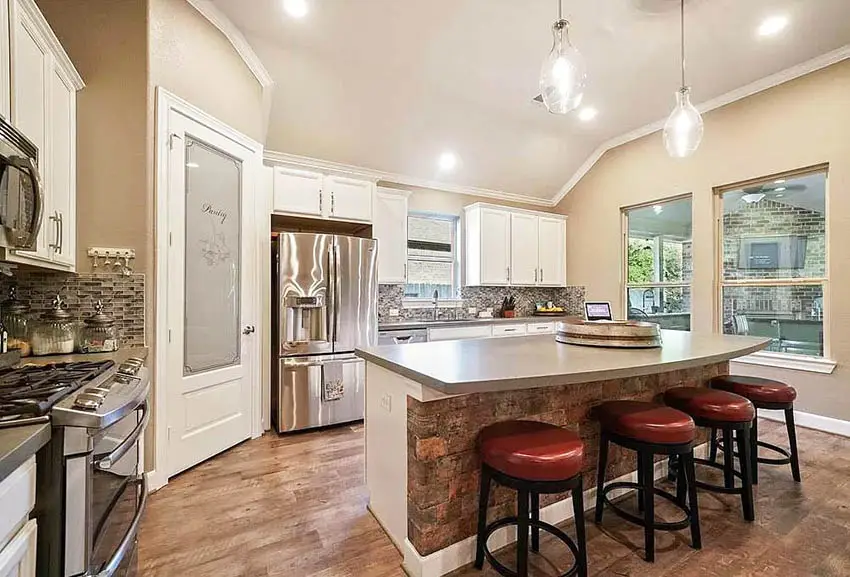 This is another example of using bricks to give your kitchen island a rustic make-over. Because the front of the kitchen island is a low built-up wall, you already have a sturdy frame in which to attach your faux brick pieces.
The dark terracotta color of the stone and the rough texture adds just enough grit and warmth to transform the kitchen island's look.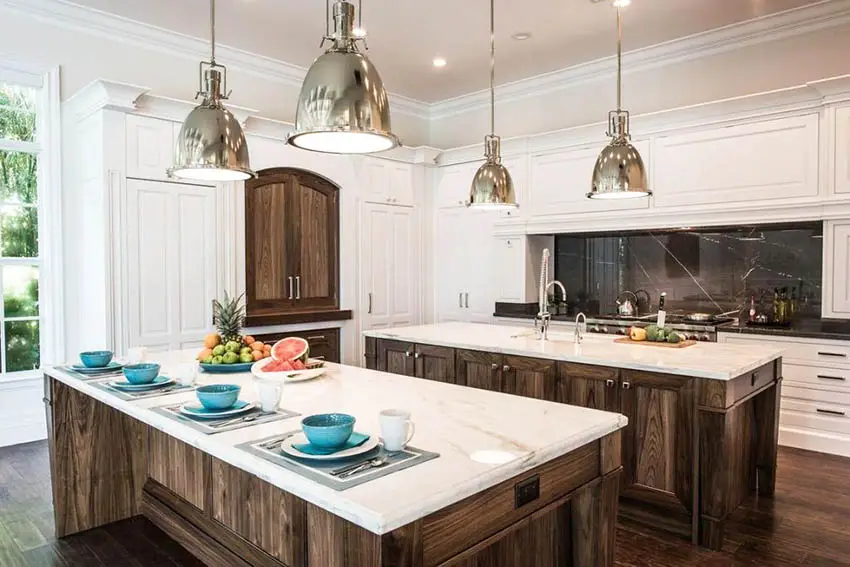 There are some kitchens with enough space for two kitchen islands. This classic kitchen is mostly white, but uses stained wood for the kitchen island bases, adding a variety in texture to the space, and giving the modern kitchen a more rustic feel.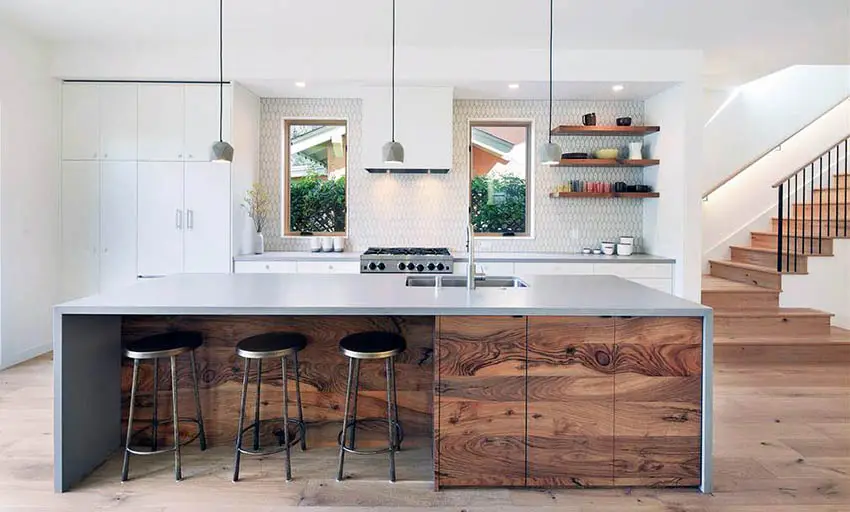 This modern kitchen features a knotty wood island with gray laminate countertops and white cabinets. The knotty wood definitely gives the space a rustic design flair.
Rustic Wood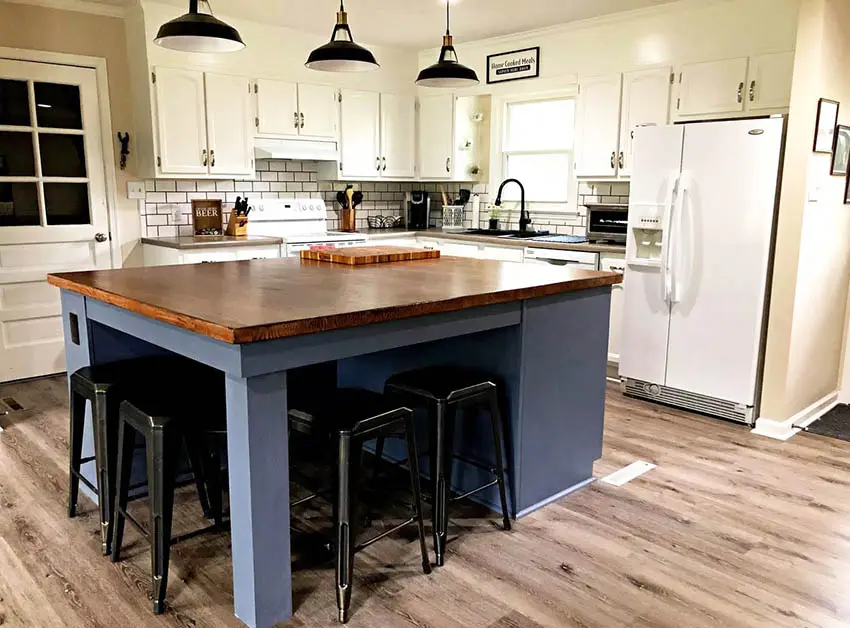 If replacing your whole kitchen island is not an option, you can also replace your countertop material with thick solid wood to give it that rustic kitchen look. The wood and gray combination results in a laid-back industrial look.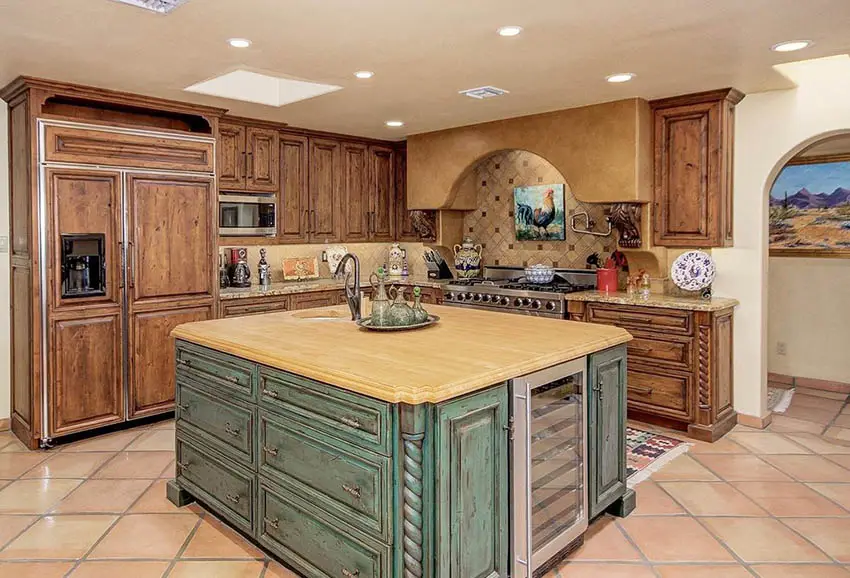 This kitchen island was painted green and given a distressed wood finish and topped with a butcher block countertop. Solid wood cabinets, granite countertops and saltillo tile help reinforce its rustic style.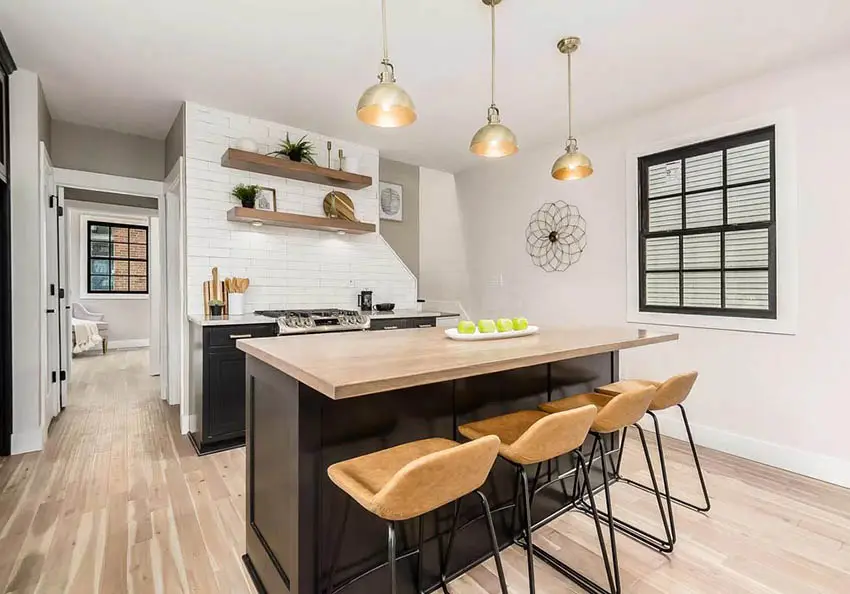 Rustic kitchen island ideas that use butcher block countertops can be matched with other elements like flooring to provide a cohesive look.
The dark base of the island and main cabinetry provides contrast against the backdrop of the lighter tile backsplash, flooring and counters.
Another finishing technique you can apply to your wooden kitchen islands is distressed technique, in which you use brush-on wood stain to give it a faux aged look. You can also add a matte top coat, or in this example, a satin topcoat to give it your preferred finish.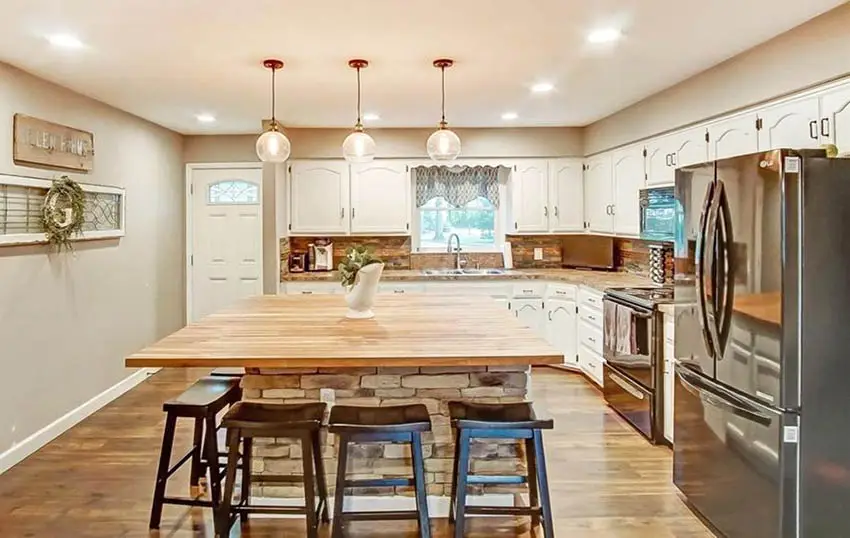 Butcher block countertops and stone cladding give this kitchen island design its distinctly rustic style.
DIY Rustic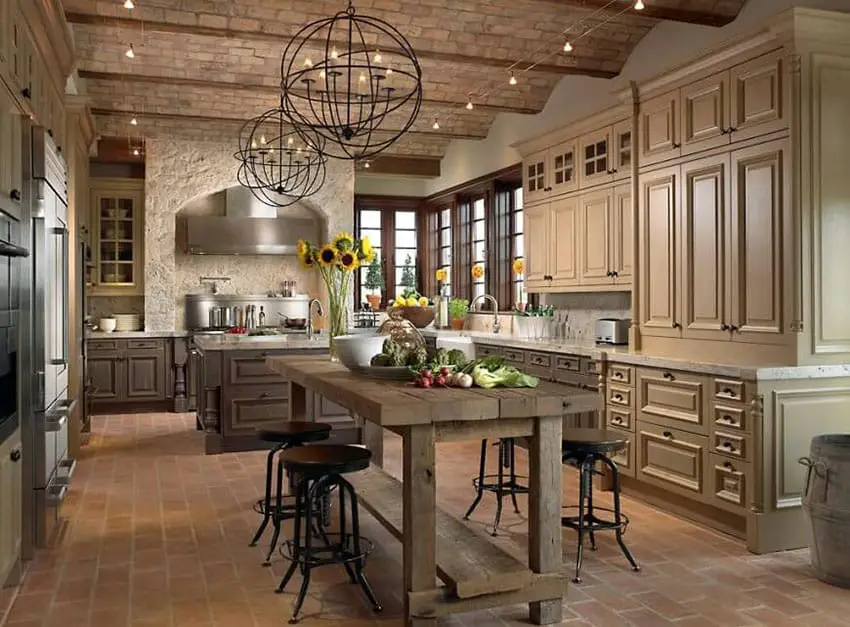 Freestanding kitchen islands have gained popularity recently. If you have enough space, it's easy to simply purchase one. If you have unused solid wood lying around, especially wood that shows signs of wear (but make sure it has no termites or permanent damage!), you can also DIY a rustic kitchen island.
This wood used in this kitchen island is really thick. The un-sanded & unfinished wood gives this table more personality and it definitely matches well with the classic style kitchen!
A big consideration when getting ready to DIY a rustic kitchen island are the materials. Wood is a popular material for rustic kitchen island ideas, but when using weathered wood or repurposed wood, make sure it is free from termites and has been treated to avoid future damage.
For the countertop, any material normally used for kitchen counters can be used, such as granite, marble, soapstone, quartz and solid surface.
Alternatively, you can also use epoxy or concrete tops for a more industrial style, or simply use wood or butcher's block for the countertop. Please take note that wood countertops require more maintenance for wear and tear than stone, but if you're willing to put up with maintenance they can be an attractive choice.
Some ideal wood types to use for butcher block countertops are the following: Oak, Hard maple, Teak, American Walnut, Hickory, Bamboo, Wengue, Cherry etc.
Depending on your wood's hardness, wooden countertops are typically around 3/4 inches to 6 inches. Depending on your intended usage for your wooden countertop, you may choose to seal it or not (if it's mainly for storage or dining).
If you're using it for food preparation, you need to seal it with oils or waxes, shellac and food-safe epoxy. Oils give the most natural finish, but remember that oil-sealed countertops need to be retouched at least once a month.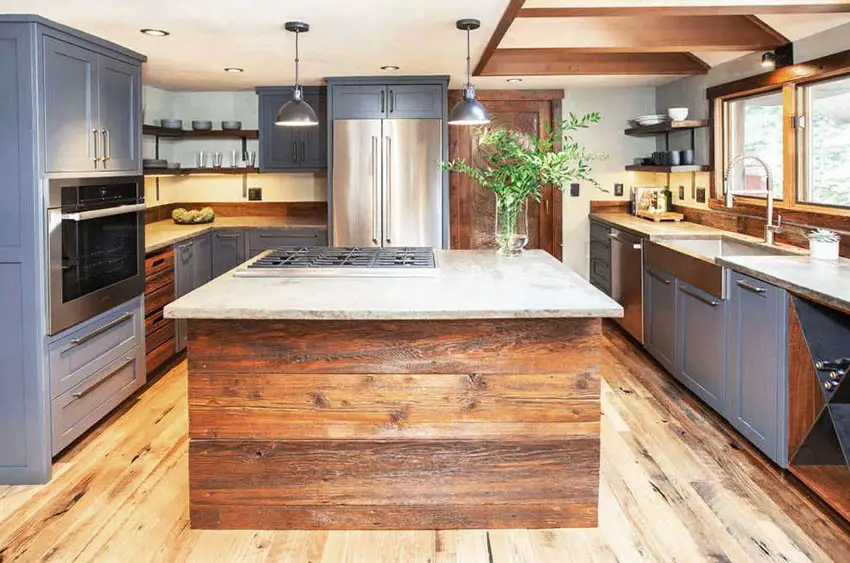 Dark grays and wood is usually a nice combination that gives a rustic-industrial ambiance. This modern kitchen has gunmetal gray kitchen cabinets paired with a square DIY inspired kitchen island with antiqued wood base that matches the door and window frames in the space.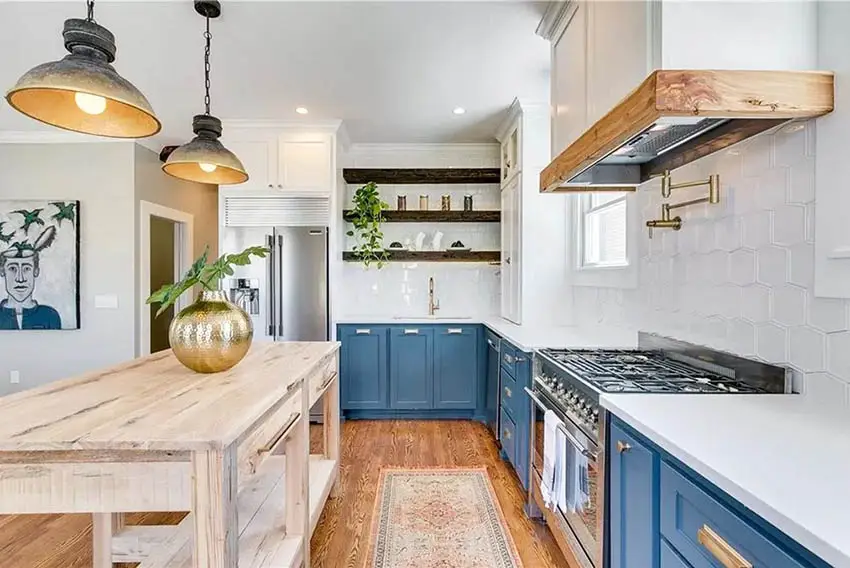 For this modern kitchen, a freestanding DIY kitchen island was used, with a natural ash finish to maintain that young, light and fresh vibe of the kitchen.
The introduction of the wood finishes to the space lends an additional warmth and coziness to the space.
This loghouse kitchen confidently combines multiple wood finishes, The kitchen island is particularly interesting as it uses really thick pieces of wood with very prominent, un-sanded saw marks. It also has a built-in concrete sink, for that real rustic cottage home vibes.
Rustic Industrial
Rustic Industrial style is also a common style used in rustic kitchens, and while some people might confuse this with farmhouse style, as it also has a "rough" look, you'll find more prominence of "warehouse" materials such as metals, concrete and exposed pipes.
These are also often combined with natural finishes and wood, but tend to look more modern than farmhouse style.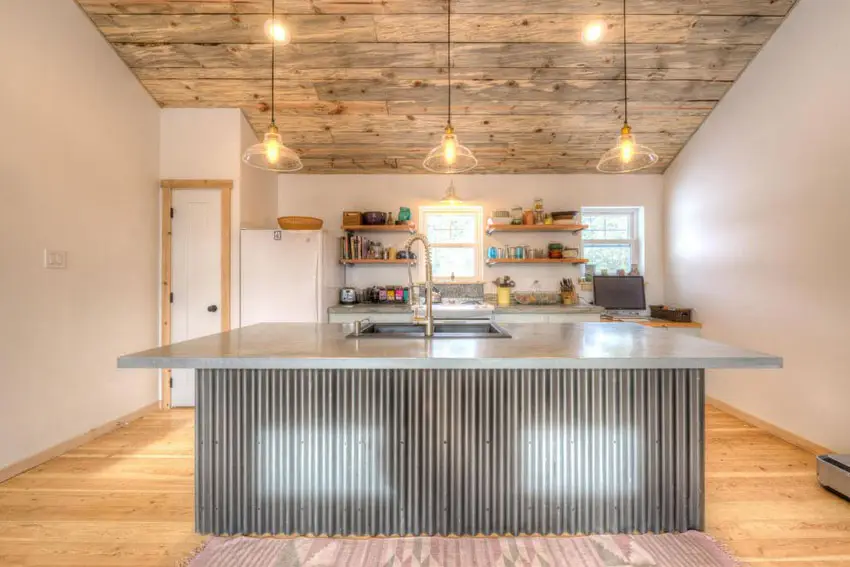 This small rustic kitchen adds an industrial style kitchen island which uses corrugated GI sheets as cladding for the island base, and tops with epoxy-coated countertop for a concrete-like finish. See more corrugated metal kitchen ideas here.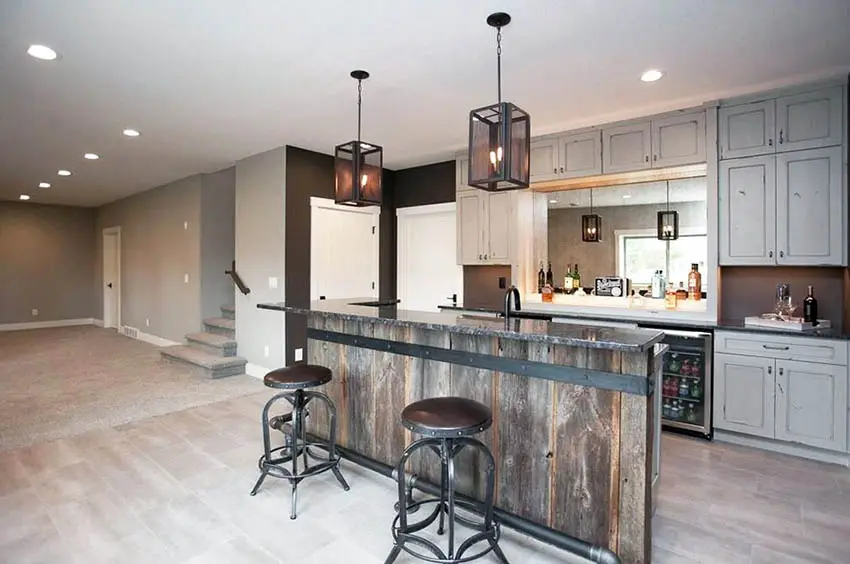 If you don't want to change the kitchen island itself, why not place an add-on to your counter and create a bar counter from repurposed barn door wood? Many rustic kitchen island ideas start by incorporating industrial elements such as weathered finishes, pipe foot rests and blackened metal to complete the look.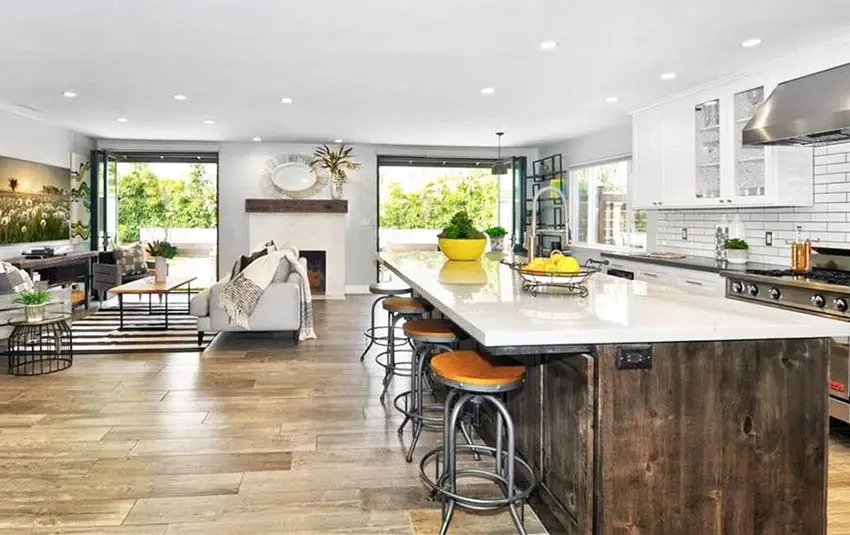 Modern homes with light-neutral color palettes looks especially good with dark-stained wood finishes, and adds a rustic-industrial aesthetic to the space. With an open floor plan, the dark wood stain used in this kitchen island definitely adds more personality and texture to the modern interiors.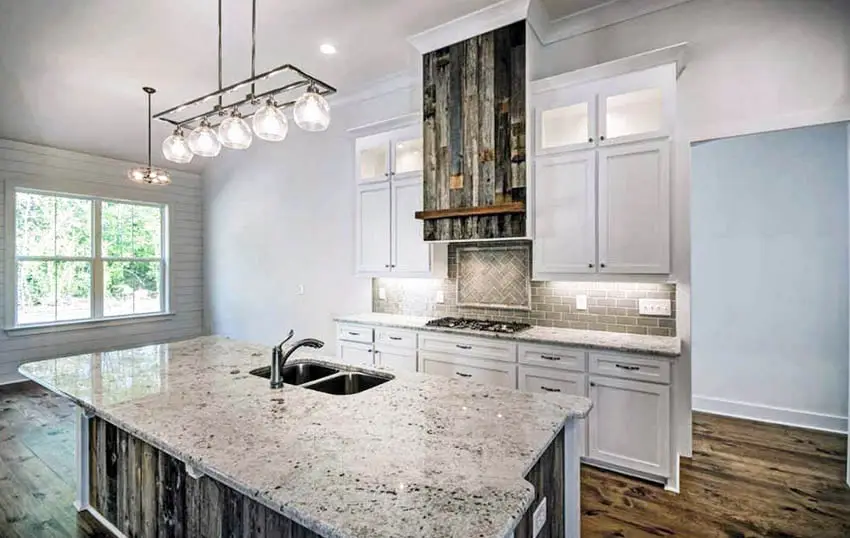 Dark, vertical wood planks can easily be installed on the front and sides of existing kitchen islands. Because this kitchen uses repurposed weathered wood, the variety of tones on the wood adds an extra layer of depth and texture to the counter.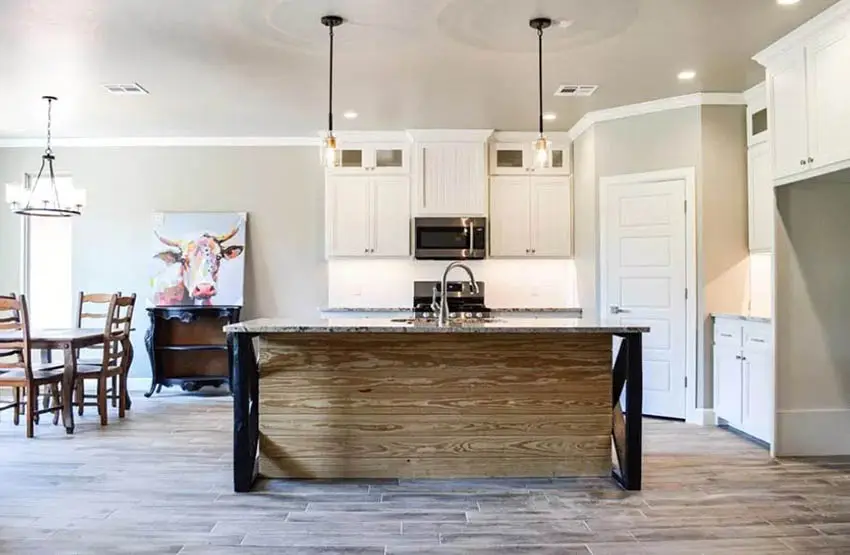 Featuring a unique industrial style design, this kitchen island adds just the right amount of rustic aesthetics into this classic kitchen.
It uses thick, metal end legs with crossbucks, and at the center, a counter carcass that was clad tongue and groove wood laminates.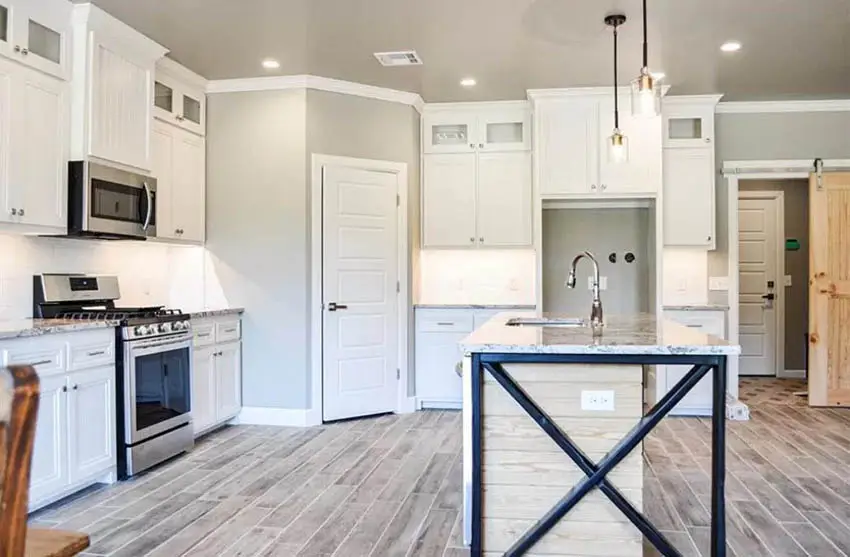 This image shows a different perspective of the design above and highlights its barn door style kitchen island.
Rustic Cart
You will often see small freestanding kitchen islands or carts, which are often available for buy from retail stores and are the perfect size for smaller kitchens. These can be a great way to bring in a small piece of the rustic style to your design without overwhelming the space.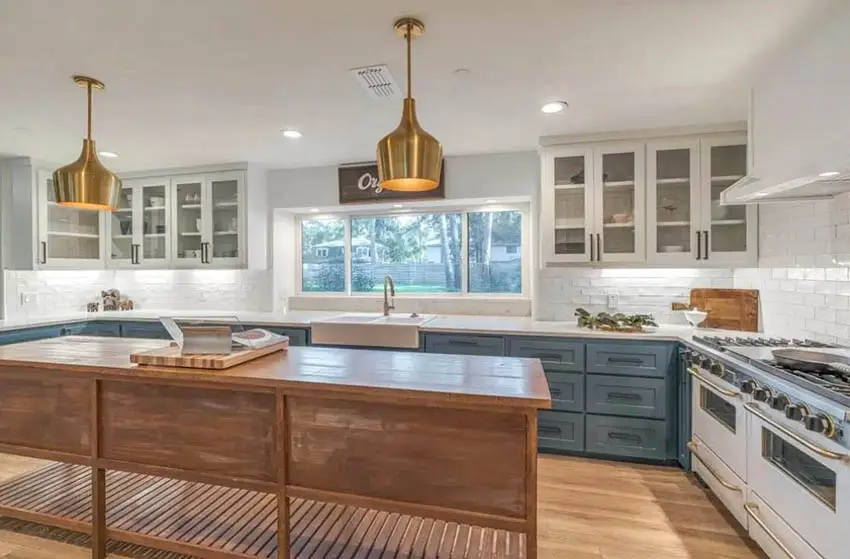 Freestanding kitchen islands have recently gained popularity for their unique look and their mobility. You wouldn't need to worry about missing your favorite kitchen island when you can take it with you when you move.
The Mahogany kitchen island in this example adds just the right amount of homey warmth to this modern kitchen space.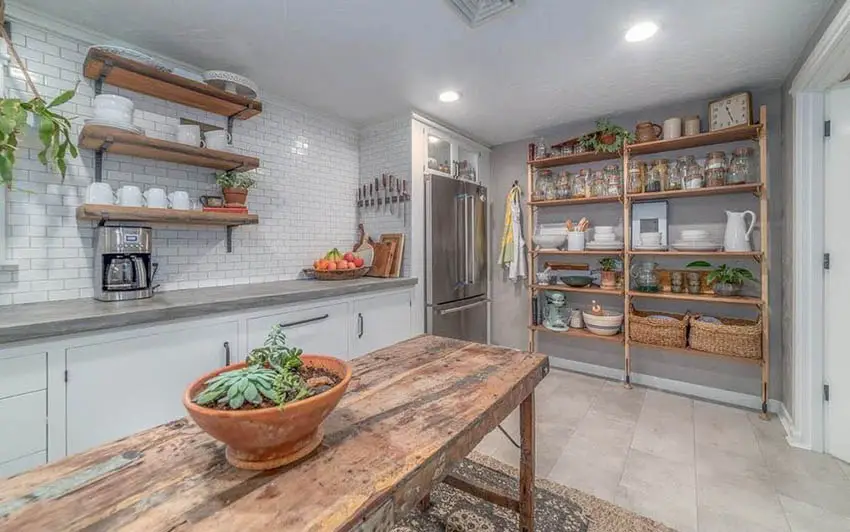 Another small kitchen design that takes advantage to the lightweight look of freestanding kitchen islands. This kitchen uses repurposed wood for the kitchen island, and keeps its natural weathered finish to give it a little more texture and personality.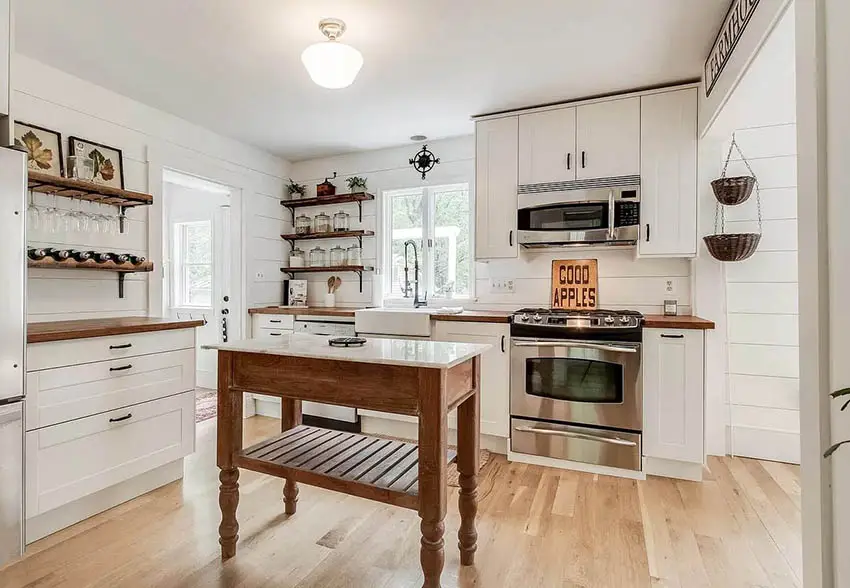 Since this kitchen is quite small, the use of a small, freestanding portable kitchen island was the best solution. It does not have a closed base, so the open legs/shelf at the bottom makes it look light and doesn't visually block the flow of the kitchen.