Here we share our guide to alder kitchen cabinets including their costs, what color flooring goes with these cabinets, and tips on how to clean, update & paint knotty alder cabinets.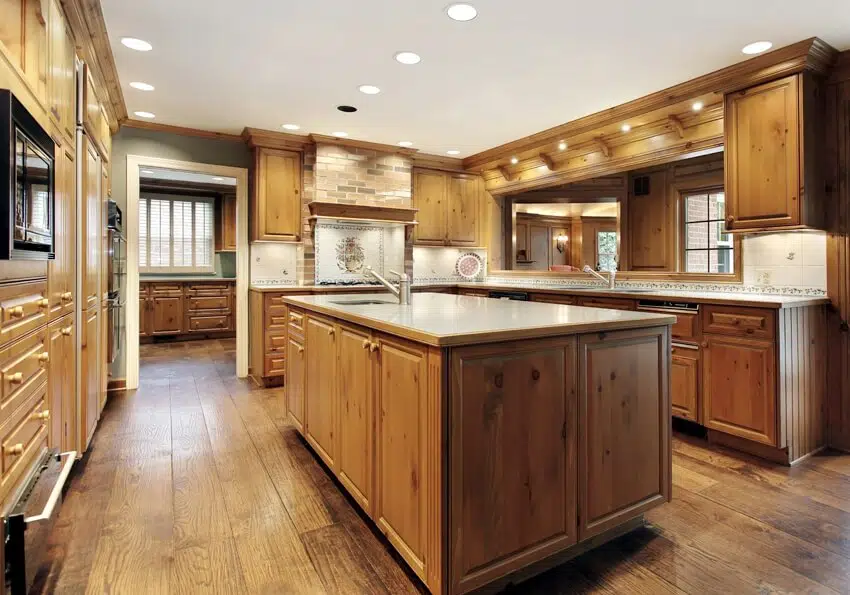 Alder wood is beautiful and with its rich wood grain and knotty details can make for beautiful kitchen cabinets. It's color ranges from different shades of light brown with touches of red hues. Generally considered a softer wood it is still durable enough to be used for cabinetry.
What Are Alder Wood Cabinets?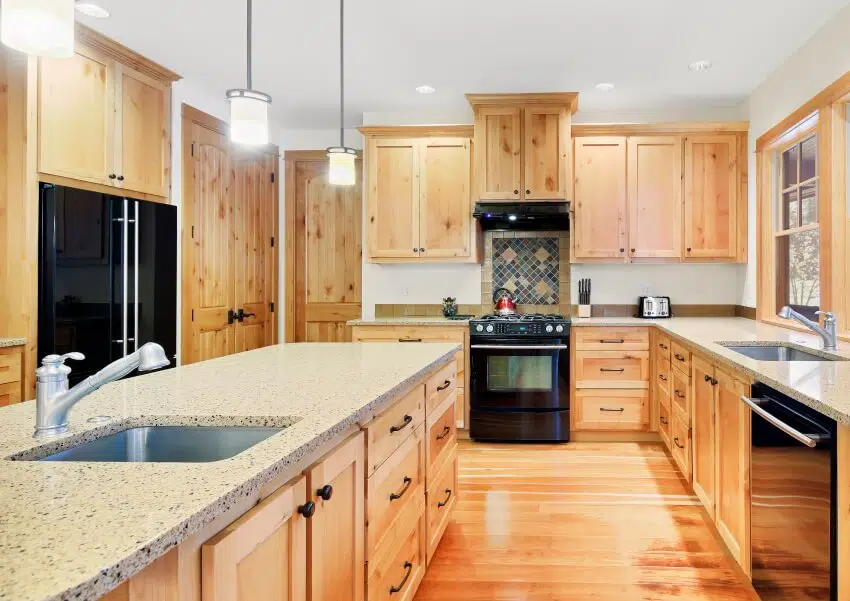 Although alder wood is considered a hardwood from the birch family, it is one of the softest of all the hardwoods. Sometimes called semi-hardwood, alder wood is durable, has straight, closed-grained, and smooth texture that is non-porous and therefore is a good choice for cabinet doors.
Alder wood has reddish brown to pale yellow tones and some of the most popular alders are those that has the natural knotty defects that adds a rustic beauty to the cabinet doors.
Since alder wood is softer than some other types of hardwood, it may be more vulnerable to scratches or dents. It came into popularity as an alternative to cherry wood and has an abundant supply of alder wood which makes it more affordable and sustainable than some other hardwoods. It has an attractive look and a variety of finish options and styles from rustic to modern.
The alder is a nitrogen fixer tree that has the unique ability to capture nitrogen from the surrounding atmosphere. The alder tree is able to inject that nutrient as nodules on its roots satisfying its own nutritional needs and captures is also infused in the soil, improving soil fertility.
Alder wood is also very sustainable type of tree due to its ability to send out new shoots from their stumps, roots, or trunks when cutting down.
Rustic Alder Cabinets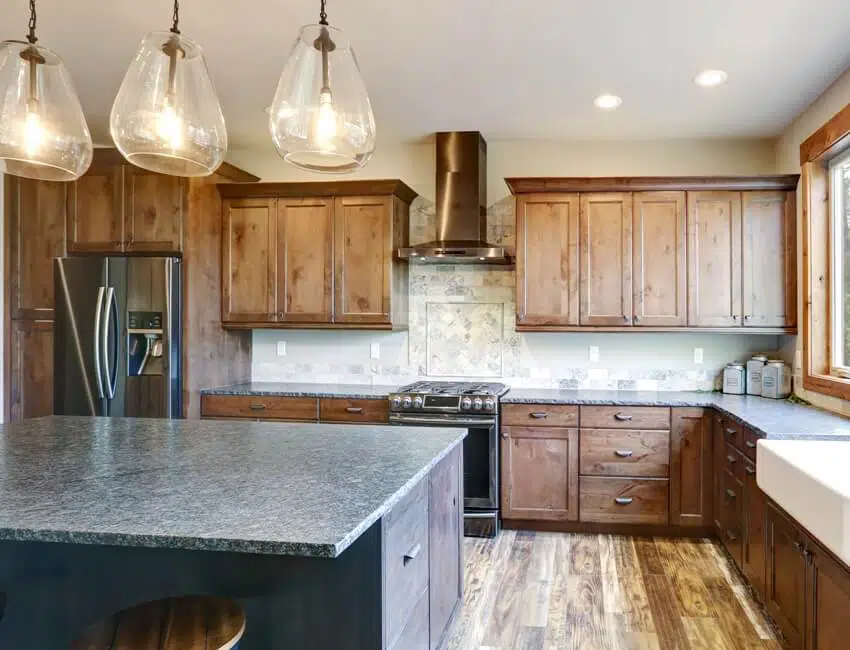 Rustic alder has beautiful natural knots, and wood grain variations, making it the perfect material for a farmhouse style kitchen. It works best for distressed cabinet designs and takes a wire-brushed effect or distressing effects well.
In creating a rustic aesthetic, alder wood boards that have knots are a favorite of carpenters. Not only that rustic alder cabinets are strong and affordable, but they also add character to complete a farmhouse or ranch interior design style. A knotty alder is great for achieving a rustic alder cabinetry.
Knotty Alder Kitchen Cabinets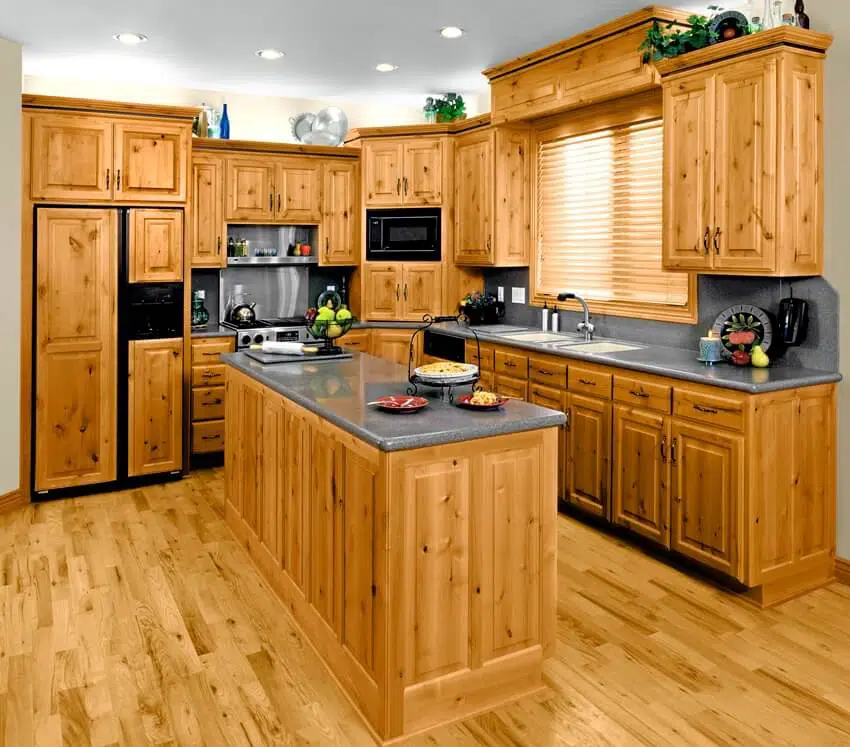 Known as Rustic Alder, the knotty alder every so often contains a mixture of pin holes, open and closed knots, small cracks, worm holes and trails, bird pecks, mineral streaks, and variations in its grain pattern.
Alder is a great choice if you like rustic kitchen cabinet doors that have a smooth and natural knotty quality. Knotty alder solid wood's natural character makes it gorgeous and striking for cabinet doors. It is a durable hardwood that comes in a wide range of colors and is similar to knotty pine because its knots stand out.
However, the knots in alder are often larger and darker than those in pine. The knots in alder have different shapes and sizes which causes them to absorb stain differently from the rest of the wood. Some alder has a light brown shade, similar to white oak, other variations of knotty alder wood have darker, reddish color like cherry wood.
Knotty alder wood has numerous visible knots wherein some knots are so large and deep that they go through the entire wood plank. The knotty alder kitchen cabinets are ideal for rustic, unrefined design motifs.
The only vulnerability of a knotty alder is there will be times that the knots will pose certain problems for cutting due to sudden jumps or directional deviations can occur while cutting because the knots are more difficult to cut than the surrounding board surface.

Stained Knotty Alder Cabinets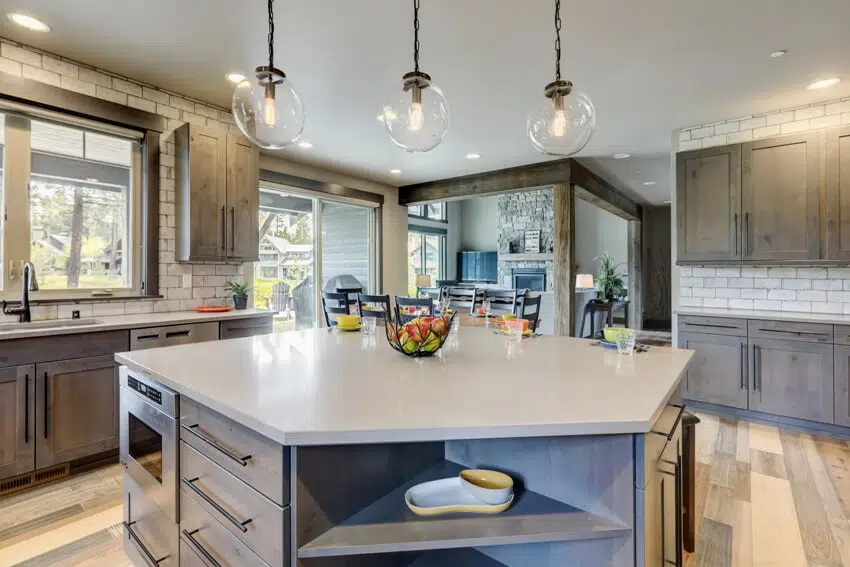 Alder wood is a good candidate for staining but can tends to stain unevenly, showing areas of light and dark if not prepared properly. Alder wood displays two basic natural colors depending on the finishing technique used such as when water white lacquer and blond shellac are used, then the Alder will take on a light gold color which is usually used in order to achieve a rustic look.
While using an amber-toned finish creates a reddish color that mimic the look of cherry wood, however, a red-finished alder will not darken with age the way Cherry wood will.
A stained knotty alder cabinet is a great option to add a dynamic design element and complements well the natural features of the wood. Staining knotty alder cabinets helps to even out the tone of the wood yet highlights the knots and burling of the rustic wood.
On the other hand, if you want to use alder wood for a modern kitchen concept and looking for a consistent appearance, staining may not be the best option.
Whitewash Knotty Alder Cabinets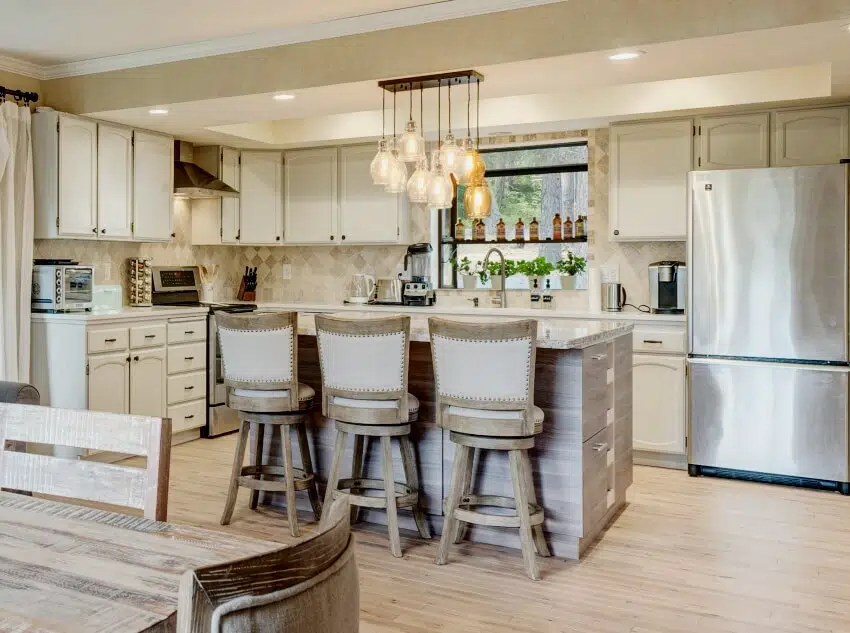 Whitewash knotty alder cabinets easily brighten and adds rustic and cozy charm to your kitchen cabinetry while allowing the natural grain to show through.
The beauty of the whitewash knotty alder cabinets is highlighted by the imperfection it presents. The term "whitewash" used to refer to methods for staining wood with a semi-transparent stain to create a more rustic, interesting texture and natural feel to wood surfaces.
Creating a country feel for your kitchen design scheme, a whitewash knotty alder cabinet is a best way to go since whitewash stains are extremely versatile. Shabby Chic style is also often associated with whitewash finish as well as with a variety of decorating styles.
Whitewash knotty alder cabinets can also lighten dark materials in your kitchen and unify the space. It is a a great way to introduce the warmth of wood that looks great for a modern home. See more types of kitchen cabinet materials here.
Is Alder A Good Wood For Kitchen Cabinets?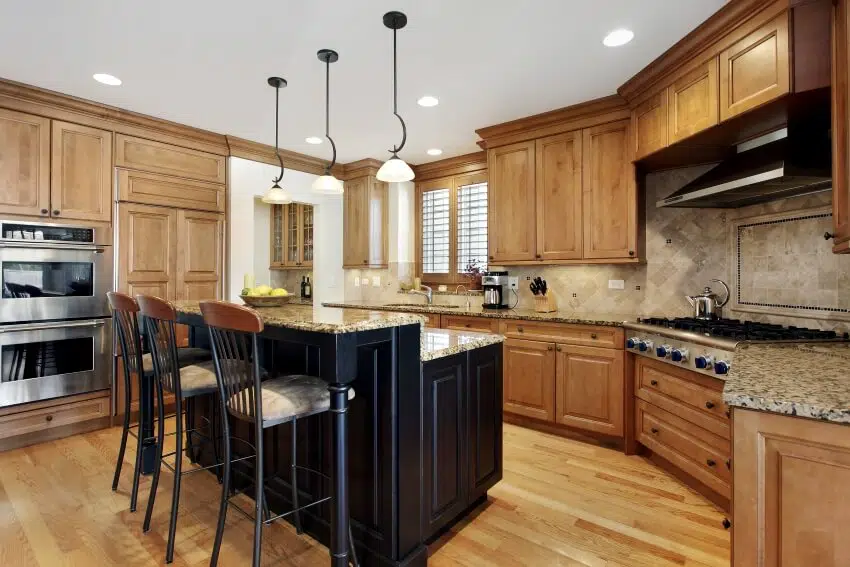 The abundant supply of alder wood makes it more affordable and sustainable than some other hardwoods and has an attractive appeal that can be used in a variety of cabinet door styles, from traditional, transitional, and rustic to modern.
Alder wood's soft, simple, and consistent grain can be both stained to simulate many other types of wood or painted with a smooth finish. Visit our guide to kitchen cabinet styles to get more ideas.
Alder wood kitchen cabinets offers a distinct and unique character due to its natural knots and moderately fine, uniform grain patterns. It looks beautiful stained, glazed, or painted. It is rated at 590 on the Janka hardness scale, which is an industry scale used to show the relative hardness of common wood species.
Although alder wood is lighter and softer than some of its wood counterparts, alder wood is still a beautiful hardwood and still considered to be durable. It's a favorite among woodworkers due to its smooth and even texture. Alder wood is so versatile therefore, can be a great option for cabinets.
Are Knotty Alder Cabinets Expensive?
Our research shows that alder wood costs about 10 percent less than many hardwoods. Knotty alder is competitively priced, and it is easy to work with, eco-friendly and cost-efficient.
Alder lumber prices per board foot as of April 30, 2022 shows that a knotty alder with a rustic appearance that is kiln dried, s2s and 7'-10' length are priced as follows:
• 4×4 knotty alder with 100 to 249 board foot costs $6.00, 250 to 499 board foot costs $3.50, 500 to 999 board foot costs $2.75 and 1000+ board foot costs $2.40
• 5×4 knotty alder with 100 to 249 board foot costs $6.00, 250 to 499 board foot costs $3.50, 500 to 999 board foot costs $2.75 and 1000+ board foot costs $2.40
• 6×4 knotty alder with 100 to 249 board foot costs $6.10, 250 to 499 board foot costs $3.55, 500 to 999 board foot costs $2.75 and 1000+ board foot costs $2.45
• 8×4 knotty alder with 100 to 249 board foot costs $6.15, 250 to 499 board foot costs $3.50, 500 to 999 board foot costs $2.70 and 1000+ board foot costs $2.40
Are Knotty Alder Cabinets Outdated?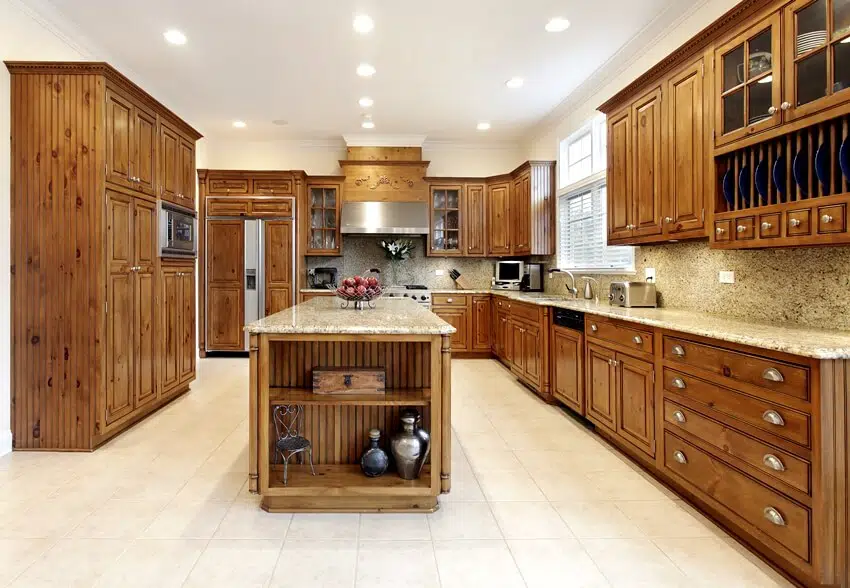 Materials like wood veneer and painted MDF are now more common in cabinet door construction, however knotty alder cabinets are a favorite of designers and carpenters trying to create a rustic aesthetic.
The warm tones and unique look of knotty alder cabinetry brings that warm, comfortable, and welcoming old-time feel to kitchens which homeowners can have a harder time finding with more sleek, modern kitchen cabinets.
The large open knots of these cabinets reflect the unique character and beauty of nature. Knotty alder does not darken when exposed to light or heat as other woods do.
In terms of color, it can vary from a light golden honey color to the color of a young cherry. Knotty alder cabinets offer a luxurious look and feel to their style and texture.
Knotty alder cabinets are still strong in a farmhouse design trend due to the prevalence of knots that is very much appreciated for the rustic, informal appearance it offers. See our gallery of farmhouse kitchen cabinets here.
How To Clean Alder Wood Cabinets?
Kitchen cabinets in general if cleaned and kept properly, can last for a long time. Cleaning alder wood cabinets is no different than cleaning any wood cabinets for that matter. You can use commercial cleaners, like Murphy's Oil Soap, to clean your alder wood cabinets.
However, you can also make your own natural cleaners such as vinegar which works best for greasy cabinets. Ingredients which can be found in your kitchen works best in cleaning your alder wood cabinets, not only because they are eco-friendly and effective, but these natural cleaners are also affordable.
You can try to mix a 50/50 percent solution of vinegar and warm water and spray it on cabinets, let sit for a minute or two and then wipe clean with a soft cloth. To remove heavy grease and grime buildup, you may add a few drops of liquid dishwashing detergent to the vinegar and water solution.
Always make sure that you use a soft cloth or sponge to wipe the cleaner on the cabinet doors and drawers. You can also wipe the cleaner on drawer pulls and door handles.
Using a toothbrush dipped in the cleaner, scrub the hardware and the wood around the hardware. To remove the cleaner from all surfaces, use a second cloth or sponge dipped in clean water. Make sure that you dry all surfaces thoroughly with a clean towel.
To clean stains on your alder wood cabinets, you can mix vinegar and salt and make it into a paste. Gently scrub the stained area with a soft toothbrush dipped into the paste. Next, rinse off the paste with clean water and rub it dry with a clean towel. Baking soda on a wet sponge works also well in removing stain.
After cleaning your alder wood cabinets, you can further protect it from stains by mixing together vegetable oil and vinegar in equal portions and apply it lightly on the cabinet surfaces. Wipe the mixture off with a clean, soft cloth and buff to give your cabinet doors a shine.
How To Update Knotty Alder Cabinets?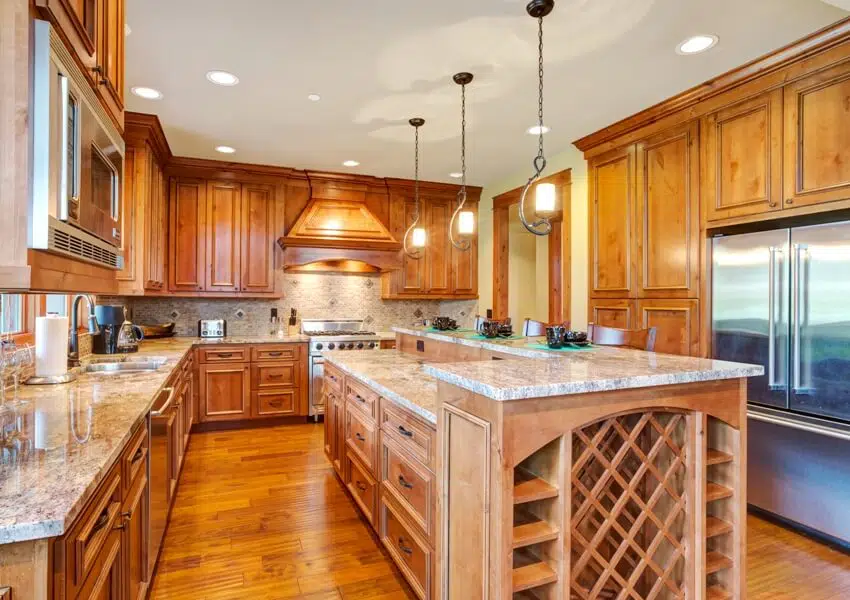 Updating your knotty alder cabinets is a job that requires a bit of research, motivation, and attention to detail. Knotty alder cabinets have the ability to take stains and other finishes well allowing homeowners to easily mix painted knotty alder and stained kitchen cabinets that creates a casual, woodsy feeling. These cabinets boost the appearance and ambiance of your kitchen.
If you have a transitional kitchen design concept, a knotty alder cabinet can show off the wood variations without being too over the top with its rustic appeal. The warm stain of the knotty alder cabinets with a grey undertone is perfect with today's color palette trend.
You can also try to combine a two-tone stain that can add character to the overall rustic appeal of your kitchen design scheme. Incorporating a mix of old and new styles, using knotty alder cabinets in a rich dark stain with a gorgeous stainless-steel hood can blend seamlessly both rustic and modern feel of the room. Adding brass hardware pulls together both design styles nicely.
How To Paint Knotty Alder Cabinets?
Alder wood has no heartwood or sapwood differentiation and has a low finish barrier due to having a closed grain makes it one of the easiest woods to paint. However, the dark knots in the light wood can be a challenge to paint since the knots absorb paint more rapidly than the surrounding wood.
Painting over the knots of an alder wood takes significant preparation and a specific finish for a smooth, even finish that doesn't allow the knots to show through.
To achieve a perfectly painted finish, you have to sand the entire door using a 180-220 grit abrasive to smooth out the grain as well as the rough areas around the knots including any sharp edges or corners. Make sure to clean the sanding dust off the door using a vacuum with a brush-head or a tack cloth.
Sealing the knots is important since if not sealed properly, the alder wood knots can cause deformation or even pop out of the wood in time. Using a small-bristle brush or foam brush, brush on the shellac sealer over each knot making sure that you coat them evenly. You will notice that the knots will absorb the sealer completely at first, let the first coat dry in a well-ventilated space.
The first coat of shellac-based primer must dry completely before sanding lightly with even pressure the treated areas to smooth out the first coat of sealer using fine 240-280 grit sandpaper. Again, vacuum the sanding dust or wipe the areas down and clean the wood thoroughly with a tack cloth.
Since the knotty alder wood can downright absorb the sealer, multiple coats are required. You may apply as many coats as needed to seal and cover the knots, making sure that you are sanding between each coat.
When you are doing the final sanding of the whole door using a fine-grit sandpaper, work on performing long even strokes to effectively smooth the whole surface and level out any high spots left from sealing the knots. Vacuum or wipe the whole surface down with a clean rag to remove any remaining dust particles.
Now that the knots are completely and properly sealed, you're ready to begin painting the door. Usually, two coats of paint are essential, and you may need to sand the first coat of paint again to remove any bumps or inconsistencies before layering the next coat. For a high-quality look, simply apply your finish topcoat and allow to dry.

What Color Flooring Goes With Alder Cabinets?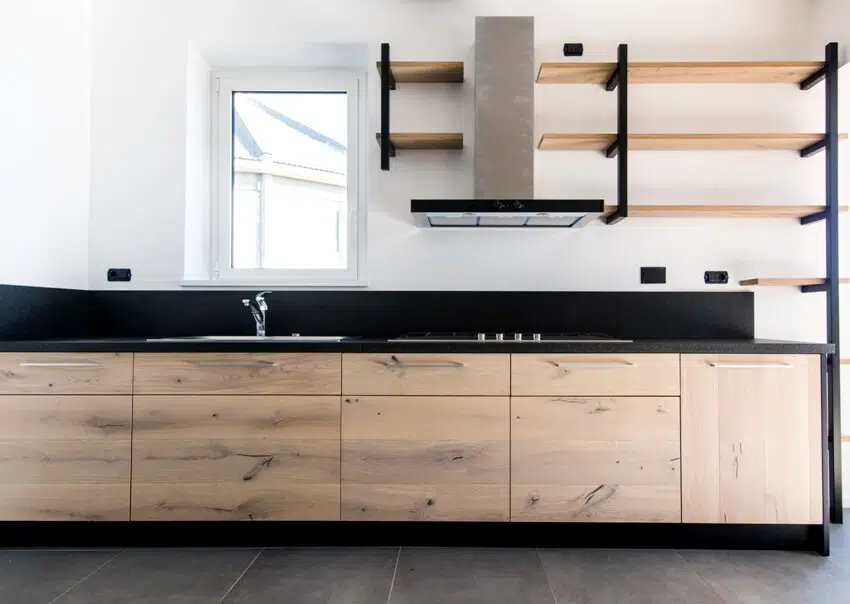 The idea of choosing a flooring that would go best with alder cabinets is to mix complementing materials, not match them. Light stained alder cabinets pair well together with dark hardwood flooring, and vice versa.
Alder cabinets work beautifully with floor color that is a tone or two darker than the cabinets. The dark floor complements the dark knots in the cabinet as well as contrasts with the lighter shade of the wood.
If you want more texture on the cabinets and in the floors without looking too busy, make sure the wood colors and grains are complimentary and as for colors, go with natural red, walnut, hickory, or white oak flooring.
A combination of light, neutral, and cool colors, paired with a tone down warmth of the alder wood cabinetry, creates an open, light, and cheery atmosphere.
Visit our gallery featuring kitchen colors with brown cabinets for more related content.