In this kitchen floors with dark cabinets design guide you'll see what colors work best, ideal floor options and tips on combining dark and light kitchen flooring.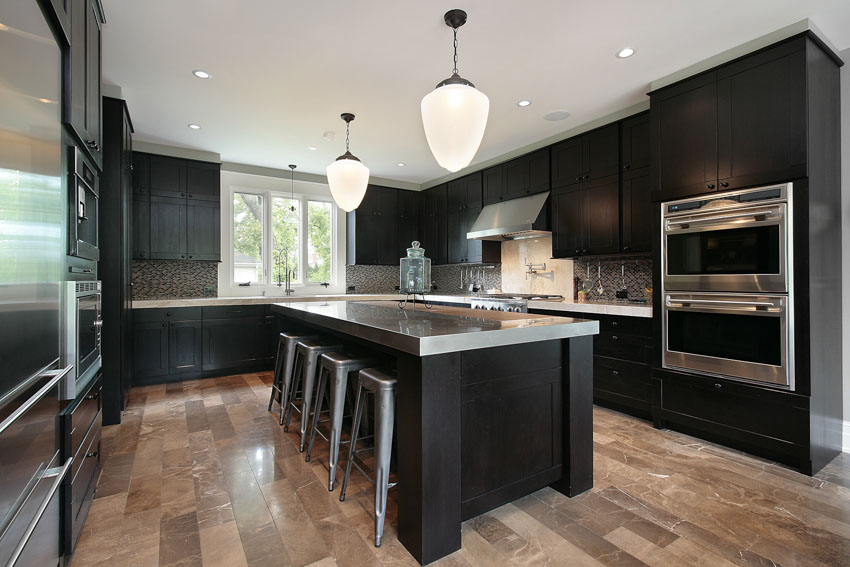 There are no hard and fast rules when it comes to matching your kitchen floors with dark cabinets. Rather, it is important to consider the style, material, and color of the existing cabinets, as well as your overall design goals for your kitchen.
Of course, the floor and cabinets are two major design elements in your kitchen, and you don't want them to compete or work against each other. Instead, your kitchen floors should complement your dark cabinets.
Remember that the two elements don't necessarily need to match. For a more in-depth understanding of your flooring options for dark cabinets, take a look at some of our best style tips.
They include: what color wood your kitchen floor should be if you have dark cabinets, how to pair dark cabinets with light or dark-colored flooring, and the best flooring materials for dark cabinets.
What Color Wood Floor With Dark Cabinets?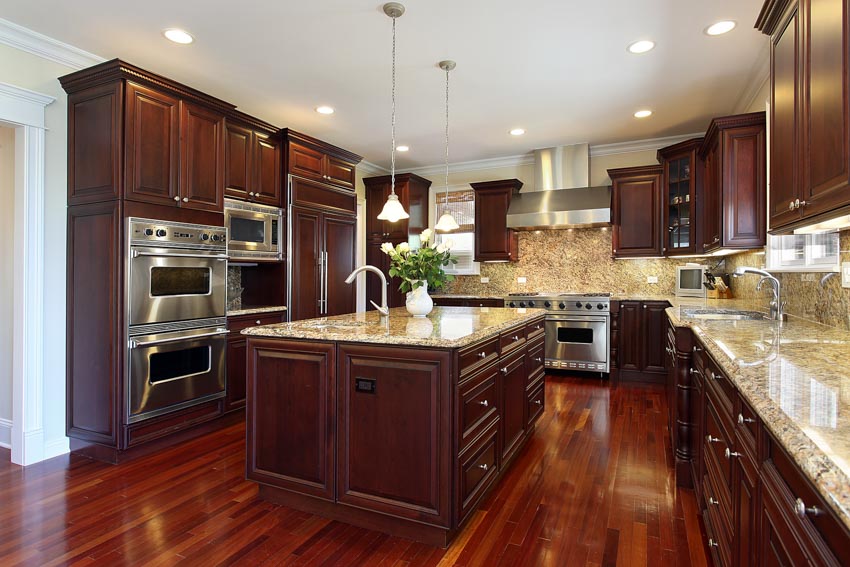 There are many different colors of wood floor that can work well alongside dark cabinets to achieve your overall design goals.
Ideally, the wood floor would contain undertones that match the colors present in your dark cabinets. If your dark cabinets contain cool hues such as blue or purple, ebony wood flooring will complement them well.
Dark brown wood cabinets with warm undertones, such as gold, red, and yellow work well with dark wood floors, whether stained or painted.
Choosing between light and dark wood floors is a difficult decision, and affects whether your kitchen feels gloomy or bright. You should think about the type and quality of natural light your kitchen gets at various times of the day.
If you want to brighten a kitchen with dark cabinets, light-colored wood floors are best. If your kitchen is sun-drenched, maybe some light-absorbing dark-colored hardwood floors are the way to go.
While you're considering the light, take note of the profile of your cabinets. Cabinets with raised elements or carved details can cast shadows that make your kitchen appear darker.
You may be able to mitigate this by supplementing the ambient and task lighting in your kitchen. If not, a lighter wood floor is probably the best choice.
A weathered gray wood floor can be placed alongside dark brown, gray, or black cabinets to create a semi-industrial feel. Hardwood floors in the kitchen with natural or artificially added red undertones have a luxurious look that can be paired with glossy black cabinets for a sophisticated look.
Best Flooring With Dark Cabinets
Whether you're renovating or designing a new build, there are plenty of reasons you might need advice about what flooring materials pair best with dark cabinets.
If you have high-quality wood cabinets already, they could outlast your floors by several decades, requiring you to make a choice about new flooring. Or perhaps you love the look of dark cabinets and are set on having them in your new kitchen, but you're not sure what kinds of floors will go best.
The best flooring will complement your dark cabinets. That doesn't mean the floor should be made from the same material, in the same color as the cabinets, although that is a valid design strategy.
It means that both the floor and the cabinets share one or more elements, such as material, style, or color. Perhaps they are the same shade of mocha, but the cabinets are acrylic and the floor is gleaming dark hardwood. Or, dark solid-wood cabinets can be paired with another natural element, such as a dark slate floor.
Best Flooring With Dark Wood Cabinets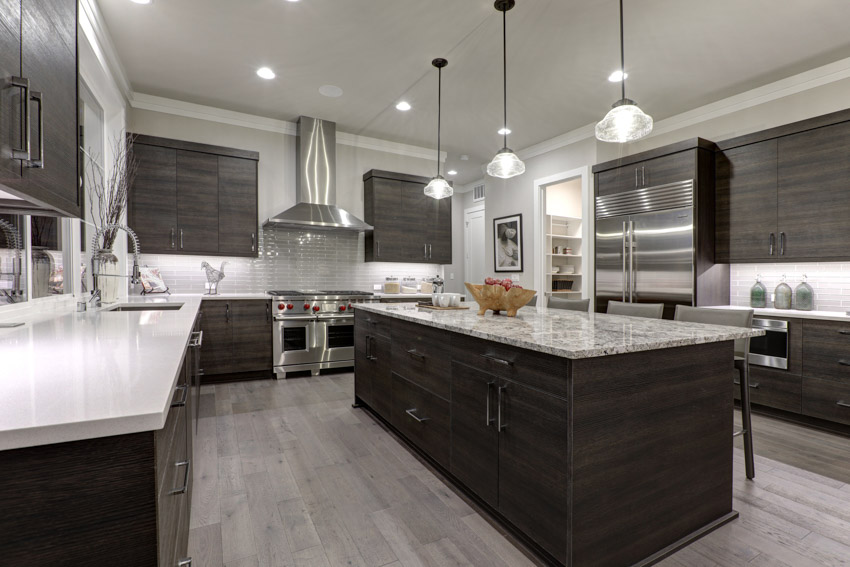 Solid-wood cabinets bring an element of nature into your kitchen. They are also a high-quality and extremely long-lasting product. Match the durability and quality of dark, solid-wood cabinets by pairing them with hardwood floors.
Best Flooring With Laminate Cabinets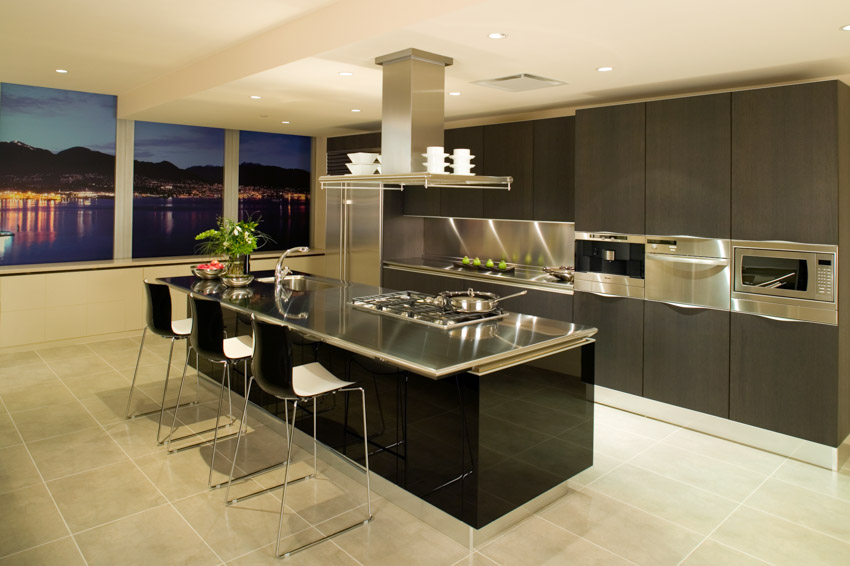 Laminate cabinets, which are made from compressed wood fibers wrapped around a solid core, come in many colors, including dark shades and printed patterns.
Some of these patterns convincingly mimic the look of dark wood. Laminate will also accept certain kinds of paint. This versatile material comes in a range of finishes, from matte to high gloss. Read move about painting laminate cabinets here.
To find the best flooring to go with dark laminate cabinets, look at wood or tile floors with a similar finish. For an earthy, natural feel, consider neutral-colored, matte-finish tiles with dark, matte-finish laminate cabinets.

Best Flooring With Acrylic Cabinets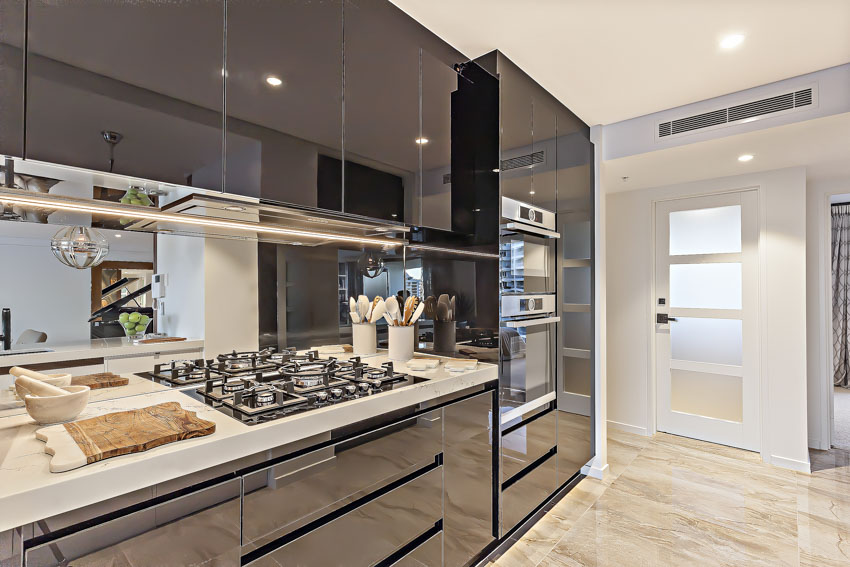 Acrylic is yet another dark cabinet material option. Acrylic cabinets are made from a durable, high-gloss, solid-color surface. They are available in both dark and light colors, although the color range is somewhat more constricted when compared to laminate options.
Because acrylic kitchen cabinets have such a polished, almost futuristic look, it needs to be paired with sleek flooring. Choose the finish for the floor carefully to avoid generating excessive glare.
Dark Kitchen Cabinets With Light Floors
Dark kitchen cabinets are a beautiful design feature and they deserve to be shown off. Light-colored floors help dark kitchen cabinets stand out, without allowing them to overwhelm the kitchen. Light floors and dark kitchen cabinets are a classic combination that can work with any style and is easy to pull off.
Blonde wood floors with chocolate-colored kitchen cabinets create an inviting atmosphere that can be paired with nearly any color scheme on the walls and trim. Light types of tile floors in neutrals like cream, gray, or off-white can help brighten a kitchen and show off deep blue cabinets.
For a sophisticated and traditional design, consider light-colored natural stone flooring underneath dark solid-wood cabinets.
High contrasts create visual interest, and one of the most arresting high contrast combinations is black and white. If you're bold enough to install black cabinets, a white tile or white-washed wood floor brings crispness and sharpness into your kitchen.
A softer, lower-contrast design scheme might use amber-colored hardwood floors to show off the golden glow of honey oak cabinets.
Dark Kitchen Cabinets With Dark Floors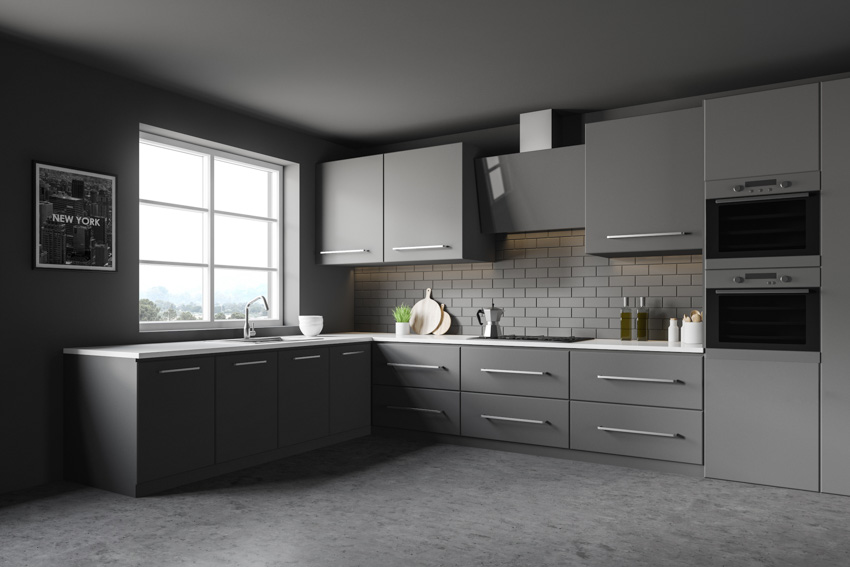 There are many different strategies for using dark floors in a kitchen with dark cabinets. In a large kitchen, dark floors paired with dark cabinets can help anchor and ground the space, providing a solid design foundation.
In open-plan living areas with a single wall kitchen, dark cabinets and flooring help define the area of the kitchen. Note that the choice to use dark colors on both the floors and cabinets may make some spaces look smaller, so you probably want to avoid it if your kitchen is already cramped.
Pairing dark cabinets with floors of the same dark color creates a dramatic statement in the kitchen. While black cabinets with black floors may be too intense and foreboding for many kitchens, a dark gray cabinet/floor combination is soothing and serene. If you're a bit braver, consider an indigo color scheme.
For an updated, more contemporary feel, match dark laminate flooring with high-gloss acrylic cabinets in deep hues such as cranberry, indigo, or even plum.
An intense, liquid-like design scheme can be achieved by choosing high-gloss laminate cabinets in a dark gray color and black tile floors.
If you have dark kitchen cabinets and dark kitchen floors, you will need to relieve the intensity with lighter hues on the walls, ceiling, and light fixtures.
The countertop and backsplash can also be used to introduce colors that absorb less light. A chic and relaxing effect can be achieved using a monochrome palette.
Now that you've got some inspiration and information, you're ready to apply what you learned in your own kitchen. Show off your dark cabinets with kitchen floors that further your design goals while keeping your space beautiful and functional.
See more related content in our article about laminate vs hardwood flooring on this page.