Below is our guide to serpentine countertops pros and cons including their costs, maintenance, and wall color ideas for your next kitchen upgrade.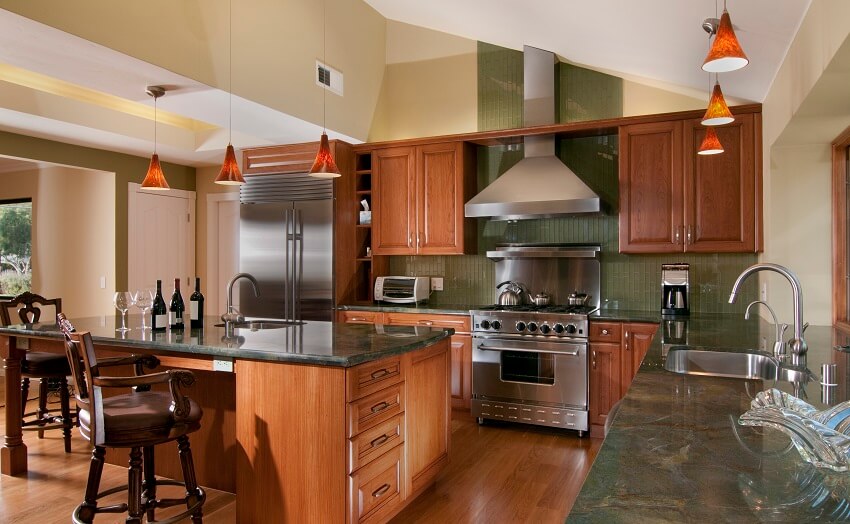 If you've been thinking about getting a serpentine countertop but are a little intimidated by how it looks and how you'll work it in to your home's aesthetics, then this one's for you.
Read on to find out more about serpentine countertops and how it can be a viable option for your next kitchen upgrade.
What Are Serpentine Countertops?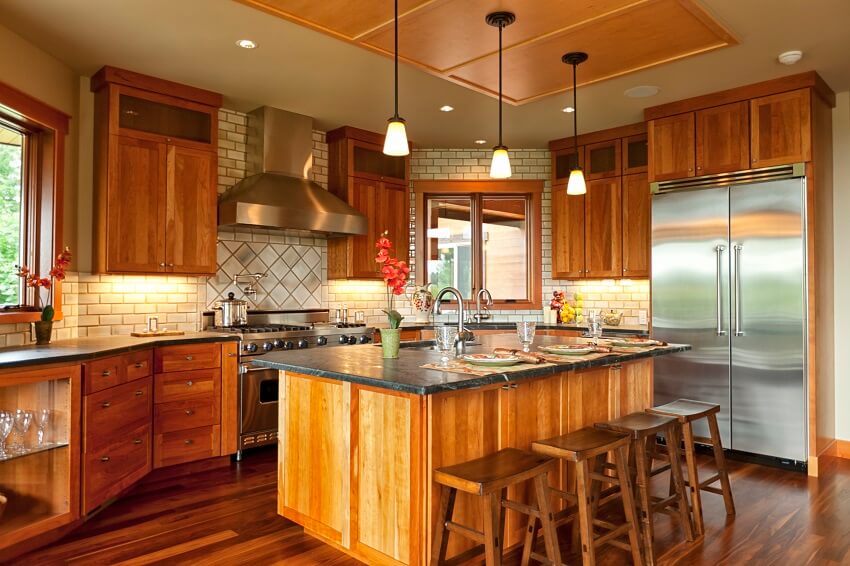 Serpentine is a type of natural stone that's also nicknamed as green marble. But technically speaking, it has nothing to do with marble in its geological makeup. This is because of the fact that marble is actually based from calcite whereas serpentine is based from magnesium-silicate.
It does, however, have the appearance of greenish marble though. Hence, the nickname. And speaking of names, serpentine got its name from the "snake scales" they resemble the moment that the stone's surface comes in contact with water.
If this is a countertop material that you're seriously considering, you really have to think about how you're going to get it factored in with the rest of the other elements in your home.
Yes, serpentine is quite resistant to acidic substances and even from scratches but it does have one major challenge – it's green. It only comes in one color and nothing else.
Even though green isn't exactly a bad color and it can work with a lot of other colors, it's still a major undertaking to align with the color so you really need to know what you're looking for and what you're trying to achieve before you go ahead with it. Read more about colors that go with green here.

Serpentine Countertop Pros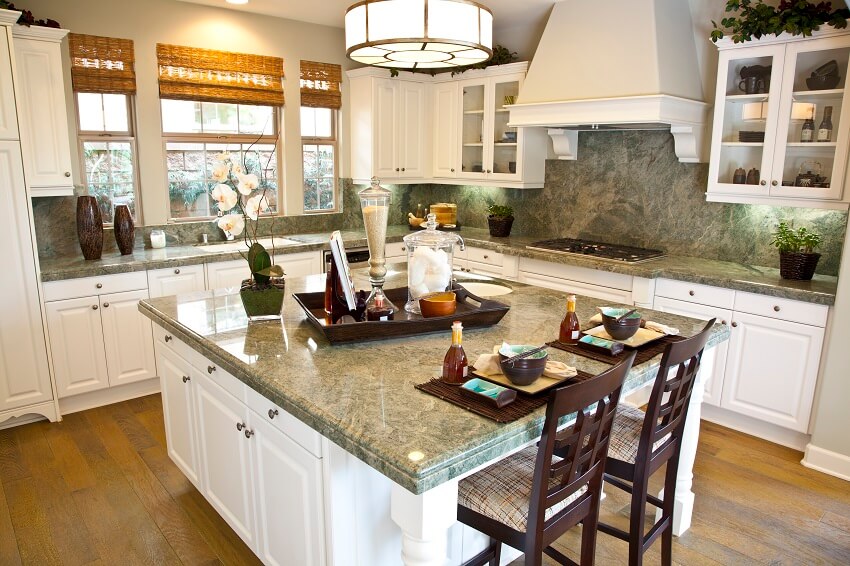 Serpentine is stain proof. And we don't just mean to say that it's resistant to stains. It really isn't possible to stain it. Any liquids or oils spilled on it can be wiped right off so there isn't any fear of you damaging it or ruining its surface's appearance overall in the event of a kitchen mishap.
This makes serpentine countertops perfect for the kitchen and for all of the moisture and spillages that can come along with that part of the house.
It is etch resistant. One thing that can really ruin a kitchen countertop's natural stone aesthetics are etch marks. This isn't something you have to worry about with a serpentine countertop as it has been tested and proven to be hard enough to be resistant to etches or the occasional knife scars. Check out the different types of kitchen countertops here.
Because of the material's hardness, it's highly encouraged for you to use a proper chopping board and not cut on the serpentine countertop's surface. It will end up dulling your knife. It does not scratch easily. It's harder than marble but softer than granite.
It does not need to be sealed. This is because this material rivals the density of marble. It isn't porous in any way so it means that any liquids spilled on it won't be absorbed through the material.
There isn't any need to get it sealed because of this and this can minimize your upfront costs, which is actually helpful given that serpentine tends to have a reputation to be a bit pricey as a countertop material.
Serpentine Countertop Cons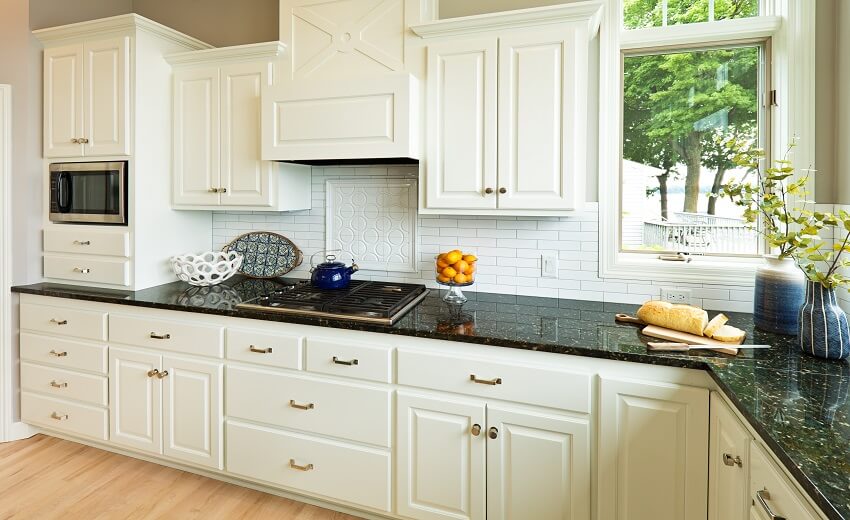 In the event that it does scratch, the darker shaded serpentine slabs can look bad and beat up. Oil leaves marks, especially if the serpentine is unsealed.
Serpentine has a talc content inside of it, which is a form of asbestos. This can be a bit of a hassle and considered as a legitimate health risk in the home if you're cutting it up, getting it sanded down, or something similar to that.
What's important is that you shouldn't be inhaling any air borne particles coming out of a solid serpentine countertop slab.
Serpentine Countertops Cost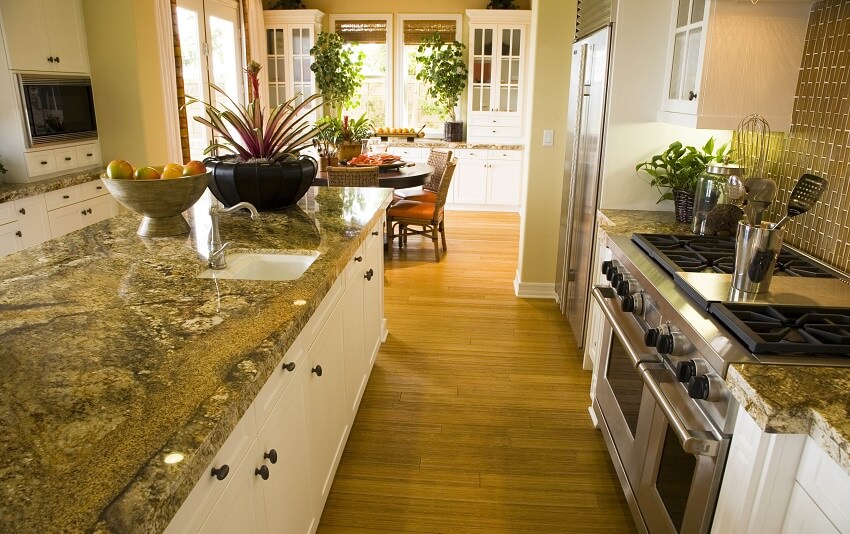 Serpentine countertops aren't the most expensive materials to make out of countertops but they aren't exactly inexpensive as well.
It would be even fair to say that some types of serpentine countertops could rival the price ranges of traditional marble countertops, which is considered as the most expensive material for a countertop out in the market right now.
You can expect a price range of anywhere from $75 to as much as $250 per square foot for a serpentine countertop.
A typical countertop has the size of 30 square feet so that means that it can cost you a total of $2,250 to $7,500 per serpentine countertop slab before installation and delivery costs.
What Wall Color With Green Serpentine Countertops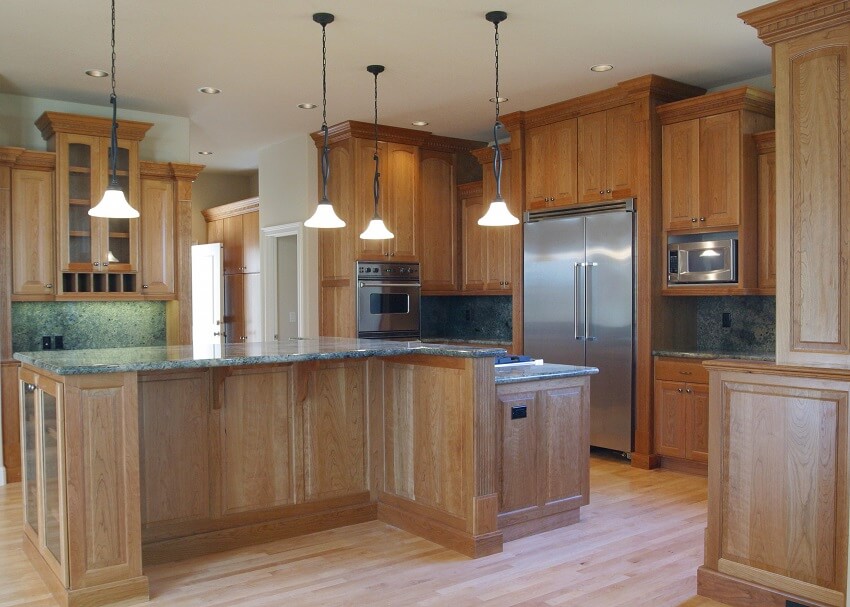 Serpentine can come in a variety of shades of green ranging from a subtle hue to something stronger. Contrary to the initial belief that serpentine is difficult to pair with in terms of interior designing because of its color, this isn't actually the case.
Sure, it's green but it's a relaxing and natural type of green that makes it easy to pair with any other element you might want to throw in for your kitchen design. Serpentine has the kind of green that's organic and reminds you a little bit about the green that you actually see in plants.
Because serpentine is such a strong color that can be a statement on its own, it would be best to pair it with neutral wall colors. A muted color palette on the walls can really make the bold and eye catching patterns in serpentine countertop stand out.
Beige or cream are the go-to recommendations but if you want to go for something more coastal or something that has resort vibes, you can opt for sand, light browns, or something tan.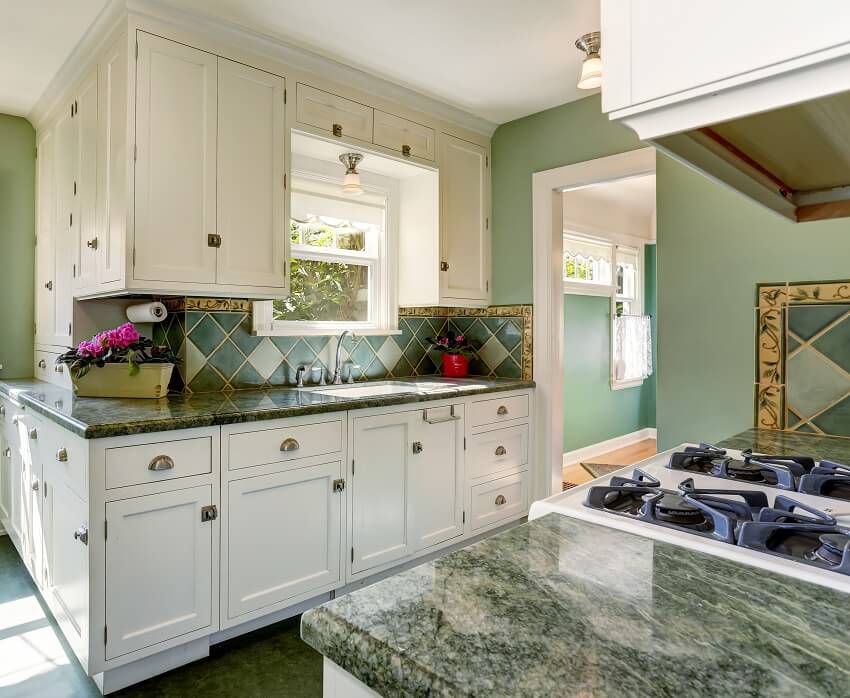 Another great design take on serpentine countertops is to go monochromatic but with a more subtle and muted shade for the walls.
Go for colors like light mint green, sage, or even moss green to pair with the strong greens of your serpentine countertop for that rich and elegant look in the kitchen.
Serpentine Countertops Maintenance
Serpentine isn't really any different compared to other natural stone countertops when it comes to maintenance. Basically, the rule of thumb is, if you want it looking shiny and new all the time or just want to extend its life span in general; seal it. It's preferred to get the sealing done after the countertop has been installed.
You also need to make sure that it's wiped clean after daily use, of course. You'll be handling food on its surfaces, after all.
Over time, it's only common for your serpentine countertop to see some wear and tear. If this happens, just make it a point to periodically update it by reapplying some sealant on it.
It can happen every few years, annually, or a little more frequently than that. It all depends on the condition that your serpentine countertop is in, where it's actually located in the house, and how frequently they're being used.
And while it's recommended to leave the resealing job to the professionals, you can actually clean your serpentine countertop daily by just wiping it down with a damp cloth and following through with a dry microfiber cloth after to get rid of any possible water streaks.
How To Polish Serpentine Countertop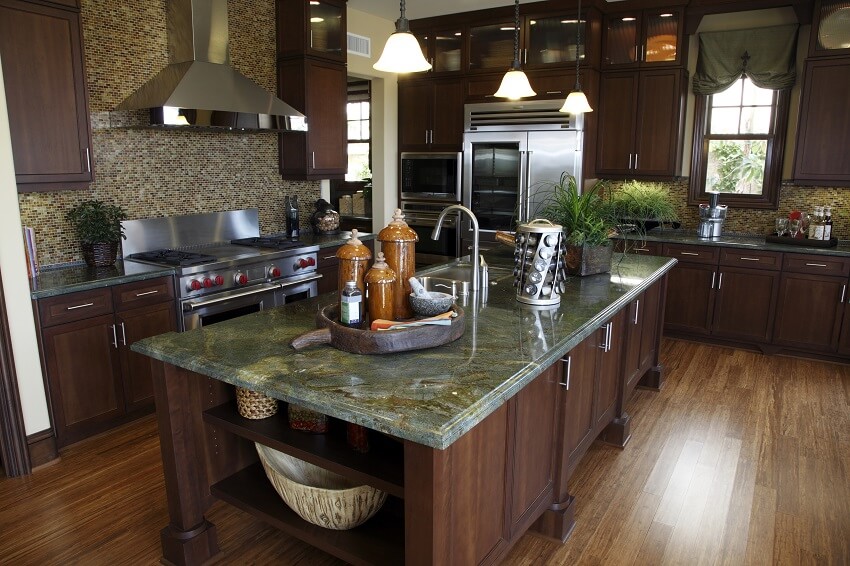 The first step to polishing a serpentine countertop is to make sure that the surface is cleaned thoroughly. Remove all particles of grime and dirt with the use of a soft cloth and soap. If you want to be more thorough, you can actually use a commercial natural stone cleaner available in hardware stores. If there are any stains, make sure to get rid of them as well as they can cause discoloration in the countertop.
If you're planning to polish or re-polish your serpentine countertop yourself, it would be best to get a ready-made polishing and sealing kit. It usually comes with all the necessary materials needed as well as a specific natural stone polishing compound to really bring out the luster in your serpentine countertop.
It also comes with instructions and all of the basic tools needed. You are also going to need a fine-grained sandpaper to take care of any basic surface scratches or a variable grinding machine if you happen to be handy with a power tool.
Make sure that you buff right after you've taken care of any surface scratches. Polishing a serpentine countertop is an easy job to do, you just need specific techniques and equipment to get it done. Here are the basic steps to the actual polishing process:
Attach a Velcro-backed felt wheel to your grinder or polisher and make sure that it's set to a low speed setting.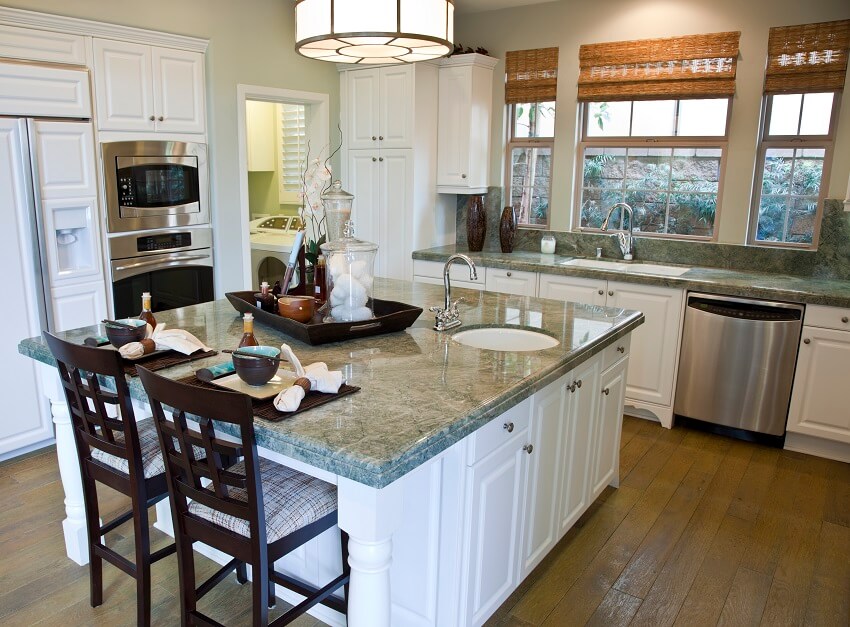 Pour out an ample amount of polishing compound on the surface area and work the felt wheel at a low and steady setting.
Polish the serpentine surface slowly with rotary motions and make sure that you pay special attention to the edges and corners as they're oftentimes neglected and they get the most wear and tear.
Remove any excess polishing compound with a vacuum and run it through with a damp cloth to get rid of any residual polish on the surface of the countertop.
If you want a more natural route towards polishing your serpentine countertop, there's a process to it as well. Mix three parts baking soda to one part of water and spread it on the surface. Let it air-dry for several hours. Wash it off and wipe it clean with a chamois cloth.
Visit our guide to quartz kitchen countertops for more related content.