This gallery of porcelain slab backsplash designs shares pros and cons, pictures of different kitchen ideas, costs, and matching a porcelain backsplash slab with countertops.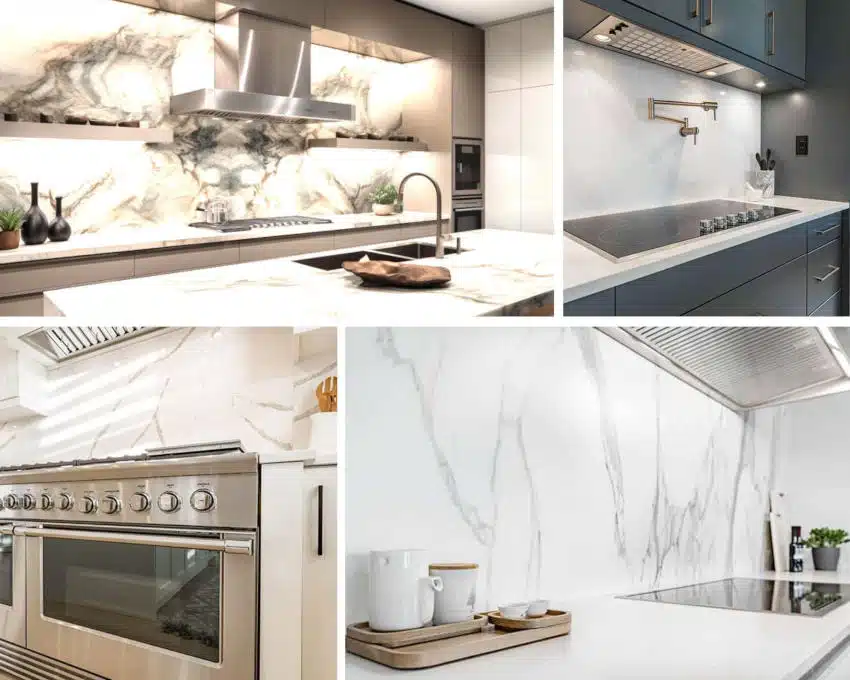 Today's kitchen is all about clean aesthetics and functionality. The porcelain backsplash is one of the most popular options, achieving both looks and practicality while being affordable to the common household.
The porcelain material has been around for a long time and has always been a top choice for interior finishes, especially for the kitchen and bathroom. Furthermore, technology has made it possible to simulate organic patterns and create unique designs, extending the wide range of design selections.
Combined with the variety of designs and its seamless surface, the large format material is the perfect option for the modern kitchen. Still, it is versatile to create a stunning traditional kitchen as well.
Quicklist: Pros and Cons of Porcelain Slab Backsplash
Pros
Waterproof
No Mold and Mildew Buildup
Scratch-Resistant
Heat-Resistant
Safe Indoor Material
UV-Resistant
Lightweight
Versatile
Increases Property Value
Cons
Hard for Adhesives to Bond to the Slab
Cracking During Installation
Grout Hazing
Hard to Replace
What Is a Porcelain Slab?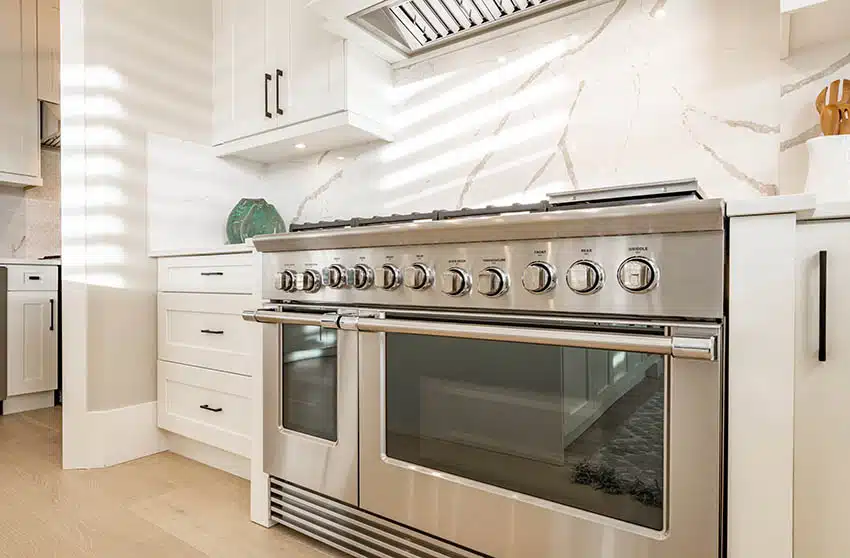 A porcelain slab is a finishing material composed of vitrified pottery material that usually appears opaque, but there are also translucent versions. A pigmented glaze creates a surface design like marble and other natural stone.
The manufactured stone has its roots in ancient China and is known as "primitive porcelain" made from silica, feldspar, and mineral oxides. The contemporary version uses almost the same materials and manufacturing principles as its archetype but with improved methods such as computer-aided design techniques.
The slab version lends a modern aesthetic due to the seamless surface. The absence of grout from your usual tile layout means no fissures for dirt and grime to adhere to and accumulate over time. This advantage of this slab makes it a desirable finishing material for busy kitchens, meaning less time cleaning the surface.
Calacatta Marble, Siena Marble, and Statuario Gold slabs are quarried stone's most popular slab simulation.
Aside from natural stone, these tiles can also imitate the look of wood textures that will have both the graining color and feel.
The standard thickness of these labs is around 6 mm to 12 mm or ¼ inch to ½ inch. For slab dimensions, the largest size is typically 10 feet x 5 feet.
Porcelain Backsplash Slab Pros and Cons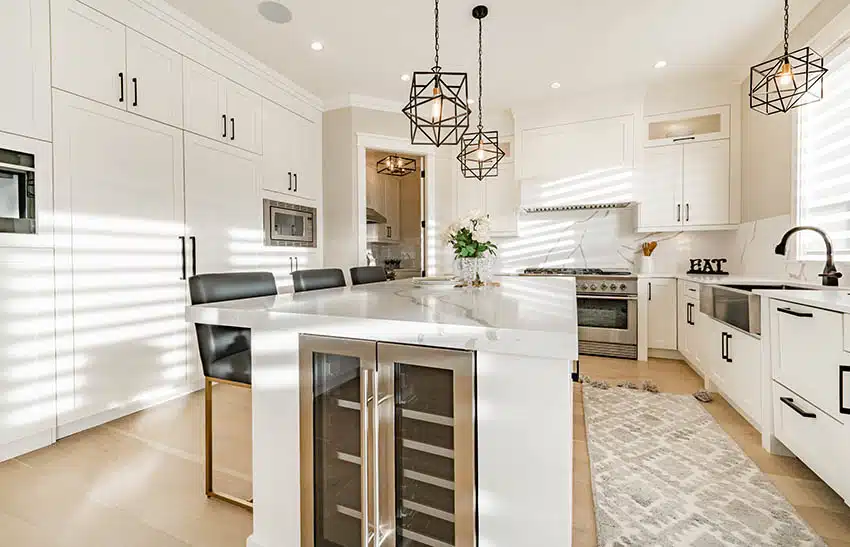 Here are some of the advantages and disadvantages of porcelain slabs.
Pros of Porcelain Slabs
1. Impervious Surface – Virtually Waterproof. It has less than a 0.5% absorption rate, which means the surface won't absorb food and liquid, making it a low-maintenance type of backsplash material.
2. Antibacterial Surface – No mold and mildew Buildup. Since the surface does not have crevices, the continuous surface does not allow debris and grime to build up.
More and more people prefer easy-to-clean surfaces for their kitchens and bathrooms for obvious reasons: cleanliness and disinfection. [Source: National Kitchen and Bath Association]
Moreover, the nonporous surface means that water or moisture is absorbed, making it inconducive for bacteria and fungi to survive. It is easy to clean as stains are most likely absorbed in the material.
3. Durable – Scratch Resistant. A porcelain backsplash slab is a long-lasting material which 30% stronger than the hardiest granite, so dents or scratches are not a concern.
Though take note the edges can get chipped off when not properly handled during installation. Opting for the glazed tile version of the porcelain slab is best to prevent chipping off from the material.
4. Resistant to Heat Damage & Can Withstand Heat – The heat-resistant property is due to how it is manufactured, where fine clay is fired at high temperatures removing moisture and increasing its hardness. As it can withstand heat, it is an excellent cladding material even when behind a stove or range, as it won't get damaged.
5. No VOC Content – Safe Indoor Material. VOC, or Volatile Organic Compounds, is one of the leading causes of respiratory diseases, and one of the main sources is building materials that release these harmful compounds. This slab backsplash is manufactured without binding agents and lacks the grouting in tile sets.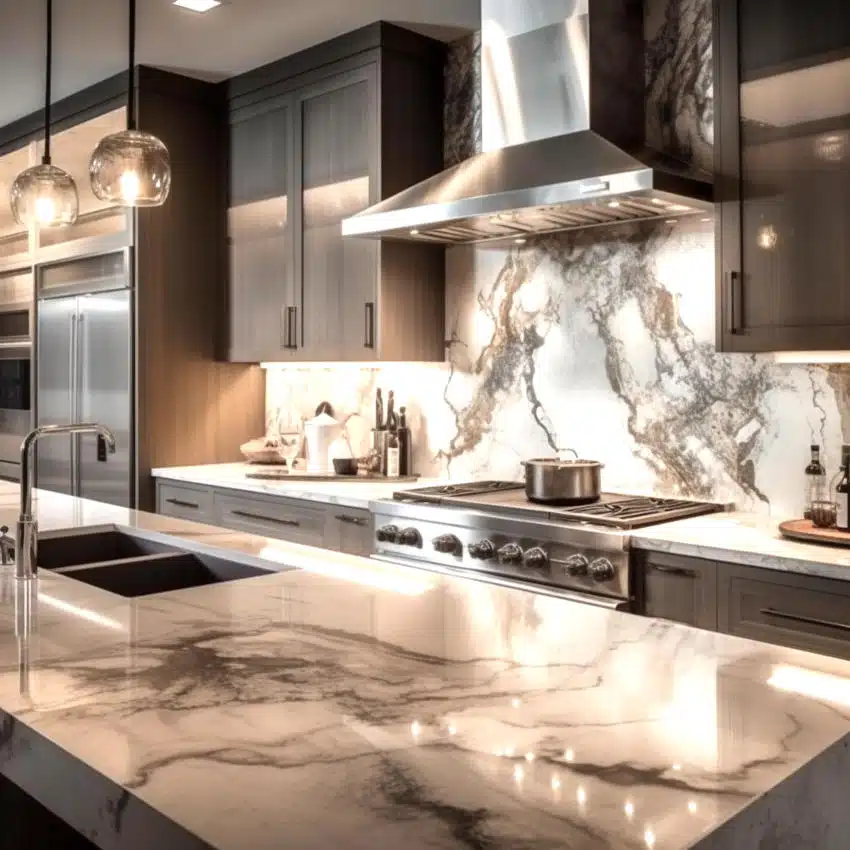 6. UV Light Resistance – Long-Lasting Cladding Material. Prolonged exposure to sunlight can damage the material surface and cause the color to fade. Moreover, the stone doesn't get brittle, unlike vinyl and other plastic wall materials that reduce their structural integrity with prolonged exposure to sunlight.
7. Lightweight – Easy Installation. While dense and durable, itis lighter than quartz and granite. This makes it a safe and durable wall cladding with backings with relative strengths. Transporting and handling this backsplash is less challenging than heavier stone slabs.
8. Versatile – Comes in Many Designs. A backsplash wall protects the wall behind your kitchen workspace and keeps the area clean and hygienic. Looking for a particular design is not hard with these slabs, and you can find numerous surface designs from most local suppliers.
"If the tile will be used on a wall – particularly for bathroom wainscot or a kitchen backsplash – a more important consideration than durability is how easy it is to clean." – Andrew Wormer, Tile Idea Book
Moreover, since the stone is manmade, customized designs are also possible using tiles of this material. With the aid of computer-aided designs, intricate and unique patterns are possible.
9. Aesthetic Appeal – Increases Property Value. The right design and quality materials make it look like a stunning centerpiece in a kitchen setting.
But beyond the functional value of porcelain backsplashes, they are perfect focal points for kitchens, and many design options will match your design preference. It can be an eye-catching design or a simple yet sleek focal point in a small kitchen, like a backsplash with a blue accent.
10. Affordable – Wide Range of Budget Options. Compared to quarried stone, porcelain block is more affordable, with an average price of $20-$60 difference. Labor also costs less as the slab is set faster.
Tiles will not take much time and labor to achieve a leveled and straight installation of each tile. Transporting the panel is relatively easy as it is lighter than most natural stone options.
Cons of Porcelain Slabs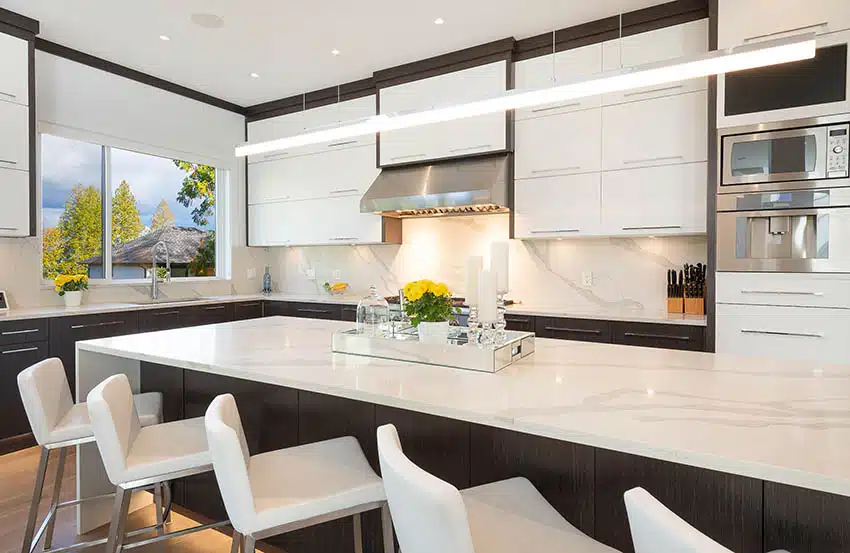 1. Lacks Pores – Hard for Adhesives to Bond to the Slab. Since the material has no pores, most adhesives cannot bond to the slab. When mounting your slab on your wall backing, check with your contractor for the best bonding agent for such slabs.
2. Chips off on Edges – Cracking During Installation. While this is a very durable material, even harder than granite and quartz, the edge of your slab is still prone to chipping off. Handling with care is still needed when transporting or installing the stone material.
3. Grout Hazing – Unglazed porcelain tile slabs can have noticeable hazing over time. Sealing off the material is needed for unglazed type ofpanels as it can have microscopic pores where dirt and debris can accumulate over time.
Furthermore, the residue left from adhesives during the installation can create a grout-hazing effect on the surface. This residue can cause a hazy white effect on some parts of the panel, so proper surface cleaning and maintenance are needed.
4. Hard to Replace – Durable and Dense. With a dense and hard surface, replacing your porcelain block should be done professionally, as special skills and equipment are needed to break the stone material.
Porcelain Slab Backsplash Designs
Here are some of the popular design styles for these baked clay boards.
Seamless Slab Backsplash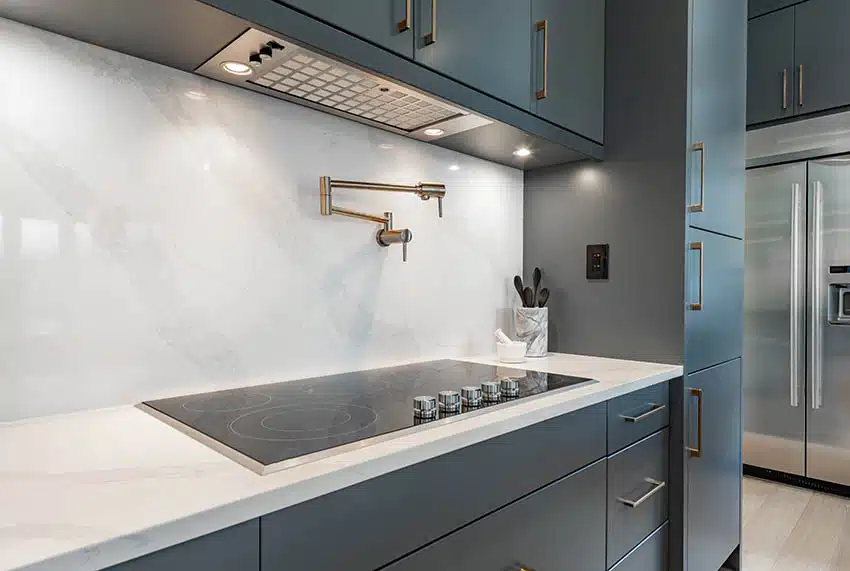 Sleek and clean, seamless surfaces are popular options for contemporary and modern kitchens. The groutless surface is also practical since less time is spent cleaning the surface.
Match the seamless quality with a minimalist design, plain or with soft or less busy designs that will be cohesive with other modern elements.
Slab Backsplash Behind Stove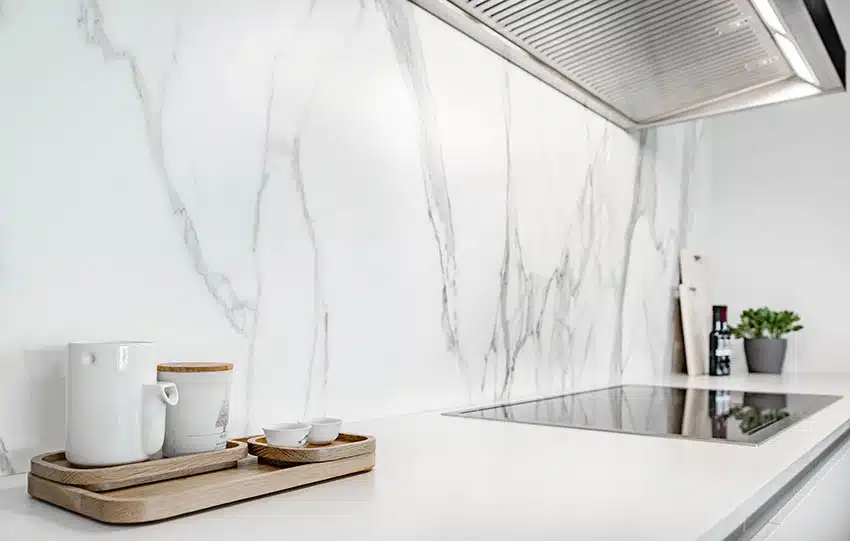 Porcelain plank backsplash is incombustible and won't melt when exposed or near heating sources. It is an excellent option for wall cladding behind stove areas. See more backsplash behind stove ideas on this page.
Bookmatched Porcelain Backsplash Slab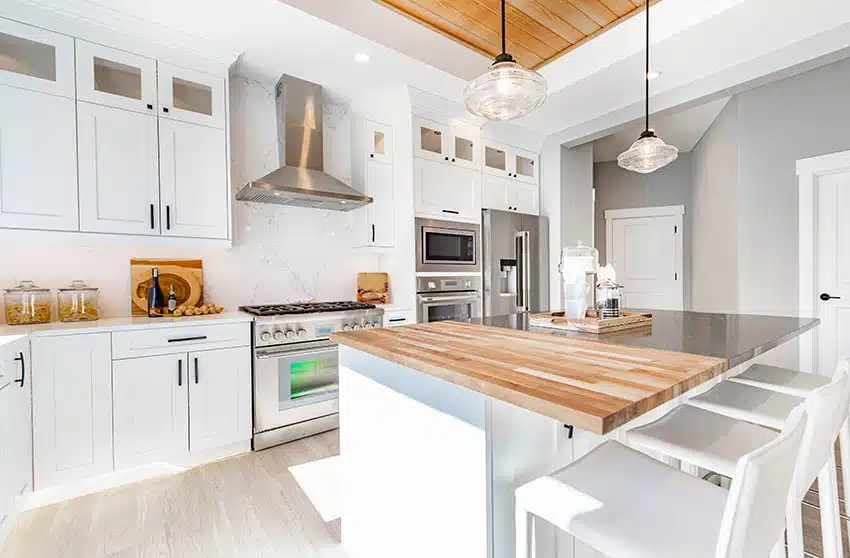 Bookmatching of stone or wood is a trending interior design that gives an interior a new dimensional look. A backsplash panel is a perfect material to achieve the striking centerpiece.
Bookmatching is where a section of a stone sheet mirrors another panel positioned side by side to create a continuous pattern. With a bookmatched porcelain slab, you get endless design possibilities due to the many available designs easily sourced from local manufacturers.
Strong veining with horizontal directionality is most desirable to achieve a stunning book-matched backsplash plank, as it creates continuous movement from end to end of your board. An expansive and long kitchen backsplash will benefit from this kitchen design trend.
Porcelain Slab Backsplash Cost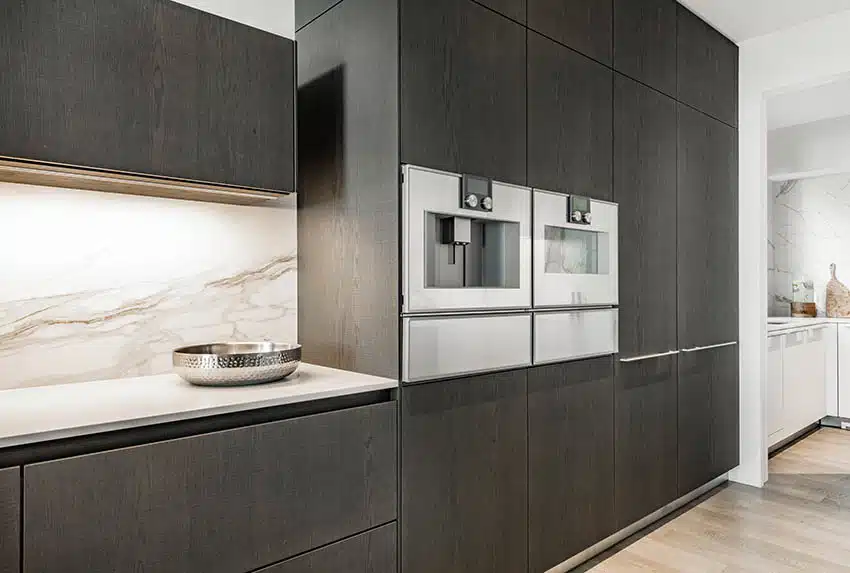 The average cost of a porcelain panel backsplash is $20 to $30 per square foot, which costs less than the $45 to $90 per square foot for a quartz slab or a marble slab. Meanwhile, granite slabs cost $50 per square foot, meaning a porcelain backsplash is the most affordable among the stone panel materials.
You'll generally spend $40 to $60 per hour for labor, but it will vary according to your backsplash's design, location, and square footage.
What Countertops Do Porcelain Backsplash Go With?
It's not hard to choose among the many countertop options to match your porcelain panel backsplash, as the material comes with many design options.
A white slab backsplash will look crisp and clean with a white quartz countertop, or a busy mosaic type slab will match a similar porcelain countertop to create a monolithic look. Wood countertops do well with organic-looking material as well.
Since it can mimic the look of natural stone, subdued hues and soft veining can be simulated in a yellow sheet that matches perfectly with a plain white countertop. An industrial look can also be achieved with concrete or glass countertops matched with a matte gray finished porcelain slab.
For more like this, visit our porcelain kitchen countertops gallery on this page.