These bookmatched marble design ideas include what it is, how it's done, cost and popular types of bookmatch marble for bathrooms, living rooms and kitchens.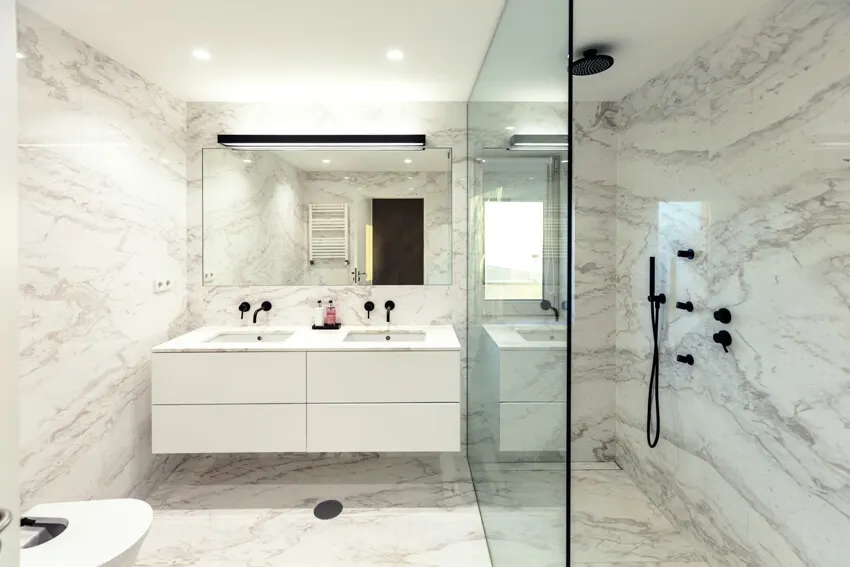 Marble is one of the most popular and versatile materials that can be used at home. This natural stone has been used in a variety of ways, locations, and even techniques, trying to add some flavor and twist to an already-standard material in home-building.
While the natural stone alone looks stunning in its own right, different techniques can be applied so as to make it even more interesting. This is the case with bookmatched marble, making them an interesting addition to your home's aesthetics. And just like everything else, exploring bookmatched marble and what it entails is an excellent first step.
What Is Bookmatched Marble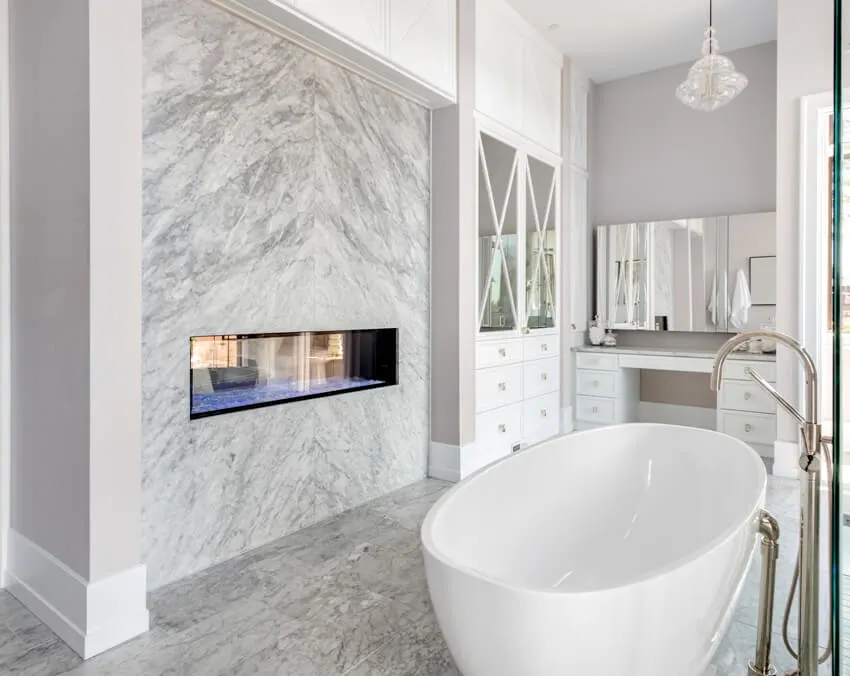 A bookmatched marble is a product when two marble slabs are placed together in a formation that appears like an open book with each side mirroring the surfaces of the other.
The aesthetics of this natural stone delivers a unique and stunning addition to marble, offering an eye-catching effect. And while its aesthetics is beautiful to look at, it takes a lot of effort just to match up the natural lines of the marble slabs in order to create this stunning effect.
Bookmatched marble is one of the most common natural stones using this style because the stone has plenty of movement, visualized through the stone's linear patterns and strong veins.
This goes the same way with other natural stones like granite, onyx, quartzite, and travertine. The natural stones need to have heavy and strong veining before being chosen for bookmatching. And this is the advantage that marble has over natural stones.
Bookmatched marble is not just popular because of the veins but because of its subdued hues that allow the creation of unique yet not overwhelming patterns. And this is another factor that needs to be considered to evaluate if the marble is worth bookmatching or not.
A good example is when Statuario Venato (white base with very pronounced but few grey and brown lines) is compared to Bianco Carrara. While both use the same base and colors for veining, Bianco Carrara has shallow and scattered veins that do not work well with bookmatching.
If you choose bookmatched marble, bear in mind that you're choosing something expensive. It requires a labor-intensive and time-consuming process and when partnered with only the finest quality marble, it just makes sense that the price is on the roof.
This is also the reason why this technique and type of marble are rarely seen despite being used as interior decor, including walls and flooring, for thousands of years now.
Installing a bookmatched natural stone is preferred in large and common areas at home, where the dramatic effect can be well-appreciated. This is the reason why homeowners prefer bookmatched marble in common areas like the kitchen and bathroom.
Here are specific applications where natural stone bookmatching will be a good fit:
• Kitchen backsplash
• Kitchen countertop/islands
• Shower walls
• Fireplaces
• Accent walls
Some may prefer quartzite over marble when considering bookmatched natural stone in heavy foot traffic areas like the bathroom and kitchen because of its better wear and tear capability but the option is always up to you.
More than its function, its aesthetics is one of the aspects you should never waste, given the time, effort, and money spent to produce its artistic look. So if you want to choose this dramatic-style natural stone, go big or go home without it. Display and flaunt it as much as possible.
How Is Bookmatching Done?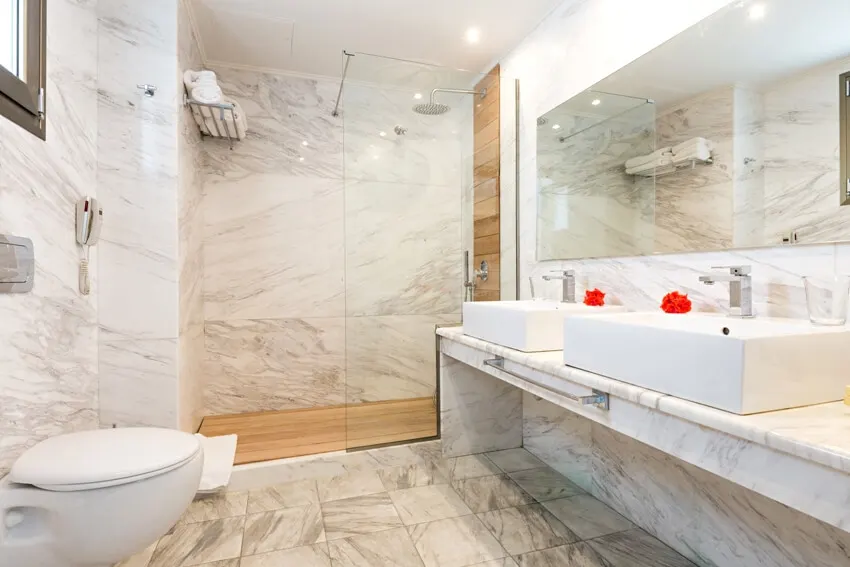 Bookmatching is a technique used in natural stones to produce a pattern that appears like an open book. The process involves a mirroring effect where slabs of natural stones are laid beside each other. It can be done with different types of natural stones, including marble, granite, and quartzite.
The important factor lies with the characteristics of the stone, particularly having linear patterns and strong veining. Marble is considerably advantageous when it comes to this factor, both the ones with soft hues and bright colors alike.
To achieve this mirror effect, the slabs of natural stone placed beside each other should have similar designs and veining. To do this, a large slab of natural stone is cut into slices and two slabs with mirrored designs (previously facing each other) are placed next to each other to achieve the open book effect.
And there are two types of bookmatching based on how the stones are sliced. You can either go for the crosscut or the vein cut, where the former focuses more on delivering variation and dramatic aesthetics while the latter is all about structured patterns.
The slicing technique used is similar to that of slicing a loaf of bread with two pieces laid out from one end to another in a systematic order. A single "tile" design can be accomplished by two partnered slabs and so the pattern/design continues with pairs of slabs.
And the aesthetics these stone slabs create are stunning and can be used both in traditional and contemporary settings, making them a popular choice for many homeowners.
The drawback with this technique though is that there is a large excess of material left in the process when pairing together the stone slabs. This is the time when you need to dig deep into your creativity and be resourceful in using the remaining materials.
The good thing about this is that bookmatching is only an addition to the natural stone's aesthetics and using the slabs as they are works well in the first place. This means that you can use the excess material in any area of your home that will benefit from this addition.
If you are planning to use bookmatched marble in your home, there are different areas that will be ideal for its installation. They could be a good place to start.
Marble Mirror Image Style Backsplash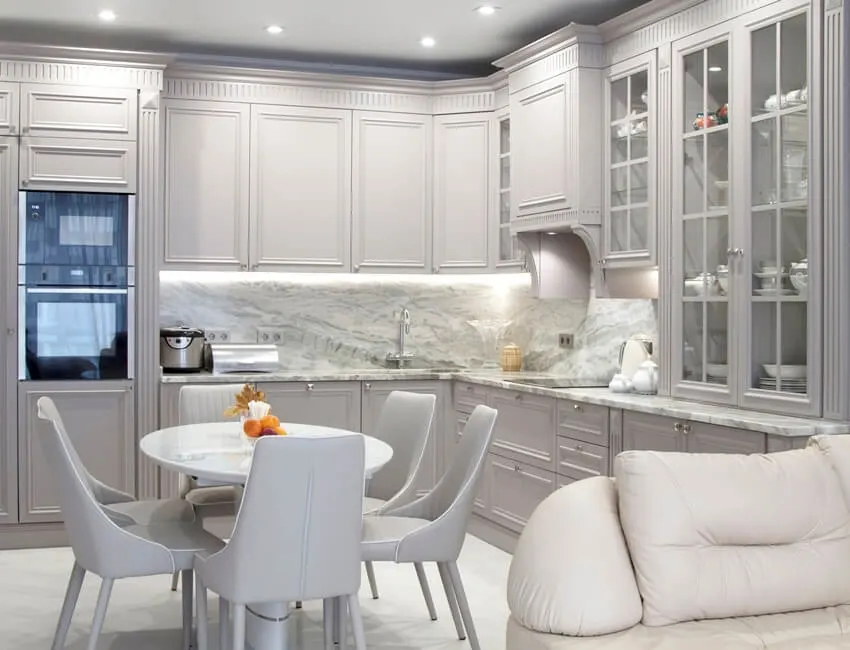 One of the best areas to install a marble backsplash is your kitchen and having a bookmatched marble works wonderfully in leveling up the room's aesthetics.
Your kitchen backsplash can either be up to where hanging counters are installed or extend all the way to the ceiling. And the most important thing about a backsplash is its durability and resistance to stain and bacteria, which is what most natural stones like marble deliver.
Dark-colored bookmatched marble will be a good option for a backsplash, especially since with a dark hue, scorch marks, discolorations, and food stains won't be visible. But it still doesn't mean that light-colored marble like the Calacatta gold white marble won't work well for a kitchen backsplash.
Its advantage is that you will easily see stains and be able to clean them more thoroughly and light-colored marble is also offered at lower prices than dark-colored ones.
Marble Wall with Bookmatching Style
Bookmatched marble is considered a luxurious material because of its cost and the tedious and time-consuming process it takes just to create the pattern imagine for this natural stone.
This means if you choose to have bookmatched marble walls at home, you will need to spend so much. But you can't surround your home with bookmatched marble even if you have the budget for it since it can be overwhelming.
You can use bookmatched marble for accent walls, shower walls, and feature walls, depending on your preference. It's okay to use it as shower walls since the area is not as large as the other walls you have in other areas of the home. See our marble shower design guide for more ideas.
Meanwhile, installing a bookmatched marble wall for accent walls in your living room or bedroom will add aesthetic value to these rooms. Choosing a bookmatched marble on the wall can be a luxurious headboard befitting royalty.
Fireplace with Mirror Image Marble Slabs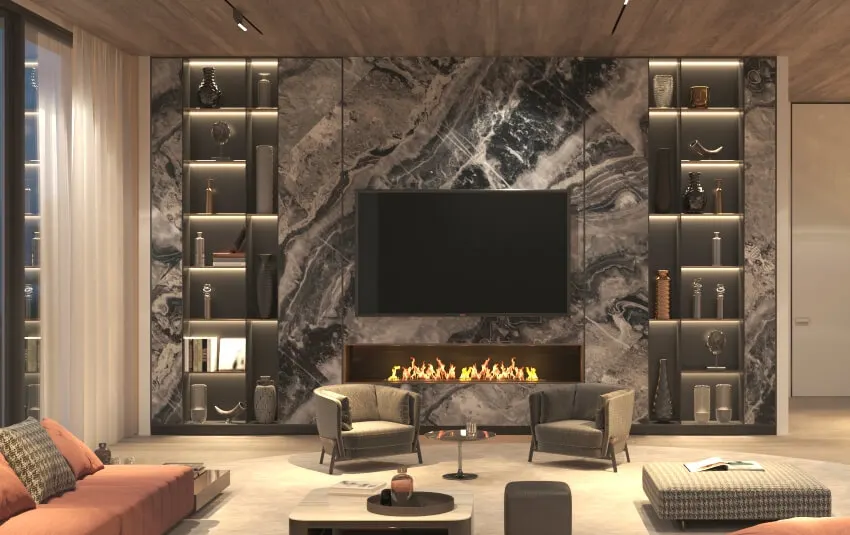 Having a fireplace alone is a luxury in itself but if you want to up the ante, you can go for a bookmatched marble fireplace. It is an excellent choice for homes that want to stick with luxury as their theme. And besides its aesthetic appeal, marble is durable and fire-resistant, an ideal material for a fireplace accent design.
Marble Countertops with Bookmatch Pattern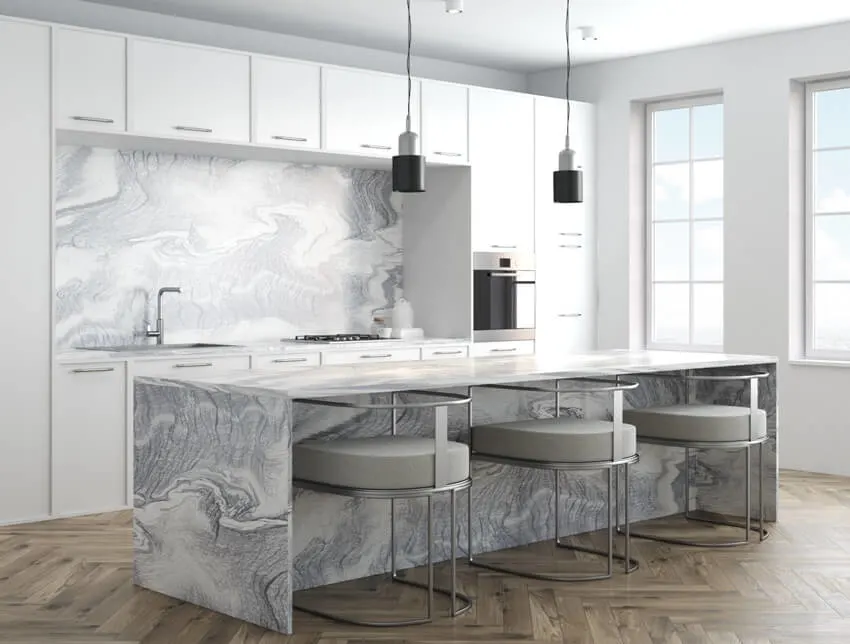 Bookmatched marble countertops can be stunning elements of your home, whether you install them in the kitchen or the bathroom. Since the material is durable and resistant to fire and moisture, marble is a good consideration for the kitchen and bathroom alike.
The most incredible feature of a bookmatched marble countertop though is its symmetrical design, which is the solution to natural stone countertops that often have mismatched veins and patterns at the seams, running the overall look of the countertops.
This won't happen with bookmatched marble countertops though since the design is fixed in pairs like an open book. You will need to compromise though when it comes to size or have manufacturers customize one for you.
Bathroom with Bookmatch Style Marble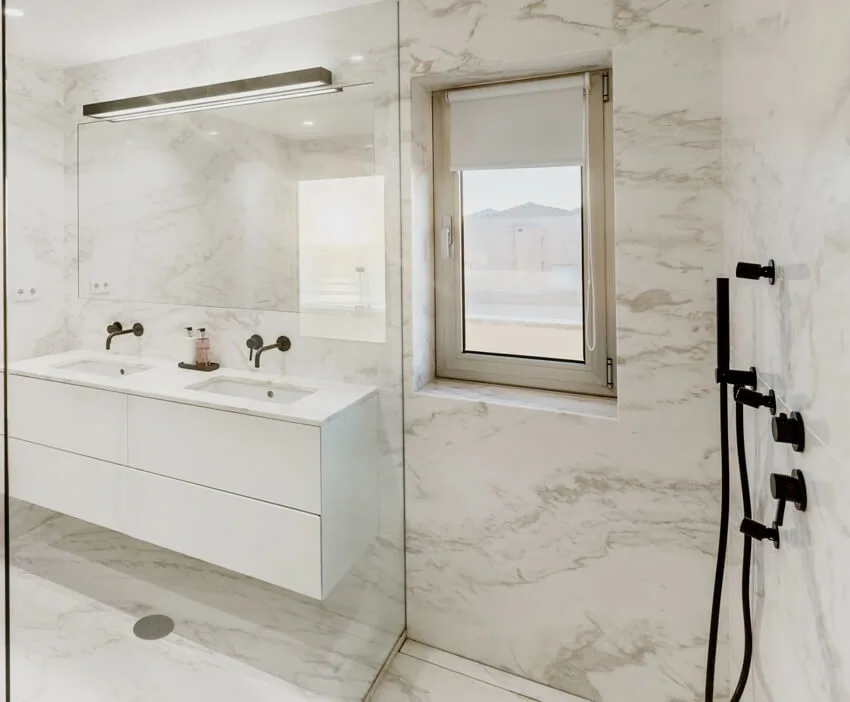 Two elements of the bathroom you can use a bookmatched marble in are countertops and shower walls. The mirroring design featured by bookmatched marble can enhance the look of the bathroom and make it appear bigger than it is. Where you place the marble plays an important role in the effects it can deliver to your bathroom.
You can put it as an accent wall that can serve as the artistic focal point in your shower wall. You can also use it as a countertop of vanity, making it the centerpiece or focal element of your bathroom. The bathroom wall backsplash behind the sink also works well as an accent in the area.
Bookmatched marble is a show-stopping and if you want your bathroom to be impressive, this is definitely one way of doing that.
Popular Types Of Book Match Marble
Marble is considered one of the luxurious materials you can use as you build your home. While it may be quarried worldwide, the ones in Italy are considered a few of the most precious types. Though they may all seem like white marble, three of the most popular Italian varieties of marble are different from each other.
Calacatta, carrara, and statuario have glaring differences despite having the same porosity as every other marble and all of these three Italian marble varieties are quarried in the same place, which is in Carrara, Italy.
While it is an established fact that every marble slab is unique, which is what makes them luxurious in the first place, there are specific types worth considering. And these three Italian marble varieties are popular for bookmatching.
Calacatta Marble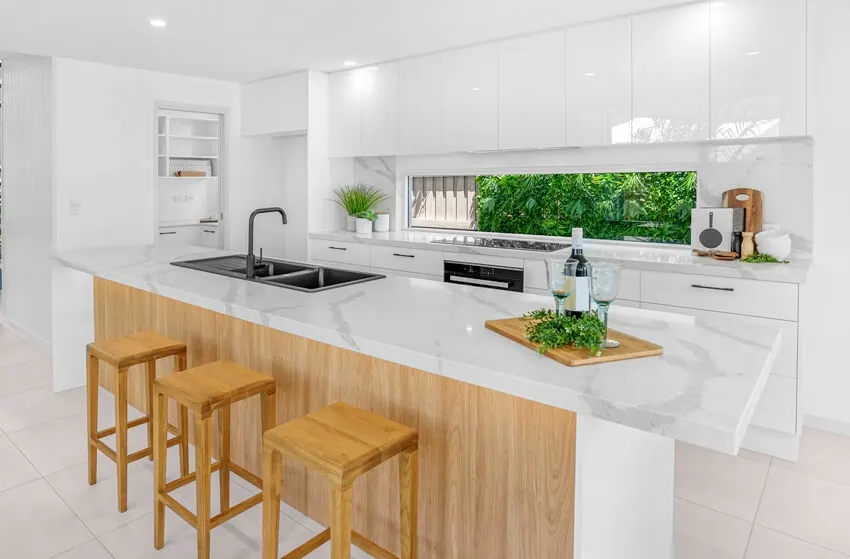 While calacatta is quarried in the same location as carrara (Which is in Carrara, Italy), this Italian marble is a rarer variety. It has a brighter white base with thicker, more dramatic, and unstructured veining and patterns in a variety of colors that can range from beige to gold and even brown to gray. It is notable though that most of the time, it features gold and brown undertones.
Fairly available in the United States, the calacatta is the very first marble and luxury stone brought by Michaelangelo. It has excellent movement and veining that's ideal for bookmatching since a distinct pattern can be manipulated.
Here are some of the popular calacatta marble color variations:
• Classic
• Gold
• Gold premium
• Lasa
• Splendor
• Vagil
Calacatta marble has a neutral color and can easily be paired with other colors and materials, including light and dark-colored wood. Its exceptionally elegant aesthetics provides added elegance and value to the home if you choose this type of bookmatched marble.
Since it's limited and rarer though, make sure you're ready to face the expensive costs that come with it. Find out more about the different types of Calacatta marble countertops here.
Carrara Marble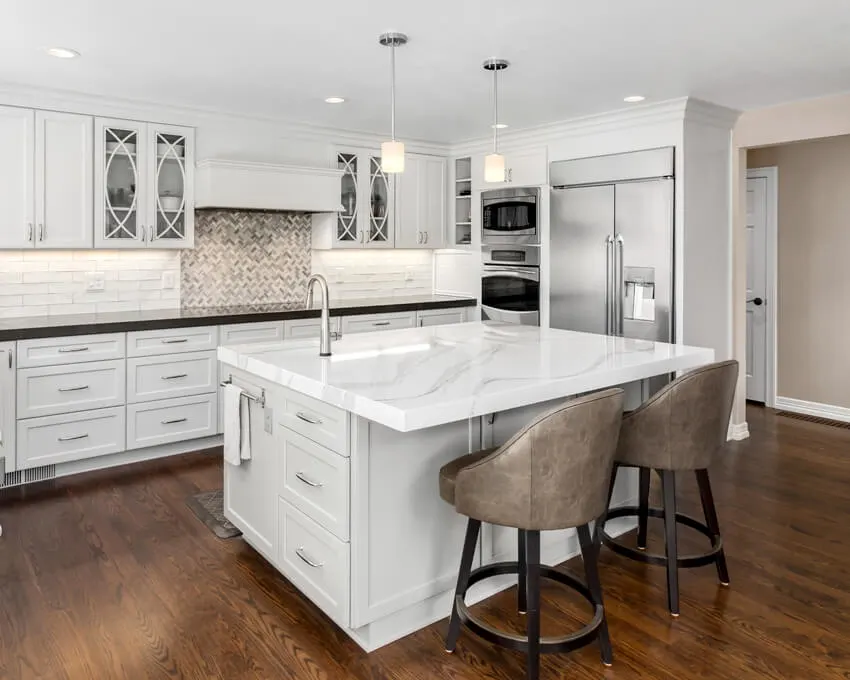 Carrara marble is another Italian marble variety quarried from Carrara, Italy, which is where it got its name in the first place. The said marble goes way back to the Ancient Roman times and has been quarried since then.
It is popular for its soft but plentiful veins, a total contrast from calacatta's thick and bold veins despite being quarried in the same area. With a greyish-white base, carrara is considered the most common among all of the Italian marble varieties. It has light grey feathery veins that look fine and appear linear.
Some carrara marble can lean towards the color blue-gray, which is much more appealing. And since it is the most common Italian marble and there's scarcity in supply, the cost of this marble is less compared to other Italian marble varieties.
If you want to try it out, you can go for its finest kind – Bianco Carrara, which comes in a gray-white base and grey veins (A common look for a carrara).
Statuario Marble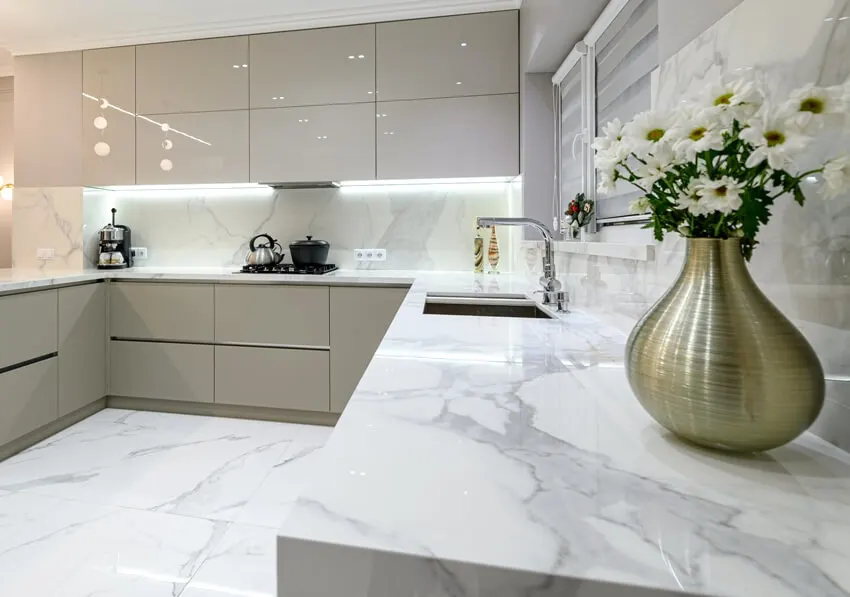 Statuario marble, with its name based on the fact that several of the world's masterpieces and stunning statues are made from marble, is considered a masterpiece in its own right and the finest and most precious among all Italian marble varieties.
It is also known that besides the greatest statues made from this marble, some of the world's greatest buildings also made use of this material.
Also quarried in Carrara, Italy, statuario marble features a bright all-white base with distinctive gold to dark gray veins popping from it. Despite not having many color options in terms of veins, statuario usually features dark gray veins with bright white as their backdrop, showcasing the patterns and movements clearly.
Cost of Marble Bookmatching
Bookmatched marble is guaranteed to be expensive primarily due to two reasons – first, bookmatching is a time-consuming and tedious process, and doing it will require an equal monetary value to that effort. And second, only high-end marble can be used for bookmatching and so the cost of the material alone is already expensive.
The recommended type of marble for bookmatching is the Italian varieties, including calacatta, carrara, and statuario. Carrara, being the most common of the three, costs around $75 to $100 per square foot.
Calacatta and statuario on the other hand are priced the same way, which can cost as much as $250 per square foot. And this is just the base material you have to work with and without them being bookmatched yet.
Here are other factors that can even affect the cost of your bookmatched marble:
• Manufacturer/supplier – Exclusive ones charge more but they also have more marble options to offer.
• The thickness of the slab – Depending on where you plan to install it, the thicker it is the more expensive you'll have to pay. Countertops require lighter material that's usually 0.394 (1 cm) to 0.787 (2 cm) inches thick and so they are also priced lower.
• The rarity of the marble – Calacatta and statuario marble varieties are much rarer than carrara marble, making them more expensive options.
In general though, be prepared to be set back $8,000 to $10,000 for a bookmatched marble project, whether you're planning for an accent wall in your bedroom or a luxurious vanity in your bathroom.
Bookmatched marble is a known luxury material in the first place so this should not be a surprise to you. Visit our guide to marble countertops cost to get more ideas.
Is Marble with Bookmatched Style More Expensive?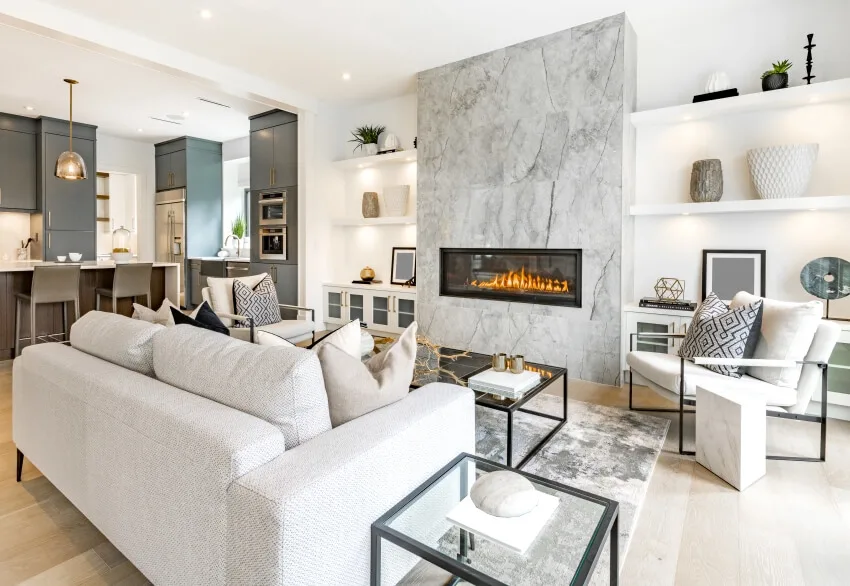 Yes, bookmatched marble is more expensive compared to choosing to bookmatch less costly materials like porcelain. Bookmatching marble required high-end varieties of marble for the mirroring effect to work and be more distinctive.
And this is on top of the high price that comes with bookmatching alone. What you can do to make it worthwhile is to also use the excess marble cuts all over your home.