Here's the different types of quartz flooring including what it is, the popular design styles, pros and cons, cost, and if it's quartz is a good material for floors.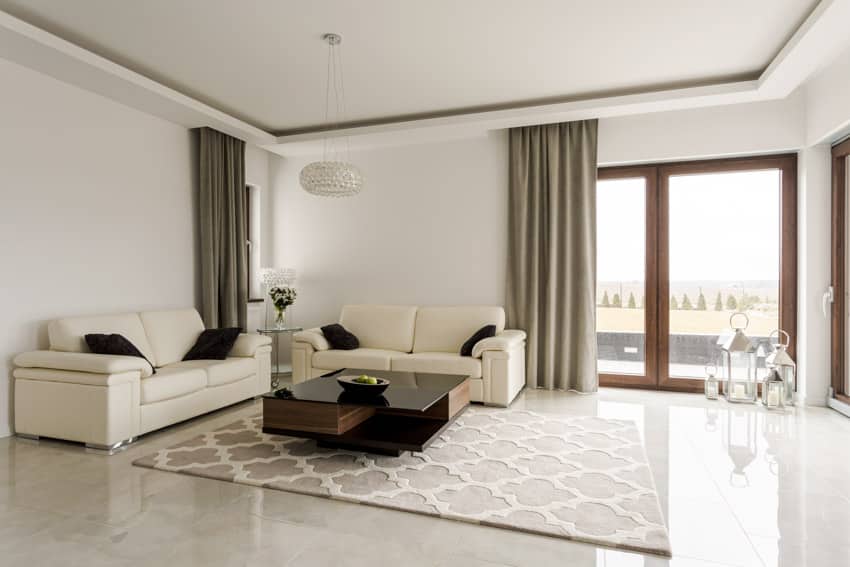 If you want to set up stone flooring in your house, you have made the right selection. Arguably, no other material can surpass the inherent aesthetic appeal and grandeur of stone. However, you have to make sure that you will choose the right type of stone for your house.
Quartz is a type of stone that has rapidly become a popular new trend in the field of commercial and residential flooring. To further understand why, let us take a look at what quartz flooring actually is, its features, pros and cons, and other key information about it.
What Is Quartz Flooring?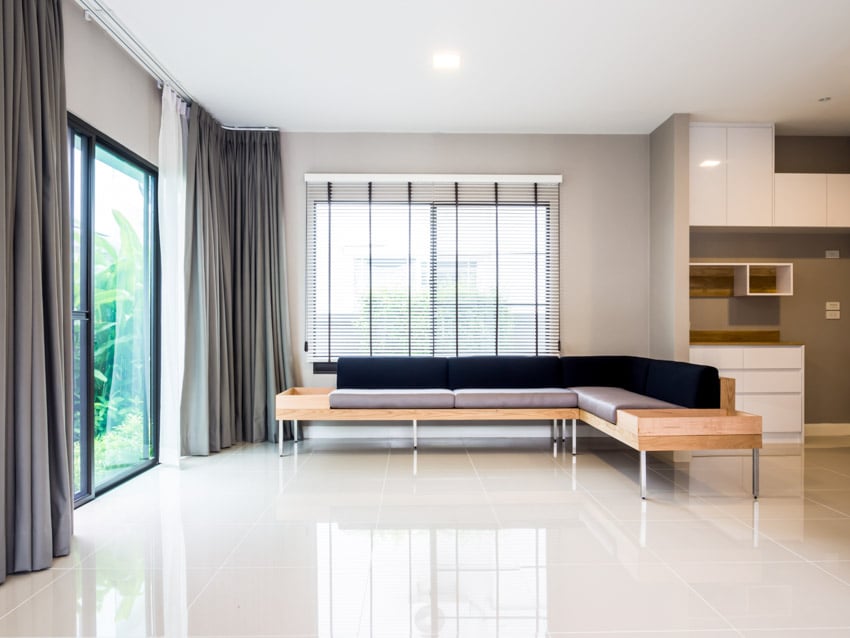 Quartz flooring is an all-natural flooring alternative made up of quartz sand and calcium carbonate. Quartz, as one of the intrinsically hardest stones on the planet, is an ideal flooring option for commercial or residential areas that encounter high foot traffic and constant wear and tear.
Quartz is a colorless mineral with no odor. It turns scratch-resistant and non-porous when mixed with other components like calcium carbonate. In terms of durability, it is comparable to diamonds, with quartz scoring a 7 and diamonds scoring a 10. And because natural quartz is white, the resin is normally applied to it, resulting in the variety of patterns and colors seen on a quartz display.
Moreover, quartz flooring is weather-resistant, stain-resistant, and non-porous thanks to the resins applied. As a result, the manufactured material combines all of the durability of professional construction as well as all of the elegance of natural stone.
Quartz flooring cannot be damaged by acidic chemicals in the same way that other stones are, and because it is so tough, you can power wash it at pressures of up to 1,450 psi, provided that the grout is in perfect condition.
Quartz Floor Tiles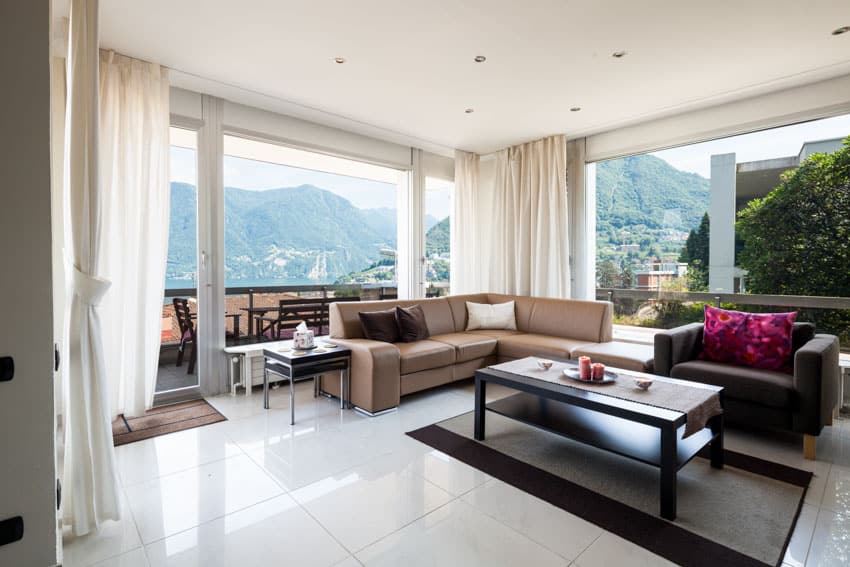 Installing quartz floor tiles is a more frequent method for quartz flooring in a residential area. Quartz types of floor tiles, with their varied patterns, colors, and designs, can indeed bring a kitchen, bathroom, or corridor to life.
Ceramic tile is usually the first thing that springs to mind when you think about tile flooring, particularly when it pertains to durability. Although ceramic tile is exceedingly robust and resistant to fracture, it falls short in comparison to the longevity and toughness of quartz floor tile.
The all-natural stone that quartz floor tiles have can withstand pallet trucks and powerful forklifts and will defend you from everything nature throws at it.
Quartz tiles, sometimes referred to as agglomerate or engineered floor tiles, are a composite material created from a mixture of resin, quartz, sand, color pigment, and frequently broken glass fragments. Many quartz dealers use the name "starlight" quartz to characterize the brilliant star-like look of quartz tiles with mirror nanoparticles.
In addition, quartz floor tiles are an adaptable material that may be utilized in kitchens, bathrooms, as well as other high-traffic areas of the home. It is indeed extremely durable and, unlike natural stone tiles, does not need to be sealed with any agents since it is essentially stain-proof.
Direct sunlight, on the other hand, can degrade the color of quartz floor tiles, and owing to their resin composition, the tiles can enlarge and contract at a faster rate than ceramic or natural stone. This enlargement has been known to cause issues, particularly if the tiles are fitted with a very small grout joint.
Quartz Aggregate Flooring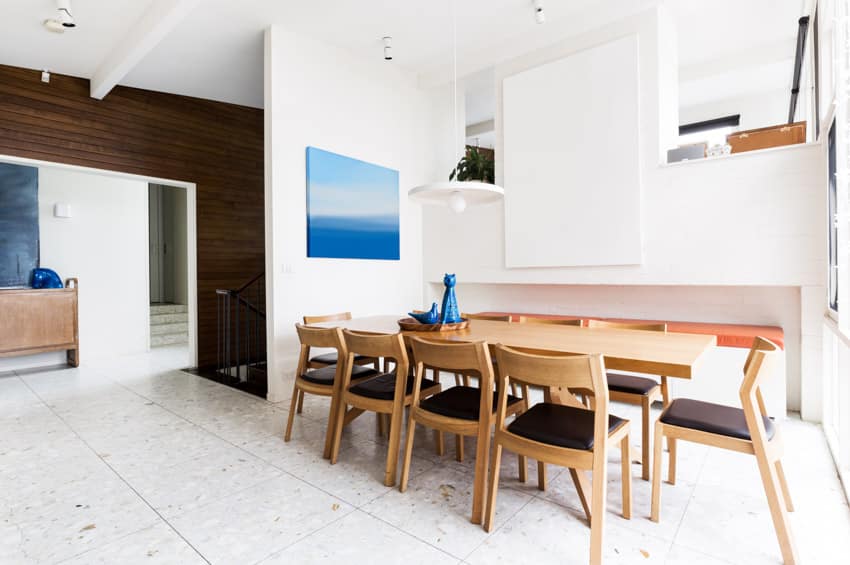 The quartz aggregate offers the floor a very natural look as well as a rough finish that is naturally anti-slip. Quartz aggregate tiles, when used in smooth resinous flooring solutions, enhance impact tolerance and aesthetic value.
They are extremely durable, UV-stable, and perfect for heavy-duty applications requiring higher traction. They can also be efficiently integrated into outdoor settings where necessary.
The aggregate system's strength and durability make it a suitable alternative for a wide range of commercial and industrial uses, from manufacturing plants and maintenance facilities to kitchens and workshops.
Moreover, when used as aggregate in concrete, quartz is almost always inert. It signifies that it will not react under normal circumstances.

Quartz Slab Flooring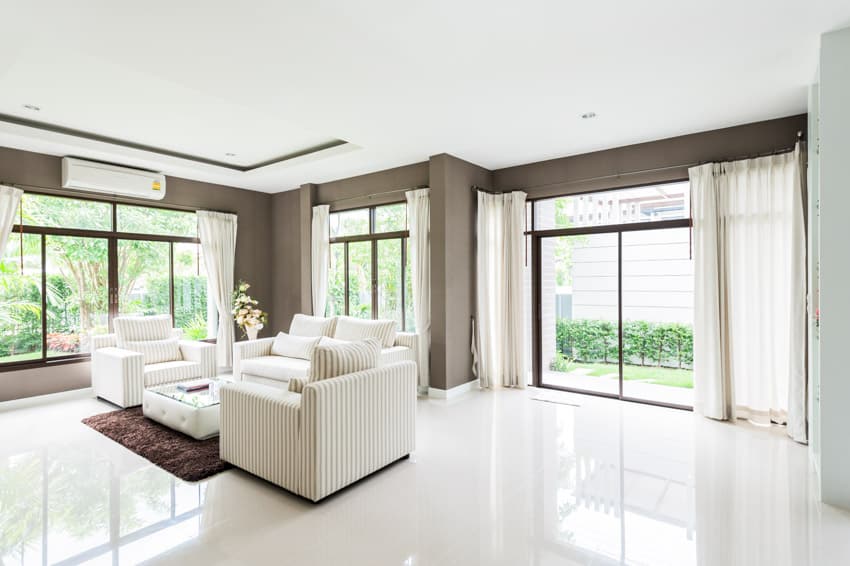 Quartz slab flooring is created by sprinkling quartz over a new concrete slab floor. The slab is polished with a motorized trowel after it has been coated with quartz. The quartz gives the slab a uniform hue and adds durability.
These ultra-modern floors are sanded and, if necessary, polished or given a supplemental treatment. Color can be imparted as a byproduct of the quartz used, as it is the latter that contributes color.
Quartz slab floors are incredibly resilient and simple to maintain, giving them a distinct and modern appearance. Quartz slabs are available in different sizes depending on the manufacturer. Read more about the standard quartz slab sizes here.

Quartz Flooring Pros And Cons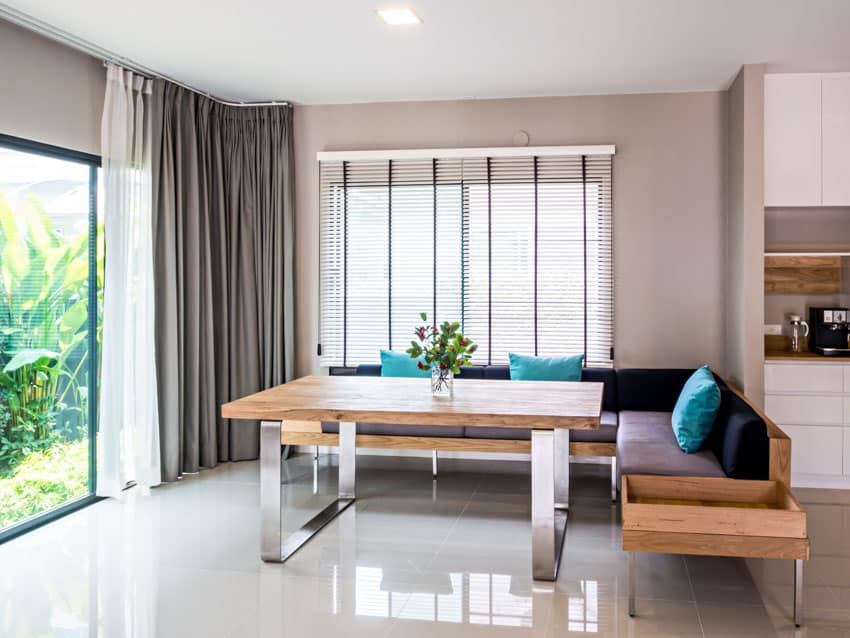 Quartz is a very good option for both interior and exterior flooring, but just like any other flooring solution, it also has its set of pros and cons
Pros Of Quartz Flooring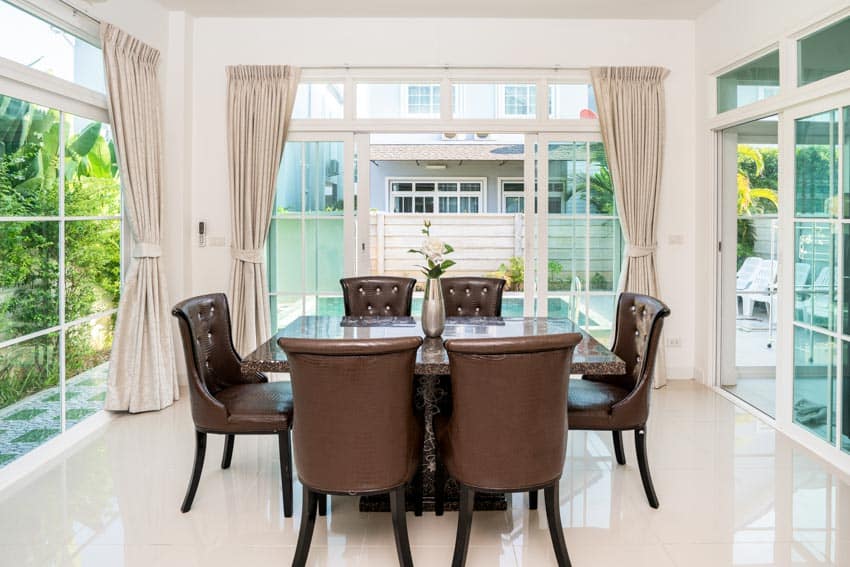 Quartz Floors are Very Durable and Long-Lasting: Quartz is one of the most long-lasting materials of flooring available. It is chip- and heat-resistant as well. If you want something on your floors that will guarantee you to last a long time, this would be a terrific alternative.
Moreover, natural quartz is, as the name implies, an original stone, which implies that it is extracted from the earth and retains most of its raw strength. When looking for floor tiles, you need to know that your final decision can withstand any test you put at it, and this would be a tile material that you will stand on, therefore it must be exceptionally durable.
Quartz is the optimal option for any location that is quite busy and can withstand a lot of traction due to its longevity and excellent strength. The resin used also makes it scratch-resistant.
Quartz Flooring is Stain- and Slip-Resistant: Spills should not be a cause for concern. Quartz flooring is also resistant to stains. Due to its non-porous properties, it is an excellent choice for families with small children and dogs. It also enables lighter floor colors to be used without worries.
Furthermore, quartz flooring does not absorb liquids, resulting in reduced discoloration. It also implies a lack of germs, mildew, and mold, all of which can be difficult to eradicate.
Adding another dimension, quartz is a natural stone that is slip-resistant, which means it gets less slippery if there is a spill. This makes it an ideal choice for a high-traffic location.
Quartz Floors are Incredibly Low-Maintenance: As previously mentioned, quartz is non-porous and stain-resistant, making it simple to clean and maintain. You can easily wipe it with a little soap and warm water to clean.
Quartz is considered to require very little maintenance, other than routine cleaning, and this is a far better alternative when compared to materials like granite that must be sealed and examined periodically.
Quartz is not only easy to clean and maintain but it is also mold and mildew resistant. Because the non-porous material does not retain water easily, it is among the better options for those in need of good bathroom tiles or kitchen flooring ideas, and other spaces where moisture is likely to accumulate. Without a doubt, quartz floors are very uncomplicated to maintain.
Quartz Flooring is Available in a Wide Range of Different Colors and Patterns: Quartz floor tiles are available in a wide variety of colors and patterns, giving you plenty of options for selecting a design that will complement your décor.
If you select a subdued or neutral color, you will realize that no matter how many times you rearrange the room, your floor will always be in style and will fit with whatever else you pick.
Quartz tiles come in a variety of hues and styles, ranging from solid to pebbled or marbled. If you update your décor, you will undoubtedly have a plethora of colors to choose from without having to destroy the flooring. This guarantees that you can achieve your preferred design aesthetic.
Quartz Offers a Luxurious Feel: Quartz has a rich appearance and vibe, making it an exceptional choice for a new house or remodel. It can add charm to a kitchen or update a bathroom or living room with a luxurious marble flooring effect.
Quartz Floors are Very Cost-Effective: With all of the qualities that make quartz a dependable and sparkling flooring, you might think that it would be more expensive. On the flip side, it is among the most cost-effective flooring solutions per square foot.
Although it is more pricey than other typical floor options, quartz is more cost-effective than natural stone or other premium materials such as terrazzo or marble. Quartz flooring may provide a room with an updated, high-quality, opulent feel without the massive cost.
Cons Of Quartz Flooring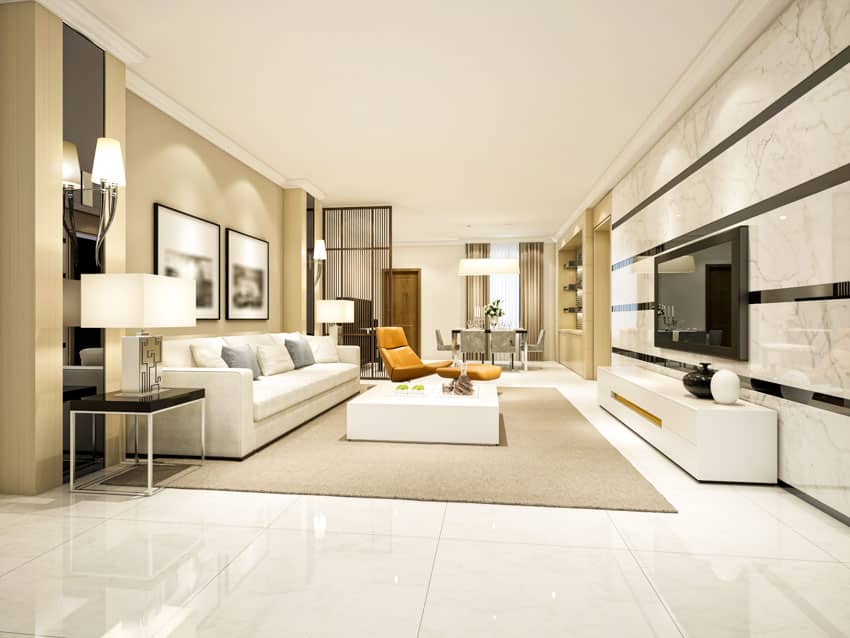 Just like any flooring material, there will be certain downsides to choosing quartz. Here are a few cons of quartz flooring.
Quartz Flooring is Only Advisable in Indoor Areas: Quartz only looks and works superbly indoors. It can be placed outdoors, but you have to remember that heat can damage quartz tiles and may induce cracking and splitting when associated with excessive direct sunlight. Furthermore, sunlight fades colors, causing significant damage to your quartz flooring.
Quartz Can Get Slippery if the Spills Are Not Wiped Immediately: Because quartz floor tiles are non-porous, they do not absorb moisture or other liquids and must be allowed to dry naturally.
However, the water or any liquid element will only sit on top of the tile because quartz does not absorb liquids, creating any potential accidents. Hence, even though it is slip-resistant, all liquids must be cleaned up right away before any mishap happens.
Quartz Flooring Cost
Quartz flooring costs approximately $60 per square foot on average. Depending on supply and color choice, you might pay around $45 to $75 per square foot. However, in some cases, you may find costs ranging from $30 to $100 per square foot.
Although the cost of quartz tile flooring varies greatly, other components such as grout have a much more stable price point.
Quartz tile flooring installation requires the following materials:
• Quartz Tiles: around $45 to $75 per square foot
• Grout: around $2.50 to $5 per square foot
• Trowel: around $5 to $20 each
• Grout Sponge: around $2.50 to $3 each
• Plastic Container: around $5 to $7 per 5-gallon bucket
Labor costs for installing flooring range from $0.60 to $4 per square foot on average. This may increase when laying quartz flooring because it is a somehow costly material that needs proper placing.
You can install quartz tile flooring yourself if you have prior experience in installing tile flooring. Depending on the estimates you have obtained, you could save anywhere from $250 to $2,000 in labor costs.
Is Quartz Good For Flooring?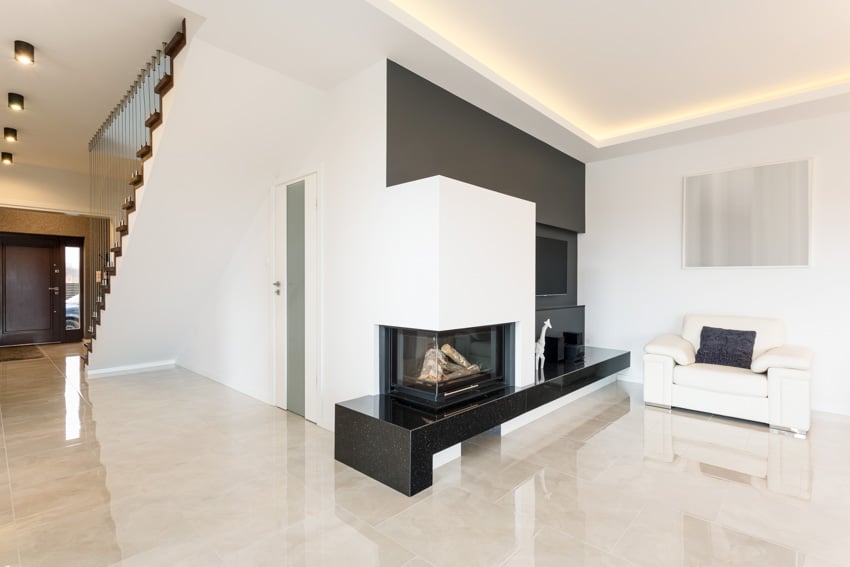 Generally speaking, yes! Quartz flooring has lately been a popular interior design solution, and it can add richness and a touch of magnificence to any house or commercial space.
Quartz is a widely known alternative to granite and comes in a plethora of hues and patterns to exactly fit your interior. It is indeed a good option for flooring.
The longevity and extreme durability of quartz over other common types of flooring are a significant advantage. This is one of the main reasons why this is a high-quality flooring solution. Quartz is extremely difficult to scratch, break, or chip and can withstand heavy foot activity without getting worn.
Aside from that, quartz is known for its heat resistance. This indicates it will be more long-lasting. This does, however, imply that this form of flooring will be cooler to the touch than other types of flooring.
Cleaning Quartz Floor Tiles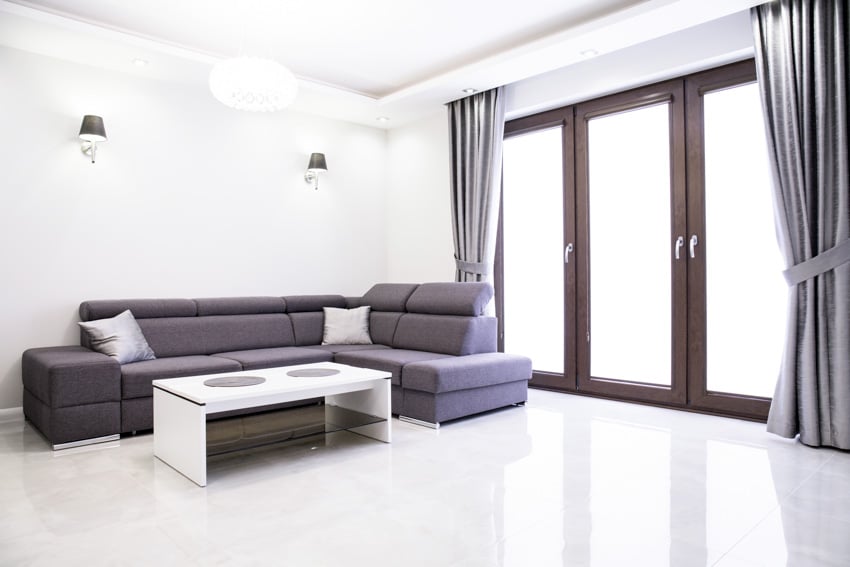 Spills should always be cleaned up right away. Any liquid that sits for an extended duration would be susceptible to discoloring the stone.
Moreover, just because quartz is scratch-resistant does not promise it will not be scratched by some furnishings or other heavy objects. To avoid major dents and scratches, install padding on the bottoms of large tables, sofas, chairs, etc.
To clean the floor correctly, you can use regular soap and water. Harsh chemicals, abrasive brushes, powders, or corrosive solutions should not be used because they can cause damage to the appearance of the floors.
Remember to sweep dirt and other debris away using a soft brush. If the grout is not broken, a proper power washing may suffice in some circumstances.
See more related content in our article about the different types of kitchen floor tiles on this page.