This guide of quartz slab sizes covers standard, jumbo, the largest slab size, popular quartz slab brand dimensions, and price per square foot.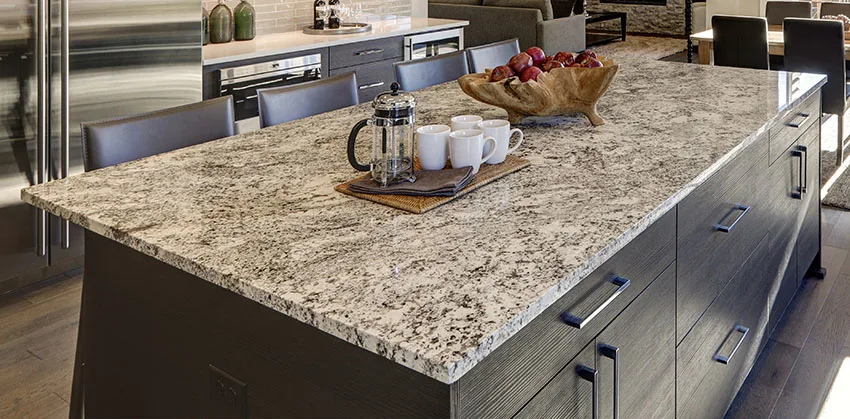 Many interior designers understand that quartz countertops have many benefits compared to the usual natural stone countertops. However, with the many benefits it possesses come the drawback that it is more expensive than its counterparts are.
Quartz is one of the hardest minerals available on the planet, making them ideal for the kitchen, especially for countertops that receive a lot of activity. Aside from its superb durability, quartz is also some of the most beautiful and eye-catching materials for countertops to be found.
Quartz comes in a variety of color options, from the earthy browns and creams, with veining that is reminiscent of marble or granite.
Aside from its looks, opting for quartz countertops for your kitchen will give you a low-maintenance and, at the same time, an antimicrobial surface for food handling and prepping because quartz is nonporous, making it not susceptible to bacteria, mildew, or molds.
Standard Quartz Slab Size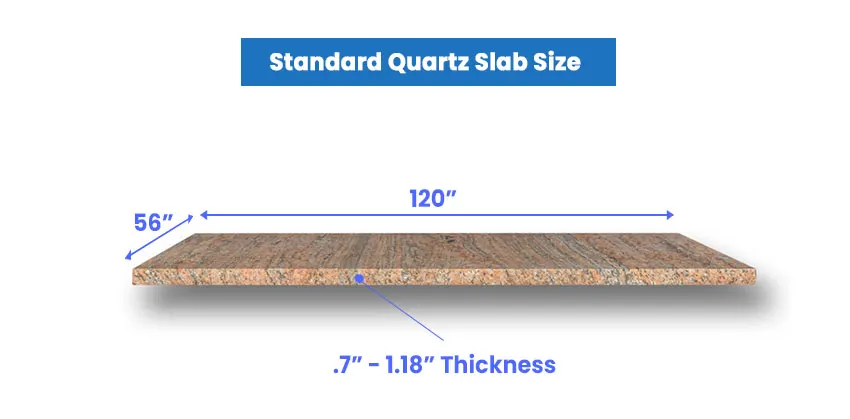 If you are thinking about acquiring a slab of quartz to be used for your kitchen renovations, you can get two sizes: standard and jumbo slabs. A single standard or jumbo size won't give you the long and massive countertop of your dreams, and to make that vision happen, they would need to fit several pieces of quartz slab to create a big countertop or island.
A standard slab of quartz is sized at 56 by 120 inches or about 142 by 305 centimeters. These slabs will have three options regarding their thickness at half an inch, .7, and 1.18 inches, or about 1.3, 2, and 3 centimeters.
Jumbo Quartz Slab Size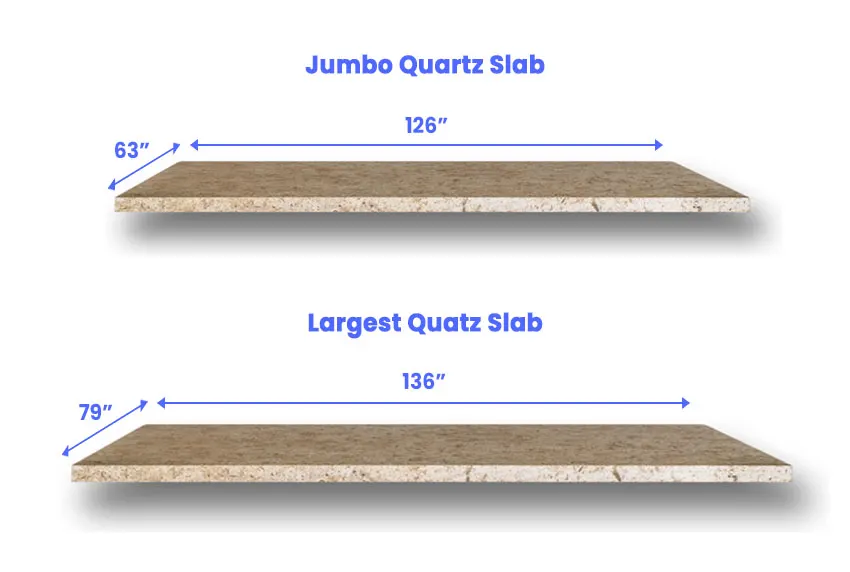 The jumbo quartz slab will be slightly larger than the standard size and suitable if you are looking to build a larger countertop or kitchen island size. The size will be up to the designer but choosing the correct size is still essential, especially if you are considering what the island is going to be used for: prep space, social hub, or a cooking station.
If you want to get a jumbo slab of quartz, it will run the length of 126 inches or 320 centimeters with a height from top to bottom of 63 inches or 160 centimeters. Depending on what you choose, it will vary from 2 or 3 centimeters in thickness.
Largest Quartz Slab Size
If you feel like the standard or the jumbo quartz slab is still not enough for you, and you have the budget to choose for a much larger one, why not opt for the largest slab of quartz you can find on earth? The largest quartz slab is sized at 136 inches or about 345 centimeters in length with a width of about 79 inches or approximately 201 centimeters.
The most desirable seamless countertop and kitchen islands can be achieved with this size. Making your dreams of the smoothest countertop and work area possible, especially if you are someone who loves to cook and entertain inside your kitchen.
Calacatta Quartz Slab Size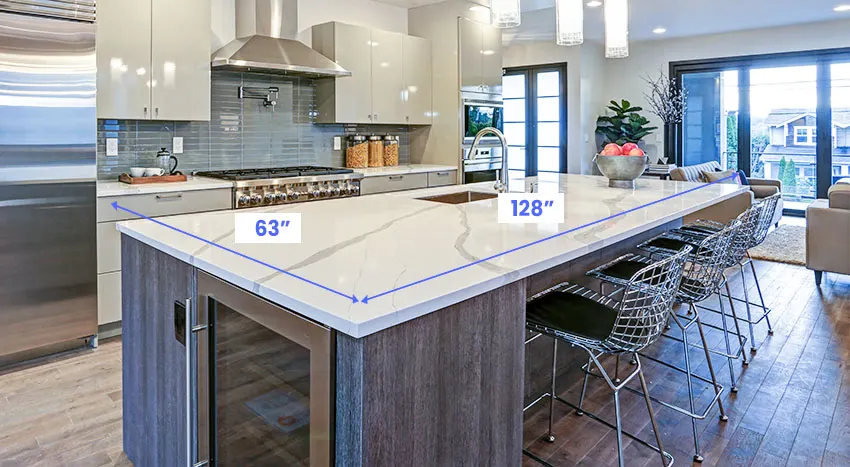 A Calacatta quartz is the closest thing you could get if you are looking and desiring an Italian Calacatta marble. This is made of crushed pure quartz crystals mixed with additives and resins so that the desirable marbling and sparkly veins are still there as the original Italian Calacatta marble.
No matter what finishes or color combinations you are looking for, most Calacatta quartz slabs will have a length of 128 inches or about 325 centimeters and a width of about 63 inches or 160 centimeters.
Some may be smaller at 120 inches or 305 centimeters in length, with a width of 55 inches or about 140 centimeters.
Cambria Quartz Slab Size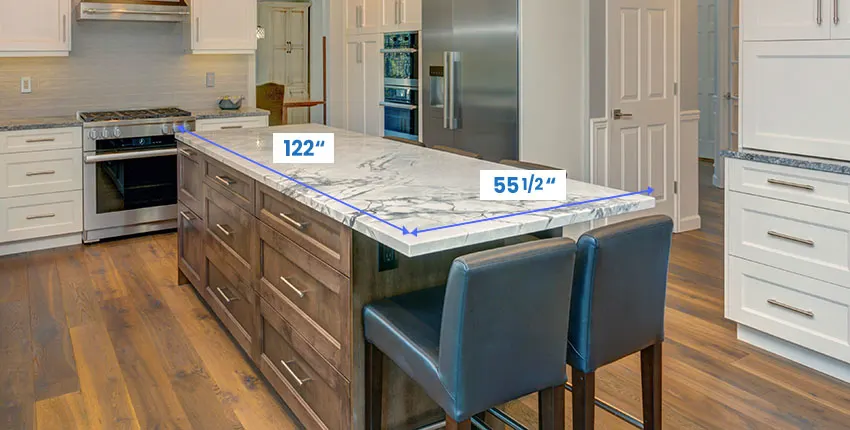 Cambria is another manufacturer option if you are looking for a variety and unique natural quartz slab that you can use anywhere from your kitchen's countertop to your living room or office's fireplace. Cambria offers many design options available, but one that excites consumers the most is that they can also accommodate custom designs and requests.
Standard Cambia slabs will have a length of 122 inches or 310 centimeters and a width of 55 1/2 inches or 141 centimeters. They also have jumbo slabs that have a length of 132 inches or 335 centimeters with a width of 65 1/2 inches or 166 centimeters. Visit our guide to cambria quartz countertops here.
Silestone Quartz Slab Size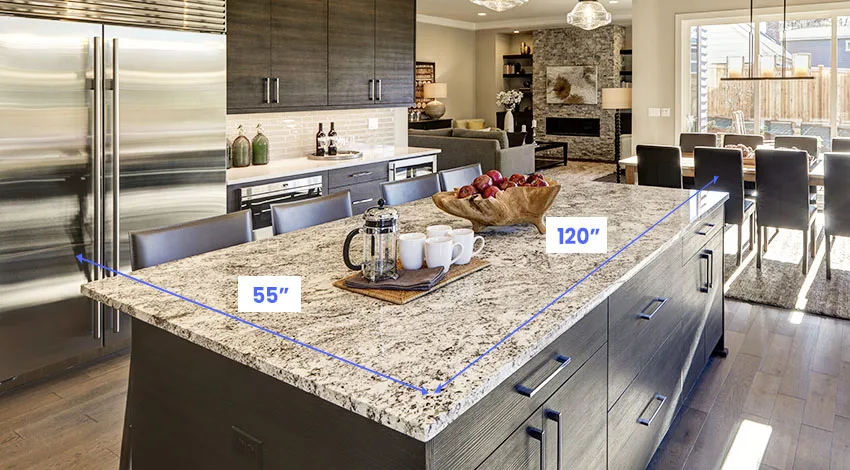 Silestone is another quartz slab manufacturer that offers buyers a wide range of quartz colors, thicknesses, and finishes so that they have options on what will best suit any of their home projects or renovations. Silestone has two quartz slab sizes that can aid any project: Formato normal and Formato jumbo.
The normal quartz slab will have a length of 120 inches or 305 centimeters with a width from top to bottom of about 55 inches or 140 centimeters. On the other hand, the jumbo one has a length of 128 inches or 325 centimeters with a width of 63 inches or 160 centimeters.
You can choose from any thickness from 1.2, 2, or 3 centimeters, depending on where you will use it. Visit our silestone countertops design guide here.
Quartz Slab Size Price
If you want to acquire a quartz slab for your home, it will cost you an average of about $50 to $150 per square foot, depending on the quality of the quartz you will buy.
You can get the value of your money with a good quality quartz slab at $50 to $65 per square foot, but a genuinely high-quality quartz slab will cost you about $75 to $150 per square foot.
Do You Have To Buy A Whole Slab Of Quartz?
How many slabs of quartz you will need will depend on your project and the size of what you are looking to renovate. Oftentimes, it will require you to buy an entire slab, especially for a kitchen counter or island revamp.
However, if the project is small, you can simply measure the entire thing before purchasing since you pay per square foot of a slab, and excess quartz will only cost you more.
Fore more related content visit our quartz countertop weight guide here.