If you're looking for standard box fan dimensions for the most popular models, what sizes they come in, shapes, and the ideal CFM rating, look no further.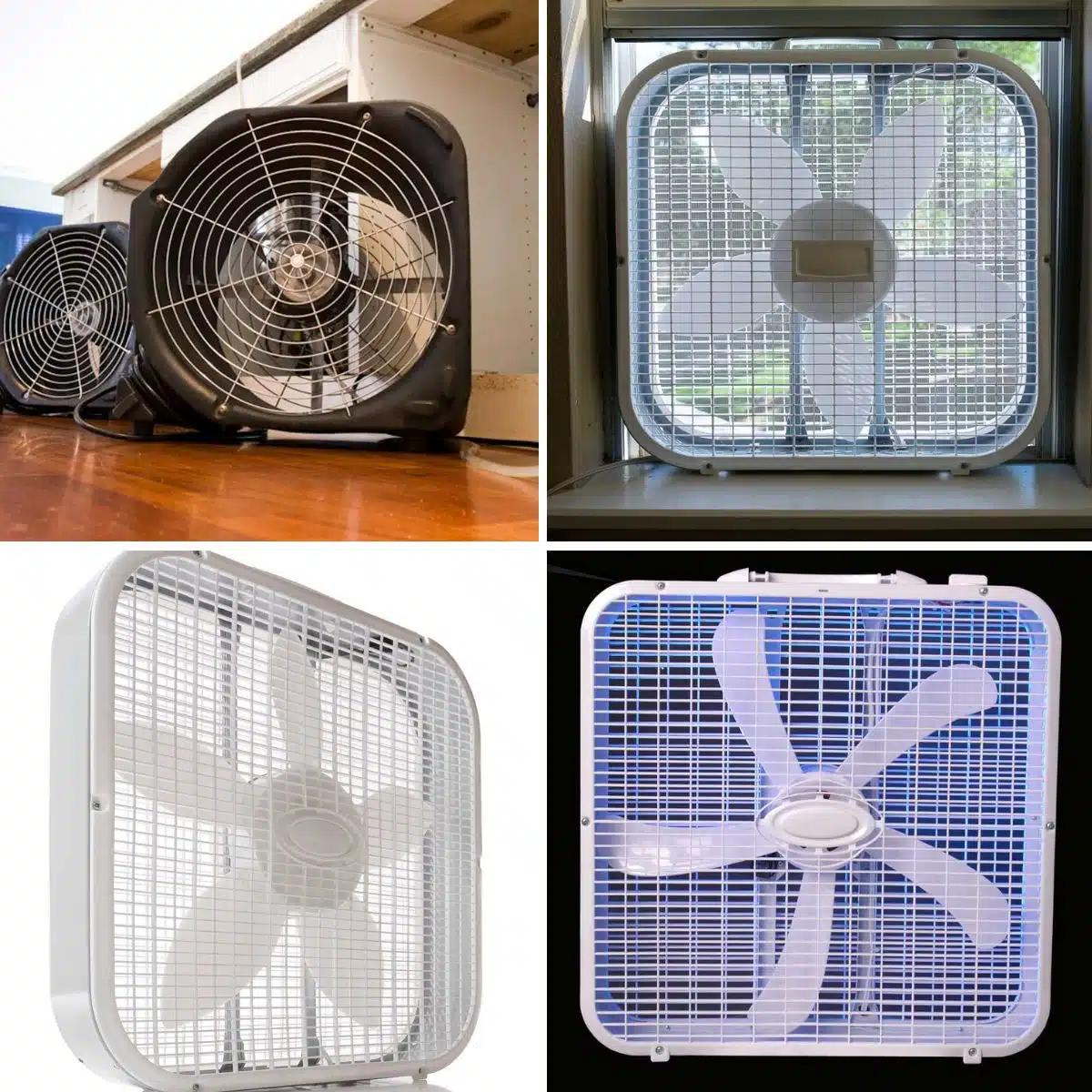 Box fans are the most cost-effective solution for improving personal comfort during hot summer and excessively humid times. Although most homes have air conditioners to beat the scorching heat, it can increase a family's energy utilization reflected on the household's power bills.
One can always combine the energy efficiency of box fans with the cooling comfort of air conditioners to enjoy the best of both worlds. But are box fans a standard size? This article answers this question and more to help homeowners pick the right box fan for their needs.
Standard Box Fan Sizes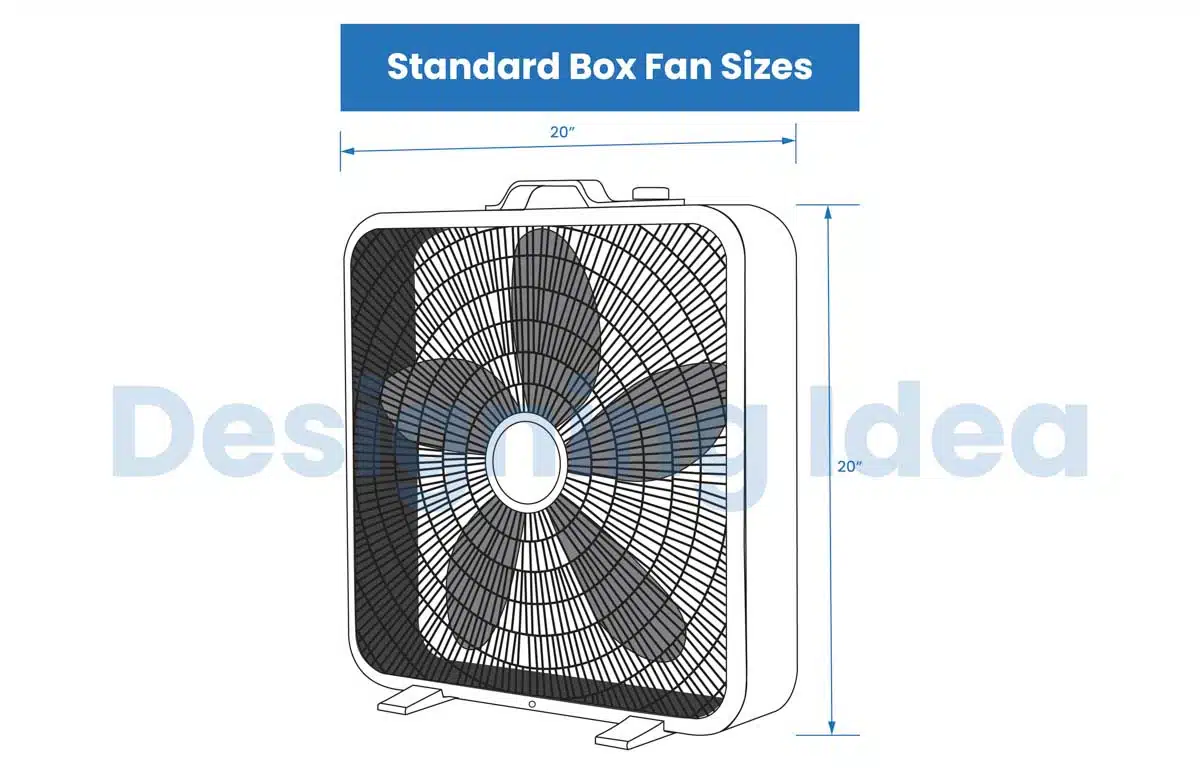 Like everything else, box fans range in size, reflecting a diverse need for cooling. However, most homes pick a 20-inch by 20-inch box fan to cool a small room. These dimensions highlight the electric appliance's breadth and height, forming a box-like appearance and lending credibility to its name.
Twenty-inch standard box fans feature a boxy frame between three and four inches deep. These measurements do not include the boxy frame. Hence, one can expect a 20-inch box fan to be "larger" by a few inches than its rated size.
Common Fan Frame Sizes and Room Usage
| Fan Size | Blade Diameter | Approximate Frame Dimensions (L x W x H) | Typical Room Size |
| --- | --- | --- | --- |
| 20-inch | 20 inches | 22″ x 22″ x 5″ | Medium to Large |
| 16-inch | 16 inches | 18″ x 18″ x 4.5″ | Medium |
| 12-inch | 12 inches | 14″ x 14″ x 4″ | Small to Medium |
| 10-inch & below | 10 inches | 12″ x 12″ x 3.5″ | Small |
| Above 20-inch | Varies | Larger than 22″ x 22″ x 5″ (varies) | Large to Extra-Large |
*Note: These fan sizes are approximate and can change depending on the manufacturer and product model.
Desk Fan Measurements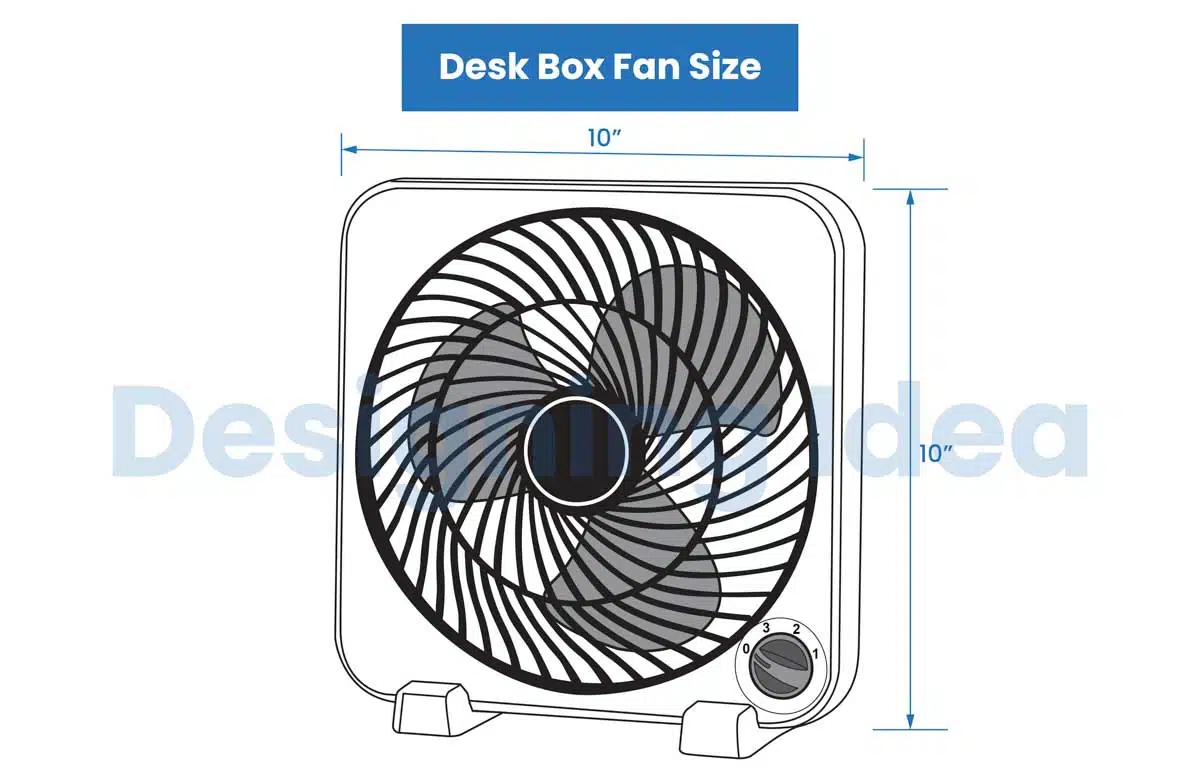 One can place a 20-inch box fan on the desk, next to windows, on the floor, or anywhere.
If space is an issue, a 10-inch box fan measuring 10 inches high and 10 inches wide should be a perfect fit. People can place this space-efficient box fan in tight spaces.
Larger houses and commercial establishments might use a 24-inch-wide by 24-inch-high industrial-type box fan to make a sizable area more comfortable. However, one must understand that bigger box fans consume more electricity.
What Sizes Do Box Style Fans Come In?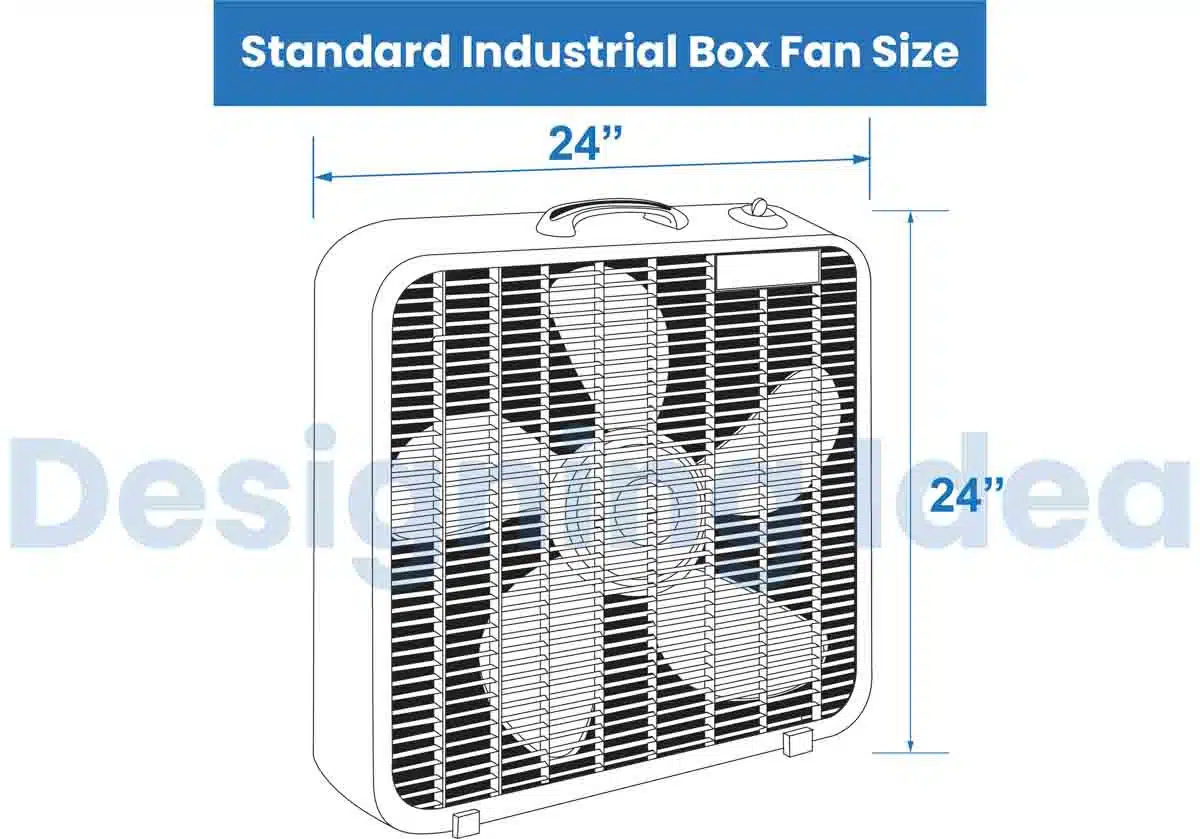 Although most residential box fans are 20 inches, units for "personal" cooling measure 10 inches. Meanwhile, commercial and industrial establishments often use 24-inch box fans to augment their air conditioning system and cool the surroundings.
Box Fan Dimensions Based On Common Use
| Fan Size | Common Use | Typical Room Size | Availability |
| --- | --- | --- | --- |
| 20-inch | General use | Medium to Large | Widely available |
| 16-inch | Medium rooms/spaces | Medium | Common |
| 12-inch | Personal use | Small to Medium | Less common |
| 10-inch & below | Personal/Small spaces | Small | Less common |
| Above 20-inch | Commercial/Industrial | Large to Extra-Large | Specialized stores |
It is worth mentioning that highly portable box fans exist. These devices are only a few inches across, allowing users to leverage the built-in brace to loop around their necks. Such devices have rechargeable batteries, enabling them to cool the wearer for several hours on the go. However, most folks call these items "neck fans," not box fans.
Some miniature box fans have built-in clips, allowing users to secure them on the edges of tables, desks, and similar furnishings.
Lasko Fan Dimensions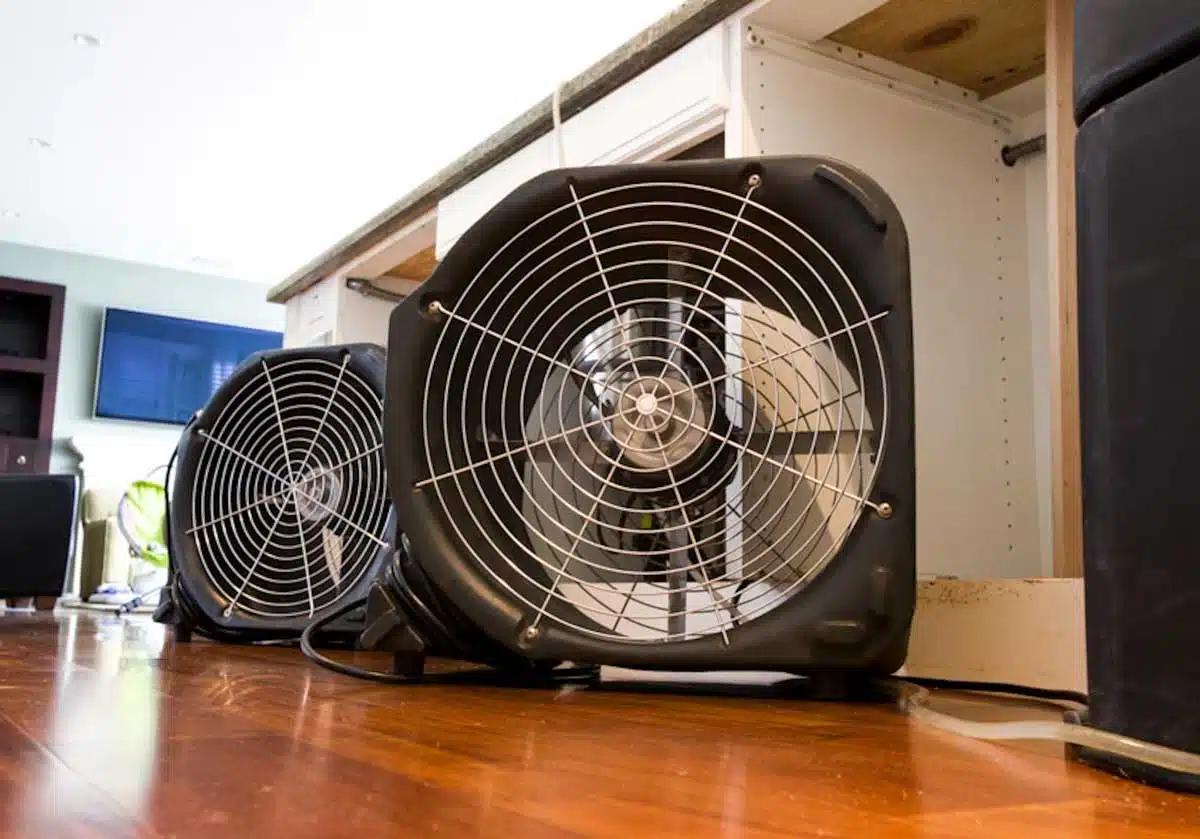 Lasko is one of the most trusted names in home ventilation and comfort products, which started operating in Philadelphia in 1906. The company produces at least 7.5 million box fans annually, cooling the homes of American families. As an American favorite, it would be safe to assume that families also want to know the Lasko box fan dimensions.
• FF305 Air Flex: The Air Flex provides families with a premium-quality box fan and a trustworthy air purifier in a neat and elegant package. Weighing 11 pounds or a little under 5 kilograms, the FF305 Air Flex stands 23.2 inches (58.9 centimeters), extends 21.3 inches (54.1 centimeters), and occupies a breadth of 6.36 inches (16.2 centimeters).
• B202000: The 3-speed 20-inch Lasko B202000 provides home cooling, with a weather-resistant electric motor so families can place them on window sills without worrying about damaging the box fan.
This Lasko cooling appliance is slightly broader than the FF305 Air Flex at 21.5 inches (54.6 centimeters) but shorter at 22.56 inches (57.3 centimeters) and narrower at 4.44 inches (11.3 centimeters).
• B20540: The Lasko B20540 is nearly identical to the B202000 model in dimensions yet features a state-of-the-art Wind Ring system to improve the rotor's velocity by 20%.
It also has more alloy components than the B202000, making the B20540 a more robust box fan. This cooling device is a 20-inch unit with a frame measuring 22.5 inches (57.2 centimeters) high, 21.25 inches (54 centimeters) broad, and 4.75 inches (12.1 centimeters) deep.
• B3733: This Lasko box fan features the patented Save-Smart Technology, allowing families to cool living spaces without worrying about hefty electric bills.
The fan's exterior dimensions are small enough to fit on a table. It measures 20.75 inches (52.7 centimeters) tall, 22.2 inches (56.4 centimeters) broad, and 4.5 inches (11.4 centimeters) deep.
How Many CFM is a Box Ventilation Fan?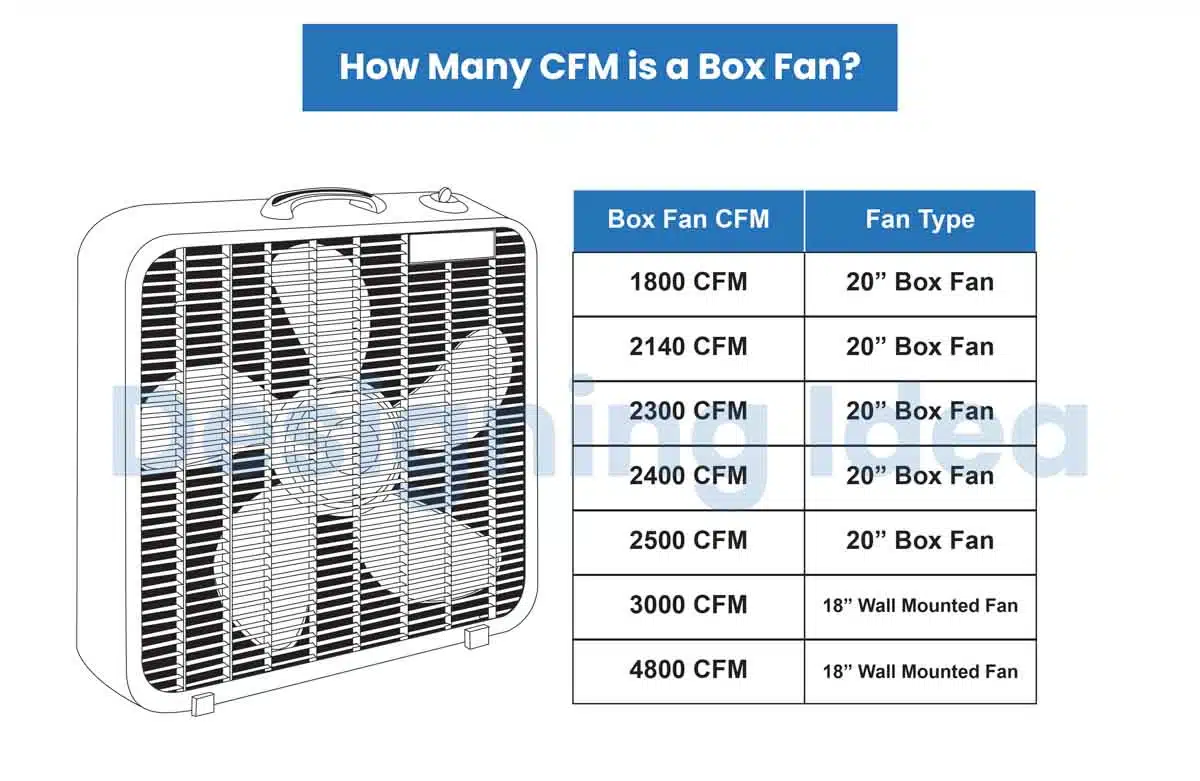 Cubic Feet per Minute (CFM) define a box fan's cooling or air-moving power. Unfortunately, only box fan manufacturers can decide their products' CFM ratings. Hence, homeowners buying a box fan must read the appliance's technical specifications.
How much noise the fan makes is listed on the fan along with the CFM rating. Expressed in "SONES," it uses a scale of 1 to 7, with lower SONE ratings given to quieter fans. – Black & Decker The Hardworking Home A DIY Guide to Working, Learning, and Living at Home, Mark Johanson
Most manufacturers do not only write the box fan's CFM rating. They also recommend the "ideal" room size for the device. For example, an 80 CFM box fan is sufficient to move the air inside a 300-square-foot room every 30 minutes, while a 1000-square-foot living space might need a box fan with at least 267 CFM.
The good news is that most box fan manufacturers design their electric motors and fan blades to move as much as 2,500 cubic feet of room air per minute. Some brands offer a minimum CFM rating of 1,000, allowing families to enjoy a more comfortable living space.
This Energy Star guide has rated many different ventilating fan products that offer 50% less energy consumption and meet or exceed current requirements. You can check their energy usage, air output, efficiency, and available features.
Regarding CFM, some assume that a box fan's CFM rating relates to power consumption. The higher the CFM score, the more electricity the box fan consumes.
One must consider the box fan's CFM-per-watt rating. An energy-efficient box fan must consume as little electricity as possible to deliver maximum room air-moving and cooling effects.
For example, suppose box fan A moves 50 cubic feet of air per minute per watt, while box fan B only "circulates" 30 cubic feet a minute. In that case, box fan A is more energy-efficient than B.
How Many Watts is a Box Airflow Fan?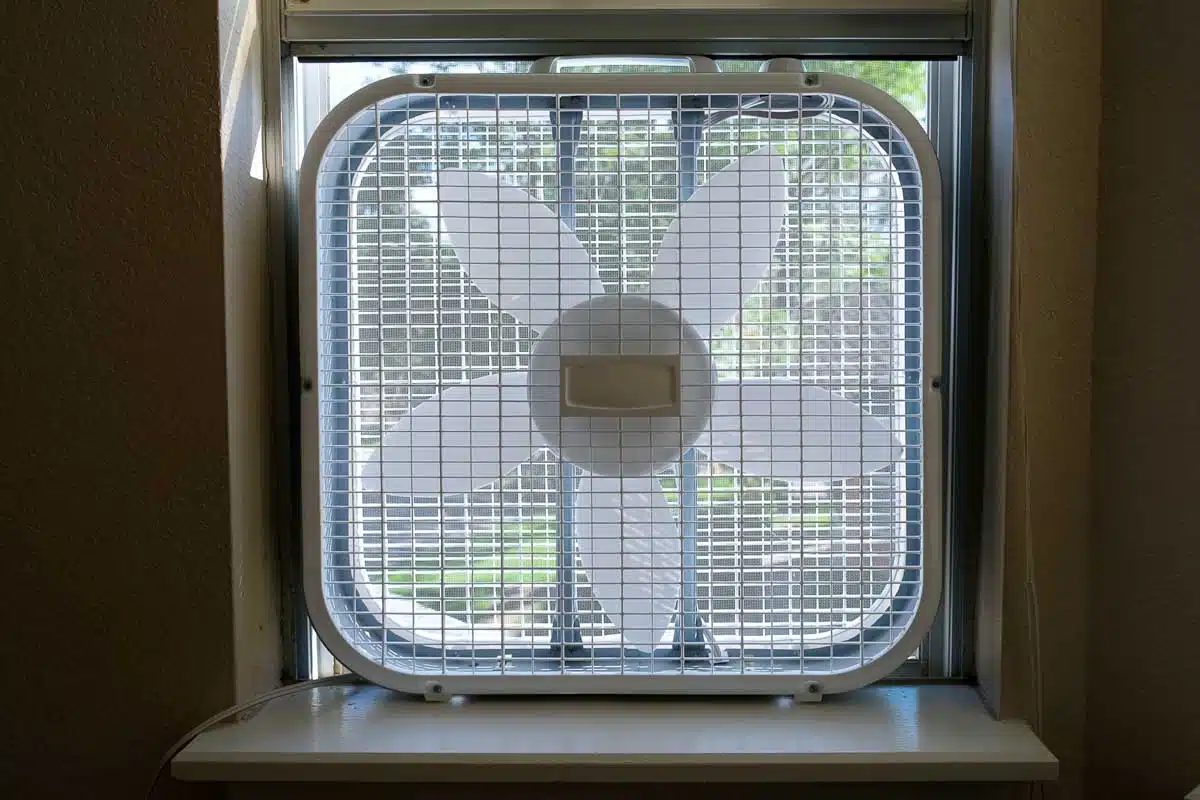 Box fan electric consumption varies across brands and models. Companies often integrate energy-saving technologies into their products to ensure more CFM for every watt required.
For example, standard 20-inch box fans consume about 53 to 120 watts, depending on brand and model. The Lasko Air Flex uses 120 watts, while the Lasko B20301 only requires 110 watts. On the other hand, the Genesis G20BOX only uses 53 watts, and the Comfort Zone CZ200A 75 watts.
Box fans not larger than 10 inches consume about 25 to 30 watts, while USB box fans only need 5 watts or less.
See more related content in our article about the different ceiling fan alternatives on this page.