Discover all about heat sensitive tiles and see what they are, where to use them in a house, and a stylish color changing material for bathroom shower designs.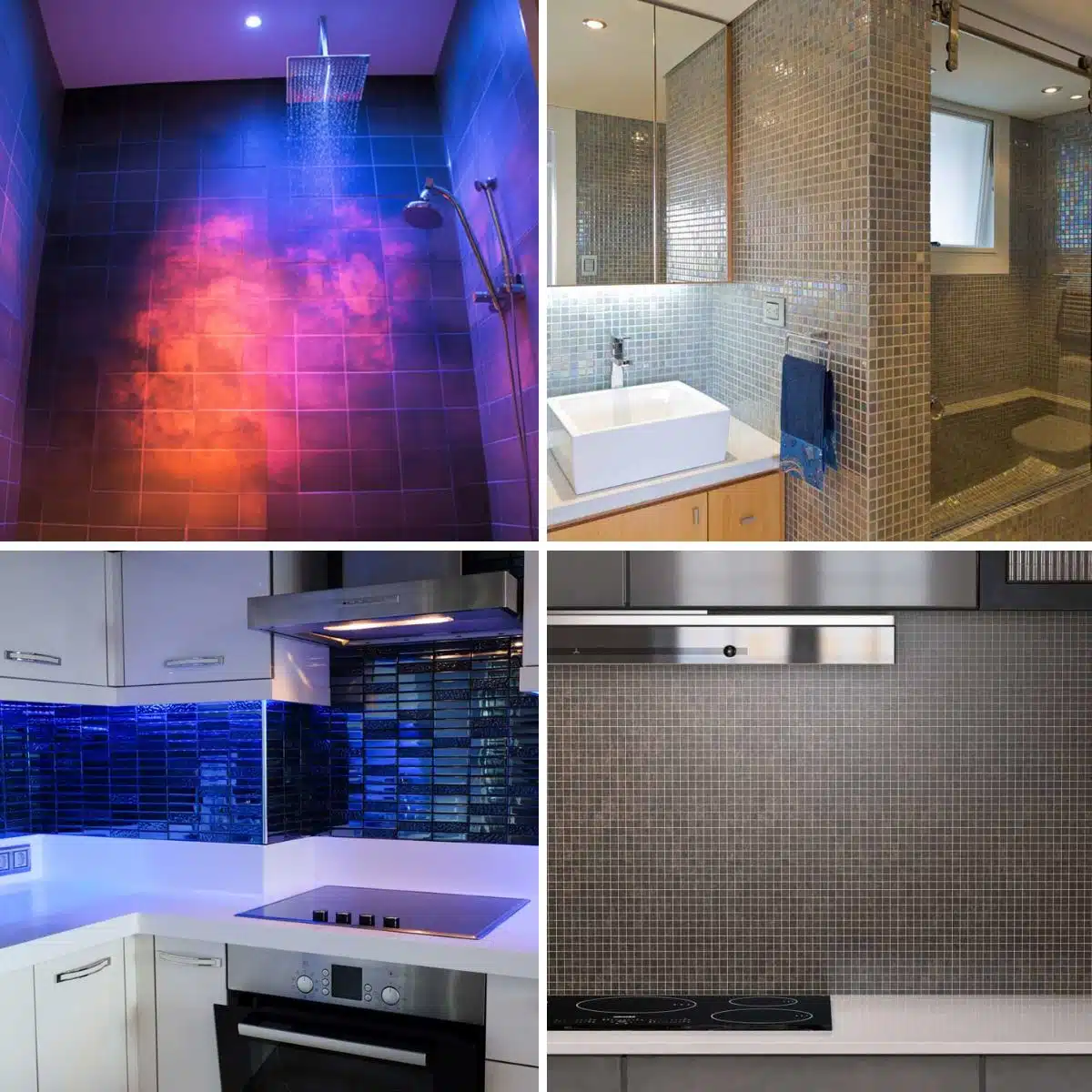 From dazzling colors of the cosmos to captivating auburn gradients, heat sensitive tiles can elevate a space and enhance the visual experience. Since we spend more time at home than any place other than our workplace, it's important to make this personal space as pleasant and as safe as possible.
Heat sensitive tiles are the perfect wall finishing that taps into our body's most used sensory perception. Because of the varying colors and gradient-like appearance, the spectacle is a perfect addition for a luxury installation or an accent for smaller projects.
What Are Reactive Temperature Tiles?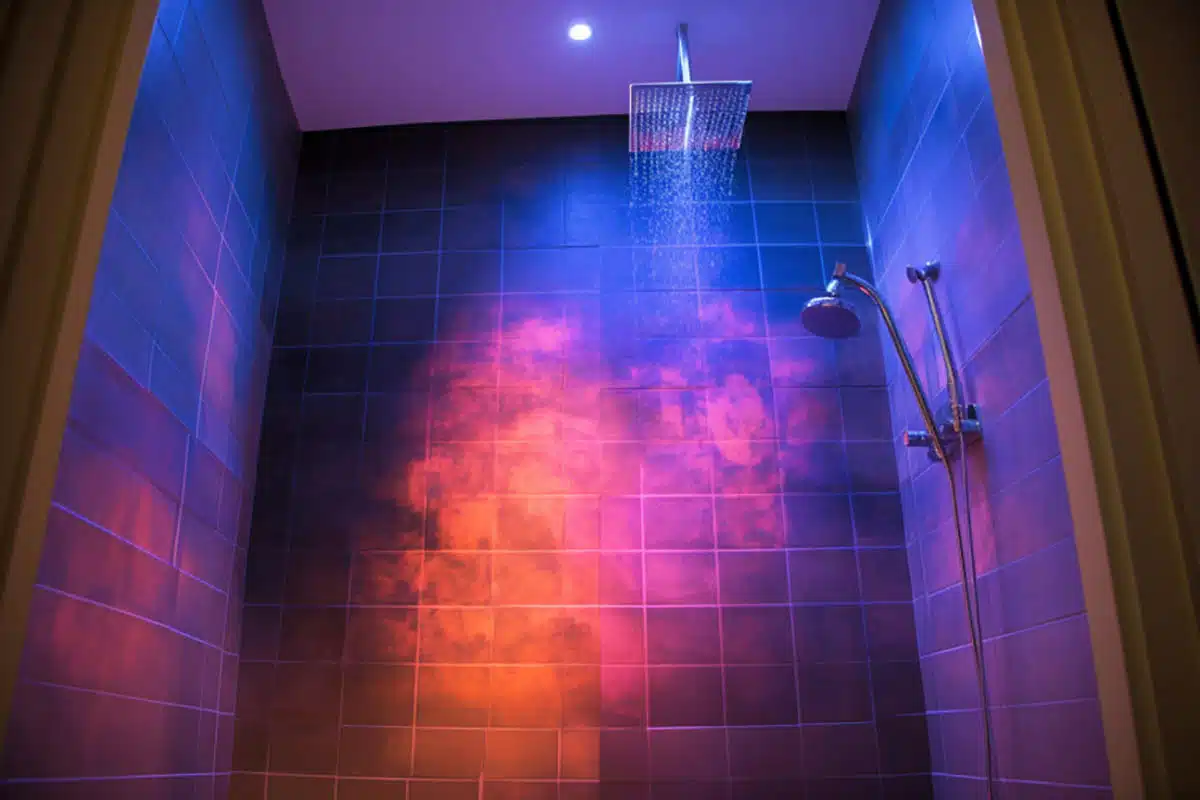 Reactive temperature tiles or heat sensitive tiles are finishing material that usually comes in the typical standard tile sizing but uses thermochromic technology. A thermochromic tile will change color once the heat is applied and revert to its original color once it cools down. Aside from touch, temperature from the sun and water can also affect the thermochromic crystals.
While thermal images may be obtained using infrared imaging, an alternative configuration makes use of the class of liquid crystals known as thermochromic liquid crystals (TLCs). These materials provide a simple and inexpensive alternative to radiometric thermal imaging with infrared detectors. – Liquid Crystals: Frontiers in Biomedical Applications, Gregory Philip Crawford, Scott J. Woltman, Gregory D. Jay, World Scientific
These tiles will usually be made of translucent glass laminated by either a thermochromic dye or liquid with a glass substrate in the typical standard tile size. The dye version comes with a wider range of colors, but determining which color it produces for a temperature is more difficult than thermochromic liquid.
In contrast, thermochromic liquid can be specifically assigned a color with a corresponding temperature; however, the available colors are limited.
• High Temperature: blue-violet
• Low Temperature: red-orange
There are tiles with thermochromic liquid that can produce different colors at a specific temperature. During this temperature change, you'll see the tile's rainbow colors appear in between the transitions.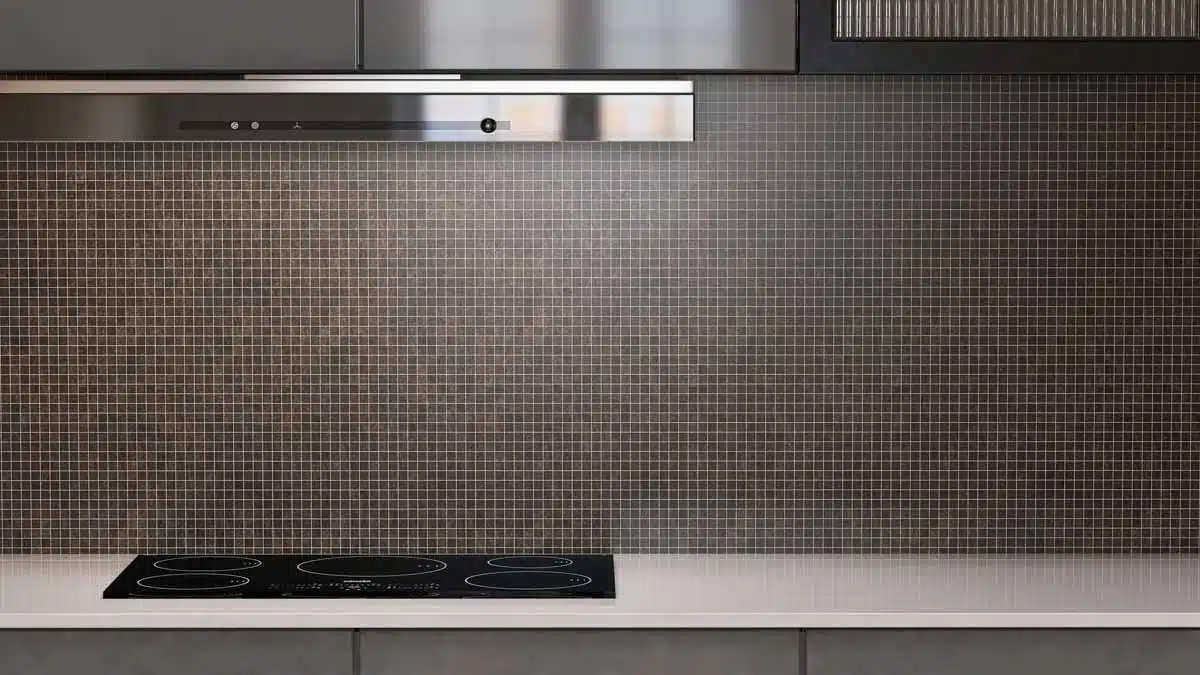 However, the available colors and temperature depend on the manufacturer's design. Most reactive temperature tiles are made from a glass finish, but products are available with ceramic and porcelain layers as well.
Available Colors:
• Blue to White: The most common color transitions in most thermochromic tile suppliers. The tiles stay blue when cold, and they turn white when heat is applied.
• Black to Color: Similar to popular color-changing mugs, the tiles start with a jet-black color, and once the heat is applied, it changes to a specific color or a premade pattern.
• Transparent to Color: Common for glass tiles, the thermochromic tiles stay translucent, and when heat is applied, they transition to a color or pattern.
• Custom Color: There are manufacturers of heat-reactive tiles that offer a range of colors available for customization.
Advantages of reactive temperature tiles include personalization, low maintenance, ease of installation, and potential as a safety indicator. The tiles are an attractive visual stimulus, especially for the hearing impaired.
For instance, color-changing ceramic tiles were installed in the School of the Deaf in Salem, Oregon, by Moving Color. The charity project includes headboards, metal desks, and inlays for the bedroom floor and ceiling. Initially, heat sensitive tiles were deemed a tacky design option, but with the right design approach, they can transform and add value to any interior space.
Where To Use Heat-Reactive Tiles?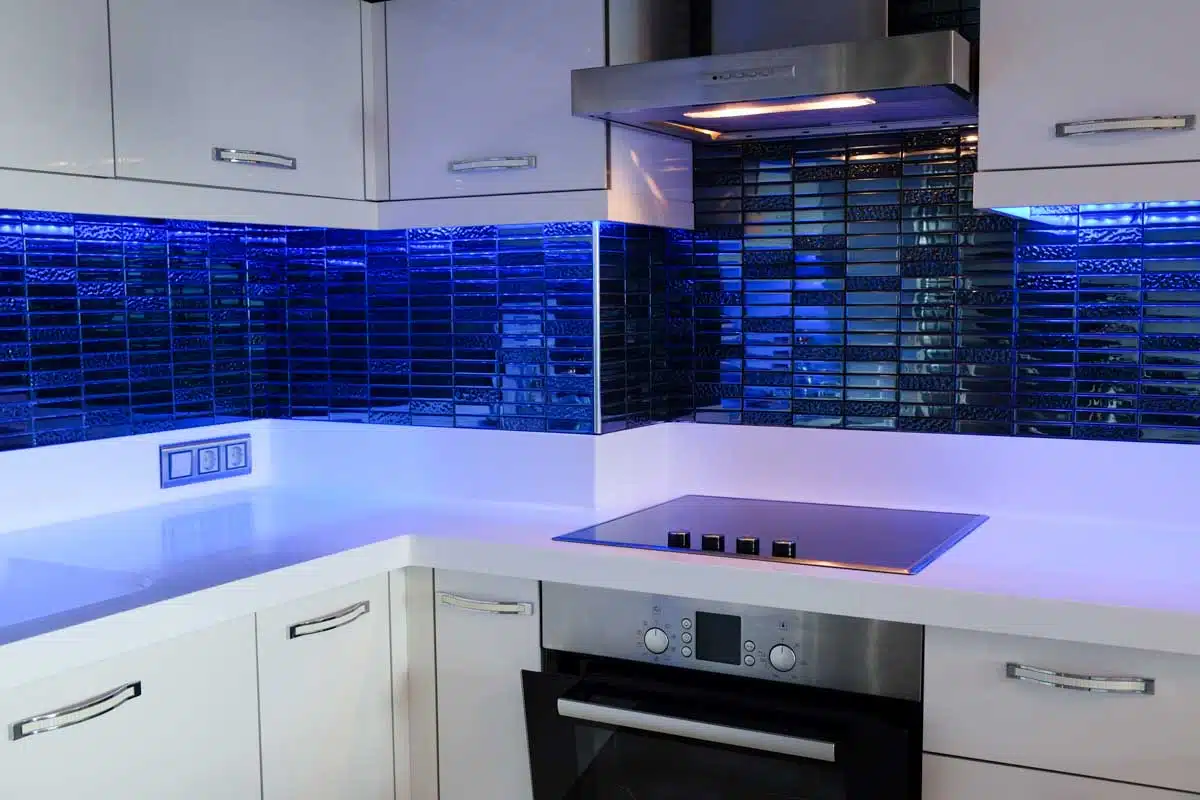 Heat sensitive tiles can be used for indoor and outdoor residential and commercial applications.
Pool, Bathroom, and Spa Areas: Mood-evoking spa-like atmospheres are popular updates even in hospitality and residential homes. The color-changing tiles are most popular as a shower surround as they are a perfect surprise for any shower design, regardless of size. The unique feature can add an appealing attraction to clients, especially for kids in commercial pools, hotels, and wellness centers.
Bar and Kitchen Countertop: The changing colors can be a fun feature in a kitchen area as a tile inlay or backsplash. The heat sensitive tiles can be inlaid for large kitchen islands to create a simple pattern. Bar counters with color-changing tiles can add interest and complement existing designs.
Aside from its aesthetic purpose, heat-reactive tiles can also serve as safety indicators in kitchen backsplash areas. The tiles can be installed on the walls near a hot or heated area, such as adjacent to a stove or range.
Outdoor Tables or Benches: Whether for personal use or at a community park, outdoor furniture pieces, such as tables or benches, covered with heat sensitive tiles provide an interactive surface. The changing temperature outdoors can create an attractive spectacle without any complicated installations.
Floor or Stair Installations: Besides walls, heat sensitive tiles can be installed as a flooring finish like any standard tiling. The dynamic floor can leave footprints as someone walks along the surface, then return to its original color as the heat dissipates.
Homes can be installed along the hallways or staircases to break monotony and add interest. Meanwhile, commercial spaces such as retail shops and galleries can also install thermochromic tiles as a marketing tool.
Office Spaces: Many big companies have started to integrate interactive walls or spaces, but the great thing about the color-changing tiles is there is no need for any wiring or any complicated attachments. The heat-sensitive tiles work without the need for electricity.
Art and Gallery Installations: Visually stimulating, the heat-reactive tiles are the perfect medium for creating dynamic and unique creations. They can also be used as a backdrop for galleries or public art. For small-scale use, the color-changing tiles are also perfect for Crafts or DIYers.
A great example of how heat-sensitive tiles can be utilized in creative installations is the Thermochromic Bench by Sam Falls in his 2015 Light Over Time. The simple design allows inquisitive young ones to explore the art piece while enjoying the mesmerizing color changes.
Schools: Immersive learning has gained popularity in many schools, and the heat sensitive tiles do not require electricity or other complex components, making it safe for schools to install around the campus.
Color Changing Shower Tiles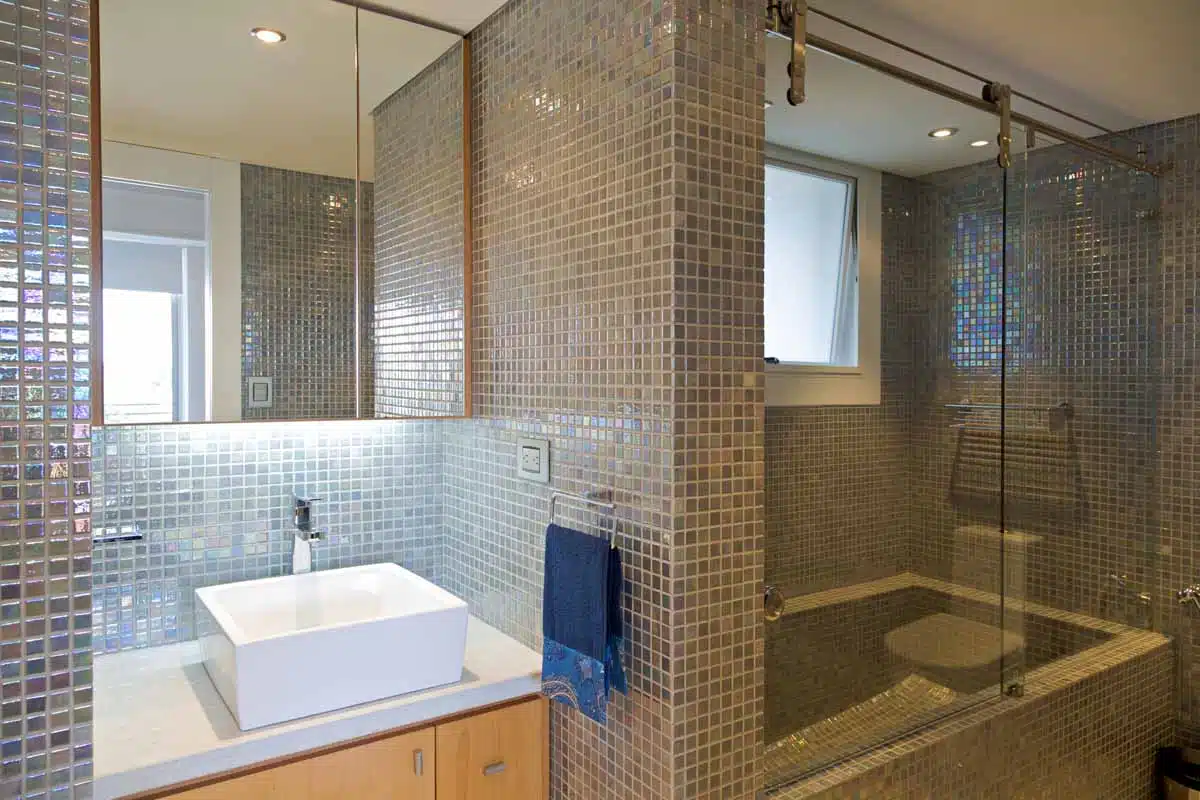 With so many modern enhancements available today that aim for a more personalized use of spaces, the color-changing shower tiles are one of the simplest yet effective design options. There is no need for complex installations to achieve an eye-catching feature.
You'll find an instant transformation if used as a mosaic tile inlay or a complete flooring and wall surround. The tiles can be installed solely as shower walls, flooring, or part of a bathroom niche. There are also heat sensitive tiles that reveal patterns as it changes colors.
Color-changing shower tiles are cleaned like ordinary tiles with minimal maintenance; no special precaution or cleaning agent is needed. Water splashes are usually unsightly, and there is a need to wipe off water spatter on shower surrounds consistently. With color-changing shower tiles, the color change displays alluring designs that constantly change without the tedious wiping.
See more related content in our article about large format tiles in small bathrooms on this page.