Here's our resilient flooring design guide including what it is, its advantages over vinyl flooring and different types like vinyl, linoleum, cork, and more.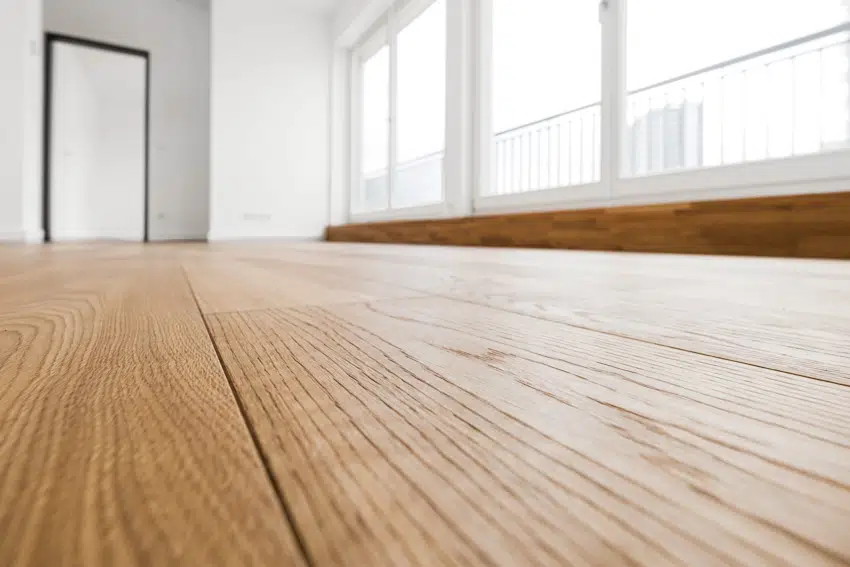 Floor coverings must be durable, attractive, and comfortable for anyone who walks on them. It would also be best if the floor covering does not hurt the family's budget nor require a complicated installation process.
Unfortunately, not all floor covering options are resilient. Most are either hard or soft, depending on the household's needs.
Learning what resilient flooring is, its types as well as differences from other flooring options, will empower homeowners to decide whether this floor covering option is for them or not.
What Is Resilient Flooring?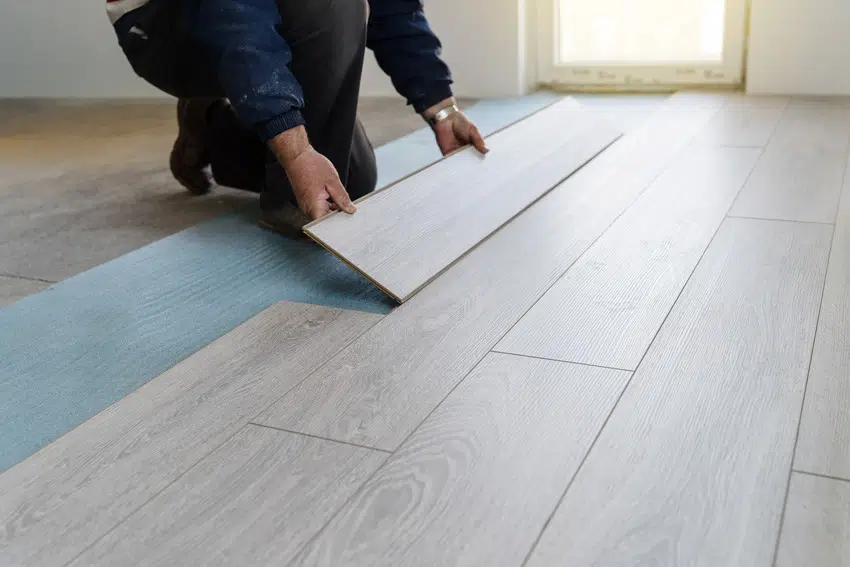 Industry experts describe resilient flooring as a general floor covering category, sitting between hard floors (i.e., hardwood, concrete, and stone) and soft floors (i.e., carpeting).
Resilient flooring is a firm and durable floor covering option, yet with a fair amount of bounce-back or give. These floor coverings are comfortable to walk on without producing a sinking feeling on the feet. They are durable, too.
Hardwood and concrete floors can never be resilient. These flooring options are durable and firm, yet they lack the bounciness of a resilient material.
On the other hand, carpets are soft and plush, making them comfortable and pleasant to walk on. Unfortunately, they are not firm.
Some products may have the qualities of resilient flooring, but the industry still classifies them as hard floor covering. A case in point is laminate flooring. This floor covering has a firm laminate surface, a durable fiberboard core, and springy foam underlayment. Read more about our article on the pros and cons of laminate flooring here.
Difference Between Vinyl And Resilient Style Flooring
Vinyl comprises the majority of resilient flooring globally. Hence, it would be safe to assume that vinyl and resilient flooring are not different.
However, there are several subtle differences between vinyl and resilient flooring. It would be best to compare ordinary vinyl flooring with eco-resilient flooring (ERF).
First, installing vinyl on floors requires applying an adhesive (i.e., glue), while ERF utilizes a puzzle-piece, click-on approach. The ERF installation is similar to high-end resilient flooring and luxury vinyl tiles.
Second, ERF is slightly thicker than vinyl flooring but with a gentler cushion to make it more pleasant to walk on.
Third, clickable resilient flooring options are more water-resistant because they do not require glue for fastening to the floor surface.
Fourth, ERF and other high-end resilient flooring options follow the floor's natural contours. On the other hand, one must level the floor's sub-surface to ensure a flat and uniform bed, preventing the formation of air pockets or gaps between the vinyl sheets and the floor.
Fifth, high-end resilient floor coverings are best suited for low-traffic areas because of their softer or bouncier nature. Meanwhile, vinyl flooring is best in heavy traffic, such as hallways and other rooms where people congregate.
Types Of Resilient Floors
Families interested in installing resilient flooring in their homes should consider the floor covering types available to them.
Vinyl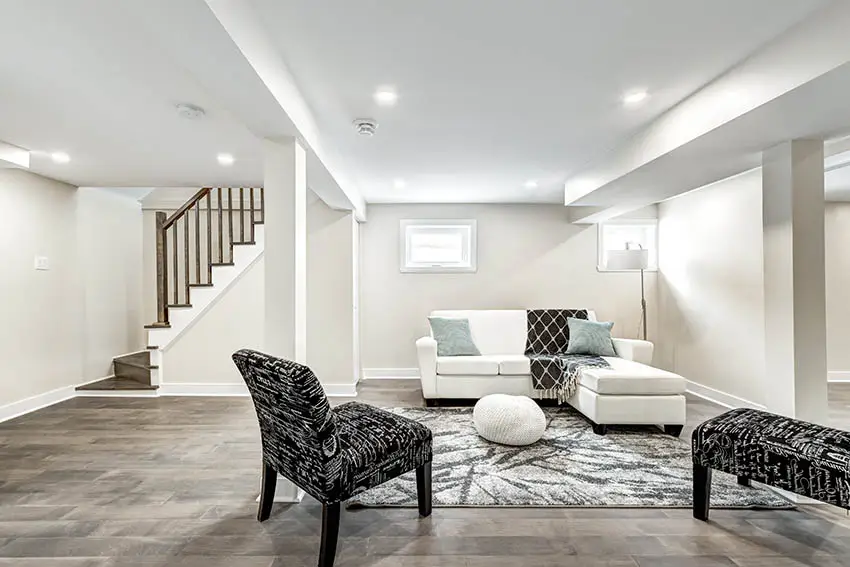 Seventy to eighty percent of resilient flooring options are vinyl of various types. Read more about our article on laminate vs vinyl flooring here.
Healthcare organizations, commercial establishments, industrial complexes, and other institutions often use Vinyl Composition Tiles or VCTs because of their durability. The product consists of natural limestone, color pigments, high-quality thermoplastic polymers, and filler materials.
VCT manufacturers fuse VCT chips into large solid sheets before cutting them into smaller tiles for easier installation. VCTs require several layers of high-quality polish to make them impervious to stains and water damage.
Another vinyl resilient flooring option is the Solid Vinyl Tile (SVT). It is similar to VCTs, except that it contains a higher vinyl concentration.
That is why SVTs are ideal for establishments with heavy foot and utility vehicle traffic. The high vinyl content makes SVTs less porous, translating to improved strength and durability.
Luxury Vinyl Tiles (LVTs) are similar to SVTs, except they are more beautiful, elegant, and costlier. LVTs feature a photographic film outer coat, replicating the unique patterns of wood or stone. They are also available in various effects, sizes, and shapes for a more authentic-looking floor.
LVTs are perfect for homes that want to replicate the natural elegance of stone tiles. If the family wants to create a realistic hardwood floor, the best choice is Luxury Vinyl Planks (LVPs). These vinyl products are similar to LVTs, except they are more inclined to mimic wood planks.
Linoleum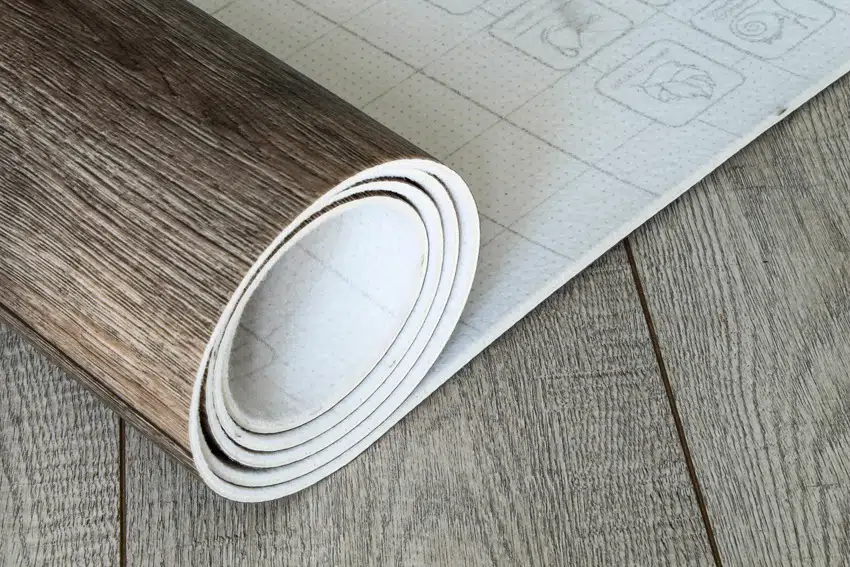 Long before people began using vinyl to cover their floors, there was linoleum. Invented in 1863, this resilient floor covering option initially featured cooled oxidized linseed oil to form cement. Read more about our article on how to clean linoleum floors here.
Manufacturers combine linoleum cement with natural resins, including wood powder, ground limestone, pine flour, and ground cork. It also includes organic and inorganic pigments to create color.
One can choose from three linoleum types to cover the floor. The first type is glue-down tiles, requiring a suitable adhesive to bond the floor and the linoleum.
The second type is click-together linoleum planks, similar to the eco resilient flooring, requiring no glue or any form of adhesive. Each plank fits like a jigsaw puzzle, ensuring a secure connection between the planks.
Large linoleum sheets are similar to glue-down linoleum tiles, except they are bigger. These floor covers are ideal for large spaces, such as halls, conference rooms, and other locations.
Rubber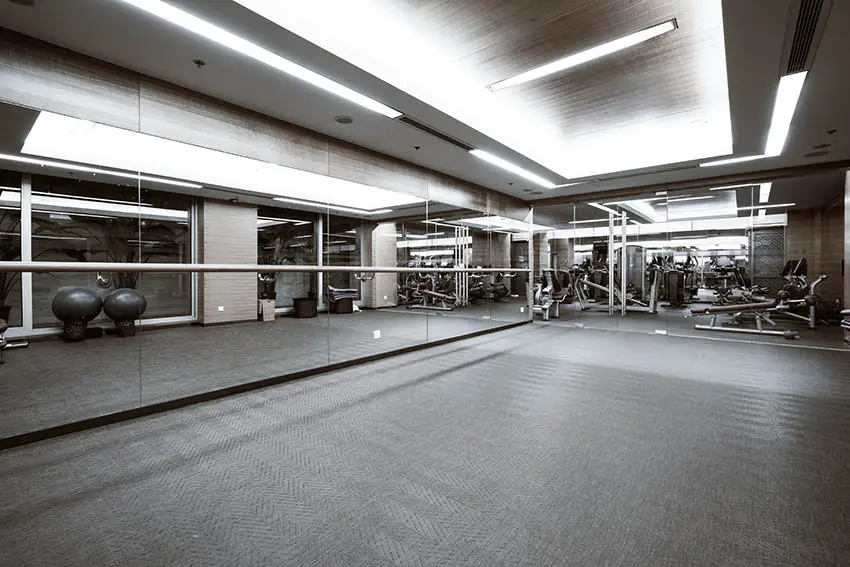 Most yoga studios and gyms use rubber for their floor covering because it is gentle on the joints without losing its shape.
In the past, homes and establishments that used rubber flooring installed organic rubber materials. The majority of places that use this resilient flooring option now install synthetic rubbers.
Educational institutions, healthcare facilities, health clubs, sports arenas, and industrial settings also use rubber flooring. Residential homes use it for their playrooms, nurseries, children's bedrooms, family rooms, recreation rooms, and home offices.
Cork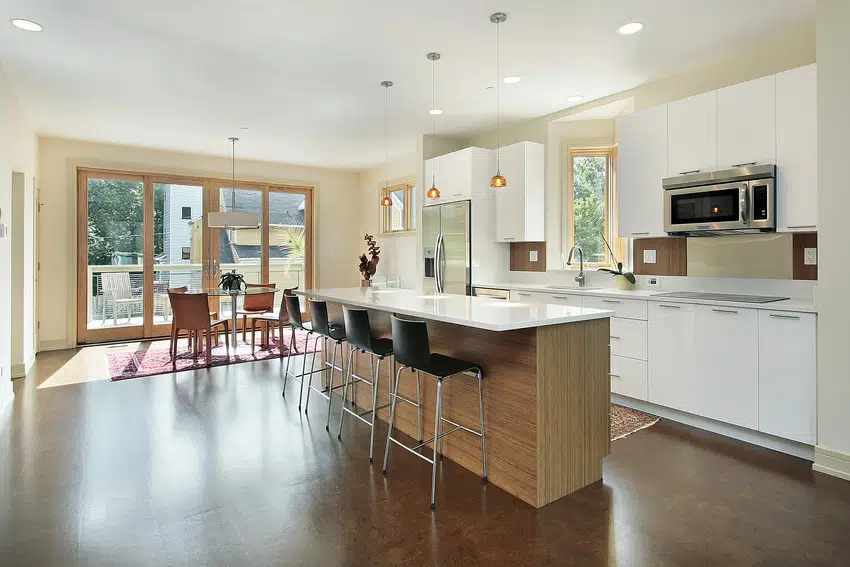 Homeowners who want to add a touch of eco-friendliness to their floors can use cork. This product can come in various shapes and sizes, made from thinly-sliced organic cork, mainly from the Cork Oak tree.
Cork is a greener option than rubber, allowing families to make a safe play area, bedroom, and recreational space for their children.
Conclusion
Resilient flooring is perfect for people who want to strike a balance between comfort and durability. Vinyl remains the king of resilient flooring, although there is an ongoing trend for high-end clickable and realistic luxury vinyl tiles and planks.
Families with young children can opt for cork floors because it is safer for small and young bodies while maintaining the durability everyone seeks in a flooring option.
For more related content, check out our article on how to replace flooring without removing tiles.