Welcome to our guide to the differences between shutters vs blinds including pros and cons, cost and design considerations.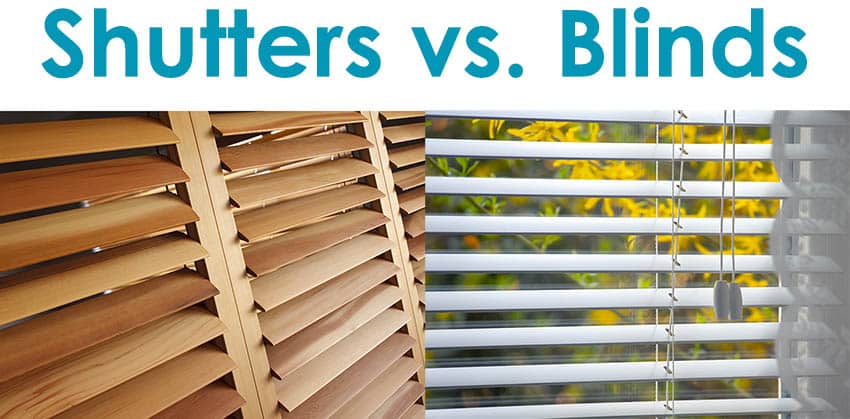 When looking for window coverings a popular concern is which is the best type. Shutters and blinds both have their own unique advantages and disadvantages which we will cover below.
What Is the Difference Between Shutters vs Blinds?
The main difference between shutters vs blinds is the way they are built or installed to the window as a window treatment. Usually, most types of window blinds are installed inside of or above the window's recess, while shutters are built into the window frame itself.
Shutters are a unique and timeless piece of window treatment which are visually attractive and can also be suited for a modern and elegant design element for any home style.
Shutters are highly durable, low maintenance, easy to clean, excellent insulators, excellent in control of light and ventilation.
This window treatment can be made to have a cut in the tilt bar or can be made with a rail divider, which will allow the shutter to be split into two – one part of the blades can be open letting some light and air in while the other part can be shut closed at the same time.
Shutters are not only perfect for windows and does add value to your home, but they can also be a good choice for doors as they can be fixed and not move.
Significantly, shutters can be more expensive than the standard blinds and tend to take up more space than blinds.
Shutters can be more challenging to install especially when door handles and window latches gets in the way of installation.
Unlike blinds which have many different styles to choose from, shutters are what they are, there not many styles to choose from.
Also, the weight of these shutters can make them unsuitable for some window styles and they take longer to manufacture and install.
On the other hand, blinds have more versatile since it comes in a variety of colors and materials and have more options in its design such as it can be made vertical, horizontal, pleated or in slats.
Another advantage of using blinds is that it can be paired with other window coverings to suit any décor and achieve the desired purpose of a window treatment.
Blinds can be manufactured with motor for an added convenience in raising and lowering. Blinds are easy to maintain and keep clean as well as easy to install and remove.
Blinds provide greater control over the levels of light and shade entering a room as it can be custom fitted to any window.
Blinds have more options for blocking out light altogether and have better insulation for your home. Even though the cost of blinds varies according to the style and materials used, usually blinds are less expensive than shutters.
This also means that blinds have shorter lifespan than shutters since the fabrics is more prone to sunlight damage due to harmful UV rays and exposure to moisture.
Plantation Shutters vs. Regular Shutters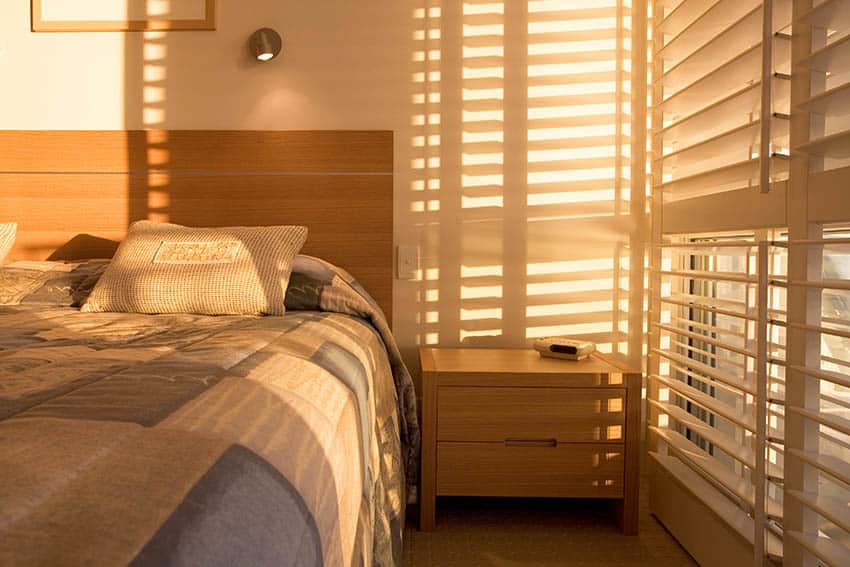 Shutters and blinds play an important role in the interior design of your home's window treatment and the following benefits of both Plantation shutters and regular blinds could help you decide when comparing which type of window treatment is appropriate for your windows.
Plantation Shutters
Plantation shutters offer a traditional and classic look for your home. This type of shutter is made of solid and stable louvers which comes in different sizes that allows to easily control light, privacy and airflow to the room making them very popular window coverings.
Plantation shutters have wider louver than regular shutters, its width ranges from 1 7/8 to 5 ½ inches and its louver comes in flat or elliptical shape.
These wider louvers are used for large windows in order to allow maximum light and a generous view of the outdoor; usually the most common louver width for plantation shutters is 2 ½, 3 and 3 ½ inches. The elliptical louvers are sturdier than the flat shaped louvers.
Plantation shutters adds a lot of texture and versatility since they can be painted with bright colors to compliment any design scheme.
For a more traditional feel, it is preferable to have the shutter painted in white or opt for a neutral and natural colors such as a clean wood stain finish.
Plantation shutter is also known as interior shutters thus, we recommend using an inside mount plantation shutter for smaller rooms in order to maximize space; and for larger room, an outside mount plantation shutter will work best.
Plantation shutters which are made with bi-fold track design that can be hinged and folded works best when used on French and sliding doors.
Another aspect of the element of versatility in plantation shutters is that they can be sized to fit the whole window (full length) or just half the height of the window and adding a valance on the upper portion of the window allowing the much-needed privacy with a view.
Regular Shutters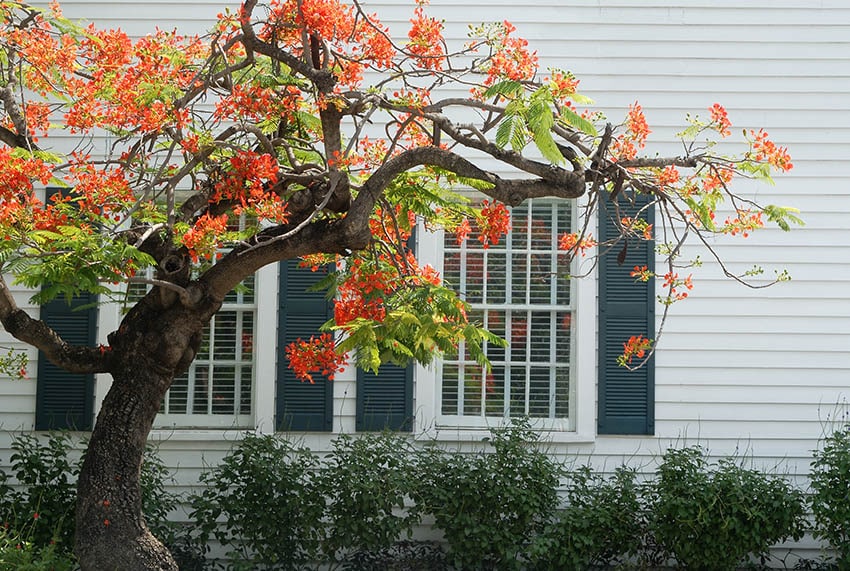 Regular shutters or traditional style shutters are sometimes called Colonial shutters which became widely used as a window covering because of their aesthetic beauty and functionality.
These shutters do good helping insulates a room since they have narrow wedge-shaped louvers which are only 1 ¼ inches wide.
These regular/traditional shutters have panels which may be in a single or double tier configuration.
Double tier panels allow the top and bottom panels to open and be adjusted independently of each other making it possible to regulate the amount of sunlight coming into the room and at the same time provide the much-needed privacy.
Regular shutters are mostly made of wood which are painted or stained in finish and can be installed either inside or outside of the window frame – we recommend that installing these regular shutters inside the window frame will give a much accurate fit for better insulation and has neater appearance.
Regular shutters are excellent window covering for smaller windows such as kitchen and bathroom windows, and a great option for single or stand-alone windows, as well as for combinations of small windows.
Shutters vs Blinds Cost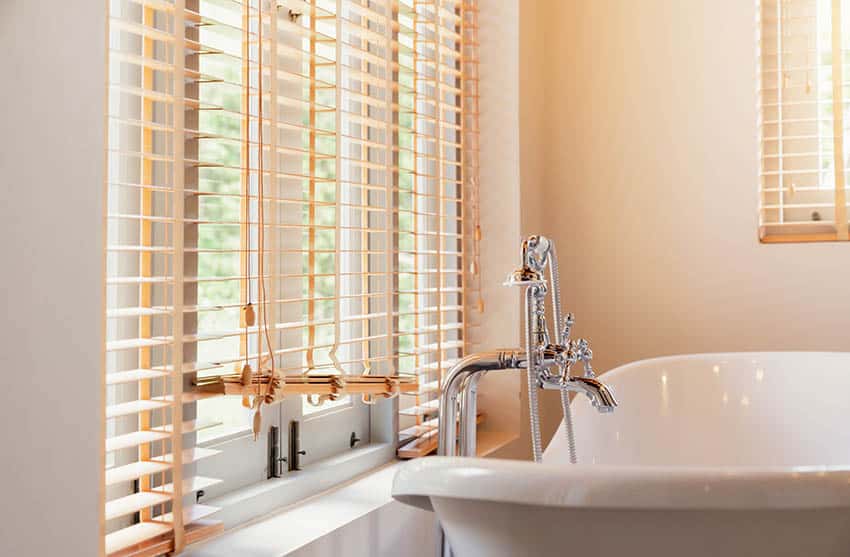 Window treatments are one-time investment and adds value to your home interior. The cost of window treatments depends on various factors including material, fabric, and design style.
Usually, blinds last for 4 to 5 years and have a lower price tag compared to shutters but with proper care and maintenance, shutters can last 25 years or more. Shutters are considered to be more energy-efficient than blinds and a more sustainable window solution.
Blinds are about $80 each and takes about 30 minutes to install for each window; the average installation for blinds costs $700 for a typical home. Shutters costs on the average 4 times the cost of a blind and takes longer to install.
Cost of Plantation Shutters
Average price of Plantation Shutters ranges from $20 to $45 per square foot including installation.
Real hardwood panel costs $55 to $420 each while Faux wood costs $45 to $300 per piece.
Plantation shutters which are made from vinyl costs $100 to $300 per piece and PVC Shutters costs $100 to $300 per panel.
Shutters or Blinds Which is Better
After taking into consideration the factors mentioned earlier in this article, but still have not made up your mind on which is better – shutters or blinds; maybe the following tips can help you choose.
Carefully consider the type of window you need to dress – for very large windows, the most practical choice is using blinds since they cost less and will not get in the way of the window opening.
On the other hand, shutters are the best window treatment for arched, round or unusually shaped windows since the shutters can enhance the architectural beauty of these type of windows. Read about different types of windows here.
Another factor to consider is the room itself – if your window overlooks onto a busy street or looks out over by neighbors, the best solution for the much need privacy and light control is by using elegant louvered shutters.
For bathroom or kitchen, it is essential to use moisture-resistant window covering, and so waterproof blinds will be a good choice. Bedrooms where blackout types of window treatments are important, blinds will usually be the best pick, but shutter blinds will do the best job as well.
For durability, shutters really have longevity over blinds since they are made from wood or vinyl; and shutters are more sturdy and long lasting. Blinds which are made of high-quality materials can also be hard-wearing.
At the end of the day, we suggest that you choose and spend as much as you can afford for a high quality item and it will always comes down to your style preference – there is no right or wrong decision.
As Tom Peters once said, "If a window of opportunity appears, don't pull down the shade" in this case, the shutters, or blinds.
We'd like to hear whether you prefer shutters vs blinds. Let us know in the comments section. For more related information visit our guide to blinds vs curtains.