Welcome to our guide to pot filler faucet types and pros and cons.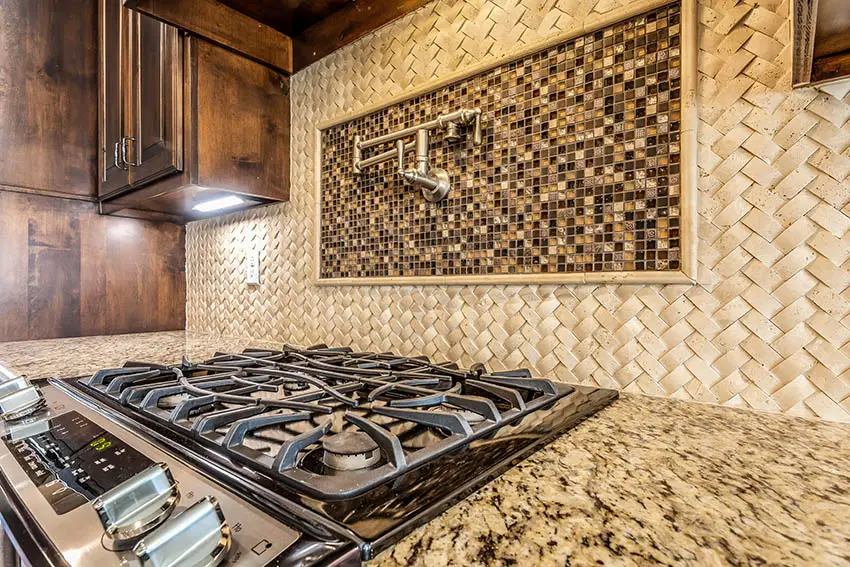 As the kitchen is the most demanding area in a home, it deserves constant care and improvement to make most of the busy space. A helpful upgrade you can add to your kitchen is the pot filler faucet.
What Is a Pot Filler Faucet?
Also termed as kettle faucet or pasta arm, the pot filler faucet does that, fill in your pots or any other container with running water.
However, unlike your sink faucets, the pot filler faucet has an articulated arm that you can swing out over your burners and fill your pots with water. You can also extend the arm to reach pots on the counter just beside your range area.
Pot filler faucets, on average, are twice higher in pressure and flow rate, leading to less time and effort spent filling.
Overall, the pot filler saves you from the hassle of traveling and the heavy lifting when prepping up for your cooking.
Types of Kettle Faucets
Deck Mount Type
This pot filler is installed on the countertop near your cooktop area with high clearance from the countertop surface to the nozzle so it can accommodate large-sized pots. The advantage of the deck-mounted type is that you can fill a pot that is either placed on your cooktop or your countertop.
A deck-mounted version is a good option if you want to add a pot filler to a newly renovated kitchen without knocking off some parts of your backsplash.
Instead, you just need to drill a single faucet hole on your countertop, just like installing a traditional faucet.
The deck-mounted pot filler faucet taps from your cold-water line, which will run through your base cabinets. If you have a shared wall between your countertop and bathroom, you can tap from the cold-water line instead.
Installing a deck mount pot filler is relatively easy, but it can get complicated if you don't have a countertop near your stove area. It may be best to go with another type of pot filler.
Wall Mount Type
This type of pot filler is installed directly on the wall behind your stovetop. The pot filler has a swinging nozzle, high enough to accommodate in filling up your large pots, and when not in use, can easily fold and flush against the wall.
This type of pot filler is a popular choice because it looks great against a backsplash, especially if you get an attractive finish.
The advantage of installing the pot filler faucet on your wall is the saved space on your countertop, making it the ideal option for insufficient space, or your countertop is too far.
If you have a shared wall between your bathroom and your cooktop area, you might as well choose to install a wall mount version as you can easily tap on the cold-water line from your bathroom.
Single Joint Type
If you have a two-burner cooktop, you might consider a single joint pot filler faucet as the arm length is enough to reach your stove.
Double Jointed Type
This is a more popular type of pot filler faucet as you get a longer reach, on average 22- 24 inches in full length. The two-fold pot filler works well with larger burner cooktops, and some models can reach out to counters near your cooktop area.
Articulating Type
Most stove faucet pot fillers have an articulated arm, capable of a 360-degree swivel spout that can extend in all directions. This makes your pot filler faucet versatile.
Far Reaching Type
A far reaching pot filler faucet provides extra length to help avoid any struggle while filling pots on the countertop. This can be especially useful for those with back problems or for those who wish to avoid moving heavy pots around the kitchen.
Popular Materials for Pasta Arm Faucets

Here are the most popular types of materials used for pot filler faucets and some of their advantages and disadvantages.
Stainless Steel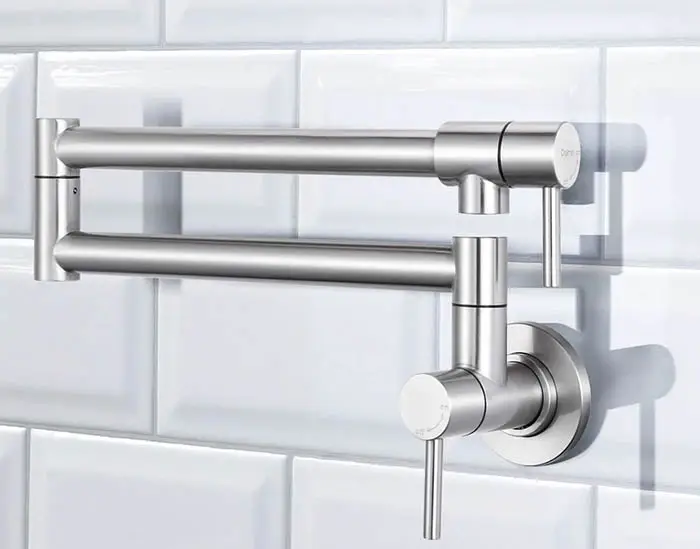 It comes with a hefty price but worth it if you want a seamless finish that won't easily rust and damage your backsplash or counter areas. The material is more resistant to types of acids compared to other metals.
Silver is the classic base color of stainless steel, but you can find other models that infuse some components with a ceramic material to get that hint of colors.
There are uniform-colored stainless-steel faucets but are harder to find in the market. By altering the temperatures in the oxidizing process, you get gold, blue, bronze, purple and green.
Brass
A combination of copper and zinc, the non-corrosive material is superior when it comes to rust resistance because of the absence of iron which makes metals rust fast.
The copper material itself has natural antibacterial properties. Since brass is a material that's easy to work with, you can get more intricate designs with the brass material.
Brass has a similar tinge of yellow like gold, but depending on the amount of zinc added you get varying red to yellow hues.
Matte Black
When you want a dramatic color to match your already existing black hardware and faucets, the pot filler faucet in matte black is a great option.
The high contrast of black against your colored backsplash will look gorgeous plus black can go along with any color. The no sheen finish is timeless, sophisticated, modern, and gives that boutique-style look to any kitchen.
The matte black fittings are typically made from an electroplated finish, making them resistible to rust and corrosion.
Brushed nickel
Durability and resistance to corrosion are the two main concerns for any faucet in your kitchen, and the brushed nickel addresses both.
It's arguably the most durable faucet finish you'll find in the market and highly corrosion-resistant. Though, good regular cleaning is needed to wipe down some water spots and fingerprints. Be sure not to use abrasive cleaners.
Pros and Cons of Faucets with Articulated Arms
You don't need to love pasta for you to have a reason to get the pot filler faucet as the benefits work for any kitchen.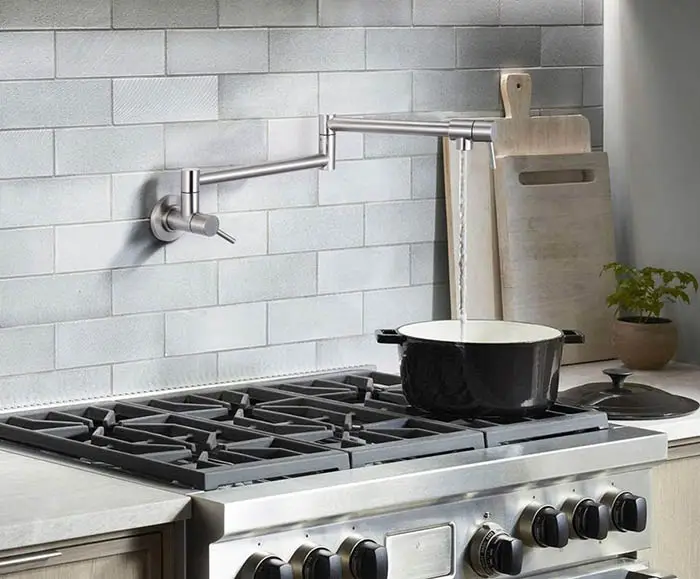 See this stainless steel pot filler faucet at Amazon.
Pros of Kettle Faucet
Reduces Strain on the Arms and Back
Whether you're an occasional home chef or a full-time homemaker having a pot filler faucet reduces if not eliminates the need to lift heavy water-filled pots from your kitchen sink to the stove.
If you do the daily cooking, you'll find the pot filler faucet as an indispensable tool that you'll love to add to your next kitchen renovation.
Prevents Accidents
More than just convenience, these types of kitchen faucets prevent accidents as you don't need to carry heavy pots of water from your sink to your range.
Faster Preparation Time
Aside from cutting the travel time, you'll find that you fill up your pots faster compared to conventional faucets, thanks to the higher pressure and flow rate of pot filler faucets.
The holidays are a great time to put your pot filler to the test. You can fill two pots at the same time by using your pot filler faucet and one on the sink.
Adds a Personalized Touch
As pot filler faucets are not typical for most homes, you'll find them as a kitchen addition that can interest any onlooker or guest. It also adds that impression of a kitchen that is personalized and extra special.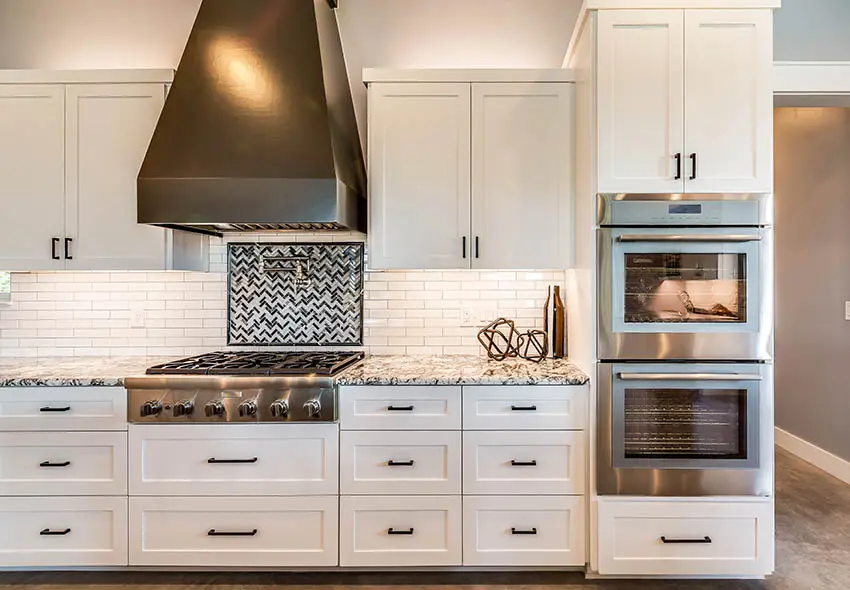 Kettle Type Faucet Cons
Like any kitchen solution, there are certain drawbacks that you should consider before opting for a pot filler faucet.
Additional Expense
This is probably the major reason why homeowners are dissuaded from adding another faucet to their kitchen.
When you choose an articulated pot filler faucet, for instance, buyers discover the valves aren't cheap, and you may need to find a knowledgeable plumber to install your pot filler faucet. For a finished kitchen, you'll need to knock off parts of your backsplash to install the pipes.
Potential Leakage
Water seepage and leaks are the number cause of material damage in any part of your home. For this, it's only natural for homeowners to get concerned about having a faucet just above your cooktop that has no sink or basin to catch any of the possible leaks.
The good thing is that you have an option to get a dual shut-off valve system. You can also add another shut-off valve in the waterline, in case you need repairs
Added Maintenance
The upkeep of a quality-made pot filler may be relatively low and not match a maintenance issue, but still, is an added plumbing fixture on your kitchen to upkeep.
Long Arm Faucet Takeaway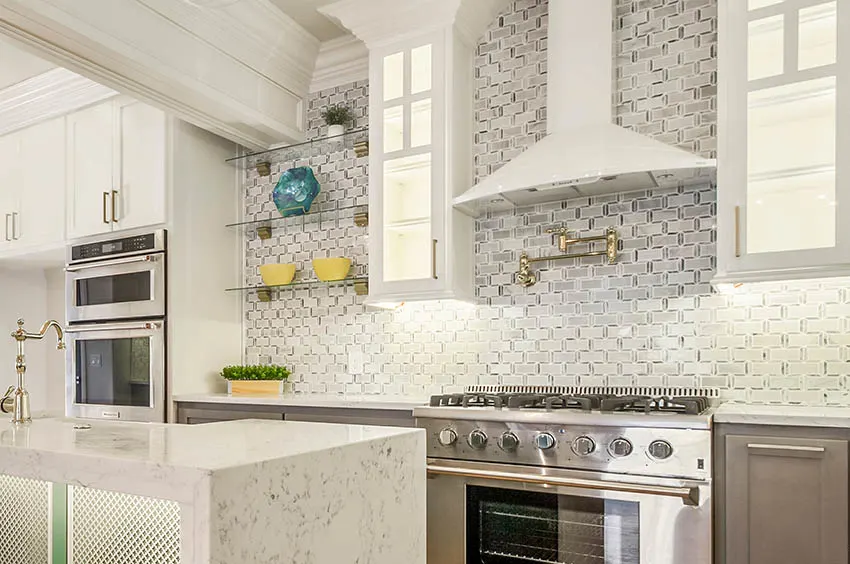 Pot filler faucets are usually dismissed as an added expense and unnecessary fixture for the ordinary kitchen. They are in a lot of commercial kitchens that are an indispensable tool to cut the preparation time significantly, especially for food establishments.
When it comes to the ordinary kitchen, do you need a pot filler faucet? The answer is it depends. If you're barely at home, your sink faucet is just enough for now. But someone serious about their culinary skills and love cooking will find the pot filer faucet as an indispensable kitchen tool.
The bottom line is to always do your research before choosing and installing your pot filler faucet, so you can get the best type of pot filler faucet made for the needs and design of your kitchen space.
If you have coins to put / If you have money to burn, then why not add a pot filler faucet that is not only functional but a great accent and conversational piece for the heart of the home.
Giving your kitchen a makeover is one of the highlights of a home renovation. The prospect of having that amazing kitchen interior you've been eyeing at your Instagram feeds for quite some time now, will be finally realized in your own home.
Even after a kitchen renovation, there is always room for improvement. With innovation and advanced manufacturing processes, better and more efficient kitchen solutions are becoming available. The kitchen pot filler is one of those innovations that can become a valuable tool to help with meal preparation.
For more related content see our article on touch vs touchless faucets here.