These industrial kitchen ideas showcase the characteristics of this style, lighting tips, cost-effective industrial designs & materials to use, and planning a small kitchen space.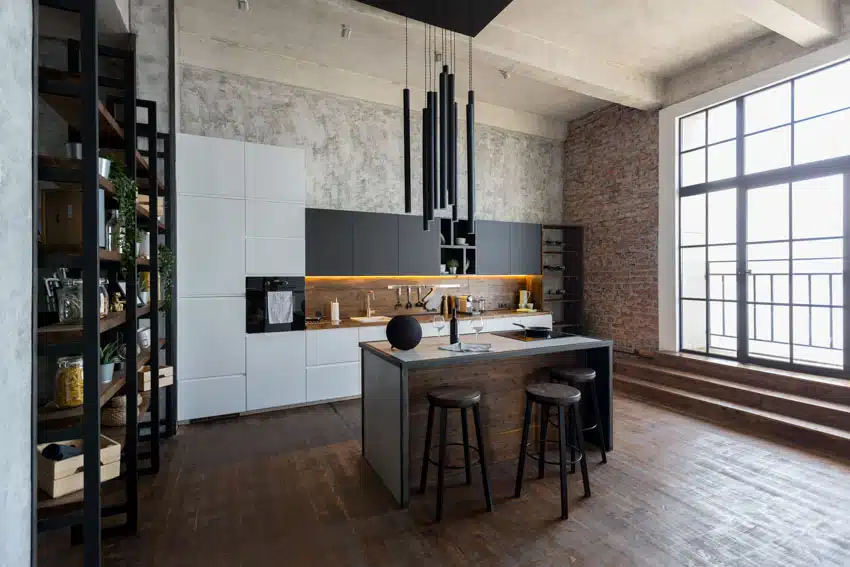 The kitchen is one of the most vital sections of your home, serving as the lifeline that produces energy in the home for the family through food. But for this to work, you actually need to use the kitchen and cook rather than just use it for food storage. And you can do this by changing the look and ambiance of your kitchen into something inspiring and motivating.
One way to elevate the look of your kitchen is by turning it into an industrial masterpiece. But it's not that easy to accomplish, especially if you have no idea about the different components that make up an industrial kitchen.
An industrial kitchen can look very clean and hygienic, as well as functional. This will make you want to use the space in your kitchen and maximize it as much as possible. And yes, you don't need a full industrial kitchen to have a kitchen that features an industrial look. There are actually different ways you can accomplish this look but you just have to know your options and be open to new and fresh industrial kitchen ideas.
What Is Industrial Kitchen Design?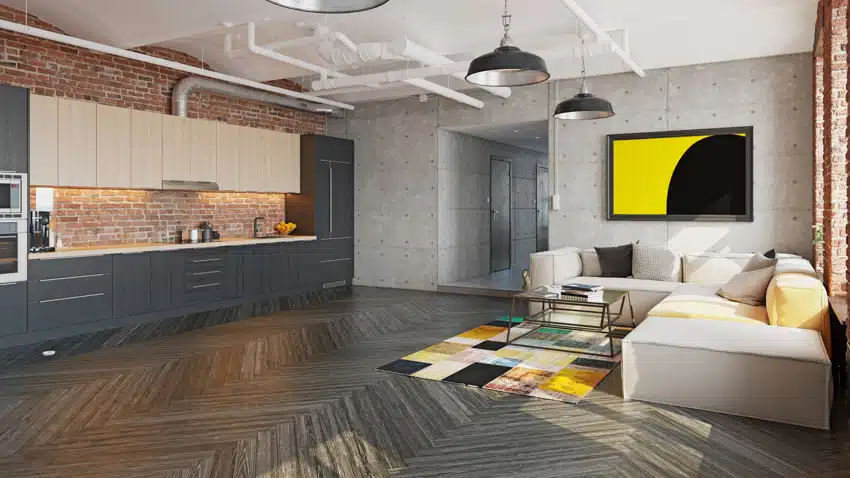 An industrial kitchen design showcases characteristics that will take you back to the industrial revolution when it comes to style. Technically though, an industrial kitchen refers to the one used in many commercial buildings, working heavy-duty food preparation and cooking.
If you want to have an industrial kitchen in your home, you can do so. You can actually design your kitchen to have the same look and feel as one. And when executed properly, you can accomplish this look easily by integrating many characteristics of this design.
Some of the major characteristics of an industrial style may include a dark and moody ambiance that's similar to the vibe of a production warehouse or an old factory. It also includes wide-open layouts and exposed pipes, brick walls, and ductwork, wall-mounted rails, Utilitarian light fixtures, and retro-looking and usually high-quality (expensive) appliances.
The color palette is usually neutral and limited and the materials used are tough since these kitchens are built to last. These characteristics are evident in industrial kitchens and something you can mimic in your own kitchen even if you're not serving something commercially.
Make sure to avoid other elements that you won't find in an industrial kitchen like pristine and clear surfaces, elaborately detailed wainscoting, millwork, and molding, traditional and formal furnishings, and delicate or fussy details.
If you have quite the budget to use for the renovation of your kitchen and want to commit to turning it into an industrial kitchen, here are some guidelines you can follow to achieve this look.
• Open Space: An industrial kitchen should be noticeably spacious, similar to how large and open factories and workshops are. This is usually associated with high ceilings and open space, giving the kitchen an airy look.
• Material Combination and Detailing: Industrial design uses sturdy and durable materials, including concrete and stainless steel. You can look for these materials in furniture to achieve this look, from metallic types of bar stools to floor lamps.
Some industrial kitchen ideas you can use are the following:
1. Concrete: Many factories and warehouses are dominated by concrete, which is why it is an ideal material for industrial kitchens and can work effectively for your walls, flooring, and even countertop surface.
A concrete worktop can be a good option to add since it delivers both practicality and sleek sophistication. Make sure your kitchen and home can handle the extra weight that concrete comes in.
2. Stainless Steel: Another raw material you can see in warehouses and you can choose stainless steel appliances, countertops, shelves, and sinks to add to your kitchen.
A silver or black steel lighting fixture or finishes can look elegant in your kitchen. One of the benefits of using this material is that it's easy to clean and can withstand long wear and tear.
3. Salvaged or Reclaimed Material: This refers to materials that have been found, salvaged, and reclaimed to be used again. Some of the options you can use in your industrial kitchen are plumbing pipes and reclaimed logs. Reclaimed wood can be a striking addition to the industrial decor of your kitchen.
• Rough And Simplified Look: Popular for its raw and natural look, the industrial design features this rough simplicity that can be refreshing to look at. This can be accomplished through naked concrete walls or exposed brick walls.
You can also add exposed beams and pipes to the mix. They deliver this unfinished and edgy look that the industrial style is known for. Aside from exposed metal pipes one can install corrugated metal as a backsplash or other metal elements.

• Limited And Minimal Color Palette: With the use of raw materials comes the use of minimal colors. An industrial-style kitchen cannot be colorful or too bright so that it will be able to mimic the dark and gloomy look of warehouses and factories.
Some of the popular color palettes to consider are shades of gray, saturated color (navy blue, brick red, rust orange), and matte black and white.
Industrial Style Lighting

The lighting of your industrial kitchen is one of the elements you need to focus on, especially since the industrial style is usually associated with a dark and gloomy space. You can even change the lighting of your kitchen (without changing anything else) and transform your kitchen into an industrial one.
If you don't know anything about lighting l, as well as the ideal options you can consider for your planned industrial kitchen, here are some lighting ideas worth exploring.
• Pleated Lampshades: Time in aesthetics, they can be turned into kitchen beige pendants, adding just enough texture to make the space feel cozier.
• Classic Style Lighting: You can go for traditional candle types of chandeliers and with the use of electric brass, you can fuse industrial and modern styles together in a single element. This lighting fixture adds just the right amount of glam without changing the industrial feel to it.
• Mixed Shapes: Industrial-style lighting needs to be less catchy and explosive but it doesn't mean you can't use geometrical shapes to make a statement through your lights. Try to mix large cone and globe pendants to add warmth and charming detail at the same time.
• Silver Orbs: The color silver will always be associated with metal and you can use this to your advantage by hanging silver globe lights in your kitchen like a disco ball. This will be a cool and somehow fun addition to your industrial kitchen.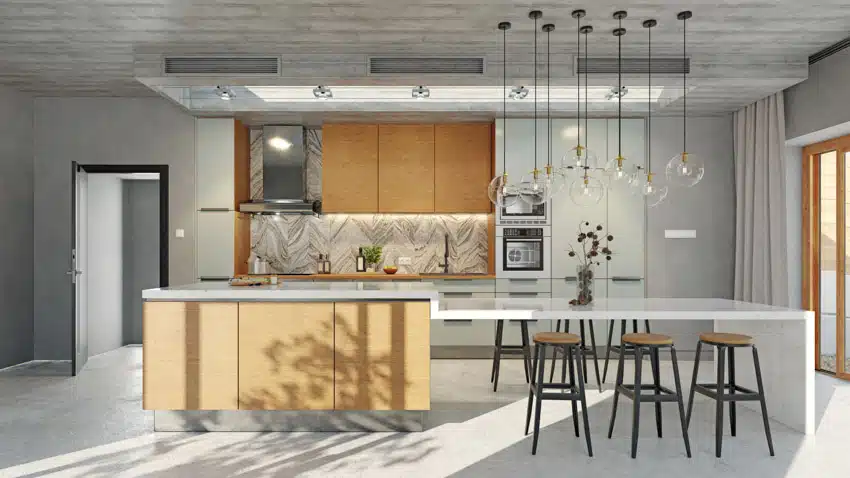 • Small but Long Pendants: Pendants offer a subtle vintage feel that can be transferred to your kitchen space. And long small pendant lighting can be used if you want fixtures that won't overshadow your kitchen islands and countertops.
• Lights In A Box: If you want to adhere to an industrial style but still remain trendy and creative, you can use lights in a box (as long as the box is made of metal).
• Steel Lights: Consider box-shaped steel lights in your kitchen and benefit from their flexibility, both in aesthetics and layout.
• Brushed Brass Pendants: Industrial style is also associated with the rustic style and you can go for brass because of its aged look. Brushed brass pendants will offer your kitchen a neutral but warm touch.
Industrial Ideas On A Budget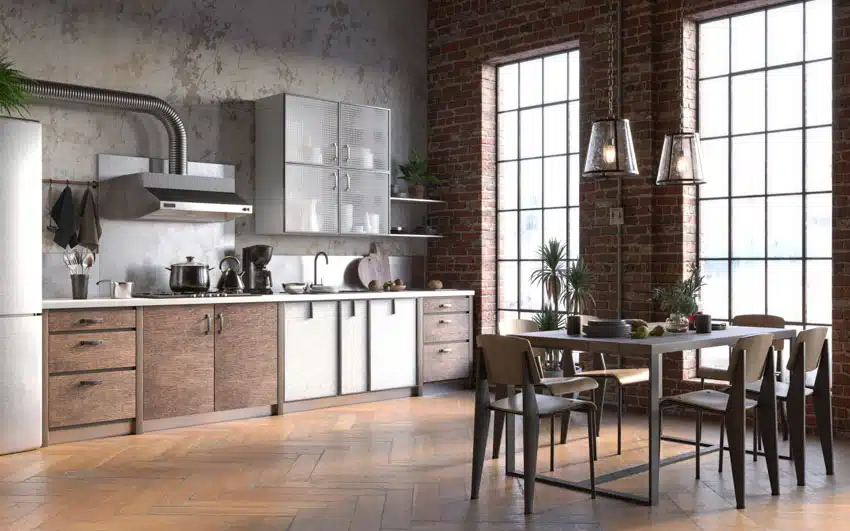 An industrial kitchen prioritizes functionality and features this raw and unfinished look but some elements of this style can be very expensive to have. But you don't need to add expensive and high-quality kitchen appliances just to create the industrial space you're envisioning.
This can be very difficult if you are working under a tight budget. What you can do is stick with the basic features of an industrial kitchen, including the following:
• Sturdy and built to last: Choose affordable materials that are built to last and can easily deal with daily wear and tear, along with scratches and heavy foot traffic. Your countertops and worktops need to be durable enough that you won't have to worry about staining or burning the surfaces while preparing and cooking food.
• Focus on the home's vintage aspects: A budget friendly way to evoke the industrial style in a home is to highlight the elements that may already be there. For instance, if your kitchen has brick walls beneath paneling, you can create a feature wall highlighting this style by removing a portion of the wall.
Exposed bricks brings out the soul and personality of an industrial kitchen. Unfinished, unrefined, and unpainted brickwork highlights industrial kitchens' "naked look" trademark. – interior designer Maria Bott.
In addition to brick, revealing vintage wood can have a similar affect.
Antique or reclaimed wood enhances a sense of personality – creating industrial meets rustic and makes a feature kitchen backsplash. – interior designer Maria Bott.
• Easy to clean: Industrial kitchens are highly practical and functional, and this needs to carry over to their cleaning and maintenance requirements. Choosing durable materials will help an industrial kitchen be able to handle dirt and food prep and allow the surfaces to be easy to clean.
• Enough room to move: The industrial style requires wide and open space, as well as high ceilings, which can be very costly and impossible for people working on a budget. If you don't have all the space you can focus on bringing in some of the finishes and decor to create the look.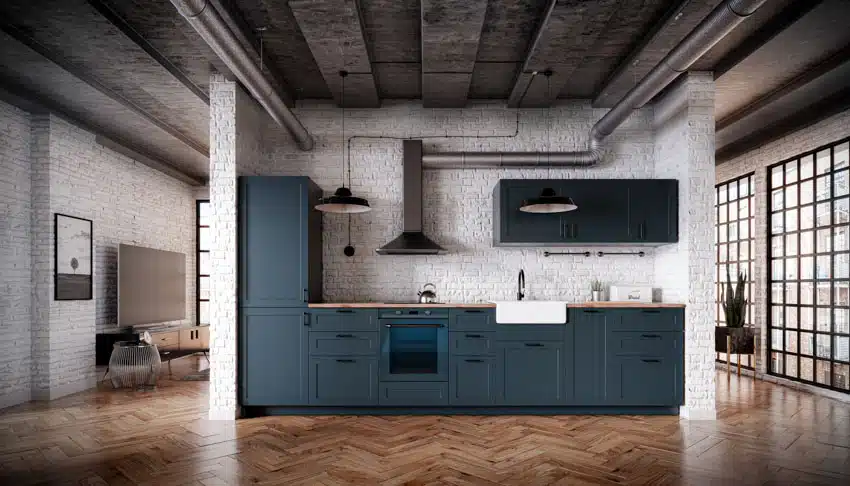 With these basic considerations in mind, you can elevate the look of your kitchen into an industrial style even when working with a budget. You just need to know which elements you can add and which ones you can leave without.
Here are some ideas you can apply for your industrial kitchen on a budget:
• Countertops: Create an appearance of concrete kitchen countertops by using epoxy grout to lessen the cost. Once the epoxy is dried and sanded, it will have this concrete-like appearance you will want your industrial kitchen to have.
• Wall Paint: Keep your wall bare and unpainted to maintain that raw and unfinished look for your walls, especially if you have concrete walls. If you want to paint on your walls though, settle with neutral colors like grey to keep it within the theme.
• Cabinet Hardware: If you're dressing up your wooden cabinets, settle for chrome or brass hardware to deliver this rustic look and vibe. These materials can also be added to your bar stools and chairs for details.
• Black and White Photos: If you're thinking of affordable decor you can add to your kitchen, these photos can be considered. You don't need a complicated metal masterpiece just to get the style across.
Small Kitchen Layout Ideas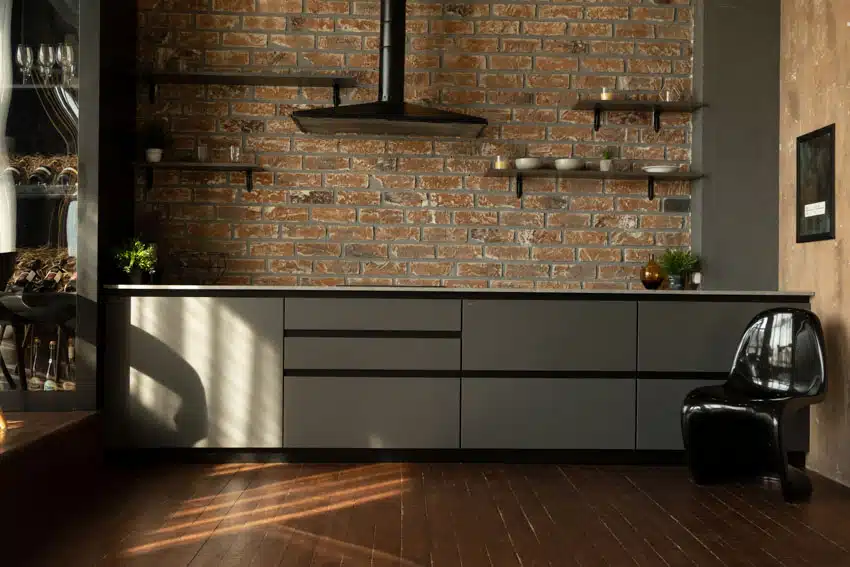 One of the major characteristics of an industrial kitchen is its open space and high ceiling. If you have a small space allotted for a kitchen, this can be quite a dilemma. To compensate for this little fact though, here are some ideas worth looking into.
• Open Shelving: If you're considering a storage option for your industrial kitchen, choose open shelving, giving the illusion of more space and at the same time contributing to the "industrial" look. Make the most of the wall space and at the same time make use of upcycled furniture like a refurbished bookshelf.
• Pendant Lighting: This particular lighting fixture is a classic option for industrial kitchens, giving the space this industrial look and factory-style structure. You can just dedicate pendant lights to the cooking and dining areas for precise task lighting. One of the common options is a black pendant light, delivering a mix of class and versatility.
• Integrated Appliances: Choose integrated wine coolers, hobs, and dishwashers that offer a clean look for your industrial kitchen but make sure to keep them simple or hide them seamlessly behind cupboard doors. This integration can maximize the small space in your kitchen.
• Shades of Black and Grey: Industrial kitchens often feature a darker ambiance in the workspace, offering a simple yet elegant look. Make sure that you use more than 1 color to create layers in the look of your kitchen.
Choosing black and grey can create a layered look with neutral shades without having a monotone scheme. If you're going to use these shades though, make sure you have plenty of natural light or choose bright enough lighting for your workspace.
• Explore Textures: If you're going for the traditional industrial look, this means you're dealing with rough textures and uneven surfaces. But you don't need to limit your options to these two and you can actually use different textures to recreate and mimic a factory-inspired ambiance for your kitchen.
Going with raw and natural materials, the textures will depend on the materials you've chosen. If you choose metallic accessories and stainless steel appliances, you'll be dealing with shiny and smooth textures. You can mix them with a rough and matte texture of your walls and countertops for variation.
See more related content in our article about the single wall kitchen ideas on this page.