Find out all about recycled glass countertops including what it is, the pros and cons, the different types, kitchen designs, its durability, cost, and recycled glass cleaning tips.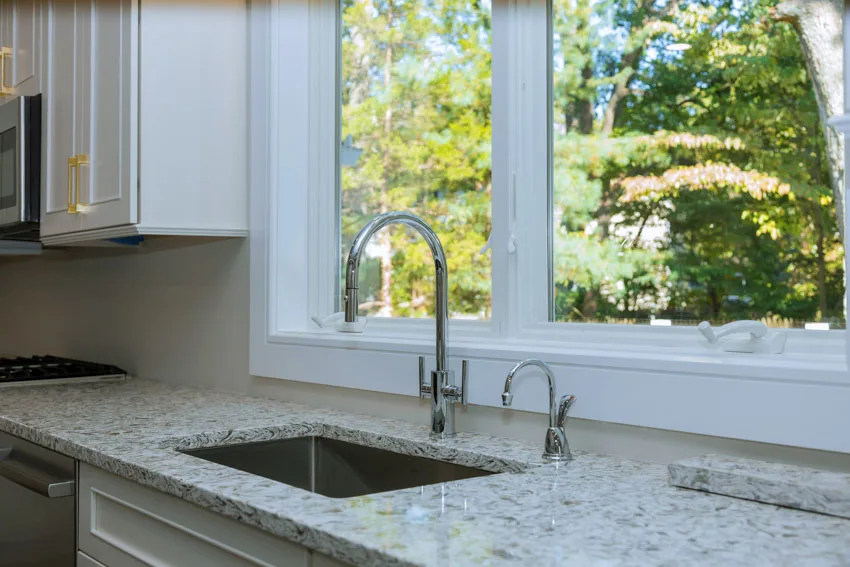 Stone countertops are widely used because they can withstand different kitchen tasks and abuse, but there is another option to consider, which are recycled glass countertops.
These glass surfaces are long-lasting, simple to clean, and obviously, very appealing. Since it is reusable, glass is recognized as an environmentally beneficial material. It is one of the most durable man-made elements.
Finding ways to recycle and repurpose shattered glass is thus a crucial component of a healthy home. Truly, one practical technique to transform broken glass into a useful and visually beautiful kitchen centerpiece is to use them as recycled glass countertops.
With recycled glass countertops, you can be environmentally conscious while also displaying your distinctive personality. With a plethora of colors to pick from, you are sure to discover the perfect shade to add bright, dramatic shades or more subtle colors to your kitchen or bathroom.
What Is a Recycled Glass Countertop?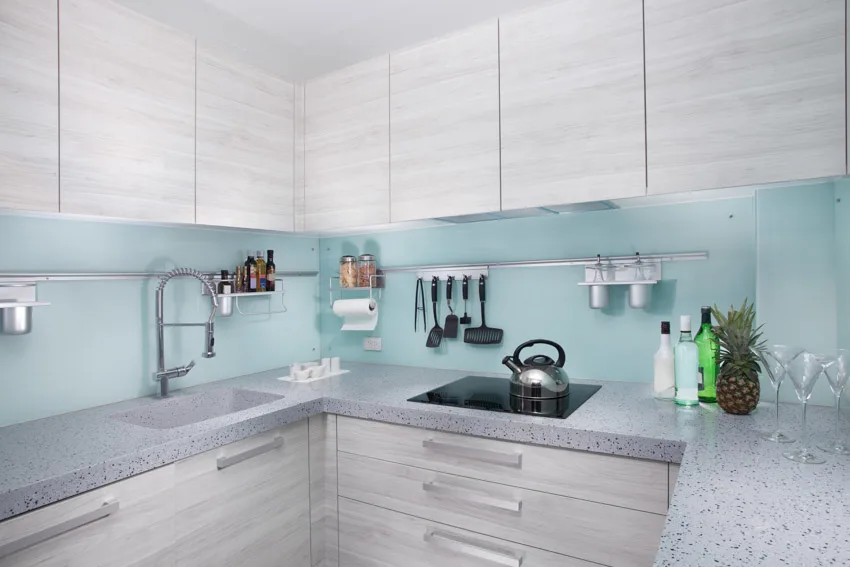 Recycled glass countertops are durable and streamlined countertops manufactured from recycled glass and are designed to be placed in kitchens, dining areas, and even bathrooms. The glass utilized in this creative countertop option can be made from pre- or post-consumer scrap.
Manufacturers of recycled glass generally employ resources from curbside resource recovery and demolished structures. The glass is afterward combined with resin or concrete binders to create a slab that can be used as a countertop.
To provide structural strength, the glass is often enclosed in a cement or petroleum-based binder. In most situations, the end product contains between 70% and 85% of recycled products.
Most recycled glass countertops have a vibrant mosaic of shards lying in the binding substance. There are also uniform recycled glass countertops available on the market. To manufacture these, fabricators melt down glass from different sources and form a slab.
Upcycled Glass Kitchen Surface Pros and Cons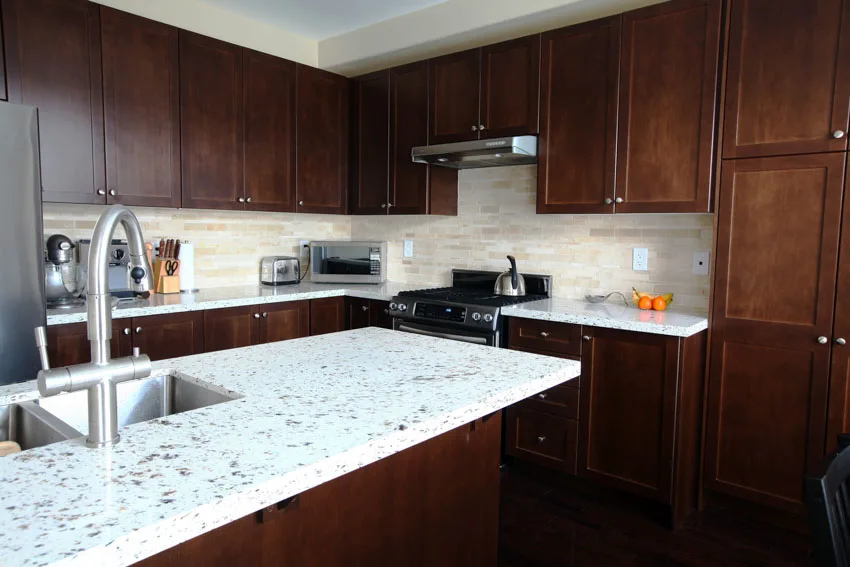 Here we share the advantages and disadvantages of recycled glass countertops
Pros of Repurposed Glass Kitchen Counters

Very Environmentally Friendly:
Using recycled glass within our homes is unquestionably a sustainable activity. Sad to say, in 2017, the United States produced 569 million tons of demolition and construction detritus. 90% of that garbage is generated by the destruction of old-aged buildings.
Every year, glass detritus is estimated to account for 11.4 million metric tons of waste. Glass waste, from old window panes to glass containers, frequently winds up in the garbage and, later, in local dump sites.
Recycled glass countertops, on the other hand, are made from materials that came from both household and economic recycling as well as glass from construction demolition operations that would otherwise wind up in the landfill.
The majority of finished recycled glass countertops include around 70% to 80% recycled material. One of the most significant advantages of these countertops is their ecological sustainability, which makes them the embodiment of the line that states "trash becoming treasure".
Indeed, recycled glass countertops help to keep unwanted glass debris out of dumpsites, where it takes 1 million years to get decomposed. Common types of kitchen countertops are usually 30 square feet in size.
Think about this – we can recycle all of the broken glass into approximately 4 billion square feet of gorgeous kitchen countertops in the United States, which has roughly 138 million housing properties.
If Properly Maintained, Recycled Glass Countertops Can be Extremely Durable and Long-Lasting: When properly produced and maintained, recycled glass countertops can be very durable and will endure for years with proper upkeep.
However, it is critical to start with the best quality you can find. Professional makers must set the glass in a cement or petroleum-based material mix to establish the structural integrity of the glass countertop.
You will, nevertheless, wish to extend their service to your kitchen or bathroom. Therefore, you must properly protect your recycled glass countertops to prevent stains or discoloration from acidic foods like citrus or vinegar.
Heavy cookware and related items, if put dangerously close to the edge, may shatter the countertop. Furthermore, you must ensure that your recycled glass countertops are built of non-toxic materials in order to keep your food safe to eat.
Unique Countertop Option: Marble, quartz, granite, and ceramic all seem to be the most common kitchen and bathroom countertop materials for a reason. Nevertheless, if you want a genuinely one-of-a-kind countertop that will spark curiosity, recycled glass could be a great option that has the capability of competing with natural stone's certain qualities.
Shattered glass fragments are combined with a resin-based binder to create recycled glass. Such countertops are available in a multitude of vibrant hues, which will bring a modern and colorful accent to your kitchen or bathroom. Due to the way they are made, every recycled glass countertop would be unique, which means nobody else will enjoy the same countertop design as you.
Recycled glass countertops, in fact, give a distinct appearance that traditional materials cannot match. This distinguishing appearance can offer your kitchen a modern touch, particularly when glass complements certain materials such as stainless steel.
Recycled Glass Countertops are Non-Porous: The porous nature of natural stone countertops makes them particularly susceptible to discoloration, which is one of the most frequent issues about them. Luckily, this will not be a problem for recycled glass. It will not age or stain.
Uncomplicated Maintenance: Recycled glass countertops are simple to clean with soap and water, although those with cement-based binders should be coated consistently to safeguard the concrete binder from acidic liquids such as citrus liquids and vinegar, which might damage the surface.
Since cement-based countertops are porous, they will discolor if not sealed. Hence, they need sealing. On the other hand, resin-based countertops are non-porous and do not necessitate regular sealing, making them easier to keep clean and maintain.
Cons of Reused Glass Material Kitchen Surfaces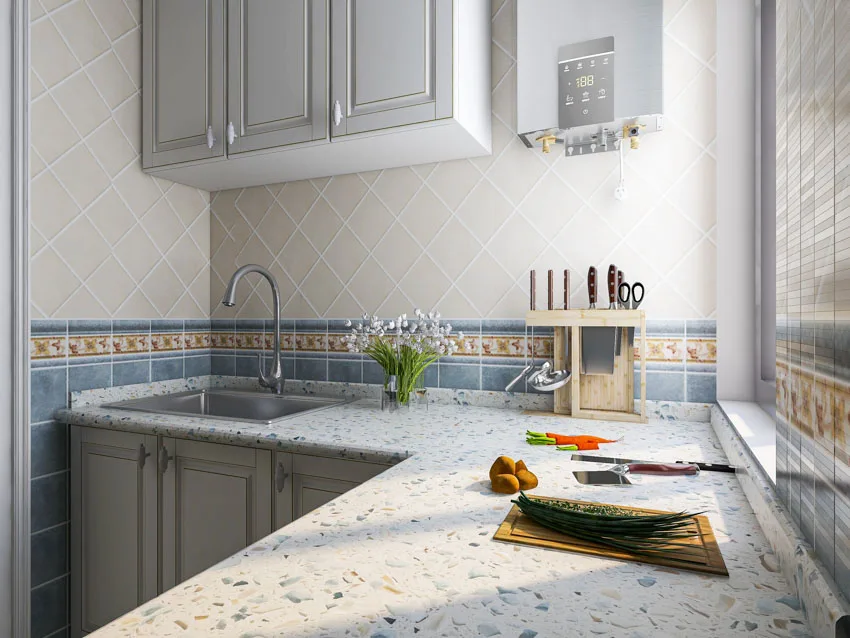 Repairing Recycled Glass Countertops Can Be Difficult: Since each recycled glass countertop is different, repairing a shattered recycled glass countertop would be challenging.
It can be difficult to coordinate the old countertop to a replacement piece, particularly if yours is a customized combination of colors. Whenever a recycled glass countertop cracks, it leaves a sharp edge, which can be harmful if not handled carefully.
High-quality glass countertop cracks are not frequent, but they do occur at times. Since every recycled glass countertop is unique, it might be a smart idea to get a backup panel in case a piece falls off. You will be capable of repairing it instead of needing to completely replace the countertop.
Installation Needs Professional Assistance: A recycled glass counter must be installed by a specialist because of the possibility of fractures or chips. This raises the total cost of this countertop.
Experienced installers are equipped with the necessary materials and will understand how to manage seams. Breakage during transportation must also be avoided since the damage is irreversible.
Can be Expensive: Unfortunately, recycled glass countertops can be pricey, although they are usually not much more pricey than marble or granite countertops. Excluding the installation, the cost per square foot averages $80.
Moreover, contingent on the architectural complexity and labor needed, you might need to add another $30 to $80 per square foot for recycled glass countertop installation expenses.
Crushed Salvaged Glass Bar Tops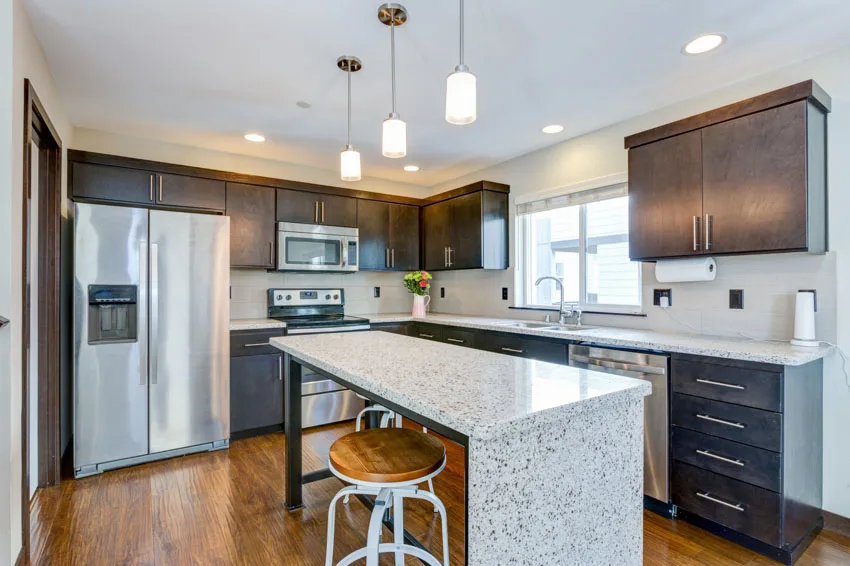 Crushed glass countertops are a relatively recent countertop concept, yet they are rapidly proving to be a popular alternative. They are ecologically friendly and feature a spectacular element in their beauty, which are two of the reasons they are becoming more prominent among homeowners every year.
Moreover, crushed recycled glass countertops are often created by embedding crushed glass into a concrete or acrylic substrate. The result is a textured mosaic of a matrix with glass that adds a unique appearance to the surface.
Crushed glass countertops are mostly created from post-consumer glass. This implies that there will be an application for vast amounts of glass that make their way into recycling operations and are not necessarily appropriately disposed of.
Crushed glass is also a very durable countertop material. As with most stones, you may cut directly on it without the risk of scratching it, and it is extremely impact-resistant.
Sea Glass Island Counters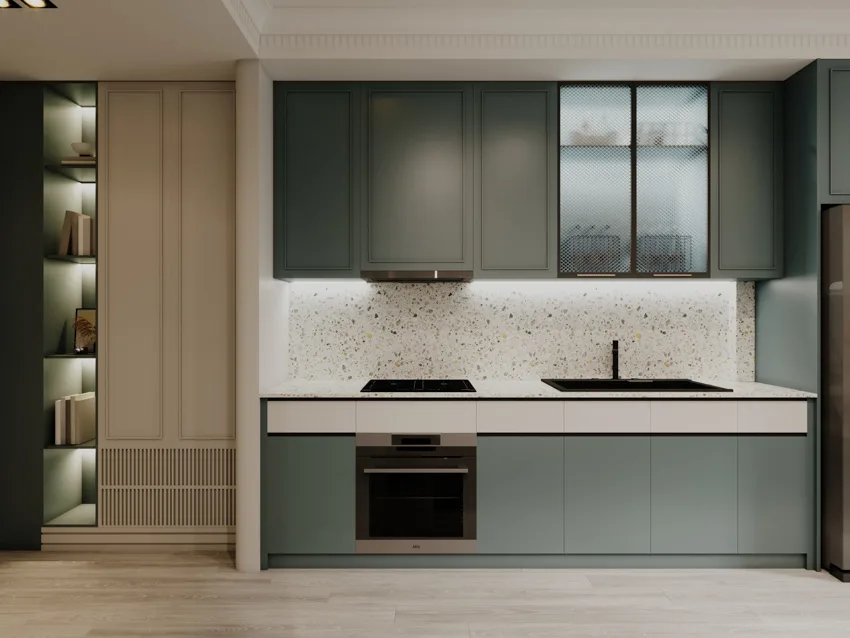 Sea glass recycled glass countertops are often composed of 100% recycled glass and come in a variety of lovely colors. Each hue has the option of being polished, honed, or patinated. They are frequently acid-resistant and extremely durable, requiring minimal upkeep, making them excellent for countertops.
Fragments of sea glass appear to come up softly from the concrete surface, with the feel of weathered sea glass yet the luminous appearance of a pearl, resembling bubbles emerging to the surface of sand underneath the waves. A recycled glass backsplash combined with matching countertops can blend well and make a great impression.

The capability of sea glass to be illuminated, which will artistically redefine it, is the most appealing feature to consumers. Its pure and simplistic appearance makes it ideal for a minimalist and modern setting, and its application is only restricted by your imagination. Sea glass, like any other stone slab, can be custom-cut for countertop applications.
Terrazzo Glass Island Tops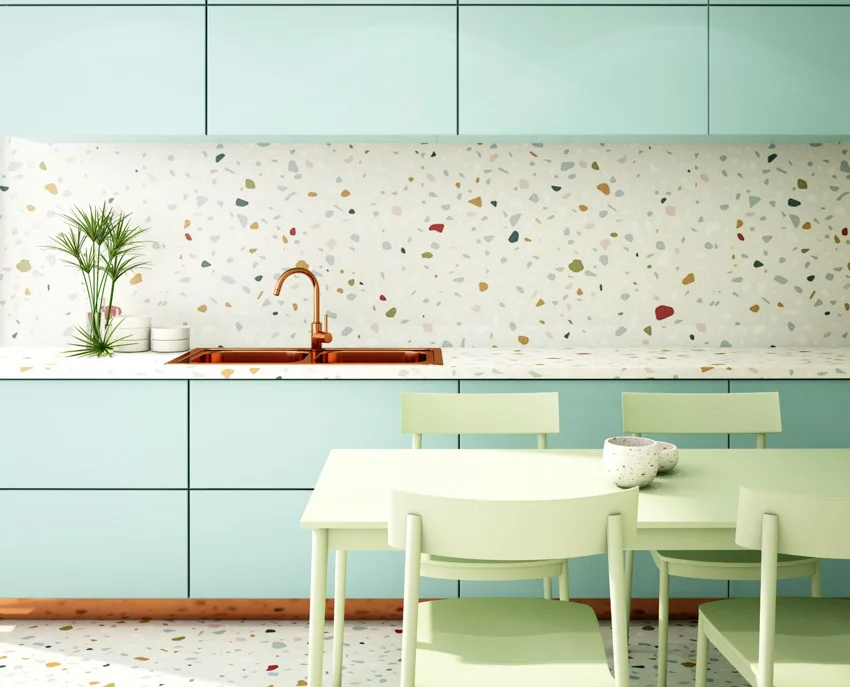 Terrazzo countertops are often made out of glass chips. They are among the most widely used types of recycled glass surfaces. To form a substantial surface, recycled glass is combined with a binding material.
Such binding materials are usually resin or cement. The glass-to-binder proportion differs from manufacturer to manufacturer, but practically every terrazzo recycled glass countertop is constructed of at least three-quarters of glass chips.
Crushed glass is also used in terrazzo style as a byproduct or post-industrial debris from production and building deconstruction as well as post-consumer trash such as liquor bottles.
Terrazzo glass's one-of-a-kind look may transmogrify an ecologically friendly countertop into a gorgeous work of art while also increasing the longevity of the countertop installation.
Manufacturers of terrazzo glass countertops have never used such bright colors before. With over 30 colors and styles frequently available, the possibilities are truly endless.
DIY Recrafted Glass Culinary Counter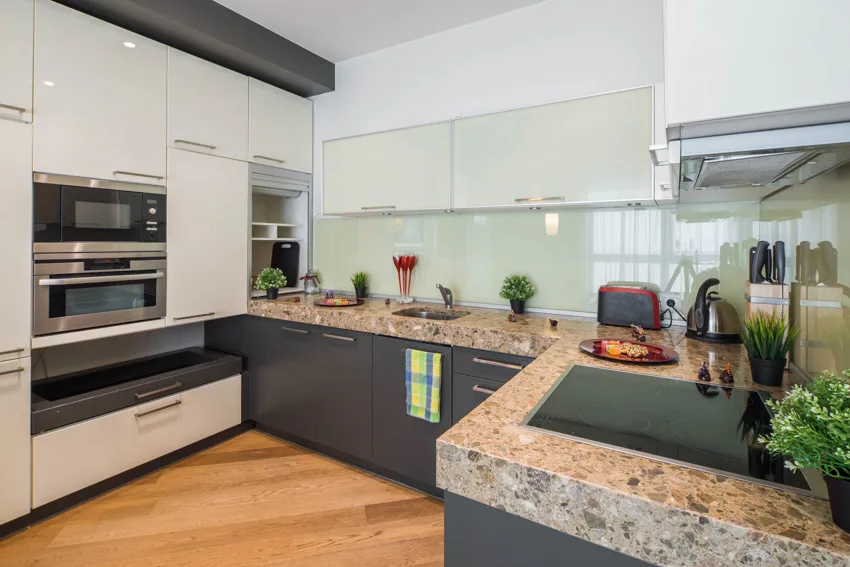 DIY recycled glass countertops are often made from crushed recycled glass, steel, mirror pieces, stone, aluminum, and other elements. It may also include a transparent two-part epoxy solution, a mixing container, a foam roller, and a substrate material such as plywood or a mirror.
Basically, all you need to do is spread a thin coating of the two-part epoxy on your preferred substrate. Distribute a medium aggregate broken glass coating over the epoxy surface and wipe off excess material.
Distribute smaller aggregate shattered glass over the panel and wipe off the excess once again. Allow the epoxy countertop to harden before shaking off any unnecessary components. If you are using a glass-made substrate, you can illuminate the panels from either the front or the back.
Cement Countertops with Reclaimed Glass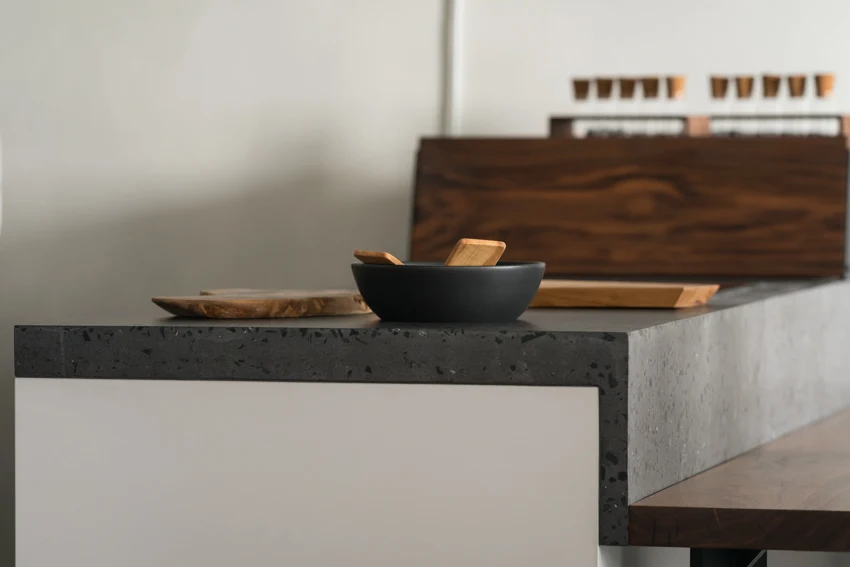 Recycled glass embeds are another approach to improving the appearance of cement countertops. The only limit to how you can employ glass chips in ornamental concrete is your creativity. For individuals who are ready for the task, how the glass is utilized, the quantity of glass used, the chip size, and the color combinations selected can give a distinct result.
Recycled glass chips can be enclosed and incorporated into cement. They can also be added to cement countertops by seeding the surfaces or blending the glass pieces in with the cement.
Seeding glass is the process of scattering or sprinkling glass onto the surface of cement after it has been positioned in the countertop mold. The benefits of seeding glass include using less glass and it gives you more command over the distribution of different colors and mixtures.
Are Remanufactured Glass Worktops Durable?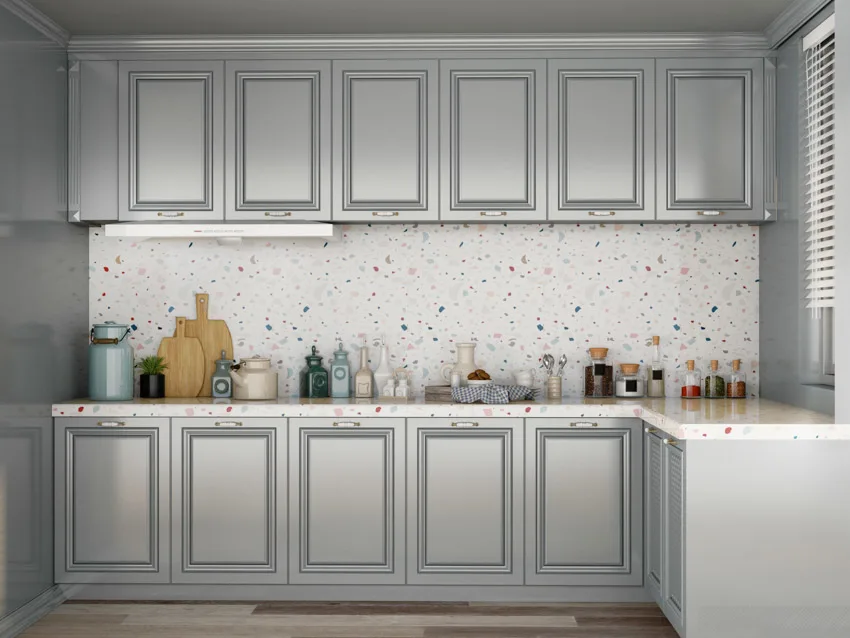 Yes! A recycled glass countertop can indeed be greatly durable if appropriately cared for. Such countertops' non-porous material provides better resistance to stains.
Due to the production process, glass countertops are hardly prone to flaming, incinerating, or melting. That implies you may lay heated cookware on the surface without having to look for a potholder.
The only primary issue with this kind of countertop is the possibility of fractures or chips around the edges. Luckily, this issue is readily controlled by wanting to avoid positioning weighty objects near the countertop's corners.
Recomposed Glass Culinary Top Cost
The cost of recycled glass countertops is slightly on the greater side. The materials alone will cost around $60 to $100 per square foot. Customized colors and designs as well as more difficult installations, might raise the cost even more. Repairing recycled glass countertops is also an expensive endeavor.
Once you severely ruin the surface, you might have to replace it entirely. However, each recycled glass countertop installation is different, thus you should consult with a reputable countertop installation specialist to receive a more precise cost.
Salvaged Glass Island Countertops Cost Vs Quartz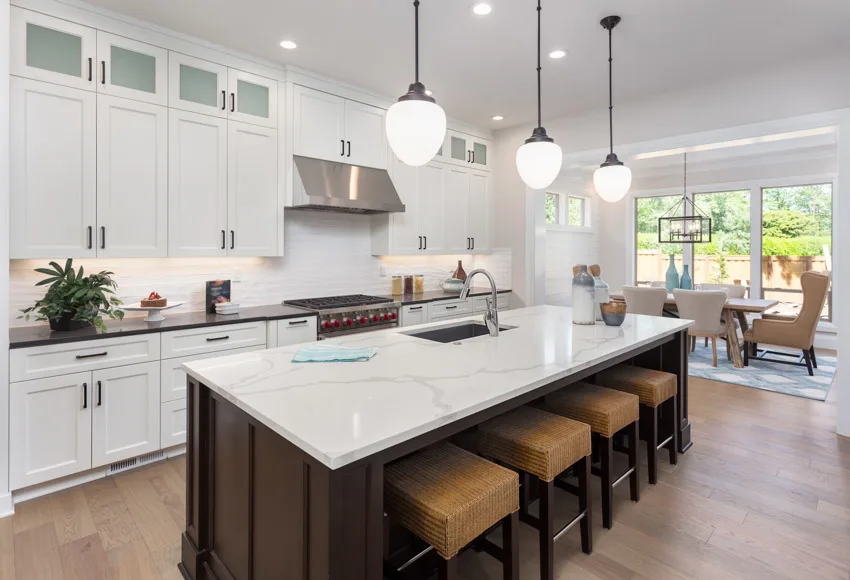 Quartz countertops typically cost $50 to $100 per square foot installed, contingent on the quartz color, design, and brand. As previously said, recycled glass countertops cost $60 to more than $100 per square foot installed, contingent also on the brand and manufacturer. As you can see, the cost of this material is nearly the same as quartz countertops.
Eco-Friendly Glass Vs Quartz Countertops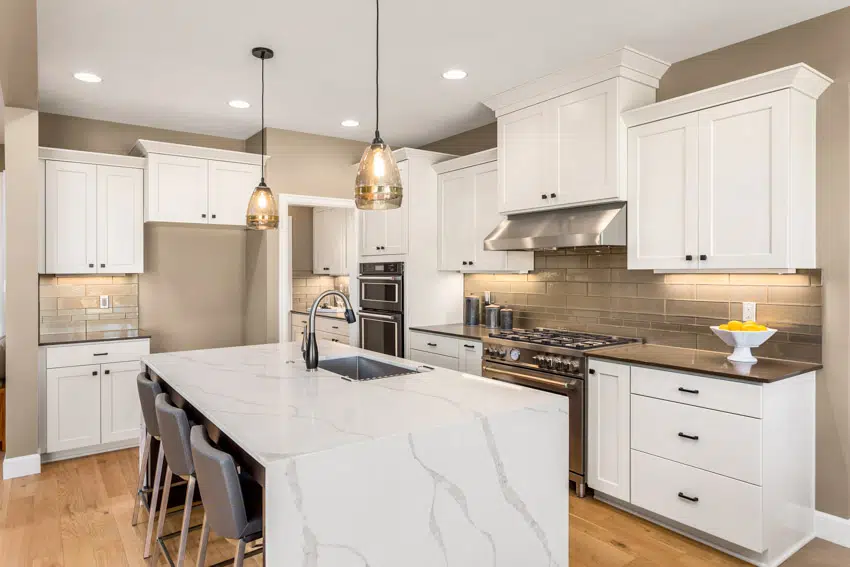 Production: Glass shards, sea glass, ceramics, and other recyclable content are mixed with small aggregates in a variety of binders to create recycled glass countertops. Quartz countertops, on the other hand, are constructed of quartz, a real stone, and resin. The quartz is crushed into small pieces and mixed with resin to create a robust and long-lasting surface.
Durability: This type of countertop can tolerate high temperatures without being destroyed. These non-porous countertops, with appropriate maintenance, can survive for so many years without displaying indications of wear and tear.
Nonetheless, quartz is among the most long-lasting countertop materials on the market nowadays. It is not readily broken. It is indeed heat- and stain-resistant as well as non-porous, making it also an excellent selection for bathroom and kitchen countertops. Recycled glass, however, has a higher chance of getting shattered than quartz.
Maintenance: Recycled glass is incredibly simple to clean. It does not collect stains easily. To maintain a clean surface, you can simply use mild soap and water from time to time.
Nevertheless, to maintain your quartz countertop appearing at its best, you have to clean it more frequently with a light soap and water combination. You have to avoid using harsh chemicals or abrasive cleansers, which can easily harm the surface. A stronger cleaning solution may be required for stubborn stains.
Restored Glass Vs Granite Breakfast Bar Counters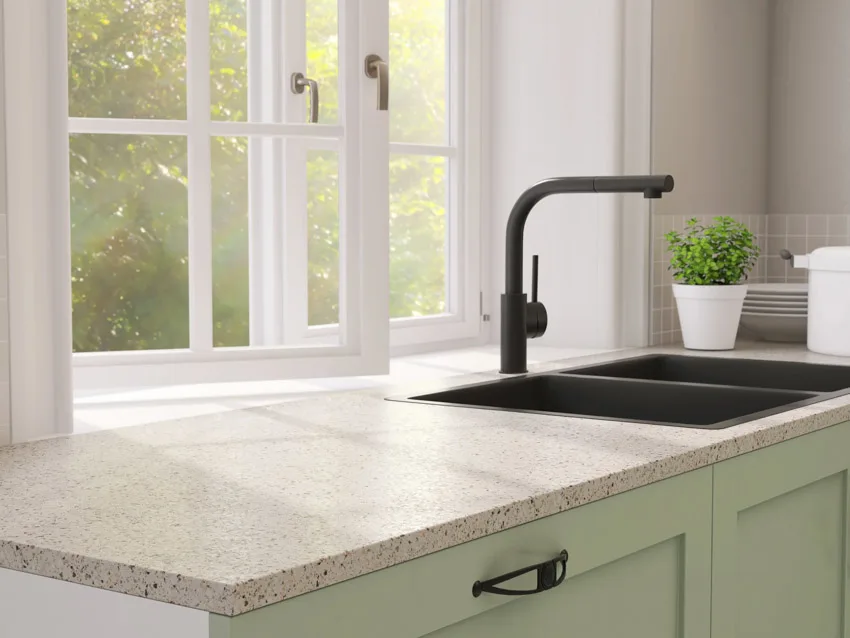 Sustainability: Rather than developing new materials for countertops, recycled glass manufacturers explore current sources for glass that might otherwise end up in landfill sites.
However, not all granite is mined domestically. When they are purchased from overseas locations, the energy needed to transport them back to the United States for purchase and installation rises considerably.
Stain-Resistance: Generally, granite is stain-resistant, although not as much as recycled glass surfaces.
Maintenance: Granite is often regarded as a low-maintenance countertop option. Its sealant should last at least ten years. If a recycled glass countertop is made using a cement-based binder, it needs to be maintained constantly like granite countertops.
How to Clean Recrafted Glass Dining Surface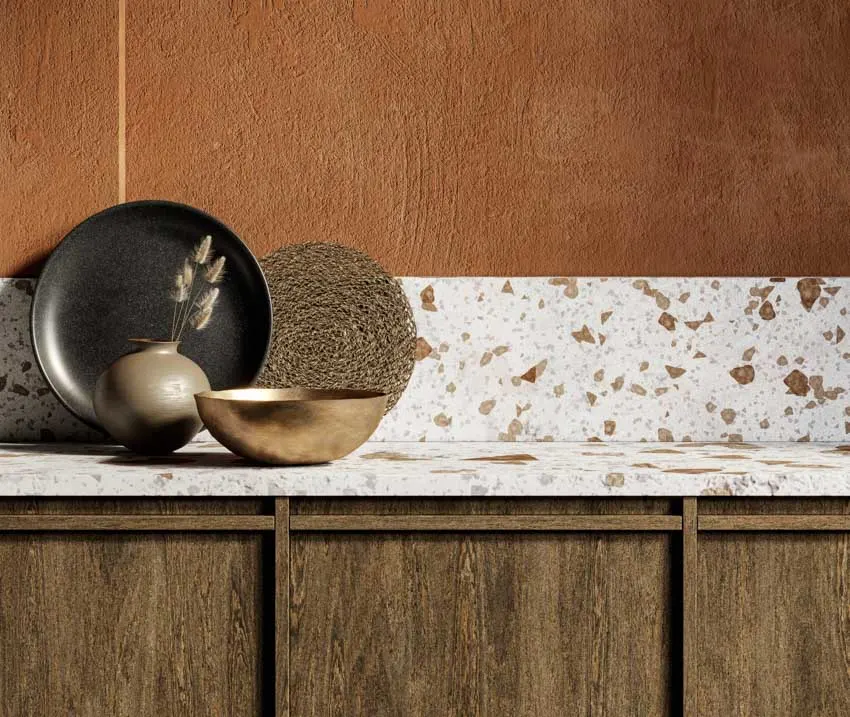 • Use a microfiber cloth to clean instead of paper towels, which produce streaks.
• Use a glass cleaner that may be found at any grocery store or supermarket.
• For a natural glass cleaner, you can use vinegar and distilled water.
• Use soap, water, and a soft cloth to remove spills and stains.
See more related content in our article about nano glass kitchen countertops on this page.