These euro style kitchen cabinets showcase the types of cabinet construction, doors, hinges, hardware, costs, RTA euro style cabinets and comparison to face frame cabinets.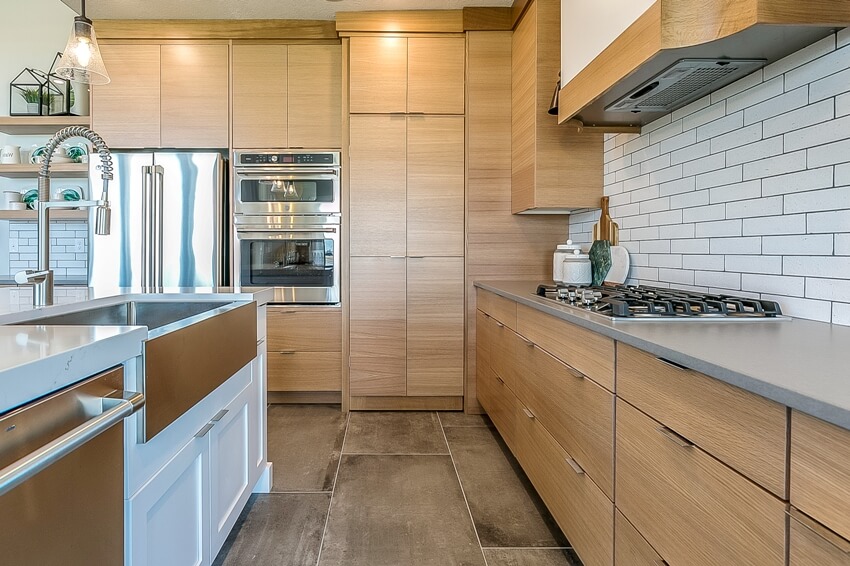 The euro style kitchen cabinets are the perfect update for the heart of the home that delivers homeowners the look and functionality of modern living. Unlike your popular shaker kitchen cabinets, the euro style kitchen cabinet, also known as a "slab cabinet," has a very smooth façade with frameless doors.
In addition, the European cabinet style is considered one of the most durable types of furniture due to its high-quality materials and build quality. If you're looking for an efficient working kitchen, this modern cabinet's space-saving and ergonomic features will make it a worthy investment for your next kitchen build or renovation.
The ultra-modern kitchen style has been in the European market for some time now, and you've probably seen them in showrooms, high-end homes, and décor magazines. However, thanks to the increasing number of local suppliers in the U.S., you'll find the euro style kitchen cabinets more readily available. This all means less lead time and more affordable prices.
What Are Euro Style Kitchen Cabinets?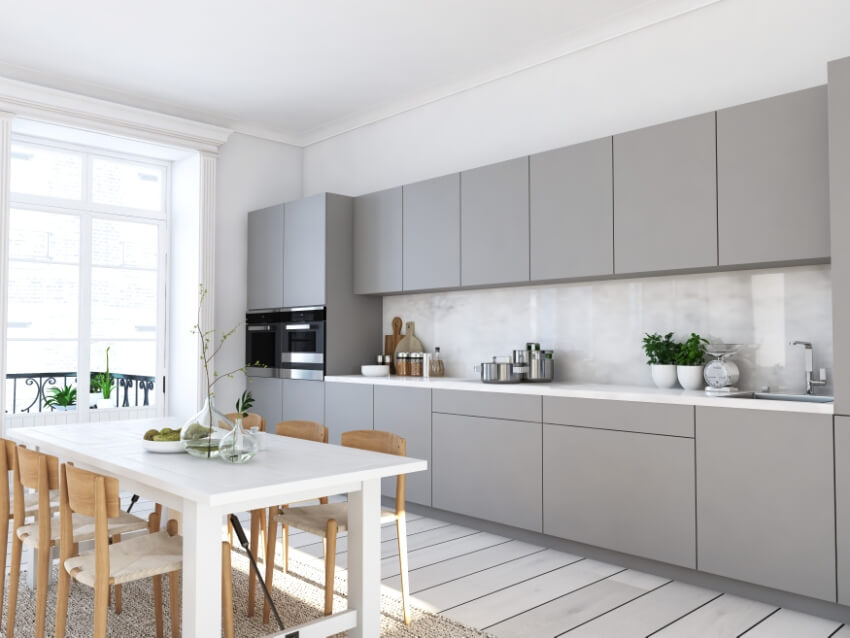 The euro style kitchen cabinets are a collective term that refers to cabinets with no surface face frames with doors and drawers flushed against the cabinet carcass.
There are no moldings, ornate trims, carvings, or raised panels in Euro style kitchen cabinets, and also many designs use concealed hinges to emphasize the flat and smooth surfaces. As a result, even a modest kitchen design can appear more spacious, thanks to flat, seamless, streamlined designs, which are frequently finished in wood or high-gloss.
Aside from the frameless cabinets, you'll notice the use of concealed cabinet hinges with options for wide opening angles, which can extend up to 170 degrees or more. This functionality is possible due to the frameless construction, which allows you to access a wider interior.
European cabinets are also known for their highly reflective finish and excellent quality of materials. However, newer models of the euro style kitchen cabinets have already produced matte finishes and textured finishes while maintaining that sleek build.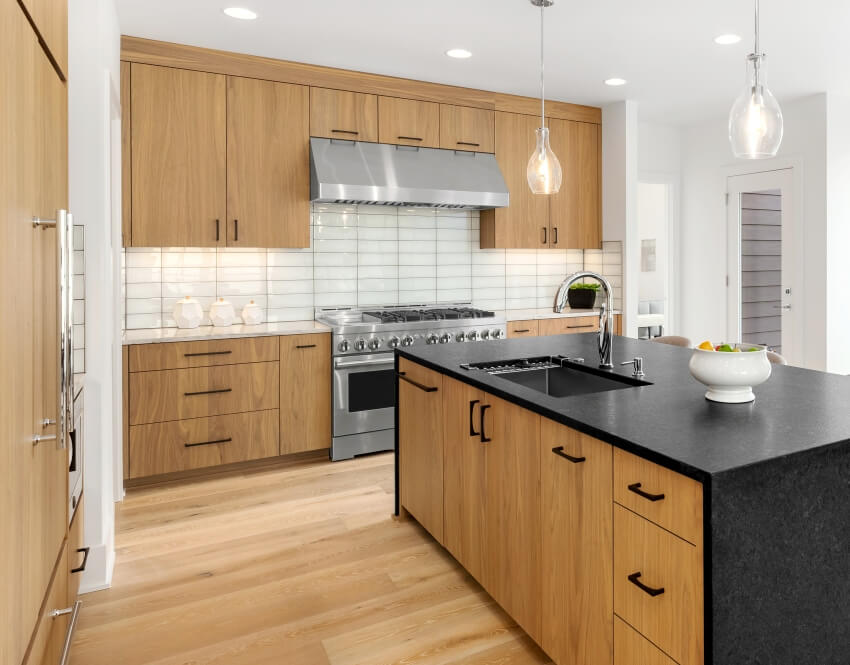 The excellent quality of these ultra-modern cabinets is possible due to the quality of the materials used. The most known finish for euro-stye cabinets is the thermofoil or automotive finish, though you'll also find the newer matte finishes from lacquer-painted cabinets.
Natural finishes are also simulated now with the use of melamine materials. They come in a wide range of colors, with high gloss white and charcoal as the most popular.
The forward-thinking system of European cabinets also made it possible to take advantage of the integration of automated technologies and space-saving solutions.
The Eurostyle cabinet style was first introduced in the market in the early 20th century, where the built-in systems and the efficient kitchen workflow have come to be appreciated.
Euro Style Cabinet Construction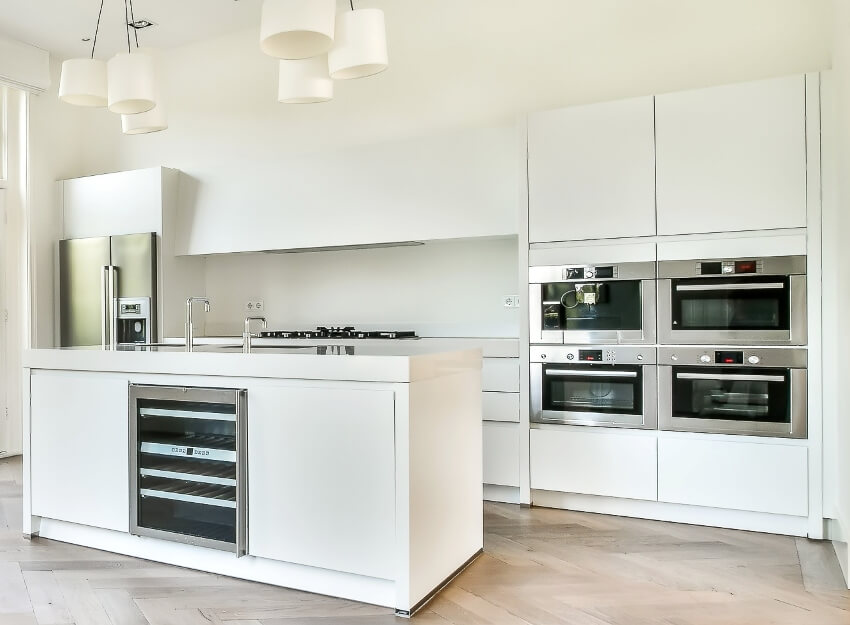 The distinctive feature of euro style cabinet construction is its simple slab door with wider interiors and glass-like gloss. This frameless cabinet is also known as the 32 mm system as the furniture construction system uses a series of 5mm holes which are 32 mm or 1.260 inches apart.
The euro style cabinet is known to be a game-changer in the cabinet industry due to its fast and simple system. The ease in setting up the row of drill holes for machines is one advantage of the 32 mm, and you'll also find the system used for RTA (ready to assemble) cabinets in general. The 32mm system uses European cabinet hardware.
The cabinet construction of euro style cabinets is characterized by the sleek solid slab doors with 1mm or the zero-edge banding used on the edges to give that seamless look. Due to its frameless construction, it gives a wider unobstructed interior for storage.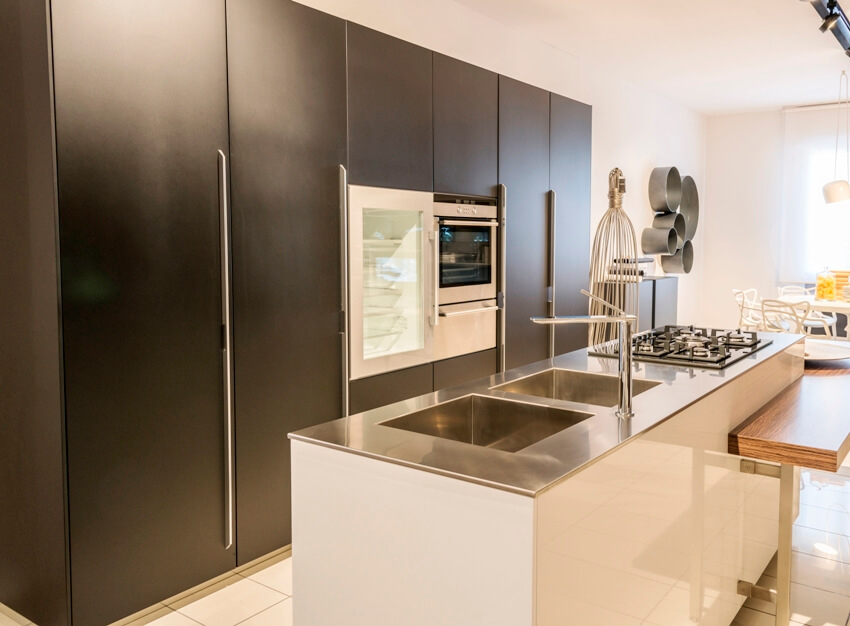 Construction system of Euro style cabinets allows you to have:
• Seamless cabinet frontage and sides make it a versatile piece of furniture for any style or theme.
• Wider interior unobstructed width allows you to maximize storage space. You won't have a center stile in the middle where two cabinet doors meet.
• Wider opening angles such as 110 degrees, 120 degrees, and 170 degrees.
• Integrated kitchen appliances such as integrated cutting boards, concealed pantries, and cooktops.
• Integration of ergonomic space-saving solutions for awkward spaces such as corners and other hard-to-reach areas.
• Larger space for drawers as there is no face frame in front.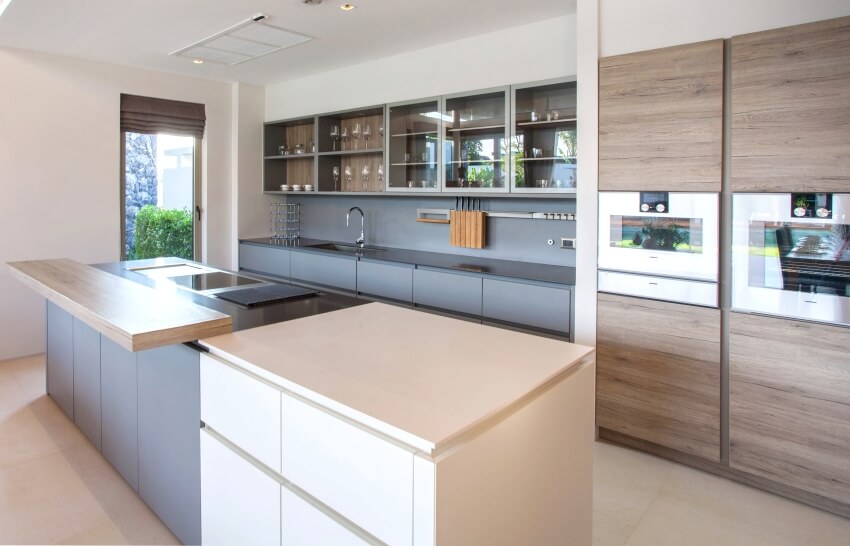 Thermofoil. Known for its extremely hard-wearing surface primarily made from smooth vinyl coating heat infused to create the modern euro style cabinet doors.
Low maintenance and highly moisture resistant make it a practical and time enduring cabinet surface for rooms constantly exposed to moisture and water, such as the kitchen.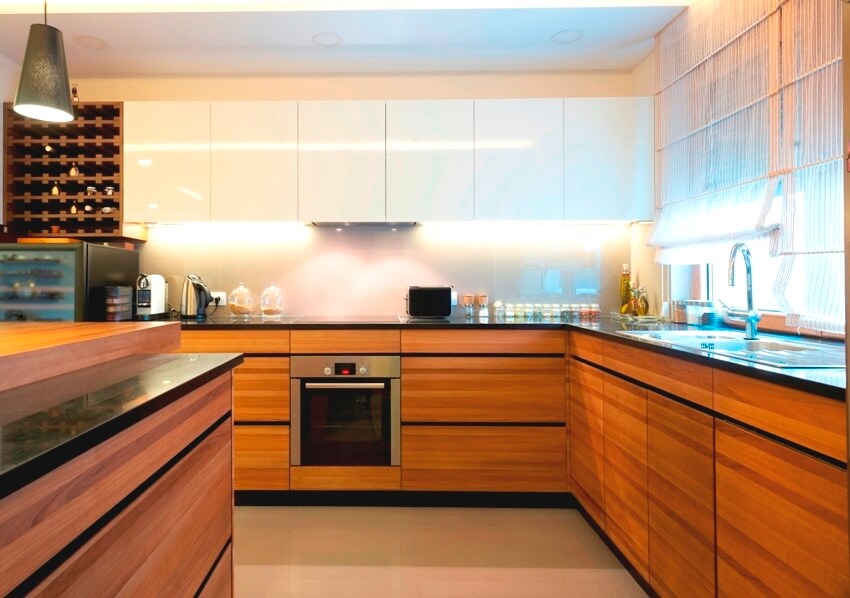 Melamine. As mentioned, the newest European kitchen cabinets have expanded their finish options to more natural aesthetics, and the melamine finish is able to simulate the organic look of natural materials.
Similar to your thermofoil, it is extremely durable, dent-free, and waterproof, which makes it a tough surface suitable for busy areas.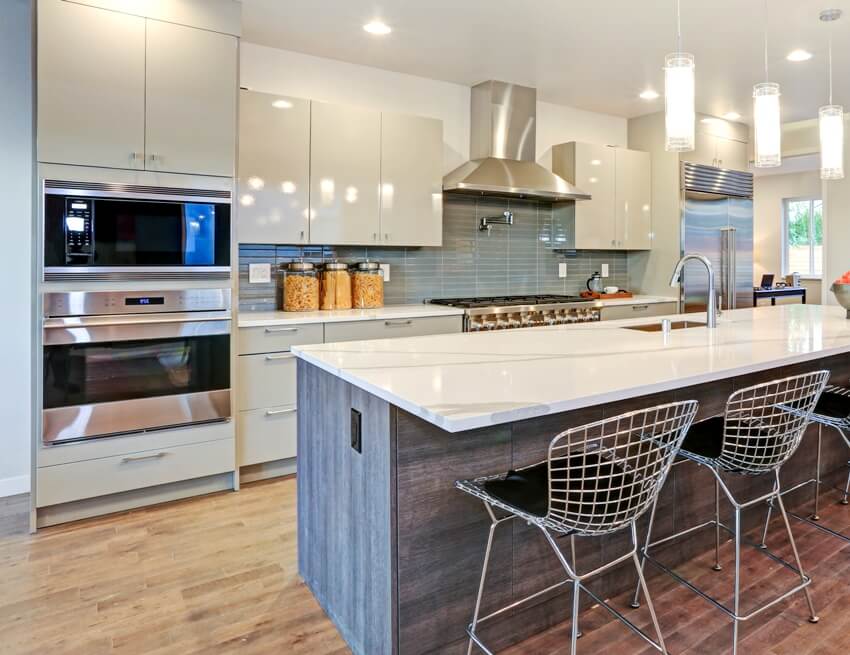 Lacquer paint. Euro style cabinets have also broken off from their known gloss finish and ventured to matte finishes. This is possible with the lacquer cabinet paint or the specialist lacquer, which gives that stunning matte finish we often see in high-end showrooms and luxury hospitality projects. The tough coating of lacquer is achieved by the gradual buildup of a temperature-controlled environment.
Euro Style Cabinet Doors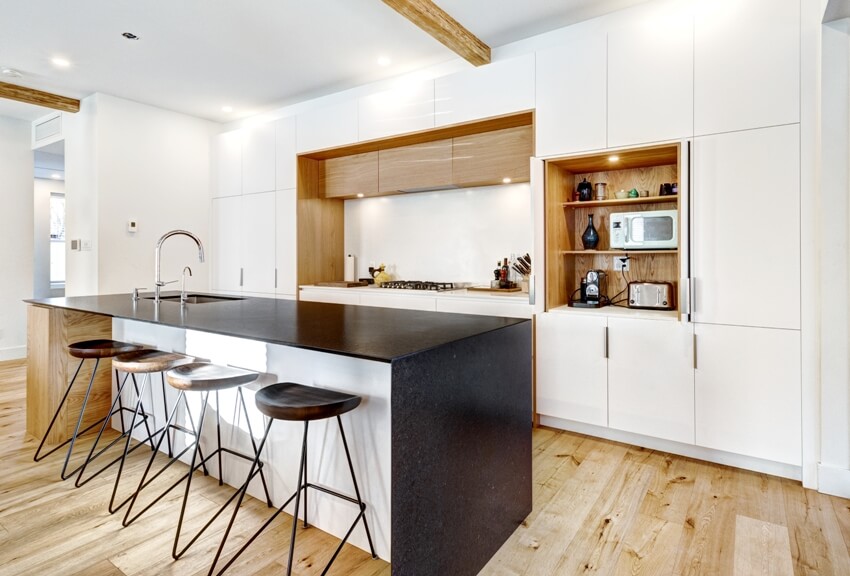 The euro style cabinet doors are known to have frameless cabinetry construction or also known as full access cabinetry. The eliminated face frame allows users to have full access to the interior cabinet.
The full overlay door is used for your frameless cabinet, where hinges are installed and flushed to the sides of the carcass or cabinet box. This simple slab-style door and drawer also have a 1mm zero edge banding on all of its edges, creating that seamless appearance.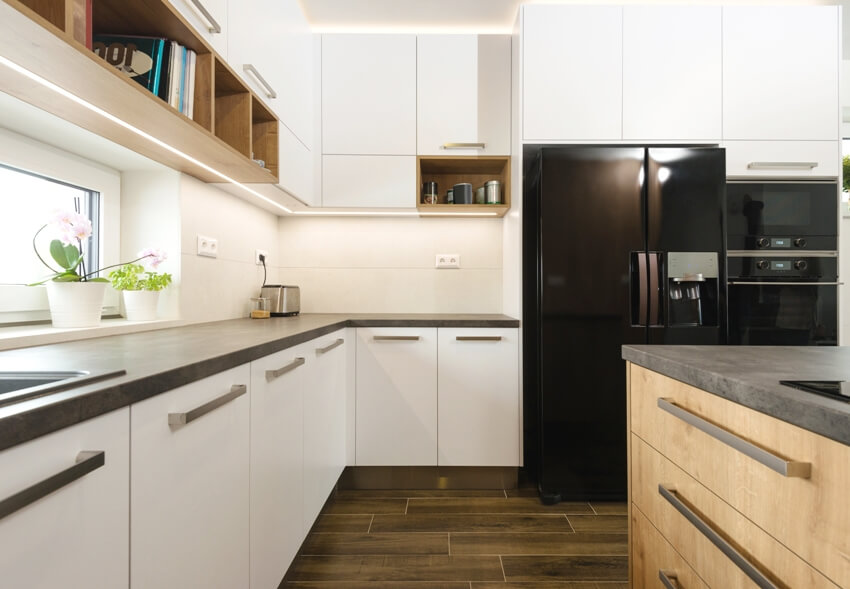 Frameless cabinet doors will have a 3/8″ overlay and a rabbet connection, usually 3/8″ x 3/8″ around the edges, with no part of the door being against the cabinet frame.
Overlay doors extend past the cabinet opening by a specified dimension. Because of the frameless construction, there is also no need for a center stile in the middle of two cabinet doors.
Most euro style cabinet doors do not use solid wood as the construction of your frameless cabinet presents a more susceptible to bending or warping. So, you'll find most euro style cabinets made out of composite woods instead, such as MDF cabinets. This material provides the surface finish to recreate finishes or simulate the natural texture of wood.
Euro Style Cabinet Hinges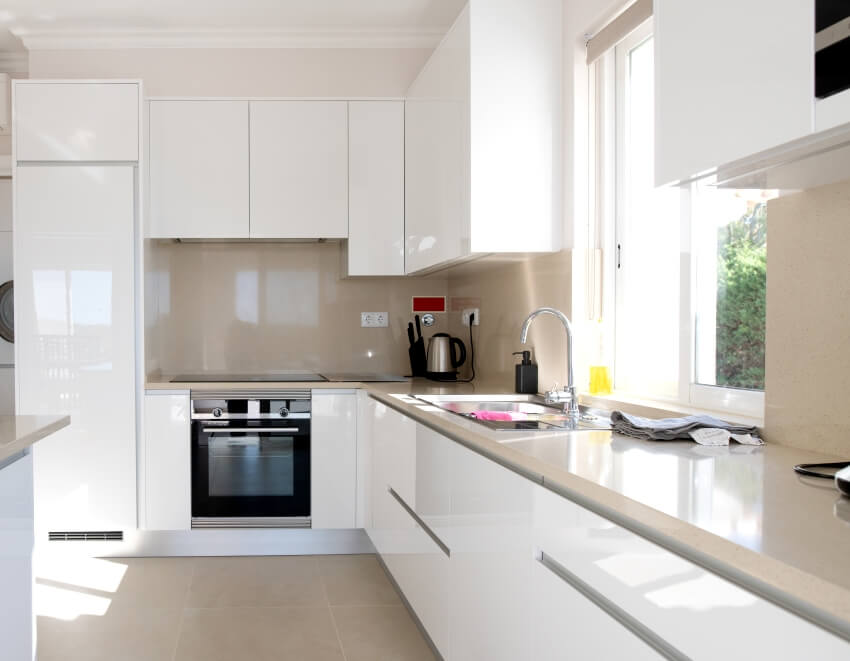 The euro style cabinet hinges use the newest and most advanced hinge systems with a common characteristic of being concealed, naming this hinge "cup hinges." These concealed hinges comprise two parts: the hinge and the mounting plate, where the hinge is aligned on a hole bored at the cabinet door's backside.
Common hole sizes include 32mm, and 35mm inches in diameter. Depending on how you plan to use your cabinet, you'll also find 25 or 40mm diameter holes occasionally.
Basic types of Hinges used for Euro Style Cabinets:
Compact Hinges. These hinges are used if you want to utilize the interior space of your cabinet and are usually more affordable compared to your long arm.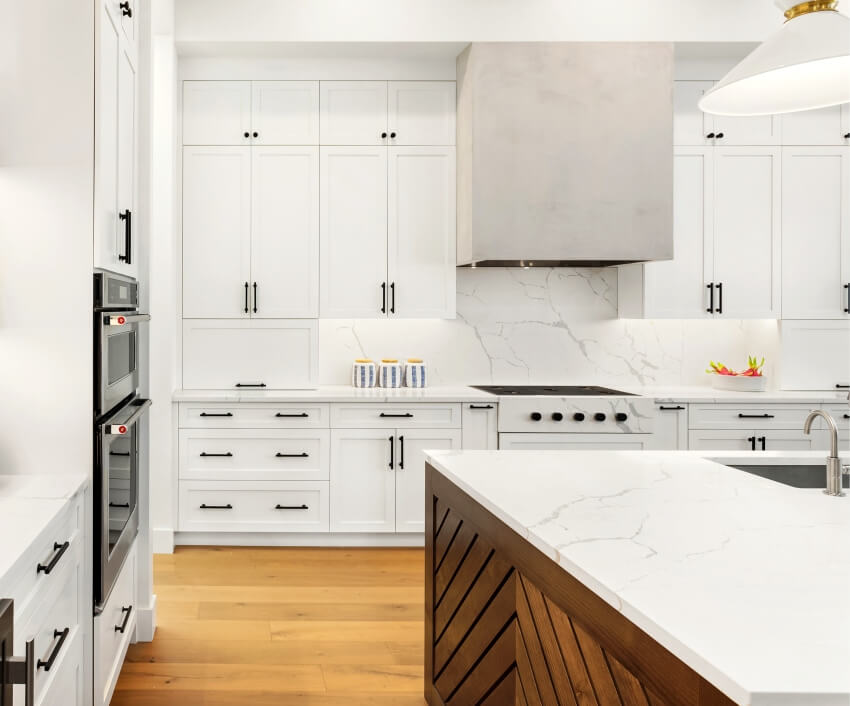 Long Arm Hinges. Also known as "clip-on hinges," the long arm hinge allows you to remove the doors using the built-in toolless clip easily when needed, such as when painting or cleaning your cabinets.
One distinction of long arm hinges from the compact hinge is that it holds the door closer, creating a flushed construction. There are three types of adjustments for the clip-on hinge, namely side-to-side, in and out, and the up and down, which are available for inset and overlay doors.
Most Euro style hinges use the self-closing system, and there are two main types of self-closing hinges, namely:
• Snap-close hinges. The doors close abruptly with final inches.
• Soft-close hinges. As the name implies, the cabinet door will close gently with the final few inches but with a special mechanism to dampen the travel.
The free-swinging hinges of the European cabinets are mostly used for small and narrow doors as they can slam faster due to their lightweight. When purchasing your European cabinets, you'll notice that the free-swinging hinge and the self-closing hinge are quite identical.
Most Eurostyle hinges have 110 degrees or 120 degrees opening angle, but it is best to choose the best hinge according to these situations.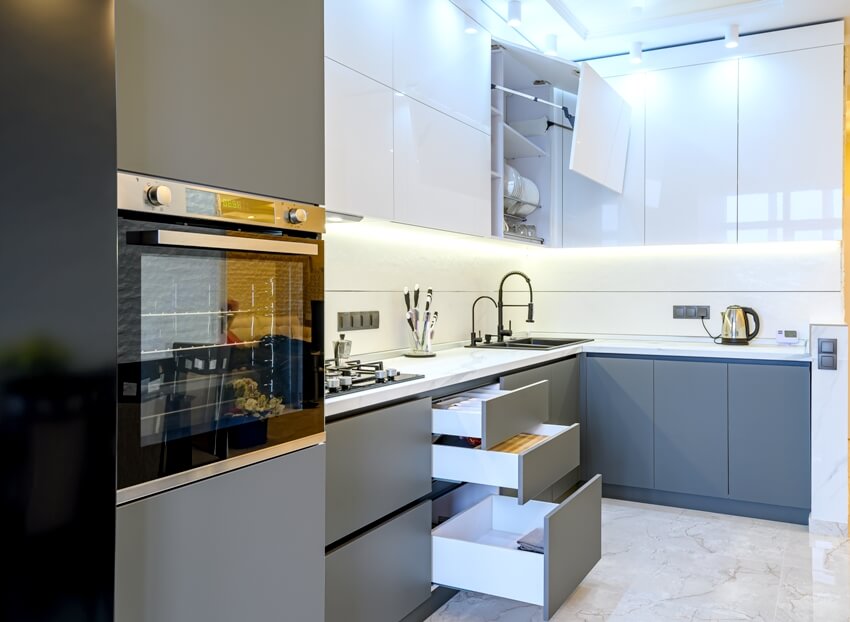 90 degrees. Best for cabinets that is near a wall or corner as the 90-degree opening will prevent damage to cabinet doors that keep on banging on the adjacent walls. The width of your cabinet door should also be considered.
Corner 165-degree hinges. Best for corner cabinets that have an integrated lazy Susan storage system.
With the cabinet door slab construction, hinges accommodate the overlay, inset, and back-to-back construction.
It is important to take note that European hinges can also be used for other types of cabinets, such as face frame cabinets. See more types of kitchen cabinet hinges here.
Euro Style Cabinet Hardware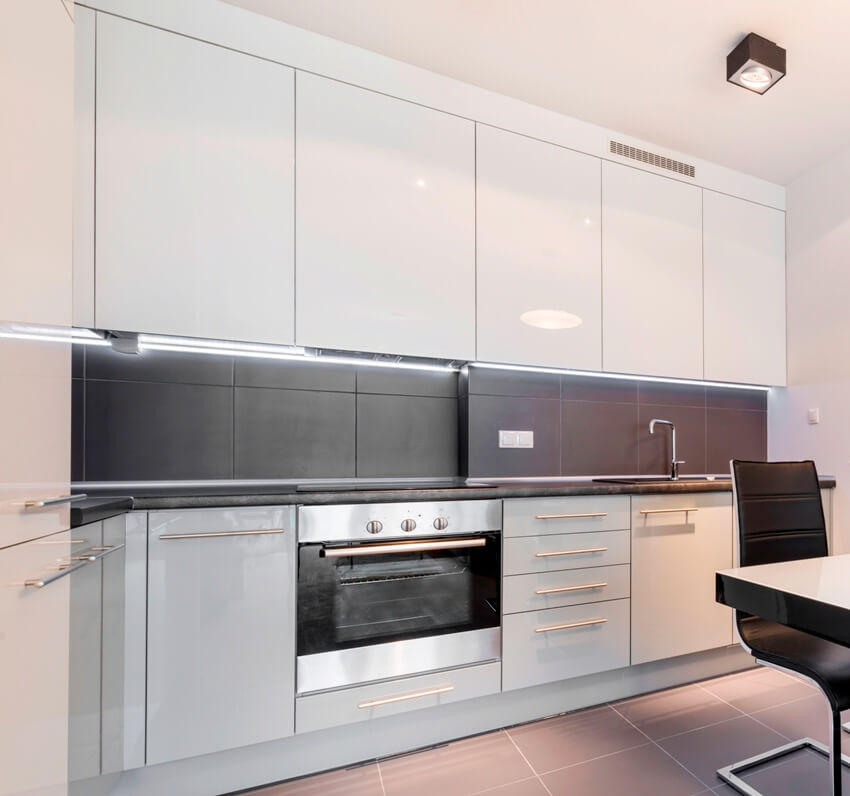 The European kitchen cabinet usually comes with bar pull hardware, but you can opt for similar minimalist, and sleek cabinet hardware such as the edge pulls or even go without hardware. See pictures of handleless kitchen cabinets here.

The most popular European bar pulls can come with a rectangular bar or ring profiles made from a wide range of colors and metals. Brushed nickel pull bars are the most common, but we're also seeing black matte pull bars.
How Much Do European Kitchen Cabinets Cost?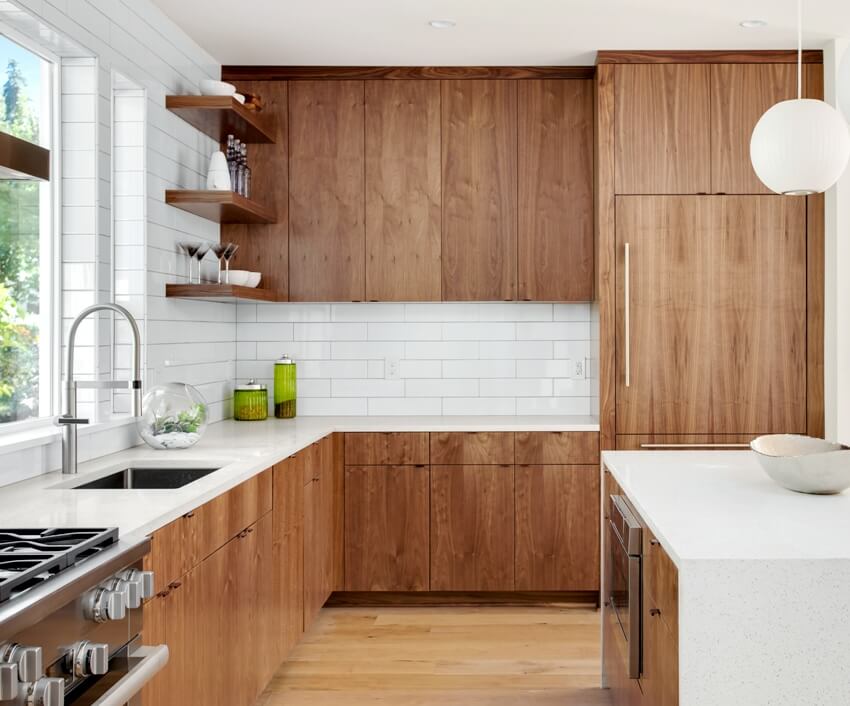 European kitchen cabinets range from $400 to $1000 per linear foot, which is a higher price than your traditional cabinets. The higher costs are mainly due to the thicker materials used and the quality of construction. Another factor to consider is the built-in or advanced features of the euro style kitchen cabinets.
According to the latest cabinetry design estimates, the prices range from middle to higher-end pricing. The price increases for custom designs and will also depend on the quality of materials.
The European kitchen cabinet industry today is competitive, which means the prices for frameless cabinets are becoming more affordable for the average homeowner. In addition, you'll find more local suppliers of the euro style kitchen, giving way to faster delivery of the euro style cabinets to owners.
Euro Style RTA Cabinets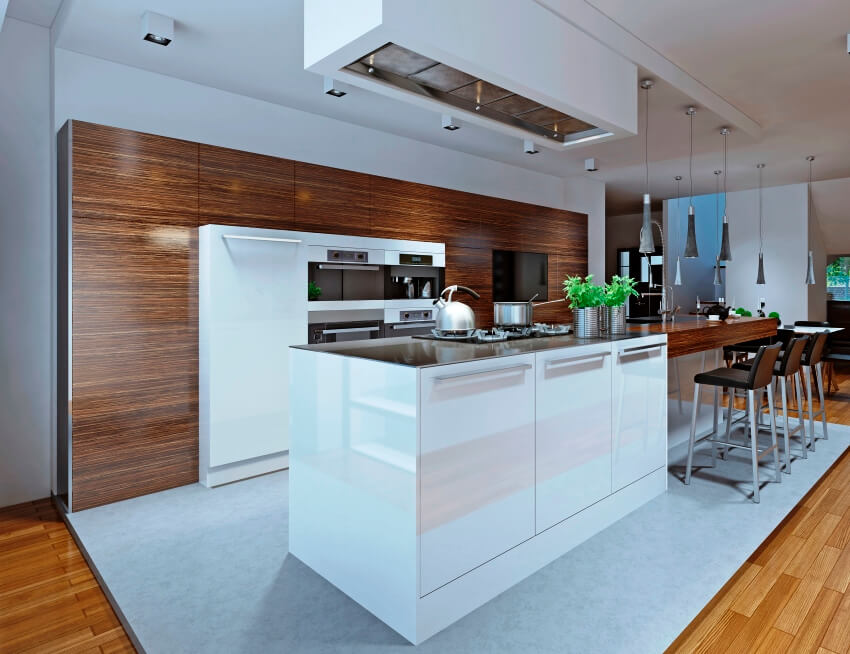 Homeowners can choose between pre-assembled or the RTA (Ready to Assemble) euro style cabinets. The RTA euro style cabinets will typically come 80% complete.
Also known as flat-panel cabinets, this is great for an experienced DIYer. RTA cabinets with integrated appliances may need a professional installer, and most suppliers have an in-house installer to help you with your RTA kitchen cabinet installation.
Unlike your typical RTA cabinets, the European RTA material is made from quality materials. Most of the ready-to-assemble kitchen cabinets are 80% pre-assembled, which means cams and dowels are ready in place when delivered.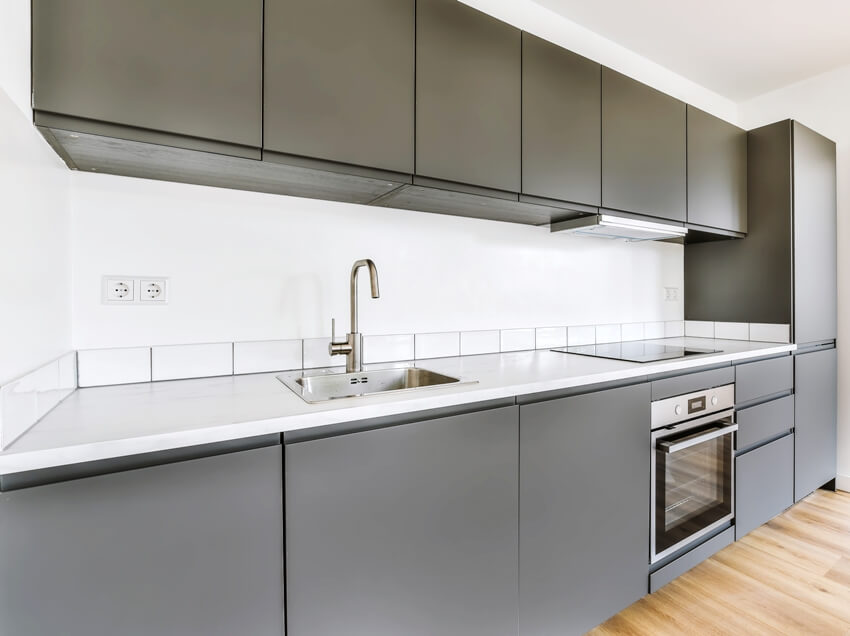 The Euro style RTA cabinets are obviously more affordable than your customized version as they cut labor costs. The flat pack option also provides a wide range of finishes, materials, colors, and styles, making it convenient to mix and match your planned or existing kitchen design.
Due to the increasing number of local suppliers, European RTA cabinets have cut the lead time and increased availability in America.
To be sure with your purchase, most suppliers of RTA for euro-style cabinets can order samples for an in-home comparison.
Euro Style Cabinets Vs. Face Frame
The major difference between the euro style cabinets and the face frame is how the cabinet mounting plate is installed. The euro style cabinets are mounted on the side wall or the side panel of the cabinet, while the face frame type of cabinets is mounted on the edge of the face frame itself.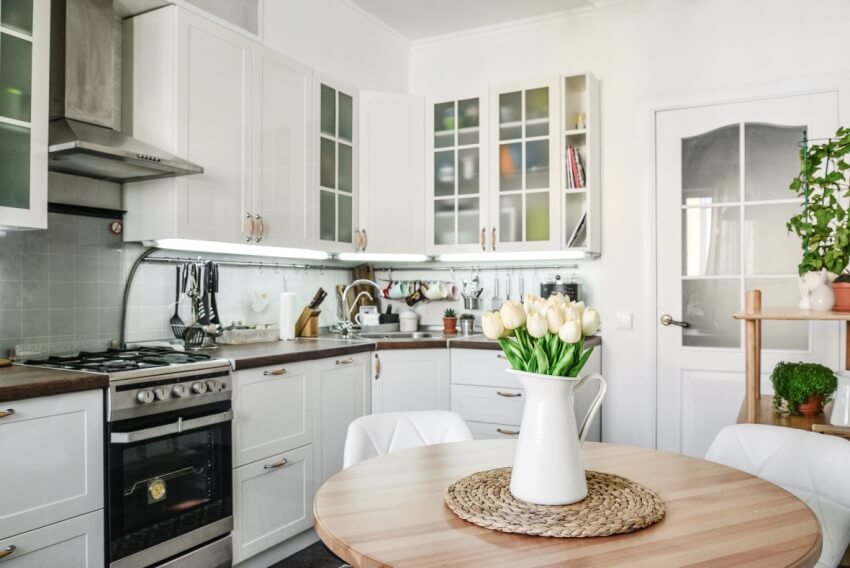 • Framed or face-framed cabinets are the traditional American built-for cabinets where the face has a typical 1-1/2-inch frame similar to that of a picture frame. The dimensional look of framed cabinets comes down to the door hinges and drawer runners attached to the front frame of the cabinet box.
The major advantage of face-framed cabinets is that construction is more stable and stronger, especially for solid wood construction.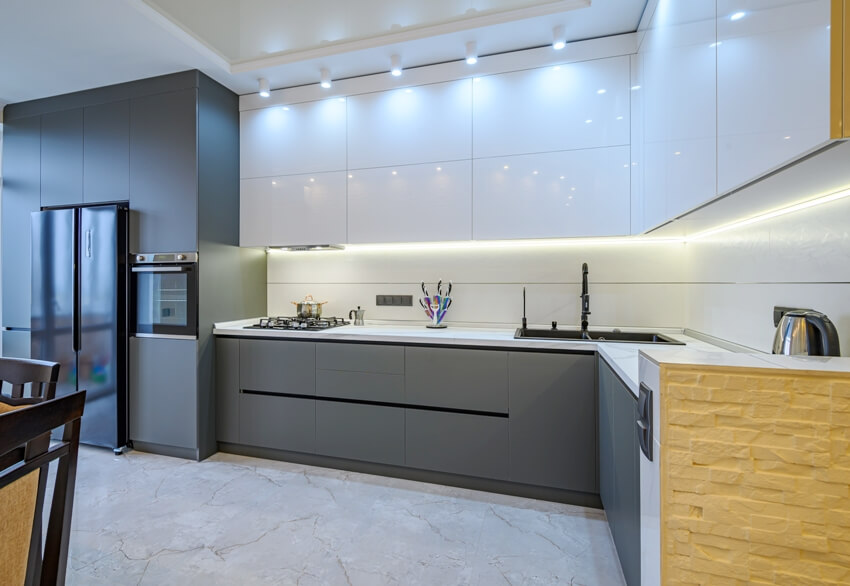 • Eurostyle cabinets or frameless cabinets give the furniture a modern or contemporary look. The European cabinet's concept has a modern, sleek and simple cabinet surface. See more ideas in our contemporary kitchen cabinets gallery.
The benefit of having a frameless cabinet is that you get full access to your cabinet interiors due to the absence of center stiles and additional framing on the edges.
Another advantage of frameless cabinets is that they are easier to maintain due to the sleek surface and the absence of joints or corners on the exterior means less accumulation of dirt.
Visit this page to see our gallery of kitchen cabinet styles for even more ideas for your space.