Thermofoil cabinets design guide including what they are, pros and cons, durability, maintenance, peeling solutions and top manufacturers of this type of cabinetry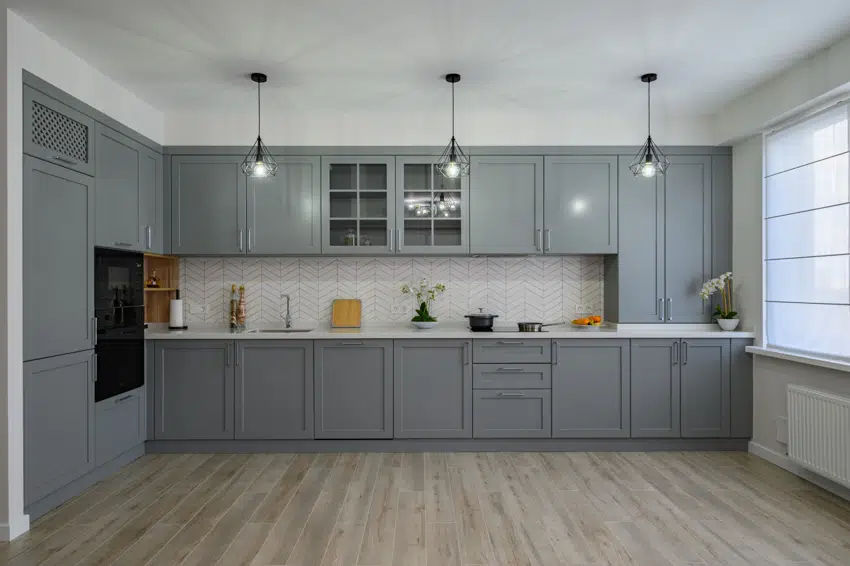 Cabinets take up a significant amount of your floor space, like in your kitchen, bathroom, and bedrooms. With wide usage, the demand for kitchen cabinets alone is valued at $17.3 billion by 2023.
That said, furniture and fixture manufacturers came up with different cabinet options, from designs to materials. Among these are thermofoil cabinets. Because of the daily wear and tear of the furniture in bathrooms and kitchens, homeowners turn to cabinet materials that are budget-friendly yet durable.
This article draws back the curtain into the world of thermofoil cabinets to learn what makes them a trendy interior design choice.
What Are Thermofoil Cabinets?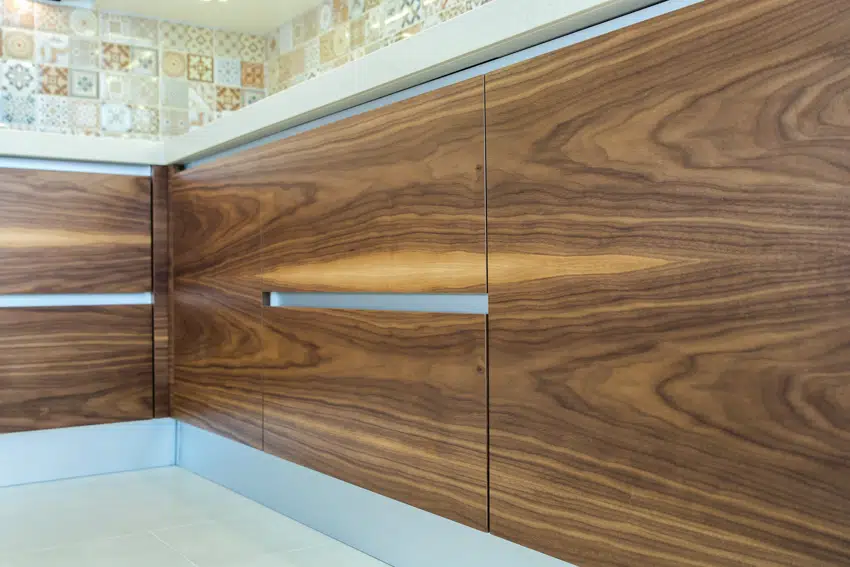 Thermofoil cabinets are generally made up of a vinyl material that is applied over a medium density fiberboard core (MDF). Rigid Thermofoil (RTF) can be a layer of thin PVC or vinyl material pressed against a piece of MDF.
This process makes the cabinetry cost effective and because the coating is applied to the front of doors and drawers. Thermofoil cabinets come any many different styles, finishes and colors.
Thermofoil is often confused with laminate, but the former uses a vacuum pressing system while the latter adheres to the MDF surface using glue.
Thermofoil Vinyl Cabinet Pros and Cons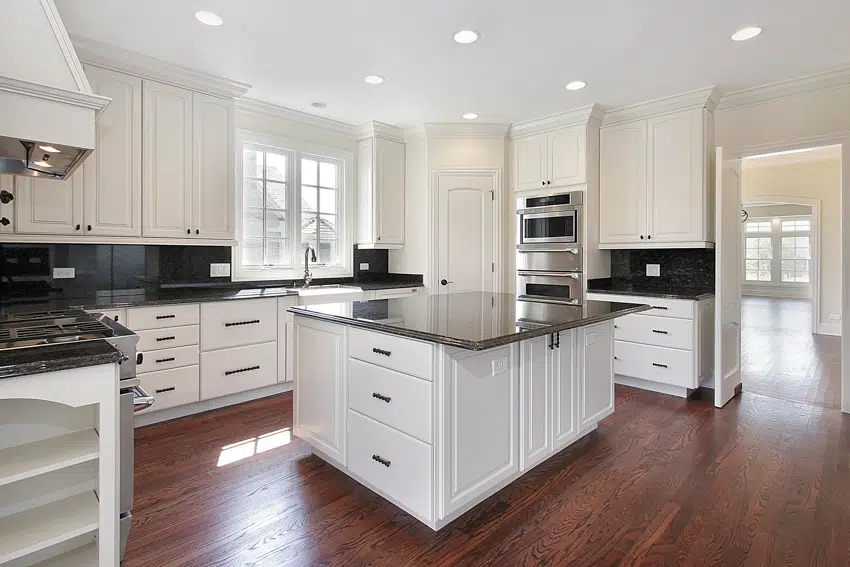 Like any home improvement solution, thermofoil cabinets have their benefits and disadvantages. That said, they may or may not work for you.
Thermofoil Cabinets Pros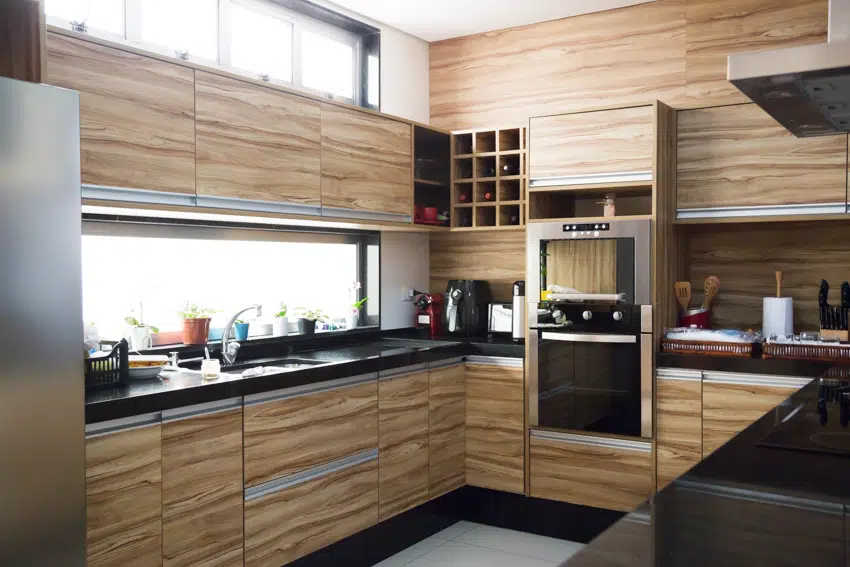 Many people prefer thermofoil cabinets for two reasons: versatility and cost-effectiveness. To gain a deeper understanding, below are the following benefits of using these types of cabinets.
Modern Aesthetics
Modern is such a broad word in the world of interior design. It can pertain to anything, from modern minimalist to modern industrial design.
Thermofoil is a versatile material that can fit any of your modern aesthetic needs, as they are available in a variety of colors, textures, and designs.
In terms of kitchen trends, homeowners lean more on having cabinets that blend with their walls and appliances to give a cleaner and sleek look. Because of this, many opt for white thermofoil cabinets with a glossy finish.
You may also want to incorporate wood design into your space without having to use actual wood. Fortunately, there are thermofoil wood designs that even mimic the grain or texture of the wood.
Finally, a metallic finish is on the menu. You can choose rose gold, copper, or silver in different hues. A metallic finish for your thermofoil cabinets can make your space look chic and luxurious.
Effortless Installation
Thermofoil cabinets are quick to install. Once they arrive, you can assemble and fit them into your space. There is no need for sanding, painting, or sealing these bathroom or kitchen cabinets.
Low Maintenance
Thermofoil cabinets are durable, making them effortless to maintain. They are resistant to most chemical cleaning products, so you don't have to worry about chemical burns or stains.
Thermofoil cabinets are also nonporous, so water cannot penetrate the MDF easily. The same applies to dust and dirt. Wiping off dirt and grime every day can keep your cabinets pristine.
Widely Accessible and Affordable
Massive production of thermofoil cabinets means they are easy to source. Thermofoil cabinets are also very affordable, ranging between $300 and $600 per linear foot, excluding labor and other installation materials.
Thermofoil Cabinets Cons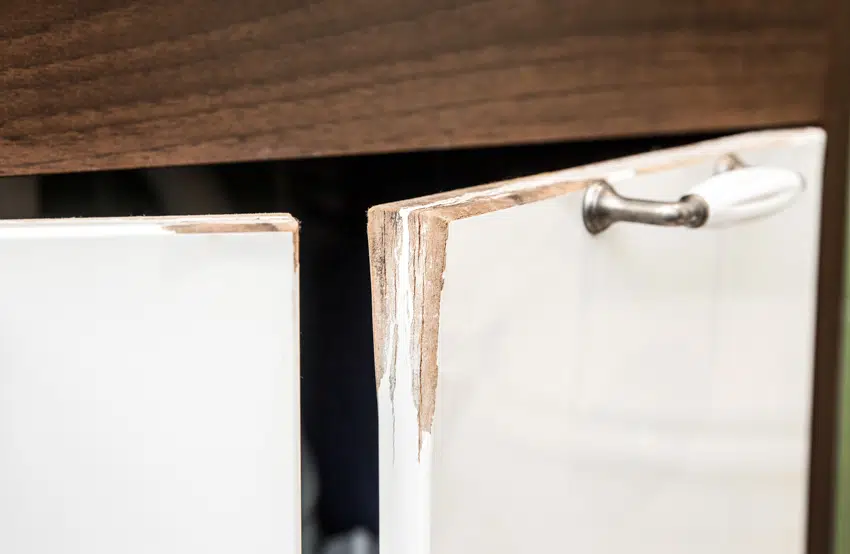 Materials that are affordable and broadly available are not the most durable compared to their more solid and premium counterparts. In short, you get what you pay.
Below are a couple of downsides to using thermofoil cabinets.
Easy to Chip and Peel Off
Anything glued or pressed on MDF and particle boards are prone to peeling off and chipping. Because of this, delamination can happen to laminates, veneers, and even thermofoil sheets after a decade of use.
Like any other furniture, the longevity of your thermofoil cabinets also relies on how you care for them. Aside from keeping them clean, avoid hitting them with blunt and heavy objects to prevent dents.
Less Resistant to Heat
Thermofoil cabinets may be durable, but they still are made from vinyl. That said, they cannot tolerate heat and can deteriorate fast from exposure. Keep them away from a heat source like a stove or an oven.
Heavier than Actual Wood
A common misconception among many is that wood can weigh tons, which is true, especially with dense oak.
But did you know MDF is heavier than solid wood and engineered wood? For this reason, they require more anchors and screws to support the weight of the material.
Durability of Cabinets Made of Themofoil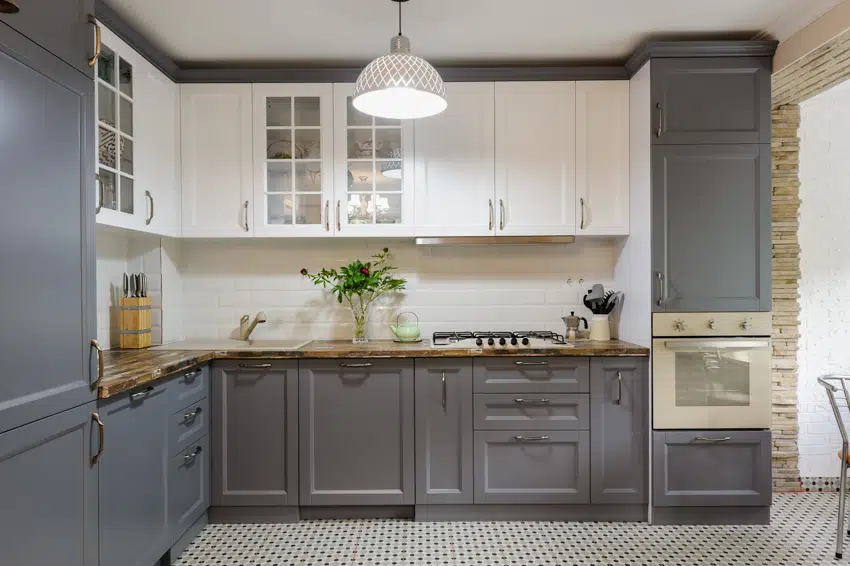 How long do thermofoil cabinets last? They can last from 10 to 15 years. They are also water-resistant because of their nonporous characteristics. Thanks to the durability of MDF material, they can handle humidity and do not warp or expand.
But while they are water-resistant, they are not waterproof. Prolonged exposure of thermofoil cabinets to water can still penetrate the MDF, causing them to deteriorate and rot.
As previously mentioned, they do not do well with heat exposure, too. If you want to keep them as long as possible, proper maintenance helps.
Maintenance for Cabinets with Thermofoil Fronts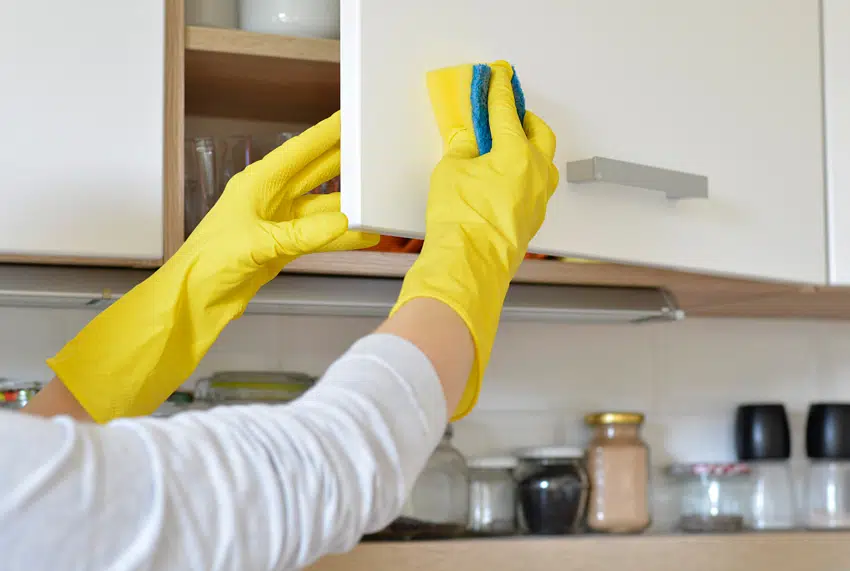 Maintaining thermofoil cabinets is not an arduous task. All you have to do is keep them clean and away from moisture and heat.
Bathroom and kitchen cabinets can benefit well from proper ventilation for better air circulation and to remove excess heat.
But as years go by, they can turn dull and sustain damages. Fortunately, you have two options: refacing and painting.
Cabinet Refacing Using Thermofoil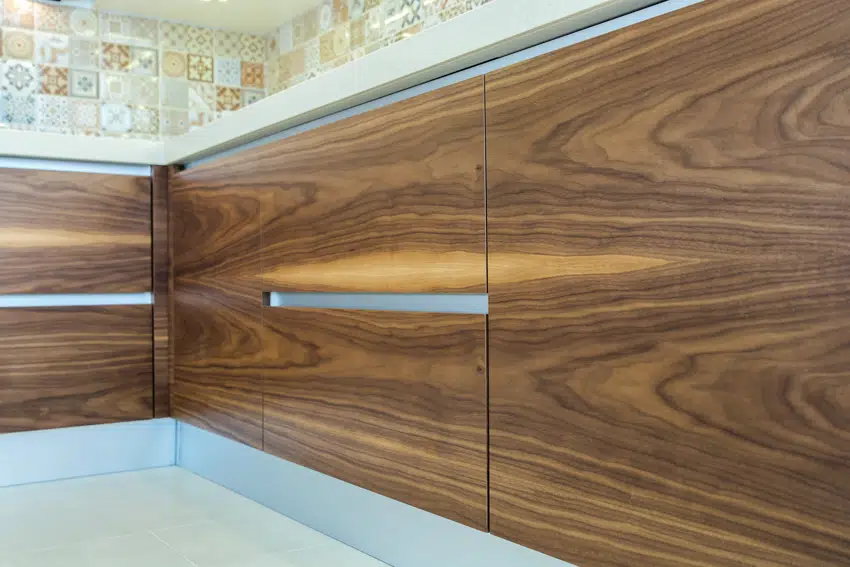 Cabinet refacing is a popular and cost-effective method to revamp your old cabinets. This process involves covering any visible part of your cabinet with a different material.
With thermofoil cabinet refacing, you can give your space a fresh look using different colors and designs. You can also upgrade to wood veneers as an alternative, as they adhere well to MDF and particleboards.
Can You Paint Vinyl Cabinets?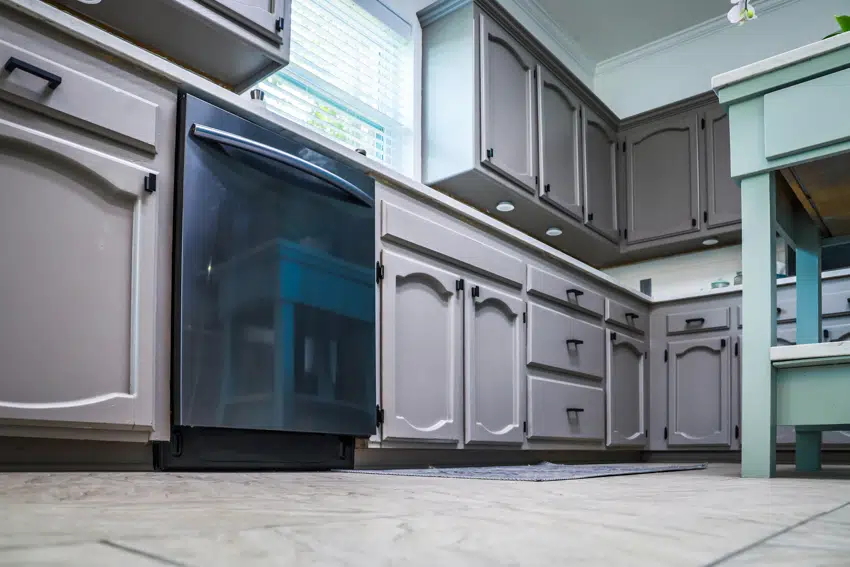 Yes, you can paint your thermofoil cabinets. But is it the best option for you?
The answer depends on their condition. If they are in pristine condition, you can choose what color to paint using a water-based latex product.
Minimal damage can also be fixed and covered with paint, granted that the MDF is not bloated.
Painting Thermofoil on Kitchen Cabinets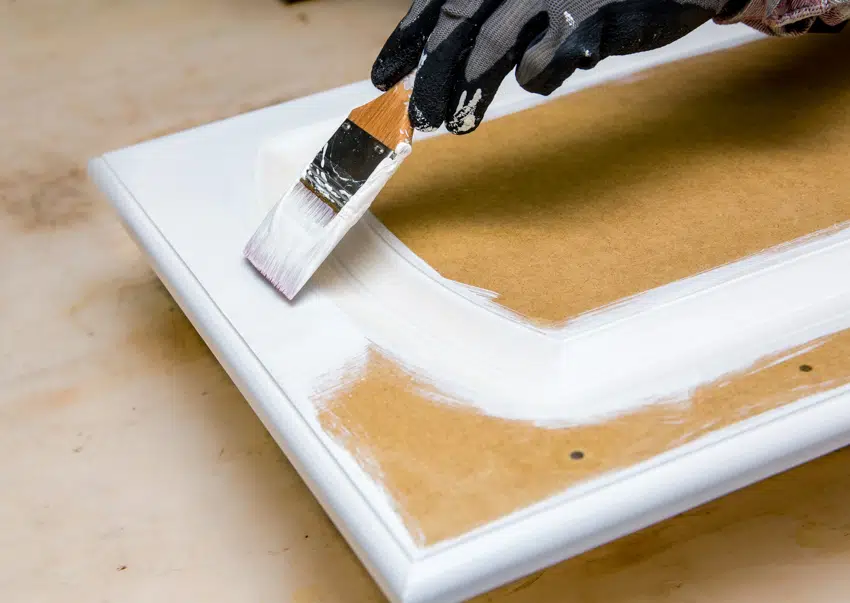 • Prepare the surface: Clean the dirt, grease, and grime off your cabinets. After which, you can sand them lightly so the paint can adhere well to the surface.
• Apply primer: Once cabinets are clean, sanded, and dry, coat them with primer. For best results, prime your panels twice. Remember to apply another coat of primer after the previous layer dries completely.
• Coat your cabinets with water-based latex paint: Your painting method is up to you, whether you use a spray or brush. But coat them evenly, one layer at a time.
Similar to applying primer, let the first layer of paint dry completely. You can do this process twice or thrice.
Although you can reface or paint over a thermofoil cabinet, consider the total cost of the job. Again, the condition of your cabinets is an enormous factor in your decision-making whether to reface, paint, or replace them.
How to Fix Peeling Thermofoil Layers on Cabinets
When your thermofoil starts to delaminate, contact cement can do wonders.
Contact cement is an adhesive that can bond to different substrates, including metal, glass, and wood. This adhesive is resistant to moisture and is easy to apply.
Start by lifting the peeling thermofoil at an angle that allows you to clean the MDF underneath. Scrape off any dirt and dried cement. Next, you can apply contact cement at the back of the thermofoil and on the MDF.
Let the adhesive dry for 10 to 15 minutes before pressing the two surfaces together. Finally, secure both materials with a woodworker's clamp.
Keep in mind that this is a temporary fix and not advisable for extensive damages. If so, you can replace them with new thermofoil cabinet doors.
Thermofoil Door Manufacturers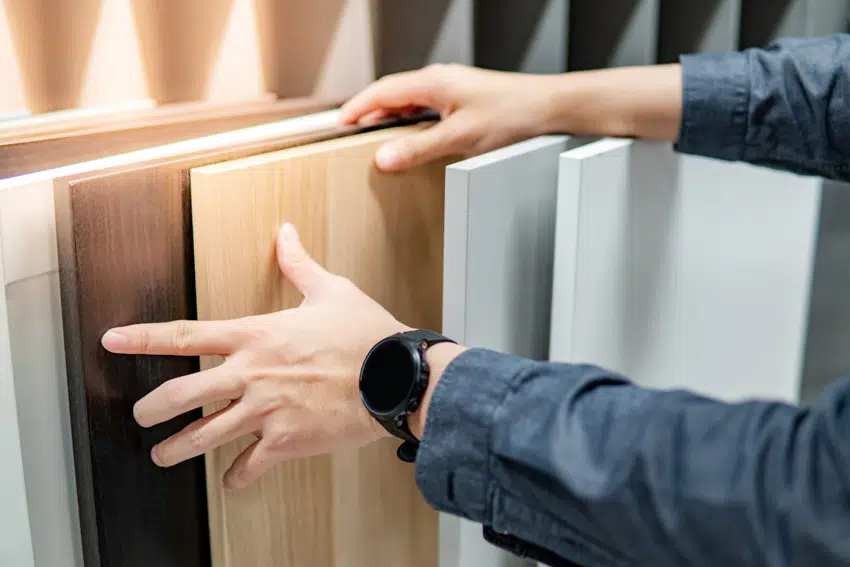 Manufacturers differ from each other in terms of quality and pricing. For affordable thermofoil cabinet doors, consider shopping at IKEA. Their prices vary between $21 and $30 per sq. ft.
For midrange doors starting at $50 per sq.ft., you can opt for KraftMaid and American Woodmark. Both manufacturers are well known for producing cabinets, especially for kitchen use.
But if you're willing to spend more on a premium quality thermofoil cabinet door, checkout UltraCraft. They cater to luxurious homes and can customize colors and textures to fit your needs. For this reason, expect to pay between $80 and $150 per sq. ft.
Thermofoil Vs Melamine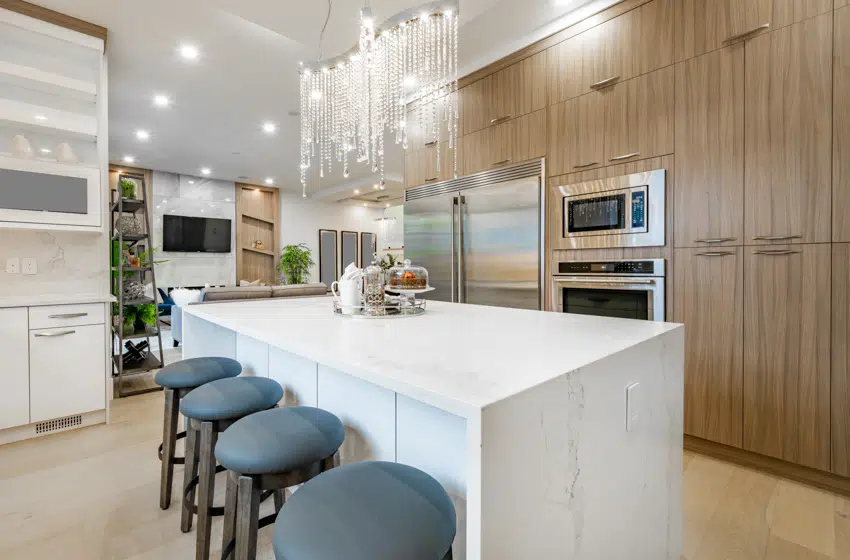 While both melamine and thermofoil cabinets use plastic, melamine cabinets have a thinner layer of melamine sheet.
But when it comes to quality, melamine is slightly more superior to thermofoil and similar to laminate cabinets.
Thermofoil Vs Wood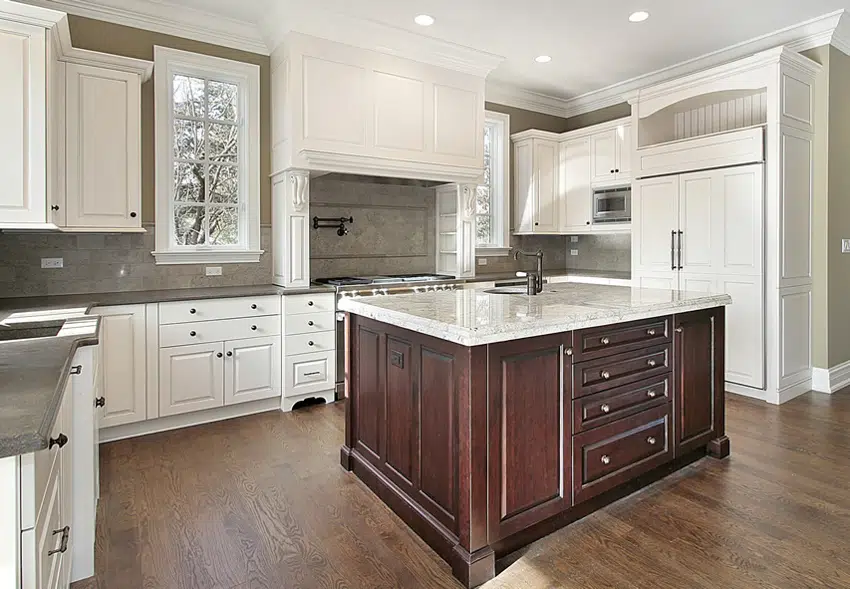 To compare thermofoil cabinets with wood is to compare apples and oranges. Wood cabinets are naturally beautiful and durable, lasting for decades to a century.
But the maintenance can be daunting as wood is more porous than thermofoil. They are also more expensive and are arduous to install.
Materials like thermofoil or RTF are convenient if you like to change the look of your kitchen several times without having to spend a fortune.
They are also favored for rental apartments as they are easy to maintain. See more related content in our article about the different types of kitchen cabinet materials on this page.