See the quartz backsplash pros and cons including design options, reasons for and against, cost, and if it works with quartz countertops.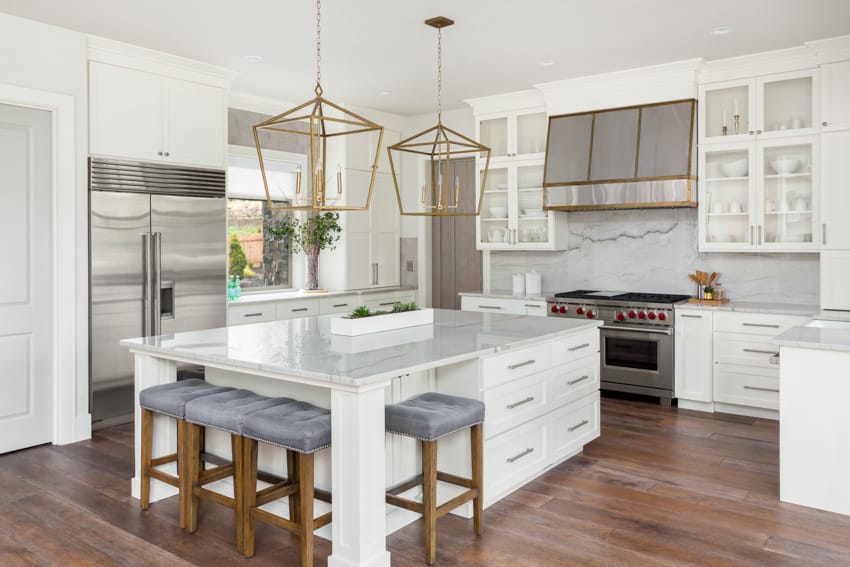 If you're looking for a good natural stone for your kitchen, you've probably heard of quartz and how it took the interior design industry by storm.
Quartz slabs are a type of engineered natural stone. They are made from natural quartz ground into dust, which synthetic binders (polymer or resin) hold together to create a hard surface. Then, pigments are added to achieve the desired pattern.
Quartz is a designer-favorite for kitchens, bathrooms, feature walls, and furniture. Moreover, the beautiful natural stone is typically used as a kitchen backsplash.
In this article, you'll find out why quartz is such a popular choice.
Is Quartz Good For Backsplash?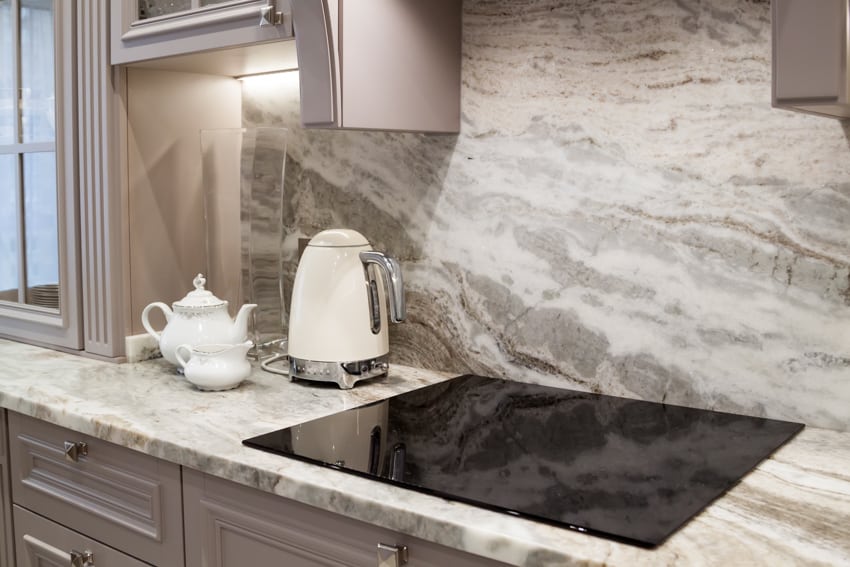 There are plenty of areas to use the natural stone on, but you're probably thinking – will it perform well as a backsplash? Is it a better choice than mosaic tiles? And will it suit contemporary kitchens?
The answers are yes, yes, and yes.
Quartz is best as a backsplash in these situations:
When you have a solid-color countertop: No-pattern counters blend well with the variation and movement on the surface of the quartz. Instead of looking too plain, you'll have an interesting design feature that balances your whole counter area.
When you have a modern kitchen: Having the same material for backsplash and countertop creates a sleek appearance suitable for contemporary kitchens.
When you have a small kitchen: Quartz backsplashes feature a continuous slab, as opposed to mosaic tiles with breaks. Thus, your counter area will look less cluttered and give the illusion of a larger space.
Pros And Cons of Quartz Backsplash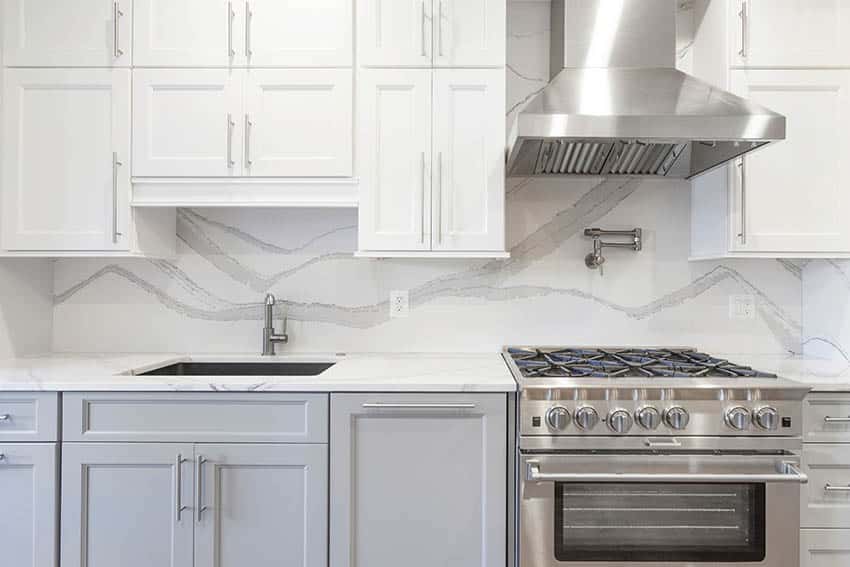 Quartz is not just an aesthetic feature, it also offers several advantages for homeowners. Some factors, however, may become a drawback depending on your intentions for your kitchen.
Pros of Quartz Backsplash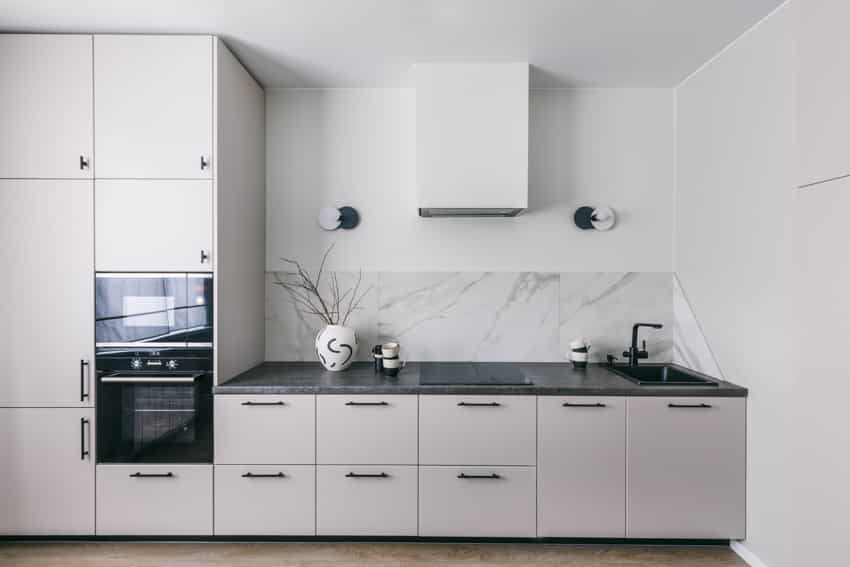 Quartz backsplash is low-maintenance: Quartz is a non-porous natural stone, meaning, it does not absorb dirt and moisture the way marble or granite does.
Hence, your backsplash does not soak in stains and will generally be easy to clean. Furthermore, it doesn't require a sealer so there's nothing to regularly refurbish.

Quartz backsplash is moisture-resistant: Your quartz backsplash wouldn't mind the risk of moisture exposure or getting wet altogether.
Its impermeable structure is especially helpful since there is always water exposure in kitchens.
Quartz backsplash leans towards minimalism: A natural stone backsplash means you have a continuous slab transitioning from your countertops. Because they are engineered, quartz has a greater capability for seamlessness.
You'll get rid of broken patterns and grout lines from traditional tile backsplashes, creating a cleaner and simpler look.
Quartz backsplash has a variety of designs: Quartz surfaces have subtle patterns that demonstrate elegance and sophistication.
These elements can be delicate veins, freeform shapes, soft colors, or any of their combination.

Cons of Quartz Backsplash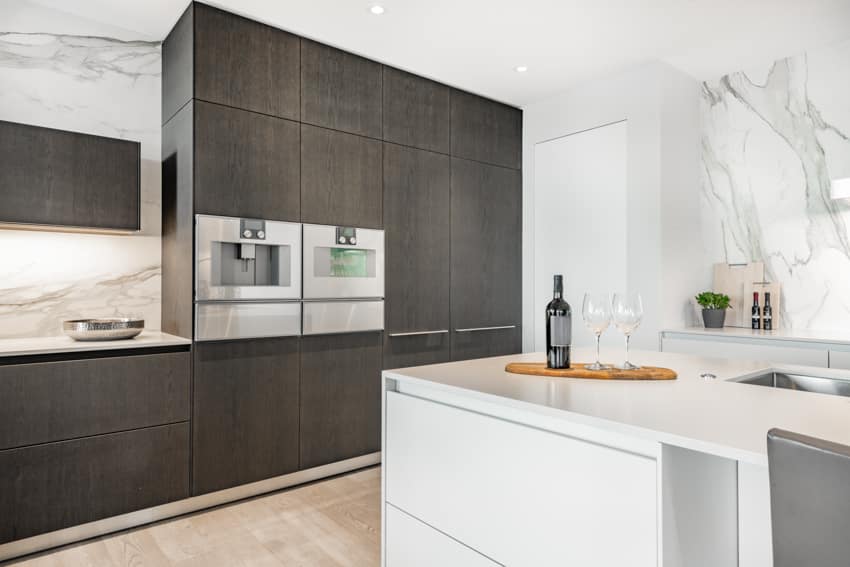 Quartz backsplash is affected by UV light: Too much exposure to ultraviolet (UV) light or direct sunlight may discolor quartz.
It may turn pale or yellow, so it is not recommended for outdoor kitchens or sun-drenched rooms.
Quartz is an engineered natural stone: Many do not believe this as a con, but a few homeowners prefer plain or all-natural stone slabs like genuine quartzite or granite. Read more about quartz vs quartzite here.

How Much Does Quartz Backsplash Cost?
The cost of solid quartz backsplashes will depend on the design, manufacturer, and quantity you're going to use.
On average, it starts at $65 per square foot up to $90 a square foot, rivaling marble slab prices. If you requested custom sizes or arrangements, expect around $200 per square foot.
Is Quartz Backsplash Cheaper Than Tile?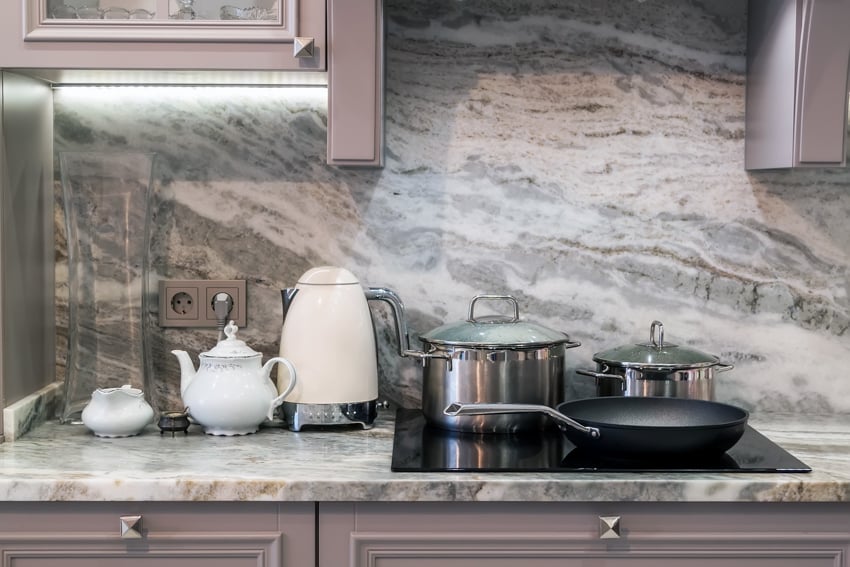 With its more attractive designs and significant advantages, quartz backsplash tends to be more expensive than traditional tiles. You'll have to factor in the special installation to your kitchen, as well.
While a continuous slab backsplash costs more, keep in mind the little maintenance it requires over the years. You'll surely find it a wise investment. Read more about a full height quartz backsplash here.

How About Quartz Countertops?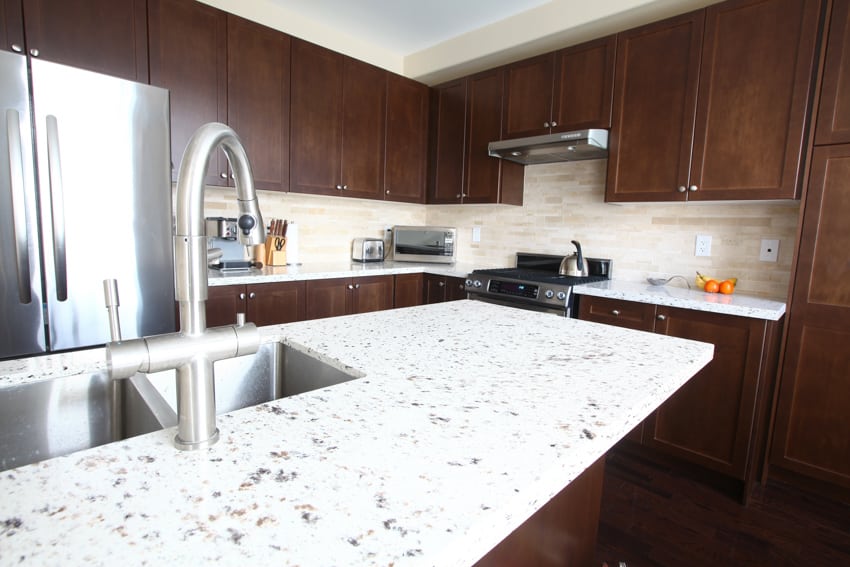 It's quite common in modern households to use quartz in both backsplashes and countertops. After all, the combination provides a clean and elegant look to your kitchen.
Alternatively, you can opt for just quartz countertops, too. Any option utilizes the attractiveness and durability of the stone.
Here's a list of its strengths and weaknesses to help you make an informed decision after thinking the quartz backsplash pros and cons over:
Advantages Of Quartz Countertops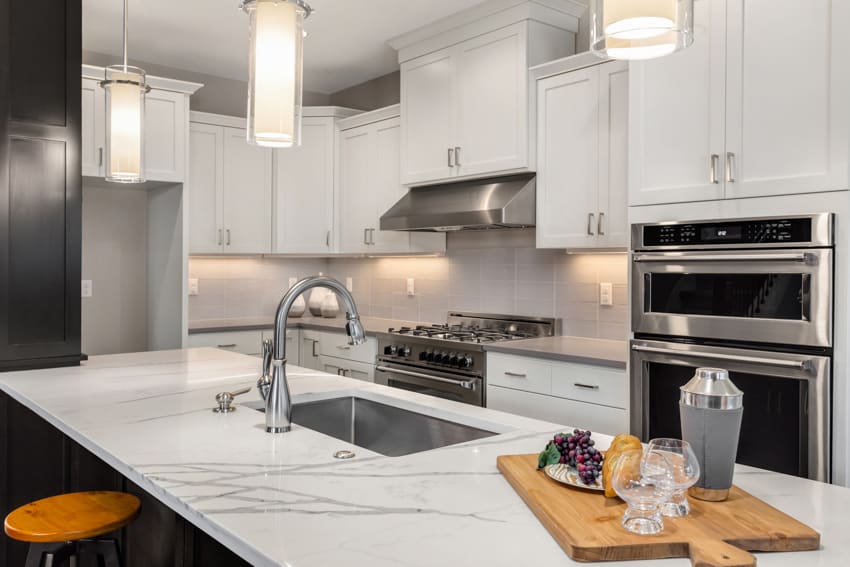 Quartz can achieve seamless designs easier: As engineered natural stones, there is more opportunity to work on lessening or eliminating seams.
Quartz slabs have more consistent patterns and uniform edges that work extremely well for contemporary designs, such as large kitchen islands.
Quartz countertops come in different colors and patterns: It has among the widest range of designs available. You can choose from patterns with subtle veins to more richly textured ones.
Quartz countertops are antibacterial: It was mentioned above that quartz is non-porous, so it resists excess moisture, water, and stains. In turn, it does not harbor the growth of bacteria and viruses.
Quartz countertops are easy to clean: Quartz is already resistant to stains, but no natural stone is totally stain-proof. Nonetheless, you'll find it easy to clean them regularly. All you need is a soft cloth and mild soap, and avoid bleach and abrasive solutions.
Quartz countertops do not need sealing: Quartz is impervious, so it does not need a layer of sealant material to protect it, unlike granite and marble. You'll save yourself from the bi-annual to annual necessary sealing maintenance.
Quartz countertops are durable.: They are almost level with granite countertops in hardness but are a little more forgiving, so they don't easily chip and crack. Quartz is also highly resistant to scratching.
Disadvantages Of Quartz Countertops
Quartz countertops are highly resistant to heat: Plain quartz stone is resistant to heat, but the polymers used with it are not. It can withstand around 150 – 200 degrees F.
Extremely hot materials could melt resins and cause permanent damage. You need something to place your hot pots and pans on so you won't scorch the surface of your countertop.
Quartz fades under UV light: Just like with backsplashes, quartz is not recommended for kitchen areas exposed to sunlight or UV rays. It will leave your surfaces a yellow hue over time.
Quartz countertops installation requires professionals: While not entirely a disadvantage, professionals must be the ones to install your countertops. Quartz slabs are heavy at around 20 pounds per square foot.
There is also great precision needed to minimize seams. Hence, you better prepare for some upfront costs for the installation.
See more related content in our article about how to choose a backsplash with quartz countertops on this page.