Here's our Quartz vs Quartzite comparison guide including the main differences between types, cost, colors & styles.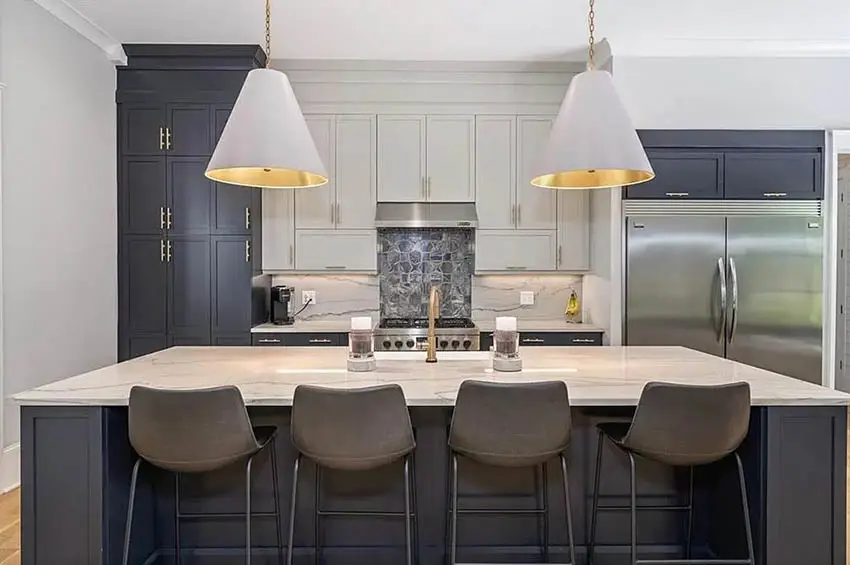 Quartz and quartzite are known to be two of the most high-end countertop materials in the market. Both derived from quartz rich rocks; it is easy to confuse one for the other because their names sound very much alike.
In fact, even some retailers use them interchangeably. The truth is, these two materials are very much different from one another and there are a lot of factors which make them very much unique in their own ways.
If you are designing a kitchen and deciding what to use between the different countertop materials, it is best to know how they vary in terms of their appearance, composition, durability, maintenance and cost.
Below, we give you our very own guide on quartzite countertops, along with some detailed comparisons between the different qualities of quartzite vs quartz countertops to help you decide which material is the best for your home.

What is Quartzite?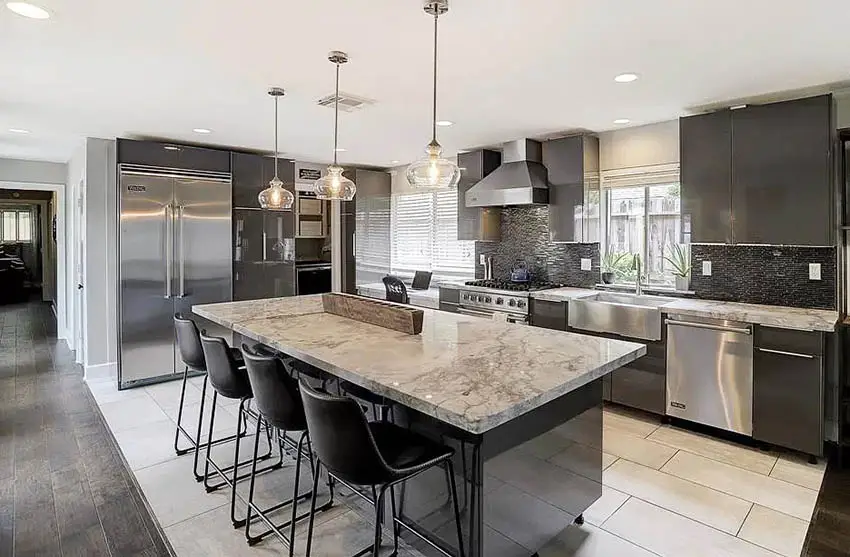 Quartzite is a naturally occurring metamorphic rock that is created when sandstone that has high quartz content is subjected to high heat and extreme pressure. It is known to be one of the densest natural stone materials in the world, which also makes it an extremely durable construction material.
Quartzite is characterized by a glassy appearance that resembles marble. Its luxurious appearance makes it one of the most highly desired countertop materials in the market.
How are Quartzite Countertops Made?
Quartzite stone is mined and sawn into slabs. These slabs are then precisely cut, polished and sealed to preserve its beauty and ensure its durability. Finished countertops are typically coated with polyurethane, wax or acrylic.
Difference Between Quartz And Quartzite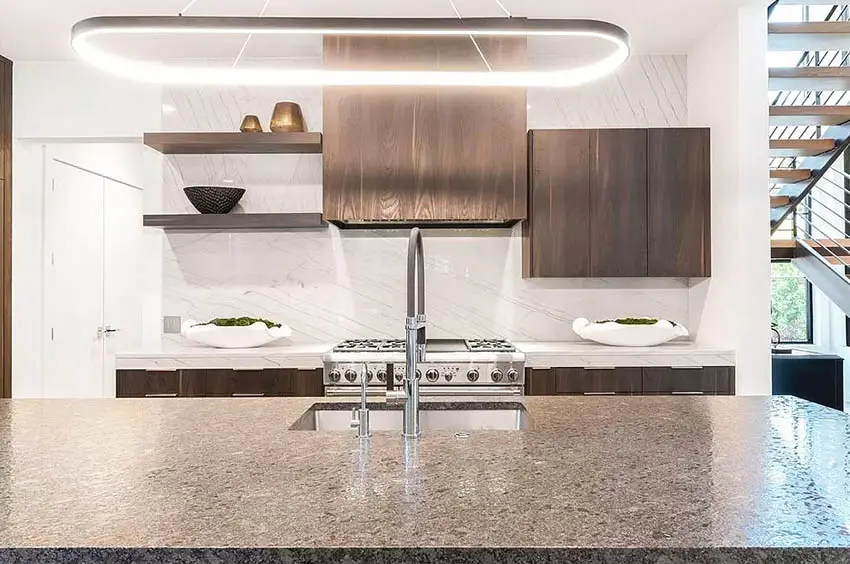 The biggest difference between quartz and quartzite is that quartzite is a natural stone , while quartz is a man-made material. Both materials contain the same quartz crystals which give them a distinct sparkly appearance, but the way they are produced is extremely different.
Quartzite is formed beneath the earth's surface when a quartz rich sandstone is subjected through a natural process that involves exposure to high heat and pressure.
Quartz, on the other hand, is formed using a man made process that binds crystals with different materials like pigments, bits of glass and a binding agent like resin. It is molded and baked into slabs in a factory. Since it is artificially made, it is also sometimes referred to as an "engineered stone".
While this may be its greatest difference, there are other characteristics which distinguish the two. Let's take a closer look into the comparisons of Quartz vs Quartzite:
Material composition. As mentioned, quartzite is made up of all natural components and consist of 90 to 99 percent quartz grains.Conversely, quartz is made up of a combination of natural and artificial components such as ground or loose natural quartz, natural silicon dioxide, coloring agents (pigments), a binding agent (polymer resin) and bits of glass.Only 90 to 94 percent of quartz is natural and mined from the earth , the remaining 6 to 10% is man made polymer and resins.
Appearance. The material make up and composition of quartz and quartzite gives them their own distinct appearances. They also have notable stylistic differences which makes their beauties unique from each other.Quartzite's appearance is characterized by a delicate veining pattern and striations which are almost similar to other natural stones. In fact, Quartzite is often mistaken for marble or granite. Its appearance is more natural and the "movement" of the pattern is more organic. Because it is natural, every quartzite slab is unique.
Quartz is engineered to mimic the look of other stones. It can be made to look like granite, marble or soapstone. It is also offered in a wide variety of colors and designs. The pattern is also more uniformed and consistent. Read more about engineered quartz countertops here.
The bottom line here is that if you prefer natural stone, quartzite is your choice, while if you have a more specific color and pattern in mind, then quartz is your best bet.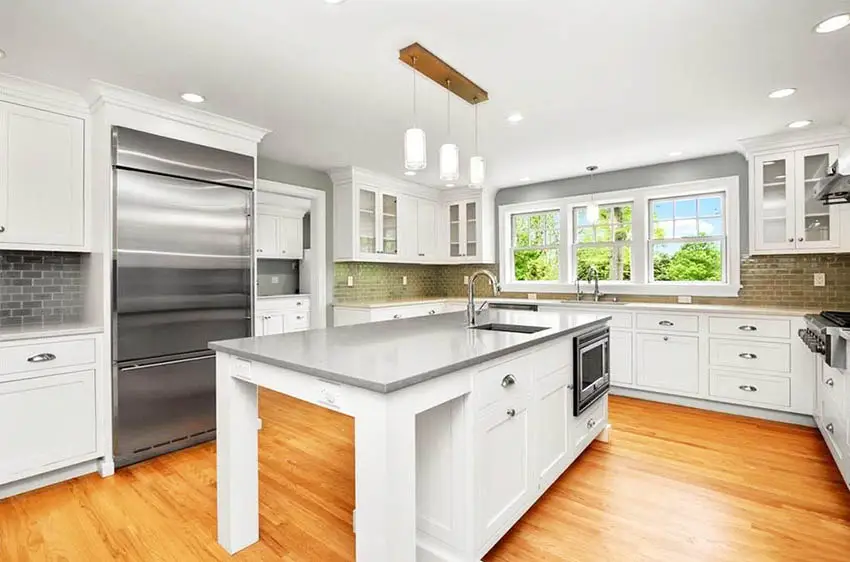 Color. Quartzite comes in limited colors – typically in a white or light gray base with pinkish hues, gold accents and reddish-brown undertones. Quartz countertops, on the other hand, comes in a wide variety of colors and designs.Because it is engineered and pigment can be added during its production, it can be customized into different shades and can be made into a single solid color.
Customization. Since quartz is man made, customization is relatively easy compared to quartzite countertops.
Countertop Maintenance. One of the biggest advantages of quartz over quartzite countertops is the ease of maintenance. Like any natural stone, Quartzite requires more care whereas quartz needs little to no maintenance.You need to seal and reseal quartzite one or two times per year to protect its surface from staining and to prevent liquid form penetrating into it. Proper sealing will ensure that your quartzite countertop will last longer.
Quartz, on the other hand, is easier to maintain. It does not need sealing and you can clean it quickly using a damp cloth. One important thing to remember though is to avoid abrasive cleaners for both countertop materials.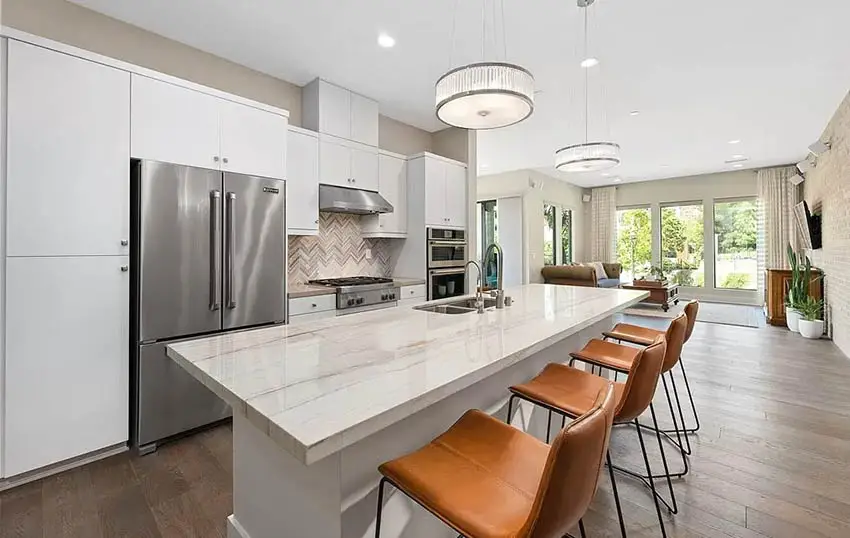 Durability and Hardness. Another big difference between quartz vs quartzite is the durability, resilience and hardness of each material.Quartzite is harder than granite, which makes it very durable. It can withstand heat very well so you do not have to worry about damaged from hot pots and pans. Although durable, quartzite is susceptible to staining but this can be addressed through the use of stone sealers.
Quartz is hard and durable too but it is softer than quartzite. Since one of its main components are polymers, which is plastic, it is prone to melting and cannot tolerate temperatures above 300 degrees Fahrenheit.
However, it stands pretty well against wear and tear. It is less prone to chipping and denting compared to quartzite. The binding process that it undergoes helps extract air, making quartz extremely durable and resistant to chipping and bacteria. It is also non porous, which means it does not soak up to liquids.
Both countertop materials can be scratched by sharp objects though, so you have to use a cutting board during food prep.
Cost. Cost for quartzite and quartz countertops are almost similar. In terms of installation, the labor for making quartzite countertops is a bit higher.
Quartzite Slabs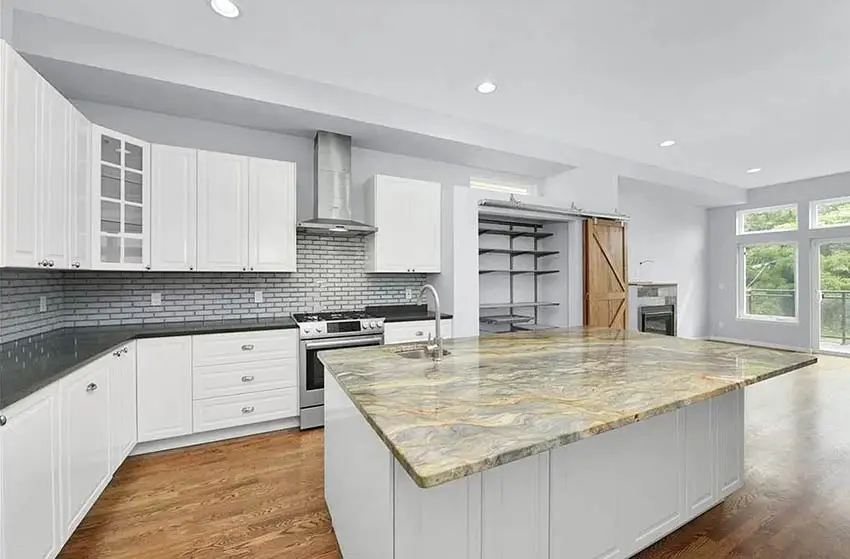 This kitchen features a beautiful exotic slab of colorful quartzite for the island and black quartz countertops.
Quartzite slabs are usually sourced from Brazil and can be bought from local natural stone suppliers. You can easily find them from countertop manufacturers who also sell marble and granite.
The size of quartzite slabs are variable and can be cut according to your specification and requirements. Typically, quartzite slabs are available in thicknesses of 2 or 3 centimeters. You can order them polished or polished.
Once your natural stone supplier has taken the necessary measurements needed to produce your quartzite countertop, the slabs will be cut according to the said dimensions. The edges of the quartzite countertop cut be profiled according to your desired design.
Quartzite Countertops Cost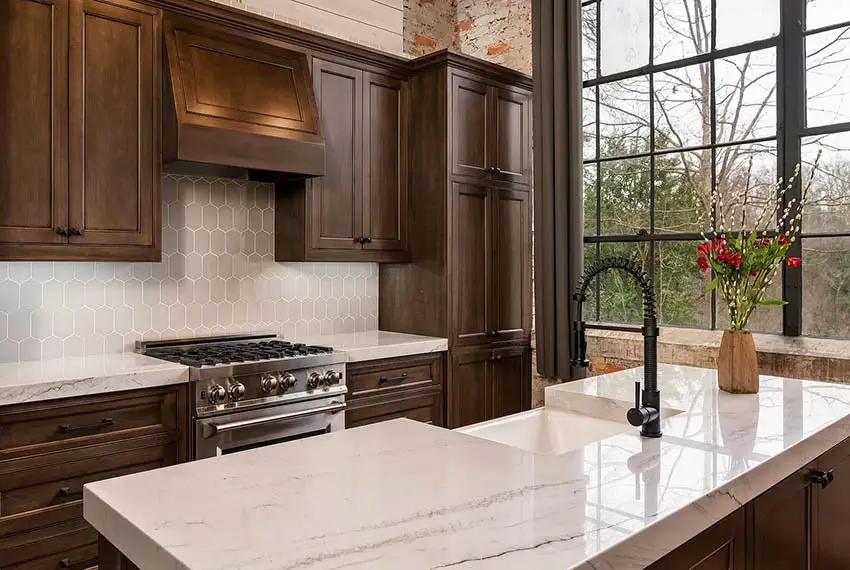 The price of quartzite countertops ranges around $60 to $100 per square foot, but prices can go beyond that depending on the type and design of the stone. This price is for the material alone and installation will still be added to the expenses.
The average installation cost for quartz and quartzite countertops, however, are not the same. Quartzite costs more to install because unlike quartz which is usually shaped into molds, it requires cutting using diamond blades and the process is quite tedious.
Complex jobs and bigger projects will also incur greater labor and installation costs. For example, quartzite countertops that have a waterfall design cost more than its simple counterparts because it requires custom cutting. Quartzite countertops when installed costs roughly around $90 to $150 per square foot.
The ranges of prices per square foot installed of quartzite countertops may increase depending on a number of different factors. There may be additional charges if there is more than average material wastage during the fabrication of the countertop.
Additional costs will also apply to add ons like upgraded edges, special profiles like mitered edges or stacked edge profiles, etc.
Comparing the price of Quartz and Quartzite to different stone materials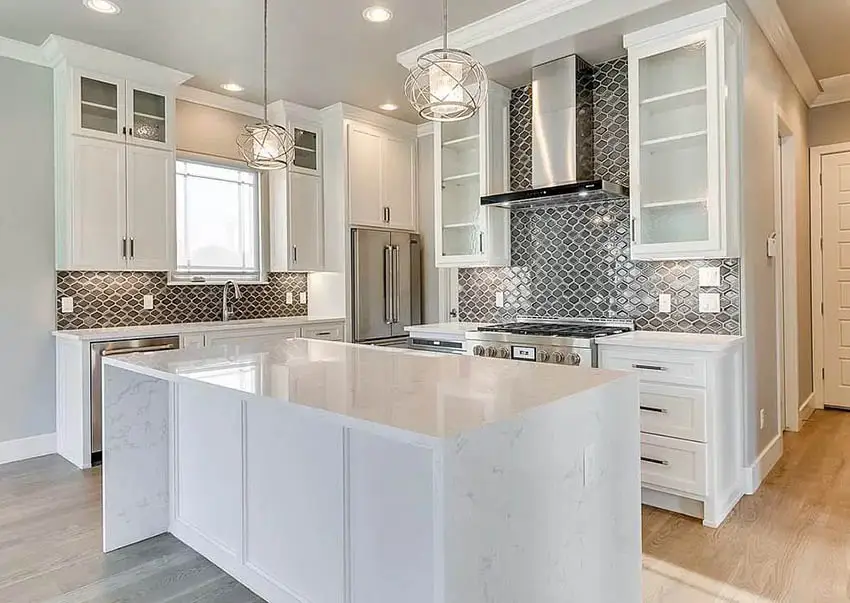 Kitchen with gorgeous Cambria quartz countertops.
Quartzite vs Quartz Countertop Prices. The price of quartzite countertops are similar with quartz countertops. The average price for both of these countertop materials ranges around $60 to $100 per square foot.
Quartzite and Quartz Countertops vs. Granite Cost. Quartzite and Quartz are more expensive than granite countertops since the latter only costs roughly around $50 per square foot. While less expensive, granite is softer and more porous than quartzite and will require more sealing.
Quartzite Countertops vs. Marble Cost. Quartz and quartzite are less expensive than marble, with the latter's cost ranging around $50 to $150 per square foot, depending on the quality.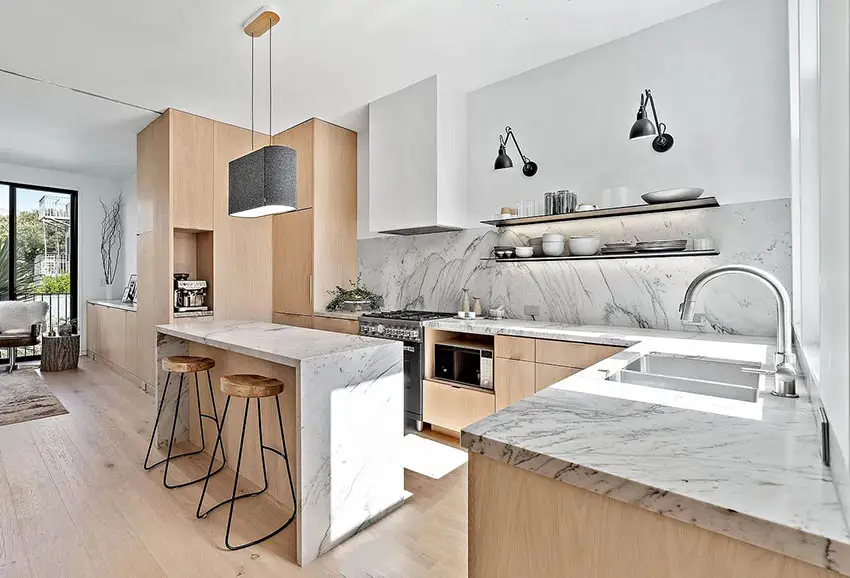 Modern kitchen with quartzite waterfall island countertops.
What makes quartzite a bit more expensive than other materials?
Rarity of the material. Unlike granite which is widely available and quarried in countries like Indi and Brazil, quartzite is more rare, scarce and less available.
Material wastage during quarrying. Compared to other stones, material wastage is unavoidable when quartzite is quarried. In order to produce slabs, big blocks of stones are carved out form the quarry. It is quite hard to find large enough blocks of quartzite because quartzite deposits are very fragmented with quartz and fissures. In order to get one ideally sized quartzite block, at least two or three smaller blocks must be sacrificed for wastage. Compared to granite, the yield from a quartzite quarry is much less.
Quartzite takes more time to cut and requires more equipment. Quartzite is a naturally hard material and is more abrasive compared to other natural stones, thus requires more cutting tools like diamond blades and diamond polishing heads. Normally, it only takes one pass in a stone cutting machine to cut through an entire 3 centimeter thick natural stone slab, but this will not suffice for a quartzite slab. Typically, a more sophisticated equipment must be used to complete the job. The additional tools for cutting translates to increase in the cost of the material.
Quartzite requires more effort to polish into countertops. Aside from being hard to cut, quartzite is also hard to polish because of the material's physical make up. Polishing the edge of a quartzite countertop takes much longer time than it does for a granite countertop.
High demand for Quartzite slabs. There is a very high demand for quartzite countertops because of its impressive quality and beauty. The continuous increased demand for something that is not available in high quantities makes the prices increase more.
Quartzite Colors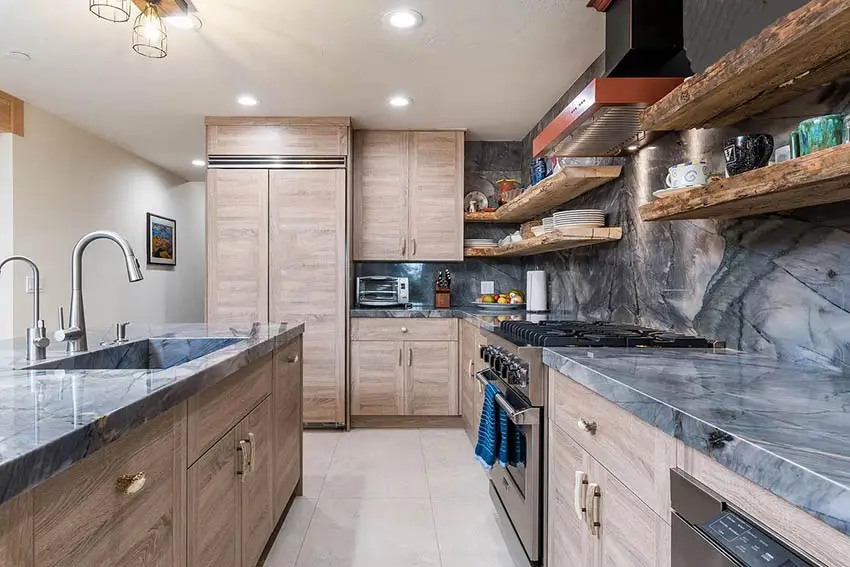 The color of the purest type of quartzite is generally white or different shades of gray. The base is typically filled with streaks and veins which is the result of undergoing varying degrees of temperature in its formation. Because of its veined appearance, quartzite is often compared to marble.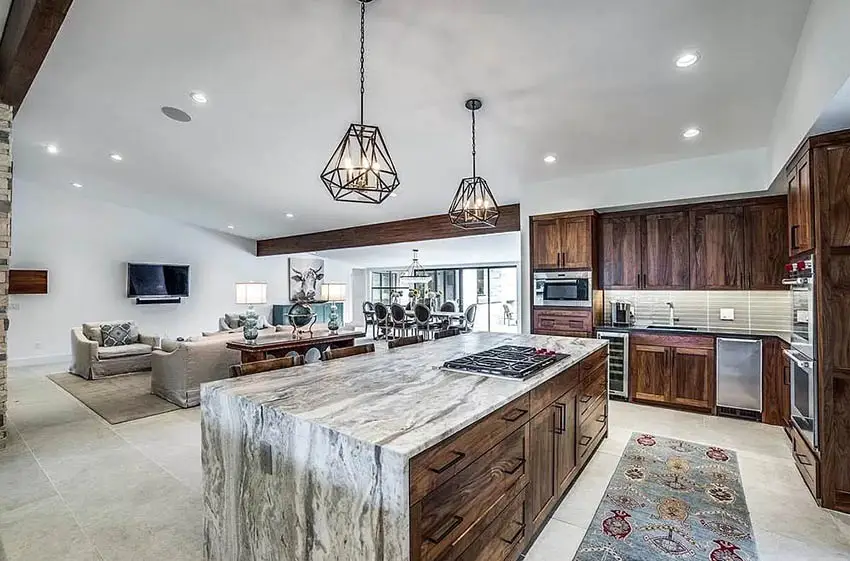 Accents and highlights of varying hues are also common in quartzite and this is a result of the random presence of different minerals in the stone. The purple, red and pinkish undertones in quartzite, for example, are a result of iron oxide. While other colors like blue, green, yellow and orange are from other types of minerals.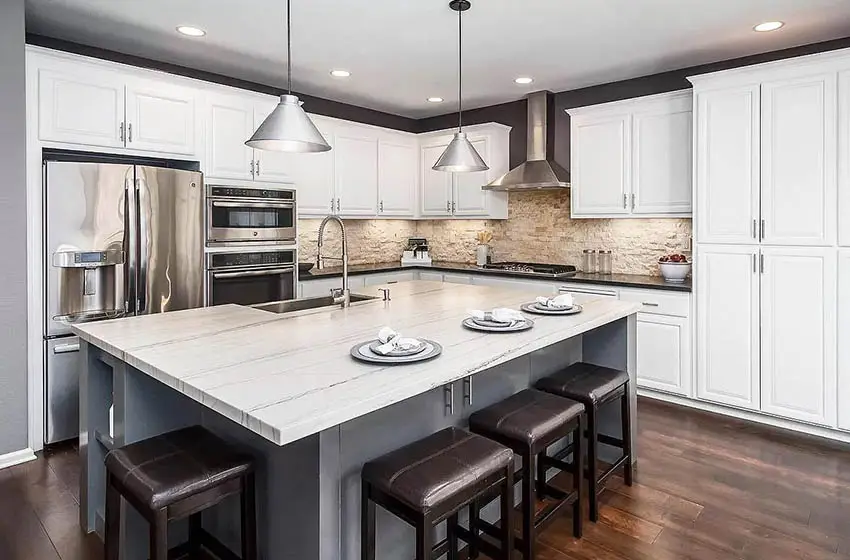 Popular Quartzite Colors
Here are some of the most popular quartzite colors available in the market:
Black – Mercury Black

Brown – Fantasy Brown, Sandalus Leather, Elegant Brown, Orite Quartzite

Beige – Taj Mahal Quartzite, Mustang, Zermat

Blue – Blue Fantasy, Aurora Blue, Azul Macaubas, Old Hall Azul Macaubas, Marmo Onyx Blue, River Blue, Blue Lagoon

Pink and Red– Picasso Quartzite

Green – Emerald Quartzite, Medusa Quartzite

White – Classic White, Super White, White Macaubas, White Fantasy, Shadow Storm, Citrus White, Tuscan, Snow Crystal, Oggi, Crystal Ice, Mercury White, Alice White

Gray – Super White, Macaubas Giotto, Sea Pearl, Florida Wave

Gold – Onyx Bamboo

Purple – Violet Bamboo, Picasso Quartzite
Fore more related designs visit our Calacatta quartz countertops ideas article.