On this page we share our geodesic dome house design guide including pros & cons, cost and popular styles.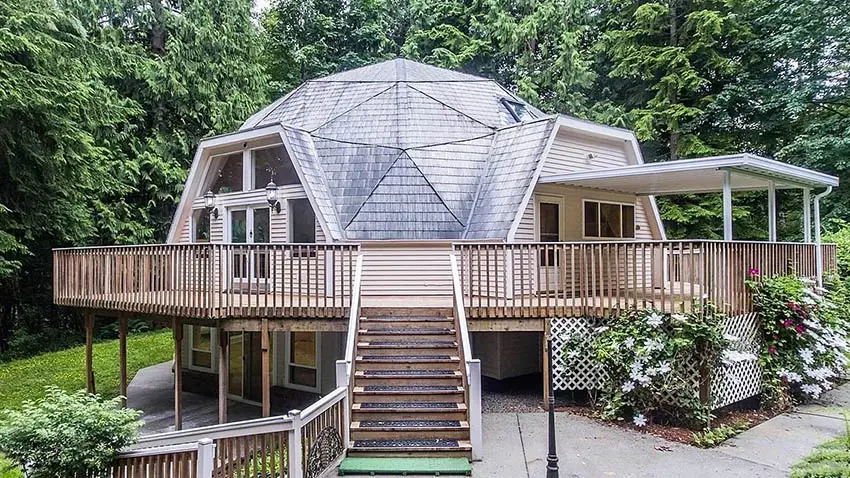 Not so usual, yet common: Geodesic Dome houses are the solutions to nature's designs. It might sound weird owning a dome house, Isn't it? Well, it is not. Now that we are diving deeper into scientific theories and hi-fi technology, it is possible to own and reside in one.
Geodesic Domes dates us back to the Mid-20th CE when the famous architect, Buckminster Fuller explored out of the boundaries and experimented with the potential triangle joints in a dome. Ever since then, geodesic domes have been classified as an active example of organic architecture and a potential energy-efficient solution. Let's have a look into the further details and you would be amazed how exciting space could get.
What is a Geodesic Dome House?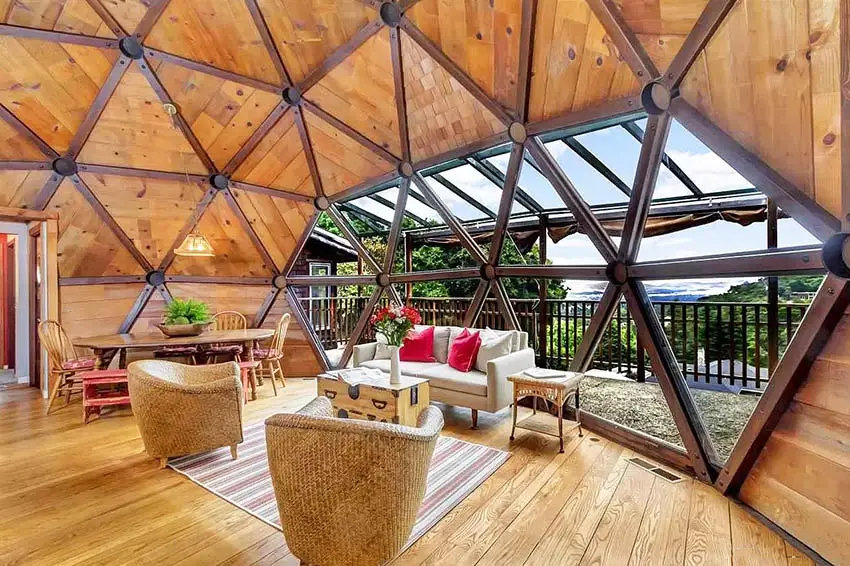 Geodesic home is a lightweight structure that are spherical or rounded ellipsoid in their forms with regular doors, windows, and chimneys like any other house. Supported with a polyhedron framework, their types of shells classify a dome house into two following categories.
Geodesic Dome Homes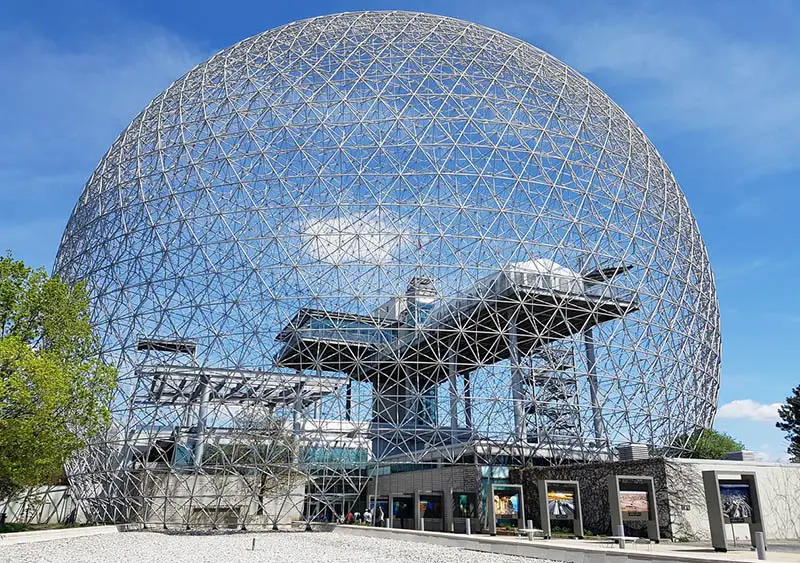 A classic example is the American Exhibit at Expo 67, Montreal. Their outer layers are typically connected with triangles and joints. These triangular shapes allow enough room for the patterned doors and windows into the structure. However, it is also quite common to have skylights and complete glass roofs in these domes which allow for some fancy looking ultra-luxury hotels and restaurants worldwide.
Monolithic Dome Houses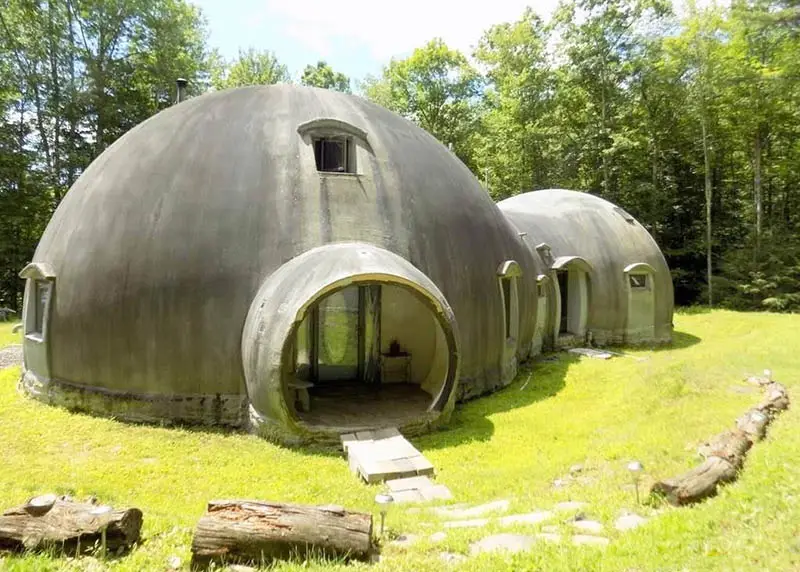 Just like the name suggests, which means "one stone", this dome structure is a single thick layer of material covering up for the entire structure. Highly durable and tight, these structures account for some exciting pieces of dwelling with some extravagant looking interiors.
Geodesic Dome Homes Pros & Cons
Even though it's quite a new concept in a few neighborhoods, geodesic homes are emerging to be a disaster-friendly and efficient option for the generations. Let's sneak a peek on some of the features why you should probably consider a dome house as your next house.
1. First and Foremost, they are durable for areas with heavy snow/wind and even states like Florida, which are highly prone to hurricanes.
2. Due to the absence of corners, the temperatures are even, and air circulation is unobstructed. Due to these features, domes are considered to be highly energy-efficient while they will also end up saving you ample construction material.
3. Commendable for insulation purposes, dome houses use lesser artificial lighting as they eventually refract the sunlight. In winters, it will help in storing the heat while taking advantage of the solar gain.
4. Comparatively an inexpensive option. Not only they save you an upfront fee of the lesser materials used, but they will also use lesser energy later thus, saving you dollars of energy bills.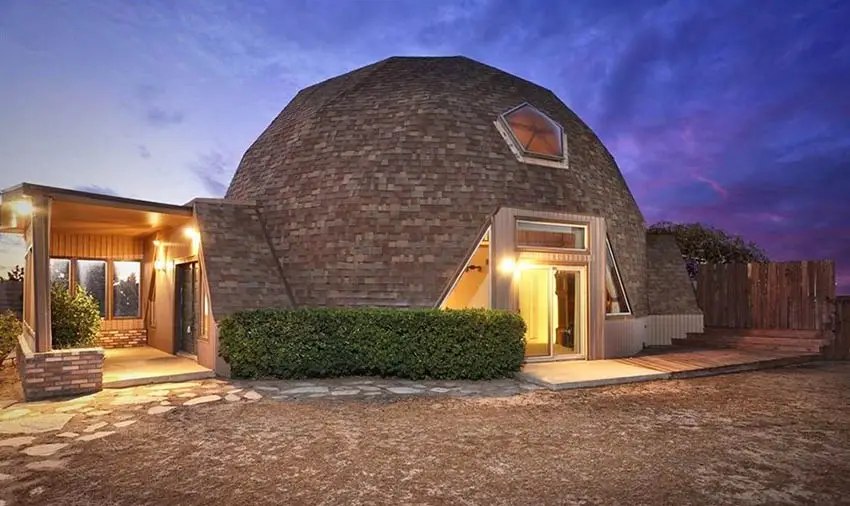 Geodesic dome with wood roof shingles.
Now that you have come across some of the pros, it important to understand that building a dome house is not all sunshine and roses! The other side of these homes lays an equal disadvantage for these structures. Have a look:
1. Due to its curved wall, it gets challenging putting up portraits and cabinets.
2. Even though it saves up in construction material, cutting up triangles leads to plenty of wastage which is no good!
3. Fitting in triangular doors and windows might get daunting. However, we recommend you to try fit in round windows in the triangles and cover up the rest for it to behave like a solar tube.
4. If you are looking for your house to be an investment, stay away from dome houses!
Are Geodesic Dome Houses Energy-Efficient?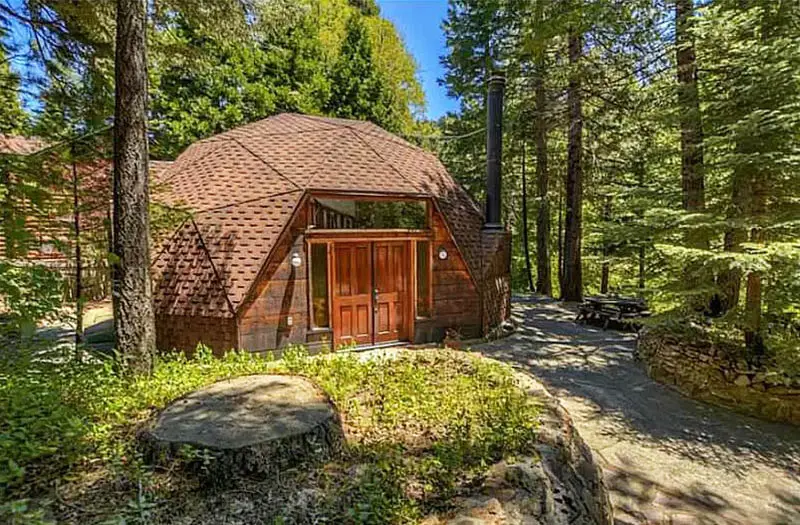 Geodesic homes are the replications of nature's shapes. You would be surprised to know how these domes can end up saving you 30% in construction materials as compared to other conventional houses. Due to their seamless curved surface, there are zero energy-wasting edged corners. Hence, a good option for lower utility bills. You might start saving up from day one in the construction costs until you reside with the least dollars to pay for electricity.
Geodesic Dome House Kit and Price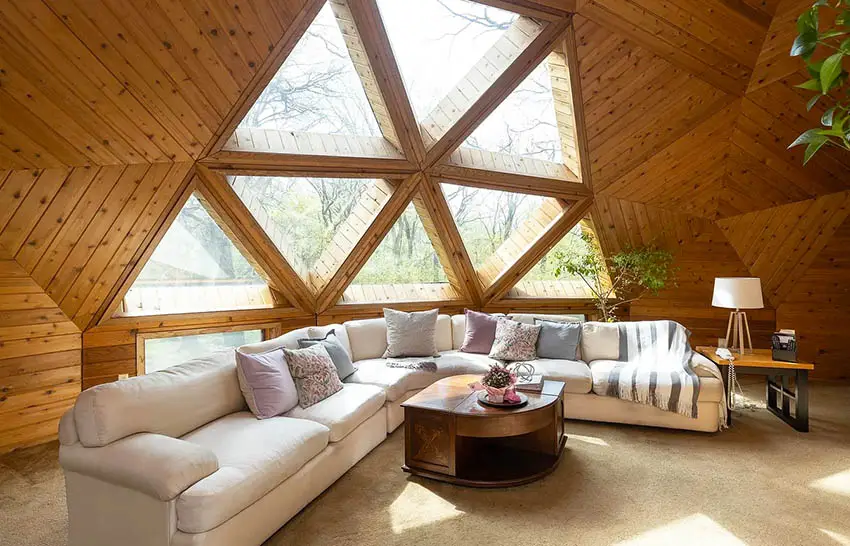 There is no one-to-all solution for the price of a geodesic dome house. Simply, it varies! Monolithic domes price up their homes at $65 per square foot for the wall and floor shell package.
If you DIY a monolithic home, you should probably set a budget within $10,000. However, the package varies for different materials. Meanwhile, geodesic homes are comparatively expensive ranging somewhere around $50,000 with the help of a kit.
Using a kit to build your dream home sounds extremely exciting. Well, that's true, it is! The kit includes exterior triangles, hardware, riser, the vent system, and struts.
They will also provide you with batt insulation (made with fiberglass or mineral wool), custom triangular skylights (if demanded), framing arches, cupolas, windows, operable skylights, and other connectors that would help you frame the shell components.
Depending on the size (diameter), openings and materials, a standard prefab modular home kit will vary around $20,000 to $28,000. The price could go higher and lower as per your needs.
An alternative to a geodesic home with a similar price tag is a tiny home. For an even less expensive option one may consider a shipping container house.
How much time does it take to build a dome home?
Wondering how long it would take to build your dream dome home? Not a lot. A monolithic dome could take six to eight weeks to get the air form ready. Then about another two to four weeks for building the home.
A larger sphere takes about six to ten weeks in the stage. As usual, interiors could get personal and end up taking three to six months in complete furnishing of the space.
Glass Geodesic Dome Homes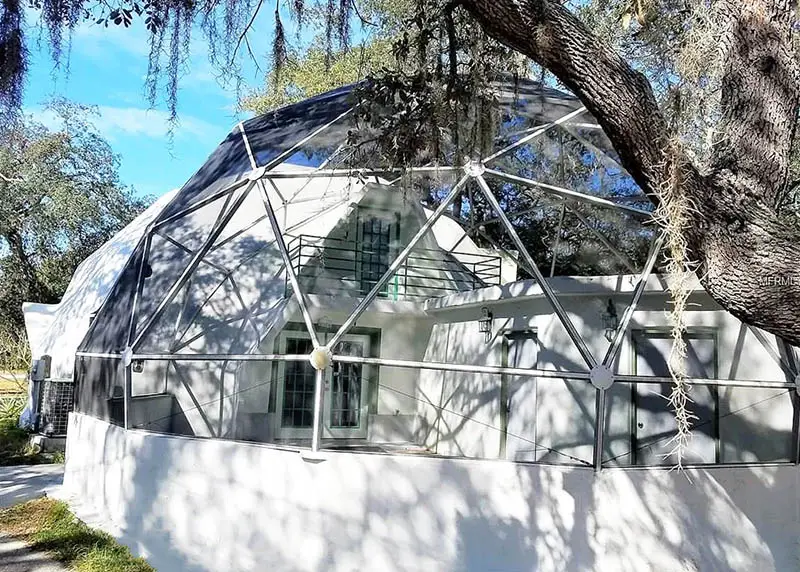 Who doesn't dream of experiencing a glass geodesic dome? Nowadays, these glass structures are used for recreation purposes such as indoor pools, glamping, greenhouses, luxury resorts and stellar observatories. The glass panels used for this structure could be either single, double, or triple glazed – transparent or mirror finish.
To create an energy-efficient structure, we recommend using a low-E coated surface. Other than their aesthetic nature, glass domes also prove to be a strong, lightweight, and disaster-resilient option.
Concrete Geodesic Domes Homes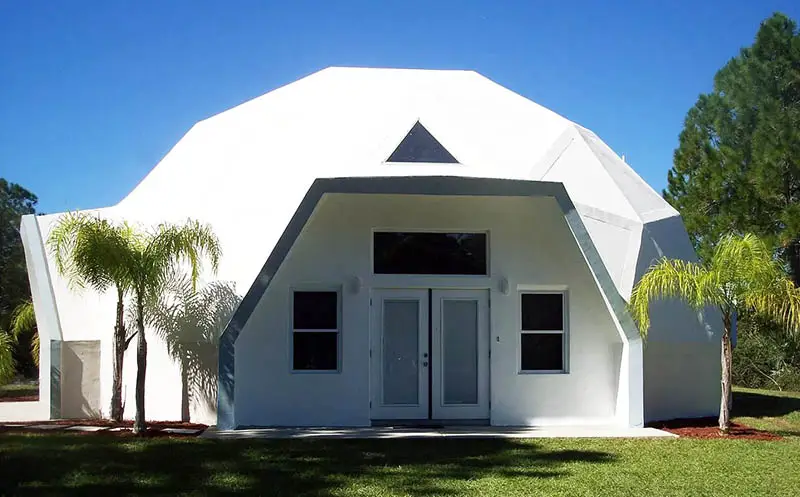 Concrete as a building material for a geodesic dome would always be a doable option for the homeowners. It takes comparatively more time to build as it requires pouring in concrete, curing and laying out reinforcement cables. Once the concrete hardens, the wires are released thus erecting the structure.
The outer shell constitutes a 4" layer that depends on the size of openings and the height. As they are well-insulated, you can save up hundreds of dollars in utility bills! These domes homes are eventually gaining momentum throughout the world and why not? People want to 'think' and 'live' out-of-the-box.
for more related ideas take a look at our gallery of tiny home designs.