Here's our guide to an Acadian style house including what it is, colors and interior & exterior design features.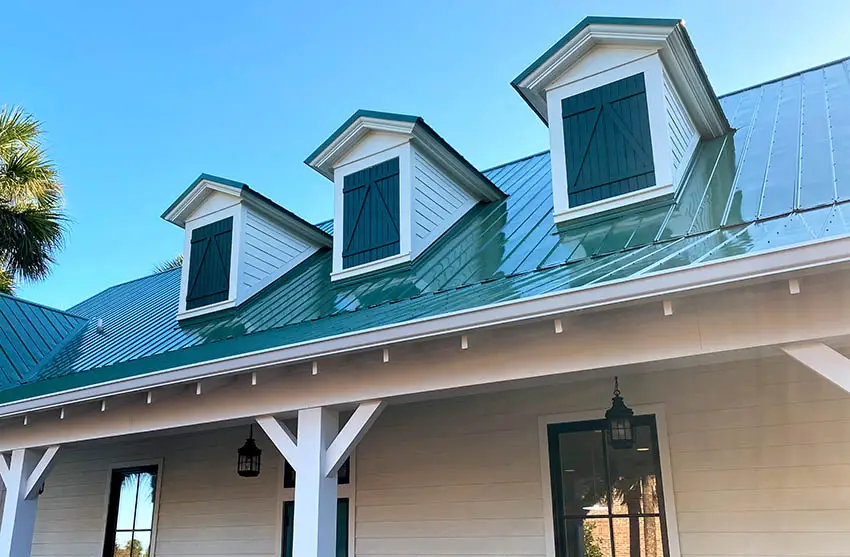 Originating in Nova Scotia, Canada, Acadian Style homes have a strong influence of West European Culture that highlights some noteworthy design elements on the Colonial-style homes and French Provence Homes.
The name – 'Acadie' was named after the local citizens of the area who later moved down to the South of the US in Louisiana, Mississippi, and Alabama in the 18th and 19th Century. The appearance of these homes are so 'timeless' that the homeowners were drawn to the idea that the design would never fade away.
Since then, the design has been constantly evolving and improving to match the needs and requirements of the southern states and other underlying gulf areas. So, are you excited to know more about what these homes have to offer? Let's have a look!
What is an Acadian Style House?
Acadian homes are also called "forever" homes due to their timelessness. Their architecture and style are such that it can withstand for all seasons year long throughout!
These homes are durable, strong, easy to maintain, and can be easily remodeled which makes it an ideal home style for the homeowners across the country.
With an utmost authentic look, these homes offer the basic necessities of open plan living and several rooms for friends and family which is highly appreciated by the buyers.
Luxurious Acadian style home with gables and front porch columns – See this plan here.
These homes also can be easily customized based on your personal preferences. Very simple but effective in design, Acadian homes believe in simplicity and authenticity. They believe in small and simple living without any extravagant features or unnatural features incorporated.
They have the potential to blend in with their immediate surroundings and exhibit an illusion of emerging from nature itself. These are also some of the most commonly identifiable homes as you walk down the streets of the southern states.
Acadian Style House Colors
Acadian homes are known for natural and simple living. Thus, the colors used in the exteriors of the homes are quite sober and subtle. Deriving the most from neutral hues, the basic colors used on the exteriors of Acadian homes are beiges, greiges, browns, off-whites, and whites.
Most of these homes mainly highlight light-colored walls with reddish-brown Spanish tiles. The window treatments too are contrasting and have earthy tones.
Brick is a noteworthy exterior element used in the Acadian homes. Sometimes the walls could be an accent in a darker shade or exposed painted brick.
Meanwhile, the interiors are breezy with light-shaded walls to make the space look bigger. A lot of earthy tones too are used in the interiors in the form of in-built cabinets and ceilings. Wooden textures are highly used in these homes in contrast to warm neutrals and subtle beiges.
Acadian Style House Exterior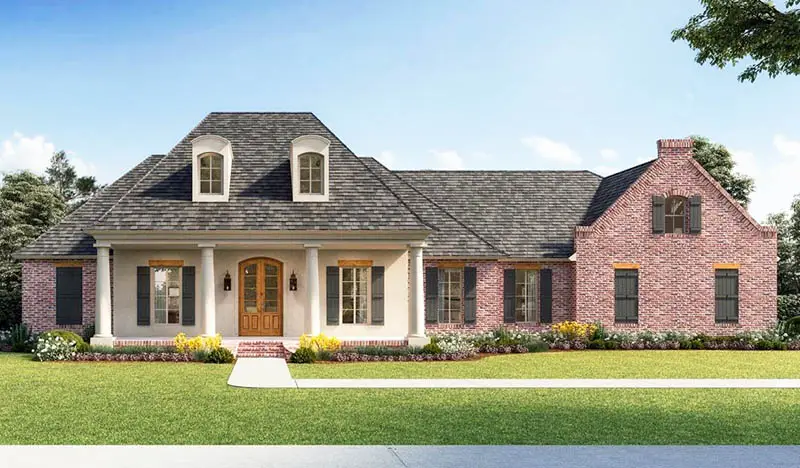 Brick & stucco design Acadian house – See this plan here.
The roof, porch, windows, and other small elements used in the Acadian Style exteriors are quite notable. Some of the most important features of these homes are:
1. Single Story – These homes are known for single-story structures. Gravitating towards ranch or cottage style homes, these homes are highly preferable for senior citizens due to the absence of the staircase. However, there is no hard and fast rule: some of the Acadian homes do have multi stories.
2. Steep Hipped Roof – Originated in Europe, the roof style is highly distinguishable. Extremely preferable for cold winters, the roof of Acadian homes is quite steep which helps the easier flow of snow. Some of the multi-leveled Acadian homes even have projected gables and hips to add a dynamic character to the facades.
3. Wide, Covered Porches – Acadian style homes highly appreciate outdoor living. Thus, they always have columnar pathways or covered porches surrounding the internal spaces of the home. These porches are usually located in front of the homes to offer a great view of the surrounding landscape. Again, sturdy columns mark an important character on the Acadian home facades.
4. Brick and Stone Masonry – Façade materials have always been a noteworthy feature in Acadian homes. Similar to the European Colonial style, these homes have either brick or stone wainscotting with finished wooden panels. Some of the homes also feature exposed brick chimneys. These materials are quite strong, durable, and easy to maintain.
5. Shutter Windows – To protect against the stormy winds and thunderstorms, the windows are quite strong and durable. Some windows have arched skylights that mark an important character to the overall façade.
Acadian Style House Interior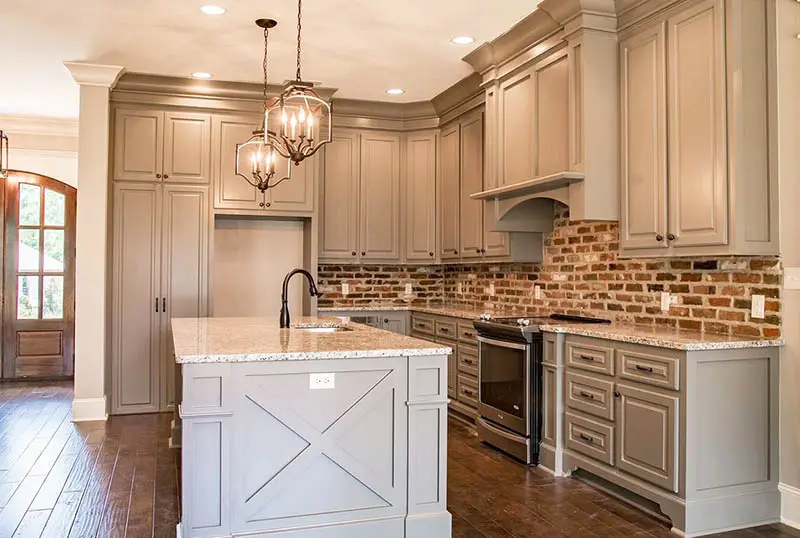 Just like the exteriors, even the interiors of these homes use strong, durable, and easy to maintain materials that can withstand storms and hurricanes. Let's have a look at the following interior features for the Acadian homes:
1. Open Space Planning – Acadian homes have an open plan living with kitchen, dining, and living all merged together. Kitchens are quite modern with stone countertops, eating bars, breakfast bars, separate bar, island, and pantry. The space is open thus, easier to move around and circulate.
2. Wooden Textures – Golden Oak cabinets in the kitchen are quite a common feature. Most of the Acadian homes also have lush hardwood floors.
3. Large Master Bedroom – The house usually has two front doors that lead to the kitchen, living, and dining rooms. These homes have a huge master bedroom with an attached master bathroom suite.
4. Airy and Bright Interiors – These Acadian homes have bright and cheerful interiors with white, off-white, beige, and other neutral-toned walls. The main idea is to make the homes look spacious and airy.
5. Exposed Brickwork – It is quite common for the Acadian homes to have exposed brick arches indoors. Some of the homes also feature an exposed brick fireplace wall which makes one of the noteworthy interior features.
6. Exposed Wooden Beams – Most of the Acadian homes have exposed wooden beams that also reflect a slight Ranch-style design. These are often painted or left distressed depending on the design preference.
7. Modern Security Systems – These homes are equipped with quality security systems to make the indoors feel safe and secure at all times.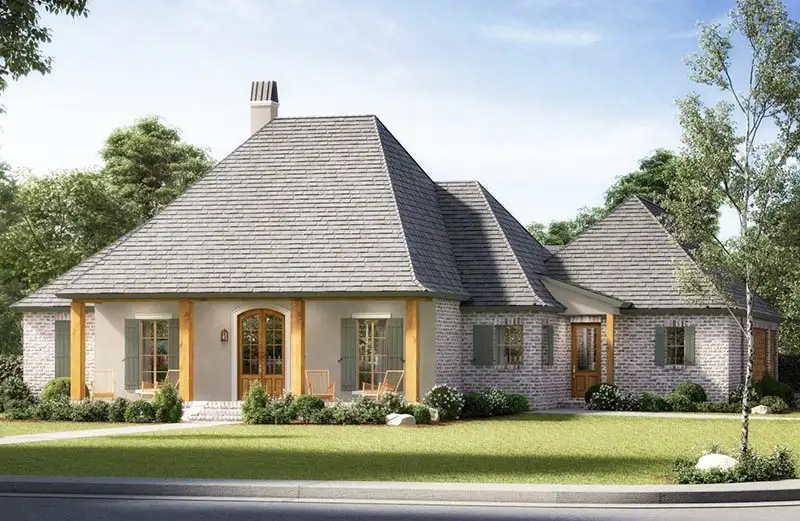 Classic style Acadian house with hipped roof and front porch – See this plan here.
So, what do you feel about the Acadian style homes? Are you planning to consider this as your next home? Do let us know in the comments below!