Here we explore house colors with black roof ideas including color schemes, exterior house paint options, color combinations for black metal roofs, and the best paint to use.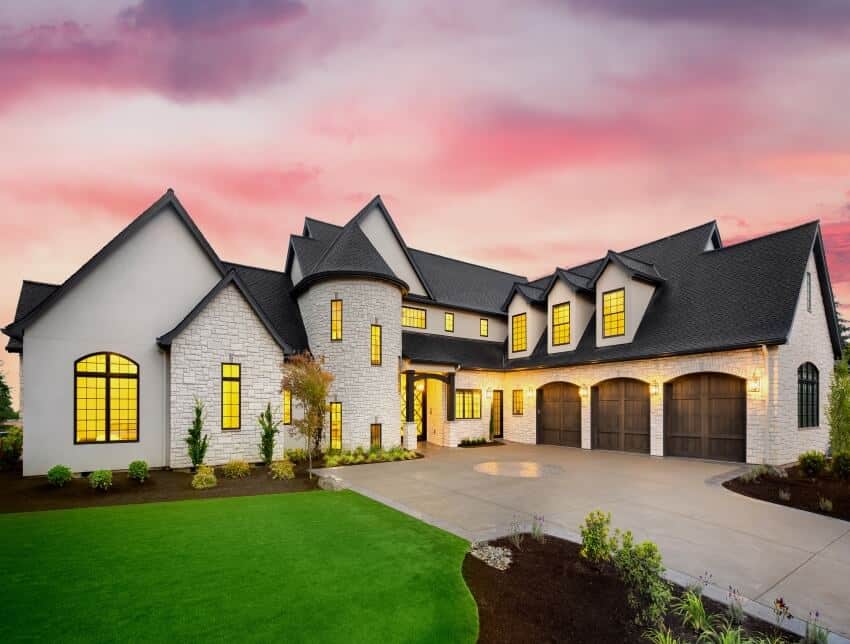 Your roof is an essential element of your home. So, unless you are building or buying a new home, you probably don't think much about the roof until you have to.
But besides being functional, the roof can make a huge difference in your home's overall appearance. Because there are different roofing materials and colors, you can choose one that fits the rest of the exterior design.
If you want your roof to stand out, you might consider going with a black roof. Since the bold color works with almost any architectural style, it will make your home look better and elevate your home's curb appeal as well.
Why Are Black Roofs So Sought After?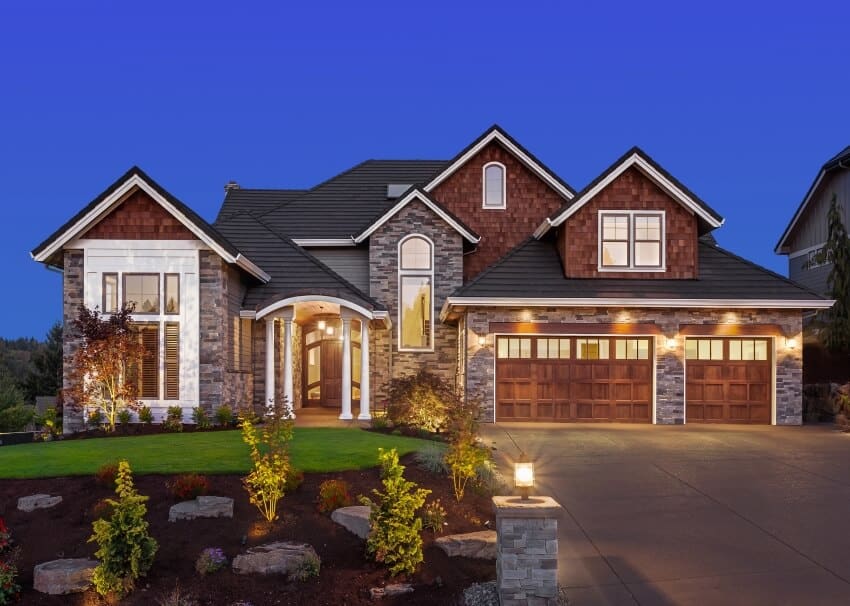 The color is flattering. The home's exterior can be painted any color you like, and you can use any siding with a black roof.
If you are having trouble selecting a roof color that will look good with your home's exterior paint, black might be the answer right off the bat. Thanks to their adaptability, they also effortlessly complement various sidings, whether brick, stone, or wood.
In addition to aesthetic benefits, black roofs provide practical help. If you have a dark one, it will take less time for snow and ice to melt off your roof since it maintains a greater temperature than a roof with a lighter tint. This may have a significant effect over time if you live somewhere with a climate with long winters or consistently below-freezing temperatures.
In addition, black roofs are fantastic for concealing structural faults. They do an excellent job of masking any imperfections or unevenness outside the house by blending in with it. Imagine it as the equivalent of a classic little black dress for your home.
Black Roof House Color Schemes
Before choosing a black roof, you should consider all the benefits and downsides. One of the advantages is that the dark color will make your house stand out and look very striking.
It will also hide any flaws or uneven spots on your roof. Plus, the pigment absorbs heat, so it will help melt snow and ice in the winter in colder climates.
On the other hand, black roofs can warm the rooms below them because they soak up heat. But this problem can be fixed by ensuring you have enough ventilation. Also, the higher temperatures can cause the roof material to fade and break down more quickly.
Now that you know the facts, here are some ideas to help you decide and choose the colors outside your home.
White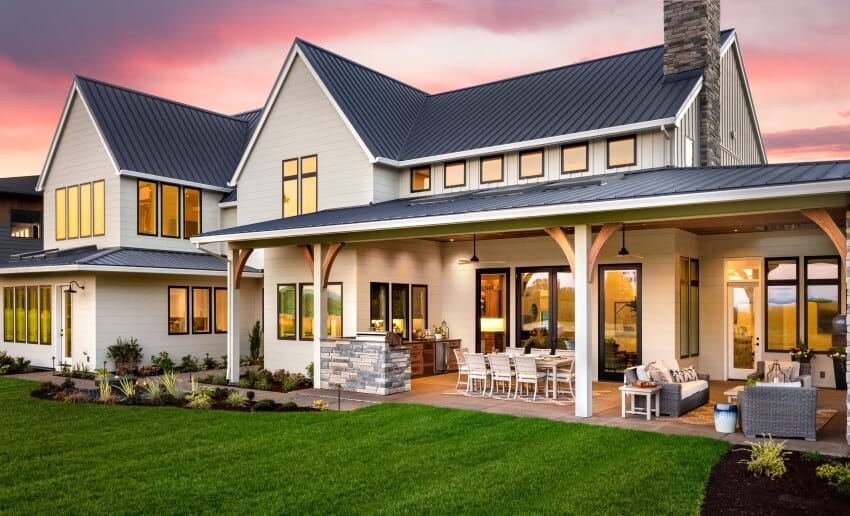 The time-honored color combination of black and white can never go wrong. You may make this color palette work for you by including one or more wood elements (such as the front door, entrance, and patio cover), providing warmth to the overall effect.
Recommendations:

Pure White SW 7005, Sherwin-Williams
This paint hue is Sherwin-Williams' most famous white, and it is an excellent choice for a white that won't let you down. Because this classic white does not have a tendency toward being either too chilly or overly creamy, it serves as the ideal neutral backdrop for any exterior area.

White Dove OC-17, Benjamin Moore
White Dove by Benjamin Moore is an excellent option for those looking for an authentic, traditional white paint color. It is terrific for moldings and trims because it is bright but soft, but it also looks great when used as an all-over white paint color.

Polar Bear 75, Behr
White paint colors with balanced undertones, like Polar Bear from Behr, create a revitalizing and brightening effect. A pure and bright white that can make a room feel much larger than it actually is. The outcome will be bright and expansive if you use it on the trim and walls.
Beige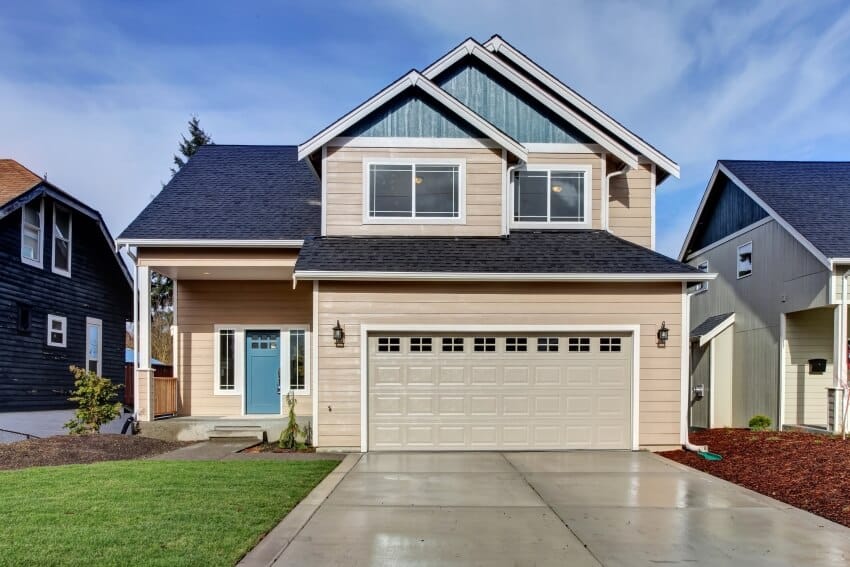 The combination of stone with a light beige paint color creates an atmosphere that is quite inviting and could be something that you desire for your home. The neutral combination looks contemporary and elegant when paired with a black roof.
Still, it retains all of the pastoral beauty of the original design. To pull the entire thing together, paint the window trim and the garage door in a dark, ebony color.
Recommendations:

Pittsburgh Paints Siesta Sands
Have you ever vacationed in Bermuda and dug your toes into the rosy sand? Siesta Sands is the name of the color manufactured by Pittsburgh Paints. It is more complex than a simple white, yet it has a more pleasant flavor than a regular tan.

Sherwin-Williams Accessible Beige
This Sherwin-Williams paint color, Accessible Beige, is not your typical builder-grade beige. It is a color that has withstood the test of time and leans toward taupe. When looking for a different color besides warm white, we invariably find ourselves returning to this one. Farrow & Ball Elephant's Breath
An intriguing variation on the color beige, Elephant's Breath by Farrow & Ball, is available. Depending on the time of day, it can seem either warm or warm gray with a hint of magenta.
In the dimmer light that comes from west-facing spaces, it can take on an almost violet hue. Combine with a palette heavy on earth tones, such as browns and greens, to bring out the color's muted yellow undertone.
Teal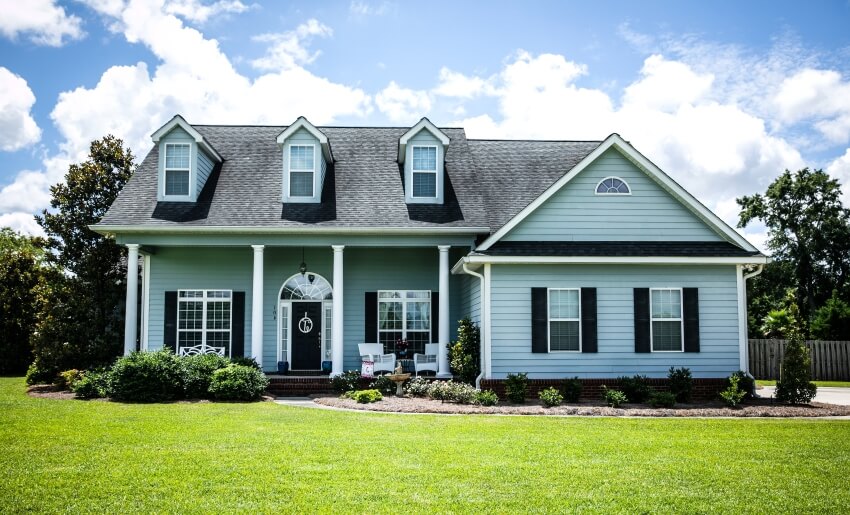 Choose a deeper hue if you want the exterior siding to exude a more sultry air. In a purely technical sense, it does not have to be the color teal at all.
You can choose any vibrant shade of green for it, and it will have a black roof and black window trim. To prevent the color scheme from becoming monotonous and give some visual appeal, incorporate contrasting elements like white siding and a wood porch cover.
Recommendations:

Largo Teal by Benjamin Moore
This stunning shade of blue-green aquamarine brings images of Morocco's tile fountains, shallow waters in the Caribbean, and old Palm Springs. The Largo Teal color is so vibrant that it can infuse any exterior space with enchantment and excitement.

Lafayette Green by Benjamin Moore
We adore how it adds just the right amount of vitality to an otherwise muted color palette, which is characteristic of the outside look of a modern farmhouse.

Teal Ocean by Benjamin Moore
Teal Ocean by Benjamin Moore is an exceptional example of the color teal. It is refined and enduring and can complete any environment with the precision, intricacy, and drama it possesses. It performs exceptionally effectively in all areas of your home and on various items therein.
Taupe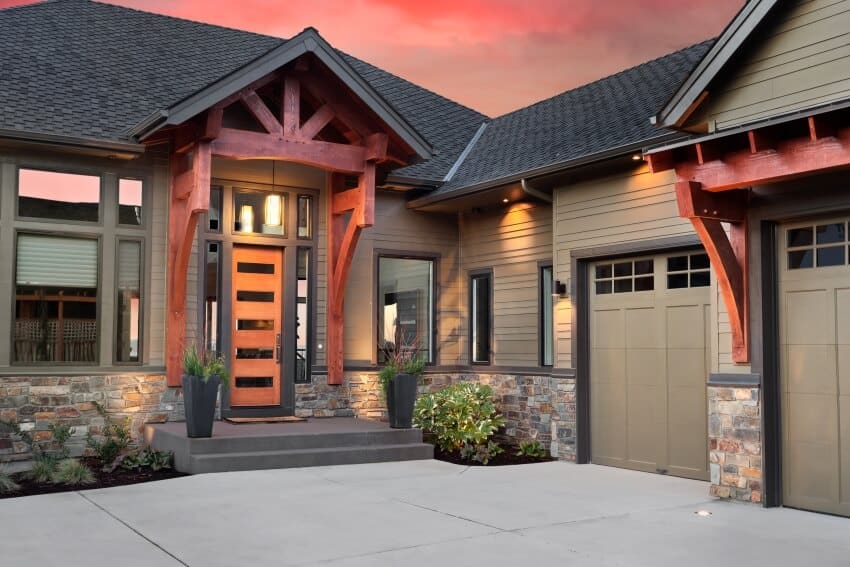 Choose an earthy siding color like taupe if you have been daydreaming about an earthy palette for your exterior that will allow the landscaping to be the star of the show. This may be accomplished by painting your siding an earthy color.
The sand-colored stucco looks fantastic in contrast with the dark tone of the roof. To allow the highlights to stand out, including some verdant plant life and red brick in the design.
Recommendations:

Benjamin Moore Sparrow AF-720
It is the ideal combination of dark gray and deep brown, and its tonal qualities shift subtly throughout the day. The shade lends an impressive warmth to a dark roof while simultaneously functioning as the ideal neutral backdrop for virtually any accent color narrative. All of the brights, all of the pastels, and even more neutrals can work!

Poised Taupe by Sherwin-Williams 232-C5
It is a natural taupe color that is quite dark and pairs well with many color schemes.
Benjamin Moore Upper West Side CSP-70
This is the hue to use when you do not want your walls to be white. It is deep enough to provide suspense and drama, yet at the same time, it maintains a crisp and clear brightness.
It works well with whites and other neutrals with a creamy undertone, and it is an excellent choice for the outside walls of a building when matched with a black roof.
Black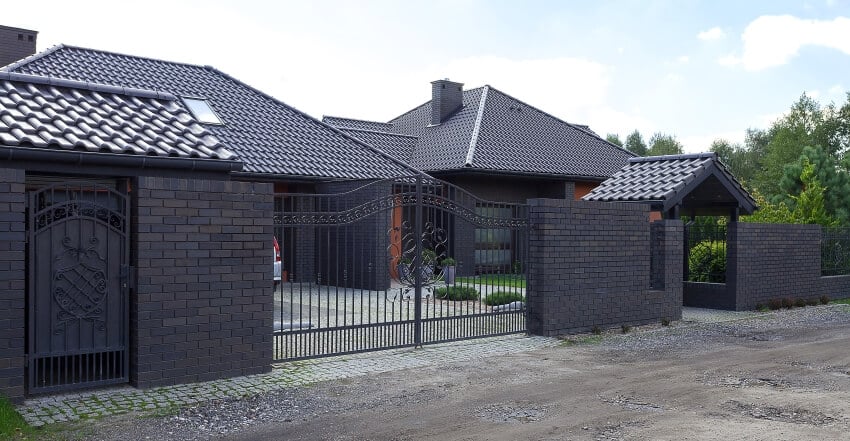 Although it might not make much sense initially, black-on-black can be effective. Choose an all black exterior for your home if you want to catch your neighbors' attention.
Because the idea of using only one color, monochrome, is daring, contemporary, and sophisticated, there is no real need to add anything else in the form of decoration. Choose light fixtures made of brass and a door color that contrasts with the rest of the room if you want to add a little bit of extra flair.
Recommendations:

Noir by Valspar (4009-2)
The hue is very breathtaking to look at! With an LRV of only 2.767, Noir is characterized by its dark and seductive tone. We are in awe of the color's ability to steal the show without resorting to excessive ostentation. Compared to other truly jet-black colors, Noir stands out due to some charcoal gray overtones that give it a distinctive look.

Tricorn Black by Sherwin-Williams (SW 6258)
The LRV for Tricorn Black is 2.45, which indicates that it is exceptionally black in tone. The fact that it is a true black makes this color a favorite among interior designers and homeowners alike.
Because it does not include any dominant undertones, it is compatible with any shade. Making it an excellent option for serving as an accent color in exterior color palettes.

Onyx by Benjamin Moore (2133-10)
Onyx by Benjamin Moore is a very dark black with very few or no overtones. It is an excellent choice for painting exterior walls and sidings. In many respects, it acts the same as white; for example, it is an excellent background against which to display your black roof.
Brown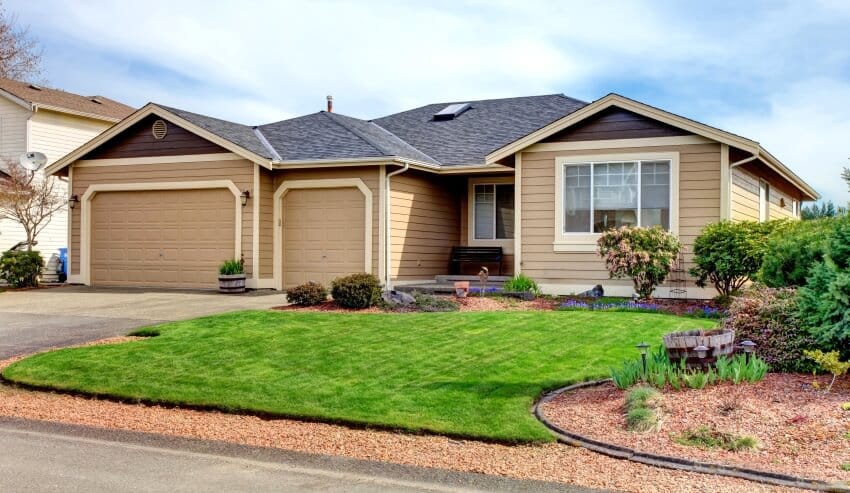 It may appear to be taking a risk to combine a dark shade of brown with a black roof, but this is actually a combination that can be successful. Add some brickwork for texture and warmth and some white trim for a flash of contrast.
Recommendations:

Sherwin-Williams Ligonier Tan SW 7717
This mellow color, a combination of pumpkin and putty, evokes a sense of comfort in the same way as the warm glow of candlelight does.

Benjamin Moore Mink 2112-10
We like that the hue is not too sad nor too dark; instead, it is as near to the color of Coca-Cola as possible. Gloss paint is not going to give you the same sense of depth and resonance that this does.

Pratt & Lambert Autumn Dusk 12-19
It's not your average brown; instead, it's a tea-leaf, caramel brown with a bit of green, giving it more vibrancy than regular brown. It doesn't perish at night. Very rustic while retaining an air of sophistication throughout. It accentuates the appearance of other colors.
Light-Colored Wood
Combining a dark roof with light wood siding is yet another approach to make a dark roof appear lighter. This will result in something that has a really streamlined and uncluttered appearance and feel. The simplified and clean appearance conveys a significant amount of authority.
Additionally, a two-toned technique adds depth and dimension that cannot be denied. Although this isn't technically a paint color more of a material type, we thought it would be nice to throw this option into the mix.
Dark Gray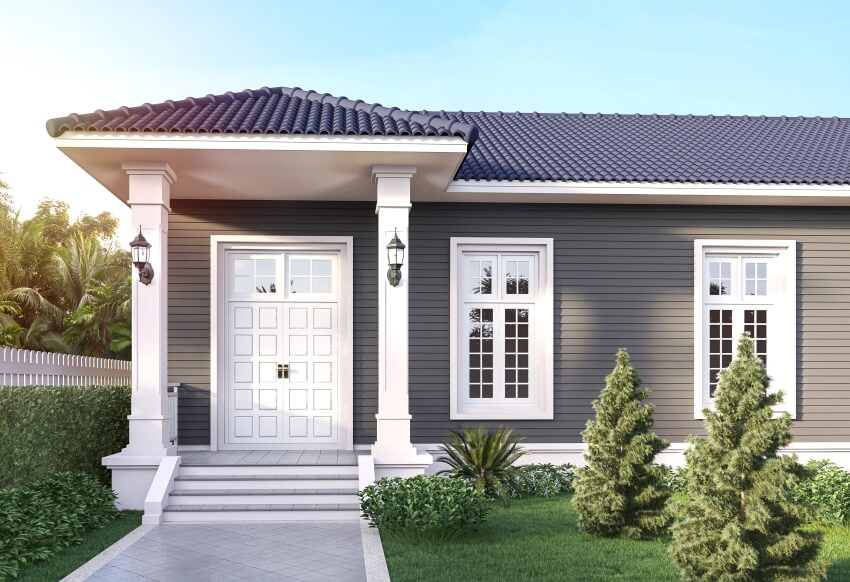 Consider opting for a lighter tint for the exterior of your home if you enjoy the idea of having an all-black home exterior. Still, you're worried that it could feel too overwhelming.
Adding a black Dutch door and roof to the structure can draw attention to the understated contrast created by the dark gray siding. Brick walkways, wooden fences, copper light fixtures, and house numbers are all examples of accents that may offer warmth to a space.
Recommendations:

Agreeable Gray SW 7029, Sherwin-Williams
Sherwin-Williams Agreeable Gray (SW 7029) is an EXTREMELY well-liked greige paint color manufactured by Sherwin-Williams. It is a well-known warm gray color with hints of green that are just barely perceptible.

Benjamin Moore Chelsea Gray HC-168
Because it has an LRV of 22, Chelsea Gray is a well-liked option for exterior walls in the home. Because of its average linear foot volume, it has the ideal depth for giving a structure a sense of drama and design without making it feel overly weighed down.
Light Gray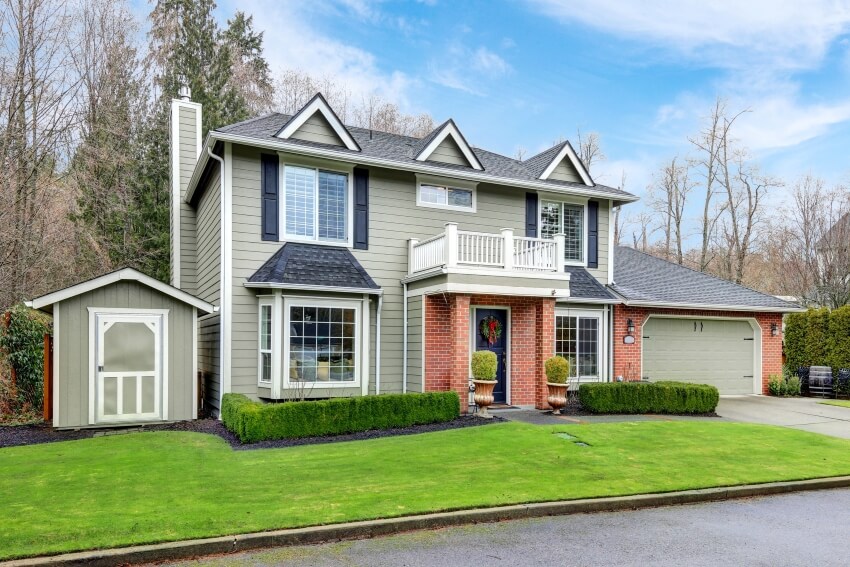 You can showcase classic good looks with exterior sidings in a light gray color, contrasting with a black roof. Although the color is somewhat soft, it leaves a long-lasting impact.
This is especially true when combined with elements made of dark wood, such as the front door, shutters, and window boxes. Be sure to remember the numerous undertones in whichever shade of gray you choose to use and how those undertones will look at different times of the day.
Recommendations:

Classic Gray OC-23, Benjamin Moore
Benjamin Moore Classic Gray (OC-23) is a light gray hue that reads as white in rooms where white paint colors don't seem right. This color exists in a world where white is the most popular paint color. It is a light warm gray with very subtle green undertones that you will never notice, and in cooler light, it has a flash of purple.

Naturel SW 7542, Sherwin-Williams
The color Naturel is a light-to-medium beige with a hint of yellow-green. Even though its number suggests that it is one shade darker than Grecian Ivory, it is not located on the same paint strip as that color, which means it is easy to miss. The Sherwin-Williams paint deck has a "timeless" section, which is where you'll find Naturel.
Brick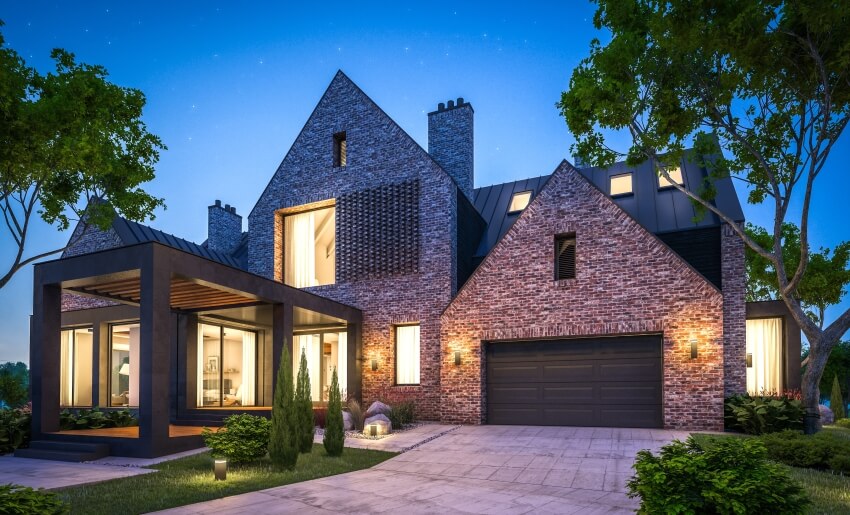 A red brick exterior is one of the most classic architectural choices. When you combine it with some white trim, it will really make the border stand out against the brick. Mixing it with a black roof and matching shutters will offer a feeling of grandness to the overall design of your home.
Dark Blue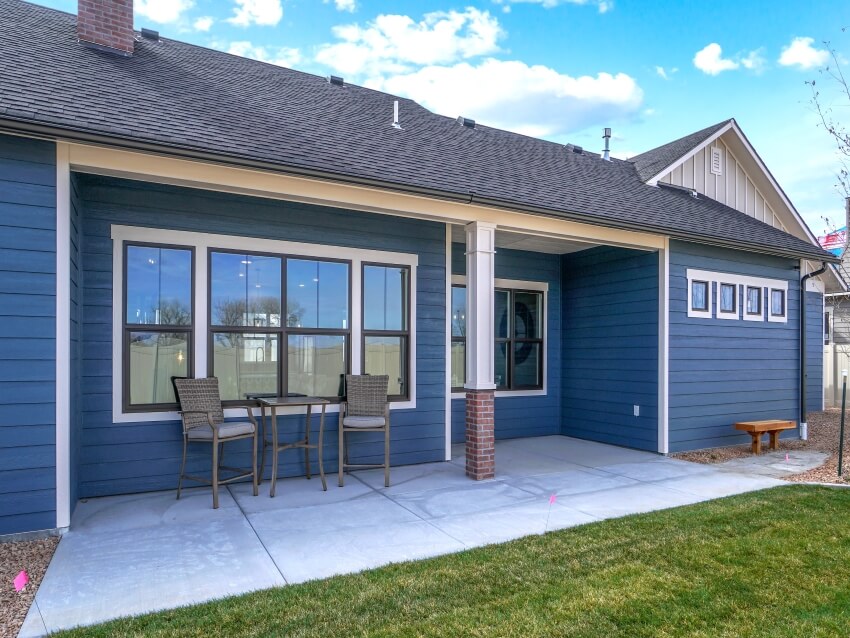 A striking contrast can be achieved by pairing your black roof with dark blue siding. The exceptional navy-colored siding will give an otherwise traditional exterior a new lease on life. A dark, black roof can provide a smooth transition between the two colors if placed on top of the building.
Combine this feature with some lush, verdant landscaping, and you will have an exterior that appears to have been well-planned. To achieve the ideal balance of warmth and contrast, you should give the wooden front door a complementary orange finish.
Recommendations:

Old Navy by Benjamin Moore
It works wonderfully as a soothing, refreshing color and as a daring design component. In addition, Navy Blue is a hue that can be used in many contexts because it looks excellent with neutral and bright colors.
This color works wonderfully for accent walls located on the exteriors of homes.
Navy Masterpiece by Benjamin Moore
The color navy possesses a tremendous deal of depth without coming across as excessively manly or gloomy. In addition, it is a color that is adaptable and can be used successfully in various settings. This paint's versatility makes it ideally suited for any endeavor, which is why it is such a popular color.
Cream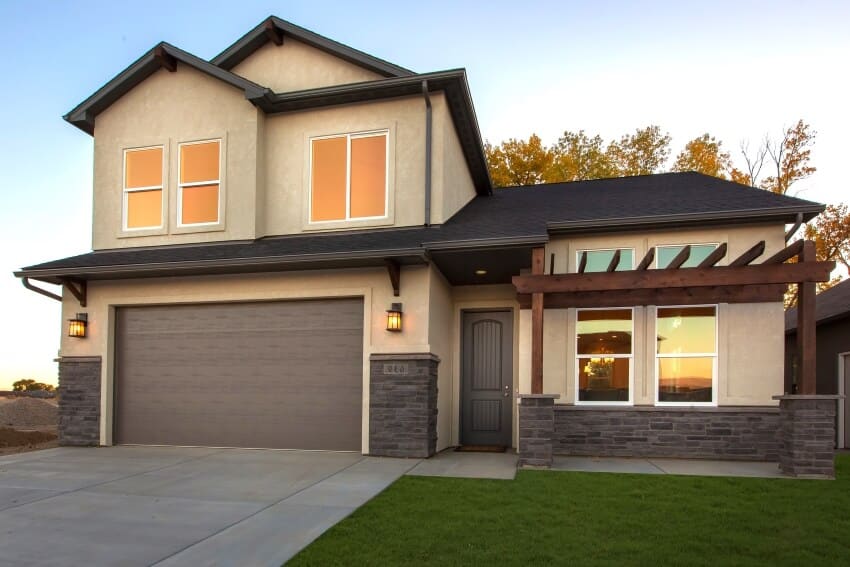 It's not quite the same as a black-and-white exterior. But using off-white or cream-colored siding with a black roof achieves the same impression, with the added bonus of being somewhat cozier.
An essentially conventional property can be updated by adding black accessories, such as lighting and a downspout. Stone-clad walls and brown exterior doors can add a little more to the neutral color scheme.
Recommendations:

Benjamin Moore Soft Chamois
Benjamin Moore Soft Chamois is a paint color that is a calming white with a touch of warmth and refinement. A very soft and warm gray with a slight tint of green in the undertone.

Benjamin Moore Natural Cream
Benjamin Moore Natural Cream is a fantastic greige paint color that is inviting, comfortable, and brimming with personality. It's a sweet and lovely neutral that may look good in any room in your house!

Benjamin Moore Simply White
Simply White OC-117 is a white paint that may be used for various purposes and has a very slight undertone of yellow. It has a high light reflectance rating of 91, which gives it a clean, crisp look in most spaces, particularly in natural light. This gives it the appearance of being close to pure white.
Exterior House Paint For House With Black Roof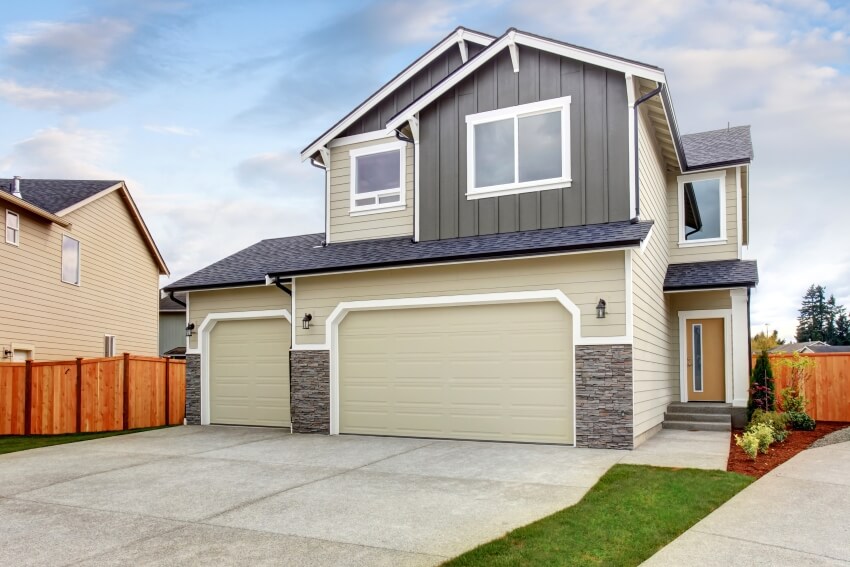 Choosing the right exterior color combination for a home with a black roof can be difficult, but it doesn't have to be. To ensure that the exterior of the building appears cohesive, you should consider all of the architectural details, including the garage door, window trim, downspout, gutters, landscaping, and siding.
Before you make a final decision, paint swatches of the many colors you are considering using on the external wall so that you can observe how the hues will shift during the day. Since black is such a flexible color, it pairs well with many other colors and architectural styles, making your work much more straightforward.
Revisit the color suggestions we have above and try to make a decision based on the type of result you would like to have. Mull it over and take some time with it. This isn't the type of decision that you rush, after all.
Black Metal Roof House Color Combinations
The design flexibility of purchasing a metal roof is one of the benefits of choosing a metal roof. Metal roofs may be put over your current roof, have a long lifespan, and are made in an environmentally responsible manner.
Black and White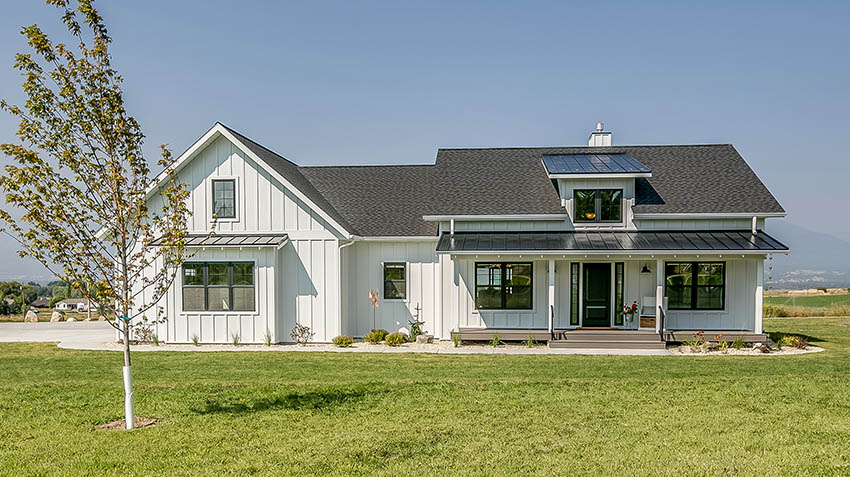 You can feel like you've stepped back in time with a traditional white house with a black metal roof. Shutters that are either black or gray and a black door can complement the exterior of the property as a whole, turning it into a Colonial masterpiece that you will fall in love with. Another popular combination is pairing a black door with white trim.
Black and Neutrals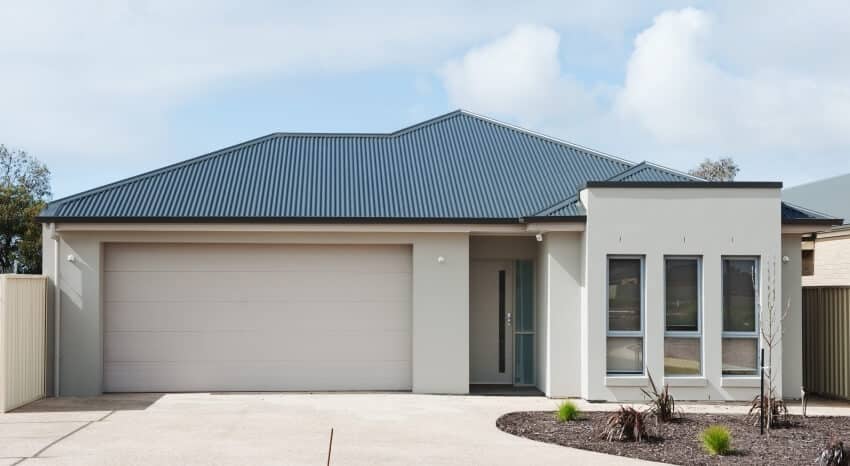 Homes designed in the classic country farmhouse style are highly trendy right now. As a foundation for your home, you should begin with neutral hues such as white, gray, or beige. A house designed in the farmhouse style would look great with a black metal roof.
Recommendations for neutrals:

Paean Black By Farrow & Ball
This Georgian-inspired red-based black adds a sophisticated aspect to classic exteriors while giving ultra-modern or bohemian dwellings a cozier, more intimate vibe inside the home.

Manchester Tan By Benjamin Moore
Manchester Tan by Benjamin Moore is a neutral light tan paint color that is soft and muted and has khaki overtones. This hue is used by architects and designers on a wide array of architectural styles and building materials.

Silver Satin By Benjamin Moore
Benjamin Moore includes the shade Silver Satin in their selection of off-white colors. This sophisticated hue is easily distinguished from other shades of off-white because it possesses a grayish, silvery appearance with a hint of warmth. The Silver Satin paint is spotless and refreshing, and the subtle undertones give it an incredible range of application possibilities.
Black and Earth Tones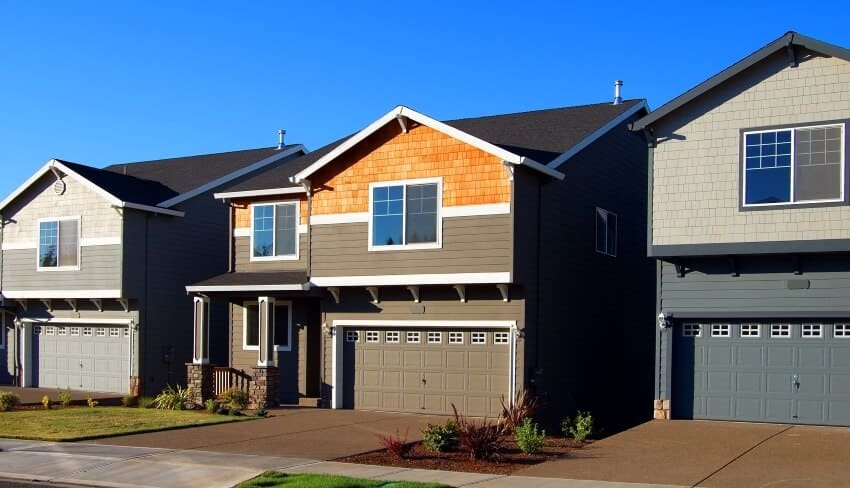 Home decor in a rustic cottage is frequently comprised of soft grays and earthy tones. An olive green exterior and a black metal roof would make for a striking mix, along with a wooden front door and some green shrubs as highlights in the yard. You might also consider painting your house a light sand or tan hue and adding a black metal roof as an accent color.
Recommendations for earth tones:

Creamery White, ECOS Paints
Creamery White is a neutral ivory tone that may be used everywhere, as seen by its application on the ceiling above an atmospheric blue wall. It is an adaptable accessory that goes well with any earth-tone color. It has a hint of coziness without leaning too much toward yellow. It works wonderfully all over a room or as an accent on millwork. Stony Ground, Farrow & Ball
It is an excellent choice for an earth-tone paint color for a front door or siding. It looks particularly stunning when juxtaposed with natural stone textures. It has a tinge of red running through it, which gives it a warm tone and finishes out as a soft beige color.

Mouse's Back, Farrow & Ball
a tint that combines the earthiest brown with a touch of green to create a complex and nuanced color. It may be used indoors and outdoors and looks great in either setting.
Black Roof House Color Ideas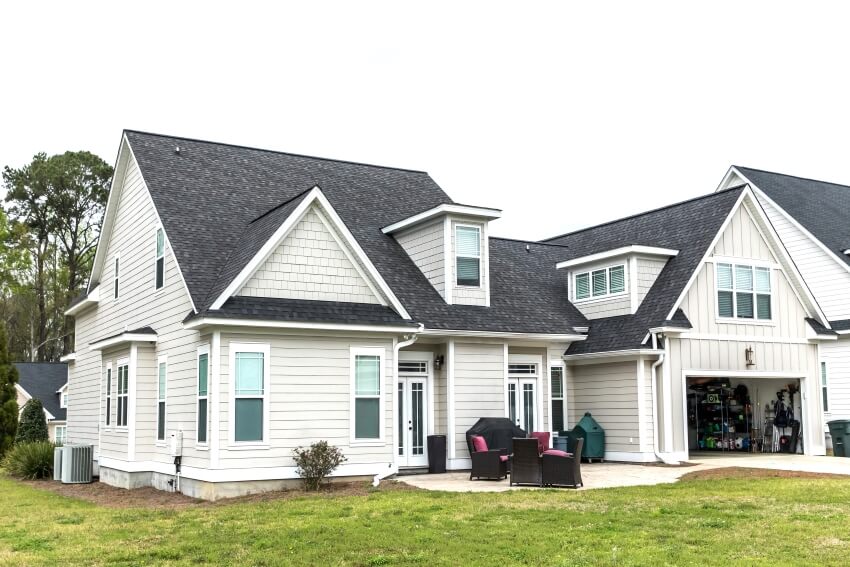 Black roofs offer various intriguing external design possibilities that can give your property an air of sophistication and modernity. The sections covered matching black with some of the most popular siding colors. Now that that's out of the way let's look at some color sets that have been created especially for going black roofs.
Even if you have chosen a black roof for your home or inherited one, there is a chance that it may not always be as opaque black. Undertones of blue, green, or violet can sometimes be seen in black. You may also find that sure black roofs have a faint browning, similar to how aged wood looks.
It would be a mistake to disregard the color that peeps through the undertone since it will impact the whole color palette used for the house's exterior. To create a unified appearance across the house, utilize that undertone hue in multiple locations. For instance, if the black of your roof has green undertones, you may choose a color for your shutters that is either a similar shade of green or darker.
Black with brick colors: Brick hues like red, orange, and yellow can look nice when paired with a black roof. This should not be surprising, given that these are some of the ingredients of an industrial design that is intentionally modest. If you are interested, this is an option outside your house that you may take advantage of.
Black with greens or blues: A black roof can also look fantastic when paired with a fresh color palette, such as blues and greens. The impact may be gloomier and darker, but if you're into a style that leans more toward that aesthetic, this one could work for you.
Black with stone colors: You can achieve an appearance that is a little bit more grand and old-world by combining your black roof with the colors that are found in the stone. They can be a variety of colors, ranging from gray and brown to off-white and even purple. Because they are likely to share the same undertone, this results in a more uniform appearance across your home.
Visit our guide to the best matching siding and roof colors for more related content.