Here's our bungalow style house design guide sharing its popular interior & exterior features.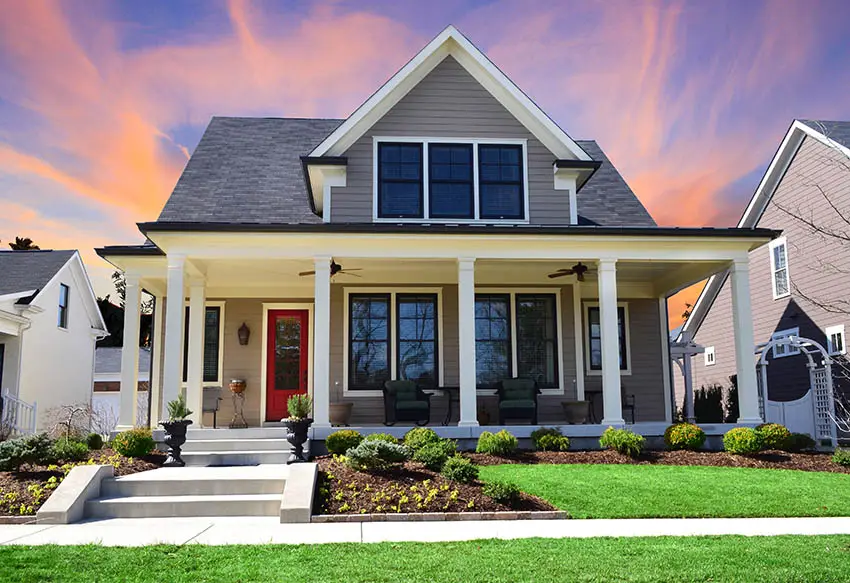 Gaining momentum throughout the United States in the 1900s, Bungalow Houses emerged as an informal settlement that followed simplicity and practicality throughout its design.
Sharing similarities with the famous houses of Arts and Crafts Movement – 'Craftsman Houses', these homes seemed to have equally gained the attention of homeowners across the country with their specialty in a more compact and candid approach towards the design.
An interesting insight: The term Bungalow is a derivative of the word Bengali that originated in India named after the specific architectural type of houses in the Bengal region of South Asia. These homes are comparatively smaller in size featuring wider verandahs or porches.
Due to the tropical climate of the region, these homes feature low-pitched roofs and breezy porches or verandahs that actively help in cross ventilation while combating the heat and humidity of the area.
Meanwhile, Bungalow houses in the US drew immense inspiration from the traditional planning concept to introduce a style that well complements the simple and easy lifestyle of the homeowners.
Today's Bungalow houses own a striking design – cozy and functional! Their noteworthy features inspire the generations of homeowners and builders with some very intricate construction and detailing.
Characteristics of a Bungalow Style House
There are numerous features that outshine the famous Bungalow Style houses. Their evolution as a response to the formal Victorian period and inspiration from the authentic Craftsman-style houses truly makes them stand out with an utmost strong and bold inspiring architectural character.
To name a few, let's discuss the elements that make this Bungalow houses distinct.
Bungalow Exteriors
1. Low Pitched Gabled Roofs
2. One or one-and-a-half-story designs
3. Proportionate but not necessarily symmetrical
4. Large front Porches with wide overhanging eaves
5. Exposed Beams
6. Intricate Woodwork
7. A Rustic touch: Use of natural materials such as wood and stone
8. Shed Dormers
9. Exposed Eave Brackets
10. Tapered Porch Columns
11. Stone or Wood Wainscoting
Bungalow Interiors
1. Built-in Storage, Seats and Cabinets
2. Stained or Leaded Glass Windows
3. Decorative Wooden Trim and Moldings
4. Handicrafts and Fine Craftsmanship
5. Exposed Beams and Woodwork
6. Use of Natural Materials
7. Soaring Ceiling Heights
8. Typically 2 to 3 Bedrooms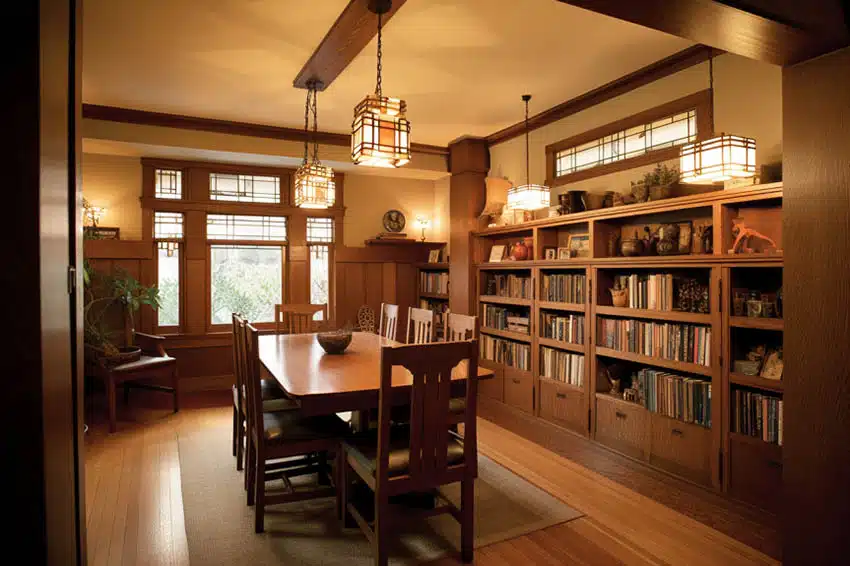 Bungalow dining room with original built-in shelving room divider. This traditional bungalow interior with original wood work could be used for dining, a study or a living area. See related craftsman style living rooms here.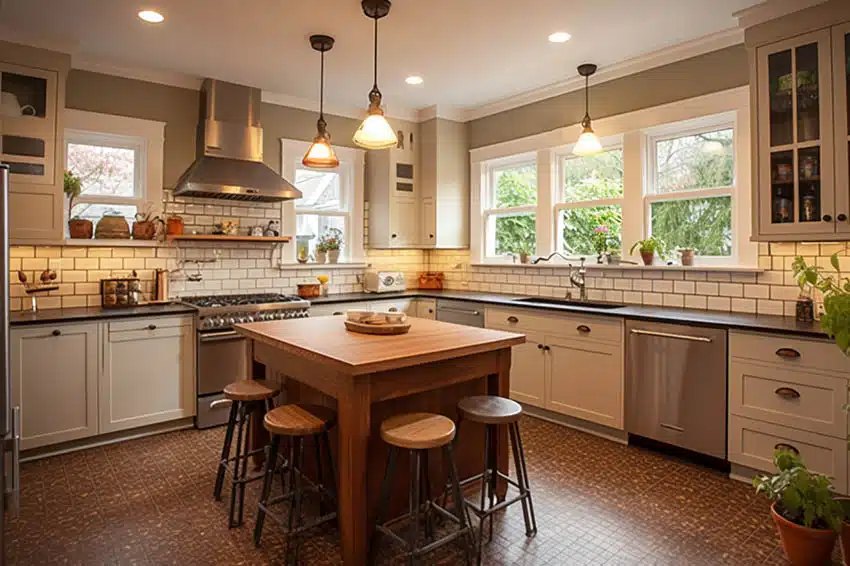 Updated bungalow style kitchen design. For related ideas take a look at our farmhouse kitchen designs.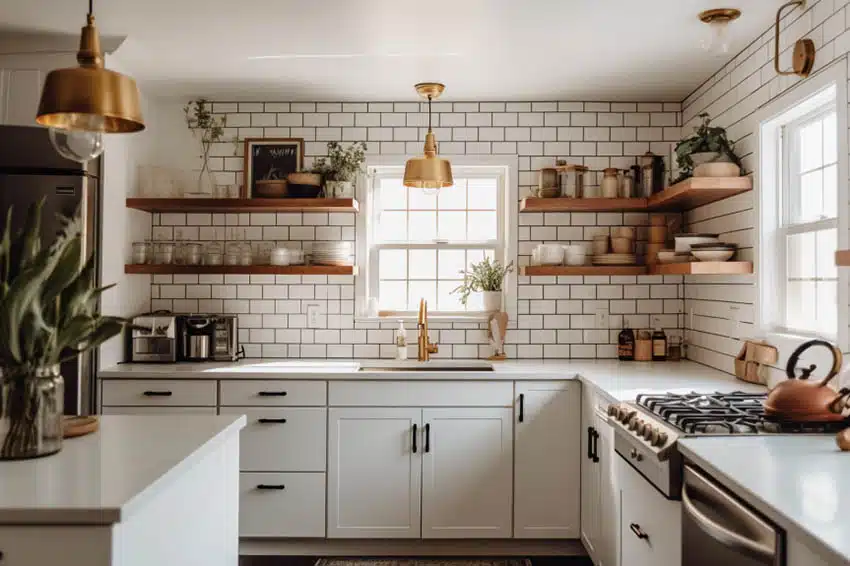 This renovated bungalow kitchen went with clean white cabinetry with gold hardware, white subway tile backsplash and wood open shelving.
Bungalow Plans
1. Open Plan Living
2. Interconnected Living – Kitchen – Dining
3. Smaller and compact lots
4. Functional and Flexible
Now that we have discussed the characteristics of a Bungalow house, we notice a stark similarity with the Craftsman house style. Even though the names are used interchangeably, there are fundamental features that distinguish these very two prominent styles.
What is the Difference Between a Bungalow and a Craftsman Style House?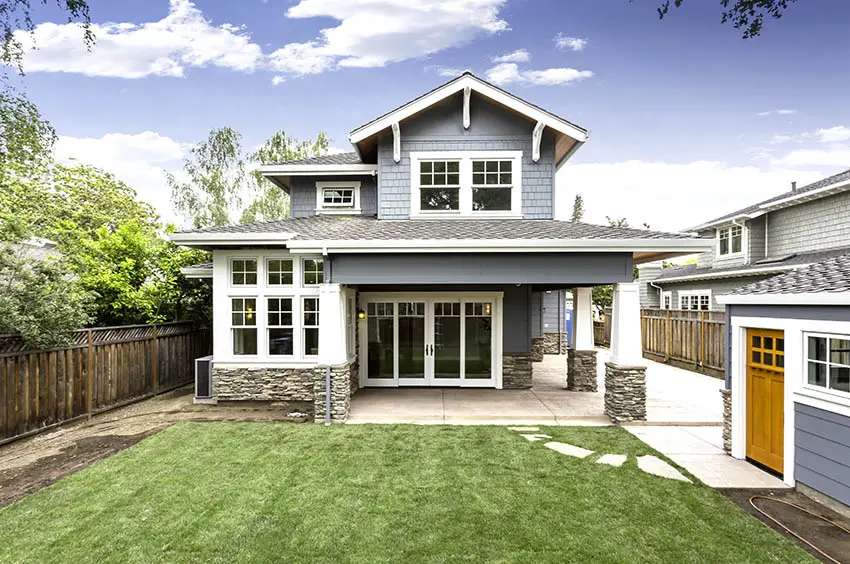 'Craftsman Houses' are referred to as the Arts and Crafts Movement and is an architectural or interior style highly influenced by the time period and the latest trend. Whereas 'Bungalow' is a specific form of a house or a settlement.
A Footprint is the foremost element that sets the two apart. Bungalow houses were smaller in size in contrast to the larger and lush Victorian homes that were being built parallel. These came into the limelight when Californians got bored of the lavish Victorian homes and yearned for a more simple abode.
In opposition, the Craftsman houses emerged later with the sole idea to create a simple and comfortable environment. Even though Bungalow homes were comparatively cheaper than the Craftsman houses, there was no way that the homeowners and builders would compromise on the architectural features and quality.
As the name suggests, Craftsman Houses aimed for a more ornamented and intricately decorated aura in comparison to the Bungalow homes.
What is the Difference Between a Bungalow and a Cottage Style House?
More popular in the North-East, the Cottage-style houses originated in England with their prominent belief in living simple and natural. Smaller in size with natural materials like stone or brick, cladding the façade of the house, these houses style as a perfect historic home.
While Bungalow houses offer a wide and open lawn space in the front, these cottage homes take a dig into decorating their curbside. Homeowners usually plant the flowers and shrubs for a dreamy, 'fairy-tale' like look of their beautiful cottage. This is one of the highlights of a cottage-style home.
A bungalow home takes pride in their large porches or verandahs to give a dynamic appearance to the facades meanwhile the Cottage homes use Bay windows and protruded doors and windows to create an authentic English look.
The Bungalow and Cottage-style homes differ in proportion and size. There is no way you wouldn't be able to easily differentiate one – Cottage homes are two-story, unlike the Bungalow homes which are low-height. Yes! Size is an important differentiating factor.
Different Types of Bungalow Homes
While you're walking down the streets, you can likely spot these Bungalow homes effortlessly. The most important feature is the height of these houses that makes them easily differentiable – small and one or one-and-a-half-story.
The overall architectural expression is a low profile with some prominent features. Let's sneak a peek at these homes for a better understanding.
1. California Bungalow
Striking and identical to Craftsman house, their façade showcases stucco, wood, shingles, and horizontal sidings. Quite famous, you can spot a few from miles away!
2. Craftsman Bungalow
Highly inspired by the natural and rustic materials, you could find these in stained brown or dark green to easily blend in with the local landscape. They have wide overhanging eaves with street-facing gables that make them easier to be identified.
3. Tudor Revival
Inspired by the English style, these houses have steep roofs with large and magnificent chimney designs that make an impression on the overall look. They also have tall and narrow windows with decorative exposed woodwork on the façade.
4. Modern Bungalow
As the name suggests, these houses are inspired by the modernist movement with a striking use of concrete, glass, and metal on their facades. Clean, sleek lines define the bungalows characteristics with typically spacious, light, and airy interiors to note.
5. Prairie Style
Decorative and contrasting wall materials set apart the Prairie style Bungalows. This style is developed by the Prairie School members who believed in massive piers to support the porch roofs with flat chimneys and casement windows to showcase.
Hopefully after reading this article, it's become easier for you to differentiate between the types of residential Bungalow style houses. Let us know what you think about these houses in the comments below!
For another related gallery visit our Cape Cod style house article.