Here we share our black siding house guide, including the different types, the best material, if it makes a house hotter, and if this color is a good option for your home.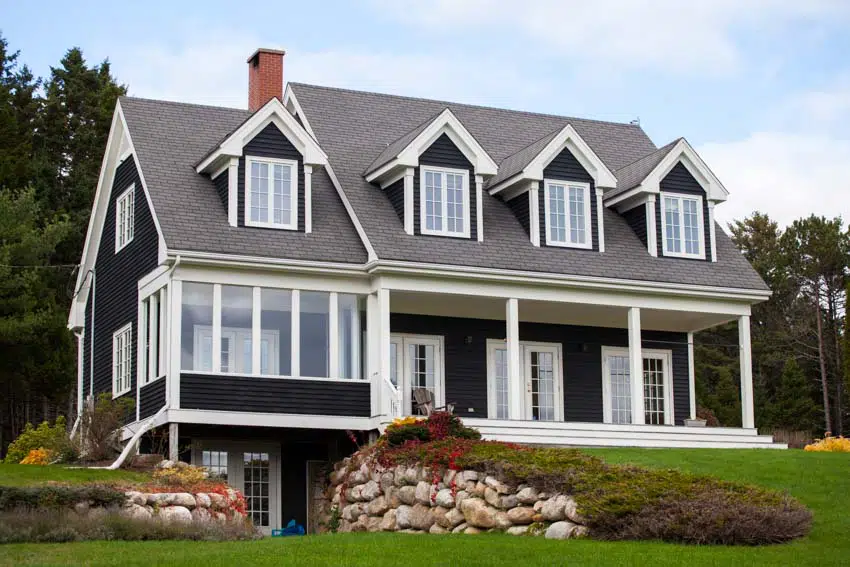 Black can be a bold choice and often a little intimidating, especially on the exterior of a home. There is no need to be nervous, as there are many ways to make a black exterior look amazing.
One of the first considerations you will need to consider is the price of the material you select; this can vary by size and location.
Another thing to take into consideration is the aesthetic that you are looking for; if that does not fit into the price point you have set up, then you will have to change the material with something you can use to mimic the appearance you are looking for.
Finally, and maybe more importantly, you will need to look into the overall durability of the product. Certain regions need siding to have specific qualities or requirements.
Types Of Black House Siding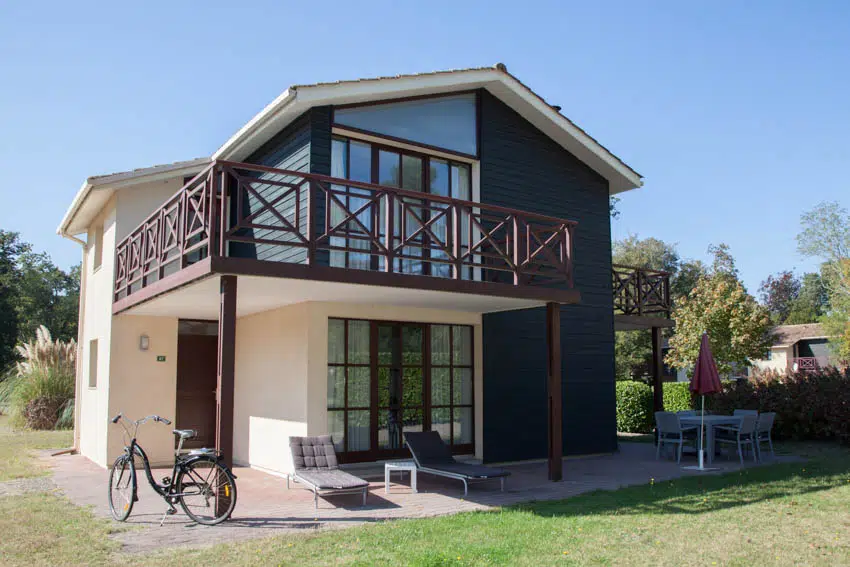 After selecting black as the siding color for a home, there are still a few decisions that need to be made. First will be the type of material used to make the home black.
Some of the most popular material options for types of siding are listed and described below.
Black vinyl siding house: Vinyl wall cladding is a popular choice for homes, if not the most popular, and can be made black. Vinyl types of house siding are both durable and attractive.
Black vinyl house cladding is made from PVC resin, which contains color throughout, meaning maintenance for repainting this material is nonexistent.
Not only is vinyl exterior walls good for aesthetics and functionality, but it is also an affordable product. While vinyl is durable, the life span is typically only 10 to 15 years.
Black vinyl can be formed into many looks, including shapes, textures, and colors. This gives a wide range of applications to give the appearance desired.

Composite Siding: Composite or engineered siding is made from compressed wood and bonded with resins. It is often treated with chemicals to avoid issues with bacteria.
Composite siding requires painting and will need to be repainted periodically over time. In some cases, this material can be installed pre-painted. Composite cladding is quite durable and can have a life span of 30 or more years.
Wood Siding: Wood siding is similar to the above-mentioned composite material, but it is made only of wood, not resins added in. This material can show up in a number of ways including clapboard, rectangular planks, shingles, and plywood.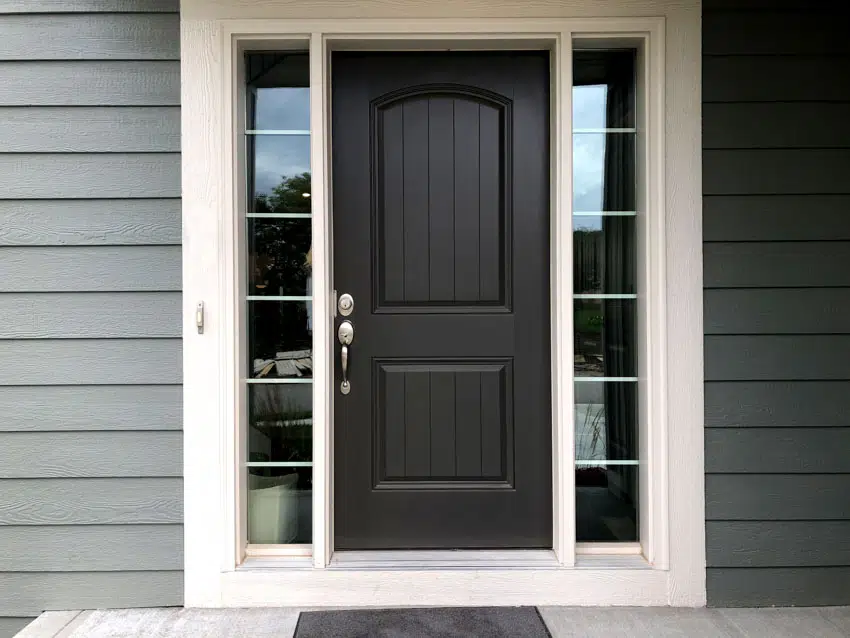 Depending on the type of design you are going for, you can change the exact type of wood and the aesthetic it will give the home.
Wood clapboard can be pretty expensive, especially if it needs to be replaced; since it is unlikely you will get an exact wood match later, you will likely need to replace the entire home.
Metal Siding: Metal siding is quite a bit different than the previously described materials, but it can still look similar to them. Metal exterior cladding is another extremely popular choice due to its ease of installation, durability, and enhanced protection.
The most common metals used are aluminum or steel. Metal is a good material to use on a home as it can increase the fire resistance of a home, and it will not rot or rust. There are typically two different types of metal siding you can pick from aluminum or steel.
Aluminum house siding is a great deal easier to install due to the lightweight quality of the material. Steel siding typically requires a professional installation and even sealants to keep the metal from corroding.
Metal exterior cladding can last up to 50 years if properly taken care of but requires painting every 5 to 10 years on average.
Fiber Cement Siding: Fiber Cement siding can be used in both commercial and residential buildings. Fiber Cement material comprises cement and cellulose fibers, which is where the name 'fiber cement" comes from.
The best thing about fiber cement siding is that it has the strength and durability of masonry while being and looking like almost anything you want: Stone, clapboard, shingles, etc.
Not only does it have durability and style, but it is also more cost-effective than some of the materials that it can look like. The only reason this material is not the most popular is that it was introduced only 25 years ago; since then, it has been going uphill on the popularity scale.
Fiber cement on the exterior requires only a small amount of upkeep as it does not rot, and it is not affected by the wind, cold, or termites.
Best Material For A Black Siding House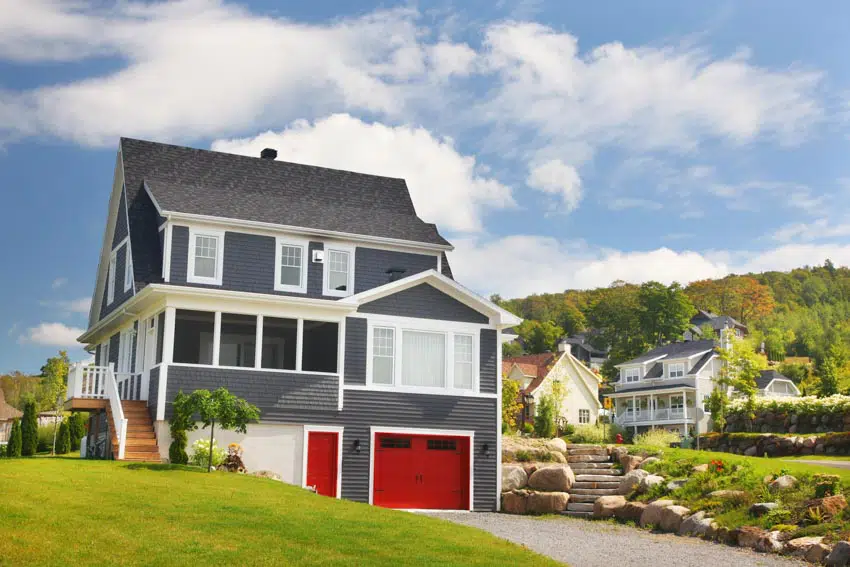 The best type of black siding you can use on your house is fiber cement siding. This material can be used for any aesthetic, cost-effective, and durable.
Does Dark Siding Make A House Hotter?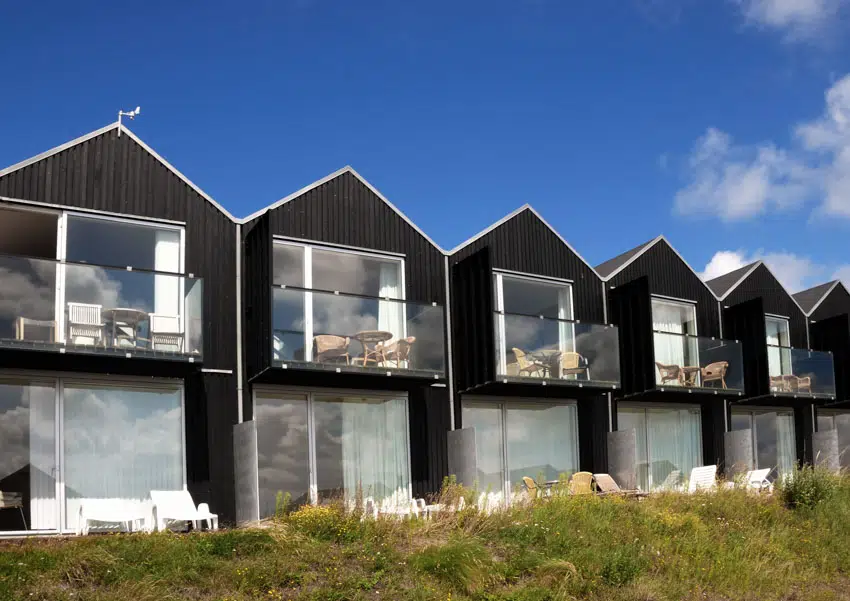 A black or a darker color exterior color causes the home to absorb more sun and warmth. This can cause the house to have an overall higher temperature.
While this could seem concerning in the summer, it could help lower heating bills in the winter months. This is best used for areas with cooler temperatures year-round to avoid the need for additional cooling of the home.
Is Black Siding A Bad Idea?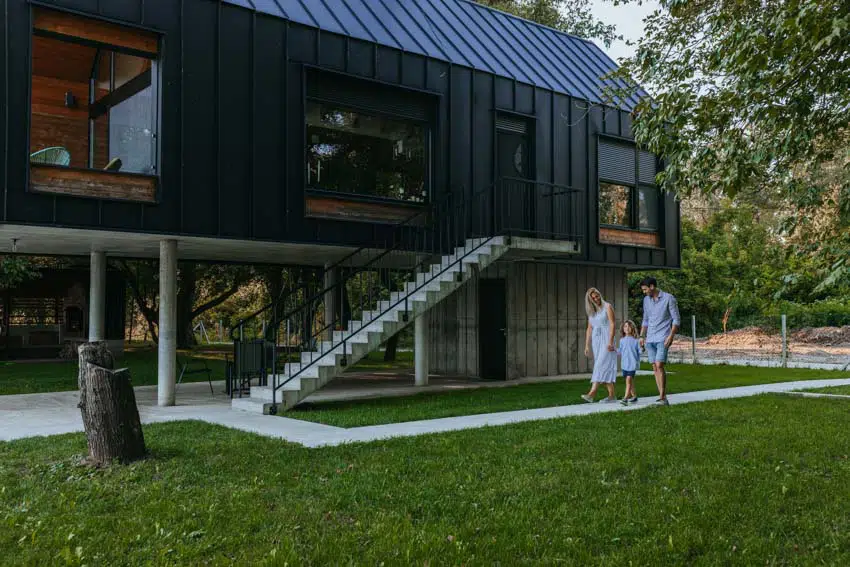 A black or dark gray exterior to a home can be a great idea! Dark exteriors can help hide minor imperfections and some dirt that can accumulate in the home.
Black and dark exteriors give an extremely modern look to the home and can make a house sell faster in the right settings.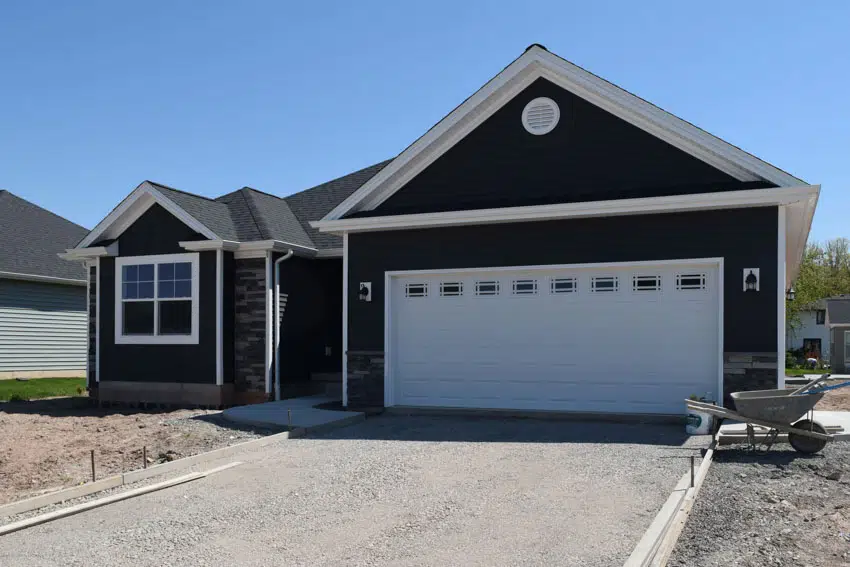 Black may seem trendy right now, but as a neutral, it can stand the test of time throughout multiple users as they can easily coordinate by adding accents of any color.
If you are not fully committed to a fully black home, using dark accents on the doors, windows, and other decorative items can be a way to incorporate the lovely dark colors without going all out.
See more related content in our article about white siding house on this page.