Here's the pros and cons of sealing garage floors including the benefits, advantages and disadvantages, and important questions to consider.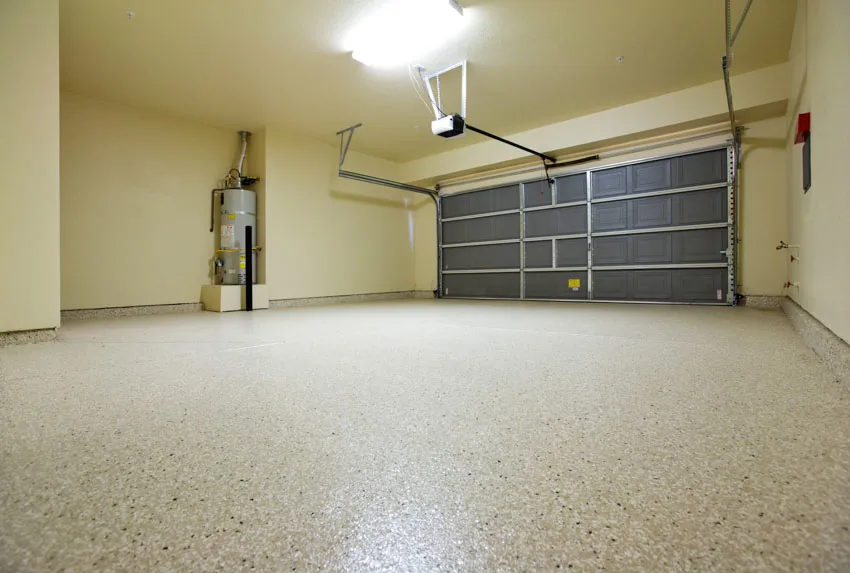 Garages are one of the most used areas in the house. It holds your vehicles and many other storage items. It is also susceptible to grease, oil, and other chemicals.
Add to that the physical damage it incurs from falling tools. Read on to find out whether you need to seal your garage floor as well as its pros and cons.
Why Seal Garage Floor?
After years of use, your garage floors will sustain damages. Pits, cracks. And uneven surfaces are potential safety hazards.
Prevent accidents and injuries from happening by sealing your garage floors. Aside from safety reasons, here's why sealing your garage floor is important:
Maintain Cleanliness – Clean floors play an important role in the air quality of your interior spaces. More so, bare concrete floors are difficult to clean, especially if they're full of holes and cracks.
Sealing your floors makes it easier to clean them. It also saves you time in maintaining its cleanliness. This is also true for those who go for polished concrete floors in their garage.
Extend Floor Lifespan – Garage floors are exposed to moisture intrusion and temperature fluctuations. These threats greatly affect the life of your garage floors.
And we all know that repairing or changing damaged floors is no joke. Coating and sealing your floors will increase their resistance against chemicals, moisture, and impacts.
Increase Home's Resale Value – Whether you are selling your house or not, renovating it can increase its market value significantly. Yes, sealing your garage floors might not greatly affect the whole interiors but it can make a strong impression.
Sealing Garage Floor Pros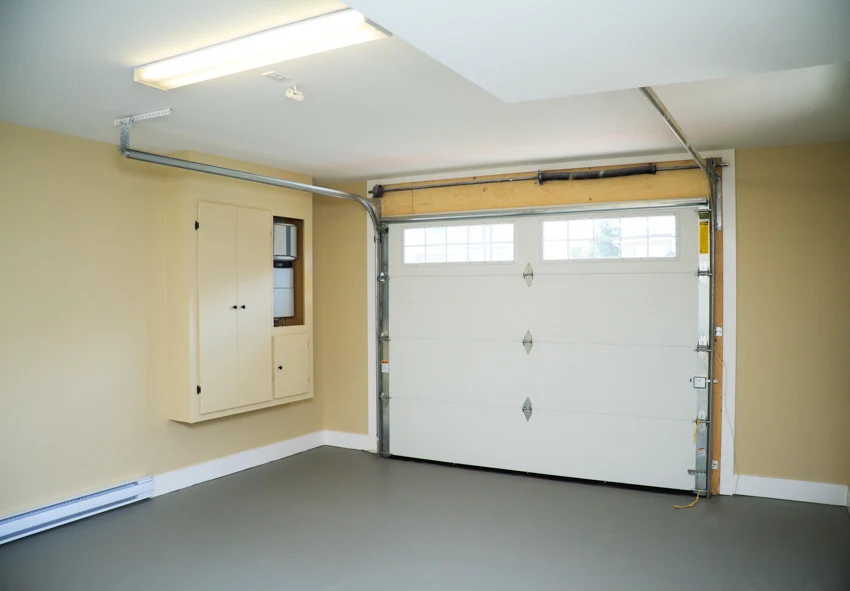 If you want your garage floors to last, sealing them will definitely help you extend their life and much more:
Repels Oil Stains – Sometimes you need to repair your car or change its oil. When that happens, the oil will inevitably spill into the floor.
If your garage floor is concrete, it will seep through the floor. This will make removing oil from concrete more difficult. If your floor has a sealer, the floor will not absorb the oil. It will also be easier to clean the floor.
Improves Aesthetics – Take note, however, that the type of sealer you use produces different effects. For example, an epoxy finish can make a dull-looking room pretty. It also complements the lighting in the garage.
Epoxy sealers come in different colors and speckles, resulting in a glossy finish when it dries. If an area is bright, you can easily spot spills. It also hides any imperfections on the floor.
Increases Durability – The sealer acts as a protective barrier in general. It serves as a buffer against the usual wear and tear. You won't need to worry about tools marring your floor when you drop them.
It is also resistant to abrasions and chemicals. So you won't have to worry about marks when dragging your toolbox across the floor. You won't also have to worry about damages when you spill chemicals because the sealer protects them.
Repels Moisture – Sealing your floor is like adding a protective barrier on your floor. An unsealed concrete floor can easily soak up water and into the ground below. As pressure builds in the ground, water evaporates and rises towards the substrate of your floor.
If they are not protected, moisture will seep through the cracks and pores, damaging the floors from the inside. Sealing your floor, however, will prevent moisture from entering the floor.
Sealing Garage Floor Cons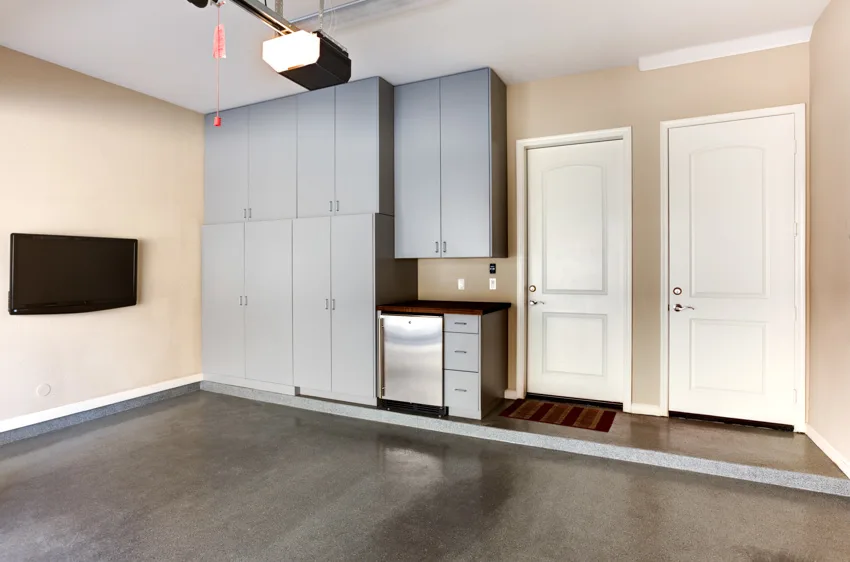 Here are the disadvantages of sealing your garage floors.
Requires Maintenance – While there are lots of advantages to sealing your garage floors, you need to maintain them. Otherwise, it will wear away and all the benefits you get from it will diminish.
Here's a tip: the more expensive the sealer is, the less maintenance it requires. And a cheaper sealer requires more maintenance. So if you want to have less hassle in the future, invest in a premium sealer.
Costs a Lot – We have to admit, sealers are an additional expense. The bigger types of garages even need more sealer to get the job done.
That means you need to spend more money. It also needs reapplication every couple of years to maintain its efficacy and beauty.
Takes Time – You cannot apply sealers on newly poured concrete. You have to wait for up to a month when the concrete has completely cured. Applying the sealer before the concrete sets in will affect its durability.
Furthermore, applying the sealer also takes time. If you are using paint for the garage floor, you will have to wait overnight to let it dry. Then, you'll add another layer to make it more durable. Meanwhile, epoxy even takes more time — you have to wait till it hardens before you can use your garage again.
Has Dangerous Chemicals – A lot of sealers have chemicals that can be harmful to people and the environment. If you don't handle it properly, it can result in injury. Also, if you have allergic reactions to it, it can irritate you.
There's good news, though. There are environment-friendly versions available but they are more expensive than the regular ones.
Should You Seal Your Garage Floor?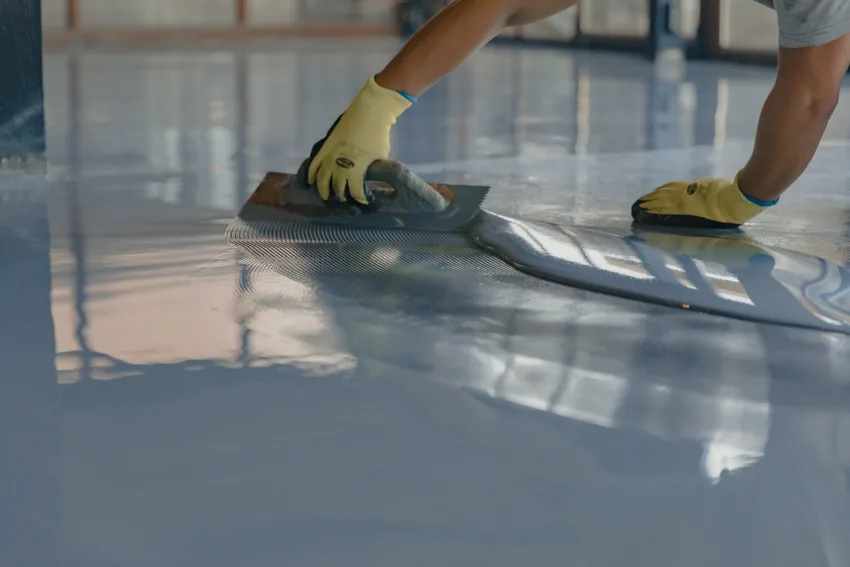 After discussing the pros and cons of sealing your garage floor comes the big question — should I seal my garage? Is it worth it?
Here are more questions for you to consider: Do you want oil stains dotting your garage floor? Are you happy looking at cracks and holes on the floor?
If you answered no, then it's time to seal them. Yes, it will be an additional expense for you, but the benefits outweigh the disadvantages. In other words, it's good for your house and it's good for your safety as well.
If you want your garage to look nice, sealing the floors will definitely enhance the beauty of the space. It also makes the area safer and neater.
Just make sure to get a sealer that fits your needs. If you want to achieve a smoother surface, use penetrating sealers. If you're looking for additional protection, use topical coatings. To make sure what is best for your floor, consult a flooring expert.
See more related content in our article about the different garage floor ideas on this page.