Below we explain the types of garage door openers including pros and cons and help you find the best one for your home.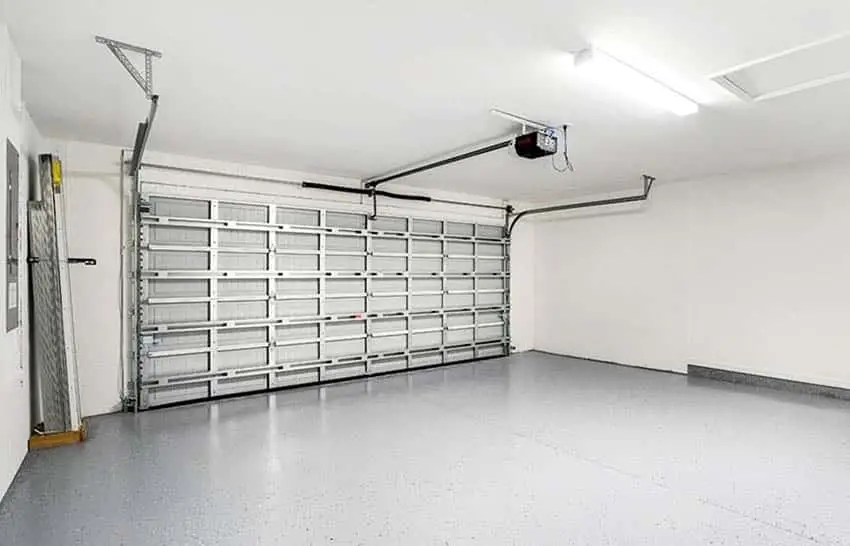 There are several options for garage door openers which homeowners can choose from and these range from traditional mechanism to the more current high tech ones. While all garage door opener systems have one main function, which is to control the way your garage door opens or closes, each type of mechanism varies greatly on the way they operate. Here is an overview of each type of garage door openers.
Chain Drive Garage Door Opener
The oldest technology used for garage door openers are chain drives. Although they have been around for decades, they are still considered to be the most viable, the most popular and the most common type of garage opener system found in the market and used in plenty of houses.
You can easily tell if a garage door has this type of opening mechanism when you see a chain connecting its parts. As the name suggests, this type of garage door opener operates using a chain that pushes or pulls a trolley depending on the direction of the movement. The trolley is attached to a metal bar called a J-arm that is connected to the garage door.
(See this opener on Amazon)
These drives operate in the same way a bicycle chain does. The chain stretches and a trolley moves down when the door is shut closed, and the chain relaxes or loosens and a trolley moves up when the door is opened.
The best advantage that a chain drive garage door opener offers is durability and reliability. Proven and tested for years, this type of garage door mechanism has the least chance of breaking compared to other options. It is also the most affordable model in the market, which makes it the best choice for homeowners who have limited budgets.
Appearance wise, chain drives do not look as fancy as the more modern garage door options but they have proven themselves to be effective and reliable throughout the test of time. There are more updated versions which are available in the market — often integrating the traditional chain with innovative features and internet technology.
The biggest downside to chain drive garage door openers is the noise it makes when the door closes or opens. The chains somewhat jangles whenever the trolley moves up or down, causing the garage doors to vibrate. Some homeowners find the racket a bit uncomfortable and irritating. Because of such, chain drives are more suitable for detached garages. However, newer models come with a soft start and stop technology which helps lower the noise significantly.
Belt Drive Garage Door Opener
If your garage door has a belt which connects the parts and mechanisms to operate it, you most likely have a belt drive garage door opener.
Belt drive garage door openers are almost similar to chain drive mechanisms, but in this type of system, a wide belt is used instead of a metal chain.
It operates using a switch that activates the wide rubber belt, which either pulls the trolley up a track to raise the door or pushes it down a track to lower the door. The belts for this type of garage door mechanism may either be made of rubber, steel reinforced rubber, polyurethane for fiberglass.
(See this opener on Amazon)
The best benefit of a belt drive garage door opener is that they do not produce as much noise when they operate. They are a more suitable option for attached garages, since they do not disturb with rattles or vibrations.
Belt drives are a slightly newer technology than traditional chain drives. Their parts are also more improved and there is a lesser number of moving parts to decrease the chance of breaking down. Over all, belt drives are a better option than chain drives. As mentioned, they have a lesser chance of breaking, which over time, leads to less maintenance and less expenses incurred when it comes to repairs and replacement. Additionally, they are also very efficient and can last for years.
The downside to belt drive garage door openers is their steep price. Compared to chain drives, they cost around $30 to $60 more. However, the low maintenance it requires makes up for the upfront cost since you get to save more money in the long run.
Jackshaft (Sidemount) and Direct-Drive Garage Door Openers
Jackshaft and direct drive garage door openers are known to be the most quiet of all the types of garage door openers. Developed in Germany, jackshaft garage door openers are different from the two other mechanism mentioned above because it does not rely on a belt or a chain rail.
It also does not operate via a trolley that moves up or down to close or open the door, but instead uses a motor that is directly mounted to the side of the overhead sectional door or on the wall beside the garage door — hence, it is also known as a "side mount" garage door opener.
(See this type on Amazon)
Jackshafts are also categorized under direct drive garage door openers. Direct drive units only have one moving part — the motor. Turning on the switch for a jackshaft garage door opener activates a 24-v DC motor which travels in a stationary chain that is installed on the overhead rail. It drives the pulleys and cables that turns the torsion tube and lifts or raises the garage door. When the motor is reversed, the cable then loosens and the door lowers and closes.
Most homeowners prefer this type of garage door opener because aside from being reliable and efficient, it provides maximum quietness. The design is uncomplicated, easy to operate and works quickly with no hassle. There are also less moving parts compared to chain drive or belt drive garage openers, so there is little to no maintenance required.
Another bonus to this type of door opener system is that there are no loops of chains or belts that crowd the ceiling, but instead it leaves free space for overhead garage storage. Not only is it highly suitable for attached garages but it is also an ideal option for garages with low or high ceilings. Aesthetic wise, jackshaft garage door openers present a more streamlined appearance and a cleaner look.
There is minimal disadvantage to using this type of garage door mechanism. The only potential downside to it is more expensive than most other types of openers, particularly the traditional chain drives. They do, however, cost almost the same as a belt drive. The reason for such is the technology it uses is newer and more efficient. Despite the higher price tag, homeowners should not feel discouraged to buy jackshaft operated garage doors since it saves maintenance costs in the long run. Also, this type of garage door openers typically come with a lifetime warranty and hardly need replacement or repairs.
Another disadvantage is that it is incompatible with all garage door types. Jackshafts will not work will all types of garage doors, particularly those that have a low headroom track. Your garage door must have a standard torsion tube and at least a 15″ radius track or higher.
Screw Drive Garage Door Openers
A screw drive garage door opener system operates using a steel drive screw that is directly attached to the motor. These types of garage door openers works in one simple operation using a simple threaded rod. The threaded rod is where the mechanism or trolley rides or moves along in order to lift, raise or lower the door. A motor is used to rotate or turn the rod.
The best thing about this type of garage door openers is that they have addressed all the problems that its counterparts have — like noise, high maintenance and slow operation. Compared to chain drive and belt drive mechanisms, screw drive systems offer the best speed and the utmost power, even if they are more compact in size. In fact, screw driven drive garage doors open and close at a rate of 10 to 12 inches per second — much faster than the standard pace of its counterparts which operate at a rate of 6 to 8 inches per second. In addition, screw drive garage door openers are ideal for doors which are larger, wider and heavier.
This type of garage door openers also have less moving parts,which means there is much less chance for anything to break. There are no chains, belts, pulleys or any moving gears so operation also costs less. Screw driven garage door openers require little to no maintenance compared to other systems. Additionally, it does not need any added lubrication, but only requires simple cleaning.
In general, screw drive garage door openers are noisier than belt drives, but then again, manufacturers have made an improvement on this, and now these openers are known for being quiet, making them an ideal choice for attached garages since they do not produce noise that cause discomfort.
Despite the numerous advantages that screw driven garage doors present, a huge percentage of homeowners still choose between the two more popular options which is the belt drive and chain drive systems. The reason being is that they have been known for having trouble operating in regions that have fluctuating temperature and climate. However, manufacturers have tried to address this problem by making improvements on its temperature sensitivity.
Updated screw drive versions have added features which make operation more efficient. Some of these include infrared safety sensors, battery backup systems, electronic limit and force settings.
Smart Garage Door Openers
For decades, homeowners have trusted the traditional chain drive, belt drive and screw drive mechanisms, then it shifted to newer and more efficient counterparts, the jackshaft and direct drive. However, there is a much later technology which makes garage doors even more updated and automated
A smart garage door opener is an add-on controller or electronic device that works with an existing garage door opener, enabling users to control opening and closing via a Wi-Fi network or a smartphone app. It interferes with the electrical and mechanical systems of a garage door and allows homeowners to control it from anywhere just by tapping or clicking on their smart devices like a mobile phone, tablet or computer.
(See the best selling smart opener on Amazon)
Usually, smart door openers have built in features that monitor the position of the door — whether it is closed or open, or if it is left open for too long and then it sends a notification to the app of the user. Reminders can also be set for auto close features, ensuring the safety and security of the home. Aside from being able to remotely control the operation of a garage door, smart garage door openers also automatically record the times the door opens and closes and keeps a log on the app. This is especially useful if there is a security breach and you want to review the activity in your home.
With the ever evolving innovations in technology, smart garage doors have also become voice activated. Smart assistants like the Google Assistant, Amazon Alexa and Siri makes it possible to control the operation of garage doors using voice commands.
There are two types of garage door openers using smart functionality available on the market, namely add-on controllers and replacement motorized units. Majority of the smart garage door openers typically include an add on controller and a sensor kit. This type hard wire to the motor unit for control and then a device like a Bluetooth sensor, infrared, laser or sensor monitors and records the position of the door. Add on controllers are much cheaper because you do not have to replace the whole motor unit of your garage door. Installation is also easier as it has a very simple plug and play design which is practically hassle free. When it comes to the options available in the market, you can choose from a wide variety of brands and models and most of these work with any existing garage door system.
If add on controllers would allow you to use whatever current garage door opener system you have, the other option would require replacing the entire motorized unit. Replacement motorized units removes the old garage door motor and then installs a new WIFi compatible motor. This type is more expensive than an add on controller and is also harder to install. This option can be used whether you have a chain drive, belt drive or screw drive, provided that the new motor drive and the existing hardware of your current system are compatible. If you opt for this option, make sure to double check the requirements, otherwise, some mechanical components of the garage door track might need to be replaced as well.
Some of the most popular brands of smart garage door openers are Genie Aladdin Connect, Nexx Garage, Garadget, Chamberlain/ Liftmaster myQ, Garageio, GoGogate2, Senclo Fi and Home*. You can buy all of these models online.
For more garage door ideas visit our guide. Or take a look at the available free and paid garage design software programs to create your own layouts here.