Discover the cheap alternatives to garage doors including folding screens, retractable screens, swing out carriage types, and sliding barn door options.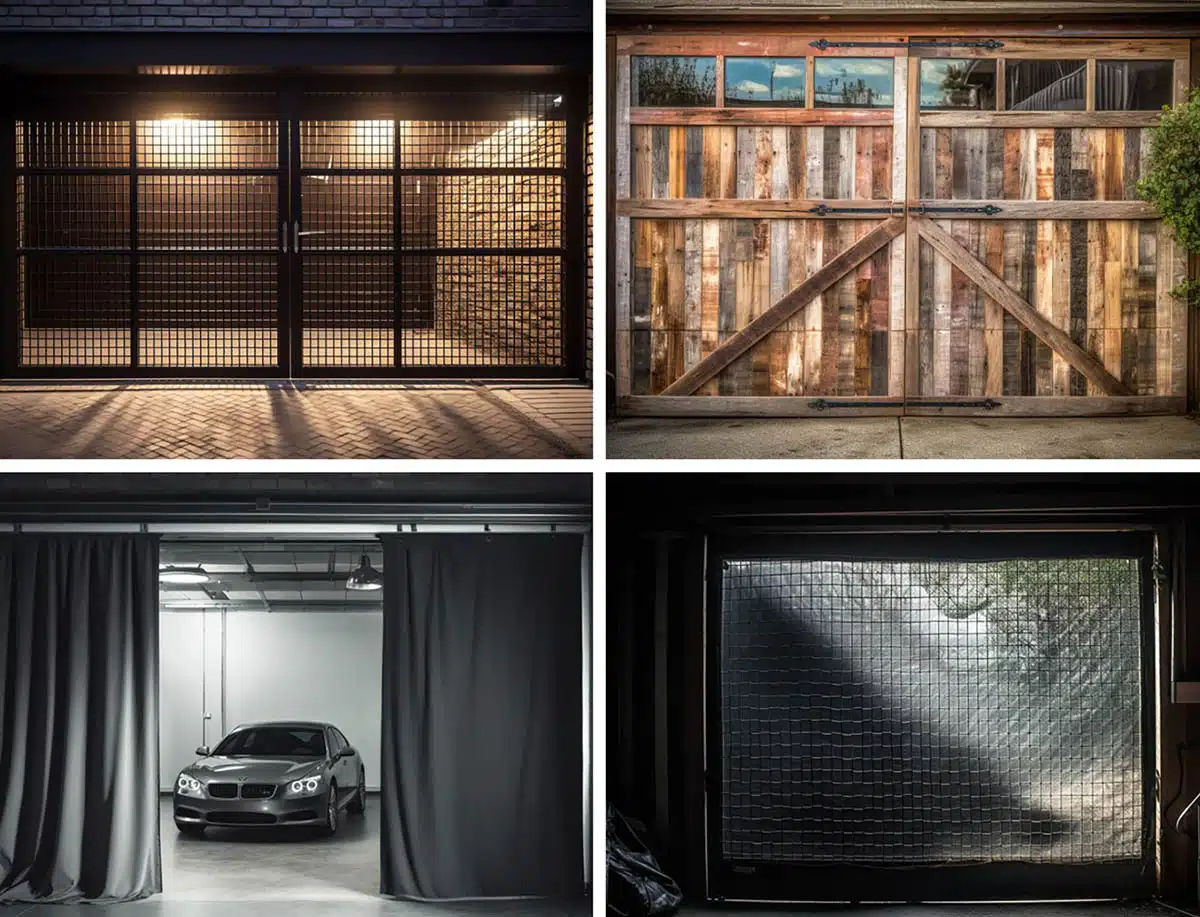 Finding garage door solutions that can upgrade what you currently have without breaking the bank has always been in demand. We would like to walk you through alternative solutions to garage doors that are not only cheap but also aesthetically pleasing.
Your choices aren't as limited as you think. There is so much to consider from sliding barn doors that bring on the rustic charm to a farmhouse aesthetic or the utilitarian screen doors that are modest, clean, and functional. Either way, the possibilities abound and it all depends on how you would like it to look like and what specific features you're looking for at the end of the day.
It's important to understand what your specific preferences are. Are you going for something simple and functional or do you prefer something with a little bit more aesthetic appeal? Would you like to include sustainability in the factors that you're considering?
In these alternatives to garage doors down below, you'll soon see that bringing your vision to life isn't quite as expensive as you probably initially thought.
Quicklook: Different Cheap Garage Door Alternatives
• Folding Screen Doors
• Retractable Screens
• Swing Out Carriage Doors
• Sliding Barn Doors
• Plywood Or OSB Panels
• Pallet Wood Doors
• Used Doors
• Zipper Screening
• Chain Link Or Wire Mesh
• Corrugated Metal
• Tarp Or Heavy-Duty Canvas
• Window or Shower Curtains
• Inexpensive Door Material (Faux Wood, Sheet Metal Or Aluminum)
Folding Screen Doors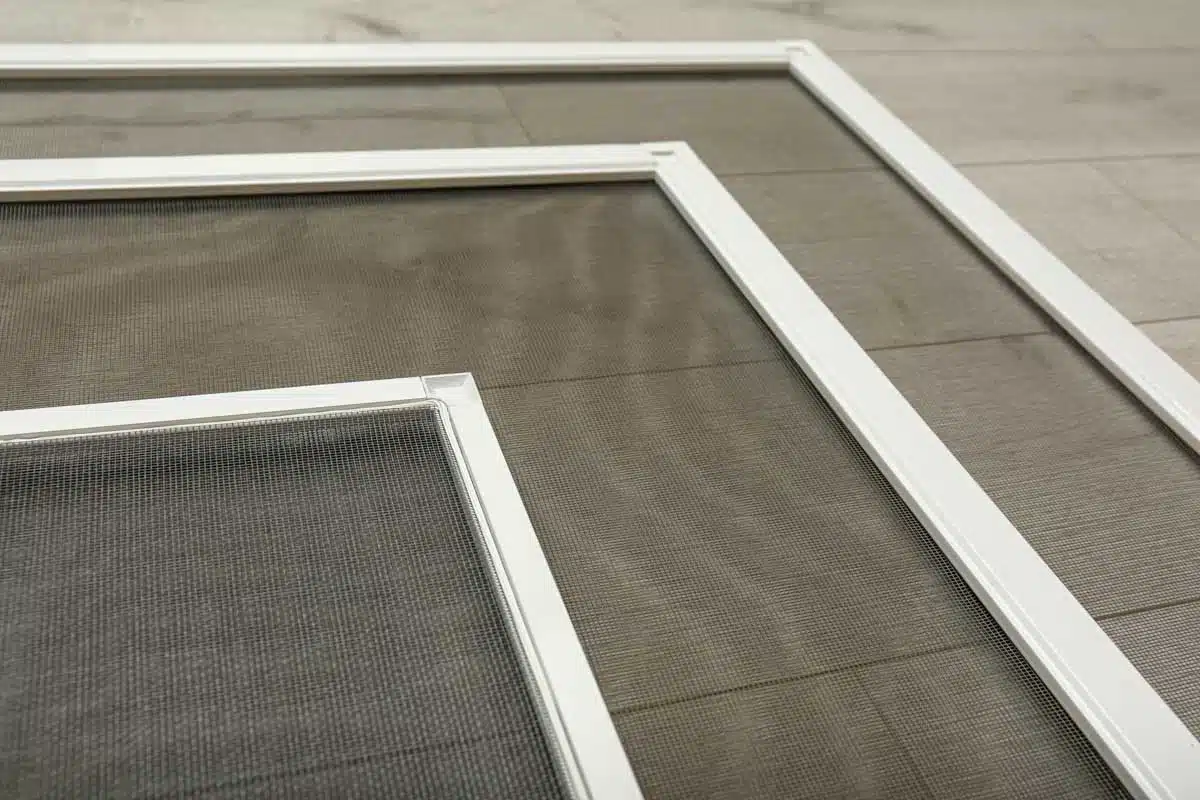 Benefits: Folding screen doors as a garage door alternative offer great ventilation and allow a lot of natural light to stream into an otherwise dark and enclosed garage space. It creates a pleasant space or area that also happens to be multifunctional.
Folding screen doors are known for being budget-friendly, which is great for homeowners who are trying to make it work with a limited budget. They are also quite easy to install and something you can install yourself if you happen to be handy with some basic tools.
Features: The best feature these doors have is their foldability. They save space because they can neatly stack up on the sides when they are not in use. There are also a lot of styles and materials for you to choose from, which is great if you have specific aesthetics in mind.
Recommended setup: To ensure safety and functionality, it's recommended to get these folding screen doors supported by sturdy frames. This is to ensure that all the hinges are well-supported and that they can operate smoothly and efficiently.
Cons: While these doors are great for the natural light as well as ventilation they offer, they don't necessarily provide you with the same level of privacy and security that traditional insulated garage doors often do. They're not as durable, especially when exposed to the elements. They also tend to produce more noise when opened and closed.
Retractable Screens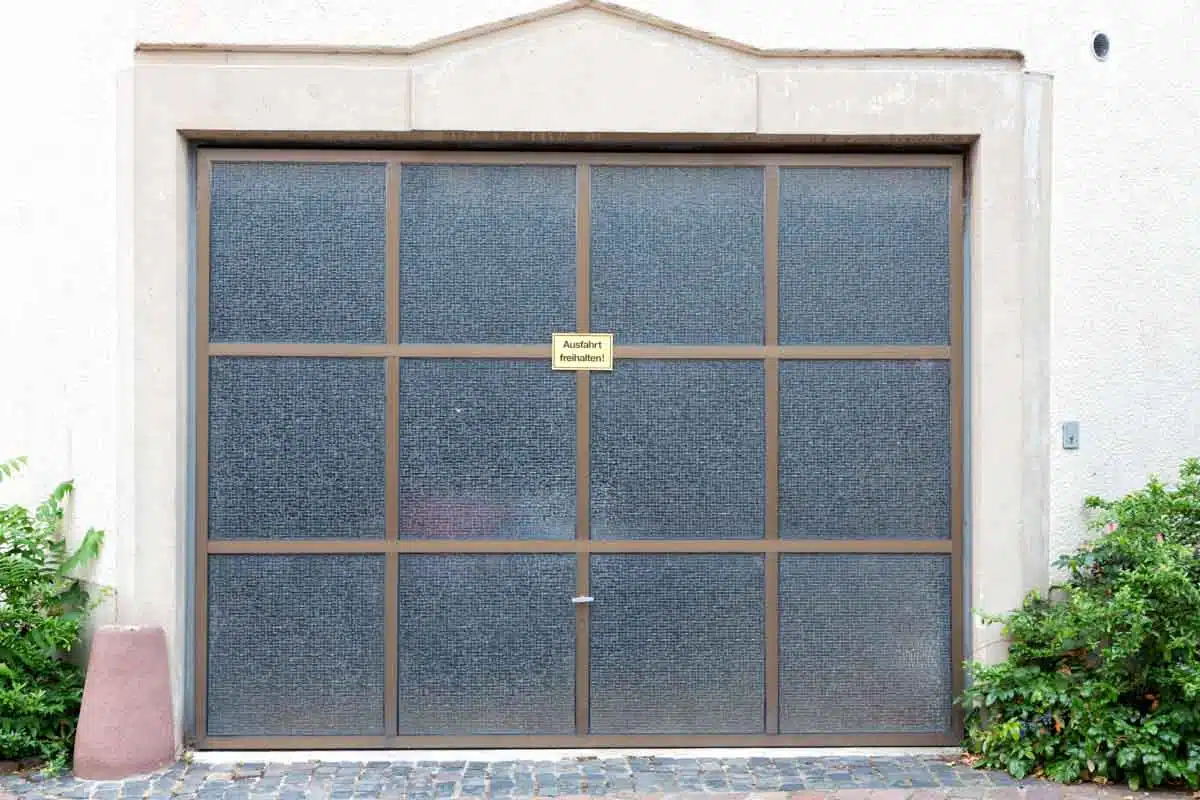 Benefits: Retractable screens are not only aesthetic alternatives to garage doors, they also happen to be practical ones. They're great at screening insects and dust particles out while still providing your garage space with ample ventilation. This will help you cool a garage with no windows as well.
They're great if you happen to be in a warm climate. When not used, they easily and neatly retract, giving additional appeal to your garage's visuals. This is great if you're keen on maintaining curb appeal and keeping an open layout.
Features: Versatility is the highlight feature of retractable screens. You get to customize whether you'd like to have them operated manually or with motorized mechanisms. They also come in a wide range of materials. There are special screens that are insect repellant while others that protect from the sun's UV rays.
Recommended setup: Retractable screens are not recommended as standalone. They usually work best with existing garage doors as an external layer. The fitting can be challenging so a professional setup is also the best way to go with these doors.
Cons: The main issue with retractable screens is that they don't offer insulation to those in need of a climate controlled garage or security, given the fact that they're see-through. Also, the costs entailed can be high. This can be an issue for homeowners who are working on a budget.
Swing Out Carriage Doors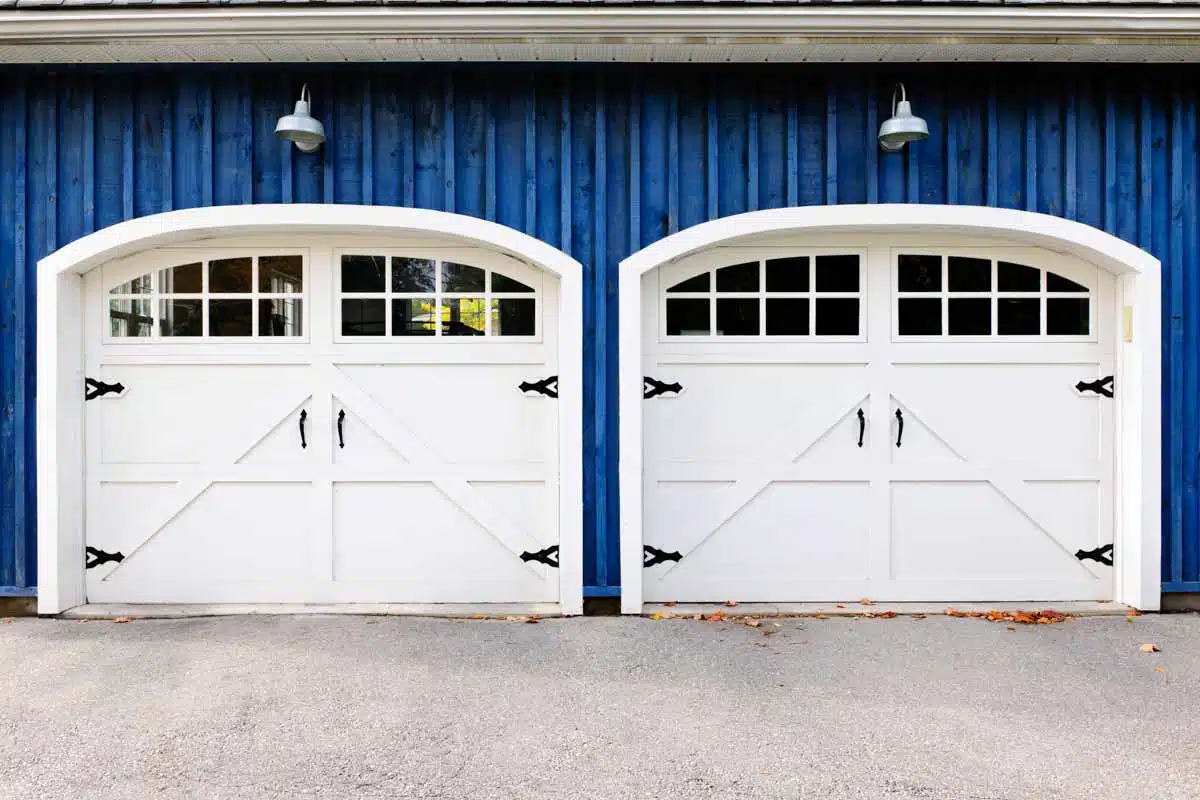 Benefits: Swing-out carriage doors are unique because they have an aesthetic and timeless appeal, something that isn't all that common with garage doors. They have a classic and regal appearance that can add to your curb appeal at the end of the day.
More than that, this is among the garage door ideas that are quite durable so investing in them would mean that you will get to enjoy them for the years to come. Most of these doors are also customized which means that it can make your overall exteriors appear more high-end and sophisticated.
Features: One of the main things that make swing-out carriage doors stand out from the rest is their swing-out mechanism. This is a great garage door design to have if your garage needs a lot of space or even just to accommodate larger-sized vehicles.
They also oftentimes come with decorative hardware options. You can customize what kind of handles and hinges you want to have and bring the entire look in with the aesthetic that you're trying to accomplish.
Recommended setup: To properly support the size and weight of your swing-out carriage doors, robust enough hinges need to be installed to hold them up. You also need to accommodate enough clearance so that they can fully swing out unobstructed. These aren't doors that you can install via a DIY project. This requires precise installation and fitting, which is why you need to get this contracted out.
Cons: Although they look great and can be quite durable, swing-out carriage doors require far more space than the other garage door alternatives. This can be an issue if you're working with limited driveway clearance. Also, they're relatively more expensive.
Sliding Barn Doors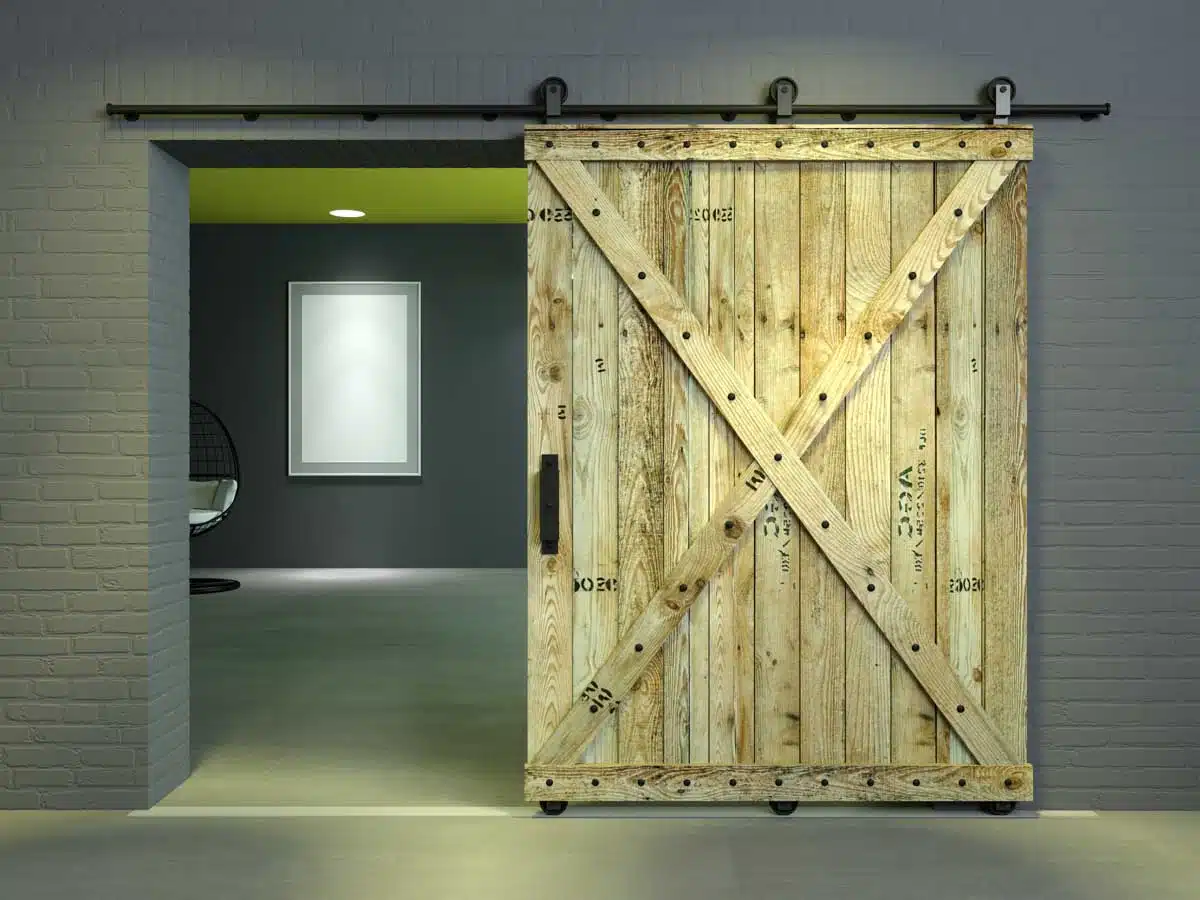 Benefits: Sliding barn doors are rustic and unique but also highly functional alternatives to your regular garage doors. They're quite space-saving because they slide out horizontally on installed tracks. They're easy to install and can be a DIY project for you.
Barn doors are the height of simplicity: a few planks held together by rails (horizontal face boards) and stiles (vertical face boards). Cross boards can add a bit of style. – Barndominiums: Your Guide to a Perfect, Inexpensive Dream Home, Chris Peterson
Features: The primary unique thing about sliding doors is that they slide on tracks, reminiscent of actual classic barn doors. If you want to amp up the rustic charm, you can even opt to use reclaimed wood. Depending on what your preferences are, you may also go with decorative hardware to boot.
Recommended setup: A robust sliding track needs to be installed for your barn doors to operate smoothly and for them to be properly balanced out. You should also properly fit it with insulation especially if your garage space serves multiple purposes other than as a garage.
Cons: Barn doors have issues with insulation and security. This is where they pale in comparison to traditional garage doors. Because of their design, they also tend to restrict the width of your overall garage opening. This can be a problem if you happen to have larger vehicles you need to park inside.
Plywood Or OSB Panels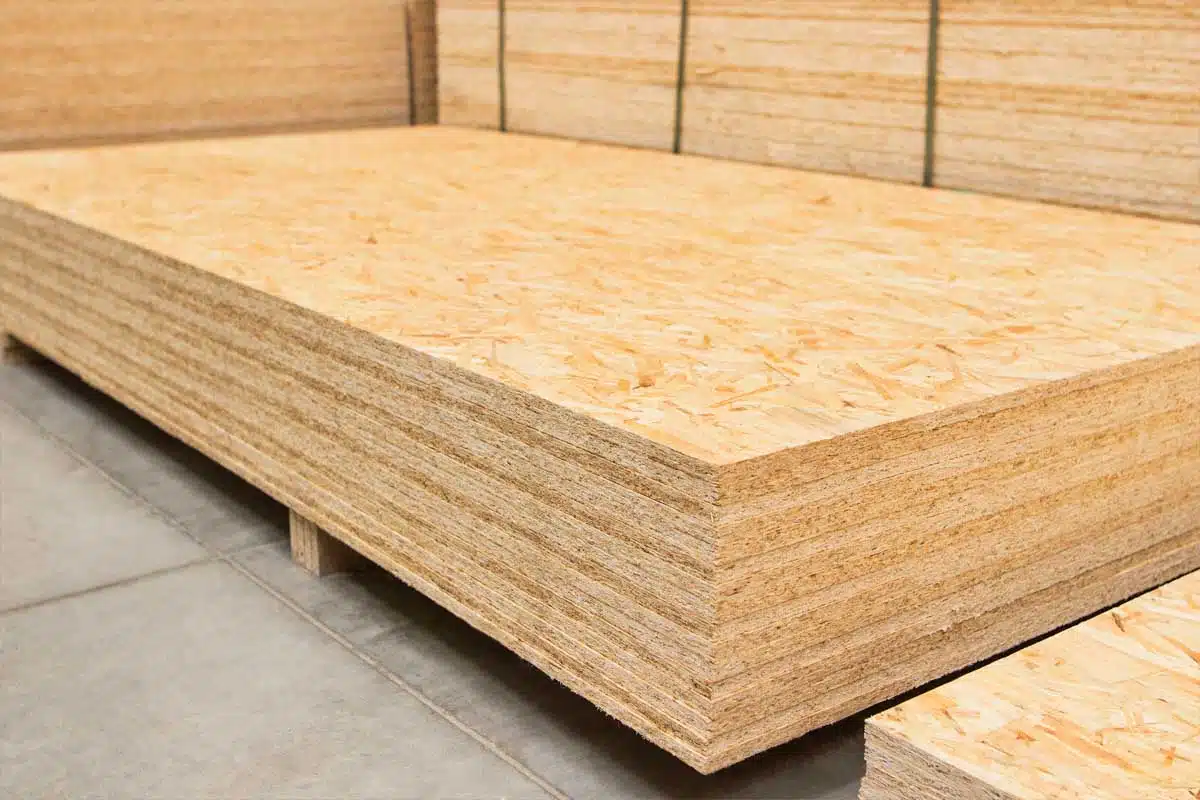 Benefits: OSB or Oriented Strand Board Panels and Plywood are cheap options if you plan on just providing a temporary cover for your garage and you don't have a lot of budget for it. These panels are readily available in your local hardware stores, and they're quite versatile because you can cut and shape them in any way you want.
Features: Plywood and OSB panels are blank canvases so if you want to be creative and would like to go for a customized look, they are the way to go. You can stain, finish, or paint them in any way you want. They also happen to be quite lightweight, so even a single-person installation is quite possible and can be done with ease.
Recommended setup: You are going to need wooden studs installed securely against your garage opening to serve as frames. This is where you can securely attach your plywood or OSB panels.
Make sure that the corners are secured and reinforced. Since they're going to be exposed to the elements, it's also recommended that you weatherproof them with paints, stains, or sealers.
Cons: Plywood and OSB panels are lightweight. They aren't as secure or as durable as the other garage door alternatives. They're also quite porous, which means that they are quite prone to moisture damage, especially in a particularly humid environment. The upkeep required is quite high as you will constantly need to repaint or reseal them to protect both their structural integrity and their appearance.
Pallet Wood Doors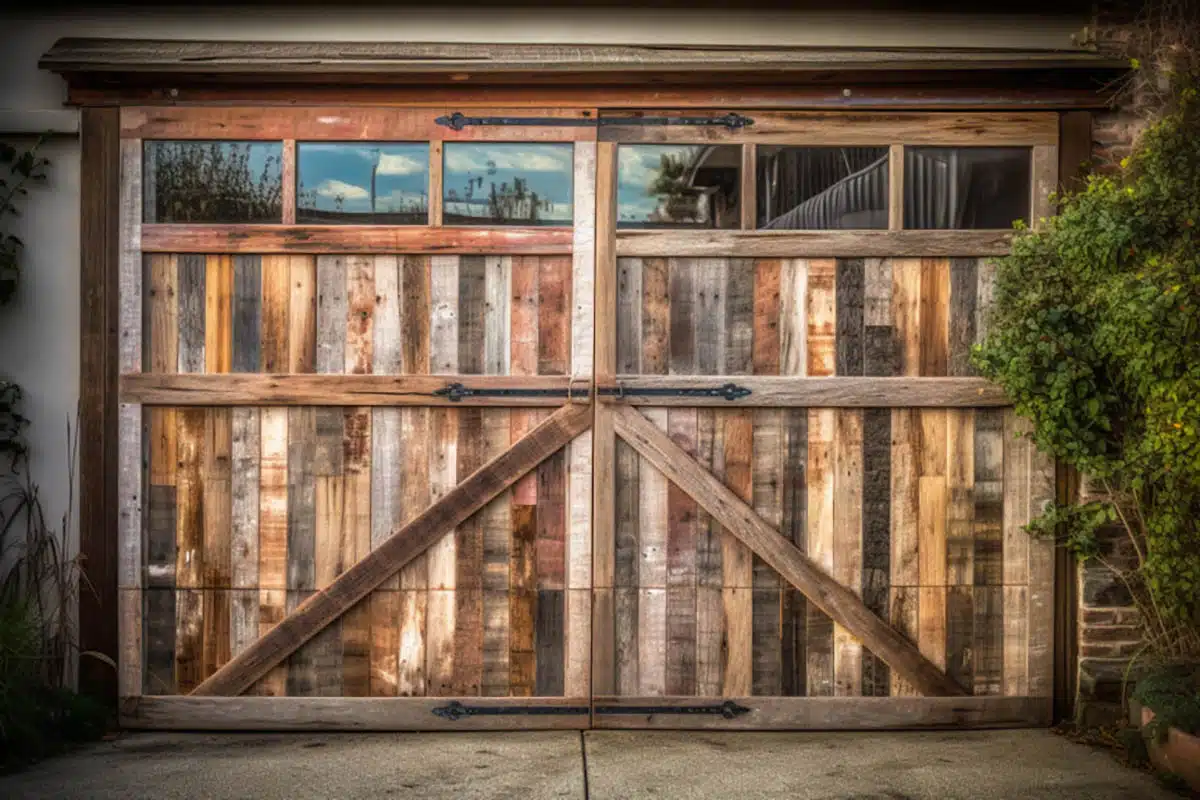 Benefits: Pallet wooden doors are sustainable and creative alternatives to regular garage doors. They are typically made out of reclaimed wood or repurposed materials, which means that they are not only eco-friendly, they're budget-friendly as well. They're quite attractive to DIYers and homeowners who want to minimize their garage door costs as much as possible.
Features: One main thing that pallet wood doors bring to the table is their authenticity and sense of character. Pallets showcase the natural texture and grain of the exposed wood and this provides warmth to the look of your exteriors. And because they're made of wood, you can also customize their paint, stain, or finish.
Recommended setup: You need to ensure that your pallet wood doors are installed properly. For added durability, use strong wooden studs that you can attach your pallet wood panels securely. Sealing helps a lot since this makes the wood weather-resistant.
To enhance the design add glass inserts and decorative metal brackets to give it some character and a stylish DIY touch. As a cheaper alternative to glass panes you can use vinyl, plastic or fiberglass to allow some ambient light while still providing privacy.
Cons: Pallet wood doors don't offer a lot of security and insulation. Since they were originally made for an entirely different purpose and usually by different manufacturers, the quality can also vary greatly. They require a lot of upkeep and aren't as durable as regular doors for garages.
Used Doors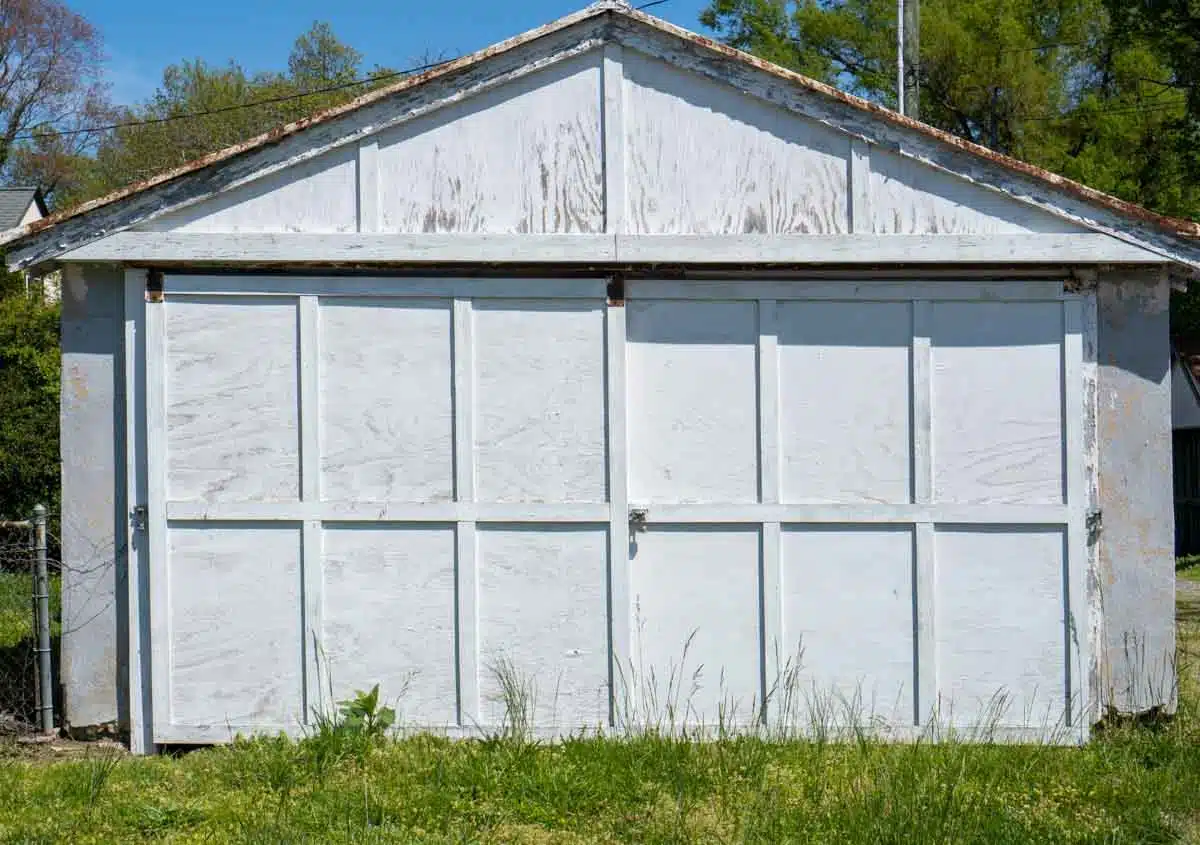 Benefits: Used doors as garage door alternatives are readily available. Because they're made out of salvaged or reclaimed items, they're not only cost-effective, they're also environmentally friendly. What's great about them is that every piece has its history and character. For only a fraction of the cost of a regular garage door, you get to put something up.
Features: Character and history are the main offerings of used doors. No two doors are ever alike. This is particularly true for used doors that have been crafted by artisans. There's a certain sense of nostalgia in their appearance and in just the fact that you have them up in your garage as doors.
These old doors often offer more energy efficiency than many other materials and can be painted the color you want to match your home. Old doors can offer security for your car and other belongings and be equipped with a garage door opener for convenience.
Recommended setup: It all depends on the current state that the used door is in so assess accordingly. In some cases, you might need to do some spot repairs or reinforce some weak or damaged spots and make it look new again.
Cons: Some used doors aren't up to code so you need to check if they're functional and safe to use before getting them installed. You may also be putting in more repairs and maintenance compared to other garage door alternatives.
Zipper Screening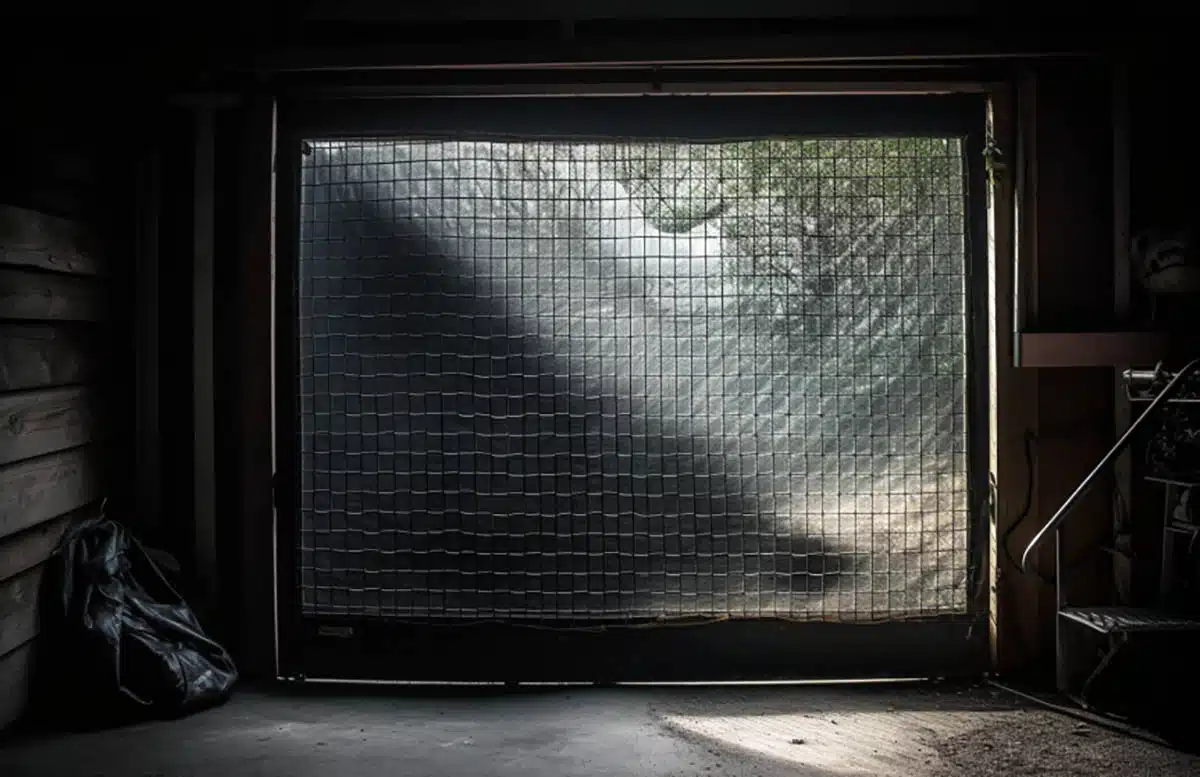 Benefits: Zipper screening is just a fancy name for retractable and roll-up screens. They're practical and easy solutions for your garage entrances because they offer a lot of ventilation while keeping dust and insects out at the same time. This is an excellent low cost option that offers some basic privacy and an easy DIY installation.
Features: Its main offering is its roll up mechanism. It allows the zipper screen to be rolled up or down, in the same way that you would operate a zipper. Other designs may offer more features such as adjustable tensions so that they operate more smoothly, or magnetic closures for ease of access.
Recommended setup: These screens need to be installed on your garage entrance's exteriors. The key to this is having the proper tension in the screen for it to be taught enough for the zipper to run smoothly.
Cons: It isn't a solid door, it is just a screen. So although it's great for dust, insects, and ventilation; it offers nothing by way of security, privacy, or even protection from the elements. Noise may also be an issue, especially if you happen to live in a busy street.
Chain Link Or Wire Mesh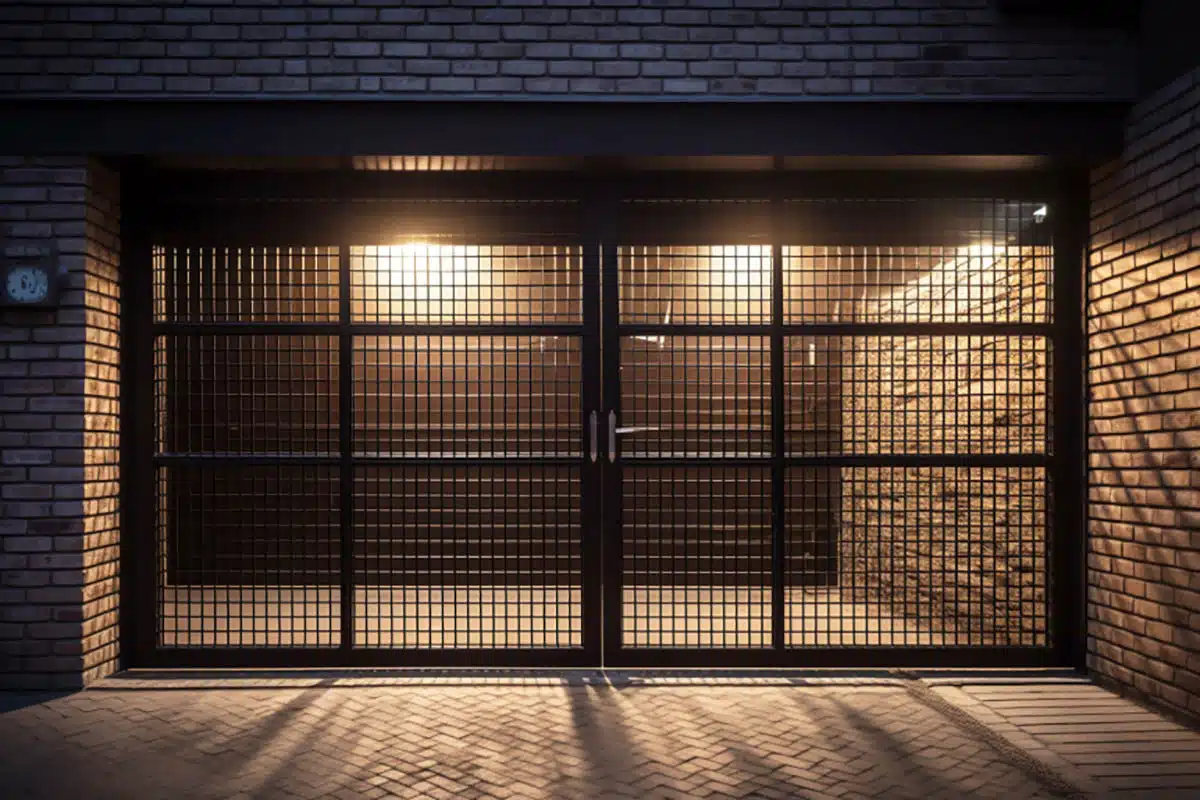 Benefits: Chain link or wire mesh doors are quite cost-effective. Unlike their see-through counterparts, not only do they provide ventilation, but they also provide a certain level of security to boot. They're budget-friendly and extremely durable so if what you're after is something cheap and practical, chain links may be great to keep in mind.
Features: The main offering of a chain link or wire mesh is its link or mesh composition. It's great for airflow and yet, isn't quite as flimsy as a screen. Some come with lockable mechanisms, too.
Cons: Chain link or wire mesh doors provide zero privacy because outsiders can look from the outside in. They also have no temperature control. They're susceptible to outside noises and weather-related issues, such as getting damaged by strong winds, and the like.
Corrugated Metal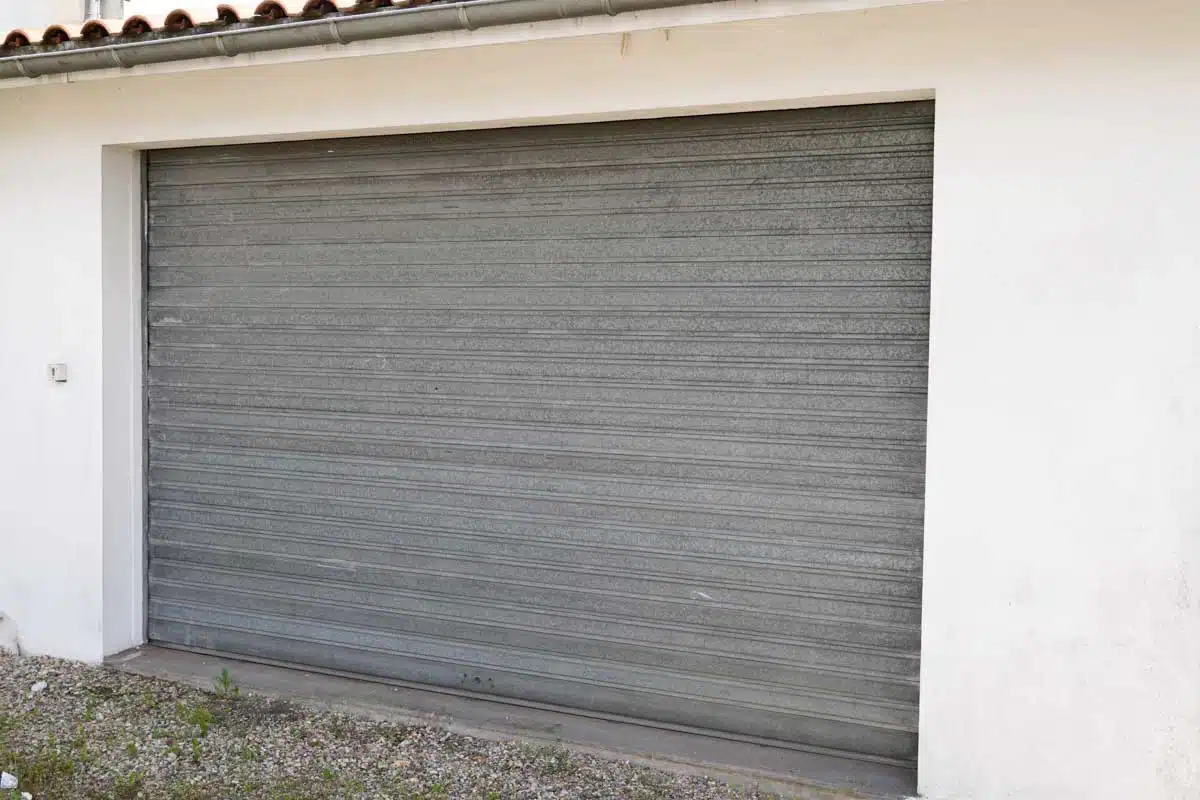 Benefits: Corrugated metal doors for your garage can be great if what you're after is a sturdier and more industrial aesthetic. These metal panel doors are resistant to impact, weather, and daily wear and tear. They're great at providing safety and security and the best part of this is that they don't cost as much as garage doors normally do.
Features: The main appeal of corrugated metal garage doors is the ruggedness in the aesthetic. The corrugations may come in either vertical or horizontal patterns and this can turn out to be unique for the exteriors of your garage doors. You can also add a thermal coating or layer to them which means that you get some level of climate control as well as noise reduction at the end of the day.
Recommended setup: To optimize the aesthetics of corrugated metal doors, it's best to have them professionally installed. This way, you can rest assured that critical factors such as balance and alignment are well taken care of. Make sure that you regularly clean and oil the hinges, check for damages, and the like; so that you get to prolong its lifespan.
Cons: Although their aesthetic is their main offering, it can also be their main downside. Not everyone is partial to the industrial aesthetic. It doesn't offer much by way of customization, and the upfront costs can be quite high when you compare them to other options.
Tarp Or Heavy-Duty Canvas

Benefits: A tarp or heavy-duty canvas door is cost-effective and practical, especially as a temporary solution. They are available everywhere and you can set them up right away even with very little budget. They're quite lightweight and definitely something that you can do yourself.
Features: You can cut and shape this material based on your garage entryway's opening. They also come in different qualities, thicknesses, prints and designs, and more. Some tarps are more heavy-duty and more resistant compared to the others. You'd want to go with the sturdiest ones if you want to use them as garage doors.
Recommended setup: You need precise tensioning on all of the edges for this setup to work. If done poorly, you could easily end up with sagging tarps in your garage entryway. For good measure, you can add weights at the bottom of the tarp to keep them from blowing over in the event of bad weather.
Cons: They are not suitable for long-term use. They are unable to withstand extreme or inclement weather such as winds or very strong rains so you are going to end up replacing them with a new material as the need arises.
Window or Shower Curtains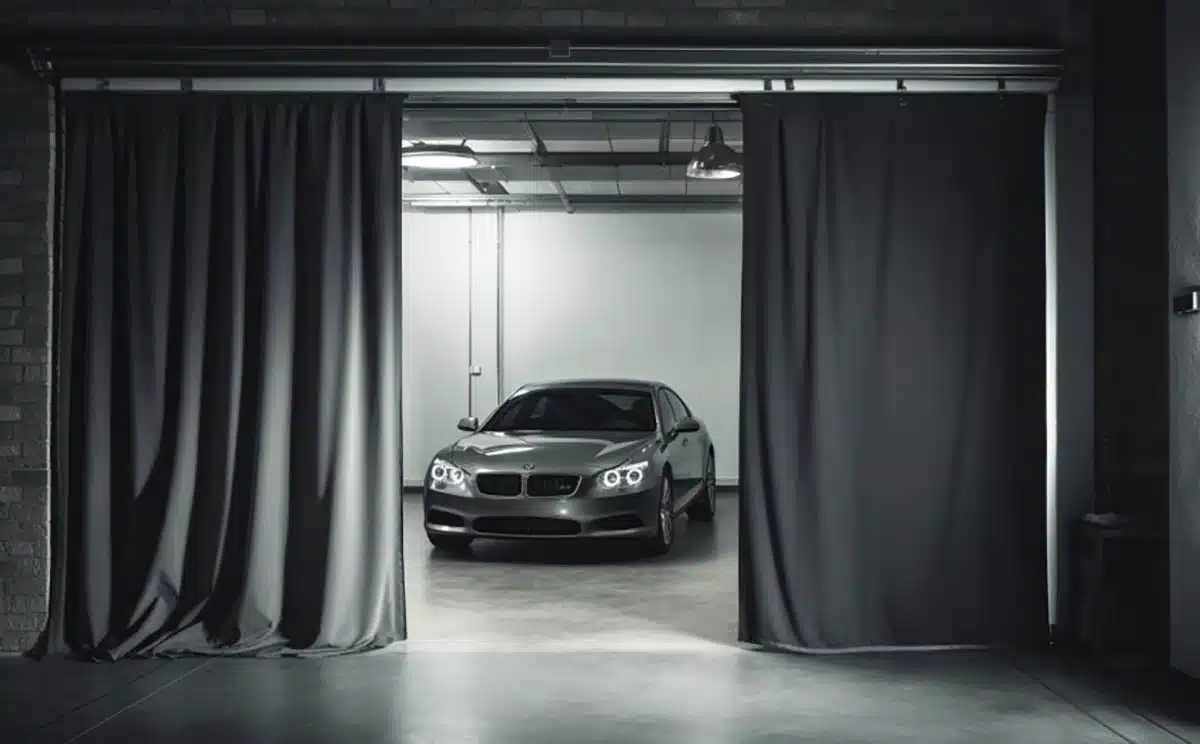 Benefits: Shower curtains are quick and easy inexpensive solutions for garage door alternatives. They come in different styles and sizes so you can easily source them out or replace them depending on your needs. They're lightweight and easy to install; perfect for temporary situations.
Features: Shower curtains are made out of naturally water-resistant materials. They will work great if you want to keep moisture out of your garage.
Recommended setup: You are going to need an overhead curtain rod or some type of overhead track system to hang them from. Also keep the length in mind, ensuring that they reach the floor level, providing proper coverage.
Cons: They are not suitable for long-term use. They are temporary as best and serve more as coverings instead of as doors.
Inexpensive Door Material (Faux Wood, Sheet Metal Or Aluminum)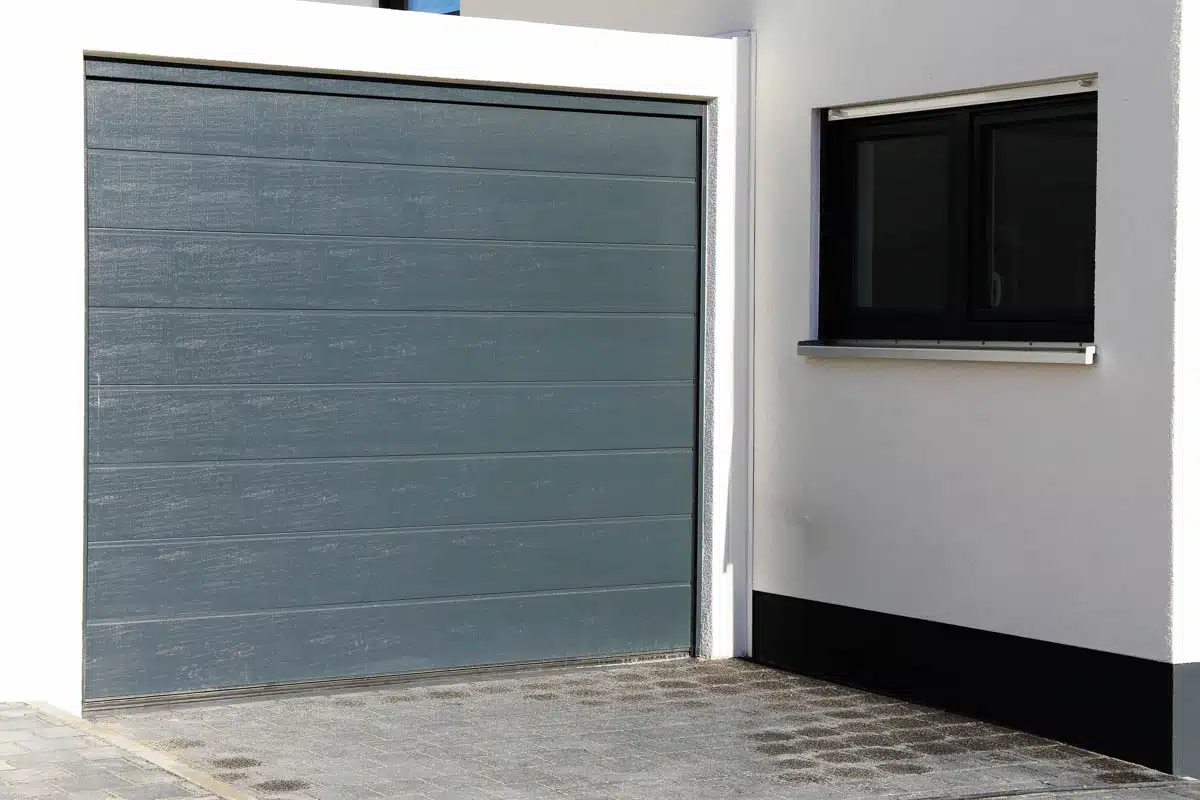 Benefits: Faux wood, sheet metal, and aluminum are all affordable materials that marry both functionality and cost-effectiveness as garage door alternatives. Faux wood looks just like real wood but costs significantly less.
It doesn't warp or get damaged by moisture, and it comes in a lot of colors and styles. Sheet metal is resistant to rust, offers great insulation, and of course, very low maintenance with almost zero upkeep. Aluminum is a lightweight material that's easy to install and it is also highly resistant to rusting and corrosion in general.
Features: Faux wood presents a great aesthetic, rivaled only by real wood. Sheet metal boasts of its sturdiness and durability. Aluminum is lightweight but doesn't rust, making it perfect for minimalist or industrial aesthetics.
Recommended setup: Tack on some insulation to these doors for you to amp up your home's thermal efficiency.
Cons: Although faux wood mimics real wood, it isn't as authentic looking, especially to the trained eye. Sheet metal tends to scratch and dent easily and it appears a bit cheap at times. Aluminum is slightly more expensive compared to other materials and doesn't hold insulation very well.
See more related content in our article about farmhouse garage doors on this page.