This farmhouse garage doors gallery features details about what it is, different design types, hardware used, and farmhouse garage door light fixture ideas.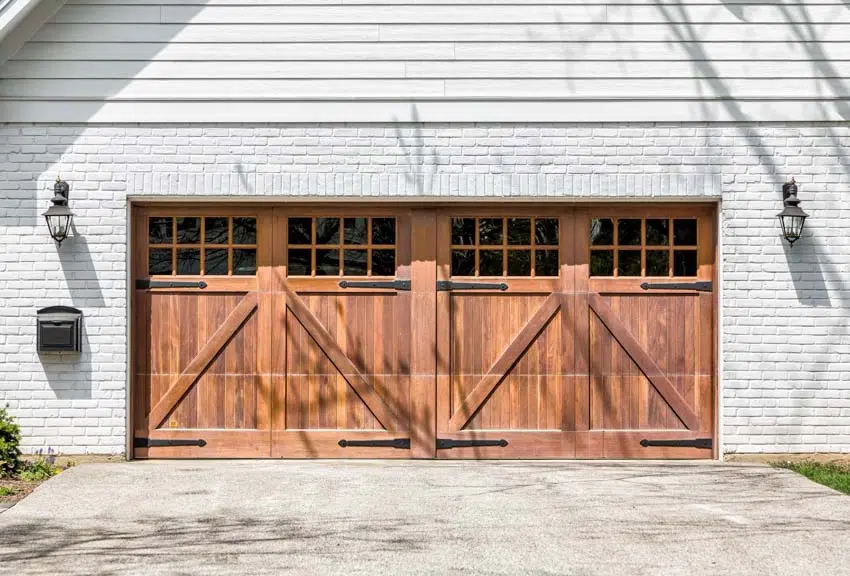 Garage doors are often overlooked and their installation is often only focused on their basic functions. But do you know you can do more than that and actually consider their aesthetics too? And one good option if you love the provincial life and want to bring it into your home, you can consider farmhouse garage doors and make the most of their aesthetics.
Farmhouse garage doors showcase a more rugged, natural, and rustic appeal that can spruce your home in a different way. Explore what it means for you if you choose to have farmhouse garage doors compared to other types of garage doors.
What Is a Farmhouse Garage Door?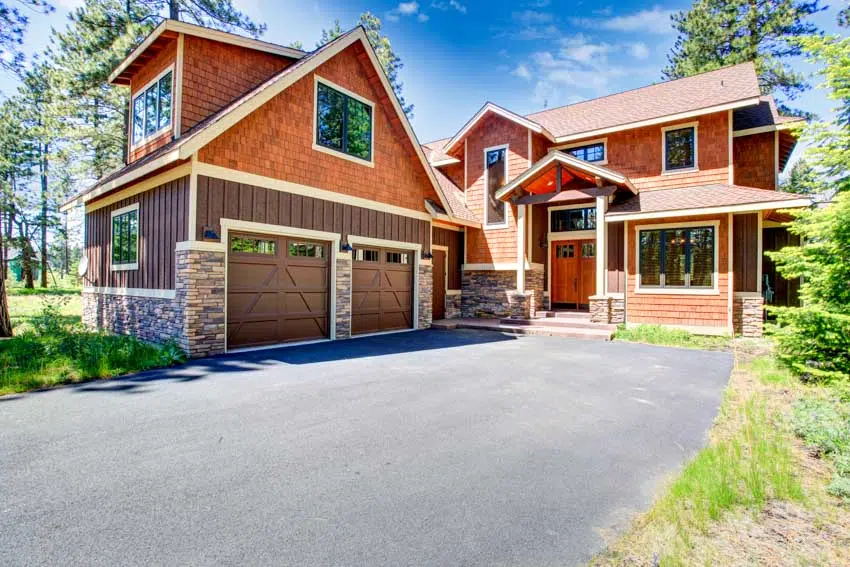 A farmhouse garage door has its roots anchored way back in history, specifically in the Colonial era where American architecture considers farmhouses as vital elements in its development.
The farmhouse style is characterized by its functional design combined with its rustic and vintage vibes. The integration of carriage houses in the architecture of farmhouses has become trendy and something that homeowners are positive about.
Being vintage and old-school, farmhouse garage doors are made of a wooden and metal combinations. If you're looking at authentic farmhouse garage doors, they have the following elements you can take note of:
• Wide planks and barn board wooden material
• Metal and wood pairing
• Vintage iron accessories: hinges, step plates, handles, and door knockers
• Rugged iron accents: spear points, clavos (decorative nails), and studs
• Garage door color ideas: white, neutral colors, and other dark rustic shades (You can choose a two-tone color palette)
• A weathered and rugged look
• Painted finishes in the desired color (But usually in natural colors)
• Swings open like carriage doors
The vital factor revolves around the rustic vibe that the garage doors deliver, as well as an ambiance of comfort and warmth. But considering the fact that your garage door will serve as the front of your home, you can benefit from thinking about its aesthetics. And with farmhouse garage doors, this means an old-time yet rustic and nostalgic style of garage doors.
Types of Farmhouse-Style Garage Doors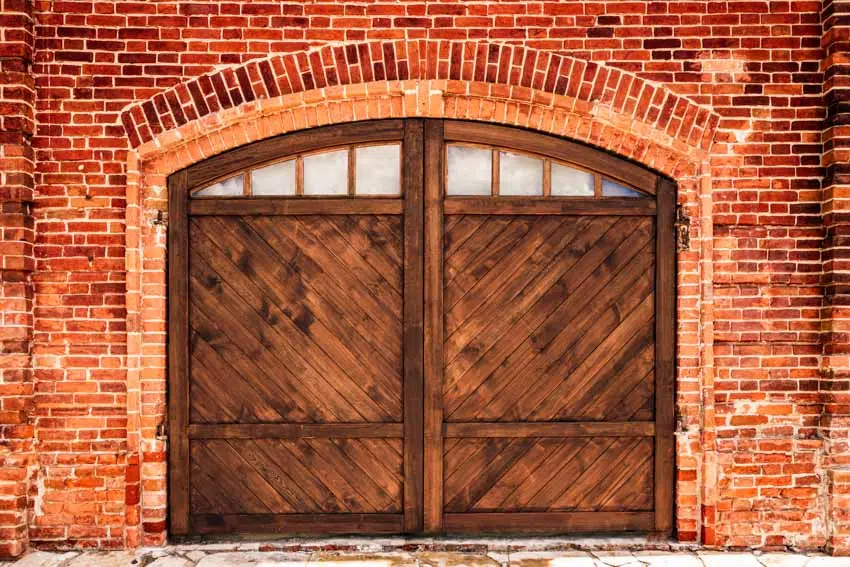 With different types of farmhouse-style garage doors to consider, how will you know which one to choose? Using your instinct alone is not enough so to help you decide, here are some factors to consider first:
• Matches the style of your home: A farmhouse garage door features a simplistic yet charmingly old-school vibe and if that's exactly what you're going for with your garage and home in general, this could be a good choice. The aesthetics of your garage door needs to match or at least complement the exterior of your home.
• Choose the specific design of your farmhouse garage door, whether you prefer double doors or not or you want it to be digitally controlled or not.
• Materials you want your garage door to be made of: The garage door panels can come in a variety of wood and metal types and you would also need to decide on the hardware that comes along with it both to be functional and for aesthetics.
• Inclusion of windows: You can add windows to the design of your garage door to allow more natural light to enter your home but with traditional farmhouse garage doors, most go without the addition of windows.
• Finish: Choose a specific finish that can make your farmhouse garage door stand out but make sure that it can complement your home's exterior and that you take into account the climate in your location. Wooden finish and metal finish are all available.
• Insulation: Consider a garage door that's properly insulated and weather-sealed in order to have better energy efficiency in the area, especially since these doors open and close repeatedly, transferring cold air every time.
These are only a few of the basic factors to take into account when choosing the ideal farmhouse garage door for your home. With the different types of farmhouse-style garage doors, it can be overwhelming and time-consuming.
While the farmhouse style is pretty straightforward, there are many options when considering the different types of farmhouse garage doors. You can go from the minimalist barn-style farmhouse garage door or something with a more specific theme like the relaxing vibe of a Tuscany-style farmhouse garage door.
Black Painted Carport Door in Farmhouse Style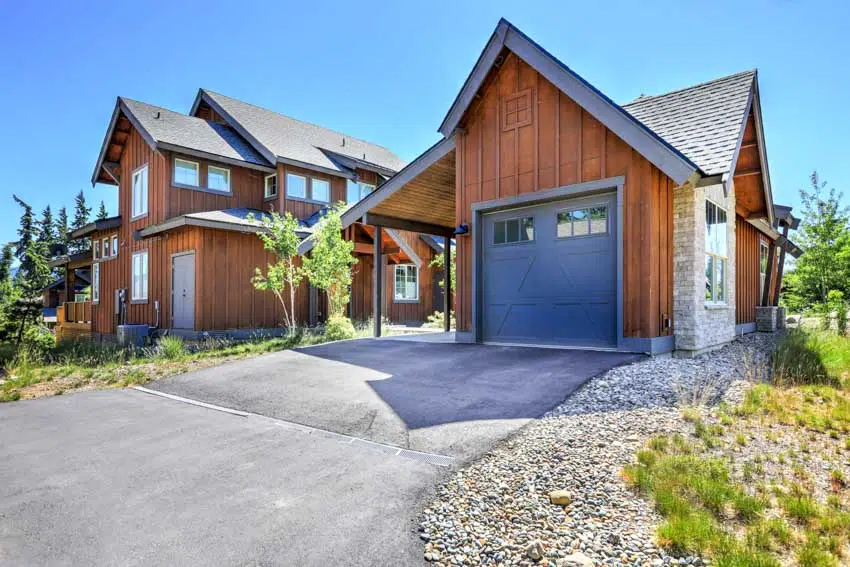 A black farmhouse garage door is in modern style and capable of giving your garage an edge look that traditional farmhouse style does not offer. This can be a good addition to your home if you have a light or neutral-colored home exterior.
This dark modern country look is more dramatic compared to other options because few people will choose the color black on a farmhouse-style garage door. On the other hand, it also easily hides away dirt, scratches, and dents on it.
Farmhouse Carport Doors in White Finish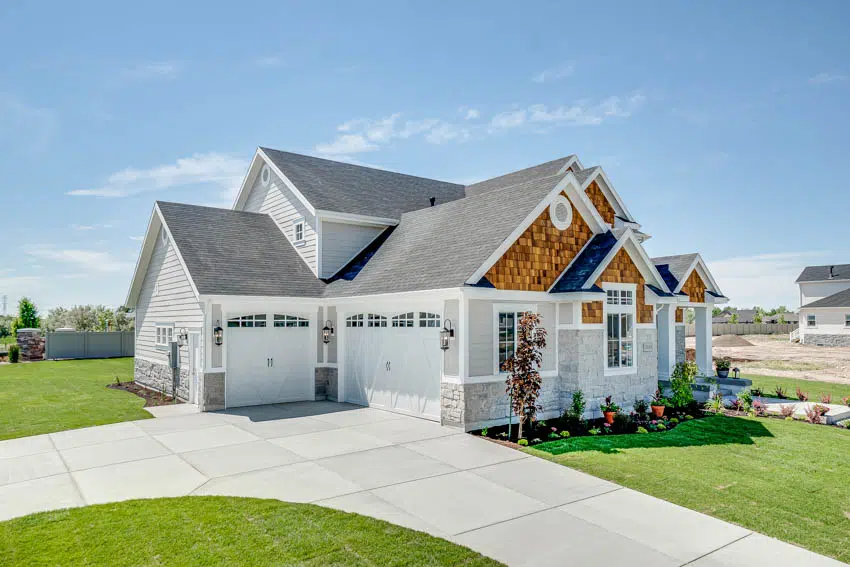 Compared to black farmhouse garage doors, its white version is more acceptable to homeowners because the style is traditionally in light and neutral colors. With white farmhouse garage doors, you get to have a simpler and minimalist option to give your home's exterior a cleaner look.
The downside with it though is that since it's light-colored, it also easily gets dirtied, especially since garage doors are exposed to outside elements that can easily affect the garage door.
Modern Farmhouse Designed Doors for the Garage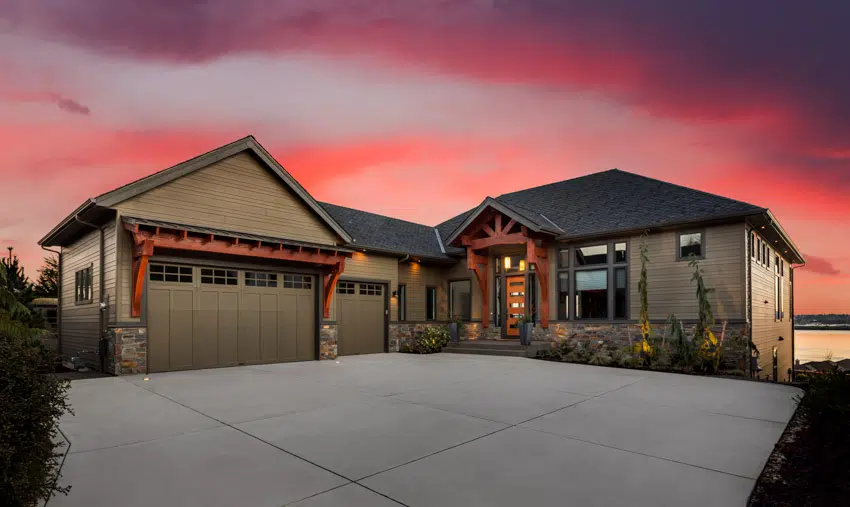 Farmhouse garage doors have evolved throughout the years though and homeowners have become lenient in what can be considered farmhouse style. Modern farmhouse garage doors today can include modern glass garage doors and sleek white garage doors as long as they are connected to the ranch, country, and carriage types of garages and homes.
Modern farmhouse garage doors are not limited to wood and steel. There are many other materials that can be used to build them, including glass, aluminum, vinyl, and composite materials. The blend of different contemporary elements and artificial materials allows the birth of these modern farmhouse garage doors.
If you're looking for something unique and different, this type of garage door is a good option. The combination of neutral colors and bright hues can make a dramatic addition to your home's aesthetics and ambiance. Of course, the color that should dominate the garage door should be a neutral color or something like white, black, or gray.
Wood Farmhouse Doors for Modern Carports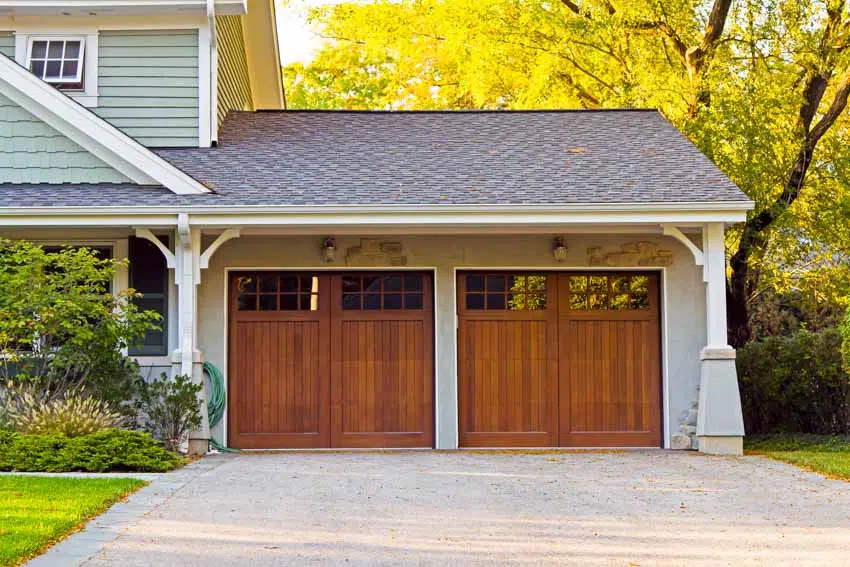 A wooden farmhouse garage door is a traditional type that showcases rustic beauty, which is what people are after with this style of a garage door. More than just a timeless material, wood is renewable and provides a natural and minimalist appeal.
Wood farmhouse garage doors normally look rugged and raw, which contributes to its rustic and vintage vibe. Some garage doors are made purely of wood but they can be combined with stainless steel and even aluminum.
And depending on the design you want your farmhouse garage doors to have, you can integrate more modern elements into the mix (But this can make it lean towards a modern farmhouse garage door).
The advantage of a wood farmhouse garage door lies in the benefits of choosing the said material. Whether it's softwood or hardwood, the material is versatile, highly flexible, and easily workable compared to other materials. And based on what type of wood you choose, you will either be required to treat it every now and then or just polish it.
The big disadvantage with wood farmhouse garage doors is that if not treated properly and regularly, they will easily get damaged and dirtied. This means that you might need to take care of the garage door's maintenance regularly.
Double Garage Gate Doors in Farmhouse Design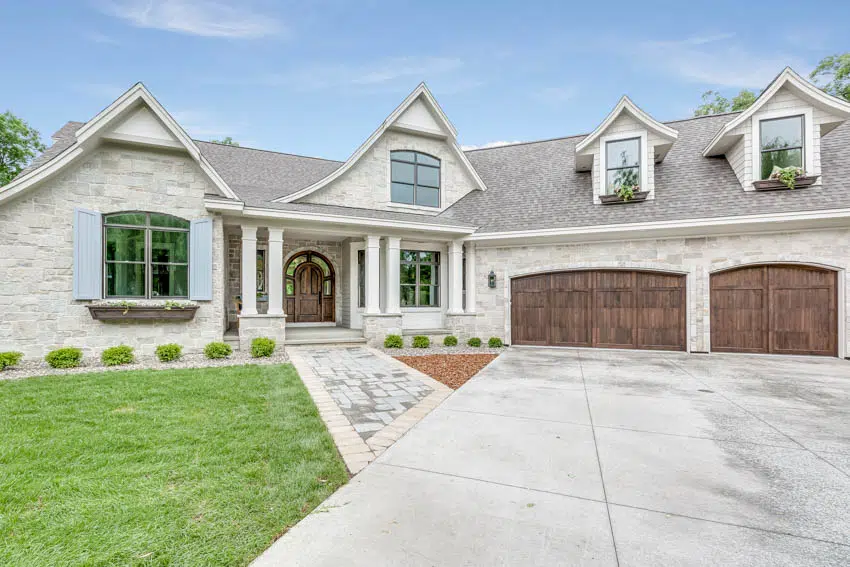 A farmhouse double garage door is also a good consideration if you want something different rather than a swinging farmhouse garage door. This style of door is usually found in a mansion's facade, which is elegant and luxurious to look at. So, if you will choose this style for your garage door then you are going for something warmer and welcoming.
Going for a double door can cost around $400 to $8,000, depending on the materials and quality of the farmhouse double garage door you want to have and install.
The standard wooden doors can set you back around $400 to $800 while glass types of sliding doors are more expensive and can cost $900 to $3,500. And you will also need to reserve an additional $600 to $1,100 for labor.
Hardware Pieces Ideal for Farmhouse Type Doors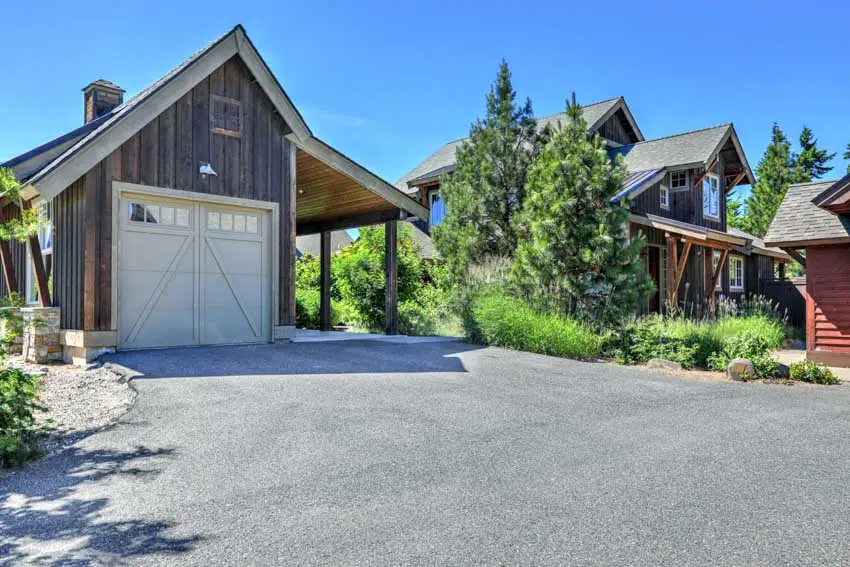 In building your farmhouse garage door, you will need to take into account the hardware you will use. Going for more decorative pieces is a good option, since more than just focusing on their functions, they can also add to the garage door's aesthetics.
Some of the garage door hardware pieces you need to consider are the following:
• Spear points
• Clavos
• Studs
• Pull handles
• Ring pulls
• Door knockers and latches
• Strap hinges
• Step plates
Lighting Fixtures for Farmhouse Garages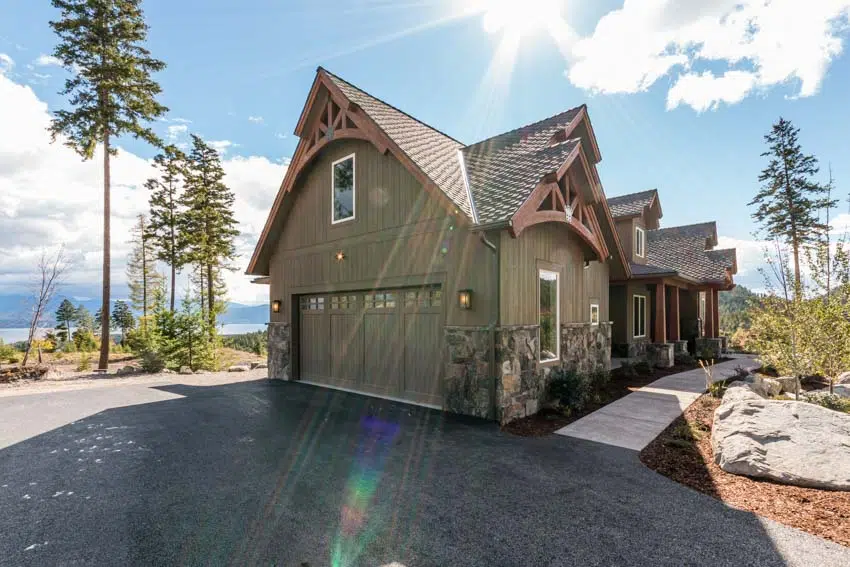 Farmhouse garage door lights need to feel warm and rustic, which is why if you go for oversized lighting or wall lanterns, no one will blame you. Make sure you match the size of your lights with the size of your garage so that it won't be too bright or too dim in the end.
You can choose a modern farmhouse outdoor lighting embedded with a round base plate and uses a dusk to dawn sensor.Read more about different types of garage lights on this page.

Overhead lighting is a standard lighting fixture that you can choose for your garage but you can also include other fixtures to make it more welcoming and aesthetically stand out.
See more related content in our article about louvered garage doors on this page.