Here we share our types of carports guide including what it is, different designs, sizes, materials, pros & cons, cost, and how to make a carport look better.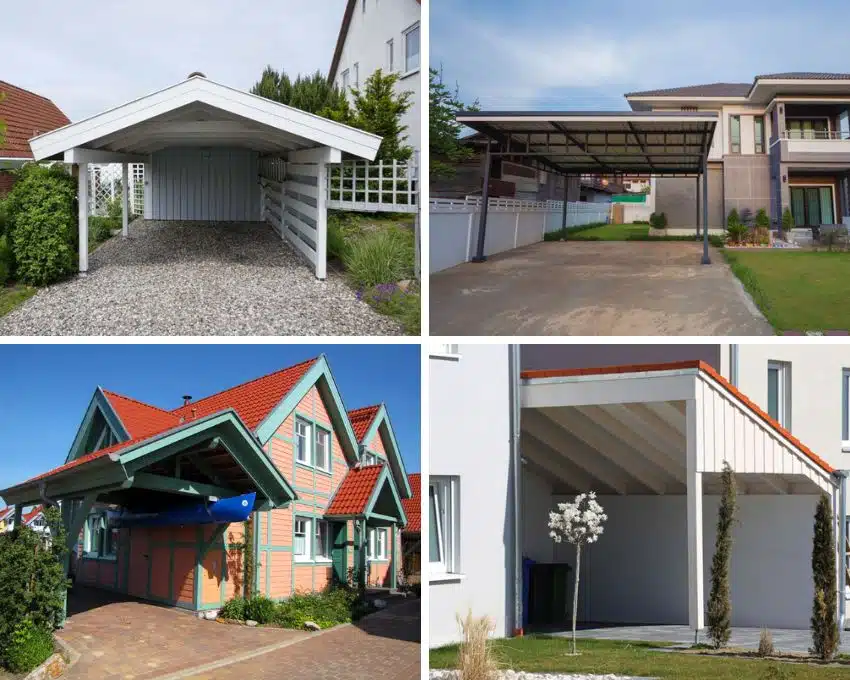 Cars, while highly beneficial and functional, tend to depreciate over time and would technically not be a good thing to invest in. This is the reason why you need to pay more attention to your car's maintenance and do as much as possible to protect it from elements that can damage it, including high winds, sunlight, rain, debris, and even bird droppings.
One of the clear ways to do this is to have a carport for your vehicle, protecting it against outside elements that may cause harm to it, especially on hot days and icy nights. Explore everything you can learn about carports and decide if this is something you would want for yourself.
What Is A Carport?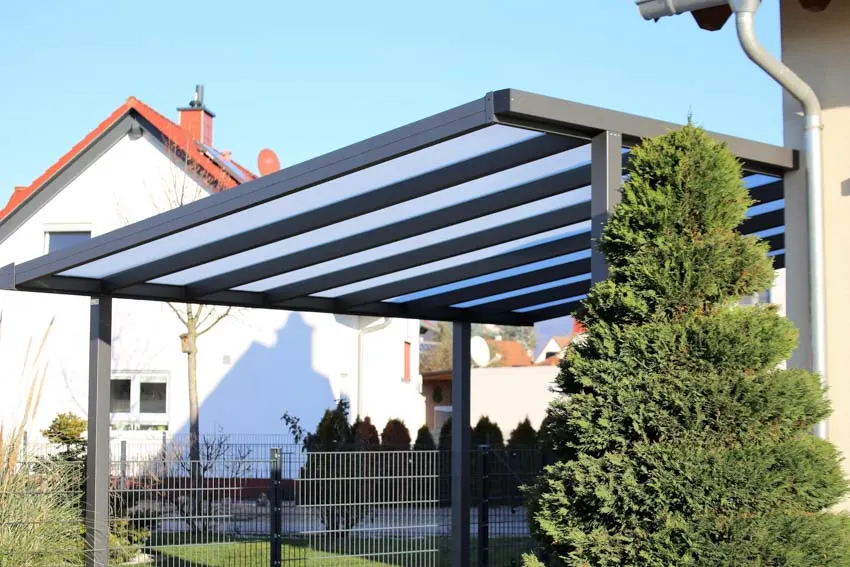 A carport refers to an area with roof coverings supported by posts and beams. The roof coverings, beams, and posts can be made in the materials you choose them to be. This structure is semi-covered and usually has an open-style layout without doors and sometimes even walls.
This covered parking space is enough to protect your car from weather elements, including UV rays, dust, rain, snow, and hail. In fact, it can withstand the harshest weather conditions, as long as the carport is durably built.
Can either be attached to your home/structure or freestanding, a carport is normally built outdoors and can even serve more than just a home for your car but also for other functions like the following:
• Covered patio area
• Extra storage space
• Solar panels base
This is a good option if you don't have a garage but you want to park your car somewhere it can be protected. And yes, it's different from a garage even if they serve similar functions.
In many situations a carport is much better value than a garage. A garage costs more and takes longer to build, but a carport performs much the same function and can be just as attractive. – Patios, Porches and Pools, 1977
While a garage is attached to a building or home, carports can either be the same way or freestanding. Most types of garages are normally part of the building and home, where the entire area is entirely enclosed.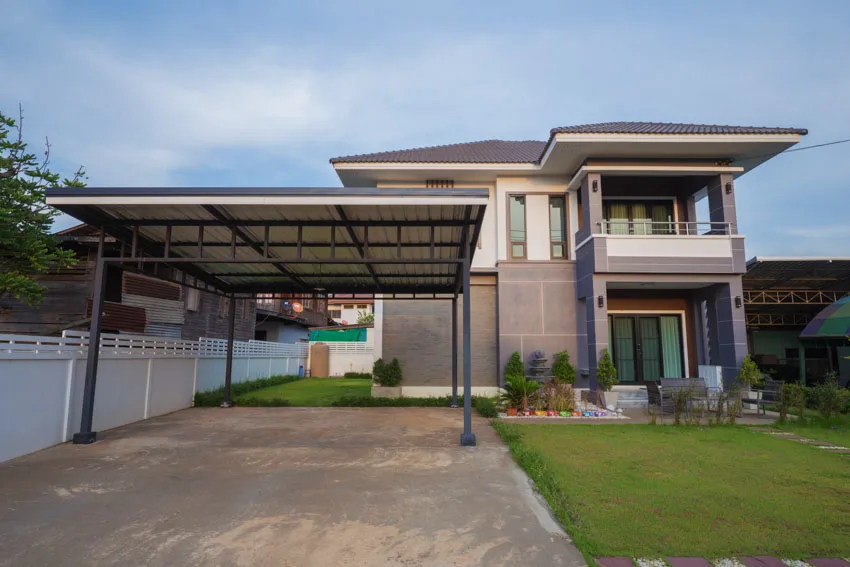 Carports, on the other hand, have this open-style area that's only supported by beams and posts, and with only two walls. And carports are significantly more affordable than garages. These small differences are the reason for confusion for many homeowners.
With carports, you won't need to rent a parking space for your car and is a good option for homeowners with limited space. And some countries require carports primarily because of the limited space.
If this is not a problem though and you have enough space though, you can always choose to have both. (Especially if you have more than 1 car and your garage doesn't have enough space for it!)
Explore the different types of carport designs you can use. There is also a variety of materials you can use in building your carport.
Types Of Carport Designs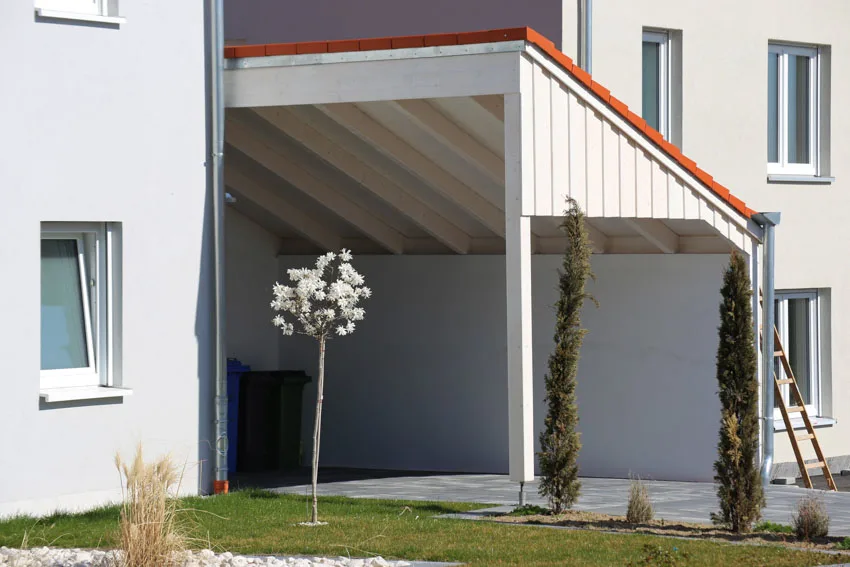 One of the factors you can differentiate one carport from another is its design. You can base the design for your carport on your current personal situation and circumstance.
For example, if you have very limited space with only somewhere besides your home to accommodate a carport, you can choose to have an attached one. This means that your carport is attached to your home. But that's only one of the many types of carports you can consider.
Freestanding Carports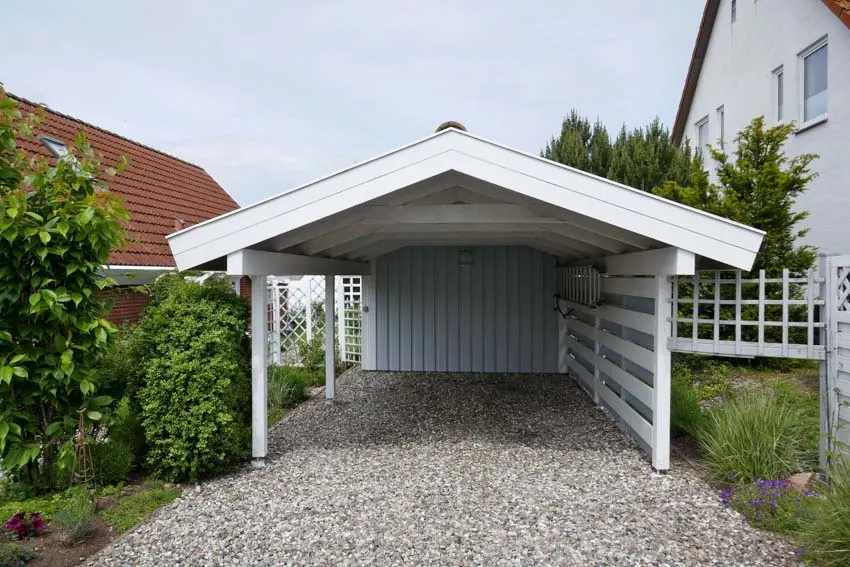 A freestanding carport is recognized as the simplest type of carport based on its design, making it a favorite option for many homeowners. Here are some of the benefits you can get from choosing a freestanding carport:
• More creative freedom in styling: It is not attached to any building so you won't have to consider other factors like the building it's attached to. It's like starting from zero and having all the creative freedom to build your carport from scratch.
• Easy and quick installation: With its simple construction, freestanding is easier to install with fewer complications to consider in the process. With its easy and quick installation, it is also regarded to be one of the cheapest options to choose from.
• Lightweight & can be portable: Most freestanding types of carports are made from lightweight metal posts and can be portable. But there are also freestanding carports that are permanently attached to the ground.
Attached Carports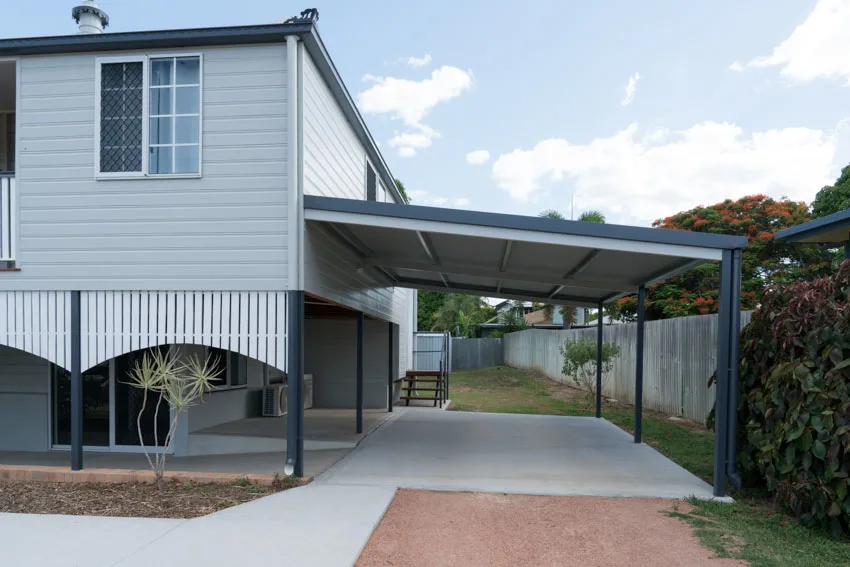 Attached types of carports, in contrast to freestanding carports, are connected to a home or building. They can be a bit pricey, especially if your home does not have an existing roof-line it can connect to but there is also a variety of benefits worth taking note of, including the following:
• Adds value to your home: Since this type of carport is connected to your home, it will be considered part of your home and so will be taken into account for your home's resale value.
• Features a sheltered pathway: An attached carport is connected to your home, which means that technically, you don't need to go outside just to go to the carport. There's a pathway available from your home to the carport, making it conveniently accessible similar to that of a garage.
• Better security: Connected to your home, this type of carport can protect your car better against burglars, criminals, and thieves because of its proximity.
Open Sided Carports
An open-sided carport features a built frame and topped roof, which can clearly protect your car from rain and UV rays but not violent storms and strong winds. Despite its limitations though, here are some of the advantages you can benefit from choosing this type of carport:
• Affordable and quick: This design for a carport is simple and no-nonsense that building one does not cost a fortune or too much time. It works solely for its functions without extras and ornaments.
• Easy to maintain: Considering you don't really have anything in it but an open space for your car, maintaining your open-sided carport is also straightforward and does not require much.
The drawback that comes with this simple and straightforward design is that it has a single function and the protection it offers is also limited. You can install storage spaces in this type of carport because security will always be an issue.
Flat Roof Carports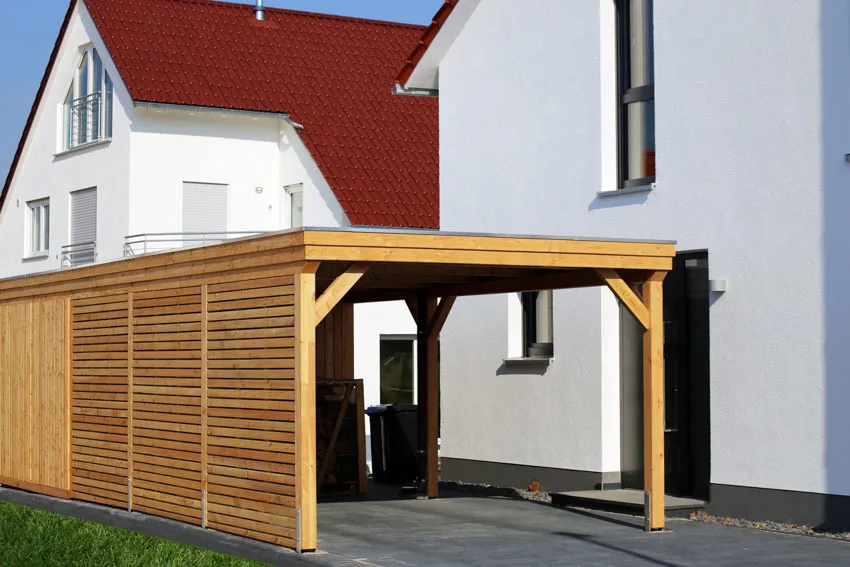 A flat roof carport refers to the one that's true to its name, which has a slightly angled flat roof. Here are some benefits you can expect from using this type of carport.
• Allows rainfall to flow easily: With flat roof types of carports that are slightly elevated, rainfall will simply glide through the roof down to the ground and you won't have to worry about its buildup.
• Easy and simple installation: The roof of this carport is only slightly elevated and you won't need extra skill just to install it.
• Flexible design: Many homeowners use wood in building a flat-roof carport and since it has a flexible design, other heavier materials can also be used in its construction. Your choice in materials and how you customize your flat-roof carport will dictate if it will be aesthetically pleasing or not.
• Easier cleaning and maintenance: Since its roof is flat and only slightly elevated, cleaning is easy with its leveled surface. In addition, leaves and other debris can easily be taken off the roof rather than having build-up.
Gable Roof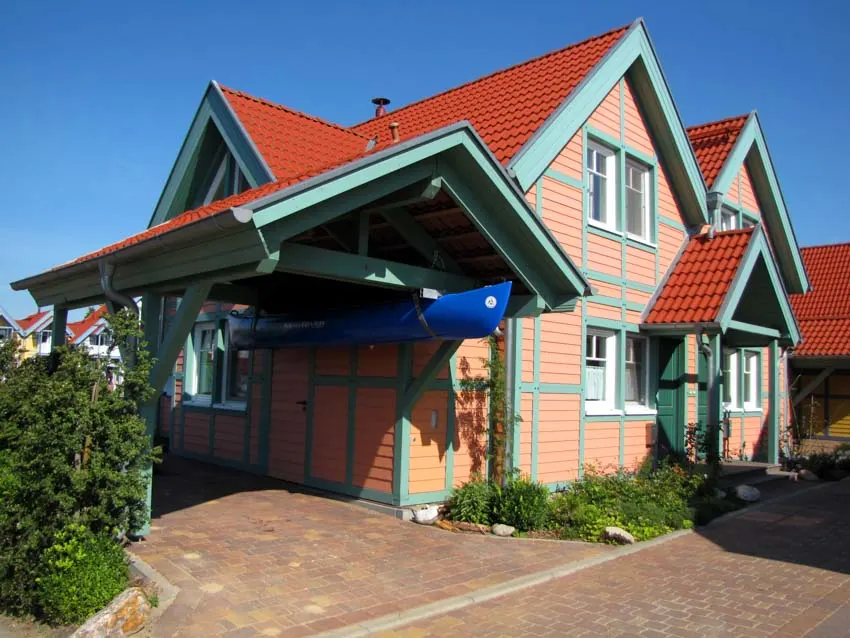 Also known as the pitched roof, a gable roof carport is similar to flat-roof types of carports but instead of having only a slightly elevated roof, it includes slating sides with a gable on their ends.
The pitch of this roof is normally 15 degrees but can be adjusted to 26, 20, and 10 degrees if needed. Some of the materials you can use for this type of carport design are:
• Steel
• Slate shingles
• Aluminum
• Asphalt
• Timber
• Wood shake
There are two types of gable roof carports, the standard one and the Dutch design. The standard is the most common and popular type because of the following benefits:
• Look like your home's natural extension: If you want uniformity of design in your property, this type of carport is a good consideration since it will appear like an extension of your home.
• Unique traditional style: This type of carport can be ideal for you if you're going for something classic.
• Clean aesthetics: It showcases a triangle with the corners bending downwards.
• Can take intense weather: Unlike other types of carports, a gable roof carport can protect your car from intense weather conditions like storms and heavy snowfall. You can reinforce this by installing plastic sheets on the carport's sides.
• Quick and easy installation: With its basic design, you do not need a special skill or craftsmanship just to install a gable roof carport at home.
Dutch Gable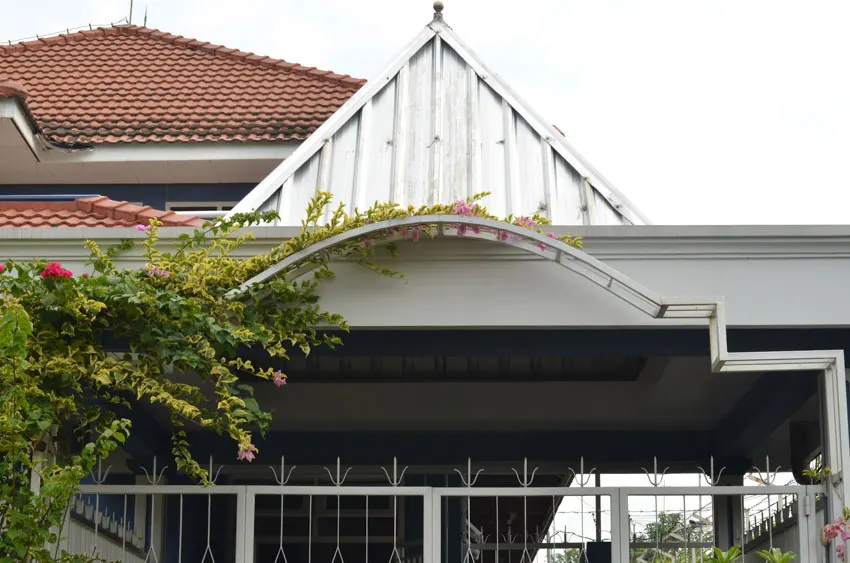 A Dutch gable is the second of the gable roof types to consider for a carport. The major difference it has over the standard type of gable roof carport is the use of parapets.
The form of the roof for a dutch gable includes a triangle pitch at the center, with both ends turning vertically halfway through and then with a dutch gable infill on both ends. Here are some benefits to exploring using Dutch gable carports.
• Excellent aesthetics: Dutch gable types of carports are perfect for colonial and heritage buildings where history is rooted in them.
• Can serve as a patio: This type of carport can function as an outdoor entertaining area for family members and guests.
Skillion Carports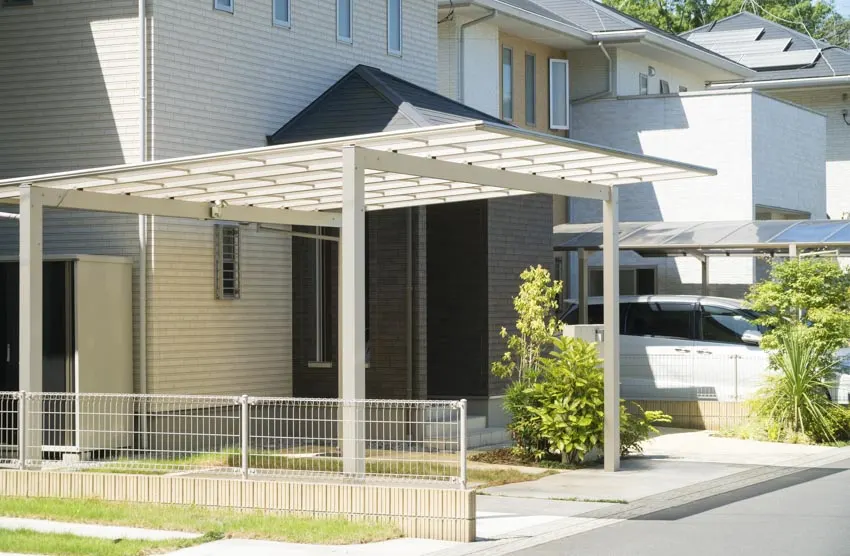 A skillion carport features a solitary level sheet for its roof, which has a one-directional slope. And depending on the type of roof sheet used, the slope can either be measured at 3 degrees or degrees. Here are some of its highlights to check out.
• Constantly worked on to achieve its special design: The design has been structured to take into account the water run-off and how to efficiently catch the UV rays.
• Simple and easy installation: With only one solitary sheet to work with, installation is pretty straightforward.
• Affordable: Since it uses fewer materials for construction (basically just one board), it costs significantly less.
Hip Roof Carports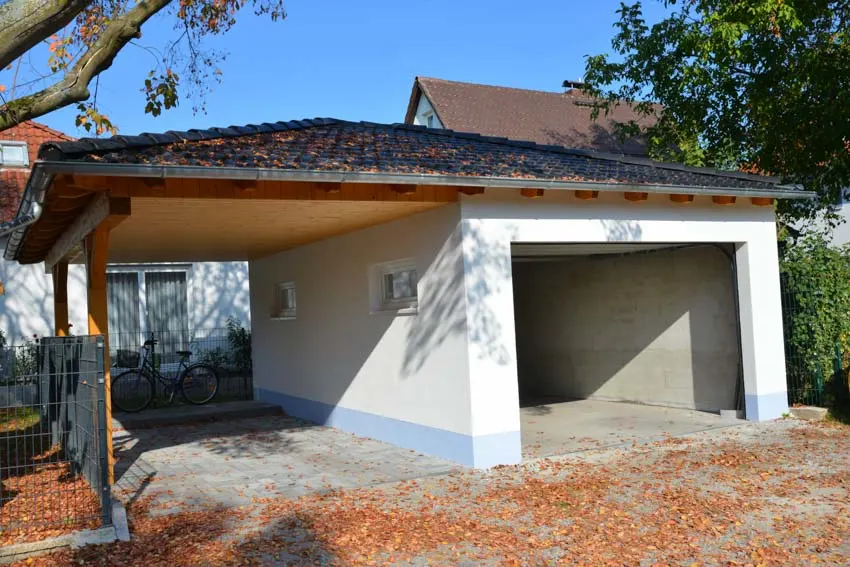 A hip roof carport makes use of two triangles and two trapezoids to create its pyramid shape. With these elements placed symmetrically to each other, the roof uses the same slope, which can either be 20 or 22 degrees or even stepper.
Check out these benefits you can enjoy from choosing this type of carport.
• The easy fit of gutters: Since the roof is leveled all around, fitting the gutter all the way is easier.
• More secure: Hip roof types of carports are more secure without the flat or slab-sided ends of other types of carports that can wind. They are well-adapted to strong wind and similar intense weather.
• Adds value to your home: More than just its self-bracing characteristic, this type of carport looks similar to how most houses are built today so it's easier to include this element in your property's resale value.
Carport Sizes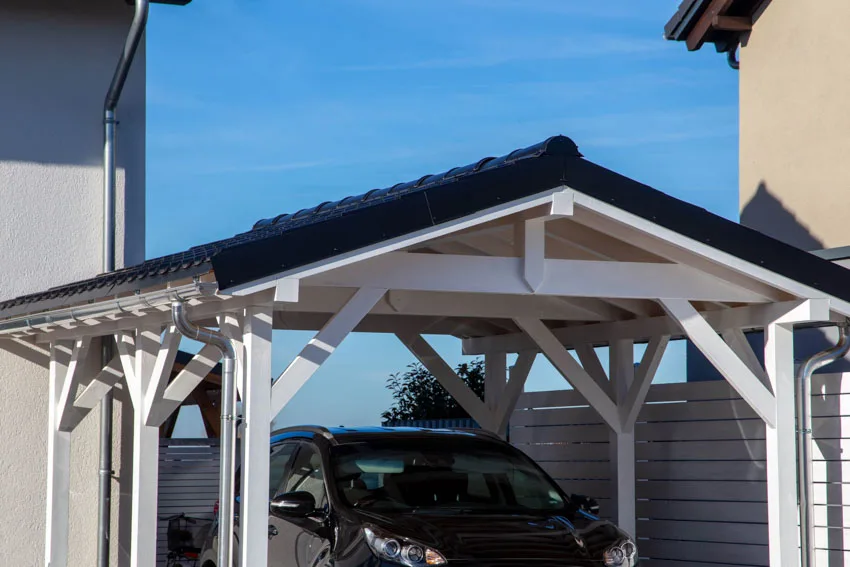 In deciding the size of carport you need to build in your home, there are several factors you need to take into account to help you decide. Here are some of these factors when it comes to carport sizes:
• The number of cars: Build a carport where your cars (if there's more than one) can all fit inside the area. This includes the space between each car you need to take into account when planning the carport. Make sure that all cars can be freely opened without touching or heating each other.
• Car type: When taking into account the type of car you have, make sure to include its dimensions, as well as the height it has when accessories are worn. Make sure you remember that trailers and 4WDs are bigger than other types of cars. This means you will need a bigger carport for them.
• Possible future buying decisions: Consider the possibility that you might purchase another car or even upgrade to a larger car model in the future and take it into account when building your carport.
If you want a general measurement though, there are the standard sizes (in width) of carports based on the number of cars they can accommodate:
• 1 car: 12 to 18 feet
• 2 cars: 20 to 24 feet
• 3 cars: 30 to 38 feet
• 4 cars: 40 to 48 feet
If you have more than one case, measure the length and width of the largest one you have and base the dimensions of your carport from there. These measurements can be changed based on the factors mentioned beforehand.
Single Carport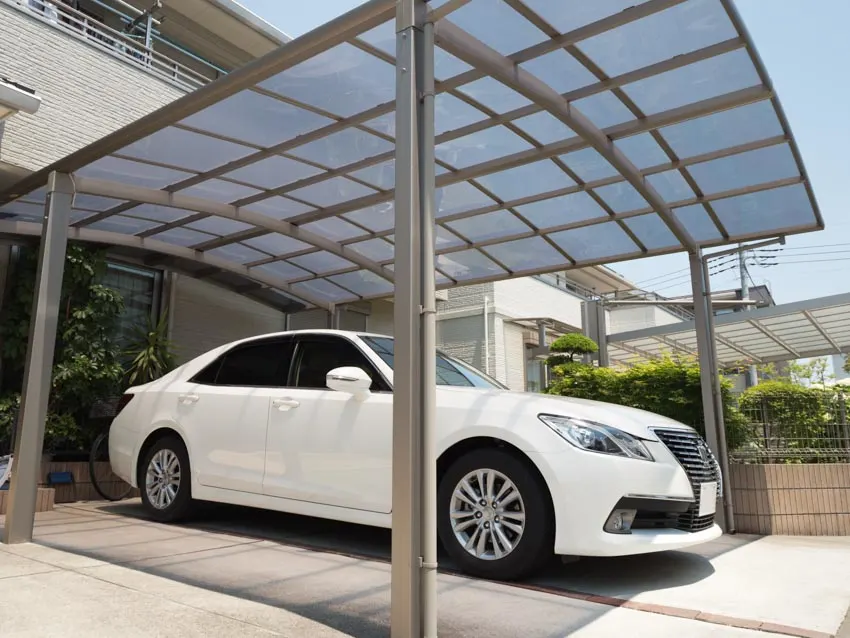 A single carport can accommodate only 1 vehicle and while the standard width measurement of this area is around 12 to 18 feet wide, make sure to always consider the size of your own car (especially if you have the large ones).
Double Carport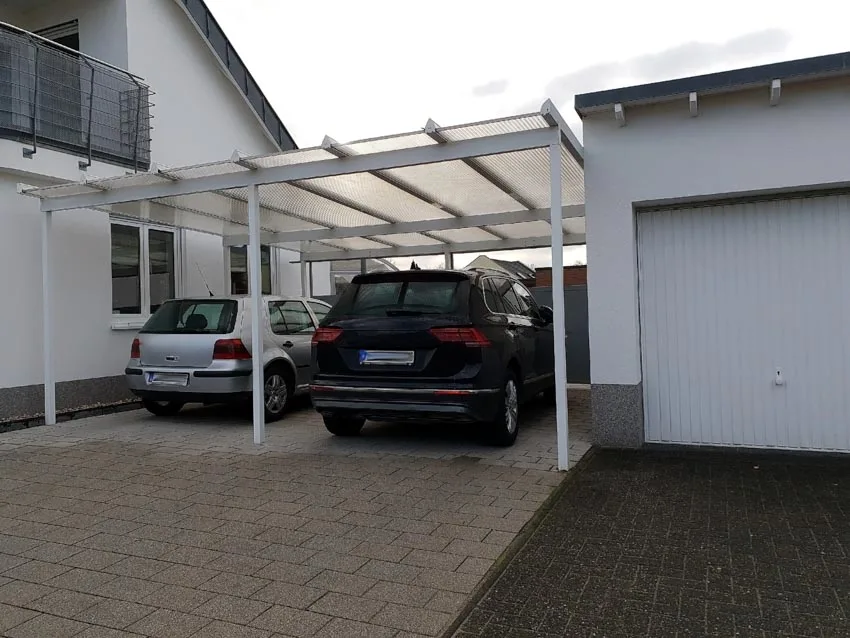 A double carport can accommodate two cars next to each other, without the doors hitting when they are opened. The standard size falls at 18 to 24 feet in width. If you have larger types of cars, choose a larger measurement too.
When the cars are placed next to each other, you have the option of using blinds or vertical decking in order to create partitions between them.
Tandem Carport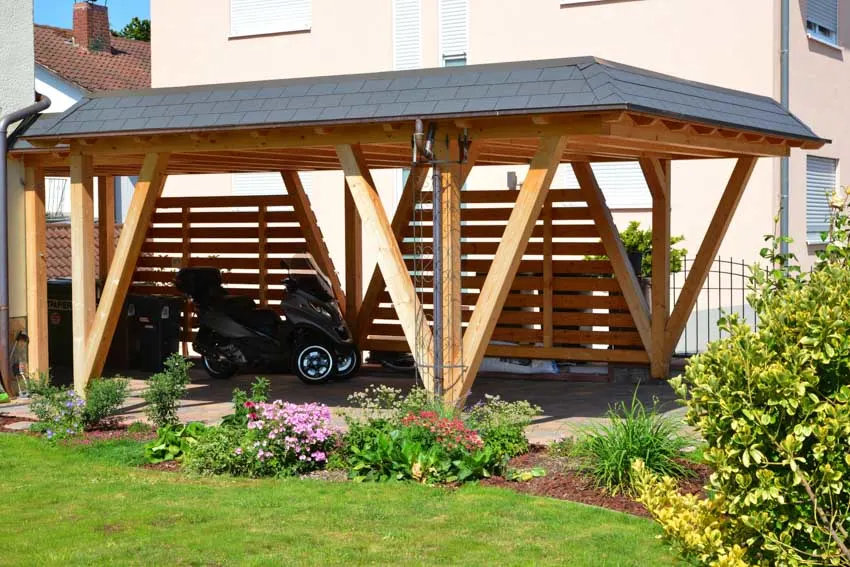 A tandem carport is similar to a double carport, where it can accommodate two vehicles in the area. Rather than placing the cars beside each other though, this setup will allow you to park the cars with one behind the other. A tandem garage or carport design is a good option if you don't have enough space in width.
How Tall Should A Carport Be?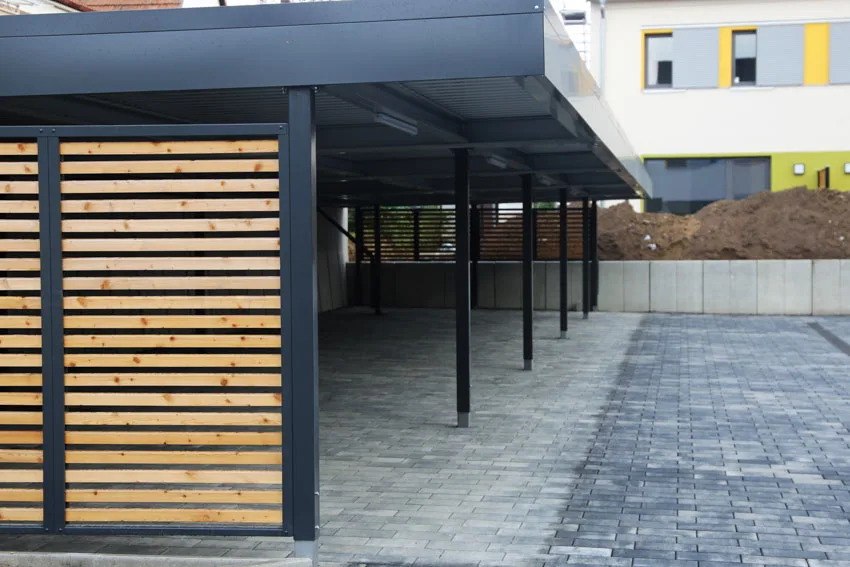 A carport has a standard height of 12 feet, covering most types of vehicles. Of course, you should make sure that your car can fit in it if you have a large type of car.
What Is A Good Size Carport For 2 Cars?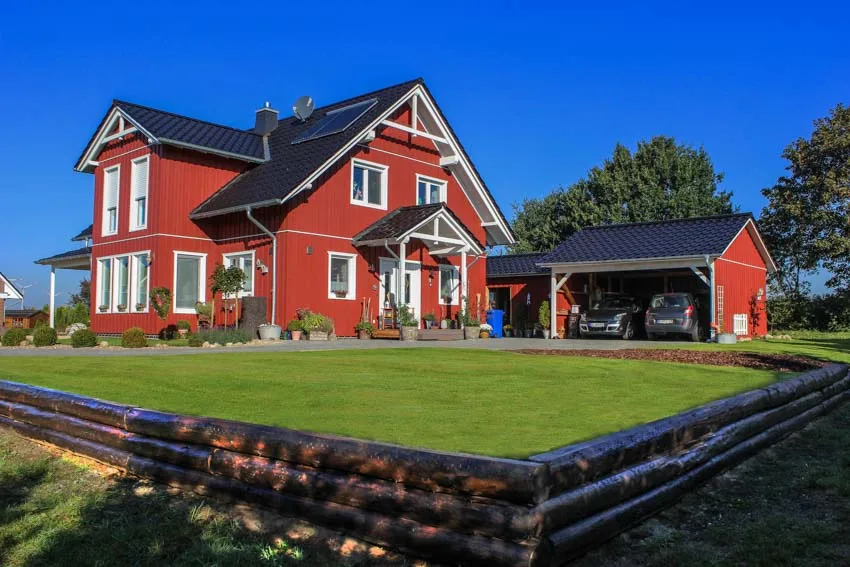 The standard measurement for a double carport is 20 by 20 feet. You can go and extend to 22 by 22 feet if you believe your cars won't fit the first measurement. This is only for cars though so if you're planning for extra storage and more space for movement, choose a bigger measurement than this.
Carport Materials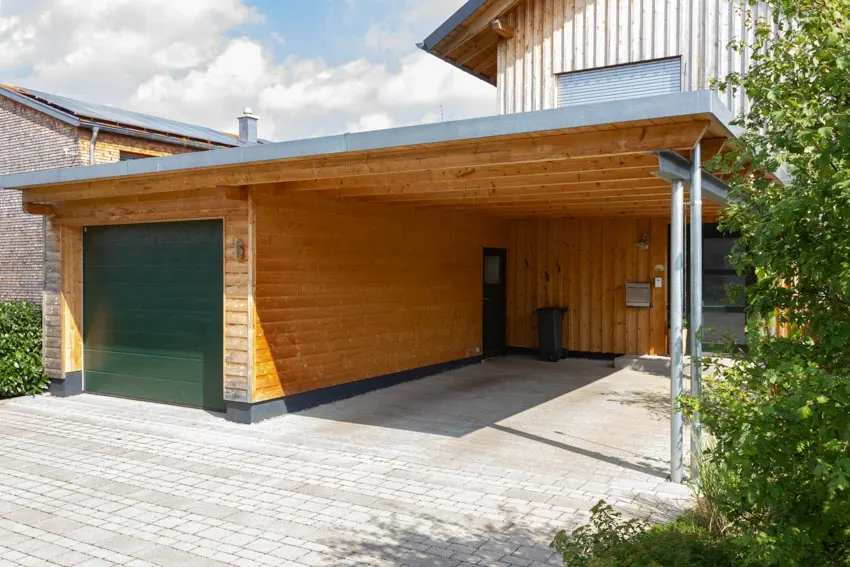 Besides their designs, carports are also different from each other based on the materials they're made from. The materials range from wood to metal and then to plastic and PVC, depending on what homeowners are looking for in their carports.
If you're planning to build your own and don't know what specific material to use for your carport, here are some of the considerations of materials to check out.
Metal: The roofs of carports are usually made of metal – galvanized sheets to be more precise. Metal roofs are more durable and can take more stress compared to fabric roofing or sheds, even if it's more expensive than fabric.
Metal is also a good option for your carport's framework. It is the most popular material homeowners go for because of its durability and ability to withstand weather elements, from rainfall to strong wind.
This means that the protection it provides your car is also excellent and it even lasts longer compared to other materials. With metal, there are different types to explore with their own corresponding benefits and drawbacks to check out.
Steel: Steel is the most common metal material used for carports, as well as the most durable and affordable. The materials come in the form of galvanized steel sheets, which are applied with rust-free protection paint for more protection and resistance against natural elements and to lengthen the material's lifespan.
Steel carports are considered the most durable among the different types you can have, which can serve as an investment that can last up to 20 years. Before you go ahead and purchase the steel carport you've set your eyes on, check its quality and strength. Look for steel with a higher gauge number, offering higher quality.
Corrugated Metal: Corrugated metal is another type of metal you can use for your carport. Many buildings are made from this metal because of its durability and low cost. Many freestanding carports are also made from corrugated metal.
More than just being an easier material to customize, they are more affordable and portable. They can be installed in any location as long as the ground is leveled.
Aluminum: Aluminum is highly known for being lightweight and durable at the same time. These characteristics are what homeowners find desirable when looking for portable and freestanding carports. The material is even paintable and so you can customize it according to how you want it to look.
Installing an aluminum carport is also easy since you won't have to drag your feet over heavy materials. And there are even ready-made kits for those who don't have any idea how to build a carport in the first place.
Alumawood: Alumawood is the combination of aluminum and wood, where its natural material is aluminum but aesthetically it looks like wood. It can only last as long as 10 years though.
If you're going for a durable carport but want to adopt the elegant and classic aesthetics that come with wood, this material is a good option to consider.
Wood: Wood is a staple material, wherever you are in the United States. This goes the same way when considering material for carports. It is a great and affordable option for DIY projects and takes out the need for drilling and welding.
Both tasks will require the necessary skills to accomplish. More than just easily manageable, it has this classic look that's aesthetically pleasing. The drawback with wood carports though is that they are less durable than metal and you will need to coat them once in a way to lengthen their lifespan to a maximum of 6 years.
Polyethylene Carports: Polyethylene types of carports are usually made of a polyethylene top and a metal frame. This polyethylene top serves as the roof of the carport, which has been structured to last for a long time.
This heavy-duty carport can take the wear and tear of outdoor elements, from UV rays to strong winds. The material can also be waterproof and resistant to rotting, mildew, and even UV rays. It is also considered rip-proof and can be a good investment to dip your toes in.
Carport Pros And Cons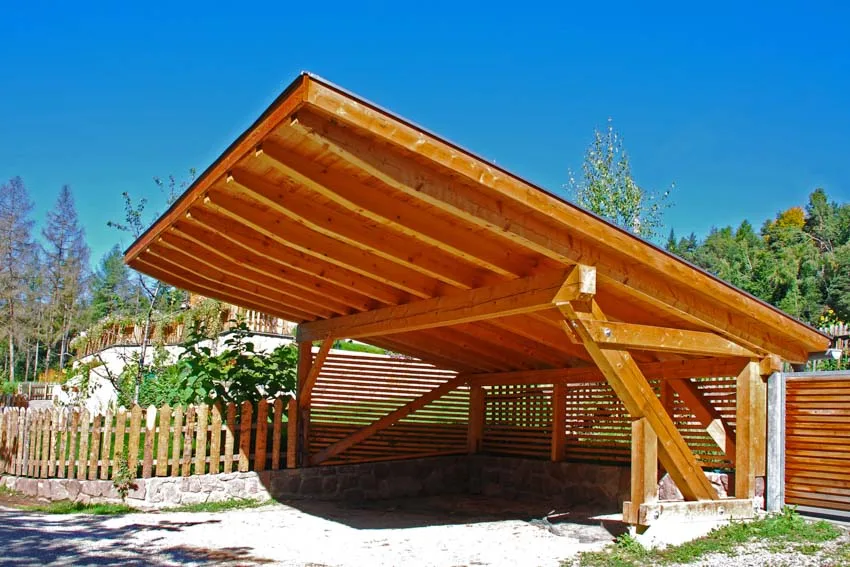 Protecting your car is an investment you have to take into account, especially with how vital your car is in your daily living. This protection can come in the form of a carport.
And in determining if a carport is an ideal match for your car and your current situation, one thing to do is to weigh its pros and cons. And here are the ones worth taking note of.
| | |
| --- | --- |
| Pros | Cons |
| Convenient and simple Installation | Most do not add value to the property |
| DIY-friendly | Less secure against vandalism and theft |
| Multifunctional (Outdoor work area and patio) | Lacking protection against intense weather elements (storms and strong winds) |
| Requires fewer building codes and permits | |
| More affordable | |
| Offers excellent protection for your car | |
| Offers natural ventilation | |
Carport Cost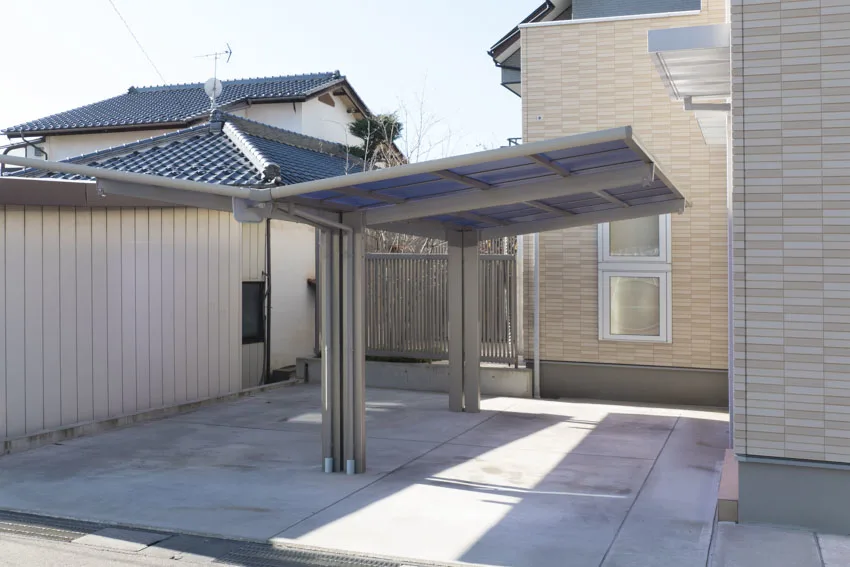 Building a carport costs an average of $6,433 and can range from $3,206 to $9,798, depending on several factors including size, materials the carport is made from, and labor necessary to build it. Site preparation and permit prices may also be considered. Here are the costs you need to expect when thinking about getting your carport.
Costs based on the type of carport designs
Type of Carport
Cost

Portable carports

$400 to $1,200

Freestanding carports

$4,000 to $12,000

Attached carports

$6,000 to $30,000
Costs based on the materials the Carports are made of
Materials
Cost

Metal carports

$10 to $30

Wood carports

$15 to $30

Polycarbonate carports

$12 to $20
| | |
| --- | --- |
| Carport Type | Cost |
| | |
| One-car Carport | $3,600 to $8,400 |
| Two-car Carport | $6,000 to $10,000 |
| Three-car Carport | $9,000 to $21,000 |
| Four-car Carport | $12,000 to $28,000 |
| RV Carport | $9,000 to $21,000 |
Here are the carport building & installation factors and their corresponding costs that you might need to take into account:
| | |
| --- | --- |
| Labor | |
| | $8 to $10/square foot |
| | $7/hour |
| | $65 to $85/hour |
| | $75/cubic yard |
| | $25 to $35/hour |
| Materials | |
| | $10 to $35/square foot |
| | $4 and $8/square foot |
| | $4 to $6/square foot |
How Much Does A 2 Car Carport Cost?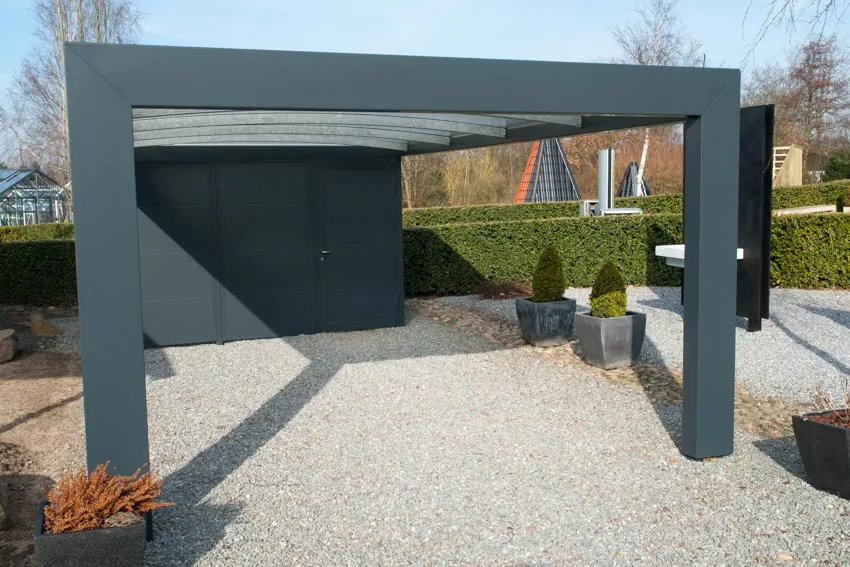 A 2-car carport can cost around $6,000 to $14,000, depending on the materials it is made of and the labor. If you choose a prefab one, you can expect only around $4,000 to $6,000.
Does A Carport Add Value To A Home?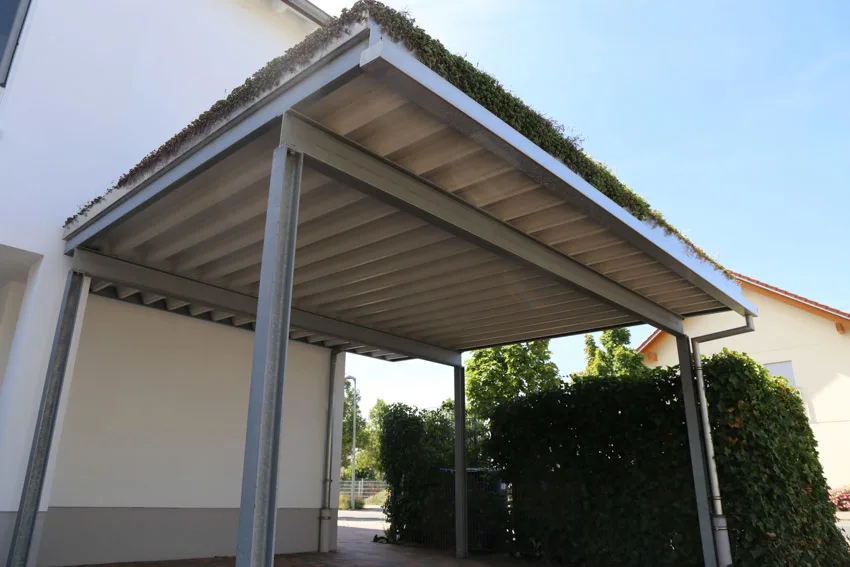 A carport, like most addition to a home, can add value to it but only in the right condition and to the right buyers. Home-buyers can see a carport as an added value, especially if the home itself does not have a garage where the car can be kept and protected.
In case you have a garage though, a carport can still increase your home's value especially since it can still function as a patio gazebo or outdoor work area.
How Much Does It Cost To Add A Garage Door To A Carport?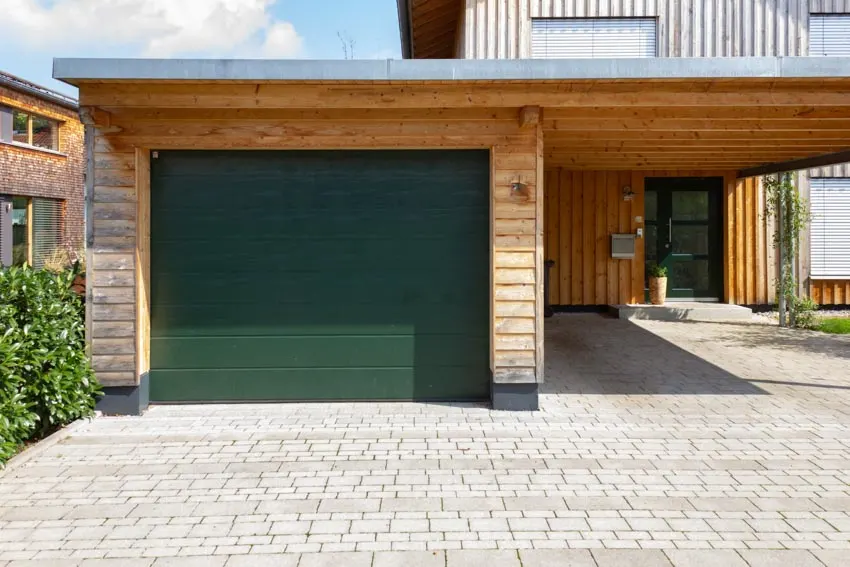 Entertaining different garage door ideas for your carport can provide extra protection to your car but it will also require extra costs you have to deal with. While it may depend on the size and the material of the garage door, installing a new one can set you back around $600 to $5,000.
How Can I Make My Carport Look Better?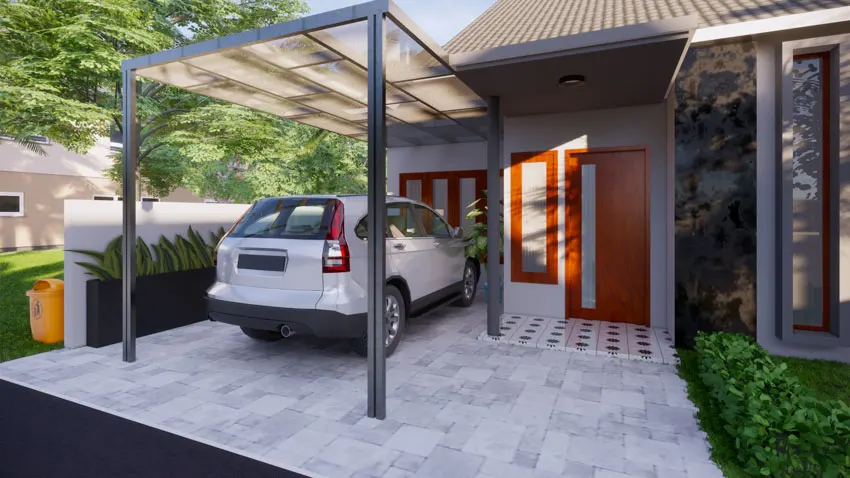 Most types of carports are pretty straightforward in their function and that's to protect your car. But it doesn't mean you can't spruce it up to be stunning to look at and add aesthetic value to your home.
Do these little tricks to make your carport look better.
1. Add storage through some custom-built shelving
2. Mix different materials in building your carport to make it look unique
3. Choose colorful materials like bricks or decorate your carport with paint
4. Add siding like a canvas cover or heavy-duty nylon to serve as extra protection for your car/s
5. Increase the lighting and install unique light fixtures
6. Install ventilation fans for better airflow in your carport
7. Secure your carport to a concrete pad for better durability and stability
8. Transform it into a multi-functional area and turn it into one of the following:
• Outdoor entertainment/theater area
• Poolside shade
• Handyman workshop
• Home gym
See more related content in our article about carport vs garage on this page.