In this guide we discuss the differences between a carport vs garage including the pros and cons, cost, storage and size differences.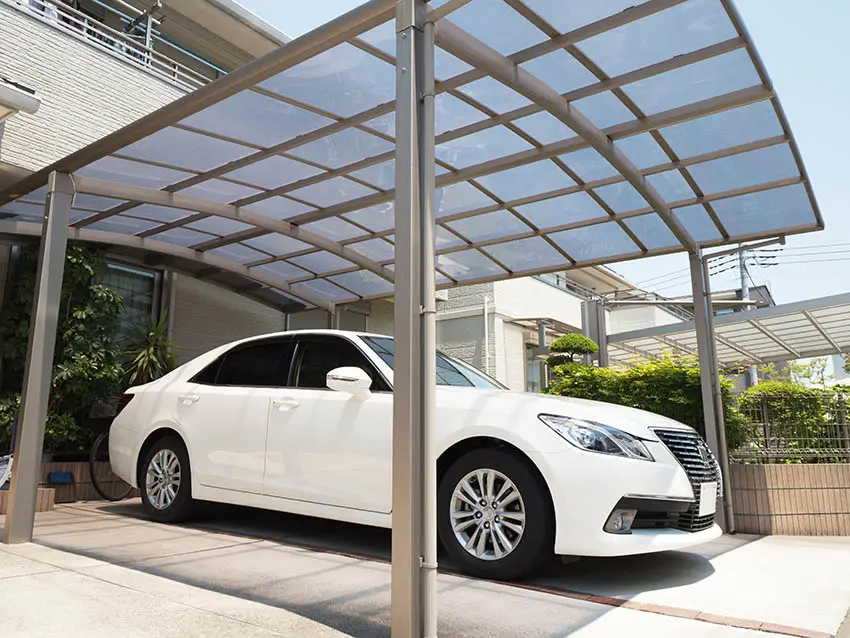 A carport can be attached to the home or a freestanding structure that can be installed without any building permits and at a far less cost than a traditional garage. A garage can also be a separate structure or attached to the home.
While a carport is inexpensive and easier to install it often leaves little to desire when it comes to curb appeal. A garage on the other hand provides excellent storage and security and often matches the rest of your home.
Find out which type is best for you as we take a closer look at the pros and cons of a carport vs garage.
Carport Pros and Cons
A carport is an open-framed structure with posts, exposed sides, and a top covering made of thin sheets of steel or aluminum sheets, corrugated fiberglass panels, fabric, or other materials to protect your vehicle from sun, hail, snow, and other damaging weather.
Carports do not include standard walls but may have coverings on one or all sides and are often stand-alone structures not connected to a home. While a carport will protect a vehicle or RV, they do not provide weather-proof storage or security.
When deciding if a carport is a good match for your home, consider the pros and cons before making a purchase.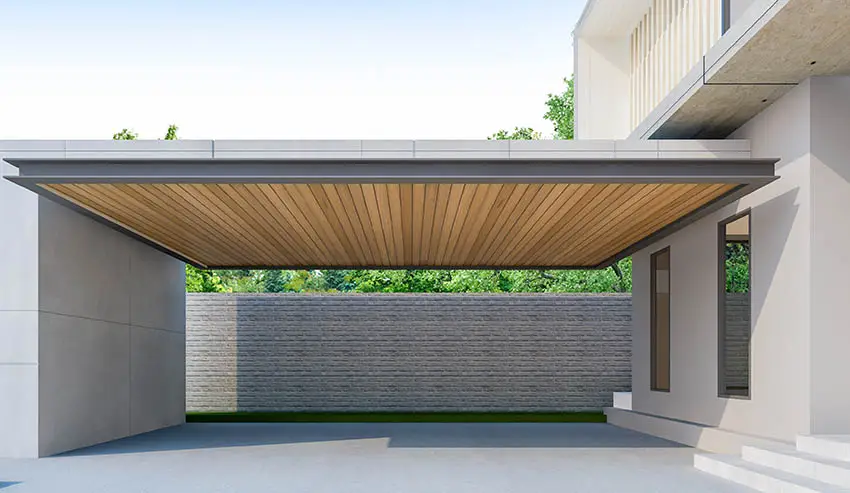 Carport Pros
· Less time to install and greater DIY potential
· Fewer if any building code and permit requirements
· Used for other purposes such as a patio cover or outdoor work area
· Much cheaper to install than a garage
Carport Cons
· Does not add a significant value to the property
· Less protection from property theft and vandalism
· Is not a legal, extra bedroom or other living space
Carport Appearance
A DIY homeowner or a professional can install a carport, keeping in mind that when adding a carport to your home, the appearance should either match the home design or enhance it with the use of complementing colors and materials.
While a carport does not add significant value to a home, it should bring added appeal while serving to protect vehicles, boats, RVs, or motorcycles.
Carport Storage
With few enclosed surfaces such as standard walls or doors, carports are not very secure but work well for storing items such as lawn chairs, yard tools, lawn care supplies, and sports equipment.
Carport Sizes
The size of the carport determines how many vehicles will fit under it. A single carport is 12 feet wide and made for one car.
Double carports range from 18 to 24 feet wide and fit two vehicles or an RV. A triple carport comes 26 to 30 feet wide and fits three vehicles, an RV, or a boat.
Carport Security
While a carport doesn't offer much security from theft or vandalism, security cameras and motion sensors deter thieves and allow possible identification if items are stolen.
Carports that have corrugated fiberglass, a wood frame with plastic panels, or other coverings, attached to or hanging on the sides and ends, make it harder to get inside and may ward off thieves who don't want to take the time to break-in.
Carport Resale Value
A carport is not likely to add much to the resale value of a home. It's listed as a property feature but not part of a home's square footage.
The reduced cost of a carport is a good choice when a homeowner needs storage but has a limited budget and there are some instances where a home buyer may appreciate a carport over having no place to store their vehicle at all.
Garage Pros & Cons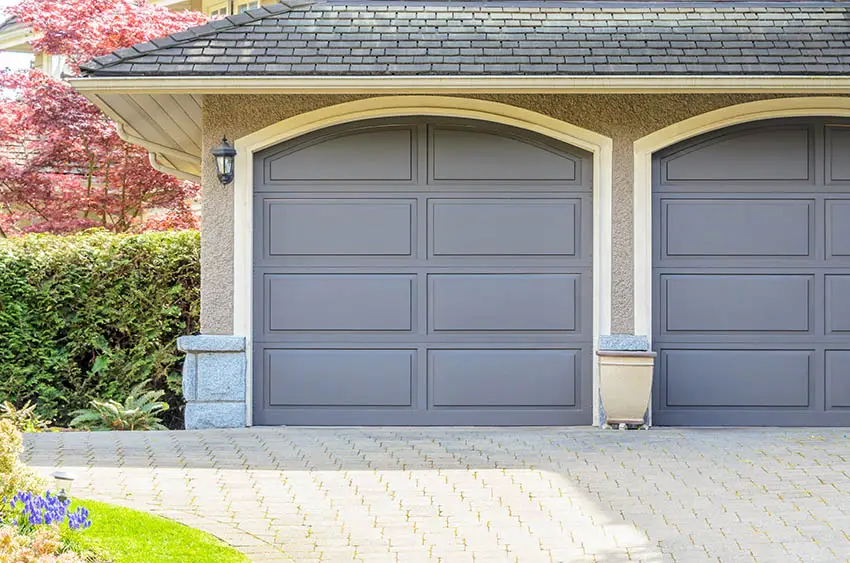 A garage is built with standard walls, electrical outlets, lighting, and can include insulation and finished walls.
Homeowners, who want to use a garage for a home office, occasional home party, or a place to watch sports, can also install heating and air conditioning.
The majority of garages are attached to a home, but some garages are detached or free-standing. See the differences between attached vs detached garages here.
Garage Pros
· Greater property security and protection from theft
· Easier to convert into a living or workspace
· Increase property value
· Adds square footage to a home's storage use
Garage Cons
· Stricter building codes and permit requirements
· Costs more to build or add-on
· Requires maintenance similar to a home
Garage Appearance
Garages generally match the home's color and material scheme and come in many design choices. Garages that fit two cars typically have one garage door that works manually or by use of an electric garage door opener.
However, some designs allow for two garage doors, each wide enough for only one vehicle to pass and have a small exterior wall between them.
There are many garage door designs, including choices of color, pattern, material, windows, and mechanisms. Whether you choose a freestanding garage or one attached to the home they can be customized to your specifications
These options allow the home's design to be enhanced by the garage or the garage door choices can simply be a continuation of the home's exterior. See our gallery of garage door colors here.
Garage Storage
A garage provides dry, secure, often climate-controlled storage for not only vehicles or RVs, but they're also appropriate for storing many other items such as sports equipment, yard tools, gardening supplies, boxed storage items, and more.
A garage is considered a far superior place for storage as items are generally out of sight. Get garage storage ideas on this page.
Garage Sizes
Garages come in several sizes and styles including a single-car garage, measuring 12 feet wide and 20 feet long, a double-car garage measuring 22 feet wide by 20 feet long, and a three-car garage measuring 31 feet wide by 20 feet long.
These are standard garage dimensions including inside wall to wall sizes and are subject to customization by the builder or home buyer.
Tandem garages are longer and allow for two cars lined up, one behind the other.
Garage Security
Garages may have a locking back or side outside the entrance door and a door that leads into the home.
The garage door itself, if manual, comes with a lock and key, integrated within the outside handle, and an electric garage door opener includes a remote control programmed with a secret code. These are all security functions but are not without the risk of a break-in.
Security cameras, motion sensors, and door alarms add a layer of security to protect vehicles, personal belongings, and other stored items.
Garage Resale Value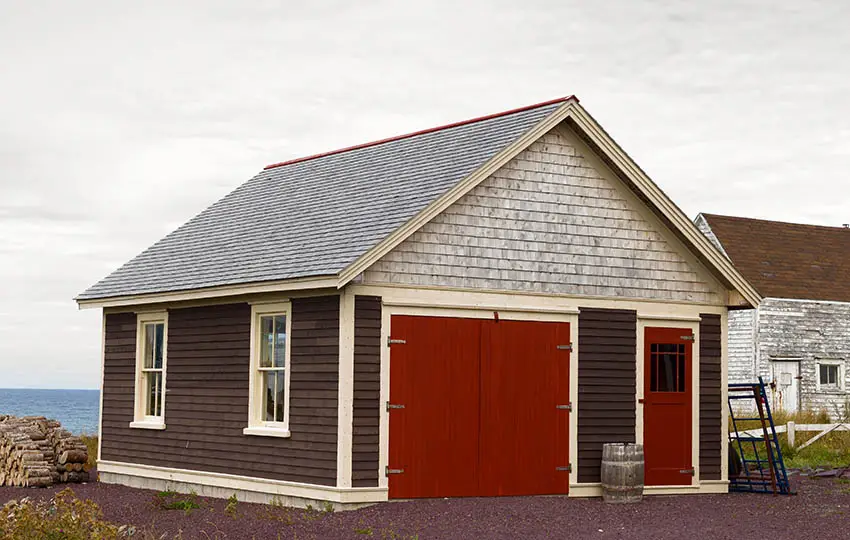 A garage makes any home more attractive to home buyers and adds up to an 80% return on investment of the cost to build one.
Potential buyers and real estate agents consider a garage a make-or-break factor when valuing a home. Garages, whether attached or detached, significantly raise the home's value.
Cost of Carport vs Garage
A carport is typically half the price of adding a garage built into a home or as a detached garage. A single carport averages $3,000 to $10,000.
A prefabricated garage package averages $10,000 to $15,000, and once options are added for finishing or enhancing the garage space, the cost could rise to $50,000 or $100,000. Read more in-depth details about the cost to build a garage here.
Carport vs Garage Permits
Always check with the local building code department for permits when installing a carport or garage, but carports do not require building codes as a home does, and most cities do not require a permit.
An attached or detached garage will need a permit. When a garage is attached to a home, there must be fireproof walls between the home and the garage, and any electricity requires a separate permit.
A detached garage needs to be permitted but has different requirements and codes to follow.
Researching before deciding on a carport or garage provides you with the information needed to choose the option that best suits your needs and your budget.
If you are interested in creating your own custom plan there are garage design software that can help. These will allow you to layout your design according to the size of your yard, then create and visualize your project.