Here's our mid century modern garage doors guide including their materials, designs and some factors to consider before choosing a garage door for your home.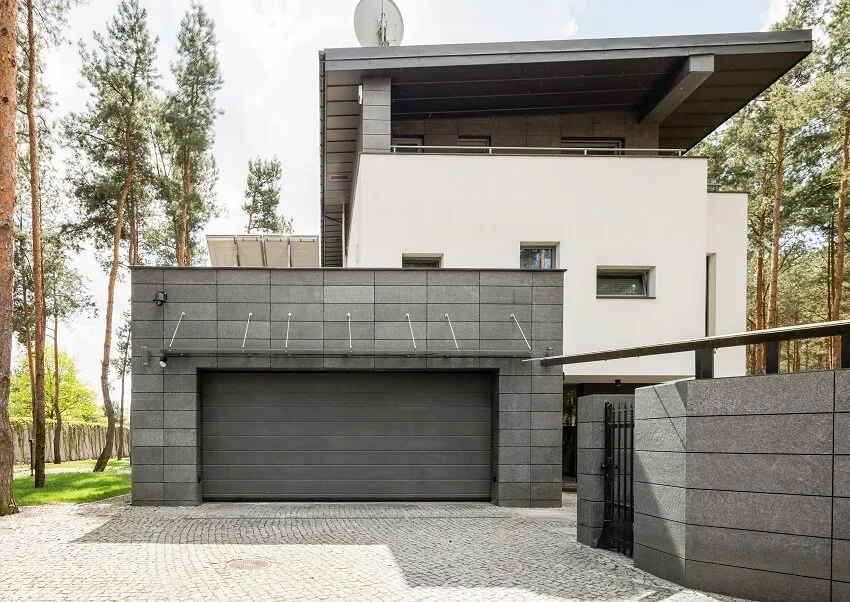 Garage doors are an often overlooked design element of a house. Some might think it's a minor detail and use whatever is readily available, but the garage is typically the first thing people see at your home, and will affect the overall design of the facade.
By making sure that your garage door design complements the overall look of your home's architecture, you'll have a garage that will not ruin the facade of your home and become a feature that you can be proud of.
What Are Mid-Century Modern Garage Doors?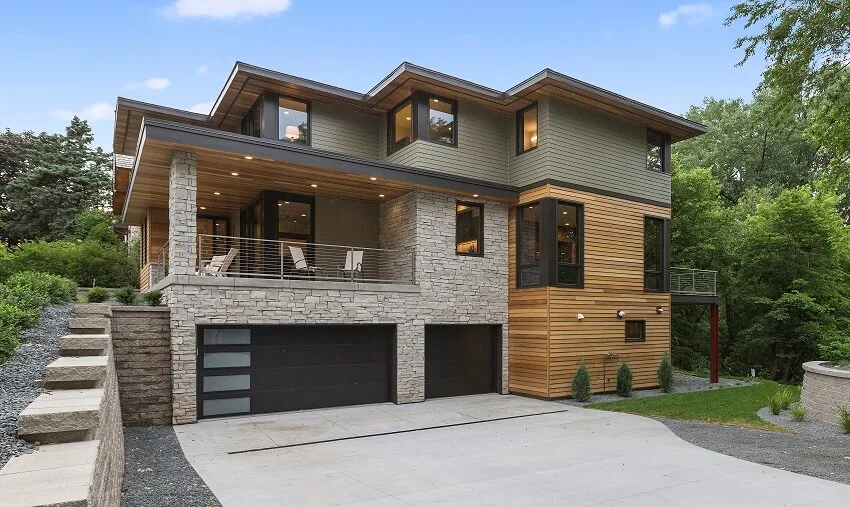 Just like Mid-century modern architecture, mid-century modern garage doors are characterized by its clean aesthetic, geometric lines and minimalist look.
They were made by popular architects starting from the 30's through the 70's, but have seen a resurgence in popularity in recent times.
Due to its simple look and clean aesthetic, mid-century modern garage doors can easily match contemporary architectural styles.
Mid-Century Modern Garage Door Materials (But Not Limited To):
• Wood – real wood or composite wood can be used for garage doors. Composite wood is a good option as they are more lightweight, durable and is easy to maintain.
Since composite wood is made from a combination of wood and recycled materials, it doesn't have the issues common with wood such as molds, warping and splinters.
• Wood Slats – this is a popular choice for mid-century modern designs, and is a design element we often see in this style. You can also use wood slats (either real wood, powder-coated metal or composite wood) for your garage doors, adding an interesting feature to your home's facade
• Stainless Steel – stainless steel can be used for a more contemporary look, while also offering ease of maintenance and durability. However, stainless steel is an expensive material, so keep that in mind when deciding
• Aluminum – this material is thinner and lighter than stainless steel, and is also more affordable. Aluminum is popular in mid-century modern garage doors because it is a soft material and can easily be shaped to how you want it. It is also corrosion-resistant, so you can be at ease if you use this for your garage.
• Flushed panels – flushed panels can be made from wood, etched metal, or composite wood; this adds texture and pattern to your garage door. This is a great choice if you're going for a more classic look
• Glass – If you want a brighter garage, using glass on your garage door is a great option. Glass garage doors are often framed with aluminum to make them more durable, while the glass can be frosted or tempered.
In some garage designs, the glass is added as small "windows", while other add glass to the whole garage door
There are many mid-century garage door options available depending on the look you want to achieve, ranging from simple and clean designs to more complex paneled designs.
Choosing a Garage Door Style
Before choosing a garage door however, do take note of the following factors:
• Budget – the most important factor in your project would be your budget. By knowing your budget, you can already limit your material and design options for your garage door. Learn more on everything you need to know about the cost to build a garage here.
• The existing architectural style – you want your garage door to complement your existing home's style, and should be in harmony with the overall scheme
• Local climate – choose your materials according to the climate of your locality to ensure your garage door will last for a long time
• Mechanism – if there's an existing mechanism for the garage door in your home, make sure that the new one you're planning to install will work with it.
Otherwise, if you're installing a completely new garage door, make sure that the specifications of your garage door and mechanism match.
Below are some excellent examples of mid-century modern garage doors for your inspiration.
Garage Doors With Mid Century Modern Design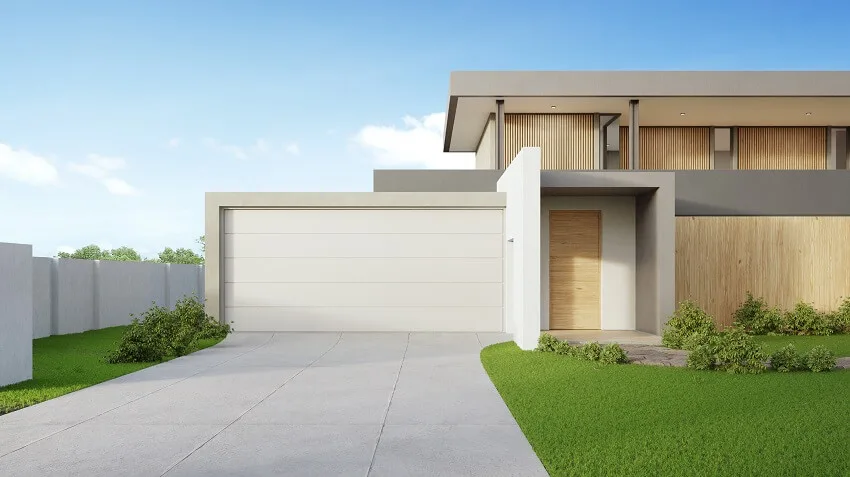 This garage door is perfect for those who wants a minimalist yet chic look. The garage door is white with very subtle horizontal panels that matches the modern look of the architecture, but at the same time, stand-out from the wood-centric design.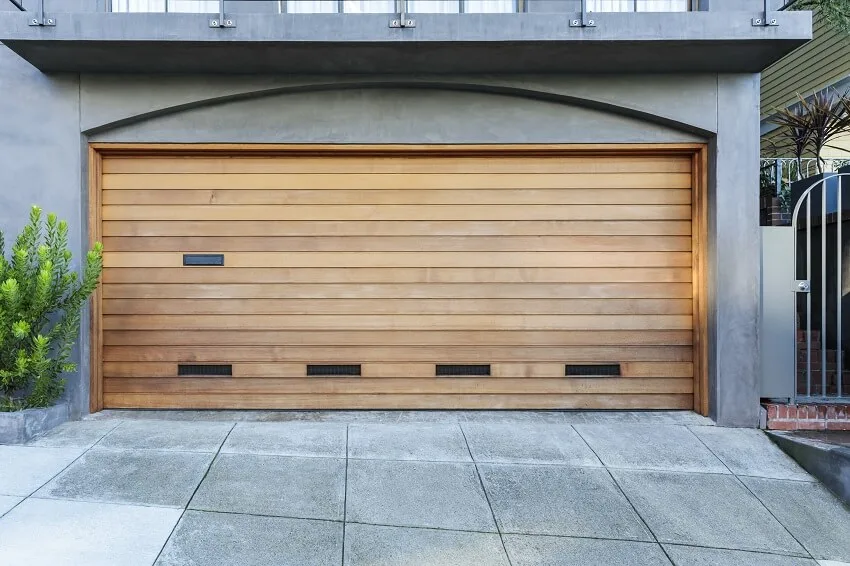 Wood is definitely one of the most notable features of mid-century modern designs. In this garage door design, the narrow horizontal wood slats used on the garage doors adds a touch of warmth to the dark gray cement finish of the walls.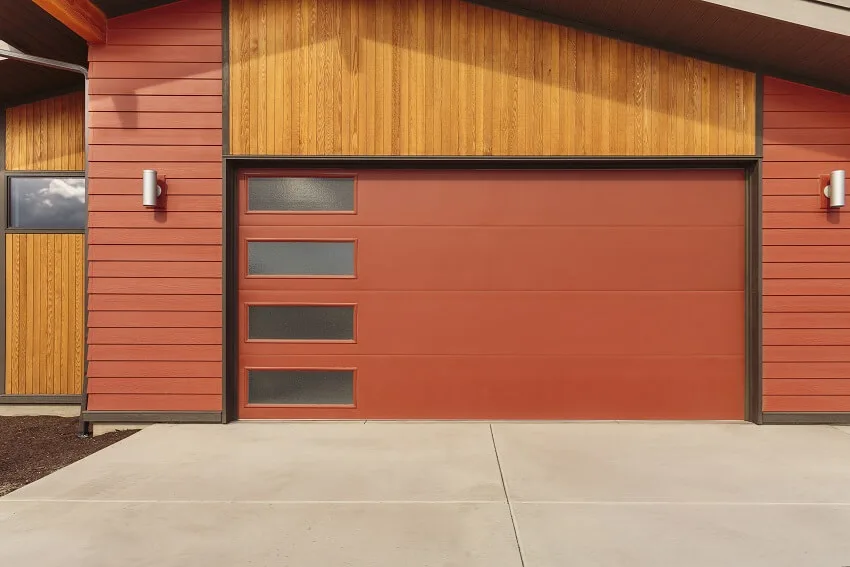 Mid-century modern designs are also known for their colors. Most often, light colors are used, but you will also see a lot of muted earthy tones.
This design is a great example, as it uses a warm brick orange paint for the garage door to match the color of the shiplap panels on the walls. Adding a few frosted glass panels also adds more dimension to the design.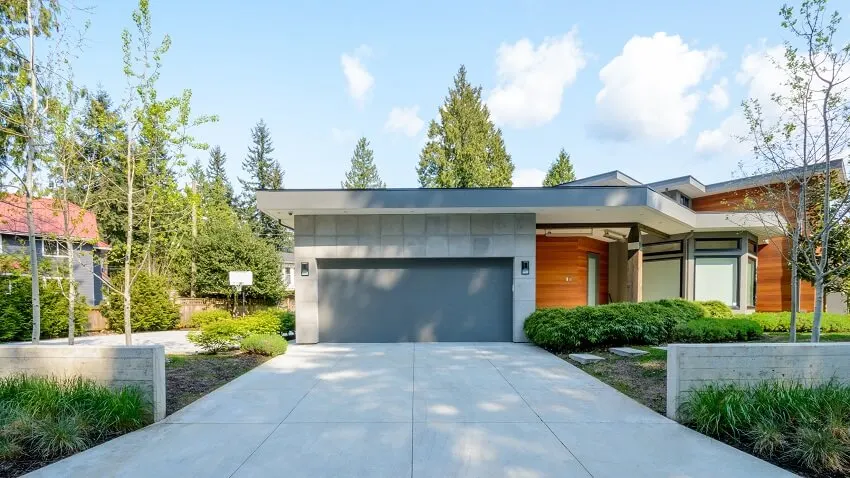 Another example of a very subtle mid-century modern garage door. This design uses dark gray horizontal panels of the garage doors, which makes it stand out from the light-colored stone cladding used on the walls.
At the same time, the color is subtle enough to not distract you from the rest of the architectural finishes of the house. Read our guide of garage door color ideas for more related content.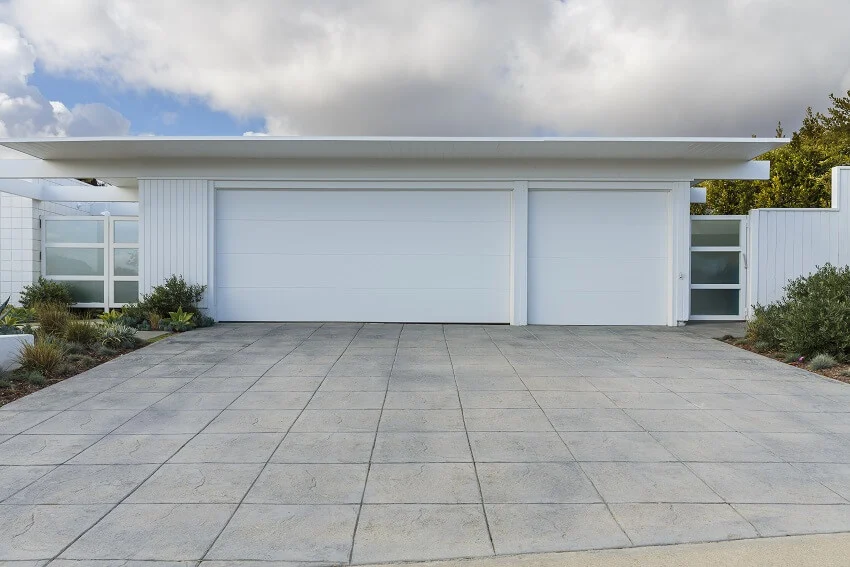 If you're into a more minimalist look, then this all-white mid-century modern garage door might tickle your fancy. Its crisp, clean and symmetrical look definitely matches the architectural design, and helps other elements such as the glass gates, to stand out a little more.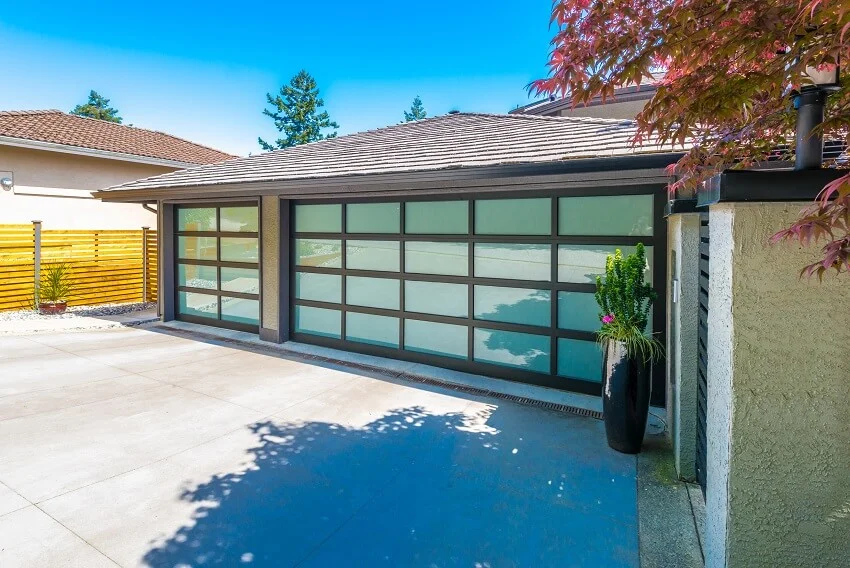 For help realizing your own design, visit our top garage design software programs list and start creating your own plan.