This guide to garage dormer designs includes what they are, different types of garage dormer styles, attached & detached garages with dormers and cost.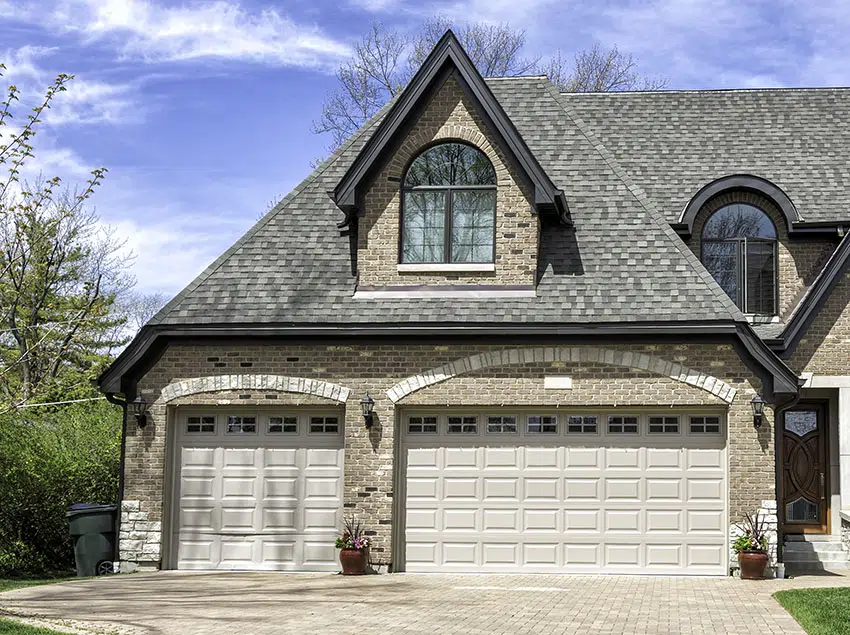 A garage is vital in many houses, offering storage space for vehicles, gardening supplies, tools, sporting goods, motorcycles, and more. Garage dormers are an excellent option for your garage and are often an impactful addition that you can make within a limited budget.
Garage dormers offer a lot of space, which you can use for projects and rooms for your family to enjoy. Dormers are a great way to enhance a garage, whether it's new or old.
What Are Garage Roof Dormers?
Dormer roofs provide the top floor or attic extra space and light. They protrude from the roof. As architectural trends changed, architects and builders developed additional dormer-building techniques for the garage.
A loft above your garage may be a terrific option to increase your home's storage space by adding a guest apartment, office, or playroom. Garage roof dormers provide the area above your garage with a beautiful view and great natural light that lowers energy costs. A dormer may provide height to your garage with a horizontal orientation, mainly if it is near a roadway.
The dormer's roof might be flat, arched, hipped, pointed, or embellished. Dormer windows come in various sizes and designs, and you may install them on the wall or the roof. The dormer's roof may go well with the more extensive roof or other building architectural features.
You should carefully examine when and where to install dormers since they may either enhance the aesthetics and curb appeal or make it appear ludicrous.
Garage Dormer Styles
Several dormer styles are available, and modern homeowners increasingly prefer building them over their garages. If you decide to add many dormers above your garage, they should all be the same size. However, there may be exceptions to these guidelines. Here are a few popular dormer designs.
Gabled Dormer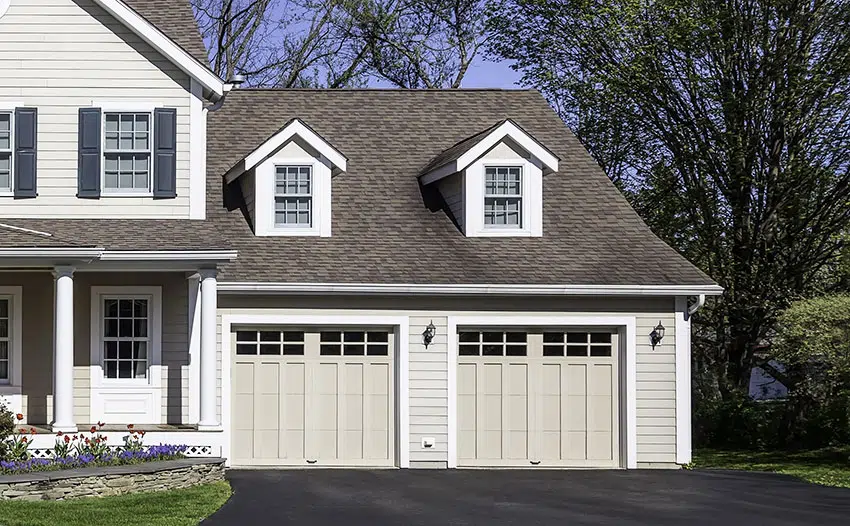 Due to its simplicity and ability to blend in with various architectural types, gable dormers are a popular option for a garage. Two or more gable dormers may be erected quickly and can offer a lot of vertical headroom. In reality, the roofs of many houses have four or even five gable dormers.
Shed Dormer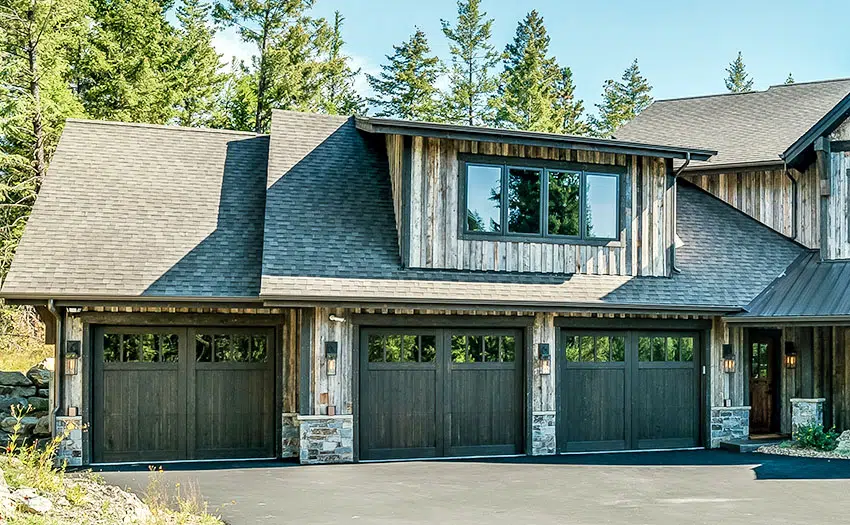 Another great dormer choice is a shed dormer. Shed dormers typically extend the living space of a home and allow for more natural light to enter. This design is especially useful for enlarging attic areas.
In addition, you may build a tiny shed dormer to provide light to your garage, or you can construct a more prominent shed dormer to create a second floor over your garage effectively.
Hipped Dormer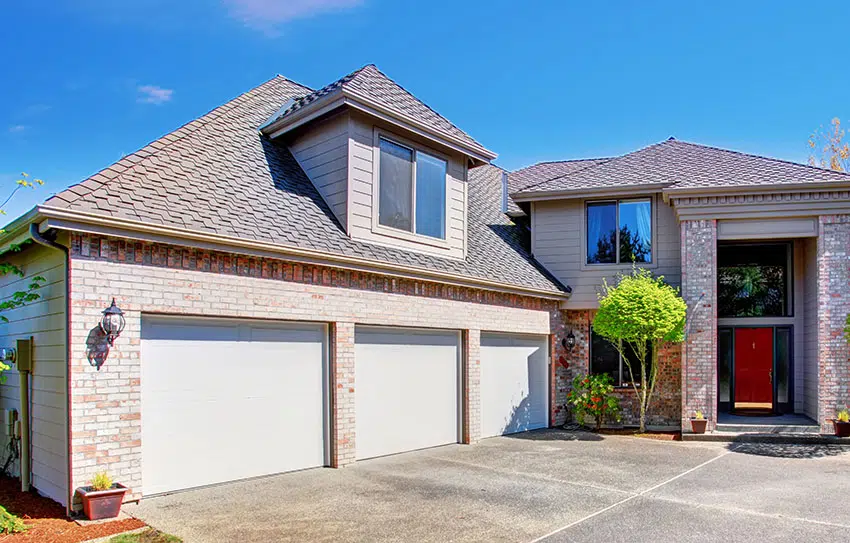 A hipped dormer has a roof that slopes rearward on the front, back, and sides, giving the top of a garage a neat appearance. On roofs that are themselves hipped, hip dormers perform best. Due to its durability, this dormer is used often in places with wind and is as prevalent as gable dormers.
Arched Top Dormer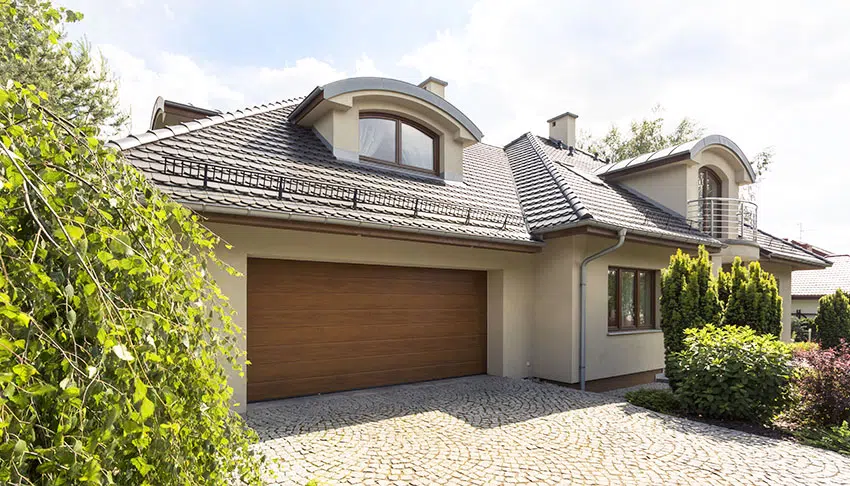 French architecture is the origin of arched top dormers. They originated with the Second Empire-style houses and peaked about 1885 in the late 1800s.
Even the name of this particular dormer is relatively simple. The dormer has arches, as its name indicates. In the case of a window dormer, the arch sits at the top of the dormer and arches upward.
Pyramidal Dormer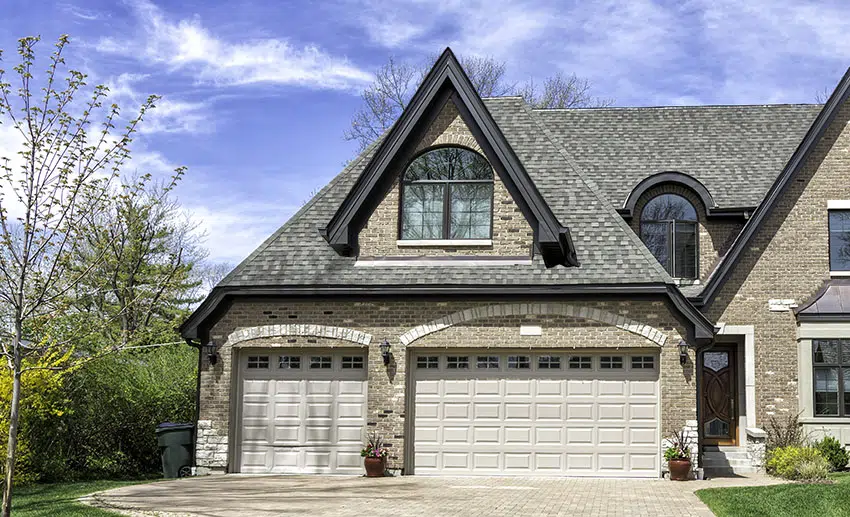 A pyramidal dormer differs somewhat from other types of dormers in that its "front" makes a 45-degree angle. Because of this, having a windowed pyramidal dormer would benefit from a window pointing out from this top in each direction, providing you with a larger perspective.
Garage with Shed Dormer
To provide more usable space in the garage, shed dormers often have horizontally oriented proportions and cover substantial areas of roofs. They may be an extension of the wall below or a structure inserted into the roof, much like other dormer kinds.
While roof dormers have various sizes and designs, wall dormers break the eave and are often more vertical, even when they feature ganged windows.
Roof dormers are comparable in size to gable dormers but have a shed roof. They sometimes extend over the width of the house, housing numerous ganged windows, although they may also be tiny enough to fit one window.
Gable dormers are less flexible than shed dormers in the window-to-wall ratio. They may feature lengthy banks of windows, but they also often include pairs of windows that are either ornamental, single-hung or have shingle patterns.
Avoid small and floating windows when sizing dormer windows and attempt to have windows that span the whole dormer wall.
Attached Garage Dormer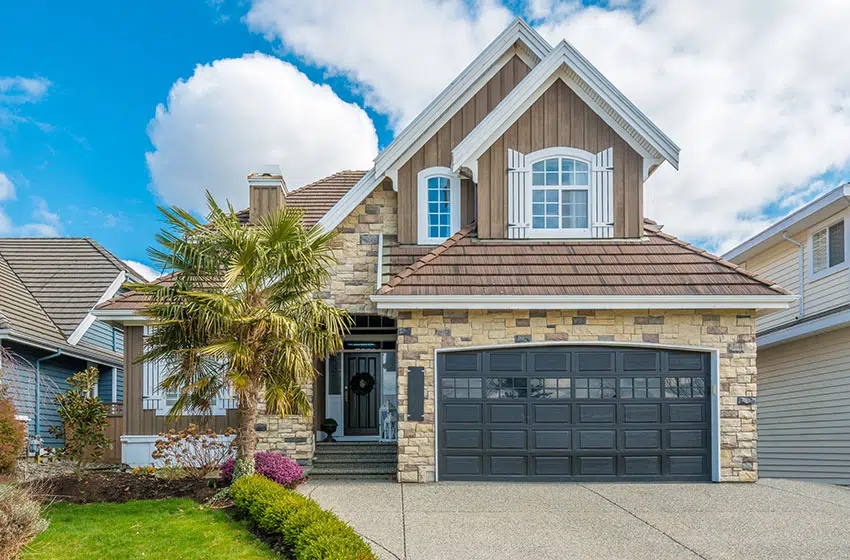 As the name suggests, attached garages are garages that are a part of a house. These garages often include a door that opens inside the house, adding space where one can park a vehicle and store many personal and domestic belongings.
Attached garages with dormers are the most popular home choice and are often reasonably uniform in size and design. Pets, children, and groceries can be brought inside much more efficiently with a connected garage, allowing easy access to the interior living area.
One of the most significant drawbacks of an attached garage with dormers is often security. An inadequately secured garage might provide a thief with immediate, unauthorized access to your house, especially with an electric opener.
Since it is sometimes simpler to add on to an existing building than to build a new one on your property, attached garages are perfect for homeowners wishing to conserve money and yard space.
Detached Garage with Dormers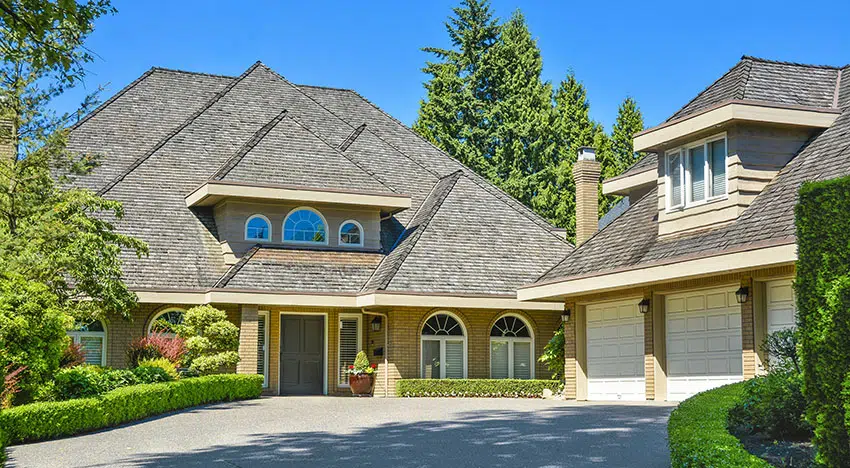 On the other hand, detached garages with dormers do not connect to a house. Garages may be nearby or on the other side of the property. Due to the independence of a standalone structure, detached garages are often more prominent or inventively constructed.
Detached garages with dormers often provide far more room than their connected equivalents. A detached garage might provide space apart from the main home for folks who like hobbies like building, auto repair, or welding, for example.
A detached garage is ideal if your house isn't big enough for your hobbies, storage, office space, or other needs. When constructing a new home or remodeling an existing garage, more and more homeowners are starting to realize the benefits of having a separate garage.
Converting a connected garage into a living space and constructing a separate, detached garage to house vehicles and tools is one strategy driving this trend. Visit our attached vs detached garage pros and cons guide here.
2 Car Garage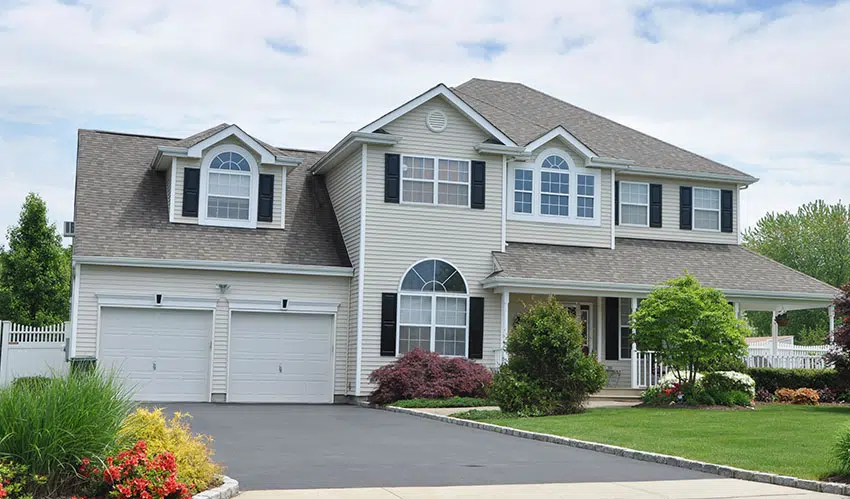 Most experts agree that 20×20 is the minimum size for a two-car garage with dormers. Two smaller automobiles may fit in this size two-car garage. Although it won't provide much room for other storage, it should allow the vehicles inside.
A bit larger will go a long way to keep your car looking beautiful and more room for other items. Dormers provide volume and allow in light in a 2-car garage. Windows break up both walls, while a side door provides access for tools and other items.
3 Car Garage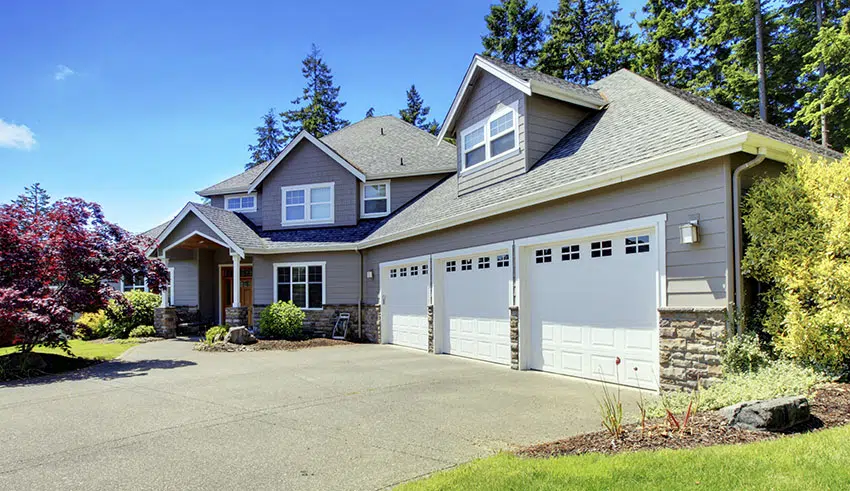 3-Car garage with dormers is a detached garage that accommodates up to three vehicles. Plans for a three-car garage may have one colossal, two smaller, or three tiny overhead doors.
In addition, they could feature a door at the back of one or more bays, forming a drive-through garage bay. Their depth influences the usage and functionality of the garage bays. More significant, higher bays with more profound openings comfortably fit trucks and SUVs; some are deep enough to store boats.
Different roof-lines and external coatings further complement the variety of 3-car garage ideas. These buildings may have hip, gable, reverse gable, and gambrel rooflines, as well as brick, siding, stone, stucco, or wood for their façade.
It's easy to see that there is a 3-car garage layout that will go well with practically any property since there are so many different design options. You may create a 3-car garage façade adorned with identical dormers. You may also get access from the side by adding a man door.
Dormer Over Garage Cost
You must first decide on the size, location, and design of the dormer you want to build to calculate the cost of doing so. The price will also vary depending on the sort of roof you have. Additional cost considerations include permits, supplies, labor, and any interior work that must be finished, such as drywall and painting.
Consider any work you must do before construction, such as obtaining permits and assessing if your roof needs repairs or upgrades when figuring out the cost of a dormer.
Next, figure out how much the chosen dormer will cost regarding materials and labor. Last but not least, figure out how much interior work, including painting and dry-walling, will cost.
The average cost of a dormer addition is $12,000, ranging from $2,500 to $30,000, or approximately $115 per square foot. Numerous dormer designs are available, including flat, shed, gabled, and hipped. Smaller tasks may cost around $4,000. More extensive tasks, like a flat dormer that adds more room, cost around $25,000.
What Is A False Dormer?
False dormers are little roof extensions that don't have windows inside them, which is pretty much only a cosmetic trick. A dormer head and gable are merely ornaments that don't serve any use. And more often than not, the finished product resembles a Lego pasted onto a dollhouse in a bigger size.
A blind or false dormer is there for aesthetic purposes, unlike standard dormer windows that let light into the loft. A blind dormer has the same appearance as a regular dormer window from the outside, but it only adheres to the roof's surface rather than opening inside the home.
False dormers usually crack when seasons change. They tend to leak more air. Whole house attic ventilation offers the right solution for this situation.
A proper garage structure is more economical than a false dormer. If you are thinking of building a garage dormer, contact a professional to manage the work for you.
However, garage dormers are not a universally effective solution. What works for one family or house may not be suitable for another. Decide which is best for your needs before purchasing or building a garage with a specific dormer design.
You can use one of the available types of garage design software for help with adding a dormer plan on to your garage ideas. These programs can help you visualize in 2D and 3D to get an idea of home the look would compliment your home.