Discover ideas for garage window covers including the different types, their features, how to blackout garage windows, and helpful tips to consider.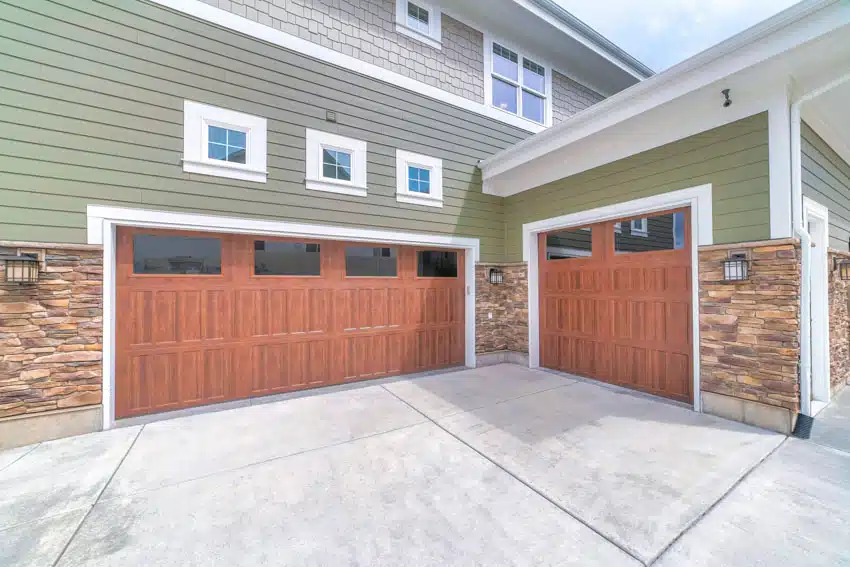 A garage acts more than just as an extra room in your home but can both be a storage room and a workroom at the same time. However you use this space though, it's important to keep your space private and safe. This is important to look into, especially since garage doors and windows are often overlooked.
There are different ways you can protect your garage's privacy and at the same time elevate the look of the space. Sprucing up your garage may be time-consuming depending on the solution you choose to go with for your windows. But one of the most convenient solutions for your garage's privacy is to use window covers.
Types Of Covers For Windows in the Garage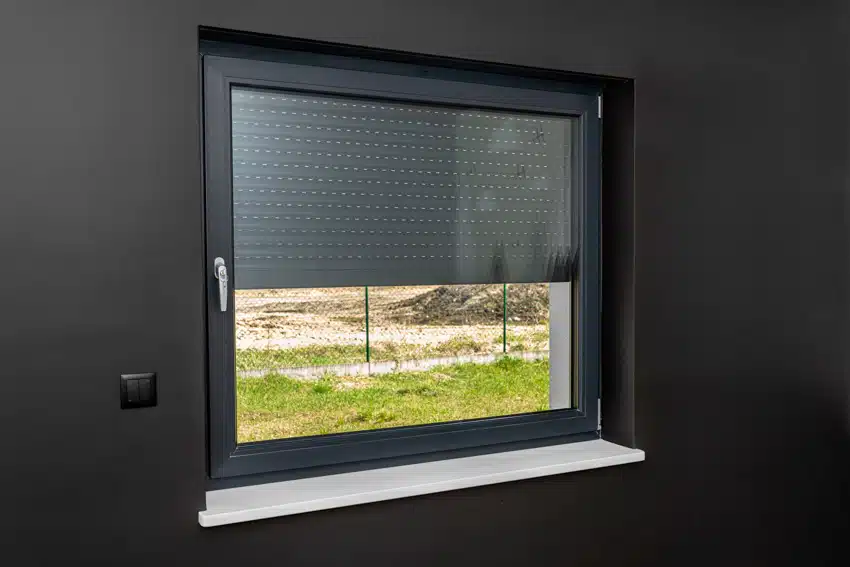 Window covers come in different types, but in deciding the ideal solution for your garage, you will need to take into account several factors. Some of these important factors are the following:
• Lighting: Windows can be used to let natural light into your garage, whether they are opened or closed. And adding a cover on them means that you get to control the amount of light that can be filtered through.
You can accomplish this by adding shades or blinds on your window so that you can open and close them to allow light in whenever you prefer.
• Humidity and ventilation: If your garage is not well-ventilated and most of the time the area is humid, a wooden window cover will not be ideal for your garage since it will end up faded or damaged.
In this case, use materials that won't be affected by moisture and if you want to stick with the wooden look, faux wood blinds are available.
• Privacy and safety: Privacy is protected using garage window covers but it doesn't mean that they are safe to use. If you have kids at home, make sure you choose window covers that are kid-friendly or pet-friendly (if you have pets at home). To avoid dangerous lift cords, use smart, cordless, and motorized window treatments instead.
• Costs: Getting garage window covers means that you will have to pay extra for the added accessory. Some window covers are more expensive than others, especially if there are smart controls involved in their operation.
If these window coverings are operated using electricity, you would also need to take into account the addition to your utility bills.
If you have enough budget, you can go for the more expensive option and consider it an investment for your home that can at the same time increase the value of your home. For a more budget-friendly option, choose an affordable and more energy-efficient window treatment instead.
• Convenience: Different garage window covers have their respective ways on how they operate. There are manual covers you can open or close with your own hands but there are also those with smart mechanisms that are integrated with the covers and can be operated using a smart control instead.
Sprucing up your garage windows with a cover will need to consider these factors but if you want an easy and quick solution, the common practice is to use wax paper. This material is common in the kitchen so you won't have to go out of your way just to get one.
It is affordable and quick to use on your garage windows. You just have to cut the wax paper into the appropriate pieces and tape them on your windows.
Window Shades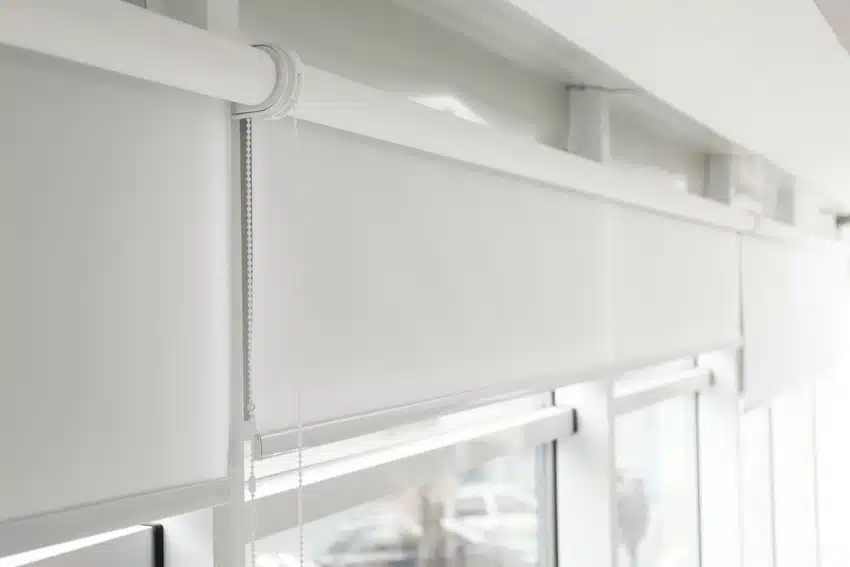 Features:
• A wide selection of patterns and designs
• Can be available in bamboo or vinyl
• Easy to install and use
Window shades are very similar to curtains , but the main difference is that shades are designed meticulously to fit the window frame. While curtains are generally made of fabric that hangs below the sill, shades can also be made from fabric , but some are also available in bamboo and vinyl and can either be attached to a frame or a rod before installing to the window.
Garage types of window shades come in different designs, so if you are particular about the look and aesthetics of your garage, you have the freedom to make sure they match the current style of the space.
Best Shades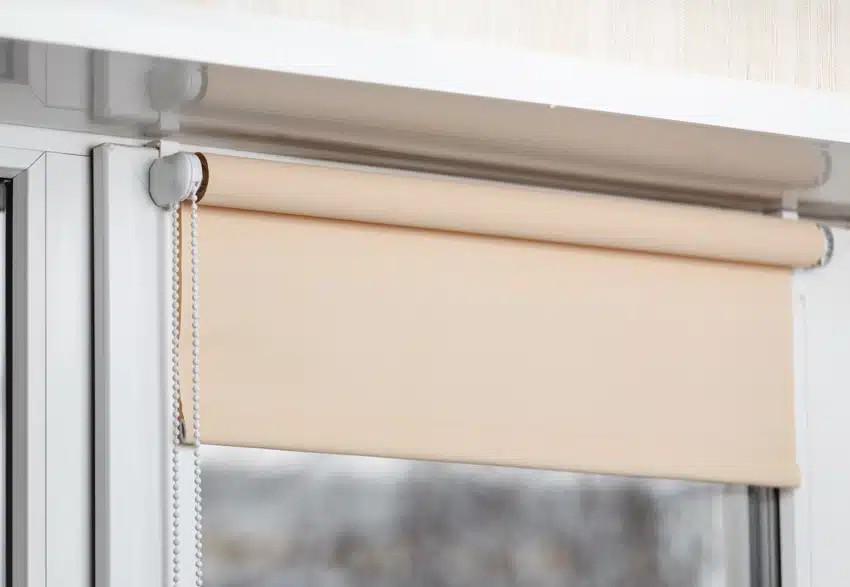 If you're looking for the best window shade perfect for your garage, here are two options you can explore and look into:
Solar Shades: A favorite garage window treatment among homeowners, solar shades are named as such because they offer incredible UV protection for your garage. Here are some of the edge solar shades have compared to other options:
• Inexpensive and affordable
• Features a modern and sleek look in the garage
• Protects car's paint from UV ray damage
• Easier cleaning and maintenance compared to shutters and blinds
• Offers different levels of openness and closeness
Blackout Shades: Choosing blackout shades means you want your garage to be completely in the dark in some instances and situations. These shades can be a good option, especially if you don't want to manually open or close them, which will be very beneficial if you have a large garage space and would need to cover many windows in one go.
• Ideal for large garage spaces
• Usually battery-powered and remotely controlled
• A time-efficient and convenient option
Window Blinds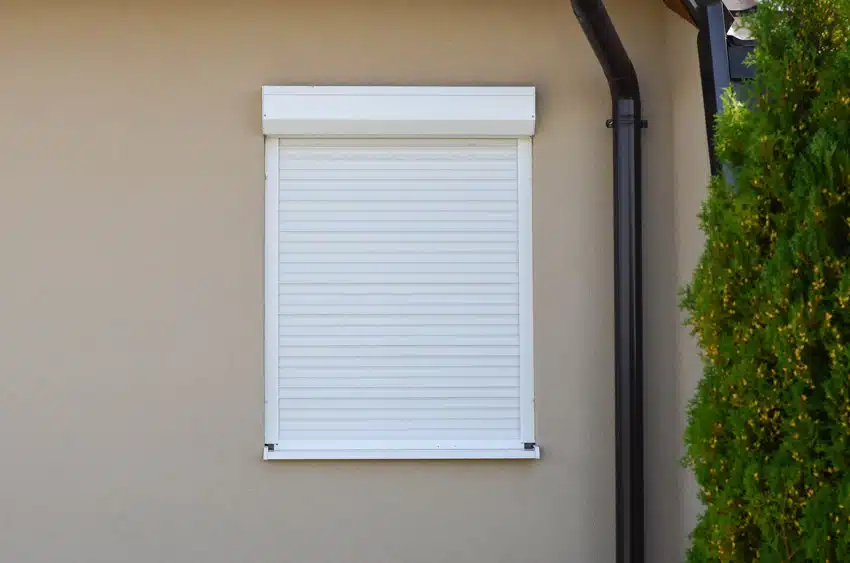 Features:
• Adds a sleek and modern look
• Plenty of materials to consider
• Extremely durable
• Possible dust issues and buildup
Window blinds can also be considered for the treatment of your garage, especially if you're looking for a modern touch to add to your home. Many blinds are offered at affordable prices that you won't have to worry about your budget.
Similar to shades, you can control the natural light that comes inside the garage through the window. This means that you get the privacy and brightness you want whenever you need it. The major drawback though is that these types of window blinds can easily build up dust and debris over time so make sure to regularly clean them.
Best Blinds For the Garage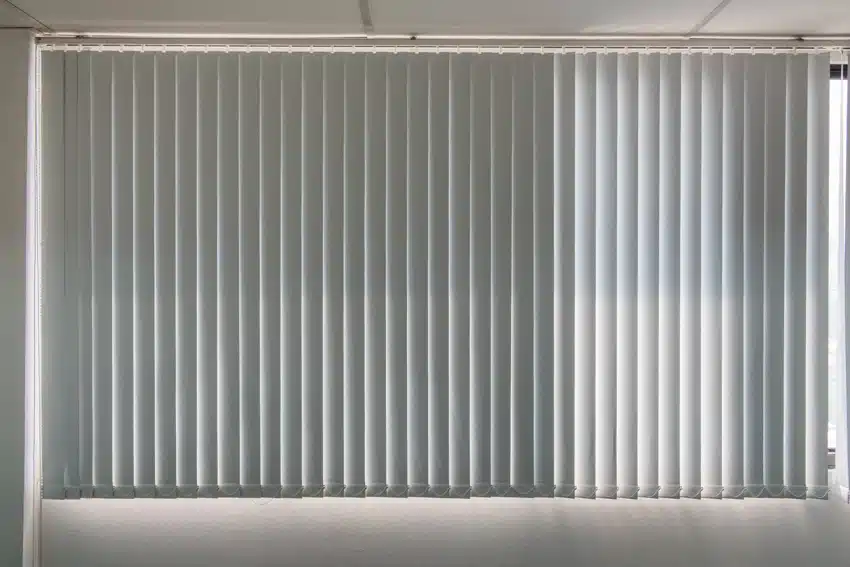 You can explore the market for different types of garage window blinds to use for your home. Make sure you choose the blinds that can add aesthetic value to your garage at the same time.
To help you with this task, here are some of the best that many homeowners prefer to use:
Aluminum Blinds: Metallic blinds like aluminum blinds can be used in your garage and you can find cordless ones that offer easier operation and controls both privacy and the amount of light in the garage. This window treatment is a favorite because of the following benefits:
• Tough and durable (Long-lasting)
• Resistant to chipping and fading
• Easy to operate
• Child-friendly (When with cordless operation)
PVC Vertical Blinds: PVC or vinyl vertical blinds are smooth and elegant to look at, which can add visual value to your garage. Much more than that though, they also offer the following advantages:
• Ideal to cover a large garage window or set of windows
• Highly durable and high-quality material
• Built to last for years
• Can come with a standard cord, chain control, or wand control
Faux Wood Blinds: Faux wood blinds are a popular and cost-effective alternative to real wood blinds. They are made from synthetic materials that mimic the look of real wood but without the risk of warping or cracking due to moisture exposure. This makes them an excellent choice for areas of varying temperatures, such as the garage.
• Energy efficent
• Durable
• Different styles and colors
• Easy to clean (wipe down with a damp cloth)
Window Tint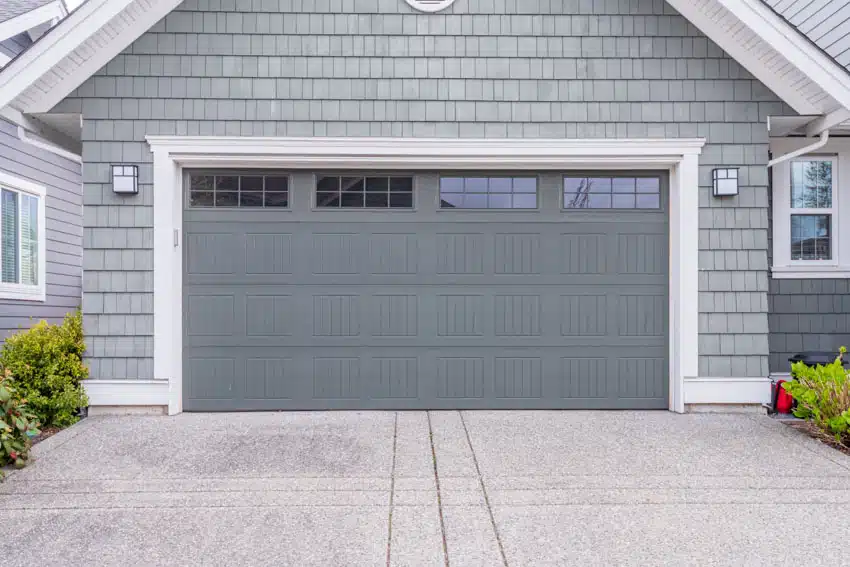 Features:
• Easy to install and remove
• Wide selection of patterns and designs
• Reduce the amount of light and heat that enters your garage
• Affordable
• DIY-friendly
Choosing to apply a window tint for your garage is one of the most convenient options you can have for your garage. The application of tint helps to spruce up your garage to have a more comfortable setup where you can stay for a long time. You can improve your experience when staying in the garage.
Garage window tints come in different from, from a simple darker tint to aesthetics that imitate glass patterns and other natural material looks.
For a modern-styled garage, use a simple tint to stay true to the clean and seamless aesthetics. And compared to other window covers and treatments, window tints are way more affordable.
Window Tint Inserts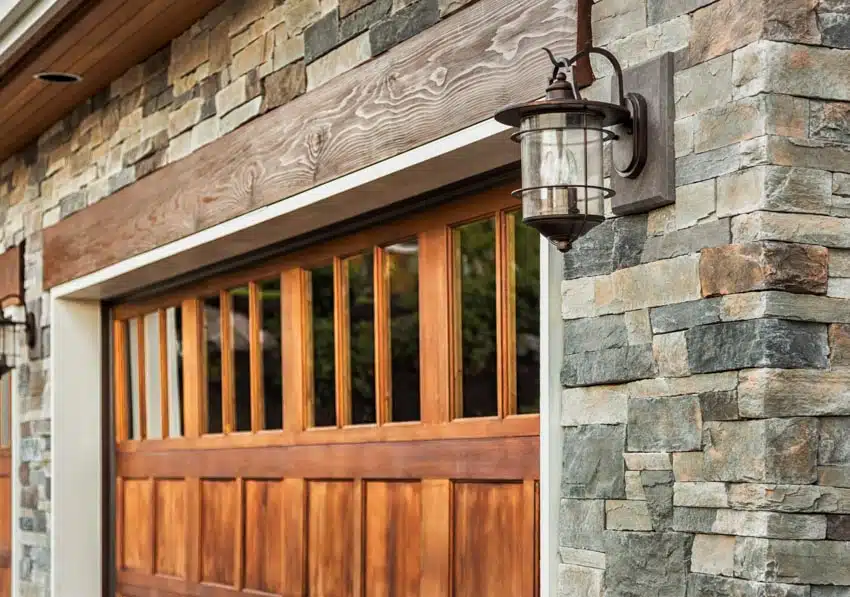 Features:
• Convenient to be used
• Ideal for rental homes and properties
• Easy to install and remove
• Fixed sizes and shapes
If you're choosing garage window tint, one of the best options you can go for is inserts. Compared to regular tints that can be customized based on the window, inserts have standard sizes and fixed shapes so make sure you know the dimensions of your windows before you purchase one.
Garage window tint inserts come in different materials, including glass and polycarbonate. You have the option to choose the tint that would look good for your garage types of windows. The downside with these inserts though is that if you incorrectly took the measurements or if there are slight adjustments, the entire structure may look differently.
If you plan to install the inserts or replace your existing window inserts, get a professional to do the job for you. With the help of an expert, you won't have to worry about issues like wrong measurements and adjustments.
How To Blackout Windows For The Garage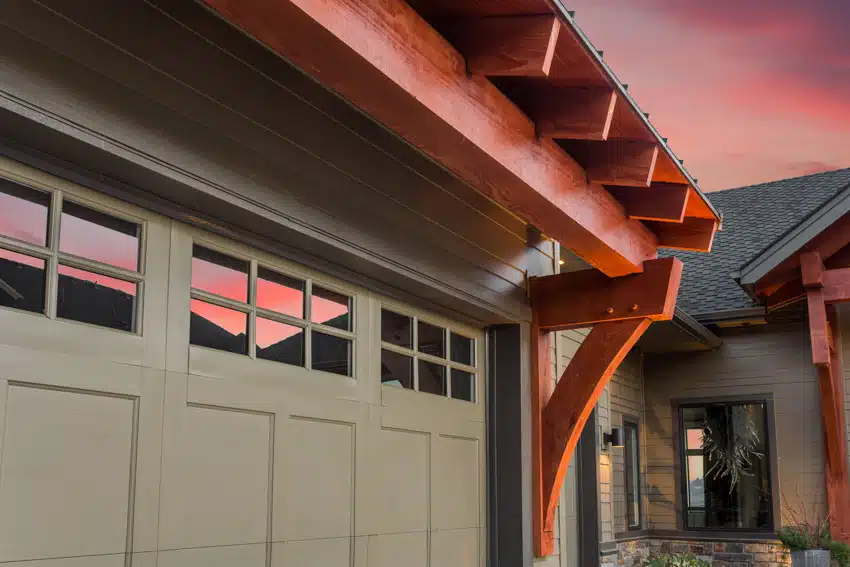 One of the best ways to blackout your garage doors is by using blackout shades. With these shades, you can easily and conveniently install them to keep strangers from looking in. More than that, you can also add a layer of texture to the aesthetics of your garage.

The two most popular types of blackout shades to use are roller shades or cellular shades. They both are inexpensive options and are easy to install.
Another benefit is that cellular shades can offer a small bit of insulation to your garage. They can be cut to size or purchased online and custom made by sending in your window measurements. Unfortunately, cellular shades can often be damaged by bumping in to them the wrong way.
Another option you can choose for your garage windows is a heavily-tinted film. Simply adding and sticking a dark tint on the windows will do the trick. This is the more affordable option if you have a limited budget to worry about.
A less expensive option is to go the cardboard route to cover your windows. This method can be especially useful if you need them for just a short while.
How To Cover Garage Door Windows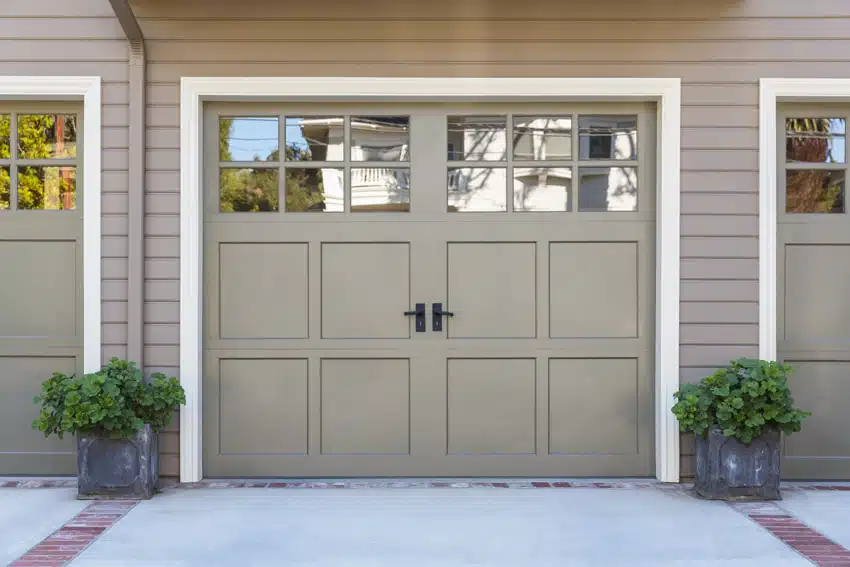 There are different solutions and treatments you can apply to cover your garage door windows. In installing the cover to your garage door windows, you need to take into account the type of cover before starting with the task. In general, here are simple steps to help you.
• Step 1 – Measure your garage door and windows: Use a tape measure and get the exact dimensions of your garage door and windows so that you will know how many covers you will need.
• Step 2 – Purchase the cover you plan to apply: Whichever type of window cover you choose, purchase them with the measurement of your door and windows in mind.
• Step 3 – Install the window cover: If you choose blinds or shades, install them on the door windows by following the manufacturers' manuals. If you plan to add tint to your door windows, glue the film meticulously on the surface of the glass.
If you plan to have a more complicated window cover with a mechanism and working motor, make sure to ask the help of a professional for the installation.
See more related content in our article about how to cool a garage with no windows on this page.