See the bathroom window types guide including how to choose, their uses, features, privacy glass options, and modern bathroom window designs.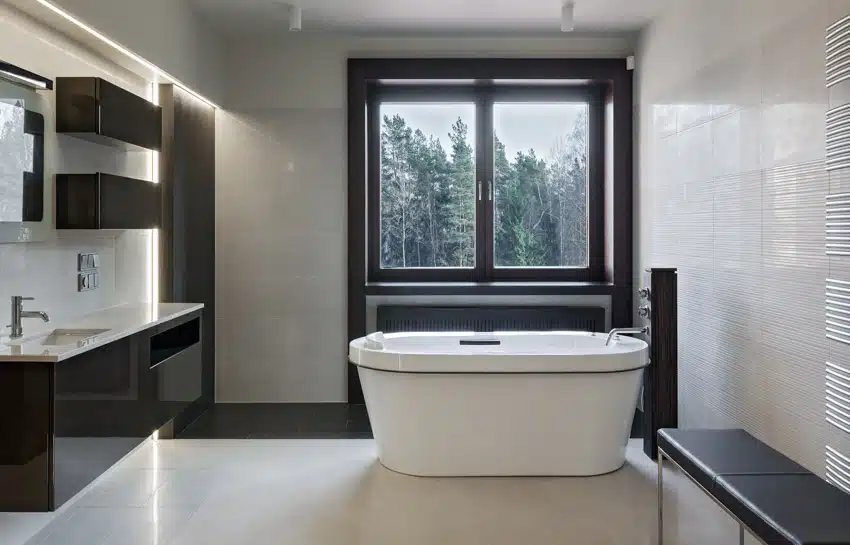 Putting a window in your bathroom is the best solution to allow natural light into the room and facilitate proper ventilation. You should install at least one window and open it after showering to guarantee that your bathroom won't have mildew or mold buildup. Another advantage you can benefit from a bathroom window is the added aesthetics and decorative touch.
Choosing The Types of Bathroom Windows
If you're planning to add a window in your bathroom, there are many considerations you need to look into. With many types to explore, it might be quite a task just to choose one. To help you, here are some of the important factors worth considering.
• Size: The size of your bathroom window needs to be proportional to the size of your bathroom. In estimation, the window needs around 3 to 5 percent of the window area. If the window area is around 12 sq. feet, the window needs to be around 16 sq. feet.
• Ventilation: Windows are meant to aid in the airflow inside your home and so make sure to choose one for your bathroom that can naturally ventilate your bathroom. A window is important in your bathroom doesn't have a venting system or bathroom fan.
• Privacy: Choose a window that provides enough privacy in your bathroom. You can either go for a window that supports privacy or apply treatments on your window that can add privacy, including blinds or a window tint.
• Lighting: A window can also be used to naturally add brightness to the bathroom, aiding natural light into the room. Different types of windows can help deliver sunlight but you need to balance your choice with the ones that won't compromise your privacy.
• Cost: Money will always be a factor to consider since your budget will dictate the lengths you can go and the limitations you have to take into account. Choose a window type that's under your budget.
For an affordable window, transom, sliding, and hopper windows are usually chosen. If you got more budget to spare, you can try out crank windows, which are usually less expensive and at the same time reduce heating costs since they let out less air.
• Frame material: There are different types of windows and you can customize their frames based on your preference. Wood is the classic option for the frame but it also easily absorbs moisture that has a high risk of eventually rotting due to humidity.
If you don't want to work on this issue, choose aluminum or vinyl for the frame. You can even choose faux wood options if you want to stick with the wood aesthetics.
Types of Bathroom Windows
There are many types of bathroom windows and there's no other way to go through them but explore them one by one. Here are some of the best options you can check out.

Double-Hung Windows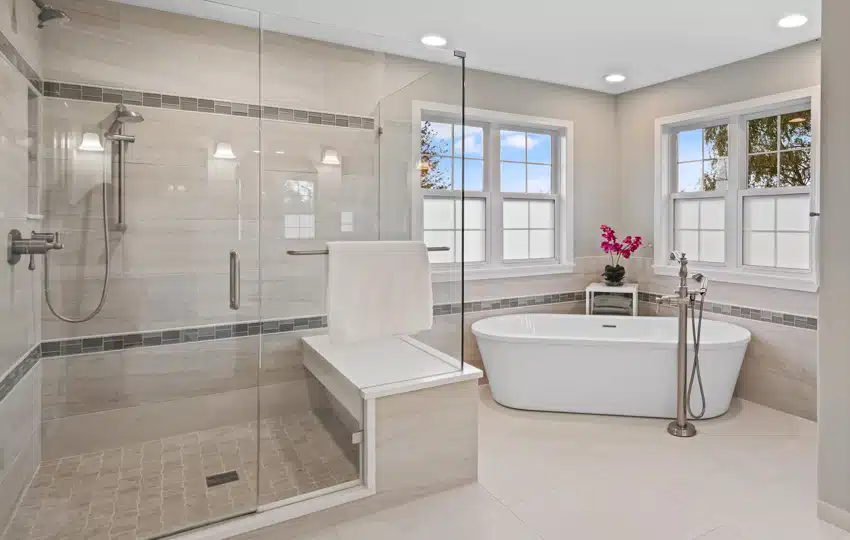 Notable Features
• Two operable sashes (Upper and lower)
• Vertical operation
• Maximum air ventilation
A type of window you can consider for your bathroom, a double-hung window is structured with two operable sashes. If you want optimal air circulation, this is the type of window to consider.
The two operable sashes of a double-hung window, both upper and lower, can be opened and tilted inward. This means that the windows can also be cleaned easily since both sashes work independently and can be stacked and meet in the middle.
If you have a traditional or farmhouse style of home that extends up to your bathroom, this is a good type of bathroom window to consider, especially if you want that traditionally modest and warm aesthetics in your home.
Awning Windows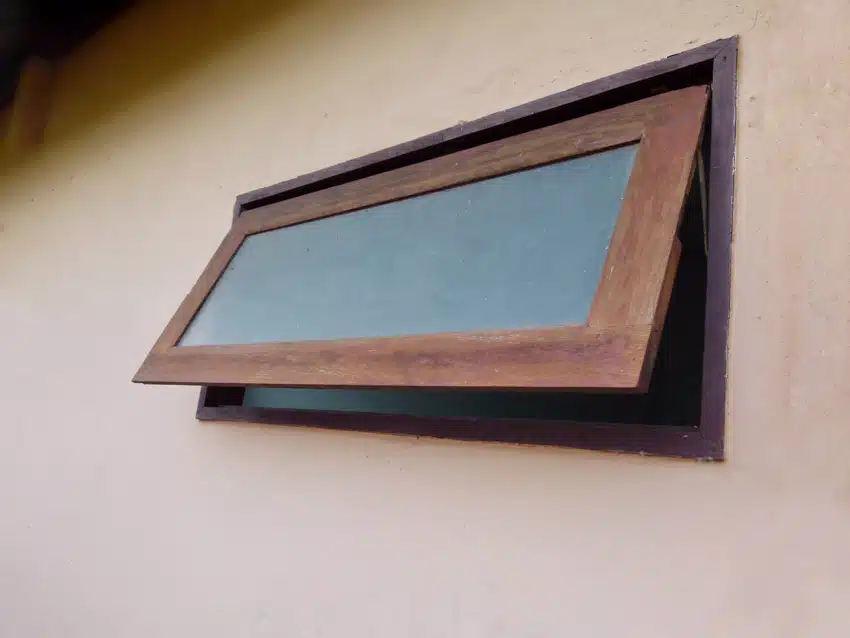 Notable Features
• The hinge on the top (Opens upward)
• Limited air ventilation
• Protection against rain and leaves
Similar in design to casement windows, awning windows are designed with their hinges on top instead of the sides of the window. Because of their design and size, this means that they offer less air circulation when compared to casement windows or double-hung windows.
The major advantage of awning windows is that they block leaves and rain from entering your home. For homeowners that prioritize privacy, awning windows can be installed higher on the walls. And you can use them vertically or horizontally in locations, whichever works better for your vision.
Awning windows are also considered stylish and energy-efficient, compared to typical sliding windows. The sizes are also flexible and they are considered one of the most affordable bathroom windows you can use.
Sliding Windows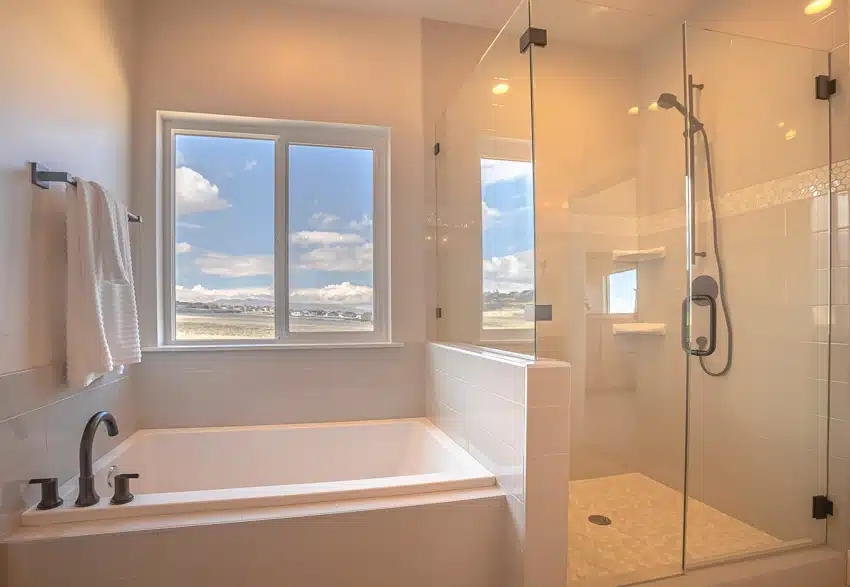 Notable Features
Horizontal operation

Great air ventilation

Requires weatherstripping

Two options: Single or Double slider
Sliders or sliding windows operate by sliding the sash from left to right. These windows are also known as horizontal sliding windows and you have the option of having one or both sashes slide. If you want more airflow, choose the latter for optimal effect.
Sliding windows are normally made of glass with either wooden or metallic frames as popular choices. Because of this construction, they offer natural lighting to the bathroom. They are common options for the bathroom not just because they are affordable but also because they deliver excellent air circulation to the room.
Ideal for small and large bathrooms, sliding windows are easy to install and easier to match to any style you have going. They are easy to use with the glass smoothly and effortlessly moving along either a track or roller.
While there's a low chance of air leaking through the sliding window because it has fewer moving parts. These sliding windows have impressive thermal insulation characteristics, making them energy-efficient.
The downside though is that they require weatherstripping where there are noticeable gaps. Since the sliding tracks can get caught in ice and snow during the winter and also collect dirt as time goes by.
Casement Window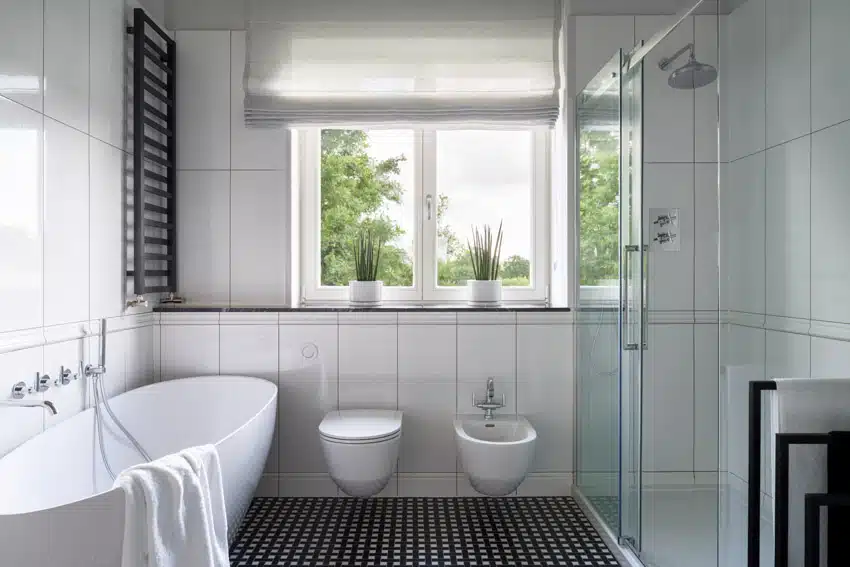 Notable Features
• Maximum air ventilation (Without rail)
• Tighter seal compared to other types of bathroom window
• Opens outwards to a 90-degree angle
A casement window is popular for its side hinge and outwards opening, as well as free from any rail that can block your view. Also known as crank windows, these windows usually come with cranks that are used for opening them and as structural support.
Since casement windows facilitate maximum airflow, they are a great option for areas that need excellent ventilation, including the bathroom and kitchen. Since these windows can be opened at a 90-degree angle, they can easily and safely be cleaned either from inside or outside the home.
They can be considered energy-efficient because of the tight seals of the windows but the drawback with this type of bathroom window though is that when opened, they can be an obstruction outside the home.
Glass Block Windows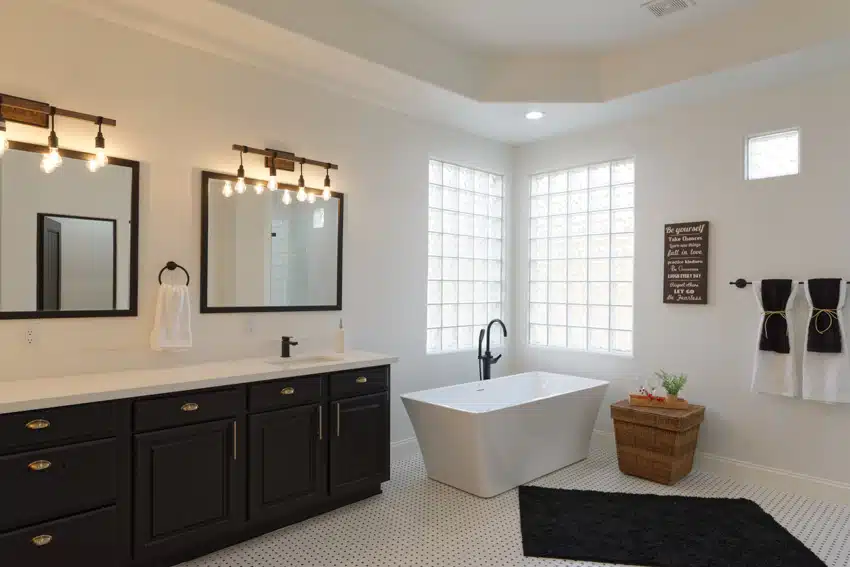 Notable Features
• Facilitates best natural light among other types of bathroom windows
• Does not facilitate air ventilation
• Heavier so needs more support
A glass block window is the ideal window option for dark spaces that appear gloomy even when you have lighting fixtures in the room like bathrooms and attics. This type of window allows enough natural light inside to brighten the space while not giving away your privacy at the same time.
Glass block windows are flexible in installation since they come in a variety of sizes and colors, and can either be pre-formed or customized to fit your preference. The glass blocks work in a way where the blocks are small and can be put together to form a bigger block.
The drawback with glass block windows is that opening them is impossible. Without the option of opening them, natural ventilation and airflow are restricted. With bathrooms, there will be no outlet for water vapor and so cause excess condensation.
Shutter Windows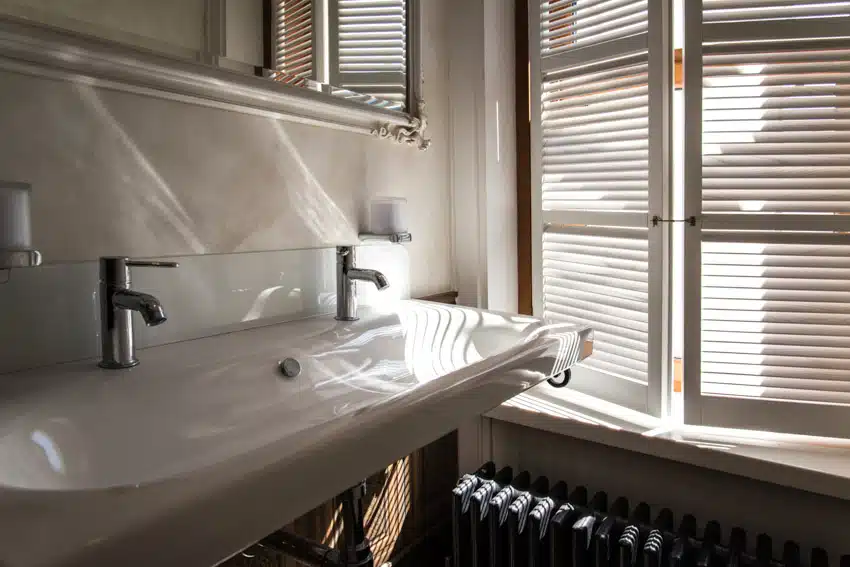 Notable Features
• Flexible in structure (Can easily be adjusted)
• Requires regular maintenance
• Can be expensive compared to similar window treatments
Known as a classic window option for the bathroom, shutter windows are also known as plantation shutters or shutter-style blinds. They are designed to be easily adjusted based on your preferred privacy and natural light in the bathroom. You can flicker the shutters and then turn them back.
Shutter windows are easy to use and you can just pull or push a panel to swing them open or closed. They are also easy to clean but may need regular maintenance since the moving parts can get loose but you can also tighten them when needed. If you add shutter windows in your bathroom, it can elevate the look and give the space an elegant touch.
Transom Windows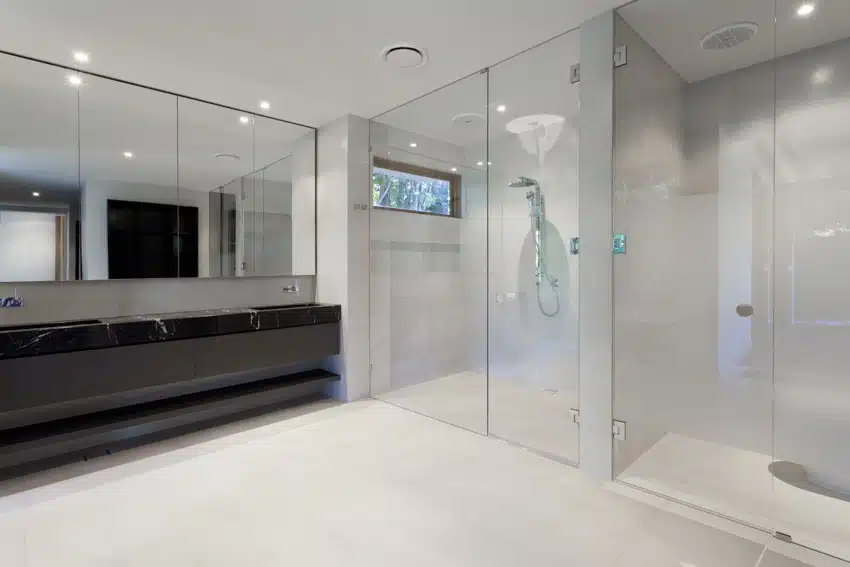 Notable Features
• Long and skinny in structure
• Usually placed high on the wall
• Affordable window option
• No ventilation (Does not open)
Transom windows are usually installed above the shower, giving the bathroom enough lighting without compromising your privacy. They are usually long and skinny, giving an elegant look.
Considered to be accent windows, transom windows can be decorative but affordable to get. Even if you choose large windows, you can also set them high enough in your bathroom to protect your privacy.
These windows don't open though and so while you won't have to weather about rain and dirt getting in from the windows, they also don't facilitate airflow, which can be bad for your bathroom.
Skylight Windows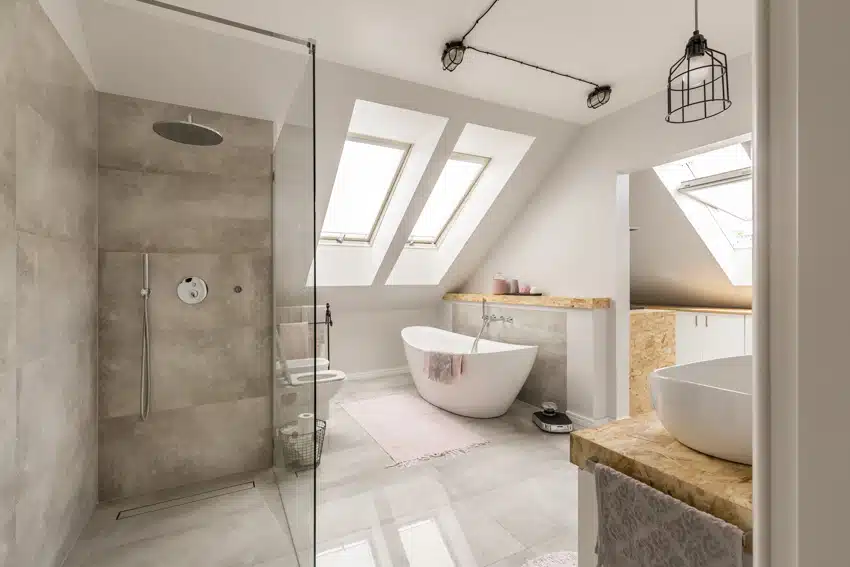 Notable Features
• A luxurious option (Can come with expensive prices)
• Offers excellent privacy
• Energy-saving
Skylight windows, usually installed above the shower area, can give you a peek into nature without actually going out. Since they're installed above, you won't have to worry about anyone looking in even if it's open.
Considered to be luxurious and deluxe, skylight windows do not come cheap and so you need to be sure you have the budget for it. You also need to make sure that you choose a high-quality one that won't cause leaks in the future.
Skylight windows are energy-saving in the sense that you can allow natural light to seep through the window into the bathroom. But make sure not to let in too much light to avoid glare.
Bay Windows
Notable Features
• Often large and comprised of two to three windows
• Admits more light compared to window flush
• Protrudes from the home's exterior
A bay window, also known as an oriel window, comes in different shapes except for arcs (it will then be called a bow window). When installed from an upper story, they are structured with corbels as support. They also admit more light in that way.
Bay windows are usually composed of two to three windows, combining fixed and operable ones. The standard ones are designed with three windows, two are operable casement windows and one is fixed (picture window) that's installed in the middle.
Bay windows protrude from the home's exterior and with how they're structured, they facilitate great airflow and natural light that helps the space look bigger and brighter.
Bay windows also have notable angular lines that can elevate the look of your contemporary or transitional-style homes. They can even create a three-dimensional look and offer a unique look.
Garden Windows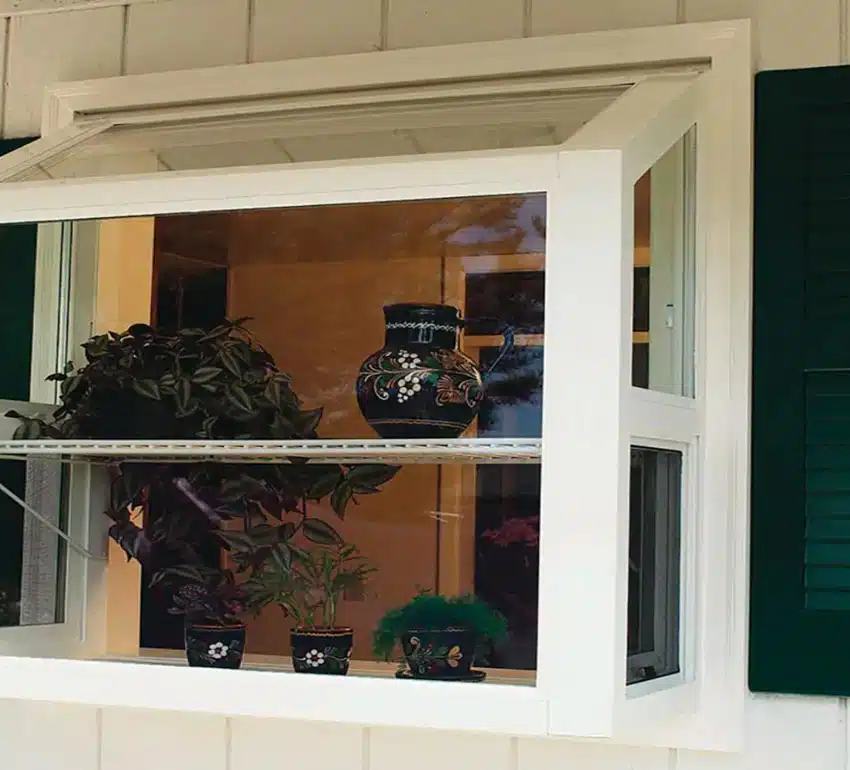 See this garden window set at Home Depot [sponsored link]
Notable Features
• Comes in a boxy structure
• Creatively house plants
• Similar design with bay windows
• Allows more natural light
Garden windows are usually structured in a 90-degree box bay configuration, which includes two casement windows (operable) and one picture window (fixed) similar to a bay window.
The box will act as a home for plants (similar to a mini greenhouse) and bring a bit of outdoor nature inside. It may be a unique addition to your bathroom, giving the space a fresh and cozy look.
Because of the size and design, garden windows allow ample lighting inside the bathroom that will make the space look bigger and brighter. More than just getting enough space to accommodate your plants, you also get to elevate the look of your bathroom.
Bathroom Privacy Window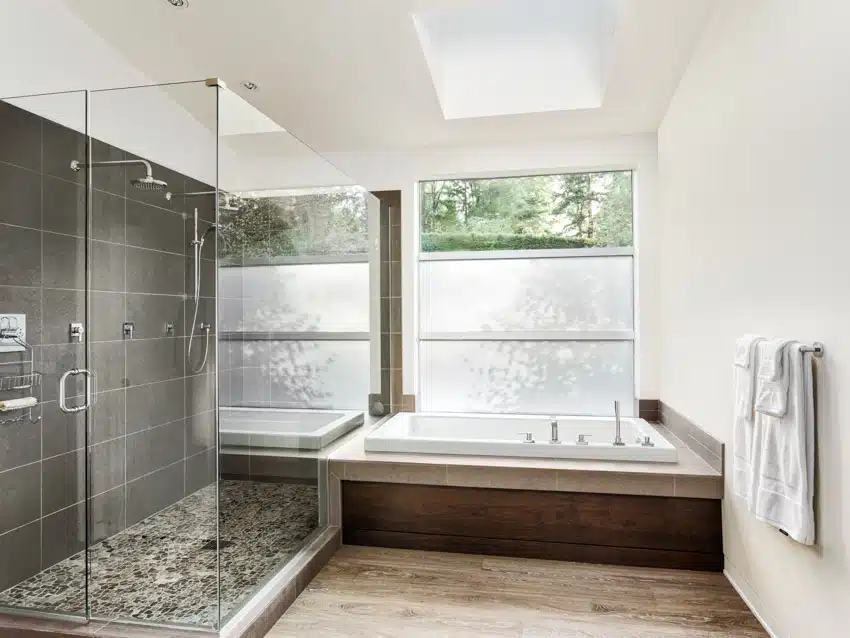 Privacy is one of the main factors you would have to consider when adding a window to your bathroom. When selecting a window type you need to be able to choose a balance between privacy, excellent lighting and ventilation.
Have the right amount of privacy while still maintaining plenty of natural light is the key to creating an oasis for a bathroom. One of the tricks to balance lighting and privacy is by using the right type of glass for the windows.
A tempered, textured or frosted glass design will allow enough light to enter the bathroom without compromising your privacy. The only other issue you would have to consider is proper air ventilation to make sure there's no buildup of mold and mildew.
Tempered Glass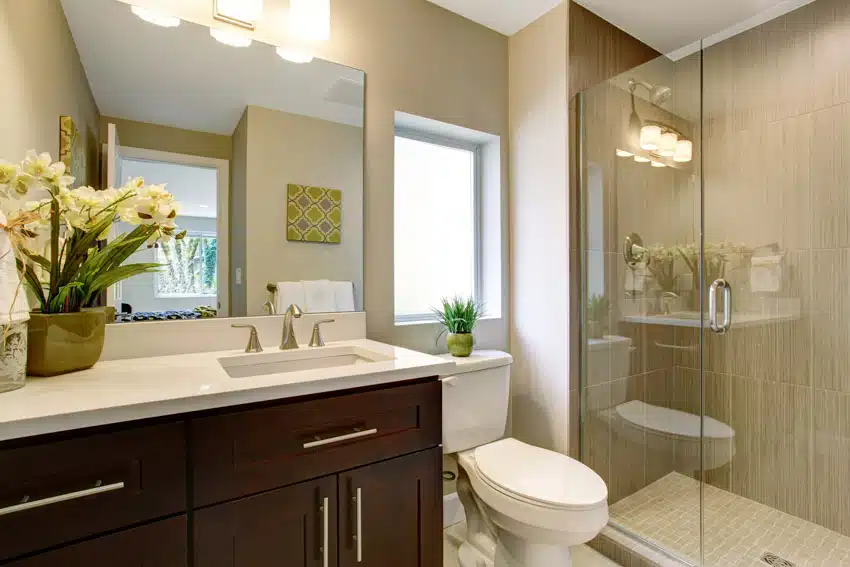 Tempered glass is one of the most popular materials you can use for your bathroom windows. They are the ideal option for homes vulnerable to natural disasters like earthquakes, hails, and tornadoes. The durability of tempered glass will make sure that the windows won't break.
If you will follow the National Glass Association, you will need to structure your tempered glass bathroom window to have the size of over 9 square feet, with the top at most 36 inches above the floor, and just within 36 inches of where people walk.
If you choose to get glazed glass for your tempered glass bathroom window, it needs to be positioned less than 18 inches above the floor.
Obscure Glass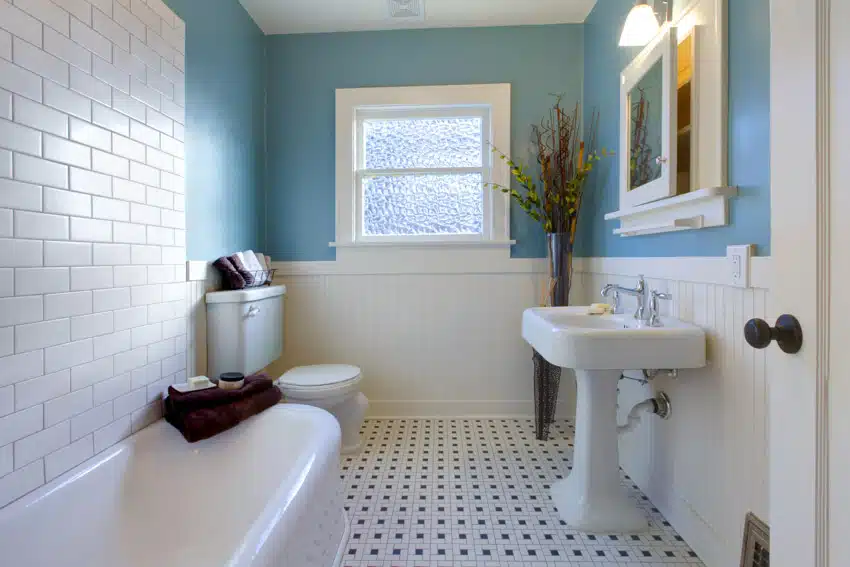 To make sure that your privacy is protected, you can choose to have an obscure glass bathroom window. This means that while you're using glass, it is structured as semi-opaque or applied on the surface with something that will make it hard to see the inside from the outside.
Choosing obscure glass offers a balance between privacy and lighting since you can allow ample natural light inside without showing anything indoors.
Getting an obscure glass bathroom window will also add more texture and decorative touch to your bathroom's aesthetics. Depending on the type of design for your bathroom window, you can also work on the airflow to balance it out.
Frosted Glass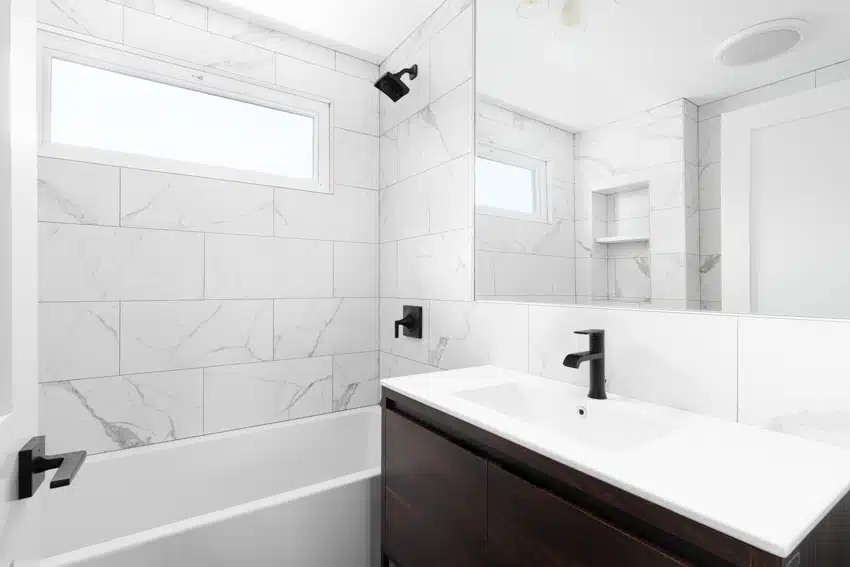 Frosted glass is another alternative material you can choose for your bathroom window though it might be a more expensive option. You can enhance the look of your bathroom by choosing frosted glass and it will seem like dressing up the material.
The major downside with this option is that there's a higher chance you will need a contractor to build the window for you.
If you want to choose the more affordable solution but want to stick with the frosted glass look, there are two ways you can do this. You can either get frosted glass spray paint or glass etching cream to make it a DIY project.
Stained Glass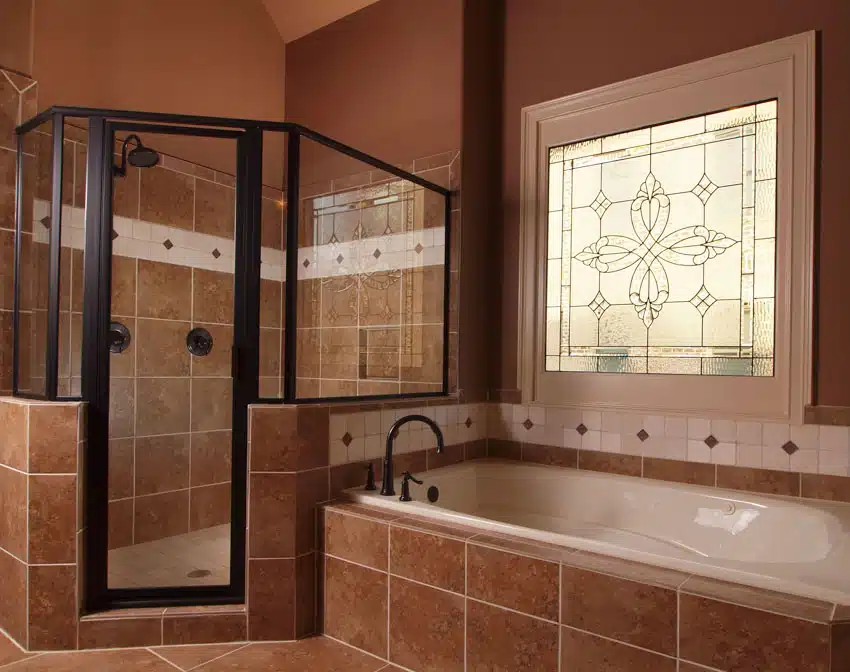 If you want more colors and creativity even for your bathroom window, you can try out stained glass instead. Getting a stained glass bathroom window will brighten up the room and spruce up the aesthetics of the space.
Similar to how obscure or frosted glass works, stained glass somehow offers a balance between lighting and privacy. Most stained glass is resistant to moisture and so will make sure to avoid mold and mildew buildup. Many of them are also shatter-resistant, which is both cost-effective and safe.
One way you can use stained glass for your bathroom is through single inserts. They come in different shapes and sizes, as well as different colors and patterns to consider.
What Are Crank Bathroom Windows?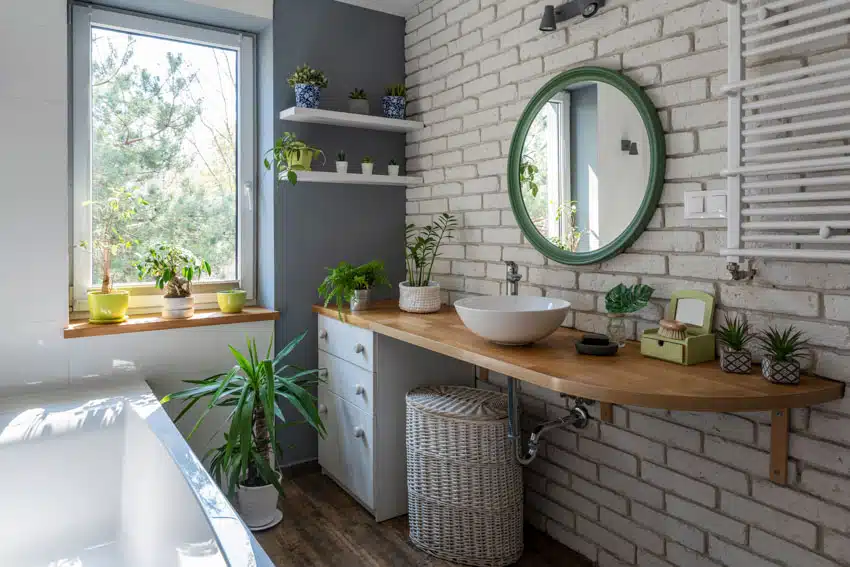 Crank bathroom windows refer to the types that use a hand crank when opening and closing them, which is how they got their name.
The basic crank bathroom windows are casement and awning windows. These windows are considered to be easy to use since they are easy to operate too since there's a crank handle you can use and hold on to.
Crank windows can also be considered the most energy-efficient option because you have a compression seal made possible by the frame and sash of the windows, along with the crank handle. This means that all the heat will be kept inside the bathroom with the windows properly sealed.
Awning & Casement Windows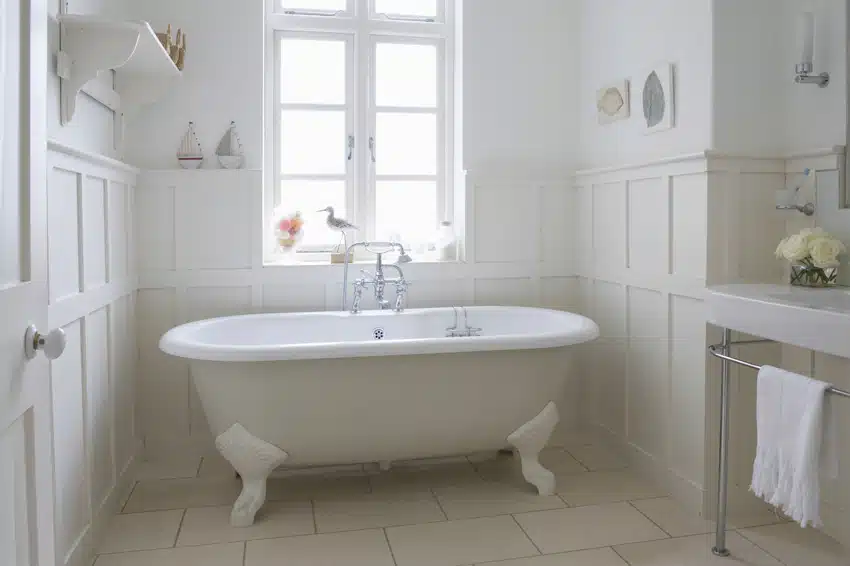 If you are considering crank windows for your bathroom, you can either choose awning or casement windows. Both of these types of windows can be operated with a cranking mechanism with a handle that's easy to reach and operable.
Casement windows function like a shutter and can be opened towards the outside because the hinges are on the side. The downside with this choice though is that these windows may allow weather elements, like rain and snow, inside the bathroom.
Awning windows are hinged at the top and open from the bottom This design keeps weather elements out and so you won't have to worry about them entering your bathroom and home.
Does A Bathroom Need A Window?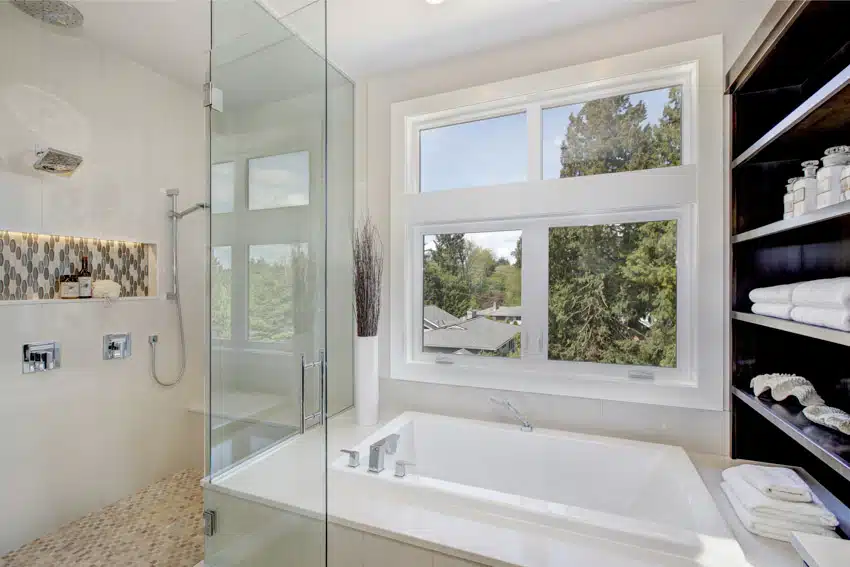 A bathroom needs a window to better facilitate airflow, especially if you don't have an air ventilation system. Besides that, installing a window will offer the chance to allow natural light to enter the bathroom and at the same time add visual value to your home.
Whether you have a small or large bathroom, a window will make the room look bigger than it actually is. It will also turn the bathroom feel a lot cleaner and more comfortable to stay in. You will also have fewer problems with moisture and condensation since you can make sure that the room is well-ventilated.
Does A Bathroom Need A Window By Code?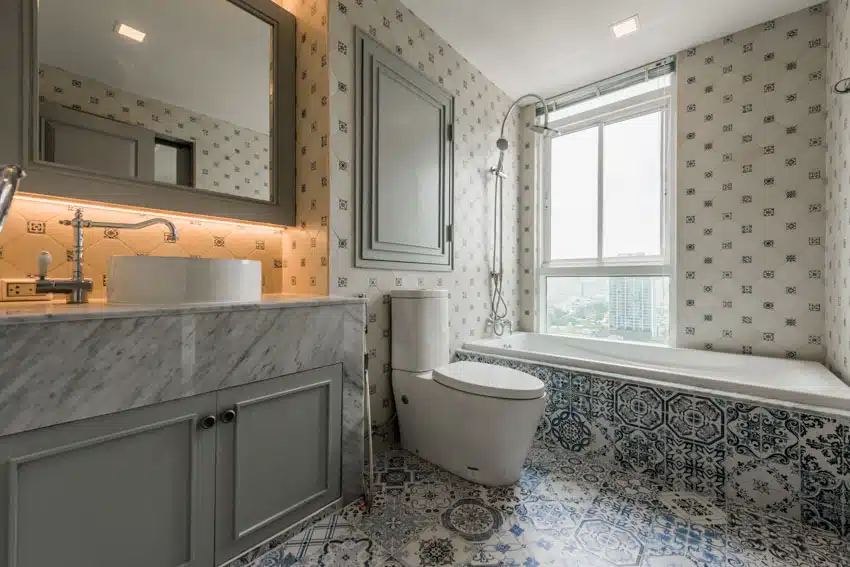 While a bathroom is technically not required to have a window, it will do good to have one. Having a window is actually more beneficial for the bathroom to function better. In fact, while bathroom window is not required, a proper ventilation system is.
Also, every state has its corresponding codes and requirements. You are free to accomplish this however way you want, whether by using a fan exhaust or installing a window.
California requires an exhaust fan for ventilation, especially if the bathroom has a bathtub, shower, or spa. Texas on the other hand will also require an energy star-qualified exhaust fan or an operable window if your bathroom has a full bath.
Both Florida and New Jersey need their bathroom windows to be impact-resistant and made of either tempered or glazing glass. Read more about exhaust fan codes and air flow requirements at ICCsafe.

What Is The Best Type Of Bathroom Window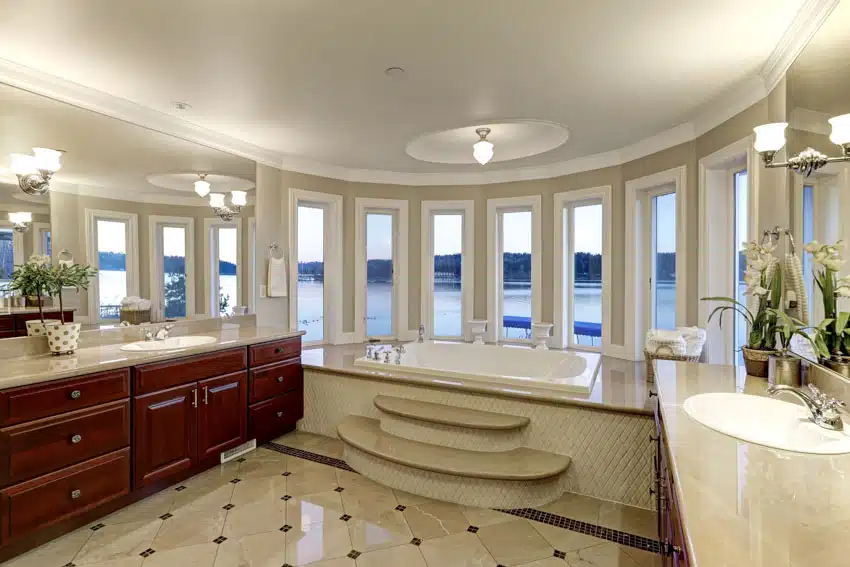 The best type of bathroom window depends on what factor you prioritize the most. You can always have a well-balanced bathroom window but there will be windows that are noticeably better and more in terms of other factors.
Ventilation: If you're choosing the option that supports high ventilation, casement and awning windows are two choices you can explore since they facilitate greater airflow compared to traditional windows. You can also check out large windows like bay or garden windows to
Privacy: For privacy, skylight windows and transom windows can also be considered since they offer the best privacy among the other types. The downside though is that you will need a great air ventilation system for the airflow since they are picture windows and are not operable.
Without a proper system, mildew, and mold buildup may be a real danger. You also have the option of going for glass windows, whether textured, semi-opaque, or frosted ones.
Energy-efficiency: For energy efficiency, windows that can keep the heat in but reduce condensation are the ideal ones to consider.
Awning windows are considered energy-saving because of their compression seal. Skylight windows and sliding windows can allow enough natural light that you can use during the day for lighting instead of any fixture.
Best Modern Bathroom Window Type?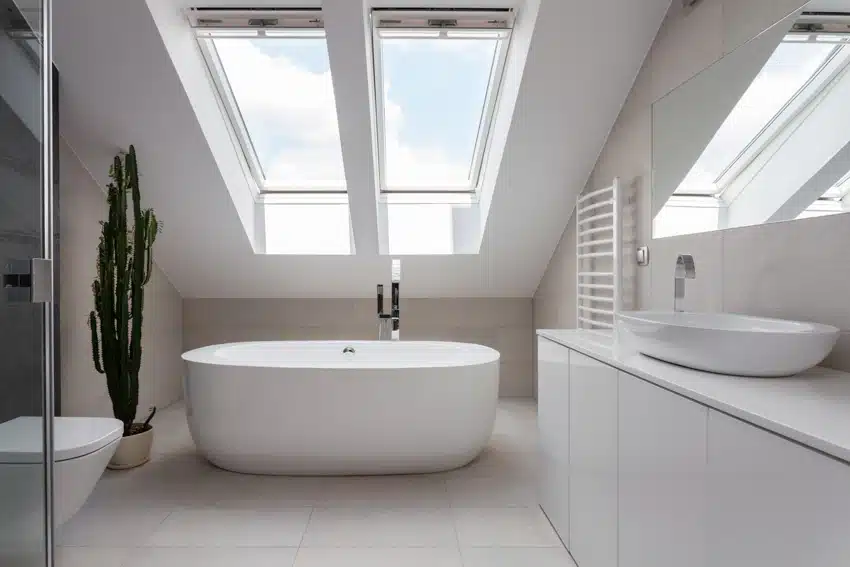 If you have a modern bathroom and want to stick with the theme, traditional bay windows may be out. You can go for the creative and trendy garden windows but they may give more of a rustic feel than a contemporary style.
The best modern bathroom window type maybe a casement window. A casement window is a great option for a bathroom because it provides excellent ventilation and natural light. The design of the window allows for maximum airflow, which can help to reduce moisture build-up in the bathroom and prevent mold and mildew from forming.
Additionally, the large glass panes let in plenty of sunlight, creating a bright and airy atmosphere. Casement windows are also easy to operate with a simple crank mechanism, making them ideal for hard-to-reach areas like above the bathtub or shower.
Overall, choosing a casement window for your bathroom can improve both its functionality and aesthetic appeal.

If you have the design for it another great choice for a modern bathroom may actually be skylight windows. They offer this elegant and new aesthetics and function since they remain at the top, acting like a luxurious addition to the bathroom. Make sure that you have a running air ventilation system that will help with the airflow.
See more related content in our article about the different types of windows on this page.