These pictures showcase the types of shower walls with the different materials, designs, pros and cons, and which shower wall tile & solid surface options are the best.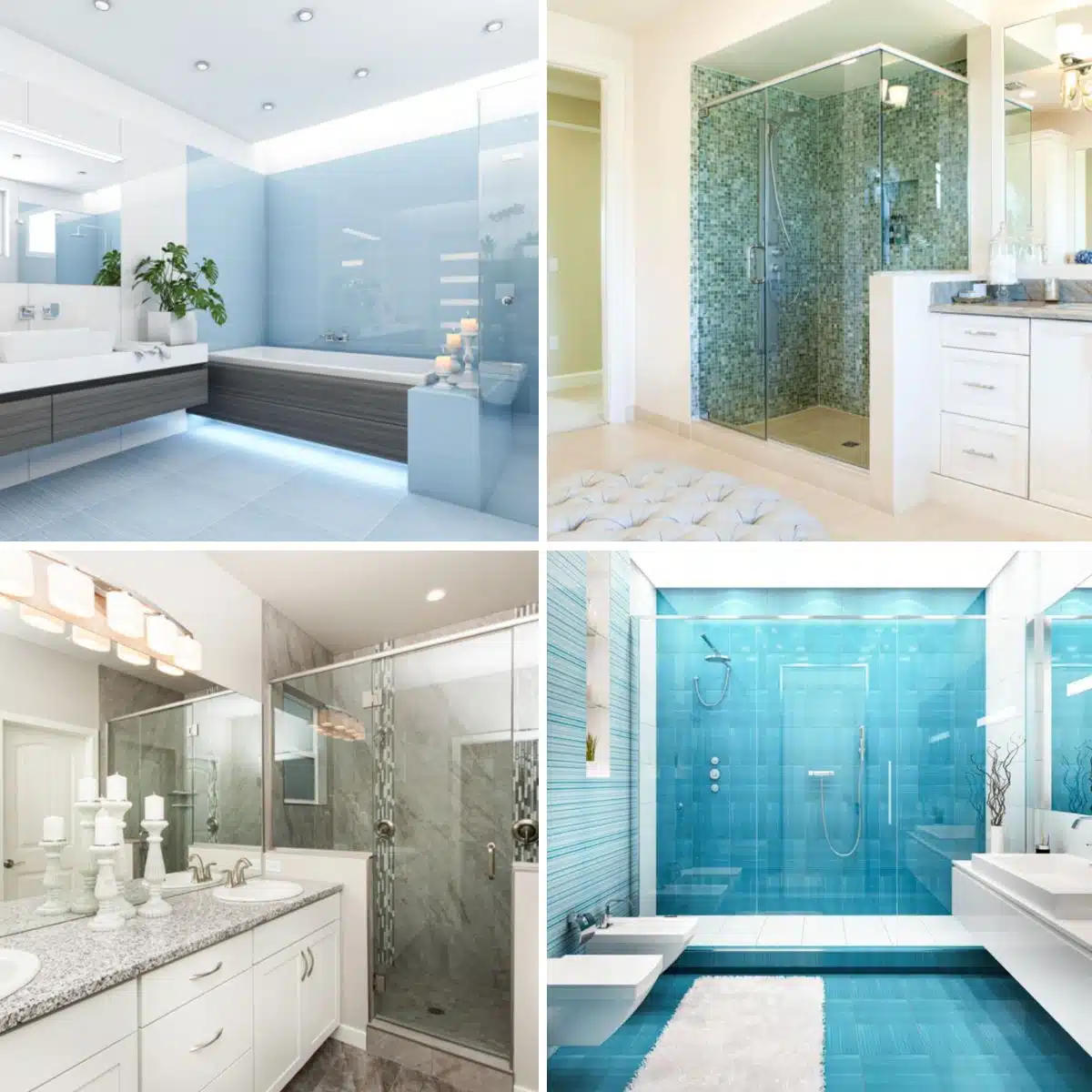 Although there are many ways to renovate an outdated bathroom, upgrading the shower, especially its walls, typically makes the most significant transformation.
Shower walls are not only placed for decorative purposes. Since these walls are constructed for your protection and exceptional comfort while in the shower area, the best materials for shower walls must be carefully selected.
If you are taking into account upgrading your bathroom or installing a new shower area, you should think about your shower wall selections. Shower walls can either beautify or deface your bathroom's appearance as well as your budget.
Thus, before you purchase a shower wall, you have to assess your selections in terms of aesthetics, simplicity of installation, maintenance, and other factors, which will all be discussed in this article.

Quicklook: Different Shower Wall Types
• Acrylic
• Fiberglass
• Glass Tiles
• Glass Surround
• Ceramic Tiles
• Porcelain Tiles
• Stone Tiles
• Granite
• Quartz
• Epoxy Walls
• Vinyl Walls
• Laminate Wall Panels
• PVC Composite Panels
• Solid Surface
Different Types Of Shower Walls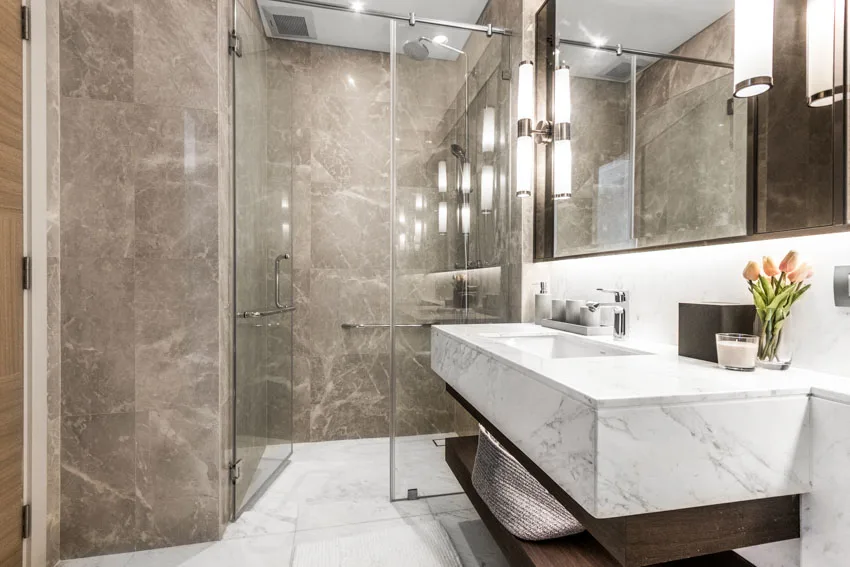 Here are the most popular materials used for shower walls and their advantages and disadvantages.
Acrylic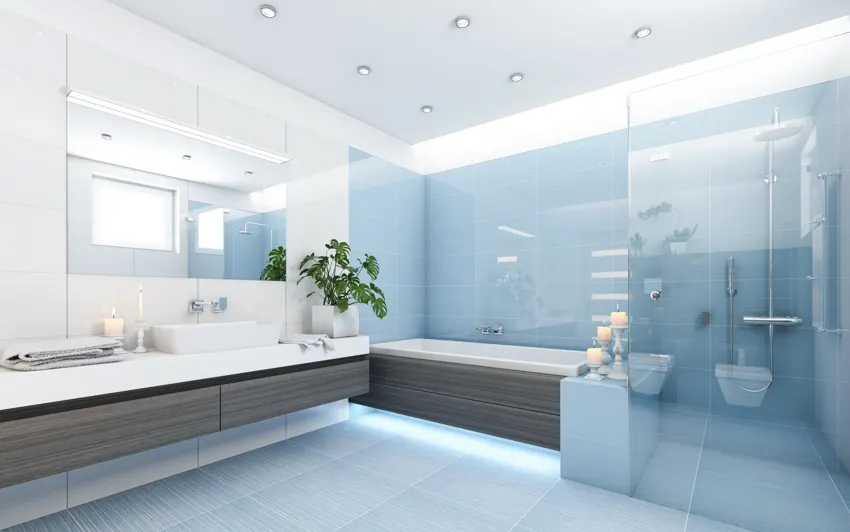 Acrylic shower walls resemble but outperform the functionality and quality of tiles. You will not have to worry about moisture or mold if you pick a large and smooth acrylic panel that exactly fits your shower wall. If you use separate acrylic pieces, you may circumvent future issues by applying a reliable and watertight sealer at the joints of the panels.
Furthermore, acrylic shower walls are extremely durable, withstanding cracks, stains, scuffs, scratches, dents, and chipping. They are also inexpensive and quick to clean, making them ideal for homeowners who want low-maintenance but attractively simplistic shower walls.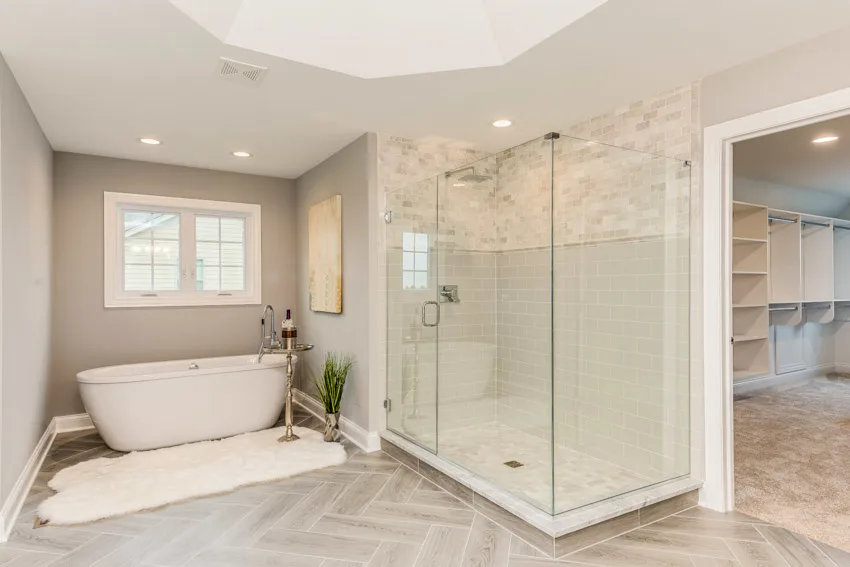 If you are not considering glass tiles, acrylic shower walls would be an excellent alternative as they are not as slippery or as pricey as glass. Indeed, acrylic is one of the most modern bathroom renovation choices, particularly for shower walls.
Acrylic materials eliminate the need for ceramic wall tile on shower and tub walls. Aside from that, acrylic shower walls are easy to install and more functional because you can add soap containers as well as steel shelving for shampoo and other bathroom essentials.
Acrylic shower panels are available in a variety of colors and shapes. Shower panels with the look of stained glass are available as well. And fortunately, acrylic wall panels that meet your budget are simple to find.
In addition, acrylic shower wall panels can be ordered in bespoke sizes to fit custom shower and tub installations. You are not confined to predetermined sizes as you are with some shower wall panels.
Installing acrylic shower walls can be a straightforward do-it-yourself project. It is not tough nor complicated if you enjoy making your own bathroom repairs and have the correct skills. All you need to do is make sure you are using the proper adhesives and tools.
Incorporating acrylic panels on your shower walls will give you a gorgeous-looking bathroom that is also simple to maintain, whether you are arranging a full bathroom remodel or are just sick of regularly scrubbing tub and shower wall tile.
One of the more popular manufacturers of acrylic walls is Corian, a brand name created by Dupont. You can read more about the pros and cons of Corian shower walls here.

Fiberglass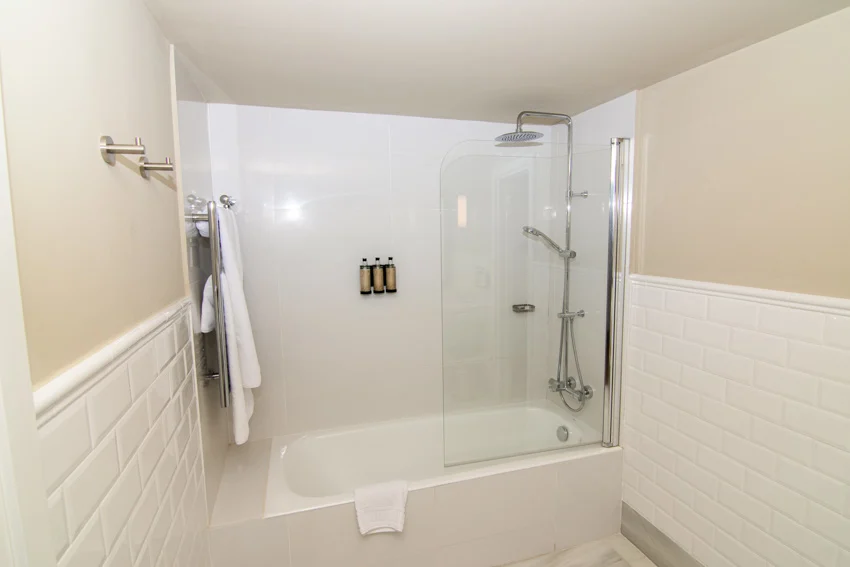 Fiberglass shower walls are more durable than glass tiles, and they are frequently available in large sheets that are ready to be fitted in your bathroom. They are also thicker, soundproof, and less expensive than glass tiles, while still keeping great water resistance.
Truly, fiberglass is among the most durable materials in this list of shower wall types. It is not fragile like glass and is not susceptible to cracking, mold, and mildew like porcelain, mosaic, and ceramic tiles. Apart from that, fiberglass can minimize the sound of running water outside your bathroom.
Furthermore, some people may consider ceramic or porcelain tiles to be labor-intensive because they require cutting and measuring before installation. Therefore, if you prefer a one-slab installation similar to acrylic but less expensive than glass, fiberglass would be an incredible option.
However, homeowners should be aware that fiberglass does not firmly seal with the surrounding ceiling and walls. Aside from that. fiberglass shower walls are extremely bulky and easily scratched too, thus they are best suited to homeowners who are prepared to replace them when necessary.
Glass Tiles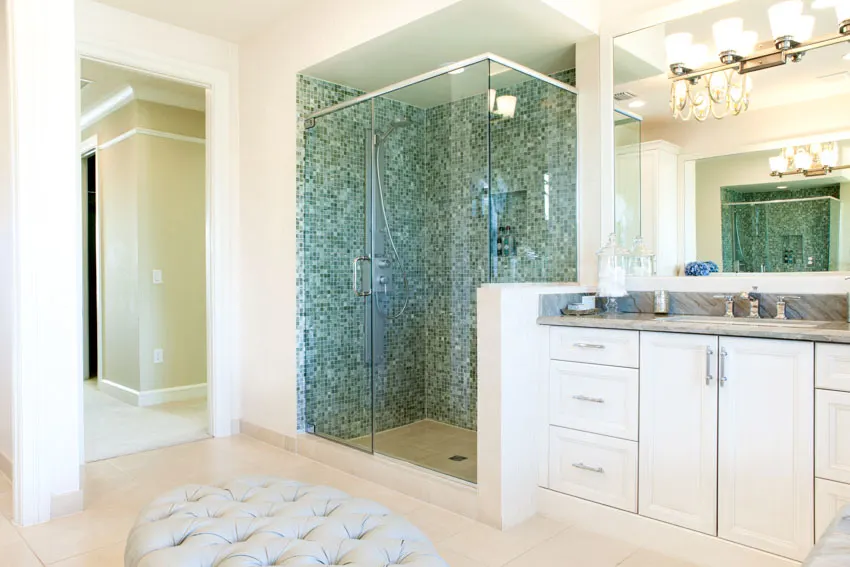 Glass tiles are much more attractive than acrylic panels for shower walls. They are waterproof and quick to keep clean, but they are more pricey than acrylic panels and must be installed by an expert. Glass tiles are ideal for homeowners that prefer clean, high-quality visuals as well as low-maintenance shower walls.
If you want a hotel-style shower, you can go for glass tiles. You have the option of going bold and transparent or sophisticated with glass prints as well as customized designs. Glass tiles have the advantage of being very convenient to wash and wipe. Aside from that, it reflects light, increasing the brightness of your bathroom.
Because glass tiles are reflective, they provide the appearance of increased width, making the shower appear larger than it actually is. Unfortunately, there are some drawbacks. It is not, for example, a smart choice for flooring for households with children or the elderly since it can be very slippery when wet. It is also highly expensive and difficult to install.
Glass Surround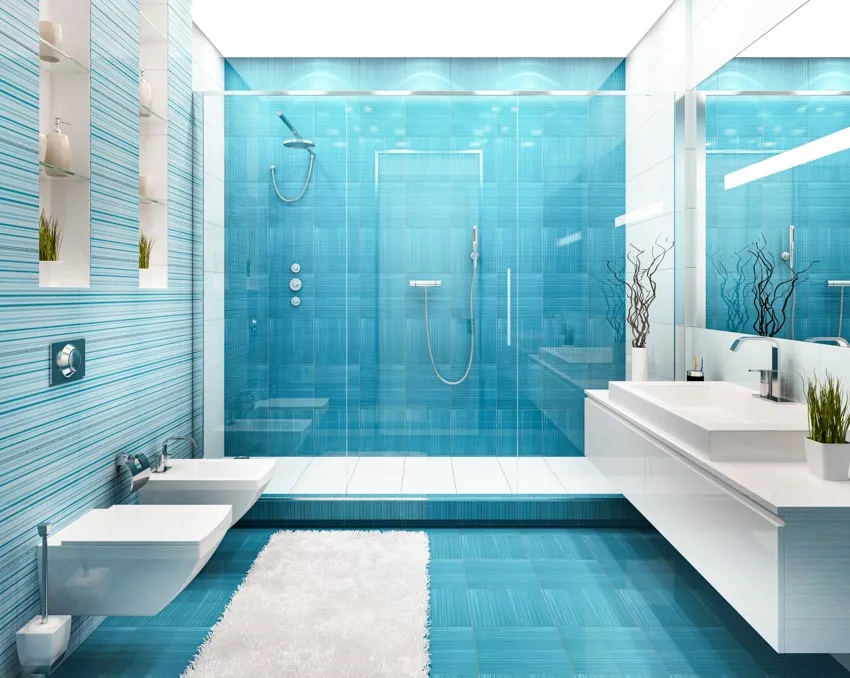 Glass surrounds can either be framed or frameless. Framed glass surround is the most common way to enclose a walk-in shower space. Builders begin by using lightweight tempered glass. They build the surround with a metal framework, seals, and sweeps – the metal framework provides the construction stability.
You can select a minimal metal frame that blends into the background. Other homeowners, on the other hand, prefer to add interest to their shower space by constructing a striking frame. This might highlight the geometry of the glass surround, which is appealing in modern bathrooms. Frames are available in silver, gold, nickel, chrome, and bronze finishes.
A frameless glass surround, on the other hand, is a more luxurious alternative. Builders commence with heavy-duty tempered glass for this application. To keep the structure intact, they usually employ a system of discrete hardware, including unique pivots for the door. Because there is no metal framework to provide support to the glass surround, the heavy-duty glass would be required.
The type of glass you choose is the pivotal factor you must make with frameless glass surrounds. Due to the inclusion of iron, conventional tempered glass does have a faint greenish tinge. Low-iron tempered glass, often known as high-definition glass, would be extremely clear.
Ceramic Tiles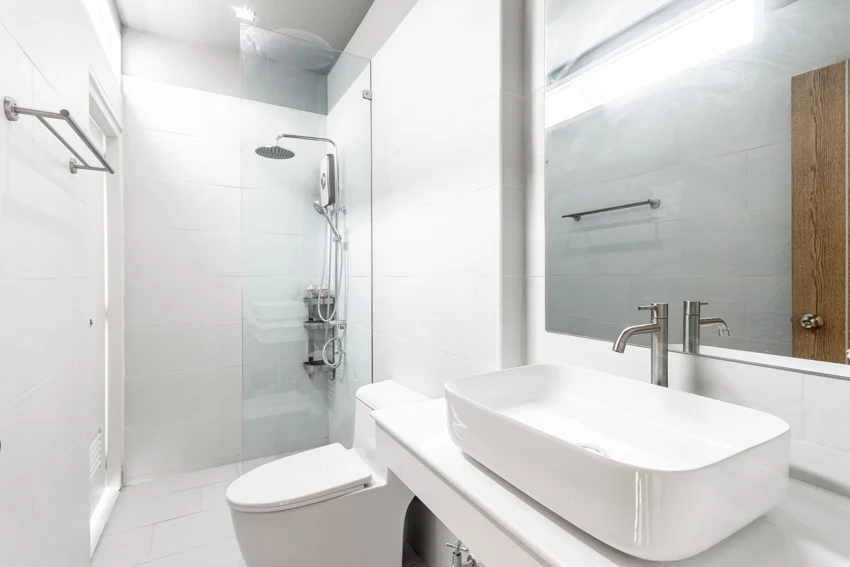 You can always opt for ceramic materials if you are on a low budget but still want a shower wall that is available in a wide range of styles and colors. Plus, because most toilets, sinks, and even floor tiles are now ceramic, you may have all of the pieces in your shower room coordinate with one another.
Ceramic tile shower walls are ideal for those who enjoy do-it-yourself projects. Ceramic tiles of any style, texture, or size can be obtained swiftly and installed by yourself. Ceramic shower tiles add refinement to any bathroom, and they are very ideal if you want natural-looking stones at a low cost.
Aside from that, ceramic tiles are water-resistant. You should be aware, though, that mold and mildew might gradually form on them. Ceramic shower walls, on the other hand, can endure severe cleaning, hence you will not have to worry about mold growth in the future.
Moreover, ceramic is noted for its extended lifespan and ease of cleaning. However, it must be cleaned on a regular basis. It can still be slippery, but this is dependent on the design and texture you select. Nevertheless, it is a long-lasting and watertight shower wall option.
Porcelain Tiles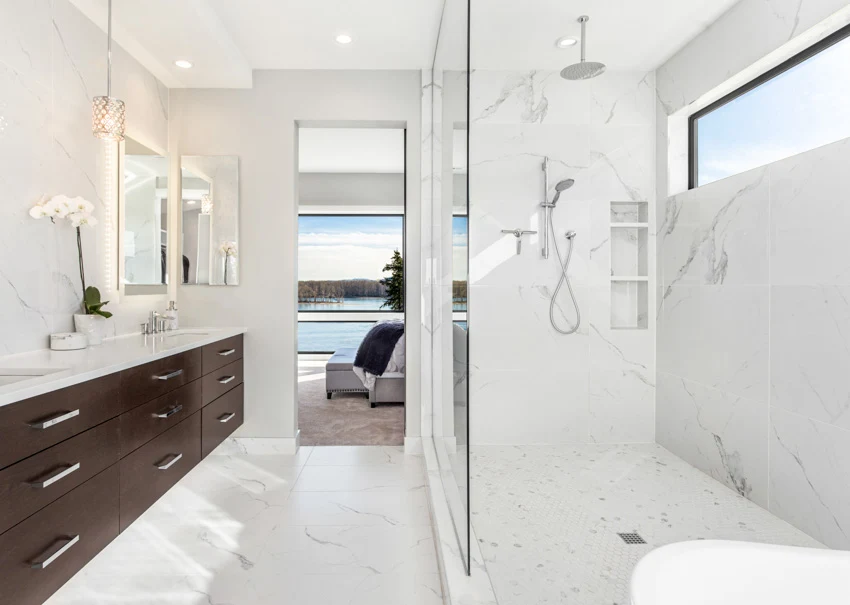 Porcelain shower walls give your bathroom a classic style without the high cost of natural stone walls. They are regarded as a higher-end variant of ceramic, and notwithstanding their exquisite appearance, they give exceptional durability and moisture resistance.
Porcelain tiles are in a class of their own . Practically waterproof , they are classed as vitreous , mean- ing they possess a moisture absorp- tion rate of 0.5 percent or less with many tiles coming in at around 0.2 or 0.3 percent. – Tile Your World, John P. Bridge
Indeed, porcelain types of shower walls are ideal for homeowners who want a timeless bathroom aesthetic and a shower wall that is readily repairable. Furthermore, it resembles ceramic tiles, but porcelain is more durable and impermeable, making it more pricey than ceramic.
Although porcelain tiles are easy to clean, the seams between them due to the grout make them susceptible to mold and mildew accumulation. However, with the variety of styles and colors available, as well as its outstanding value for money, durability, and lifespan, all may be compensated.
The disadvantage of porcelain is that it becomes slippery when wet, although this is easily remedied by texturing it. Plus, porcelain tiles, like ceramic tiles, are susceptible to chipping and fracturing, but the good news is that they can readily be fixed by installing a new one.
Stone Tiles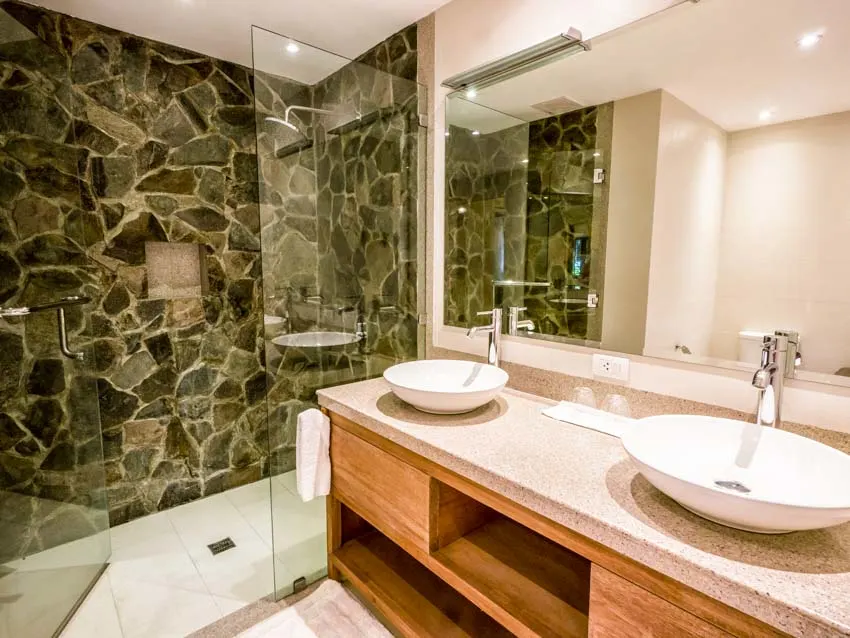 Natural stone shower walls are widely sought-after because they add an attractive, rich aspect to any bathroom. Granite and quartz are examples of long-lasting stones that come in a variety of forms. Stone types of shower walls are ideal for those who love high-end materials and are willing to invest in them.
Stone tiles are more pricey than acrylic and fiberglass, but if you are looking for a classy yet traditional look, use stone tiles. However, because they are tiles, they are put one at a time. In contrast to acrylic and ceramic tiles, the stones that are normally utilized have irregular sizes, which gives them a more distinctive feel.
However, you can expect to spend a significant amount of money on supplies and installation, but this should be worth it when you consider the lifespan and aesthetic of genuine stone. When picking natural stone for your shower wall, be sure that your shower area can support the weight of the stone.
Its disadvantage is that it is porous, necessitating sealant from time to time in order to last. Water and soap buildup can shorten its lifespan, which is why it must be sealed periodically.
Granite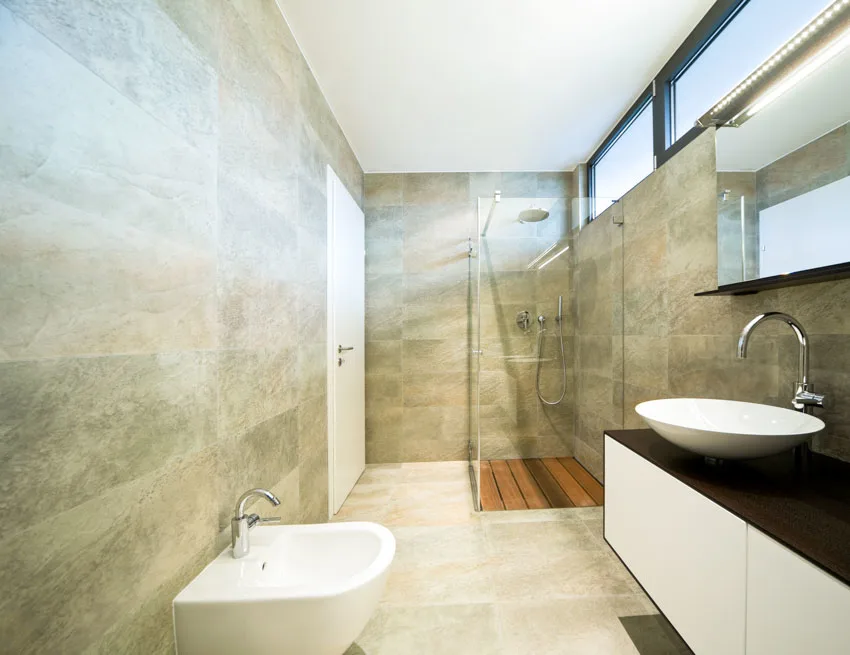 Granite has grown in popularity as a material for flooring, countertops, and shower walls as well. It is adaptable to a wide range of interior styles, from classic to rustic to modern.
It is regarded as one of the most durable stone materials for shower walls available. It, as with other natural stones, can be polished from matte to glossy. See more granite shower wall designs here.

Since granite it is crack-, wear-, and stain-resistant, it is an excellent selection for high-traffic areas. It will require sealing, but this is normally done every five years. It comes in a variety of hues from which to select.
Quartz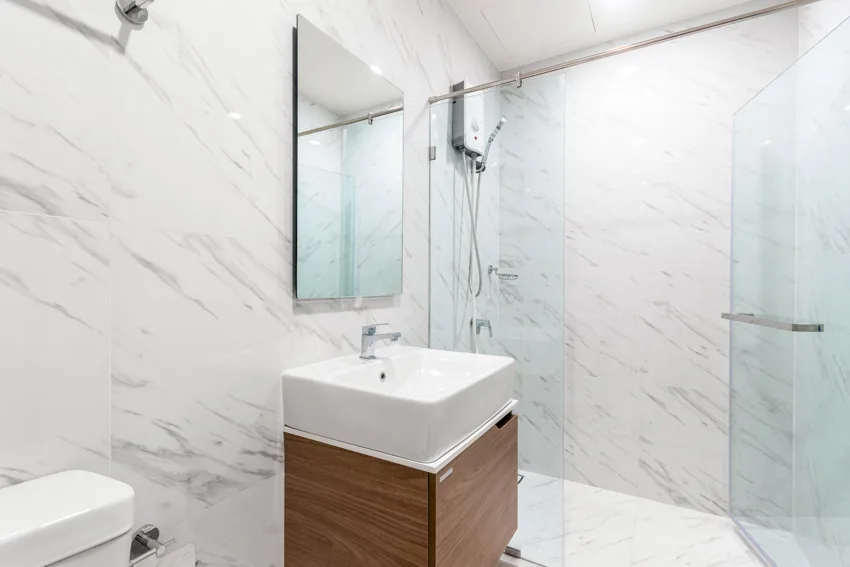 Quartz is a man-made material made up of 93% natural quartz and 7% resin and pigment. Because it is an engineered product, it can be placed to resemble natural stones such as granite or marble, giving your shower area a rustic appearance.
Quartz may add a trendy touch to your shower walls while also lasting a lifetime. It is available in a variety of patterns, finishes, and colors. It can also have the appearance of marble, suede, or gravel and come in a variety of colors ranging from classic white to shades of red.
You can pick between a glossy and a matte finish. The veining of quartz shower walls might be fine or pronounced, but it can simply be non-existent. The non-porous surface of quartz shower wall slabs prevents bacteria and germs from adhering.
It is also water-resistant due to the structure of its surface. Quartz cannot be chipped or broken that easily. It will last you a lifetime if properly maintained. Lastly, quartz slabs are simple to keep and clean. Cleaning can be accomplished using only water and soap. For extensive cleaning, you may apply a glass cleaning solution on occasion.
Epoxy Walls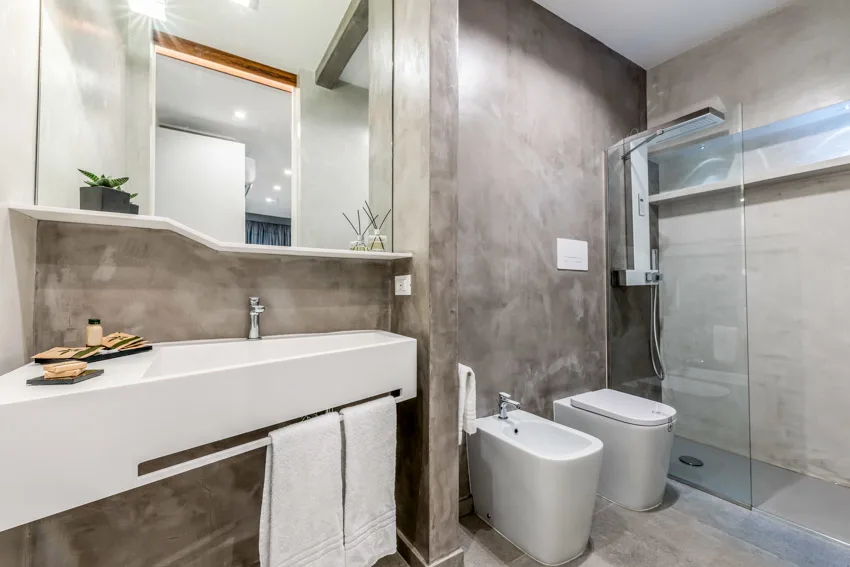 Epoxy shower walls, which are two-part materials that are composed of a resin as well as a hardening element, are a fashionable and easy-to-maintain way to refinish your shower surround.
There will not be any water damage since the epoxy shower walls are completely flawless and watertight. Furthermore, cleaning and upkeep will be a breeze. When maintained properly an epoxy resin shower surround can last for up to 30 years in a residential setting.

Using epoxy is among the most unique and high-end methods of completing a wall without breaking the bank. Epoxy types of shower walls are a speedier way to transform your existing shower walls into pristine and waterproof surfaces.
Cultured marble shower walls is one of the ways resin is used. This process combines stone particles with polyester resin, fillers, catalyst and pigments to create a surface that resembles marble. It can be used to replicate granite and quartz surfaces as well.
Vinyl Walls
Vinyl shower walls may appear skeptical at first, but they provide enough water resistance and a wide range of design and color possibilities. You can use a mold-resistant primer before putting on the vinyl wall, but you will still have to keep your shower walls dry and water-free. Furthermore, you will need to polish the surface to which you will attach the vinyl shower walls.
Truly, vinyl types of shower walls last a long time when correctly laid. They are appropriate for homeowners who appreciate viewing attractive patterns on their shower walls.
Additionally, vinyl is a low-cost but attractive option. It may be installed directly on the walls, does not require grouting, and is thus mold- and mildew-resistant.
Laminate Wall Panels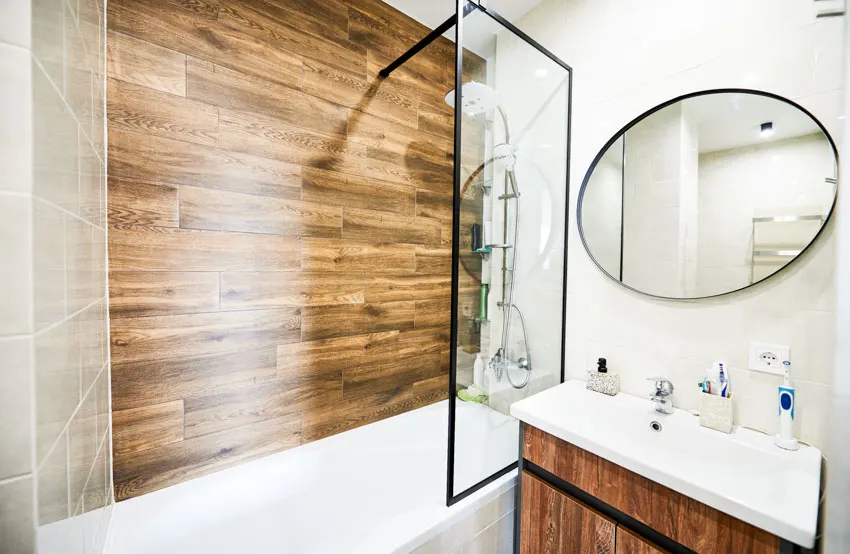 Shower walls composed of laminated wall paneling are ideal for homeowners who dislike single-sheet plastic walls but cannot afford ceramic panels. They are simple to cut and install, and they have the same appearance as marbles or stones with matte finishes. The only disadvantage is that they are a bit costlier than acrylic shower walls.
You can employ laminated wall panels in your shower area, but they cannot be installed directly on drywall. MDF (Medium-Density Fiberboard) boards must still be installed before the laminate sheets may be installed one by one. However, because it is robust, practical, and normally water-resistant, it remains a popular shower wall option.
PVC Composite Panels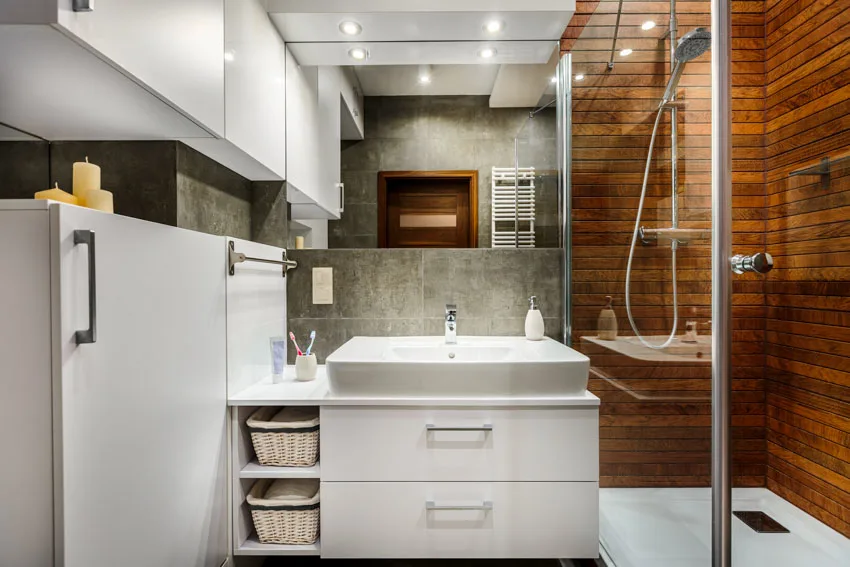 PVC shower wall composite panels are not only aesthetically pleasing but are also less costly than actual stone and tiles. PVC panels are impervious to impact, scratching, staining, mold, and mildew, which make them an ideal option for shower walls. Such panels are substantial but lightweight, inexpensive, and available in a variety of colors and artistic patterns.
Solid Surface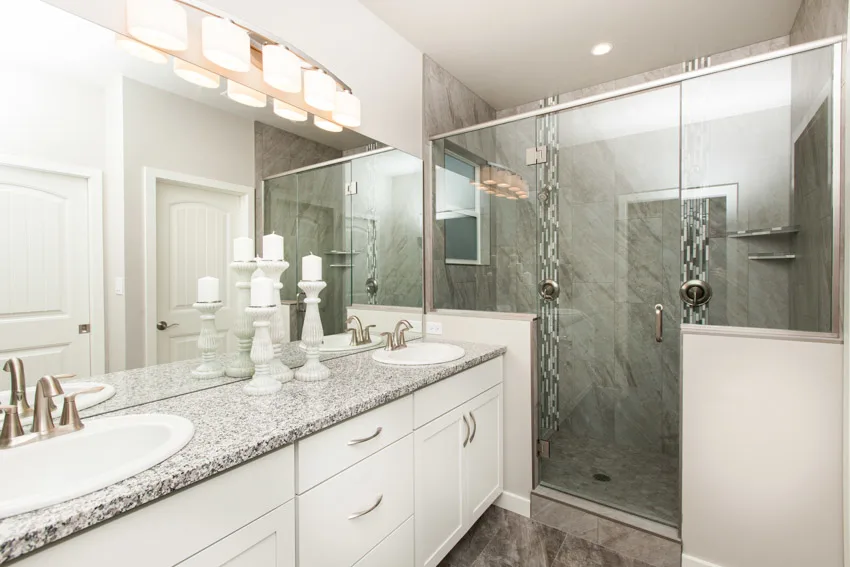 Solid surface shower walls are extremely simple to set up. They are available in ready-to-install panel kits, which makes them ideal for individuals who love performing DIY tasks or who have limited time to devote to premium-quality workmanship.
Moreover, solid surface types of shower walls are available in a myriad of pattern and style possibilities. However, some realtors advise homeowners that these walls can reduce the value of their homes. Although solid surface panels are simple to maintain and practical, they are difficult to replace if they become broken.
What Type Of Wall Tile is Best for Showers?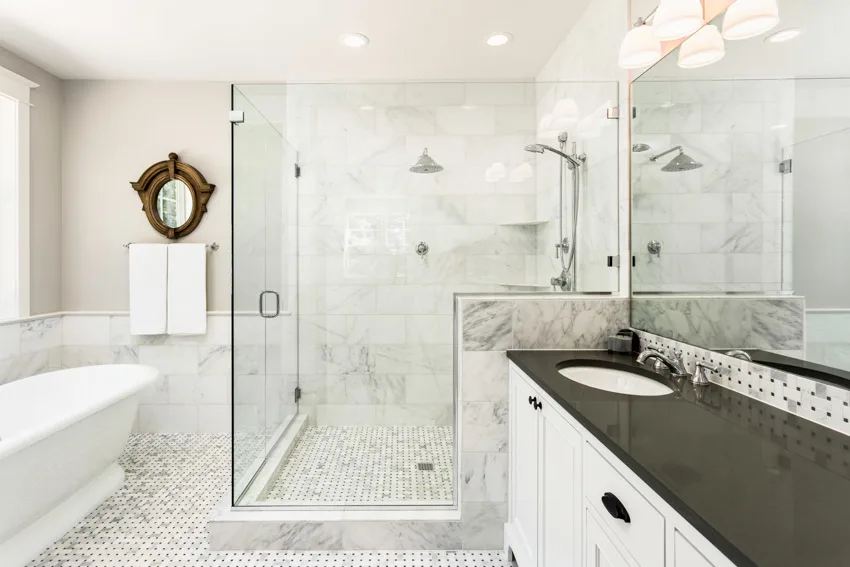 Because of their waterproof and non-slip properties, particularly when glazed properly, ceramic and porcelain types of shower walls would be the best option. Ceramic is a widely known choice for showers and tubs due to the glazing, which makes it exceptionally water-resistant and slip-resistant.
Porcelain is similar to ceramic in certain ways, although it is a definite upgrade from ceramic tile. Porcelain tile is thicker, tougher, and more water-resistant than ceramic tile. The reason why porcelain tile is higher-quality than ceramic is it is burned at a greater temperature, which provides it with even more advantages for shower walls.
What Is The Best Solid Surface For Showers?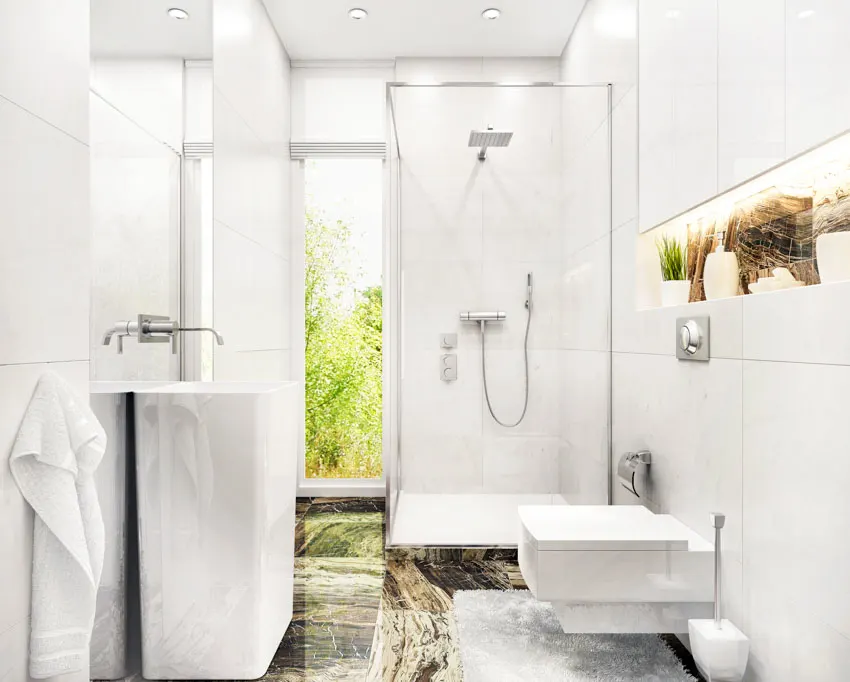 The best solid surface material for shower walls is acrylic. This is due to their longevity, beauty, and simplicity of maintenance. You might consider using them when remodeling your shower area.
Acrylic-based solid surfaces are extremely durable and resistant to cracks, scratches, and fractures. They are inexpensive and simple to clean, making them ideal for those who want low-maintenance and minimalist-style shower walls.
See more related content in our article about low maintenance shower walls on this page.