In this epoxy shower walls design guide you'll see what they are, pros and cons, type of paint & grout to use, lifespan, and if it's better than bathroom's with resin showers.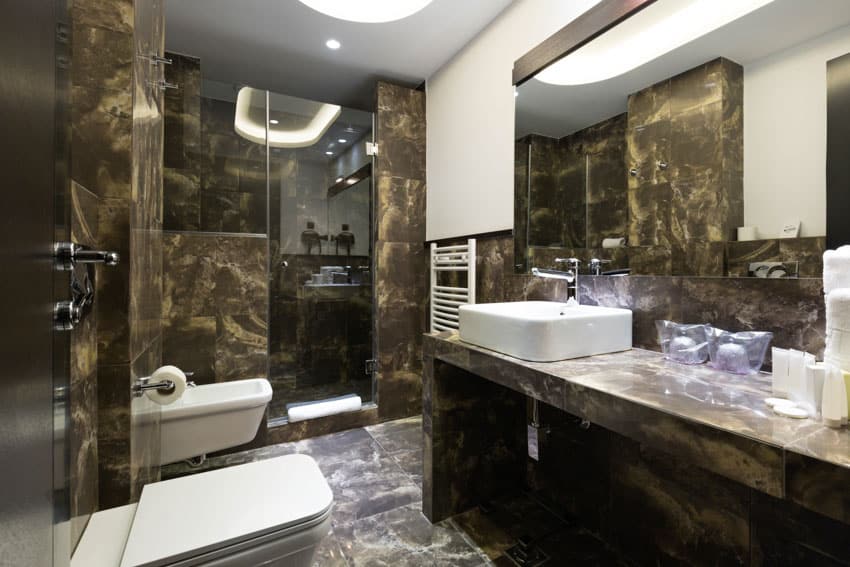 Are you hunting for ideas to spruce up your outdated shower? If you are a do-it-yourselfer or know a trustworthy contractor, epoxy shower walls could be just what you are looking for.
Epoxy is an excellent substance. It is indeed long-lasting, simple to work with, and looks genuinely incredible. With only minimal effort, your shower can look just like any luxurious natural stone.
Do you want your shower to have the look of Carrara marble? What about shattered jade? How about quartz with vivid blue details? If so, epoxy will be your ultimate solution.
Epoxy shower walls are lightweight, making them easy to install even by one person only. Overall, epoxy is an ideal material for home renovation projects.
What Are Epoxy Shower Walls?
See this stone coat epoxy paint at Amazon [sponsored link]
Epoxy is a two-part compound made up of a resin and a hardener. Epoxy shower walls are a stylish and low-maintenance solution to restore your bathtub or shower enclosure.
Because epoxy shower walls are entirely seamless and watertight, there will be no water damage. Plus, cleaning and maintenance will be very easy to perform.
Doing this construction project is one of the most innovative and high-end methods of finishing a wall without spending lots of money.
It has also been shown to be the most time-efficient technique to finish an accent wall or certain ceiling design types when compared to several other competitive offerings.
Epoxy shower walls are an even faster option to layer over your current shower walls, making them flawless and completely waterproof.
Epoxy Shower Walls Pros and Cons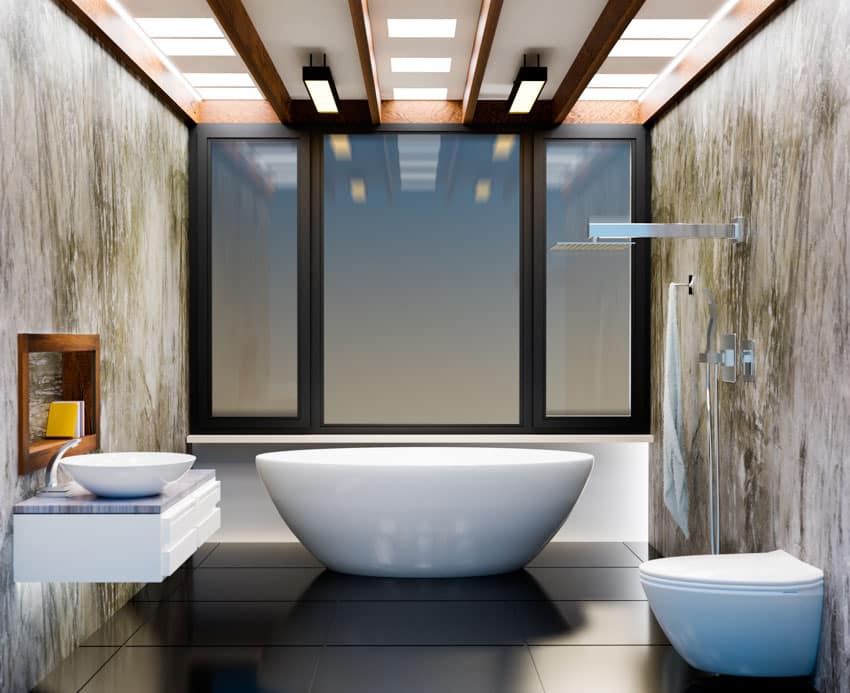 Here we share the advantages and disadvantages of epoxy shower walls.
Pros of Epoxy Shower Walls
Epoxy is a pretty simple material to work with: Any do-it-yourselfer can successfully do the project on their own. You will just need a few tools and at least a couple of days just to complete the drying process.
When comparing epoxy to tile, tile might take several weeks to correctly prepare, place, and grout.
It is not heavy: That might not sound like a major matter until you try carrying a massive stone slab. Or, until you start to move a handful of tiles! Heavier materials necessitate reinforcements in the shower to accommodate the weight, complicating the job.
Fortunately, epoxy is a lightweight material. No severely sore arms, back, and legs will be experienced after the project!
Epoxy is a very resilient and long-lasting material: You will not have to worry about the rapid deterioration with epoxy. Aside from that, it is resistant to heat, stains, and impacts.
It is extremely easy to clean and maintain: Have you ever managed to clean a tile shower before? How about a stone-made shower wall? It is very challenging and exhausting, right?
Well, luckily, not with epoxy shower walls, which are far easier to maintain. If you're looking for low maintenance shower walls, one made of epoxy is a good place to start.
Cons of Epoxy Shower Walls
Epoxy does necessitate extensive preparation: You cannot simply glue in epoxy panels and presume them to stay in place permanently.
To begin, you will need to remodel your shower. Hence, you will have to wait for a few weeks first before you can start your epoxy shower wall construction project.
When the floor is wet, bare epoxy becomes very slippery: You must not use bare epoxy for your shower flooring unless you have something to retain your grip.
High-quality types of epoxy shower walls, on the other hand, do not incur that very same disadvantage. Read more about different types of shower pans here.

Epoxy design and application may necessitate some training and precision: It is simple to replicate the look of actual stone using epoxy panels, but keep in mind that making mistakes during the installation process is unavoidable. Hence, it is a great idea to produce a test panel to ensure you can achieve your desired look.
Epoxy Paint for Shower Walls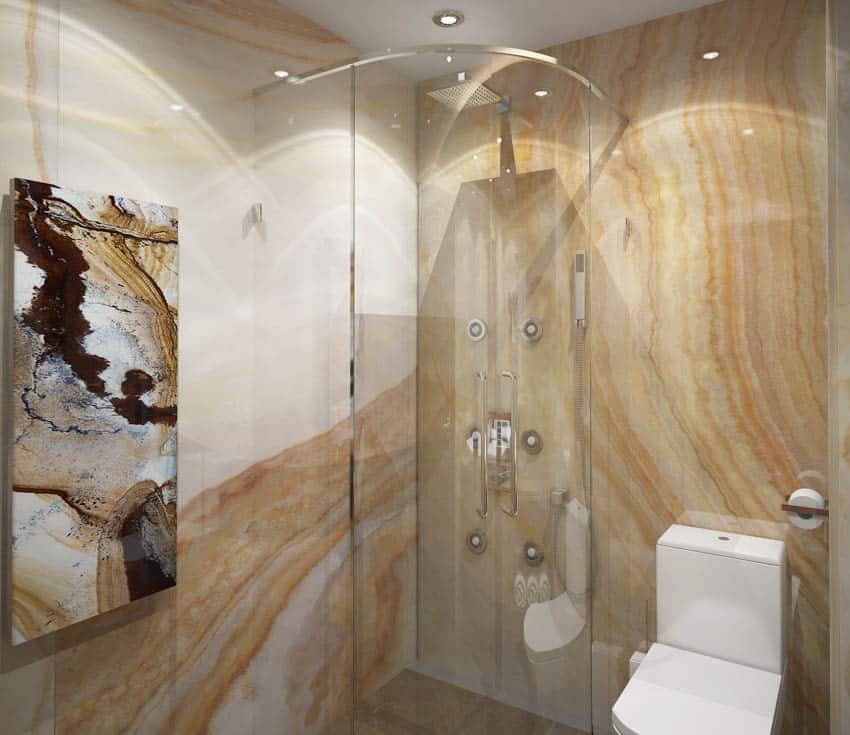 Epoxy paint that is primarily intended for application on walls is one of the strongest and most durable paint products in the marketplace nowadays.
Furthermore, epoxy paint can be used as a sealant on concrete walls and is commonly used on different types of garages and cellars for flooring.

Epoxy paint for walls is normally sold in a set that includes two bottles of paint. One component is a resin, while the other is a hardener or catalyst.
When the two components are combined, they undergo a chemical process and start to harden or cure quickly.
This chemical process is what gives epoxies their longevity and strength. Traditional paints for walls, on the other hand, dry through evaporation rather than a chemical reaction.
To be much more effective, epoxy wall painting necessitates thorough surface preparation. Oftentimes, the finished design falls a little short in flawlessness.
However, epoxy tub-and-tile paint could be a great alternative for an infrequently used bathroom or as a stop-gap fix in a bathroom where a more extensive makeover is anticipated in the future.
Epoxy paint for walls will adhere very firmly and will be extremely difficult to remove without destroying the shower elements.
If you do experience certain problems including cracked, bubbling, or peeling paint, you can restore those areas, but you will need to purchase a complete epoxy paint kit to do so.
This is due to the fact that epoxy paint, once made, should be used within a few hours. You cannot keep an old can of epoxy paint in the basement for future touch-ups.
Epoxy Grout For Shower Walls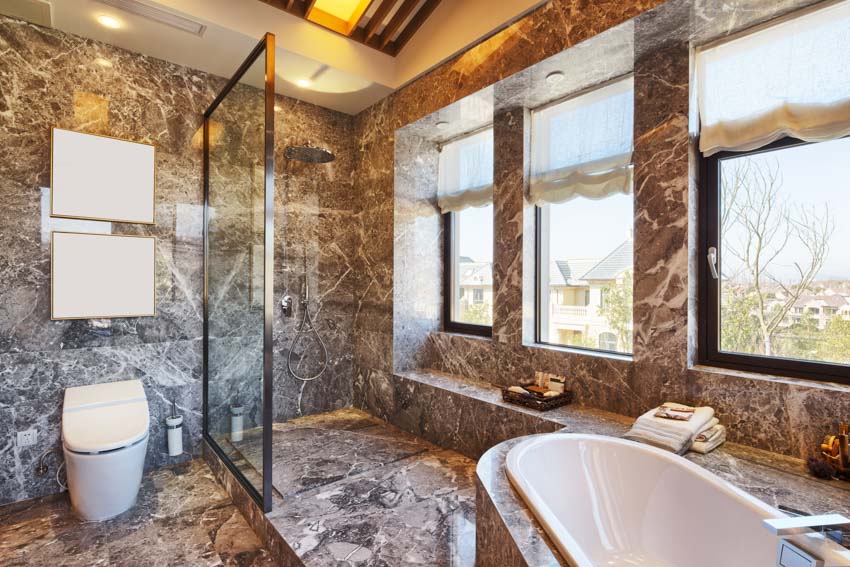 Epoxy grout for shower walls is created by combining epoxy resins with a filling powder. This renders it waterproof and nearly stain-resistant.
Because of its longevity, it can be an excellent option for backsplashes, flooring, and high-traffic locations.
Since epoxy grout does not crack, compress, or discolor, it will be perfect for application in damp locations, particularly shower areas. It is also extremely resistant to strong chemicals contained in cleaning products.
Because epoxy grout is non-porous, it does not have to be sealed, unlike typical cement grout.
However, the application of epoxy grout is more challenging than that of regular grout. It is more difficult to apply and hardens quickly, so it must be done in phases.
Epoxy panels must also be carefully cleaned before applying epoxy grout. Because epoxy can stain porous surfaces like natural stone, they should be sealed before grouting.
When opposed to the patterned cement look of ordinary grout, epoxy might have a slightly plastic appearance.
Any epoxy residual left on panels will have a glossy finish and must be properly cleaned soon after application. Because of its shine, epoxy grout would also be less gentle and draw attention to flaws in your walls.
How Long Does Epoxy Shower Walls Last?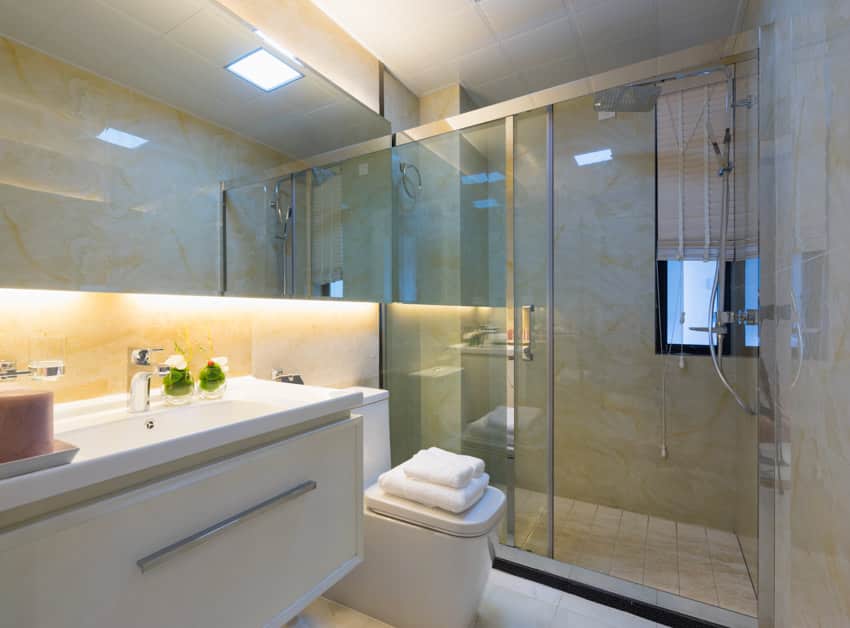 The durability and lifespan of an epoxy shower wall are determined by a variety of elements. One of the most crucial considerations is to have an expert installation performed since the expert installer will guarantee a warranty for the installation.
Once properly placed, an epoxy wall can survive up to 30 years in a home setting and around 5 to 7 years in a business setting.
To extend the lifespan of the epoxy, avoid using bleach, chemical, or any acid-based cleansers. The use of these products will shorten the life of the epoxy shower wall.
Can You Epoxy A Fiberglass Shower?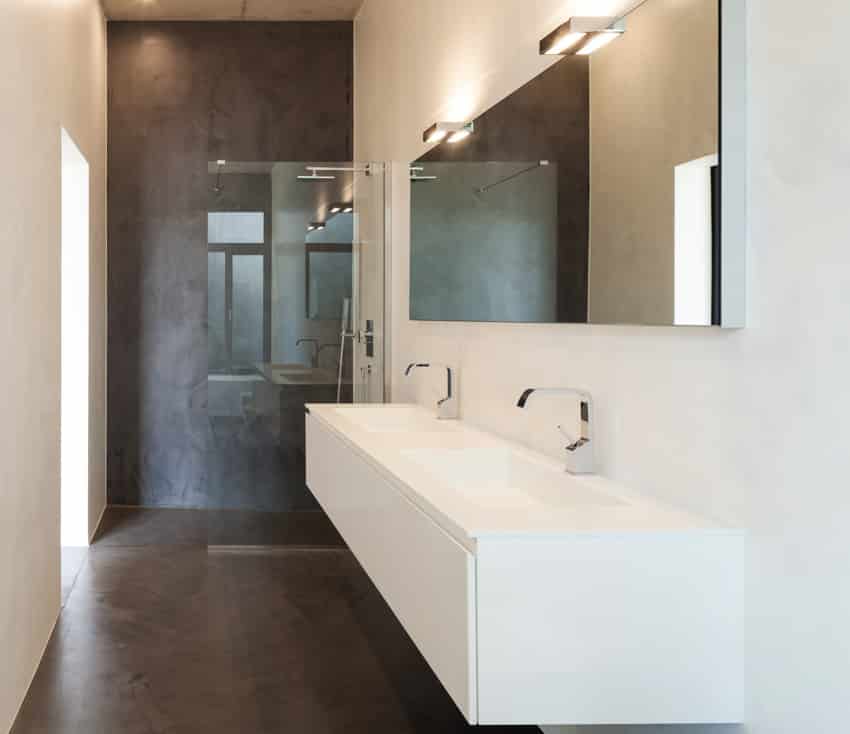 Yes. In fact, epoxy is frequently used to coat fiberglass bathroom fixtures. Just apply the compound to the fiberglass surfaces of your shower cubicle with an epoxy applicator. After treating all surfaces with an adequate coating, allow them to dry for 12 hours to 1 day.
Since it is more resistant to moisture and corrosion, epoxy is indeed suitable for fiberglass bathtubs and showers. The paint hardens very well after curing, thus it will turn out to be scratch-resistant.
Which Is Better: Epoxy Or Resin?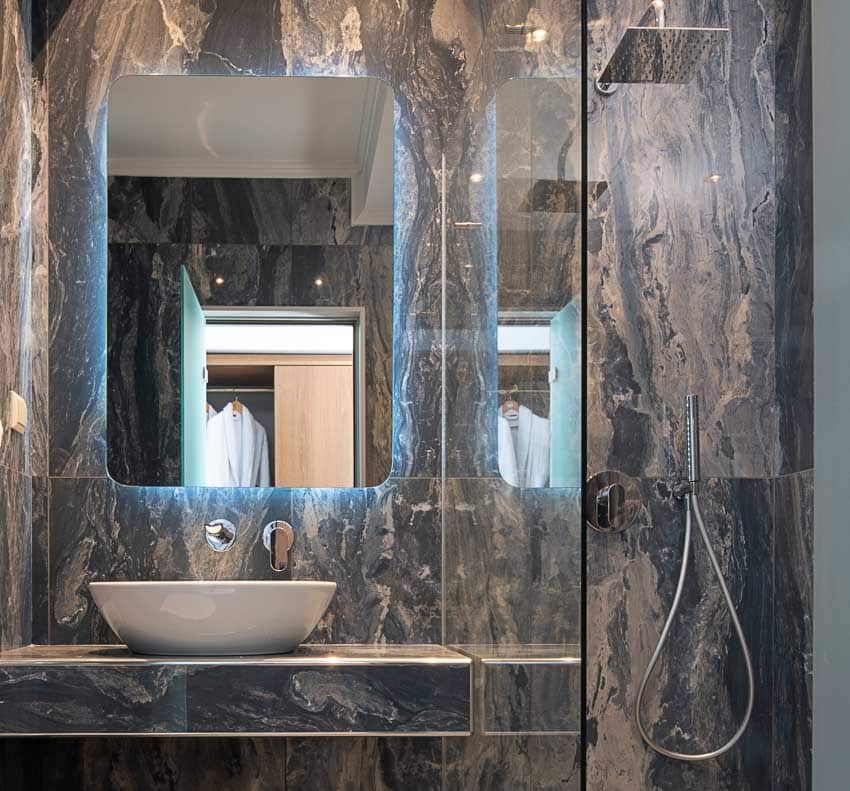 Both of these adhesives have their own strengths and shortcomings. However, allow me first to state their differences and similarities.
Epoxy and resin are both adhesives frequently utilized in building projects. They are also known as chemical adhesives and are used to connect plastics, glass, metals, and many more.
Epoxy adhesive is the most powerful of all kinds of adhesives. It is utilized to repair and make vehicles, planes, and sports tools. It is solvent-free and water-resistant.
Aside from its outstanding adhesive qualities, it is extremely robust and resistant to heat and chemicals. When it comes to attaching things securely, epoxy acts as a type of petroleum-based adhesive that significantly outperforms paste-style glues.
On the other hand, resin is a type of adhesive that comes in powder and liquid formulations. The powdered form of this adhesive is easily combined with water.
However, the liquid form is normally packed with a powdered catalyst that must be added to the solution before being used. Resin glues take much longer to cure, typically 8 to 10 hours.
Generally speaking, epoxy is a better adhesive compound than resin. Nevertheless, these would be my final words on this argument:
• Both epoxy and resin glue are capable of making strong connections, but epoxy is superior.
• Both forms of adhesive are suitable for domestic repairs and building tasks.
• Although both epoxy and resin solutions must be mixed before use, epoxy hardens quicker than resin.
• Epoxy adhesive is significantly more expensive than resin glue since it has exceptional bonding capabilities that outperform all other types of adhesives.
• Resin glues take 8 to 10 hours to set, whereas epoxy adhesive only takes 10 to 30 minutes.
• Because epoxy adhesive bonds plastics, metals, and wood better than resin glue, it is significantly more suitable for utilization in larger operations such as the construction of aircraft and boats.
See more related content like this page in our article about epoxy flooring on this page.