Take note of the best types of window shades with design features we've curated, including the different types of shades, plus how to measure and buy for your interior.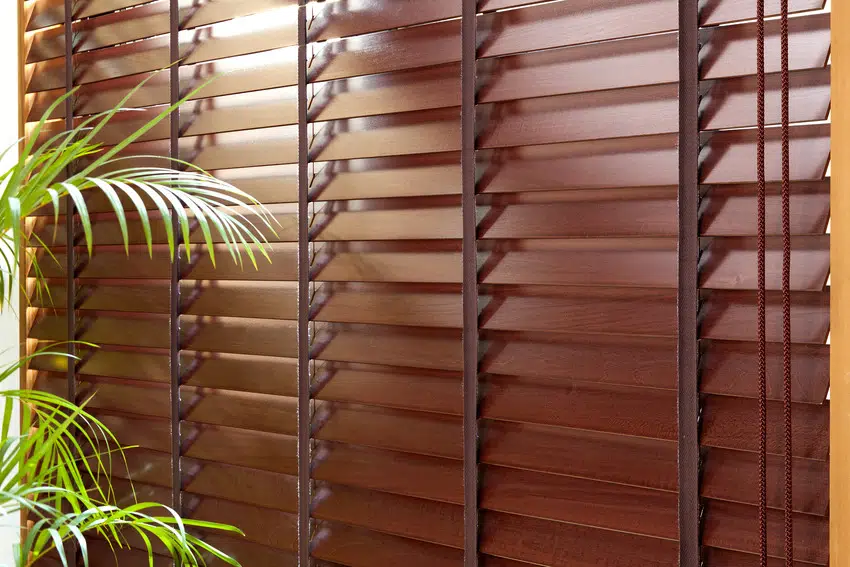 Window treatments and coverings are divided into three main categories. These are called hard, soft and layered window treatments.
Hard window treatments refer to coverings made of hard materials like wood, faux wood, composite wood, aluminum, or vinyl, including shades, blinds, and shutters.
Soft window treatments, on the other hand, mean anything made of soft fabrics such as various types of curtains, sheers, drapes, swags, valances, and draperies.
Meanwhile, the third category is a combination of both "hard" and "soft" called a layered window treatment.
There are several factors to consider when selecting window treatments and the effects they will have on your space: level of privacy, amount of light, temperature control, and decor.
In this article, we will guide you through choosing the right types of window shades that are currently popular and offer a wide range of materials from light-filtering or transparent to opaque material.
Window Shade Design Styles

Shades are functional and versatile and have a variety of colors from textured fabrics in solid colors and blends to geometric patterns and floral patterns.
Roller Shades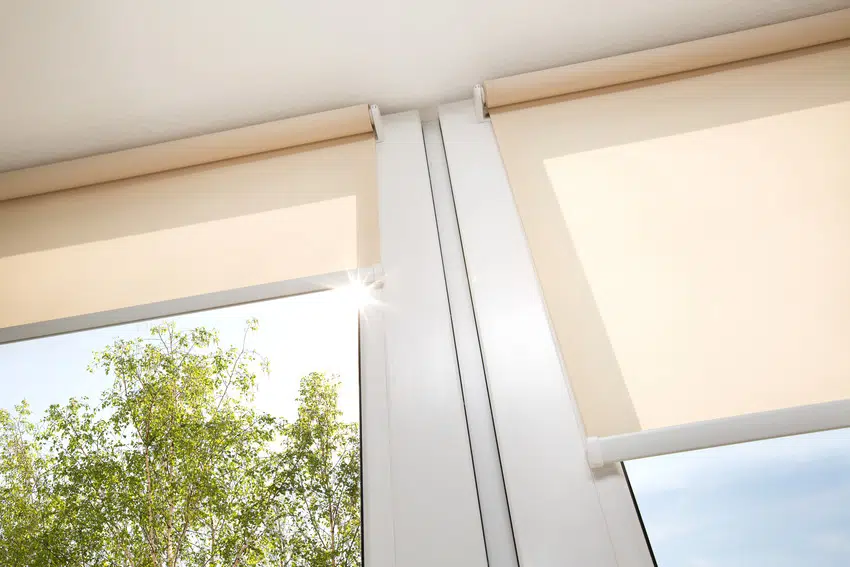 Roller shades, also called roll-up shades or roller blinds, are highly functional, practical, and affordable window covers which can complement almost any style of room.
They are a rectangular piece of fabric rolled up at the top of the window, attached to a wooden or metal tube, and mounted between two brackets.
Once unrolled or extended, it helps to block glare and provides privacy in your home.
Layered Shades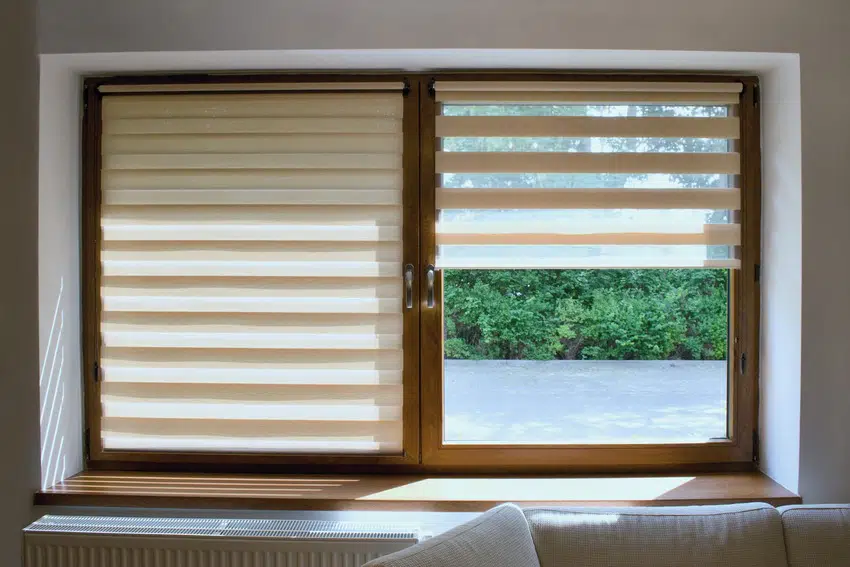 Layered shades actually have a similar design to a roller shade. However, what makes it unique and more stylish than the latter is it has two closely interconnected layers of fabric combined with tightly woven bands of sheer stripes and solid color fabrics.
These layered shades are available in light filtering or room-darkening fabrics and can be motorized. When open, the horizontal sheer fabric helps filters the light and protect the room from the sun's damaging UV rays, while the bold, wide stripes of color create a unique style of privacy and design.
In turn, these stripes control the amount of incoming light and the view through when partially raised or lowered.
Cellular Shades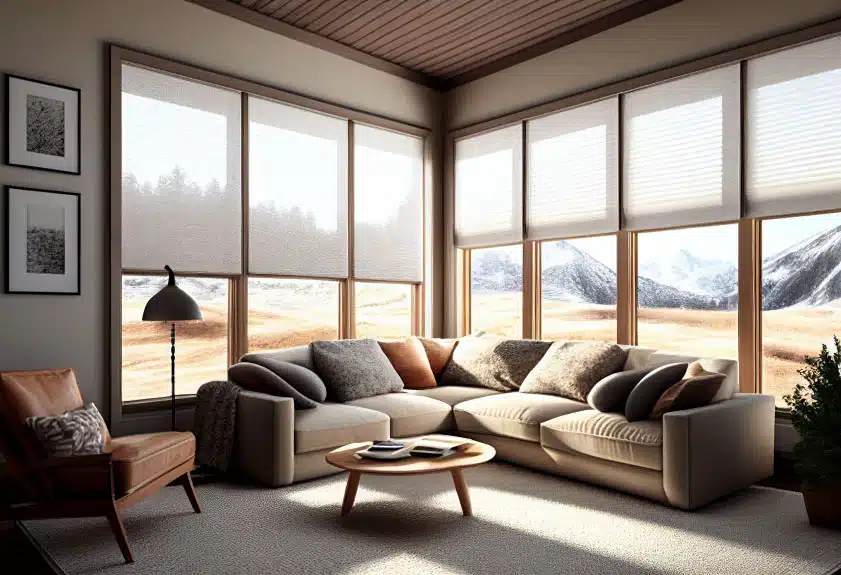 Cellular shades are the best in their ability to improve insulation since it features a unique structure of a honeycomb design that maximizes energy efficiency and regulate the temperature in your home. Moreover, the composition of cellular shades offers light-filtering properties and different levels of light control from light to blackout.
Meanwhile, the honeycomb cell shapes in the shades are designed to hold trapped air within these cells and create a barrier between the window surface and the room, keeping your interiors comfortable throughout every season. It allows natural sunlight in and keep the warmth inside during the winter and block harsh sunlight in the summer.
Unlike window blinds which are made of hard materials, cellular shades are constructed from a thin, folded soft paper or cloth-like materials; spun lace and bonded polyester are also used as well.
The larger pleat creates a casual elegance while a smaller pleat makes the room feels more structured and formal – use a 3/8 inch pleat on a smaller window.
These cellular shades come in single cell with 3/8 and ¾ inch cell size, a double cell with ¾ to 1 ½ inch cell size and triple cell.
Pleated Shades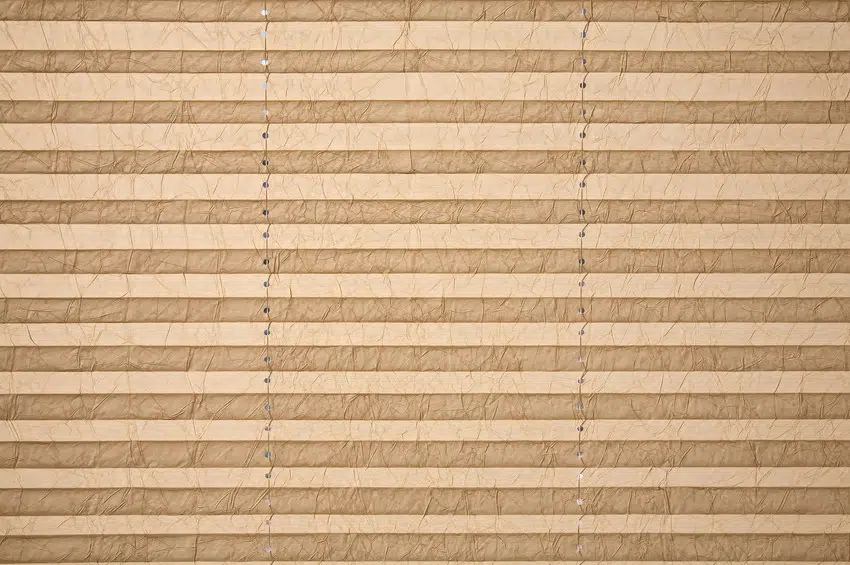 Pleated shades have a lot of things in common with cellular shades and it's easy to confuse the two. A pleated shade features a single layer of fabric pleated into their simple signature crisp fold pattern which gives a classic look and feel to your home.
Pleated shades are commonly available in 1 inch and 2 inches even spaced pleat sizes which give it structure and depth; and when raised, these pleated shades have minimal stacks which practically disappear.
Furthermore, they offer versatility for light control, ranging from a choice of transparent, light-filtering, or blackout material for maximum control.
Roman Shades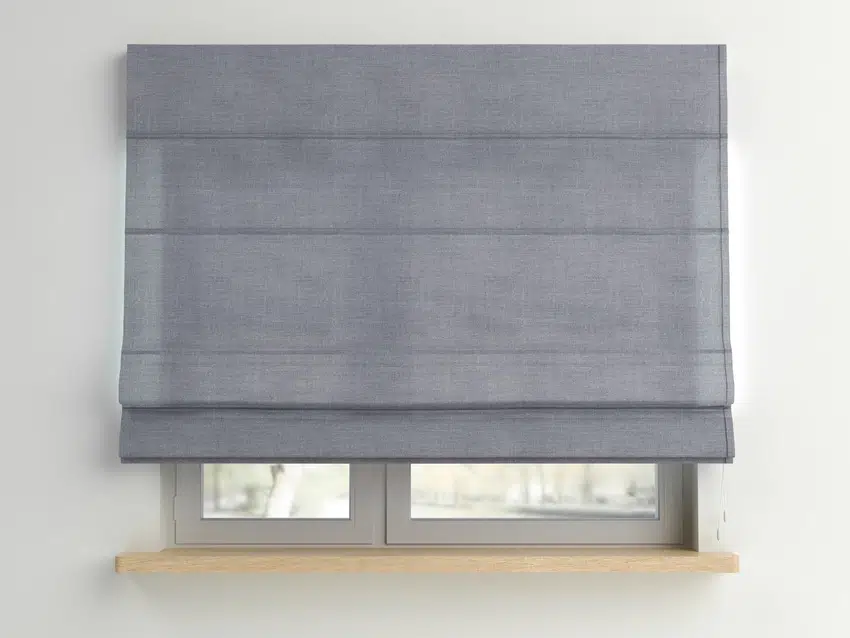 Roman shades draw their name from their classic appearance, dating back to the Roman-era Coliseum awnings. Roman shades are fabric that can be easily drawn up or down; it hangs flat when closed and folds horizontally into pleats when raised.
Like any other window treatments, Roman shades provide privacy, light control, and offer insulating qualities. Roman shades are usually opened with a cord mechanism, and can be used in stand-alone applications or layered with other window treatments.
Similarly, it can include a valance at the top of the window to finish the look and can work exceptionally well in bay windows.
Perhaps the most unique quality of Roman shades is their assortment of individual styles and the wide range of materials it can be made of, from wood to fabric, and natural materials such as bamboo.
Sheer Shades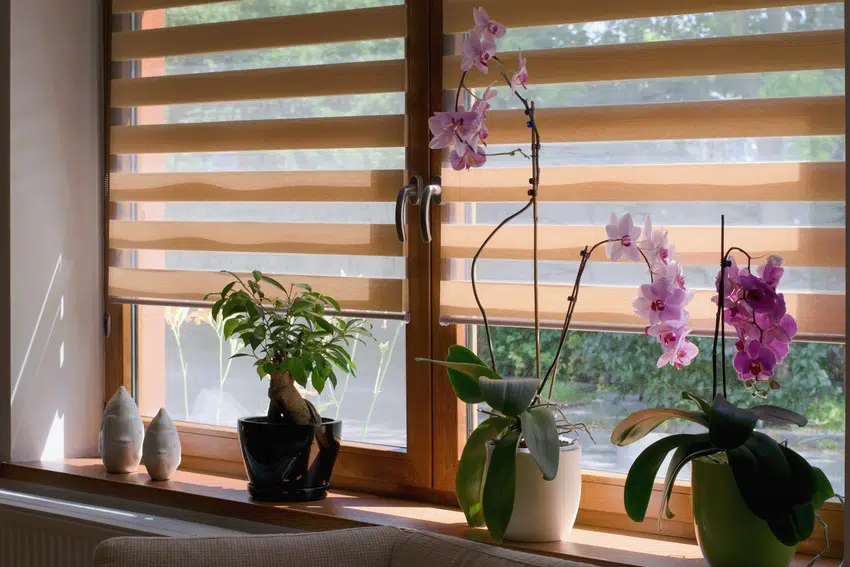 Sheer shades are a type of window covering which unite the aesthetic beauty of transparent curtains with the practicality of a traditional window shade. They fit in lightweight fabric sheets between panels of translucent fabric which creates a completely different look.
Sheer shades are typically known for their light control, privacy, and UV protection due to their construction which is a combination of blinds and shades.
Their inner soft shades are encased on the back and front by a layer of sheer fabric which works as a filter that diffuses and distributes the warm rays of sunlight that goes inside your home, without obstructing the outside view.
When the sheer shade is drawn and the plates are closed, it provides adequate privacy for any living space.
Woven Wood Shades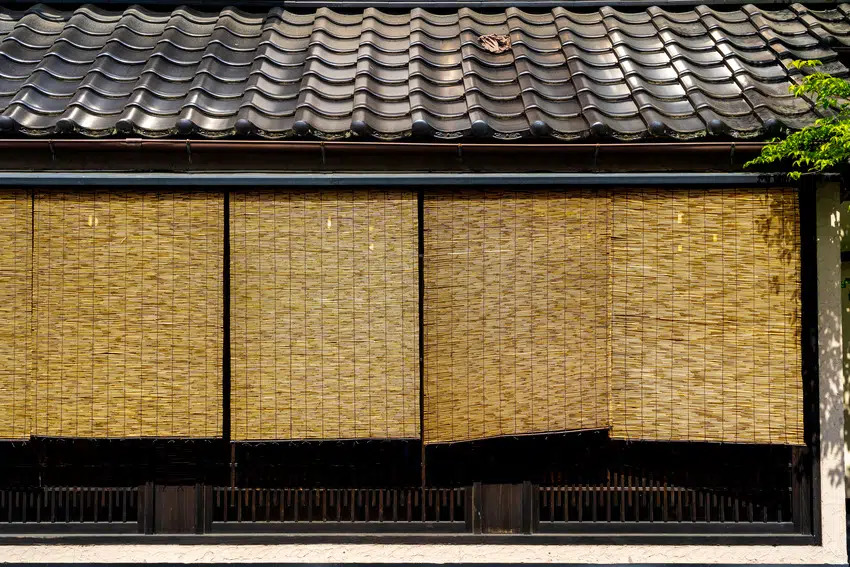 Woven wood shades are another unique window covering which offer complex textures, exotic reeds, grasses, woods, and sophisticated natural colors. They are made of wood and other natural elements that add immediate visual interest to any room's décor; and a great way to add a rich organic textured and elegant look to your home.
Woven wood shades allow you to bring the outdoors inside your house since they offer a relaxed, calming, and cozy feeling. These types of window shades combines perfectly with drapery panels on either side or can easily stand alone for a simple, natural look.
Meanwhile, liners are also available for enhanced privacy.
Tie-Up Shades
Also known as the stagecoach-style window treatment, the tie-up shade is basically fabric hanging flat from a rod. Instead of using a roller or cords, the shades are simply rolled manually to the preferred height and fastened with ribbons or cords.
Adjusting the shade requires rolling or unrolling it while tying or untying the ribbons every time which can be inconvenient at times. However, a notable feature of tie-up shades is they are excellent for showing off a large-scale pattern since so much of the fabric is visible.
Furthermore, the scallop look at the bottom adds a beautiful design element that gives many decorating styles glamorous, formal, or traditional looks.
Balloon Shades
Depending on the fabric chosen, balloon shades are window coverings that work well in certain design themes such as Tuscan, French country, Hollywood glamour, cottage, or a traditional design style. Typically, balloon shades are made from sheer or silky fabrics that have strings, ribbons, or cords running through rings on the back of the shade.
When pulled open, the shade's fabric drapes gracefully with its soft pleats and round curves, giving the window treatment a romantic, formal, and somewhat old-fashioned appearance. Balloon shades can also be lined with heavy material that blocks out all light.
Balloon shades are easy to install and are one of the most affordable forms of window treatment because they are designed with just a minimal amount of fabric. They also offer a high level of privacy, which is just perfect for kitchen and door windows.
When made in a heavier fabric, they are also great in bedrooms and bathroom windows or any room where a tapestry-style fabric matches their elegance.
Single Cell Shades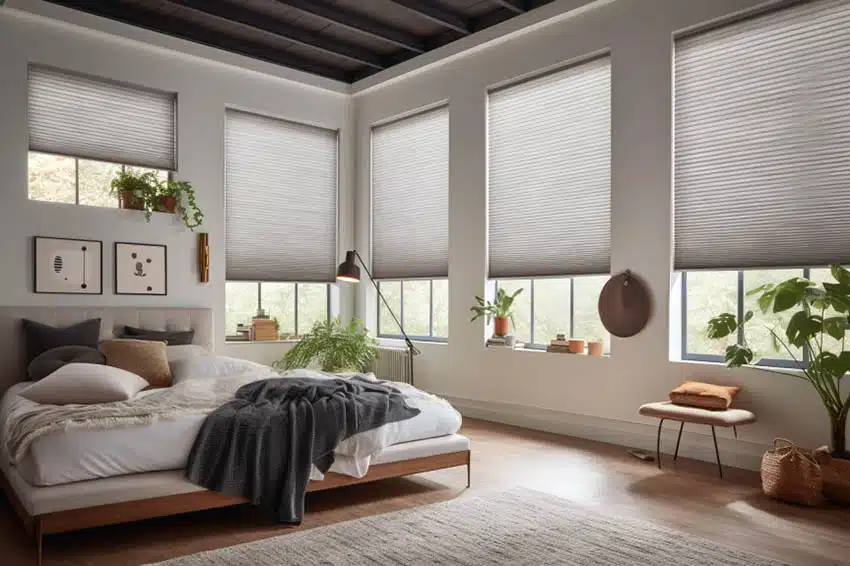 A single cell window shade has one row or layer of cells that stack on top of each other providing fewer horizontal clean rows, and a less busy look. Blackout single cell shades provide some of the best in light control and privacy, and cost less than double cell types of window shades.
The cell pockets created by the pleats help to insulate windows, block UV rays, and filter light, and have sound absorption properties, which makes them an excellent window treatment for energy and noise reduction efficiency.
Double Cell Shades
The design of a double cell shade is more intricate than that of a single-cell window shade. A double cell shade has intertwined, slightly offset rows of cells providing two layers of cells – one layer of cells closest to the room, and one layer of cells closest to the window.
Since double cell shades require more fabric to make, the price is higher than a single cell window shade. The additional layer of cells allows a double cell window shade to provide better insulating capacities and better noise reduction capabilities.
Moreover, double cell window shades work best in shallower or smaller windows.
Bamboo Shades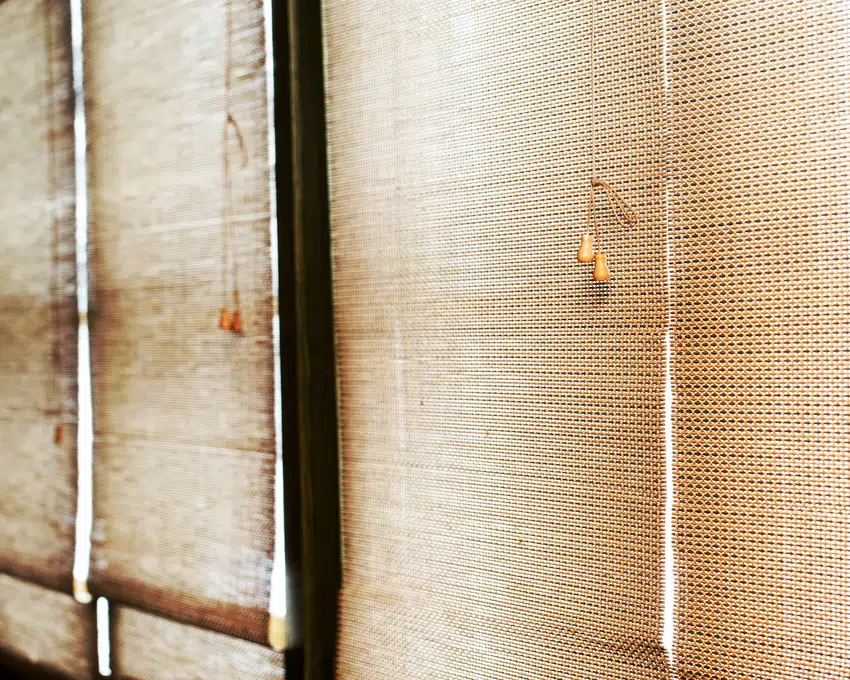 Bamboo is a healthy and vibrant plant that withstands nearly any environment. It is one of the most ecologically friendly types of window shades on the market today and has been seeing an increase in popularity due to its distinct "green" properties.
Though it seems to be a traditional decorating option, using bamboo as a window treatment should not be restricted to an Asian-themed décor since bamboo window shades are always stylish, ecologically sound, and not to mention versatile.
It can be paired off with cloth curtains to provide a layered and beautiful overall design effect. Bamboo shades also add warmth and texture while providing a high degree of light filtering options and come in a slatted functional form that provides near blackout quality.
Skylight Window Shades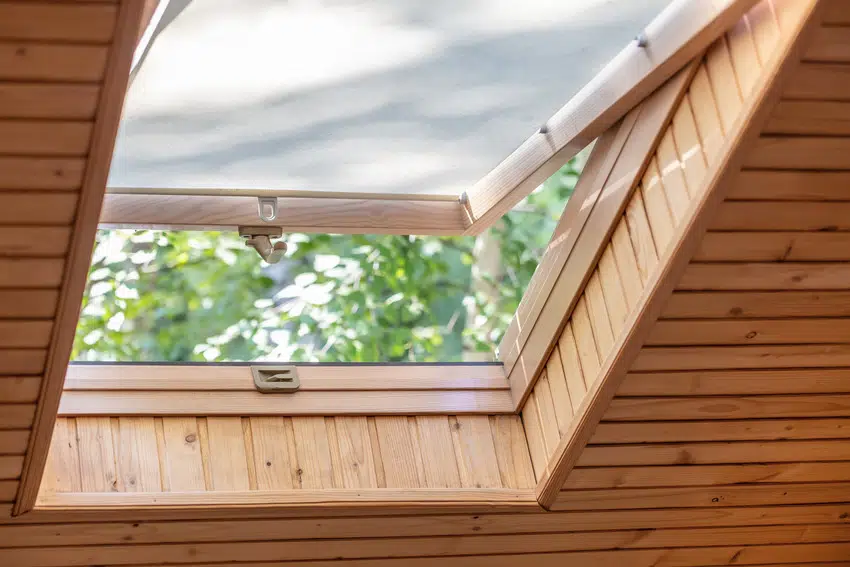 One main reason for having a window and skylights is to offer a unique way to bring and enjoy the refreshing natural light into your home. But because of its location, skylights can be a bit of a challenge especially in controlling direct glare, filter or block light and keep out the heat or cold as needed.
Skylight window shade can enhance the aesthetic appeal of your skylight window, and at the same time provide privacy and insulation. Moreover, it allows you to control the amount of natural light coming into the room.
When installing a skylight window shade, it is very important to consider factors like the direction the skylight is facing, its shape, and how/if your skylight opens.
Cordless Cellular Shades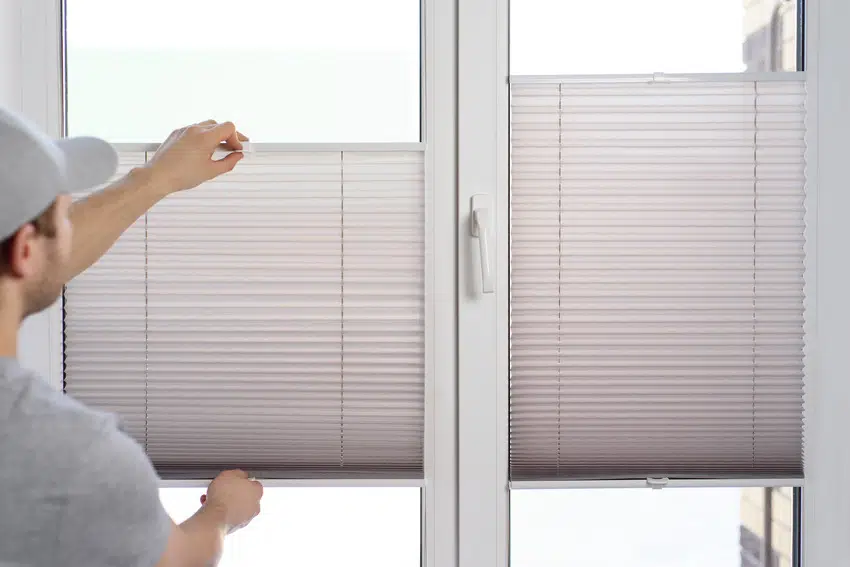 The biggest selling point for a cordless window shades system is the ease of operation and a clean, uncluttered look since there are no visible dangling operating cords which can cause a major risk to small children and pets.
Additionally, the cordless cellular window shade, like the name suggests, also has a cordless mechanism that allows you to raise and lower the cellular window shades evenly. These types are recommended for doors as well since they conserve space when raised and are available in many different sizes.
Remote Control Motorized Shades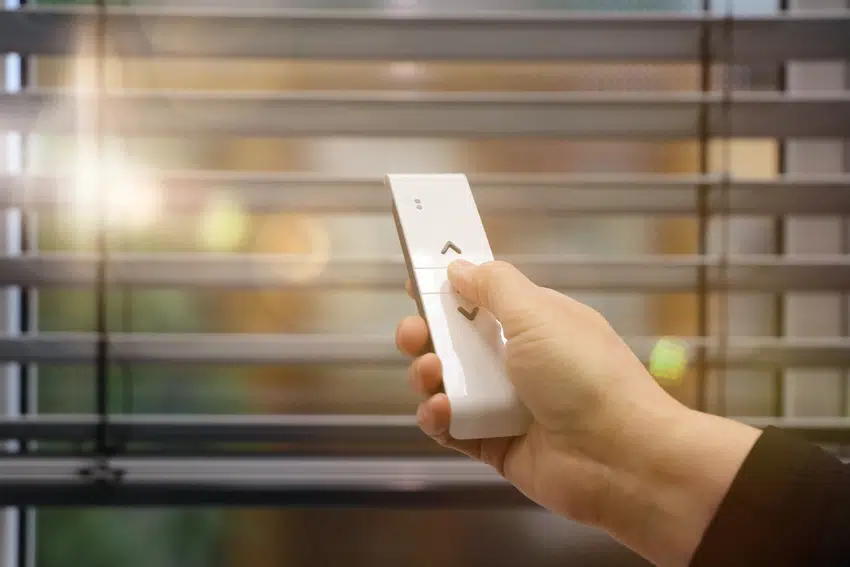 Motorized window treatments are trending nowadays since they are a convenient way to add a high-tech touch to any home. Remote control motorized shades for windows make raising or lowering window coverings simple as pressing a button and can even be integrated into your smart home system.
This integration between home automation and motorized window treatments enables the shades and drapes to move at the same time with other subsystems, like lighting, music, and heating and cooling equipment. What's more, they can be synchronized to start and stop in harmony and to line up perfectly across the window.
Remote control motorized shades for windows are just as effective at saving energy as they are at preserving your privacy; and an effective deterrent against burglars.
Privacy Shades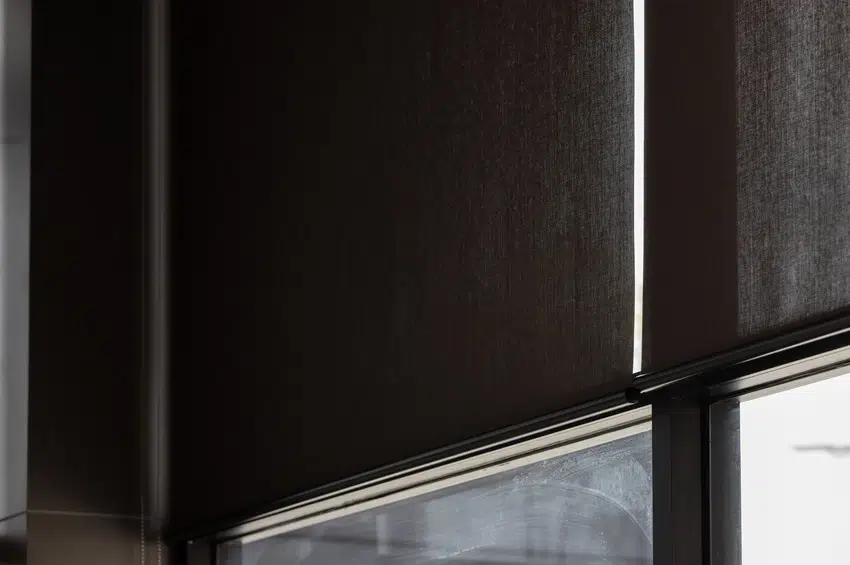 Privacy shades window treatments are opaque and non-transparent shades which prevent a view-through even when the rooms are lit from inside.
Made with translucent fabrics engineered to diffuse sunlight and dispersing natural light throughout your home, this helps reduce the need for artificial light as well.
Privacy shades made with semi-opaque and opaque fabrics are perfect for bedrooms, bathrooms, and rooms facing the street or a neighbor, keeping the inside of your home perfectly hidden since they completely block out sunlight and the view outside.

Traditional Blinds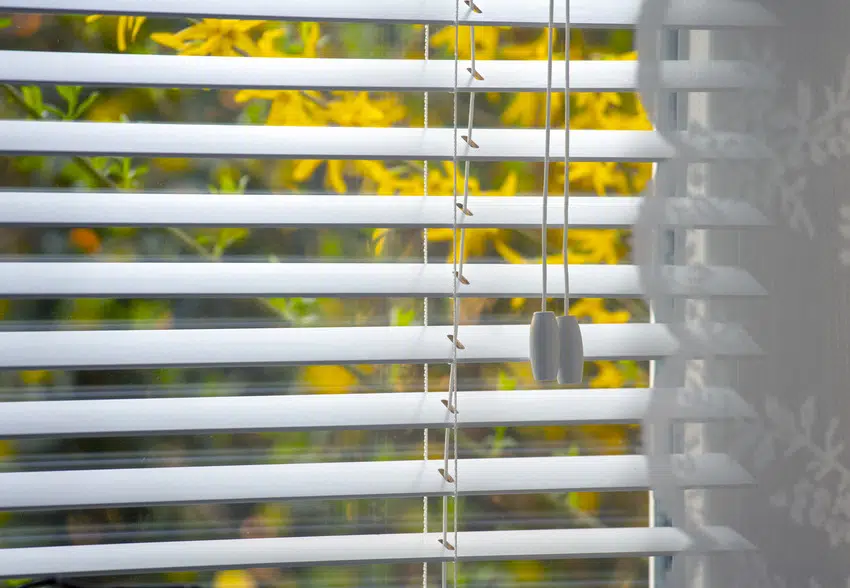 Traditional blinds are a type of window covering made up of long horizontal slats of different materials such as wood, plastic, or metal. These are held together by a lift cord that runs through the blind slats and allows the blind to be pulled up and stack tightly to the top.
They also use a thin woven corded "ladder" system which allows the slats to be suspended and using a rotating drum to which the woven corded ladder is attached, these horizontal blinds use and are manually maneuvered to be closed or open.
Currently, there are six known different types of traditional blinds: roller blinds, Roman blinds, pleated blinds, Venetian blinds, Shoji Japanese blinds, and vertical blinds.
How To Measure For Shades?
The standard window sizes for shades ranges from 36 to 72 inches, which is the measurement of a standard window length, while the standard width ranges from 24 to 60 inches.
Measuring for Inside-Mount Shades
Width: Measure the exact width of the inside edge of the window casing in the top, bottom, and middle. Make all measurements to the nearest 1/8th inch, rounding down for width if needed, and use the smallest measurement of the three as the width that you will order.
Height: Measure the exact height from the window sill to the bottom of the top casing in three places. Make all measurements to the nearest 1/8th inch, rounding up for height if needed, and use the lengthiest of the three measurements as the height that you will order.
Depth: It is very important to also measure the depth of the flat surface of your window's upper casing, since some inside-mount shades require specific depths to fit inside the window properly.
Measuring for Outside-Mount Shades
Width:

Measure the exact width from left to right of the window frame where you would like the shade to cover. Be sure to extend the measurement wide enough as much as three inches past both sides of the window for maximum privacy, and provide maximum light coverage.
Height:

Determine where you want to place the headrail and measure from there the height you would like the shades to be by measuring top to bottom, where you want the shades to hang down.
How to Measure for Shades Video
How To Buy Window Shades?
Since buying the right types of window shades can have lasting benefits for homeowners, here is a list of some important things to consider very carefully:
• Consider the current style of your home's interior and exterior design and make sure you consider the look of the types of window shades from your home because your window treatment will be one of the main accents of your home. Read more about types of windows here.
• Consider the most important aspect for you when it comes to choosing the right type of shades – its cost, style, energy efficiency, light blocking capabilities, and other features that are valuable to you.
• As you shop and compare, consider the long-term benefits and the variety of designs and colors.
• Consider privacy and security for each room in your house since some areas require higher levels of privacy and/or security. Consider how the type of shade can block harmful UV rays or how much natural light it allows to come in.
• Determine if you will be paying for installation or installing them yourself. If doing it yourself you may need some tools and in some case extra hardware.
• Consider safety issues such as dangling cords which can be a hazard for small children and pets at home.
Remember that buying window treatments such as shades can increase the value of your home and can save you money in the long run. Likewise, it is equally important to consider the comfort that your window treatment provides and the design appeal it gives to your home.
Are there any types of window shades or products we left out? Let us know your favorite choices for window treatments in the comment section. Read more about the different types of window blinds here.