Here we share our mudroom flooring ideas, including what to consider when choosing different types of mudroom floor materials and the best flooring choice for unheated mudrooms.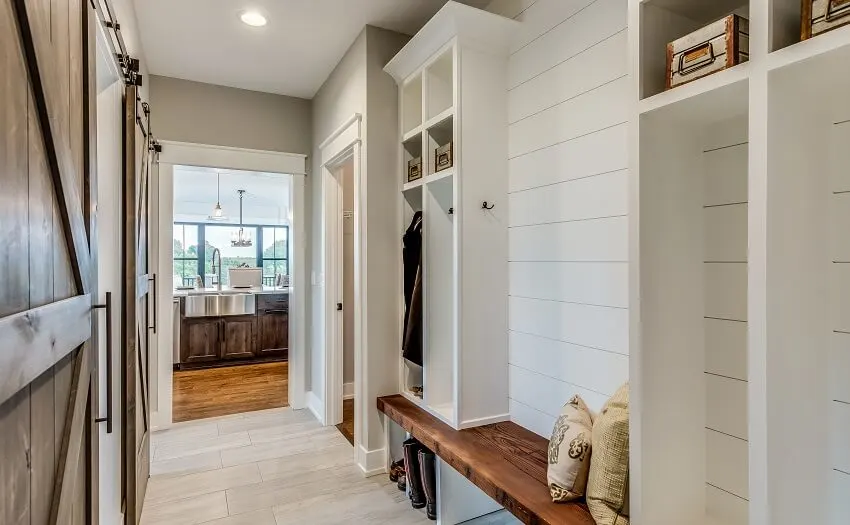 Mudrooms have become one of the most functional spaces in homes nowadays. Aside from being a transitional spot between the outdoors and the home, it has served as a place where people can leave their outdoor gear, a versatile storage space, and a warm receiving area that guests first see.
Because the mudroom is constantly exposed to heavy traffic, it deserves an equally hardworking flooring material. Choosing the right flooring is crucial because it will ensure that your mudroom is not only attractive but also long-lasting and resilient to different types of exposure.
Below, we give you our very own guide on mudroom flooring materials. Read on to learn more about each material's pros and cons and discover which one is the perfect match for your home.
What To Consider When Choosing Flooring For Your Mudroom
• Easy to Clean – This might be an obvious reason because mudrooms get constantly exposed to dust, dirt, mud, and even your pets. This space is designed to get dirty, so choose a easy flooring material to clean, sweep, mop, or maintain.
• Resilient and resistant to moisture – Mudrooms are also susceptible to moisture from dripping boots, so a moisture-resistant material is highly preferred.
• Stylish – The mudroom is the first area guests see, so make a lasting impression. Choose a flooring material that is not only tough but also stylish, attractive, and suitable to your home's overall style.
• Cost – Depending on your mudroom size, and budget, some materials are better for the price-conscious. For instance, tile flooring is often used since it is long-lasting and inexpensive compared to other types of flooring.
Floor Tiles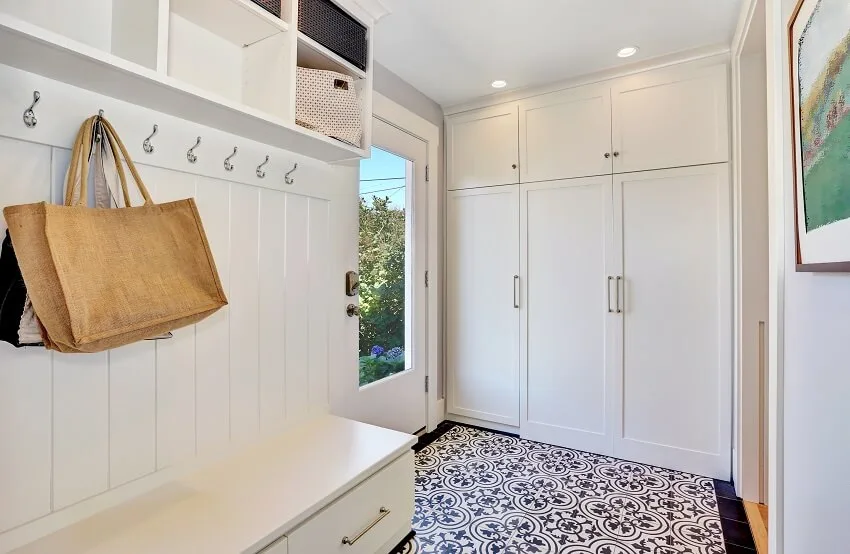 Tile flooring is one of the best options for a mudroom because of the following positive properties:
Pros of Ceramic and Porcelain Tiles
• Durable
• Moisture resistant
• Chip resistant
• Easy to install
• Low maintenance
• Cost friendly
• Visually appealing
• Available in a wide variety of colors, designs, styles, and sizes
• Long lasting
Here are some of the most popular materials for mudroom floor tiles:

• Ceramic tiles – Ceramic tile flooring is made with synthetic materials or natural clay subjected to heat and covered with a protective finish like glazing.
These types of flooring materials are well known for their durability, making them very suitable for high-traffic mudrooms.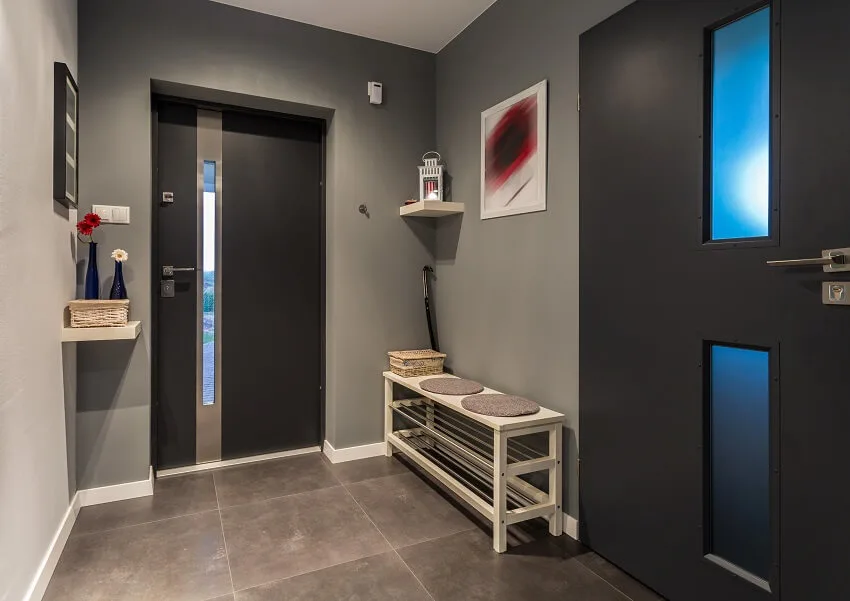 Since ceramic tiles offer hard surface flooring, they provide more structural support than softer materials like vinyl.
Installation-wise, ceramic tiles can be used to cover any imperfections in a mudroom floor and won't require a smooth subfloor. They are long-lasting and easy to maintain – often requiring a mop, brush, or vacuum only for regular cleaning.
Ceramic tiles are available in a wide range of designs which often mimic the appearance of natural materials like wood and stone. You can find them in various colors, sizes, and styles.
Aside from its design flexibility and versatility, ceramic tiles are nonporous and won't get damaged easily if exposed to moisture and constant use.
The only disadvantage to ceramic tiles is that they can get a bit slippery when wet, posing a risk of falling. But you can choose textured and not glossy finishes to lessen this hazard. Alternatively, you can also find ceramic tiles that have a slip-resistant finish.
• Porcelain tiles – Porcelain tiles and ceramic tiles are often interchanged because they look similar, but they differ in composition and the process they are made. Porcelain tiles are made with white clay, sand and feldspar.
Making them involves heating the natural and synthetic materials together at very high temperatures until they harden. This curing process makes them denser, more durable, and harder than ceramic tiles.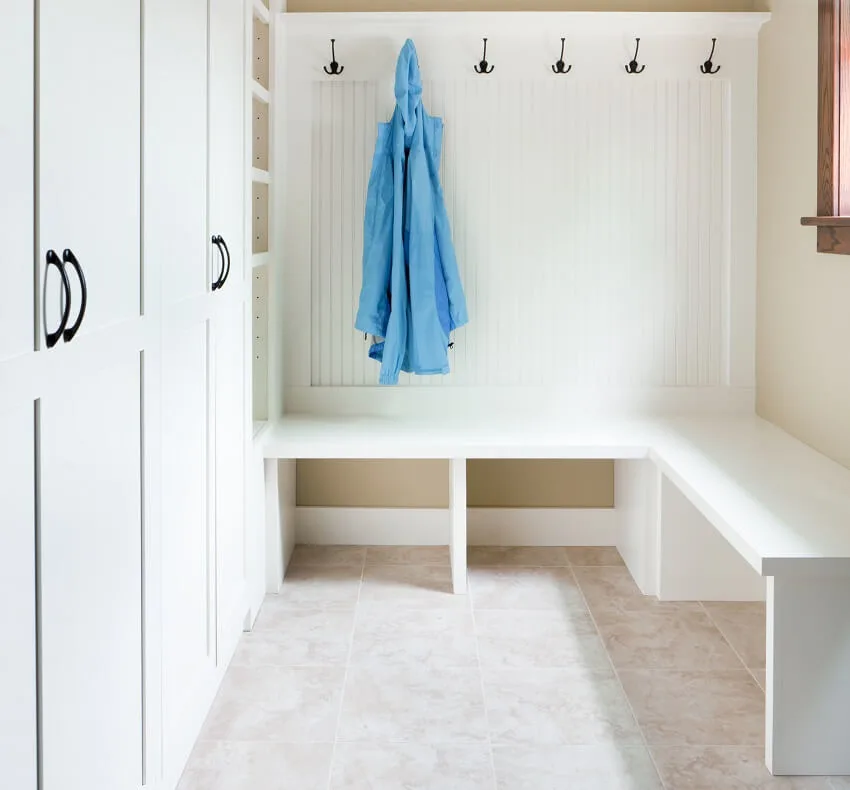 The main difference between ceramic and porcelain tiles is the rate of water they absorb. Porcelain tiles are less porous and absorb less than 0.5% of water. So if your mudroom is often exposed to moisture due to extreme cold climate, this makes a perfect choice as a flooring material.

Porcelain tiles are long-lasting and can withstand everyday use, making them ideal for high-foot-traffic areas like mudrooms. In addition to their impressive durability, porcelain tiles won't harbor pollen or dust mites and are highly suitable for those with allergies.
When it comes to maintenance, you can easily clean porcelain tiles by simply wiping it to remove any muddy footprints. You can also sweep it daily and mop it once a week to keep it looking good.
Like ceramic tiles, porcelain tiles are available in a wide variety of designs, making them a cheaper alternative for natural marble and slate mudroom flooring. You can also find porcelain tiles that mimic the appearance of wood but won't scratch like the real thing.

However, it still comes with minimal drawbacks. One is that they are more expensive than ceramic tiles and can be hard to cut during installation. Another is that they tend to become slippery when wet, so ask the supplier before purchasing your tiles.
• Vinyl tiles – If you want tile flooring but have a more limited budget, you can explore luxury vinyl tiles for your mudroom. Luxury vinyl tiles may be a great compromise if you want to simulate the look of stone or hardwood floors in your mudroom but for a lower price tag.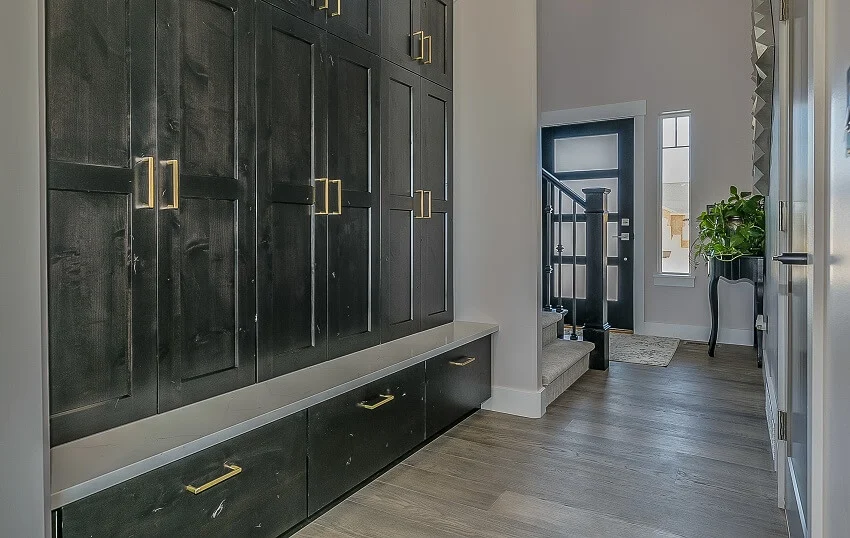 Vinyl is also known as "resilient flooring" which makes them highly suitable for high-traffic areas like a mudroom. It is resistant to chipping and scratching.
In addition to these, vinyl tiles are also water resistant and can be installed easily — even directly onto existing flooring. They are easy to clean and typically require mopping as daily maintenance.
Regarding design, vinyl flooring tiles are also produced in a wide range of colors, styles, and patterns. You can also find several designs that mimic a range of materials like wood, stone, and slate.

• Cement tiles – When it comes to flooring materials, cement is often used as a substrate rather than a finishing option. However, they can also be used as the latter, especially if you want something unique and energy efficient for your mudroom.
Cement tiles are very durable and resilient because of the way they are produced. They are made with a mixture of sand, cement, marble powder, and color pigments poured into molds, reinforced with a dry concrete mixture as backing material then compressed under 2,000 pounds of pressure.
Because of their high thermal mass, cement tiles work very well as insulators for your mudroom. They are also very eco-friendly because they are entirely made from natural materials.

Aesthetic-wise, cement tiles can have a very high impact on a space, especially those with intricate patterns. You can find them in many patterns and colors that work for a simple yet very striking look.

However, there are a few downsides to this type of flooring. Compared to ceramic and porcelain tiles, cement tiles are more expensive. Once installed, cement tiles must also be regularly resealed to ensure their resistance to water.
Brick Floor Mudroom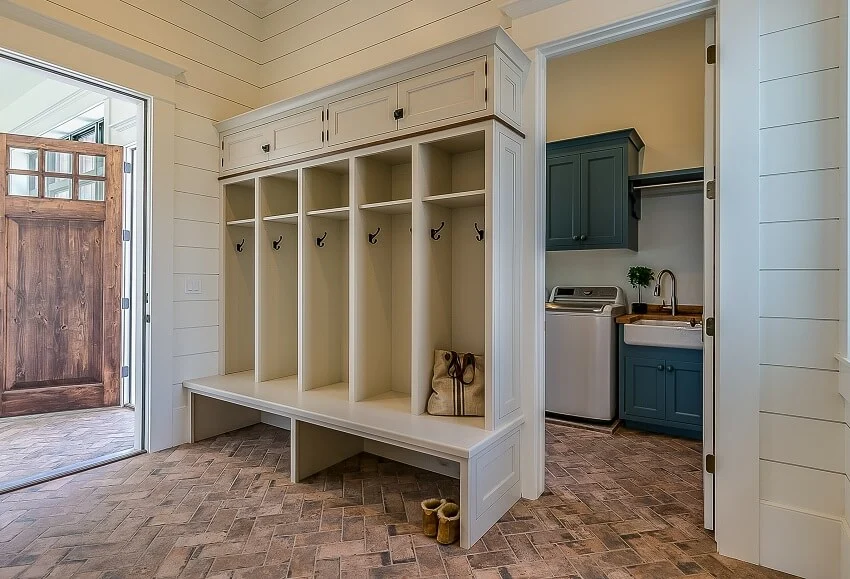 Brick flooring is another option for mudroom flooring you can try. Aside from the warm, weathered look it provides, here are some of the best reasons why you should give it a try:
Pros of Brick Floors
• Durable
• Long lasting
• Affordable
• Easy to maintain
• Availability
• Ages beautifully
Although more commonly used as an exterior finishing material, bricks can also be used as flooring. Bricks are typically made of clay but sometimes contain a mix of sand, lime, concrete, and fly ash. These materials are molded, then fired, and dried.
Bricks are extremely durable and have impressive resistance to wear and tear. They are long-lasting, fire-resistant, and easy to maintain. Because of its mottled appearance, it can easily conceal dirt and stains.
Brick is also a good insulator, so when used as a flooring material, they tend to remain warm even during the cold season.
Regarding cost, brick flooring is cheaper than natural stone and tiles. It is widely available in the market and can be bought as pavers. You can also easily play with the arrangement of bricks and create different patterns to suit your mudroom's style.
Aside from the practical benefits of brick flooring, its incredible appeal is another strong quality that makes it stand out from the rest. Bricks have a soft battered look, and their weathered appearance makes them highly suitable for mudrooms that have a rugged style.
However, there are several disadvantages to brick mudroom flooring. First is lack of comfort – because bricks are too hard, they can be uncomfortable to walk on. Additionally, their heavy load makes them suitable only for ground-floor use.
Bricks are also naturally porous, making them susceptible to fungal growth and staining. This can be prevented by sealing their surface.
Slate Floor
Pros of Slate Floor
• Unique beauty
• Adds real estate value to a home
• Very durable
• Long lasting
• Excellent insulation properties
If you are looking for unique mudroom flooring, you can try slate. Slate is one of the most common types of natural stone used for flooring and is characterized by its bluish-gray color.
Slate has an inherent durability that makes it resistant to scratches, dents, and chipping. Because of its ability to withstand daily wear and tear, slate makes an excellent flooring option for high-traffic areas like mudrooms. If properly maintained, slate flooring can last for years.
Slate flooring is also excellent in radiating heat, making it perfect for mudrooms in homes in cold regions. It is the perfect medium for radiant below-surface heating and electric mat systems.
There are several drawbacks to using natural stone mudroom flooring. Like any other stone, slate is naturally porous and needs to be resealed regularly. This translates to additional maintenance costs in the long run.
Sealing the surface of the stone will close any tiny pores and create a protective barrier against any moisture. In addition, the grout lines between slate tiles can also be vulnerable to stains, molds, and mildews.
In some cases where the tile is damaged, the whole slate tile needs to be replaced, which can be difficult to do. Looking for a match can also be hard because they tend to vary in color and appearance.
Installation also needs to be done by a professional, as it requires precision. Slate tends to be brittle and can be difficult to cut without special tools. Handling the material is also critical because it is very heavy.
In terms of cost, slate is regarded as an upscale flooring material, so it is more expensive compared to other flooring materials. The average cost of slate ties is around $4 to $10 per square foot, while installation costs an additional $10 to $15 per square foot. Although its price is quite high, it adds real estate value to one's home and proves to be a very worthy investment.
Slate tiles come in different textures — some polished while others are finished in a rough, uneven cleft texture. Regardless of the texture, slate tiles need to be sealed to protect it from moisture.
Concrete Floor Mudroom
Pros of Concrete Flooring
• Extremely strong and durable
• Cost effective
• Suits industrial-style homes
• Long lifespan
• Easy to clean
• Design flexibility
Plain concrete slabs typically served as a subflooring material for basements, garages and patios. Still, nowadays, they have become a popular option for interiors because they can be polished or stained with different colors and designs.
Durability is perhaps the most impressive quality of concrete flooring. Concrete floors can withstand high traffic conditions, making them suitable for mudrooms. This type of flooring is extremely strong and will not get easily damaged from high traffic or crack from dropped items.
However, the durability and strength of the concrete also tend to become a liability. The concrete floor is very hard, and objects that fall on it are most likely to break. Since it is also very hard, it can be very uncomfortable to stand on for long periods, but this is not a big issue for areas like mud rooms, which are commonly used just as an entryway.
In terms of maintenance, it is easy to keep concrete flooring looking its best. It must be sealed every three to nine months to maintain its protective layer. Periodic cleaning can be done using a neutral cleaning agent and a mop.
Concrete flooring must also be properly sealed because moisture can easily penetrate it. Once moisture seeps into its pores, the surface becomes susceptible to mold and mildew growth.
Another problem with concrete flooring is that it tends to crack over time. However, it can be easily repaired, patched and restored. A properly maintained concrete floor can last for decades and can potentially save you a lot of money and effort because you do not need to replace your flooring every few years.
Polished concrete or those sealed with a glossy coating is very slippery when wet. Choose the right finish for areas like mud rooms susceptible to moisture. Read more about polished concrete floors here.
The cost of concrete flooring varies widely depending on the finishing used. Its price ranges anywhere between $2 to $30 per square foot. Basic concrete floor finishes are the cheapest at $2 to $6 per square foot, and the price typically includes poured slab with single colorizing treatment and polish.
Mid-range concrete flooring costs $7 to $14 per square foot for the slab with multiple colors and polish.
High-end designs are the most expensive at $15 to $30 per square foot because they include artistically rendered flooring with geometric patterns, multiple colors, and various textures and stamping techniques.
Hardwood Floor In Mudroom
Pros of Hardwood Flooring
• Distinct warmth and natural beauty
• Durable
• Long lasting
• Works well with a lot of interior design styles
When it comes to beauty, nothing can beat the inherent elegance and natural warmth of solid hardwood flooring. Hardwood is a popular mudroom flooring choice because it can boost your home's value. In addition to its aesthetics, hardwood flooring is cost-effective and long-lasting.
Numerous species of wood can be used as flooring, and each one comes with a distinct wood graining pattern.
You can also find them in different finishes, styles, and sizes, and they can match any mudroom design, whether traditional, rustic, contemporary, transitional, or modern. They are exceptionally versatile and can be arranged in different patterns using a wide variety of cuts, sizes, and widths,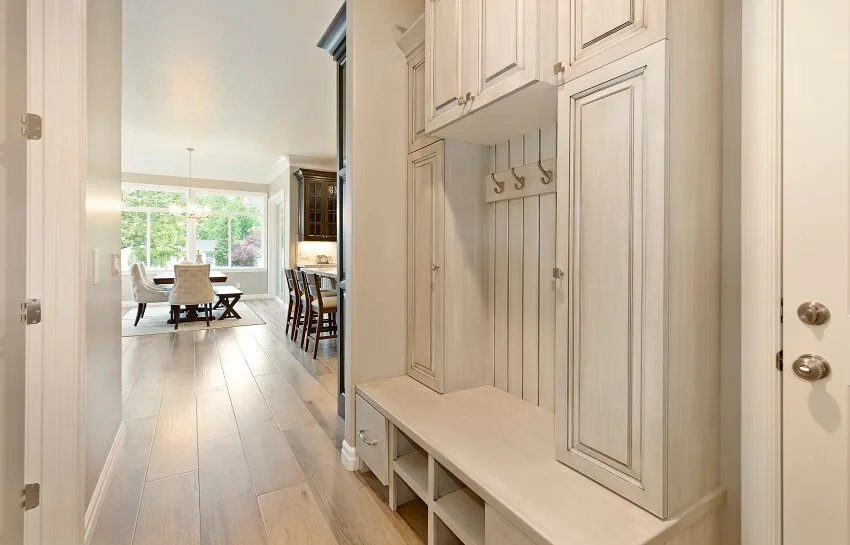 Hardwood floors typically come in light, medium, and dark colors. Below are some of the most common options :
• White Oak
• Red Oak
• Bamboo
• Walnut
• Cherry
• Birch
• Maple
Tips When Choosing Hardwood Floors for a Mudroom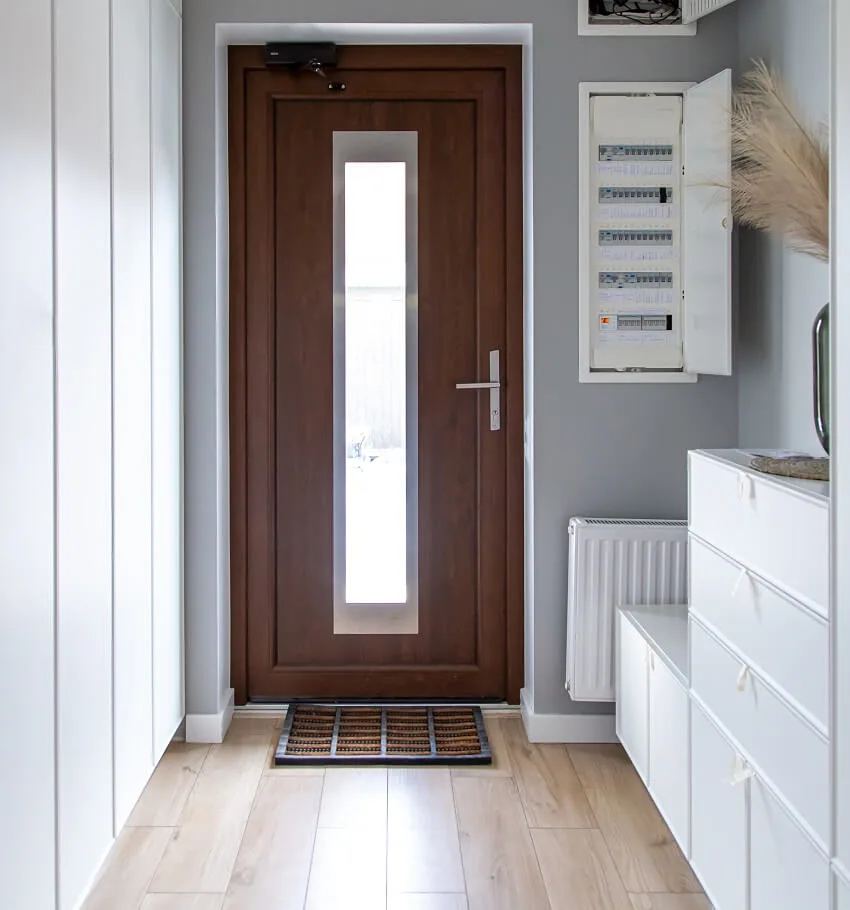 • Look for a species of wood that is resistant to moisture. Before choosing which type of wood to use for your hardwood flooring, you may check out the internet for additional information on its hardness ratings.
The hardness of wood is measured in terms of Janka ratings, and the harder the wood, the more resistant it is to dents and scratches. Most hardwoods are inherently durable, but exotic species like Brazilian Cherry are at the top of ratings.
• Avoid oil-based finish. Hardwood flooring comes in different finishes. opt for acrylic as it endures humidity and temperature conditions better. Oil-based finishes should be avoided because they tend to fade more quickly.
• Invest in a good subfloor. Wood flooring to be installed in a level subfloor. This is very critical in areas like mudrooms, so make sure to invest in a good subfloor to avoid the build-up of puddles.
• Consider placing a rug. While you may be hesitant to cover up your hardwood's natural beauty, a good rug will help you prolong the lifespan of your flooring. Only does it add an interesting decor to the space but it also reduces the amount of maintenance you need while adding extra protection to our floor.
• Quickly wipe away any water or liquid on your floor. Mudroom flooring is susceptible to standing water because of wet shoes, so make sure to wipe away any water so it does not penetrate into the wood. Read more about waterproof wood flooring here.

Rubber Flooring Mudroom
Here are some of the benefits of installing rubber flooring in the mudroom.
Pros of Rubber Flooring
• Strong and resilient
• Impressive sound and shock absorption
• Ease of maintenance
• Aesthetic appeal
• Eco-friendly option
• Numerous styles available
• Lightweight
Although more commonly used in commercial applications, rubber flooring can also serve as a viable flooring option for mudrooms in residences.
There are two types of rubber flooring in the market that you can use for your mudroom, namely rubber tiles and rubber mat. They are very much alike in terms of properties, but each product serves a specific purpose.

• Rubber Tiles – Rubber tile flooring is usually made with natural, synthetic or recycled rubber. They are square but can be easily cut into different sizes to fit a space.
Rubber tiles come in different thicknesses with 8 mm being the most common. This option is much easier to install because of its interlocking design. It also does not require adhesive, and once a piece gets damaged, it can be easily replaced.
• Rubber Mat – Also known as rubber floor rolls. They typically come in sheet form — with a black base that is highlighted with colored flecks. The standard size of rubber rolls is four feet wide and can be fifteen to fifty feet in length.
Compared to rubber tiles, rolled rubber flooring has a more seamless appearance. But this option is much harder to install because it is heavier and requires an adhesive. They create a more permanent flooring option than rubber tiles.
Rubber flooring is super tough and resilient to heavy traffic, making it a suitable option for mud rooms. It is easy to clean, and any footprints or dirt can be easily wiped with a cloth. It is also a very affordable flooring material option.
There are some drawbacks to rubber flooring. The seams between interlocking rubber tiles are susceptible to moisture, and water can seep into the subfloor.
However, rolled rubber flooring has greater water resistance because of the absence of seams. Smooth, textured rubber flooring also becomes slippery when wet, so choose a more appropriate finish for a mudroom.
Floor Mats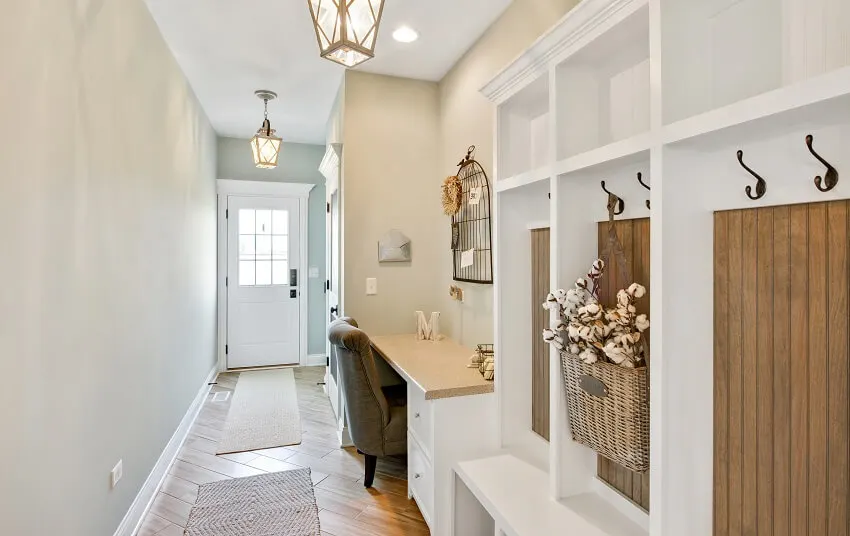 Floor mats are a great solution to keeping your mudroom clean and safe. Regardless of your flooring material, you can add a floor mat to your mudroom.
Pros of Floor Mats for Mudrooms
• Helps keep the place clean
• Adds decor and softens transition.
• Keeps you safe
Floor mats serve an essential purpose in a space and provide various benefits. Although they primarily help with the transition and provide visual distinction between spaces, adding a floor mat to a mudroom can help trap dirt, pollutants, and dust.
Since mudrooms are dedicated to removing messy footwear, a floor mat is where people can wipe their muddy feet before they enter your home. In addition to keeping your home clean, a floor mat helps reduce the risk of accidents by making the floor less slippery and wet.
You can find a wide variety of floor mats in the market. They come in different colors, sizes, styles, materials, and designs, but for mudrooms, the best option is a wool rug. Wool is resistant to bacteria, mold and moisture; if properly maintained, this floor mat can last for years.
Best Flooring For Mudroom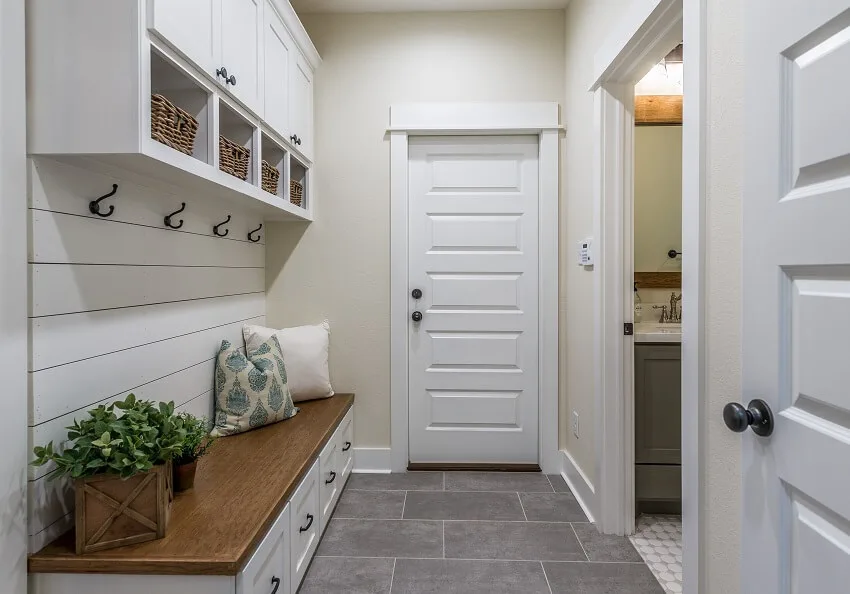 With all the great choices presented above, selecting the right mudroom flooring material can be challenging.
So what's the best type of flooring for a mudroom? All the options mentioned above are impressive, but if you are looking for something with the right balance of looks, durability, longevity, and practicality, ceramic and porcelain tiles are the clear winner.
Ceramic and porcelain flooring material is very cost-effective and can provide the looks of other materials like wood and stone (minus the weakness like being porous or susceptible to moisture).
At the end of the day, opt for mudroom flooring that suits your taste and personal style.
Best Flooring For Unheated Mudroo
m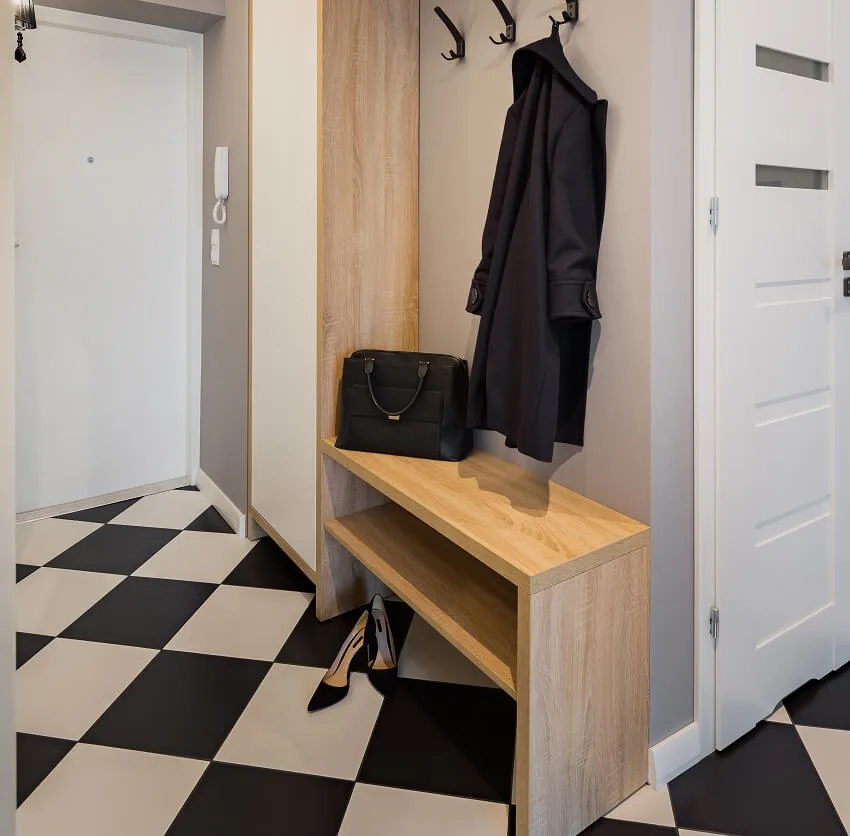 Although porcelain and ceramic tiles outweigh the positive characteristics of other flooring materials in terms of durability, practicality, and aesthetics, they are not suitable for houses in cold regions because they have the tendency to get cold in winter. However, you can easily eliminate this problem by using a floor mat or area rug.
Regarding insulation properties, the best flooring for an unheated mudroom is luxury vinyl tiles. This is excellent for cold areas because it is not susceptible to contracting and expanding in extreme temperatures.
Alternatively, you can add a floor mat or carpet to your mudroom floor to make it warmer during the cold seasons.
Visit our mudroom ideas gallery for more related content.