Here we share the marble slab sizes with standard, small, large & custom marble slab dimensions, its common weight, thickness, and how much a marble slab costs.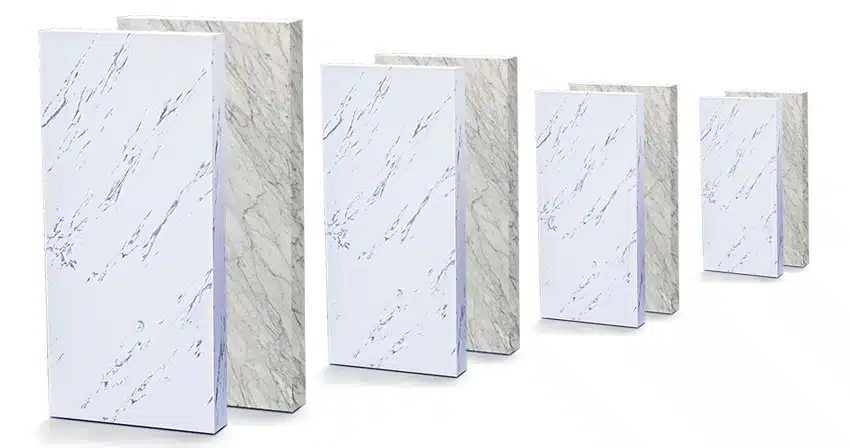 One home improvement material that will lavish elegance on to any room is a floor or countertop made of marble, which is possible with the purchase of marble slabs. Marble is a kind of limestone that has been naturally created through heat and pressure to become marble. It is highly versatile and can be used in the kitchen, bathroom, or living room.
Aside from being highly versatile, it is also available in many finishes, color schemes, and sizes, giving homeowners a chance to get the specific marble slab they need for their homes. A marble countertop in any room is sure to be the focal point with its effortless elegance and function.
Standard Marble Slab Size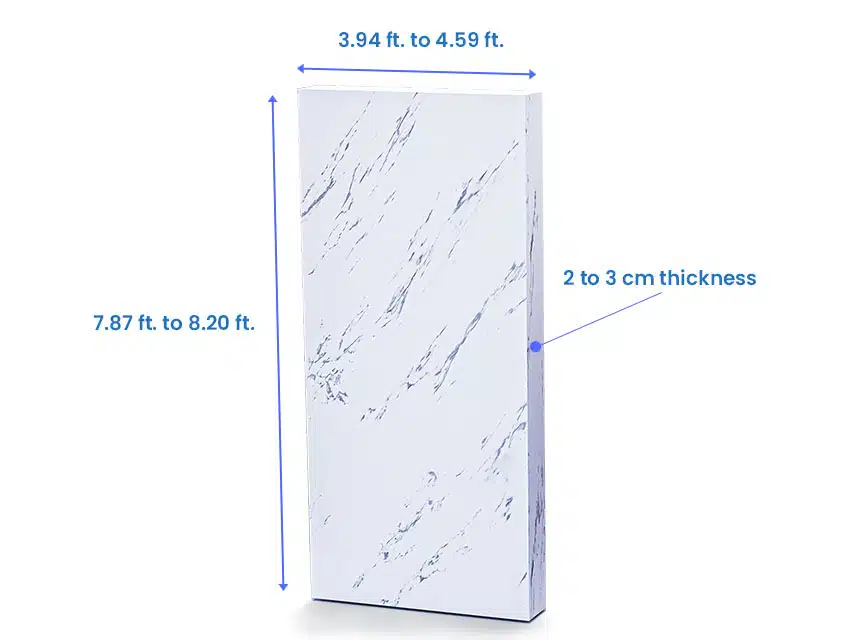 There are many types of marble slabs any homeowner can choose from. There are the marble slabs of Calacatta, Venatino, Covelano, Statuario Venato, and many others. Most of these marble slabs will be available with the standard slab size of 2.40 to 2.50 by 1.20 to 1.40 meters which is around 7.87 to 8.20 by 3.94 to 4.59 feet.
These marble slabs with around two to four refilled sides will have a standard thickness of about 2 to 3 centimeters. Although by request, this thickness can go greater than 3 centimeters and can lower up to 1.8 centimeters according to a specific homeowner's specifications.

Standard Marble Slab Thickness
One of the most important concerns when buying a marble for a specific project is its thickness. Marble slab making requires a lot of craftsmanship which can result in a higher price tag, so any homeowner would want to ensure that they are getting the suitable marble as possible since replacing it for another will require costly handling fees.
The two most common thicknesses for marble slabs are the 2 and 3-centimeter thick marble slabs. Marble slab sizes with a thickness of 2 centimeters or 3/4 inch tend to be used for surfaces that are not under stress regularly. They can be used for marble countertops in the kitchen and vanity tops in the bathroom.

In contrast, the 3-centimeter or 1.18 inch marble slabs are the more heavy-duty of the two since they provide more support overall and are more commonly used for this reason. Thicker slabs are becoming more of the industry standard for kitchen island and countertop use those who can afford the higher price tag.

Slabs used for marble backsplash on the other hand, can be less thick since it is not advisable for them to stick out from the wall too far. In addition, they do not need the same amount of strength for carrying heavy weight as a marble floor or countertop would.
Marble Slab Small Size

Although marble slabs tend to be more extensive and thicker in size, many tile stores and marble manufacturers have marble slabs cut into smaller pieces. This means that homeowners looking for a specific one perfect for their smaller project can easily get a marble that would suit their needs.
Marble slabs are available in their bigger standard size. Still, that size can be divided into many parts making small marble slabs with dimensions of 24 inches or 61 centimeters, 18 inches or 46 centimeters, and 12 inches or 30 centimeters available for any use and purpose.
Largest Marble Slab Size

Although the standard size is already sizable enough for a bigger home project, home improvement and building projects will require a more extensive scale for each material, which is sometimes the case for marble slabs.
Sometimes, for a genuinely seamless-looking marble countertop, the best course for some homeowners is to get the counter fully in one piece. Although this can come with a hefty price tag, it will satisfy their requirements and ensure the look they are going for.
The average marble slabs are 10 feet or 3 meters long with a width of 6 feet or 1.82 meters. Anything that is bigger than this size will be custom and come with a considerable premium.
Marble Countertop Slab Size
Whether for a bathroom vanity top, an over-the-top wall covering, or a seamless kitchen countertop, marble is one of the finest materials out there. Aside from the standard and the smaller size, there are a variety of other sizes out there available for each variant and type of marble slab.
One type is the speckled Arabescato Carrara marble slab with a length that extends 126 inches or 320 centimeters and a width of 70 inches or 178 centimeters. Another is the gray Venetino for the minimalist, with a length of 120 inches or 305 centimeters and a width of 69 inches or 175 centimeters.
Custom Size Marble Slab
Sometimes, the largest size of marble slab a homeowner can find will not cut the amount of it they need, and here comes custom or marble cut to size. Many companies fabricate marble slabs according to a homeowner's home project, whether it is for a stone fireplace or a full marble shower.
Having marble made custom for a specific project will take the hassle out of breaking the marble, although it has drawbacks, with the higher price tag being the most significant.
Carrara Marble Slab Size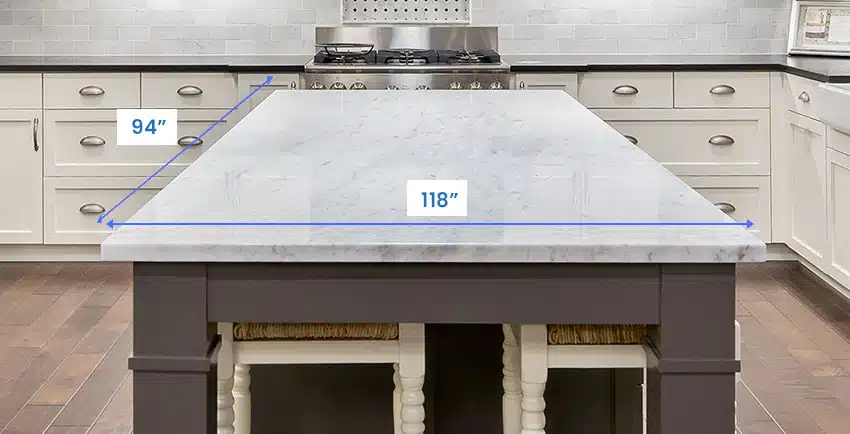 One of the most popular variants of marble slabs is the Carrara marble, with its highly recognizable white and clean-speckled marble look. This specific marble is extracted the most in Italy and is one of the most consistent marbles, which polishes well.
Another thing that makes this marble famous is its ability to blend in with many different interior styles owing to its understated gray and white color scale.
The average size for most Carrara marble is a width of 94 inches or 239 centimeters and a length of 118 inches or 300 centimeters. One average thickness will range from 2 to 3 centimeters.
How Much Is A Large Slab Of Marble?
The median cost for most marble slabs used anywhere from countertops to bathrooms is $60 per square foot, but sometimes there are cheaper variants at $40 per square foot as well as more expensive ones that will come with a higher price at $100 per square foot.
This price doesn't consider the type, the grade, the size, and the shipping and transportation fee it will cost the homeowner.
How Much Does A Slab Of Marble Weigh?
One of the heaviest options for stones out there is marble, considering that it is heavier than granite. Assuming that a square foot of marble weighs around 6.67 pounds and a homeowner needs around 30 square feet of materials for a home improvement project, this full marble slab will weigh a whopping 200 pounds.
Visit our quartz slab sizes guide for more related content.