In this guide we share garage accessories and must have essentials such as storage, organizers & workshop tools, as well as other useful home improvement items.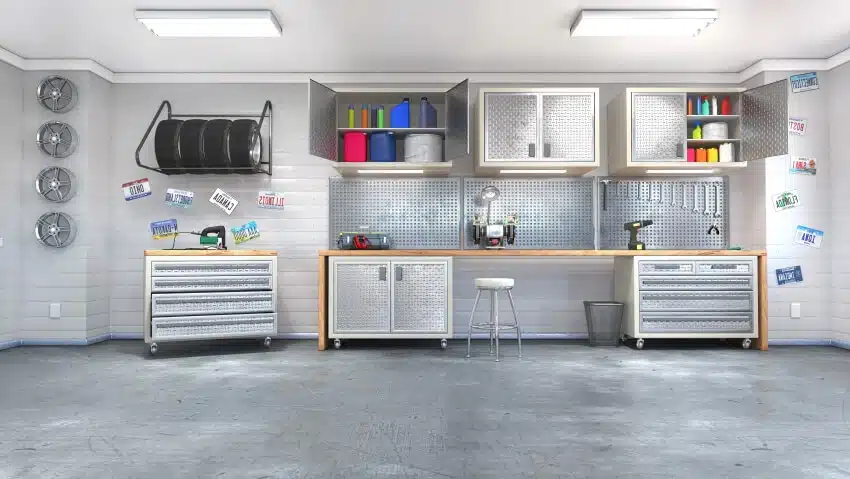 A garage doesn't have to be dark and gloomy when you can spruce it up to keep everything organized, easily seen, and aesthetically pleasing.
Whether you want to turn the garage into your auto work area or you just want to keep everything clean and in order, you will need several garage accessories to turn the area into a space you'd like to spend your time in.
There are different accessories you can buy for your garage and you need to plan them out excellently to cover all the factors and bases you want to be covered.
Four of the most important aspects to consider are storage, function, convenience, and aesthetics. And you can buy your garage accessories in accordance with these different aspects.
Garage Storage Accessories
Getting storage accessories is important to keep your items organized inside the garage. Build storage solutions and plans to effectively organize all items in your garage in a way that all items will be neat, labeled, and easily accessible.
This will make your garage a functional one rather than just a regular area in your home. To help you in organizing everything and turn your garage into a functional one, here are some tips to follow:
• Categorize all items in your garage (Example: Section items used for holiday decorations)
• Keep tools and equipment organized seasonally (So you can easily pull out items based on when they are needed)
• Make the most of the space in your garage, from the walls to the overhead space available
To aid you in your organization needs further, here are some of the garage storage accessories and products that will be useful in your garage.

Garage Shelving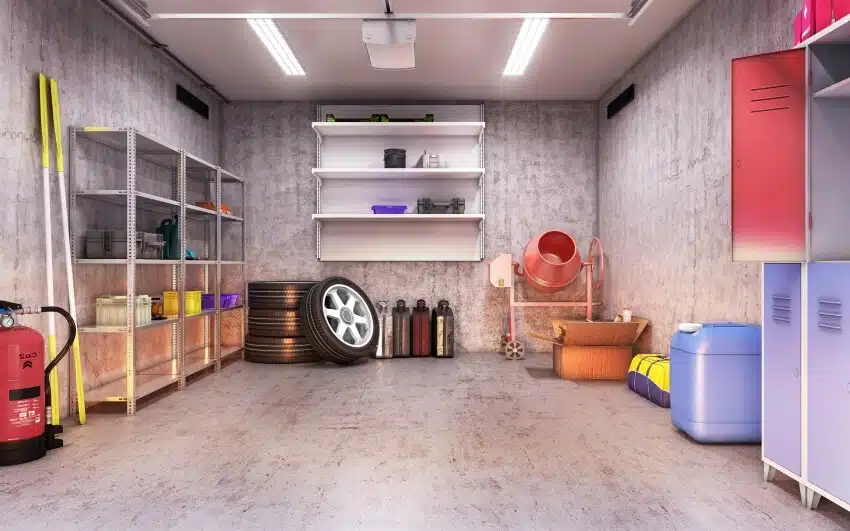 Shelves can be an excellent addition to your garage to help you organize all your stuff in order. You can use shelves to store items in your garage and keep them off the floor so you can get more space for other more important purposes.
Shelves come in plastic, metal, and wood so you can choose the materials. You can also have them wall-mounted or hanging from the ceiling.
You can even choose a large cabinet for your garage and keep everything out of sight until you need them. Just make sure that you know where you keep things and that they are within your reach and easy to find.
Overhead Storage System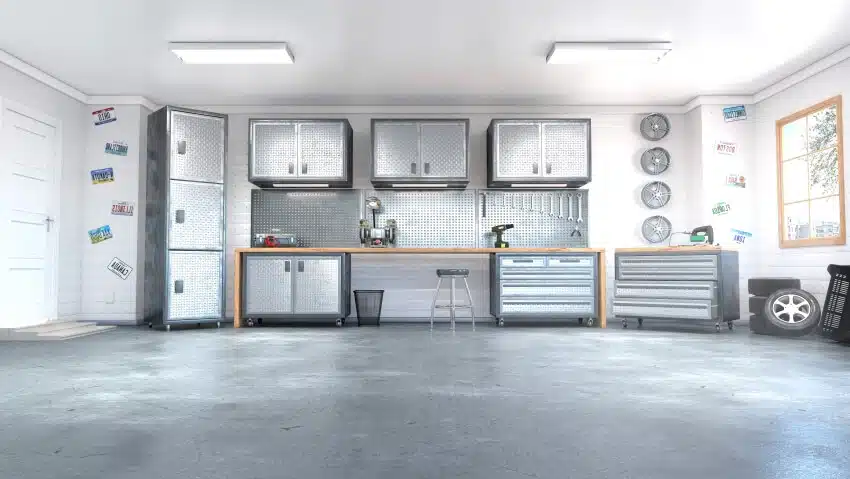 Another garage organization option you can go for in terms of storage is by introducing an overhead storage system. This system can help minimize clutter and maximize every available space in your garage, especially since the vertical space is often overlooked.
Using overhead racks, bulky items like boxes for of Christmas or Halloween products that are only used once a year can be safely stored out of sight until you need them. Bins full of seasonal clothing is another useful option for this space.
When choosing and installing an effective overhead storage system, choose a heavy-duty material to accommodate bulkier and heavy items you can store in it. One of the most popular options for overhead storage is overhead racks. This can be an excellent option to consider for a small garage since with clutter off the floor, you can use the left space for other purposes like parking.
Utility Hooks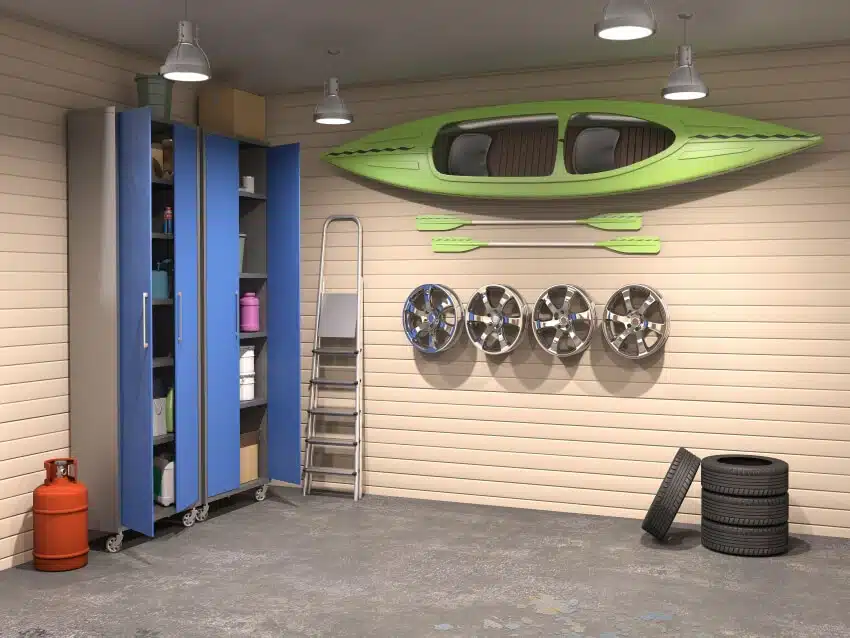 While not as stable and sturdy as an overhead storage system, you can also use utility hooks to organize equipment and tools kept in your garage. Utility hooks come in a variety of sizes and so can support different items, from lightweight tools like garden rakes, and holiday decor to heavy ones like skateboards and bicycles.
These hooks can easily be installed to cover an entire wall and you can make it possible using a metal pegboard. While easily accessible, the downside with this storage idea is that hooks are limited in what they can store and not everything can be hung for safekeeping.
Wall Organizers
The function of wall organizers varies heavily on the different needs your family has. Some functions you can point out for this include the following:
• Office files gatherer
• Entryway mail collector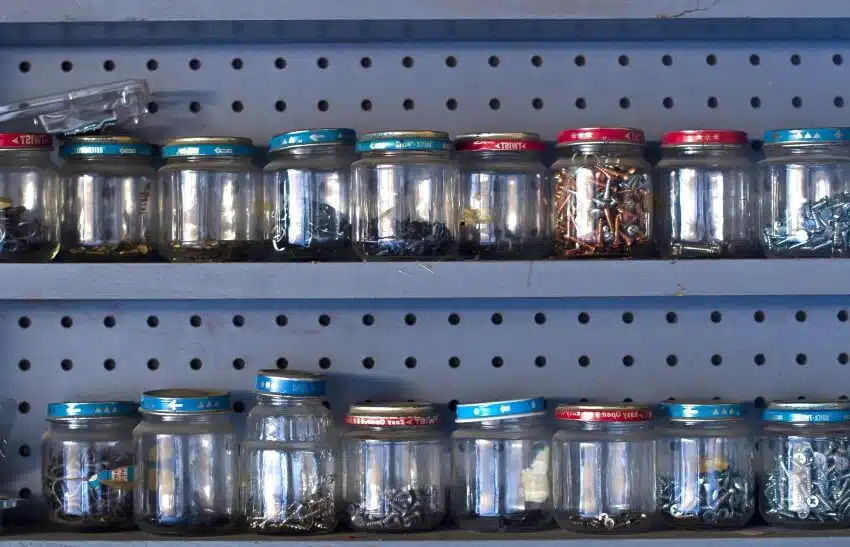 This type of storage option can make the most of your empty wall space and turn it into something more creative and pleasing to the eyes while at the same time turning it into a storage area.
The good thing about this storage option is that you can make it a DIY project and customize it however way you want. Read about more garage makeover ideas here.

Bike Rack/Bike Hoist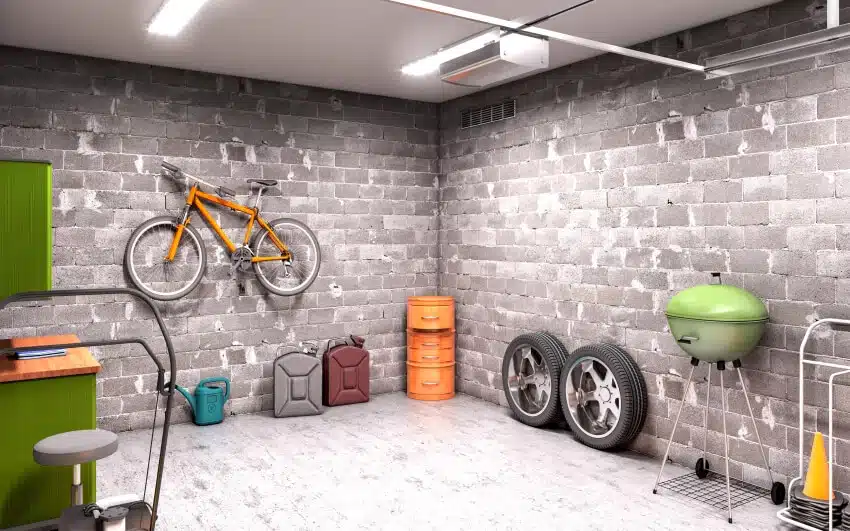 The garage is the perfect place to act like an auto shop, but this goes the same way for your motorcycles and bicycles. If you're looking for an area to store your bike, you can either use a bike rack or a back hoist.
A bike rack or hoist takes your bicycle off the floor and into the wall. Considering your garage floor is quite limited, this is the ideal route to take to free up floor space and keep your garage from being cluttered. Investing in a bike rack or bike hoist is a great idea to consider to have something to mount your bike in.
Mini Fridge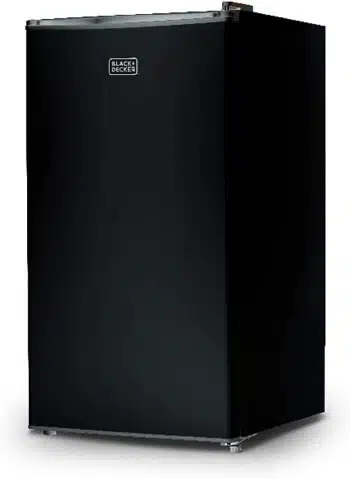 See this mini fridge at Amazon [sponsored link]
Getting a mini fridge can be a great idea if you spend a long time in the garage, whether to work on your car or a specific project you've taken on yourself. It's not a good option though if you're barely in the garage and strictly treat the area as a gigantic storage space.
The fun part of making this decision is choosing a particular mini fridge to suit your needs. You can go for a pure beverage fridge if you're fond of getting a beer or two while working on your car. You can also put small snacks in the mix so you won't have to go inside the kitchen just for a bite.
Chest Freezer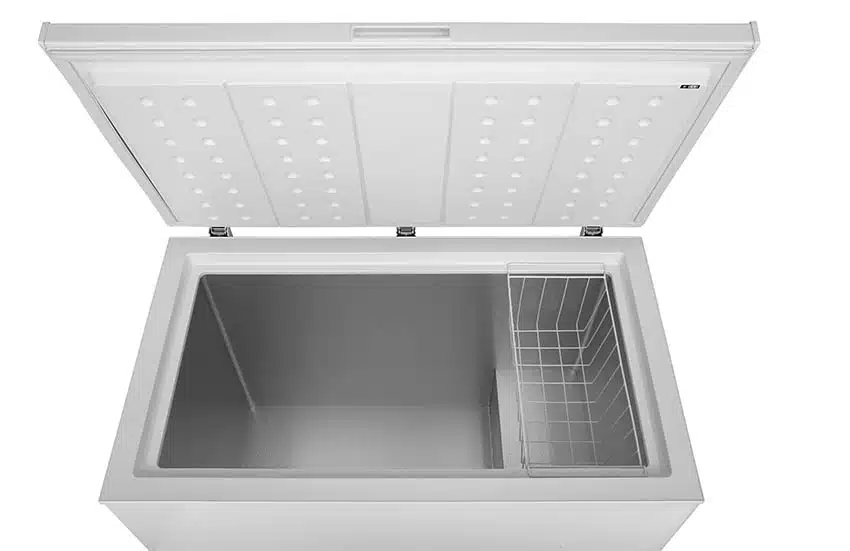 Besides a mini fridge, you can also go for a chest freezer instead if you're family needs more storage space for frozen items but your main refrigerator just doesn't have enough room to accommodate them.
A chest freezer can be a good option if you have more floor space to spend since it covers more horizontal space. The big advantage though is that it uses up less energy compared to upright freezers, with the appliance having a better airtight locking seal and fewer gaps around the door frame. If this is something you prioritize, a chest freezer can be considered for your garage.
Metal Wood Rack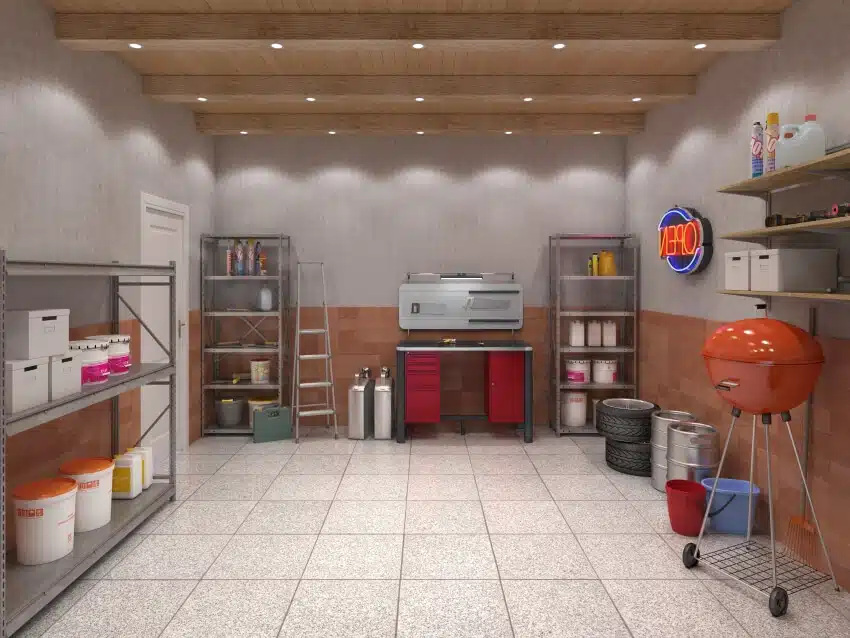 Do you have a wood stove or fireplace at home? If you have, getting a metal wood rack is the logical thing to do. You can set up a metal wood rack in your garage to keep everything organized and out of sight when not needed.
A metal wood rack is the best storage option to keep firewood tidy and neat, as well as keep the firewood at its optimum quality since being elevated prevents being exposed to excess ground moisture. Besides durability, these metallic racks are also easy to clean and maintain and even aesthetically pleasing.
Battery Organizer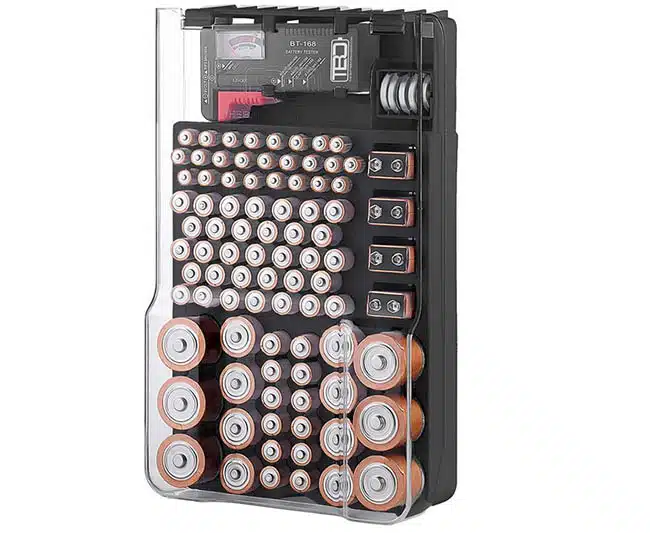 See this battery organizer at Amazon [sponsored link]
Batteries are great to have on hand, but you don't really want them seen or cluttered when not needed. The best thing to do is to get a battery organizer to keep them neat yet easy to access when you need to.
Depending on how many tools you have powered by batteries, you can store as many as you want to make sure you have enough space in your organizer to accommodate them.
Storage Bins/Containers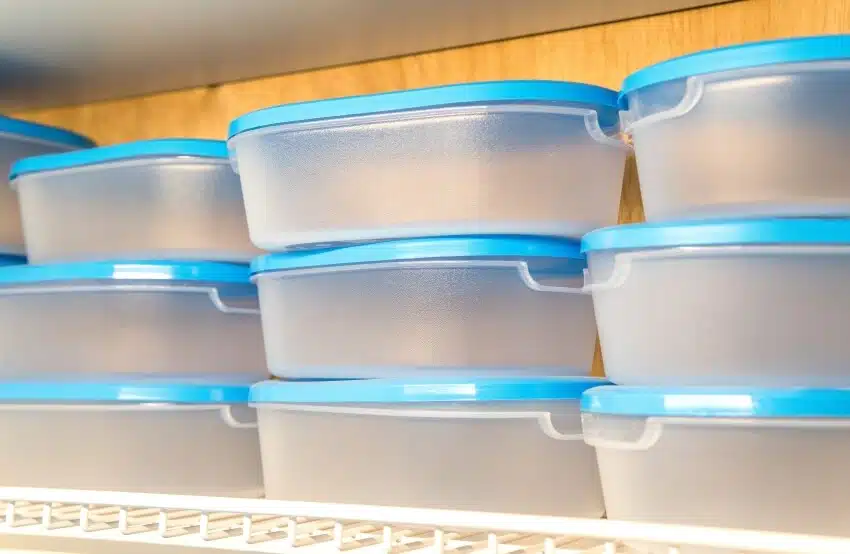 Storage bins and containers can also be chosen as an option to keep your things in the garage organized. These containers and bins come in different shapes and designs, which is why you can choose the one that can add aesthetics to your garage at the same time.
They are also very flexible in design since they can be wall-mounted or not, depending on what you need and prefer. You can also get them with lids just to keep dirt out from the items inside. Usually, you can store small items in these bins so that you won't lose them.
Fishing Rod Holders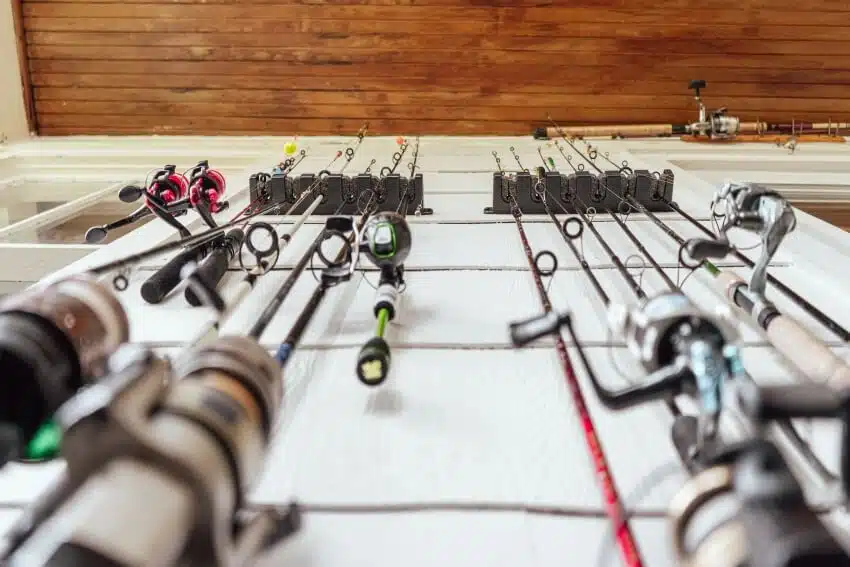 If fishing is one of your hobbies then there's a high chance you have your own collection of fishing rods at home and treat them as your treasure. If this is the case, it's only logical that you keep your fishing rods in quality and aesthetic holders.
This will help your rods from possible threats that can affect the integrity of your gear, including the following factors:
• Moisture
• Temperature changes
• Dogs and cats
• Babies
Whether you're a long-time pro or you've just started learning, it is important to keep your fishing rods clean and safe. And here are some simple tips you can follow when keeping them in your garage:
• Avoid displaying your fishing rods in direct sunlight to preserve their life
• Don't allow your rods to be too cold or too hot (Which might be a difficult task to follow if you keep them in the garage during winter)
• Keep the fishing rods off the ground so that they will be less likely to mold and rot
• Get bins for your fishing gear (Fishing wire, sinkers, hooks, and more)
• Use hooks to mount your holder to the wall
Useful Garage Accessories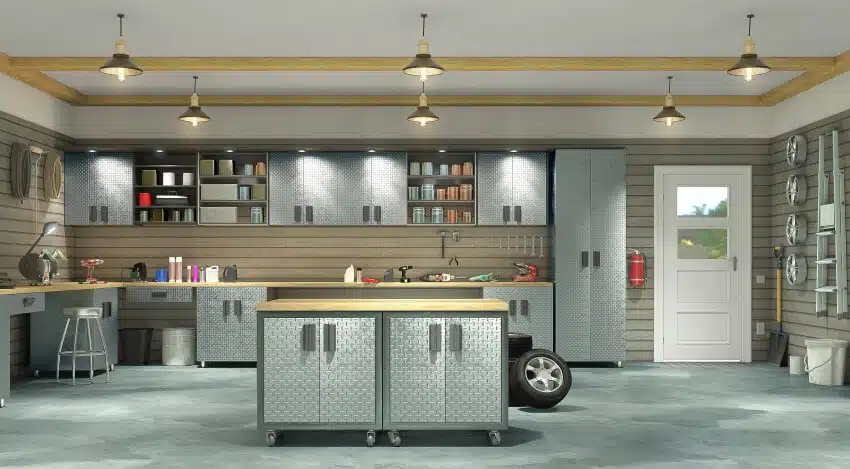 Besides storage purposes, you also need other garage accessories that can help transform it into a functional and effective one. If you can design your garage in a way that will make it more convenient to use then it's a clear sign that you're turning it into a functional one.
Some of the ideal useful garage accessories that can make the space more convenient to use are the following.
Garage Parking Guide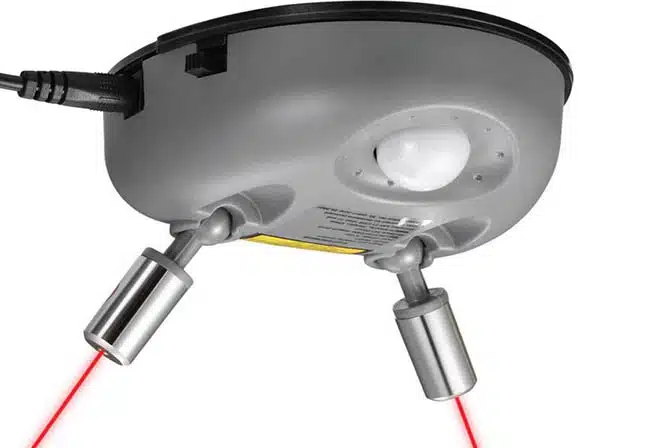 See this garage laser parking guide at Amazon [sponsored link]
A garage parking guide is simply a collection of visual aids you can use to help you park your car safely and securely in the garage. The good thing about these parking aids is that they can be available online for free.
Other popular choices to help as a parking guide are the following:
• Wireless car cameras – These can come in different versions, including parking cameras, rearview cameras, reversing cameras, and backup cameras.
• Wireless parking sensors – These sensors are usually built into the license plate's frame in order to send vibration, visual, and audio alerts through a smartphone app once another object gets too close to your car.
• Laser parking aids – Mounted in your garage, these handy units can guide you using an adjustable laser beam.
• Parking indicators – If you want to go back to low-tech solutions, these parking aids usually placed on the garage floor can also be very helpful. They can come in different forms, including a bump or stopper, a mat, and even some marks.
Paper Towel Dispenser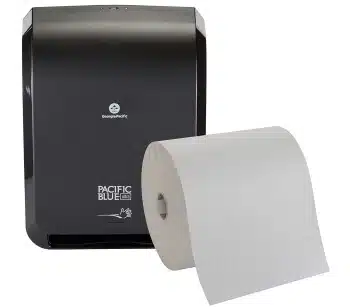 See this paper towel dispenser at Amazon [sponsored link]
A paper towel dispenser can also be a useful accessory in your garage. This can be especially useful if you tend to work in the garage and prioritizes maintaining hygiene at all costs. The towel rolls can easily clean spills and wet hands, whenever needed.
Usually wall-mounted, paper towel dispensers are tools used to dispense individual paper towels either manually by hand or automatically using a motion sensor. They are available in different designs, from portable ones to freestanding and floor-standing ones. They can also be compatible with different types of towels, from rolled perforated paper to individual and multi-fold paper towels.
Using the dispenser offers many benefits, from reducing paper waste to the convenient use of the accessory since it's quick and easy to refill and maintain, as well as use.
Wall Mounted Garage Remote Control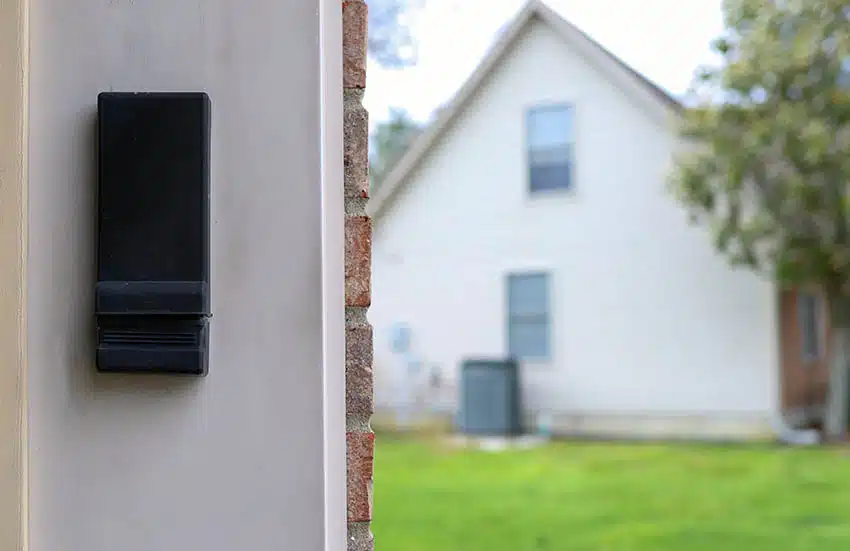 Most garage door openers come with one wall mount and two remote fobs. An extra wall mount can be convenient for saving time. A wall mounted garage remote control can be placed close to the garage door on the inside or outside.
An outside remote allows you to easily open the door without carrying a remote on your person. An inside control allows you to easily open the door while in the garage without having to go to the far wall near the door to the house, where most opener buttons are placed.
If you have any tool or device that has a remote control, you can also have them wall-mounted. Having them wall-mounted will keep them off the ground and organized all in one location.
This means that you can easily see and access them when you need them, unlike all the times when you're turning your living room apart just to find your TV remote control. Read more about having a TV in the garage here.
Door Threshold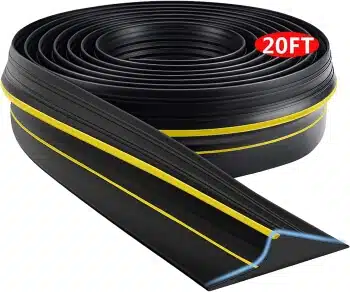 See this garage door threshold at Amazon [sponsored link]
A garage door is either to connect the garage to the main home or as an entryway from the outdoors. If it is the latter, having a threshold is a good option to take into account so that you will keep your garage secured.
These thresholds can help in weatherstripping the door bottoms and sealing them to prevent snow, rain, and air from entering the garage.
You also have the option to choose stone, metal, or wood as your threshold, depending on your preference and what you think can match the look of your garage.
Heater/AC Unit
See this portable ac/heater unit at Amazon [sponsored link]
Another accessory you can install in your garage to add to your comfort and protection for everything that's inside is a heater/AC unit.
Whether you're working on your car in the garage or some of the home projects you've chosen to take on, having a heater or AC unit in the area will offer more comfort as you work.
Here are some of the benefits you can enjoy from a climate controlled garage heater/AC unit:
• More efficient and consistent temperature in the garage
• Cut energy costs by preventing heat gain into the home's shared walls
• Better and more comfortable working environment
Garage Workshop Accessories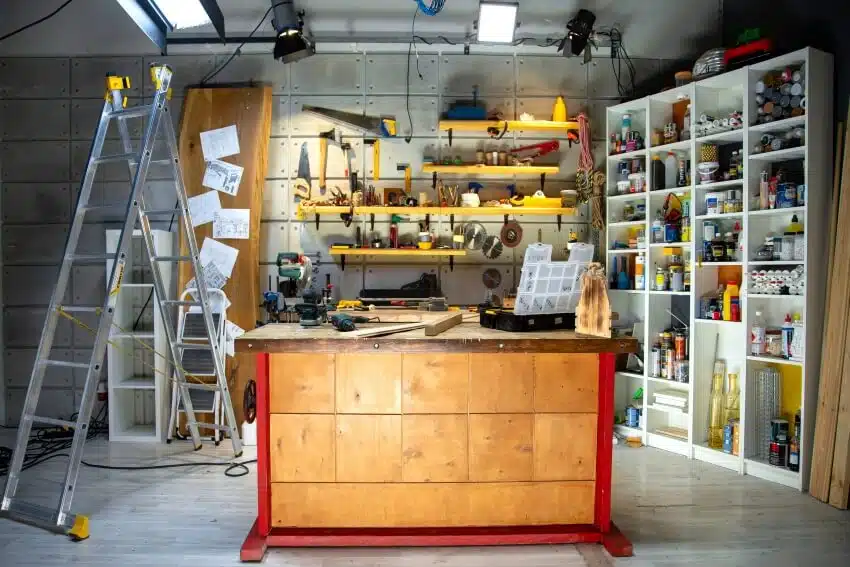 The garage can act as a workshop for many people, and that's for a reason. It provides enough space for your to work on whatever hobby you're currently up to and at the same time offers the privacy of your home for your comfort. In addition to that, you also have with you all the necessary items to work on.
In order to have an effective workshop inside your garage though, you need to have the vital accessories that will help you be more productive in your task. Take note of these workshop accessories that will do nicely in your garage.
Tool Box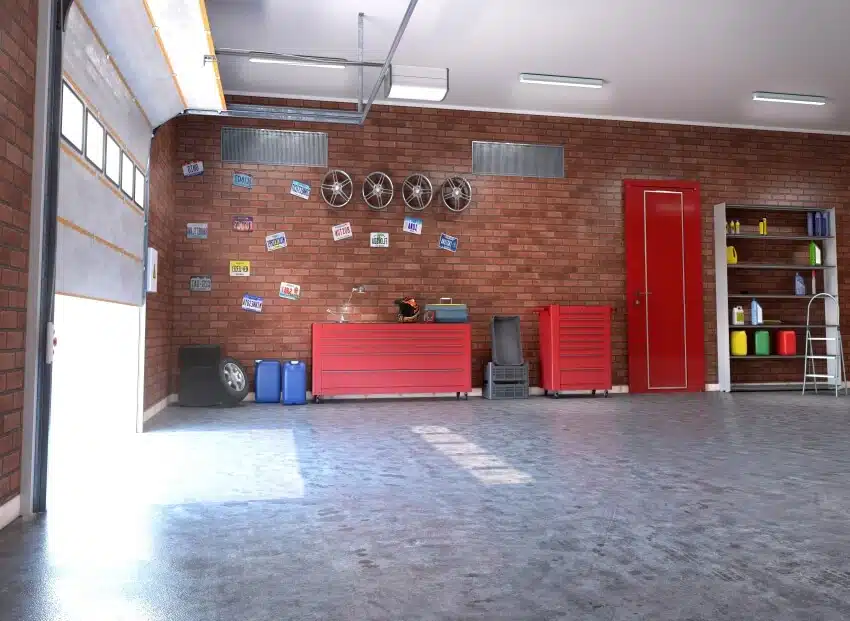 A storage accessory that is one of the most important elements in a workshop, a toolbox helps keep your tools safe and more organized. This essential garage workshop accessory will help you make sure that all of your tools are kept in one safe place where you can easily find them every time you need them.
Some of the items you will find in a garage toolbox are the following:
• Nails and screws
• Crescent wrench, impact wrench, ratchet and socket set
• Screwdriver, hammer and drill bits

• Saw blade and compressor air hose
• Wallplates
• Door kickplates
• Outlet covers
Toolboxes can come in different materials, sizes, and shapes. If you're intending to carry it around, go for something more lightweight and portable. But if you're planning to keep it in the garage, you can choose a heavy-duty metallic one for durability.
Work Bench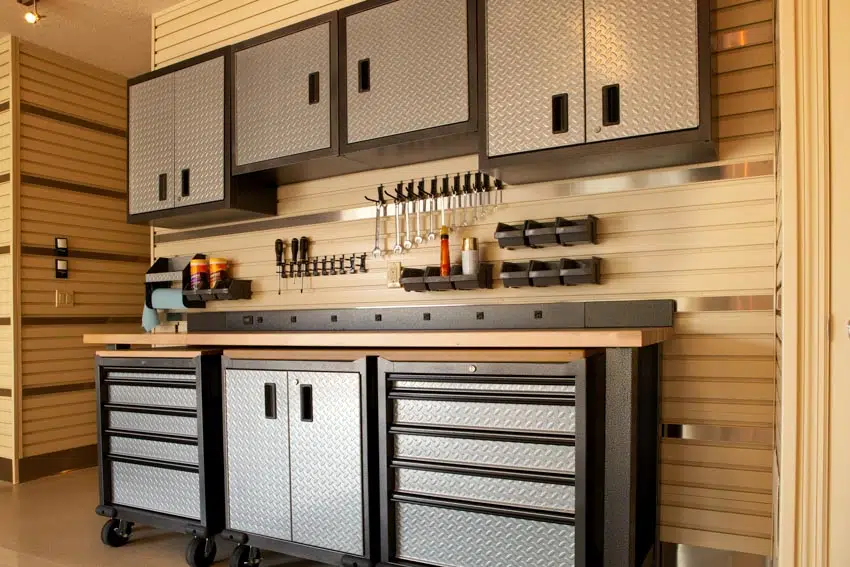 For a perfect setup where you can work on your repairs and projects, having a workbench in the garage is recommended. An excellent workbench usually comes with vices and clamps that help keep materials in place while you work on them.
The sturdy surface of a workbench will make it more enjoyable for you to work on your current project. They also come in many sizes and shapes so you can easily find the ideal one for you.
Garage Slatwall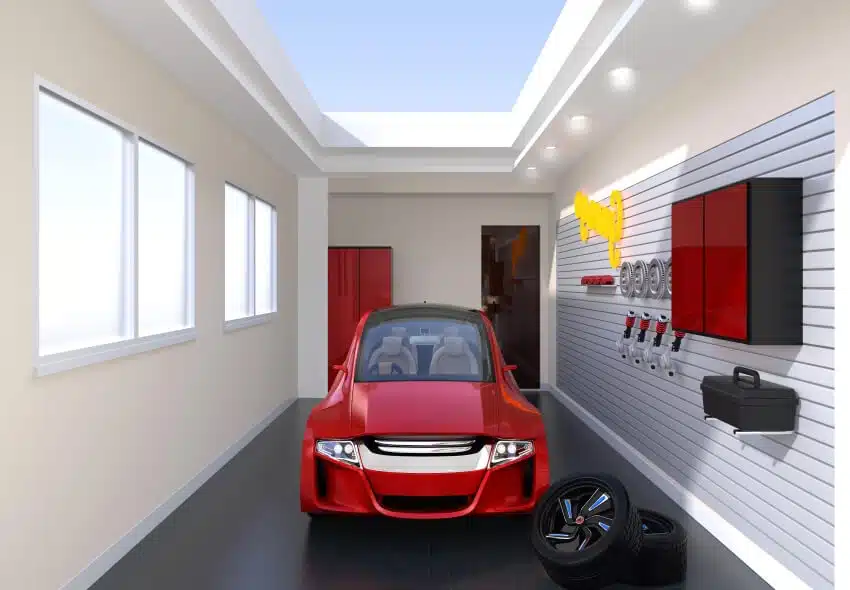 Great in dealing with clutter, a garage slatwall is an accessory you would want to have in your garage if you're planning to build a highly functional storage mounted on your wall. Simplifying the storage system, the slatwall adds visual impact as much as it offers its functionality.
Considered a popular storage solution, a garage slatwall usually works hand-in-hand with hooks, shelves, and baskets. The slatwall is responsible for creating a convenient and efficient system for storage.
It makes it easier to install these accessories so that your wall storage can be functional. You can use the slatwall for the following items:
• Gym equipment
• Sports equipment
• Spare parts
• Camping gear
Retractable Extension Cord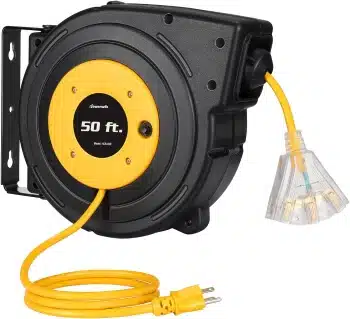 See this retractable extension cord at Amazon [sponsored link]
A retractable extension cord is another useful garage accessory you can have at home. It is the perfect tool to use when the power outlets in the garage are not enough for your usage.
You can connect it from the main house towards your garage where you need some work done. It offers the convenience of taking it out whenever needed and then kept out-of-sight when not needed.
Usually comes in a cylindrical reel drum, a retractable extension cord uses a wounded electrical cord secured using discs or flanges. Easily mounted on the floors, walls, and ceilings, you can just pull out the desired length so as not to have a cluttered cord that is not needed.
Rolling Work Chair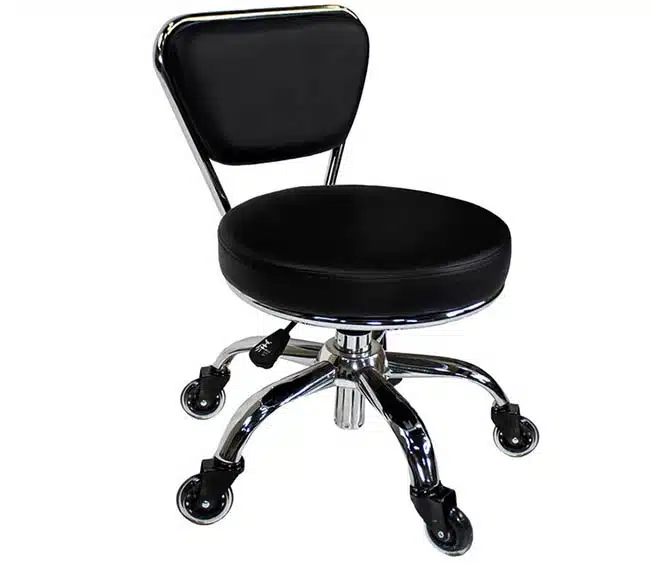 See this rolling garage chair at Amazon [sponsored link]
Another useful accessory for your garage is a rolling work chair or what's also known as a rolling shop stool. A rolling chair is ideal for someone who works and spends a lot of time in the garage, moving from one part of the garage to another.
Equipped with casters, when you're seated on this stool, you can easily slide from one end to the other. When buying make sure you check for weight capacity to ensure it will have the durability you need for heavy use.
Air Compressor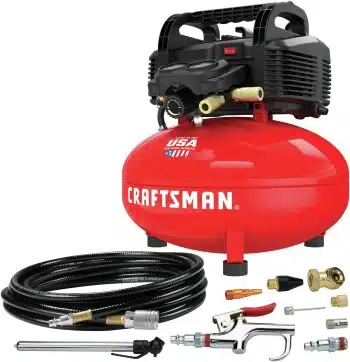 See this air compressor at Amazon [sponsored link]
An air compressor is a device that's used to convert and store power in pressurized air and is a mandatory car tool to have. You can use this useful garage accessory in the following ways:
• Cooling is used in air conditioners, freezers, and refrigerators
• Inflate vehicle tires, airbeds, balloons, and other types of inflatables
• Pressure washing concrete walls and other dirtied materials
• Spray painting similar to power airbrushes
• Timed water displays in water fountains
• For using impact wrenches and nail guns
Wet/Dry Vacuum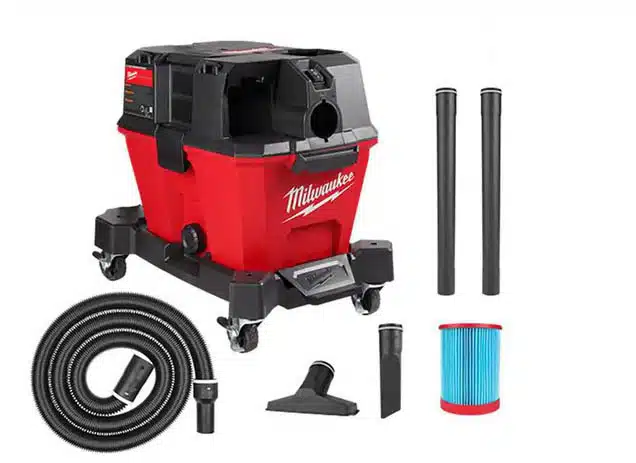 See this wet/dry vacuum at Home Depot [sponsored link]
For more convenience and a straightforward cleaning process, you can also get a wet/dry vacuum for your garage. This is particularly important when you tend to get messy while working in the garage. Created with a nylon and microfiber rotating brush, this device is designed to seamlessly switch between scrubbing and mopping.

Some of the benefits you can expect from having a wet/dry vacuum in your garage include the following:
• Allows you to vacuum and wash your floors
• Effectively cleans area rugs
• Wet mop debris and stains on your floor
Read about more garage cleaning tips and tools on this page.
Blower/Fan Combo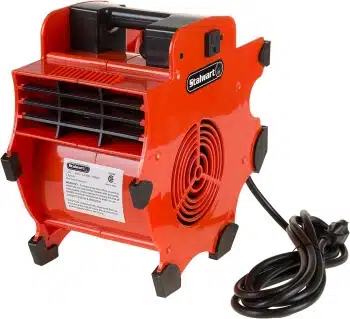 See this blower/fan at Amazon [sponsored link]
The garage is most often a closed space in your home but it is important to keep the air flowing to make it a healthier environment. One of the ways to accomplish this is by using centrifugal blowers or fans, which are devices capable of changing the direction of airflow.
Quiet and reliable, the blower/fan combo can be turned on before leaving the home sot hat when you return, the air and atmosphere inside the garage will be in perfect condition.
Utility Sink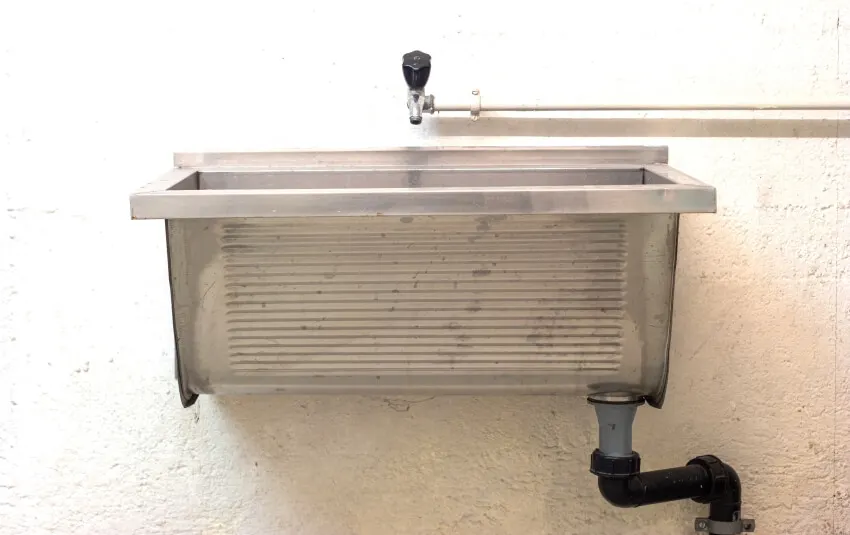 Normally used for commercial cleaning, utility sinks can be a good addition to your garage if you tend to clean many items inside. Since utility sinks are usually bigger compared to domestic sinks so if you will bigger items from rags to cleaning your footwear before entering the home. It may also be a good idea if your home bathroom is a bit far from where your garage is located.
Utility sinks come in different sizes but they are most commonly made from stainless steel they can also come in porcelain when preferred. They are usually freestanding with their supporting legs in their own self-contained units.
Car Wash Kit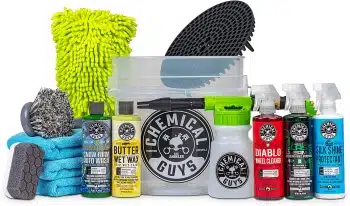 See this car wash kit at Amazon [sponsored link]
Considering the garage is the traditional home for cars, it is only logical to have a car wash kit on hand. While you can always take it to the pros for cleaning, you can save a lot more from doing the cleaning yourself. And here are some of the items that would complete your car wash kit for your garage:
• Bucket
• Hose nozzle
• Car Shampoo
• Washing mitt
• Microfiber towels
• Wheel brush
• Car dash buster
• Dustbuster
• Grit Guard
• Car wax
• Tire shine
• Glass cleaner
Magnetic Tray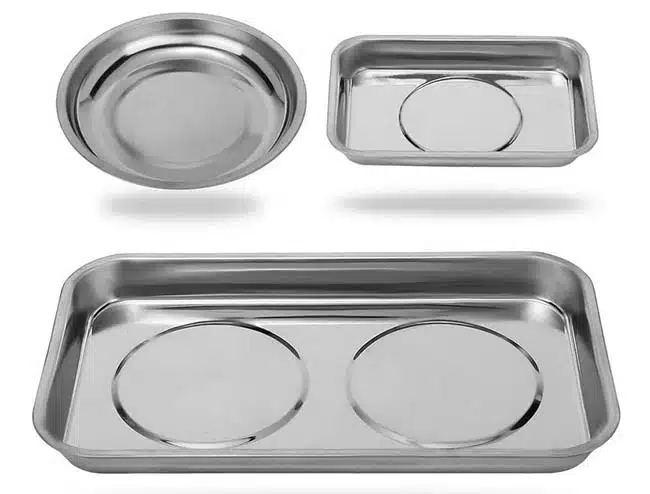 See this magnetic tool tray at Amazon [sponsored link]
A magnetic tray, usually made from corrosion-resistant stainless steel, is used to hold small steel parts, from nuts and screws to bolts. This useful accessory can keep these important tools right where you need them, without worrying about losing them.
A magnetic tray can be used in any position (yes, even upside-down) and usually comes with a protective rubber foot and powerful magnet cover. These magnetic trays also come in a variety of shapes and sizes, as well as designs, so you have options to choose the one that can look good in your garage.
Garage Design Accessories
When it comes to aesthetics, a garage is often overlooked because a clean one can surprise people. You don't have to follow that messy trend and spruce up your garage in the best way possible. Remember that the garage is still part of your home and so extend your design passion from your home to the garage.
To help you style your garage not just to look clean but aesthetically pleasing, here are some design accessories worth looking into.
Garage Lighting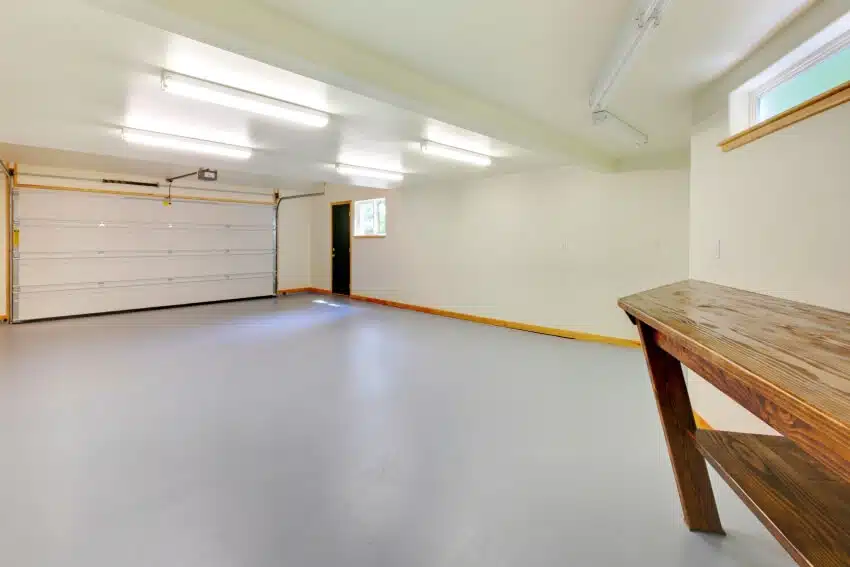 Lighting is a major element in any type of room, whether it's in the kitchen, the basement, or the garage. Whether you just treat it as a storage space, or it serves as a workshop for you, you need the appropriate lighting to brighten up your garage.
For the garage, a flood light may be a good option to consider since this intense and broad beam of light can immediately illuminate a usually dark area like the garage. But before you go and purchase garage lighting, make sure to consider the size of your garage too so as to choose just the right light fixture for you.
Extra Light Fixtures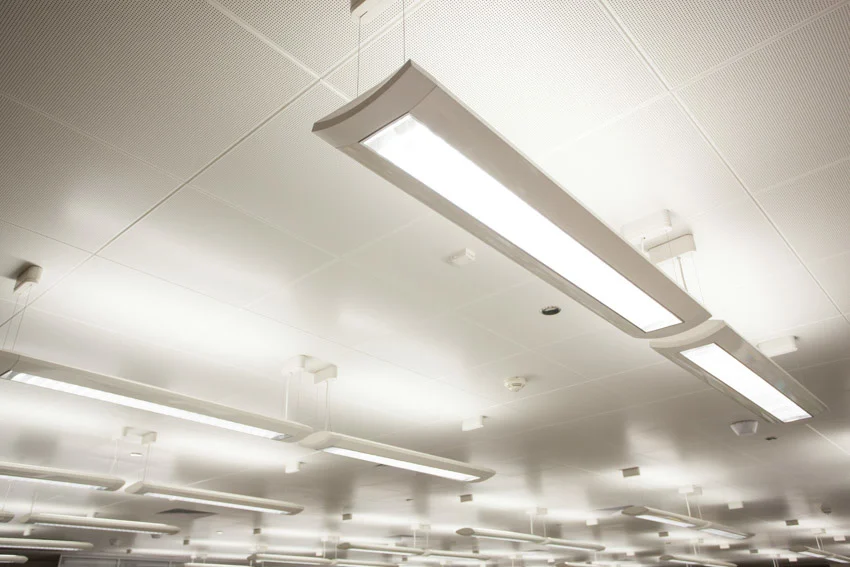 You can consider adding extra light fixtures to your garage on top of the main garage lighting. In this way, if you feel like the main lighting is not bright enough, the added light fixtures will help you with it. Installing extra light fixtures will also be useful if you're only thinking about working on one area of the garage and so can just turn the light on in that area only.
Another light fixture you can add to your garage is a motion sensor light. More than just brightening the place up, this will also keep your garage secure and safe.
Portable Led Lights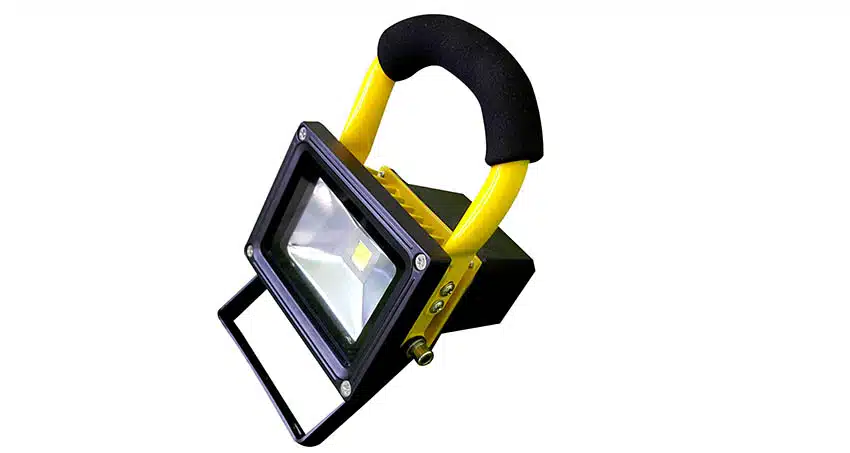 Another lighting fixture you can keep in your garage is a portable led light. These portable light fixtures offer flexibility that other light fixtures do not offer so you can take it out of the home and garage whenever you need to use it. This will be useful during the BBQ night and other entertaining activities in the garden.
Garage Floor Mat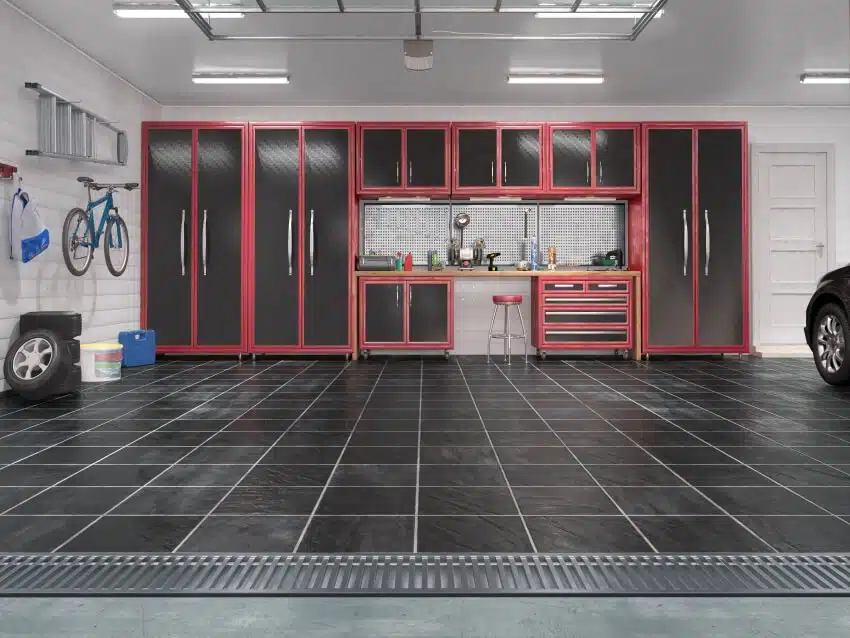 Placing a floor mat on your garage floor can be very useful in reducing the possibility of dirt and stains on the floor. These floor mats are mostly used for automotive work and whenever you're checking on your car. There are many types of floor mats to choose from based on materials, colors, sizes, and purposes.
You can choose one based on your needs and some of the best options to go for are an automotive absorbent floor mat and a parking mat.
Absorbent Floor Mat For Automotive Work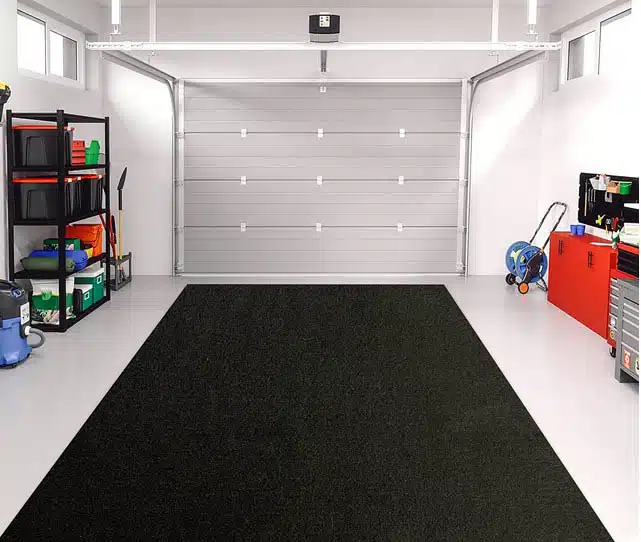 See this absorbent oil mat at Amazon [sponsored link]
Just as it is named, an absorbent floor mat is designed with the ability to hold up gallons of water at a time. The purpose of this mat is to absorb as much water as possible from the car to keep the floor dry and avoid slip-fall hazards.
Besides water, absorbent floor mats can also absorb oil and other petroleum-based liquids from your vehicle which you don't want dripping all over your floor since they can stain.
Parking Mat For Perfect Parking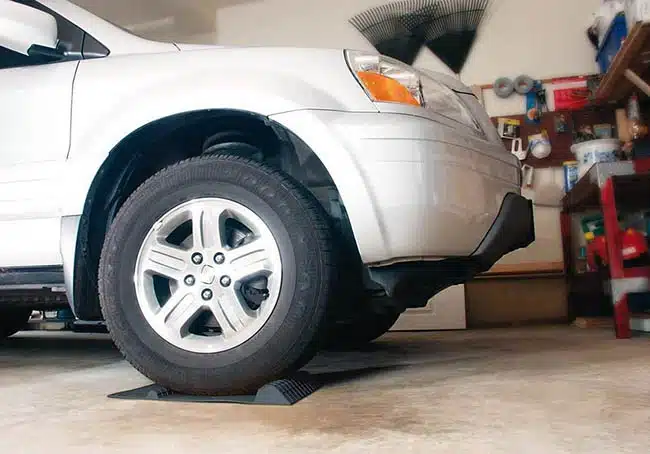 See this garage parking guide mat at Amazon [sponsored link]
Another floor mat to consider for your garage is a parking mat. Different models can be small enough to fit right under your car's tire, or bigger than your vehicle.
A bigger mat is where you can park your car, acting as a parking guide and at the same time protecting your concrete garage floor from mud and dirt. You can get one for your motorcycle and even for your golf cart.
Besides the different sizes, these parking mats are available in a variety of materials and tread patterns so that more than just their function, these mats can also be a pretty addition to your garage.
Door Screen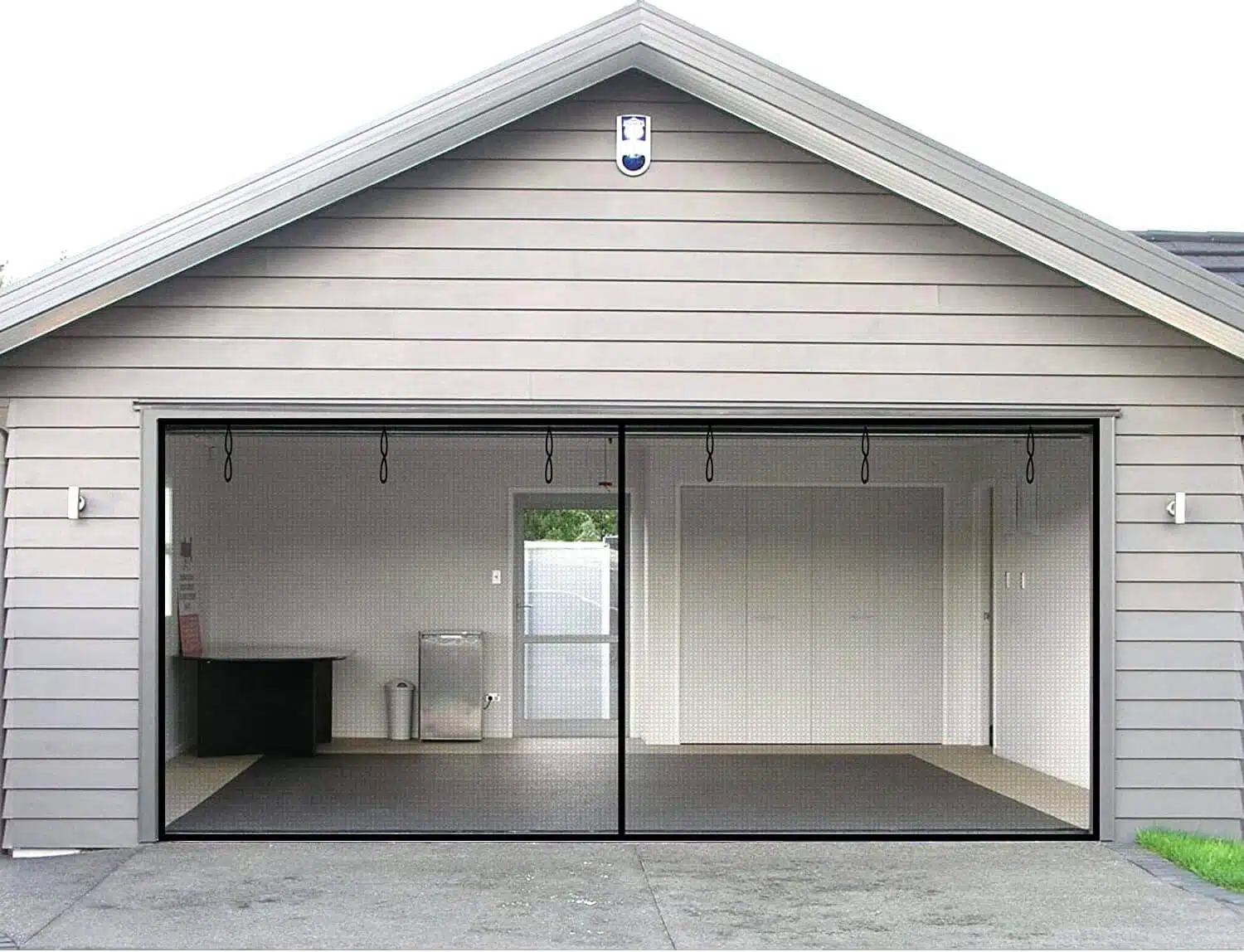 See this garage door screen at Amazon [sponsored link]
A garage door screen is a design accessory you can install in the entryway (similar to a patio-style screen). The screen adds value to the garage by taking up very little space in the process. This simple change is an excellent home improvement tool that provides the following benefits:
• Low cost compared to other home improvement solutions
• Easy installation in the garage
• Features a bug-free barrier
• Introduces an open-concept garage that naturally brightens the room
• Protects the garage from debris (leaves, grime, dirt, and other unwanted materials)
• Provides electric bill savings from getting some airflow during the hot days
Garage Windows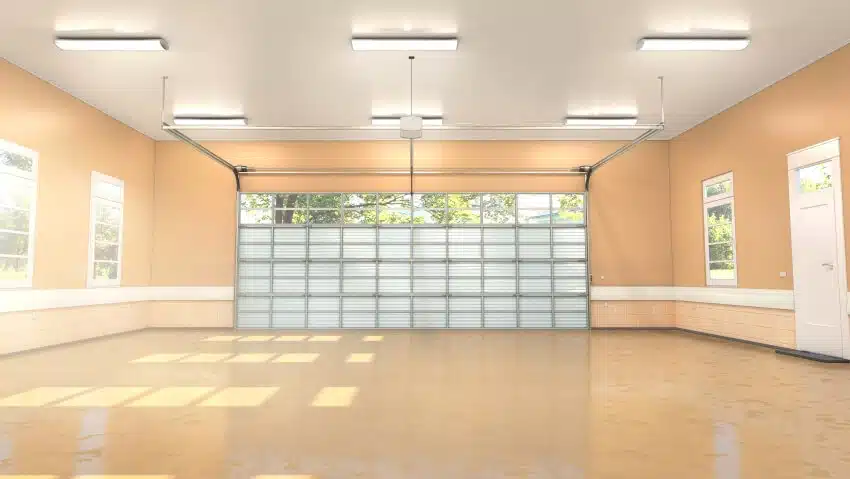 You would often imagine a garage closed off except for its doors but you don't stick with that. Adding windows in your garage is not just a design or aesthetic choice but also a functional and convenient one since these windows can help with your garage's airflow and brightness.
Adding garage windows is also an opportunity to spruce up your garage and match it with the general aesthetics of your home. Whether small or big, you can choose the same window frame you use for your home for a more unified look.
Window Tint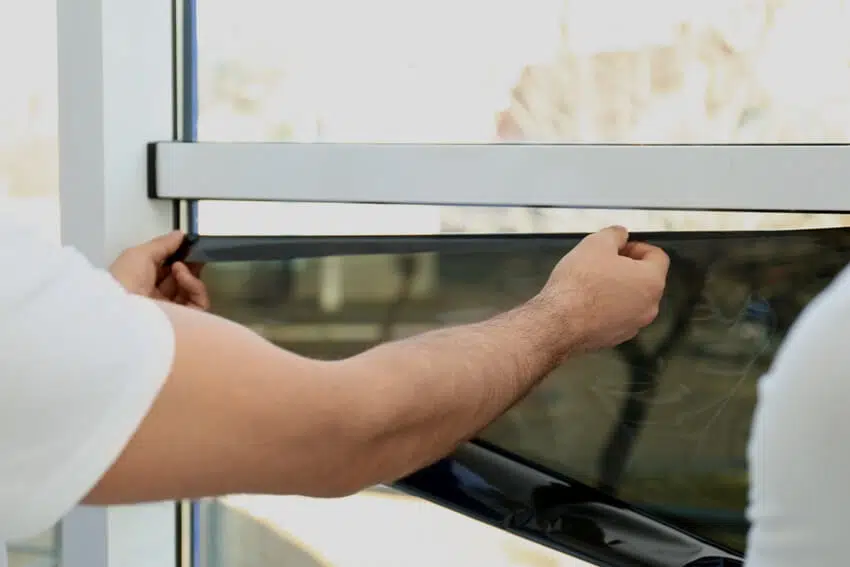 A window tint provide several benefits for garage windows. The tint will give you more privacy while you work on your car or workshop projects. This can give you the options of having a window without fully giving up your privacy in the process. In addition to privacy it also provides security as it will obscure ones ability to easily see through to your belongings.
Garage Insulation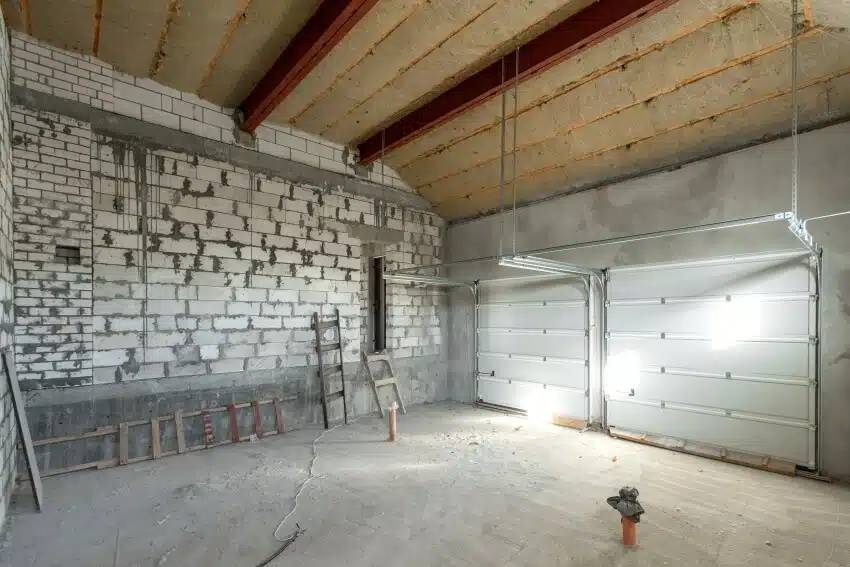 Insulation is a vital consideration in your garage considering the area can get so cold during winter and cold nights. You can significantly reduce the cold air in your garage by introducing a form of insulation in the area, which can be achieved through different means and one excellent example is by adding a garage heater.
You can integrate garage insulation either as a permanent solution or just as an as-needed tool you can whip out. When you insulate your garage and the garage is attached to the main house, an extra thermal buffer is introduced between the outdoors and the exterior walls of the home.
Garage Paint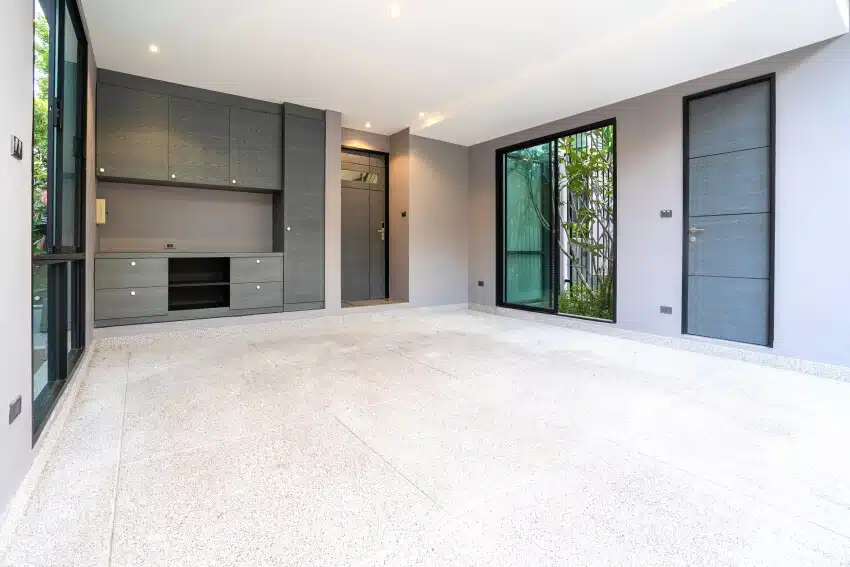 One of the most effective ways to brighten up a garage and give it an enhanced look is to paint it. You don't have to follow the stereotype and keep your garage bear when you can turn it into an inviting place you would love to spend time in.

Paint over the garage walls inside-out, and use the same colors for the exterior so that you can unify the look of the entire home. With the interior though, you can choose the color you prefer that would be comfortable to look at.
Not only are painted garage walls brighter they are also easier to keep clean. An interior latex paint will be a good choice for garage walls as it has minimum odor, a fast drying speed, and is easy to clean off.
Chalkboard Paint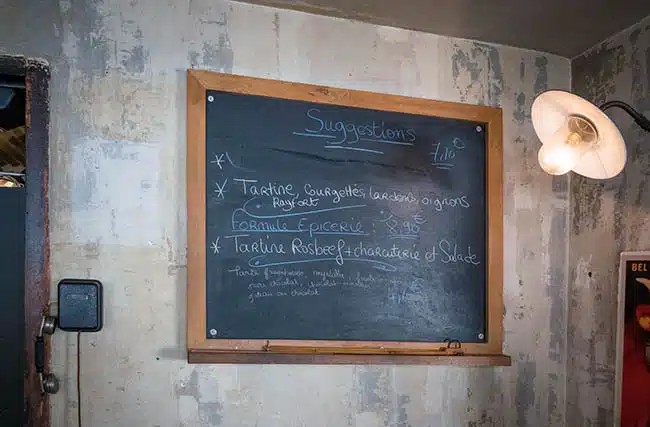 If you treat your garage as a man cave hideout, one trendy addition you can do is apply the chalkboard paint. You would feel like a basketball coach planning your next play when you have an entire wall you can write on. This part of your garage will be a fun addition that will make you want to plan your goals.
Magnetic Door Hardware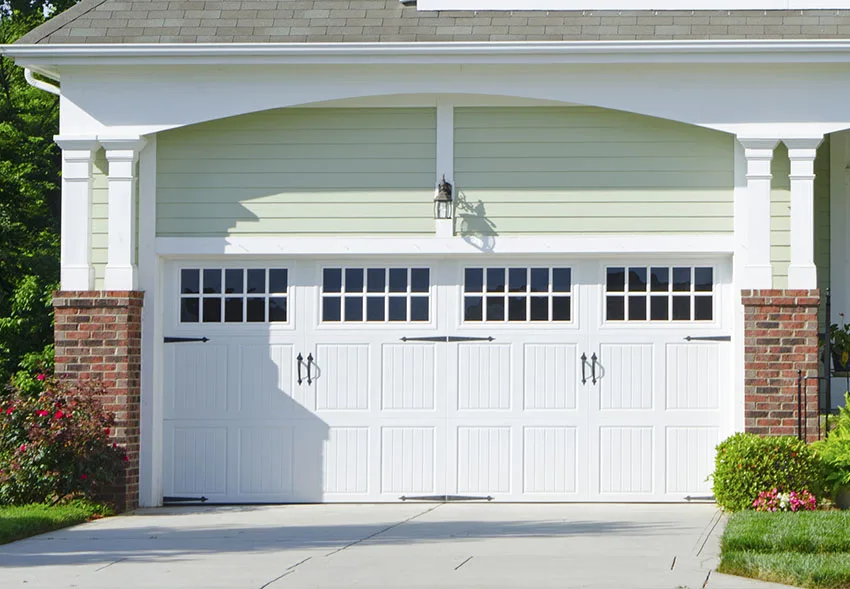 Another accessory to help you design your garage is the magnetic garage door hardware. These are usually decorative accents you can attach to your steel garage door to add something fun and quirky to add for your home's aesthetics. They can easily transform your garage door from a simple bare one to a stylish and fancy door.
Do you have any favorite garage products that we missed? Share your experiences or questions in our comments section below. Visit our guide to the types of garages for more related content.