Welcome to our guide of the top garage design software including both free & paid apps for planning your room's layout, appearance and storage needs.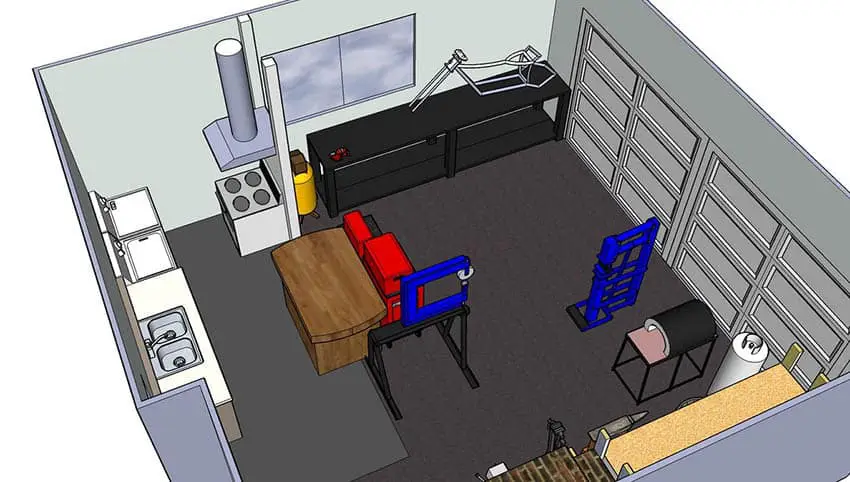 Your garage is as important as any part of your home. Not only can it can be used as a parking for your vehicles, but it can also be utilized as a storage for your items, a place for your hobbies or a workshop. No matter what you choose to do with your garage, it is important that you plan it with care and get everything organized according to your requirements.
Planning any type of space, or a garage in this case, can be quite an overwhelming task. Fortunately, there are many design software programs available in the market which can help you achieve the garage design you envision for your home.
The right design software will help you create plans and layouts easily, while also taking out the guesswork and hassle of the planning phase. And since most of these design programs can be used to create photorealistic 3D's, you can visualize your design easily and change it according to your needs and requirements.
Below, we give you our very own list of top free and paid garage design software in the market:
Top Garage Design Software – Free Options
Free versions of design software are sometimes enough to produce complete 2D plans and 3D perspectives as most of these programs include all the basic features for computed aided drawing and drafting. In some cases, websites offer free trial versions which include all the features of their paid counterparts, but you can only use it for a limited amount of time.
Here is a list of the best garage design software which you can try out for free:
SketchUp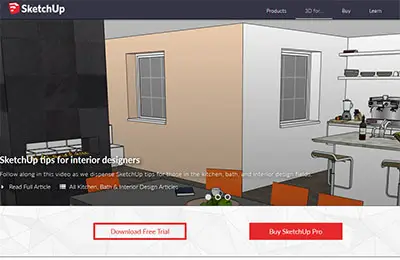 Site: https://www.sketchup.com/
Sketch Up is one of the most recommended design software available in the market. It comes in both free and multiple paid versions and a trial can be downloaded directly from their website. If you do not want to install the program, you also have the option to use this application in your web browser.
The best thing that Sketch Up can offer is that even if you are using the free version, you can still actually enjoy its full features, but only for a limited amount of time.
It is considered to be one of the best garage design planning tools because you can easily create detailed floor plans, layouts and 3D drawings, even if you do not have prior knowledge about any other design software – thanks to its user friendly interface. With its intuitive tools you could use this software to create an attached or detached garage design.
Starting a project in Sketch Up would require you to draw or sketch your floor plan or layout in top view. Then, from there, you can render your 3D model. Although Sketch Up has an auto alignment and easy snap feature for the lines, this software requires you to draw the shell of your floor plan from scratch — meaning the walls have to be drawn line by line.
The wall thickness can be adjusted manually using the "measurement" box at the bottom part of the screen where you can enter your specific measurements.
In general , the only basic commands that you at least need to know to start a 2D drawing and 3D perspective in Sketch Up are the line/draw tool (draw lines using a pencil like icon), offset (which allows you to put a surrounding border to a form – specifically useful for creating walls), push and pull tool (extrudes your drawing upwards or downwards to make it three dimensional), move tool (allows you to navigate elements in your drawing).

To make your garage plan more detailed, you can add other design elements such as windows, doors, furniture, fixtures, storage and equipment by downloading ready made models in Sketch Up's 3D warehouse. These components can be imported to your model for free – you just need to be connected to the internet to use it.
Other finishes and textures like stone, wallpaper, fabric, wood, metal and paint can be selected from their extensive built in material library.
You can also play with the views of your garage plan so you can edit it more carefully, angle by angle. Another added feature of SketchUp is the live walk-through, which enables you to take a visual tour of your model. This makes garage planning more interesting and at the same time, you can efficiently plan the space more carefully and make sure that it meets all your specific requirements.
Floor Planner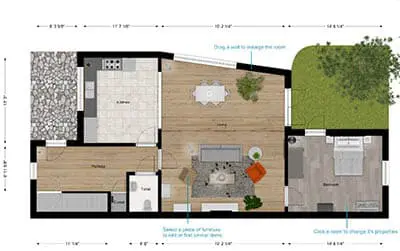 Site: https://floorplanner.com/
Floor Planner is a design and planning software which can be used not only for planning garages but for any type of area or space. This software can be used to create interactive floor plans and detailed layouts and perspectives. Floor Planner provides both 2D and 3D formats which are very helpful in giving a full visualization of how you want your garage to look like.
This software program is fairly easy to work with and produces outputs which are very visually appealing. In fact, one of the most catchy reviews on their website states that Floor Planner is like AutoCad and the Sims combined. It is less complicated compared to other programs and works mostly using drag and drop commands. You can draw floor plans in a breeze or use their intuitive editor which can have your floor plan ready in minutes.
Developing your 2D layout into a more detailed floor plan is also effortless. Floor Planner has an "Auto Furnish" feature which enables you to decorate your floor plans in just one click. You can furnish your floor plan using this command and have it ready in no time.
But if you are into detailing and have a specific garage design in mind, you can pick furniture, furnishings and equipment one by one from their extensive material library which contains over 150,000 ready made models to choose from.
Floor Planner also enables you to generate photorealistic 3D perspectives and stunning photo images from your 2D working drawings. For those in the garage design business, presentation format drawings are very much significant in terms of marketing and for pitching projects to potential clients. While for homeowners, rendered perspectives are easier to understand as compared to technical drawings.
Floor Planner runs on a desktop computer using a browser, but it also has an app version which supports devices like iPhones and iPads. This feature allows you to view your plans anywhere and is extra useful when sourcing for materials and suppliers since you have a copy of your layout ready at hand.
You can sign up for a free version on their website which allows you to create a single project. Floor Planner is also available in the paid version, but the free version works just fine especially if you only need plans and drawings a garage remodelling project.
Bighammer Do-It-Yourself Garage Designer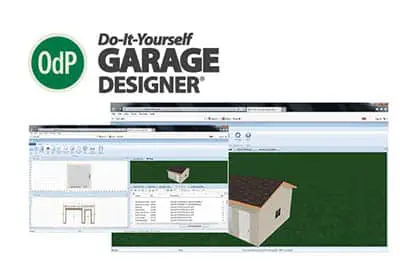 Site: http://www.bighammer.com/cqdesignstartneo/
Big Hammer Do it Yourself Garage Designer is a software program which exclusively focuses on designing, planning and organizing a garage. It is a webpased program, which means you can use it on the browser and does not require to be installed in your desktop computer. However, it only runs on the Internet Explorer.
This garage design software is easy to use and does not require any prior experience to design. It is easy to understand, has a user friendly interface and is intuitive, enabling you to design any garage space from scratch without any hassle. It also mostly requires click and drag methods too, so you can expect to get your floor plan ready in a jiff.
This software program is as detailed as it can get and it offers tons of ready made components, design elements, materials and finishes that you may need in designing a garage. You can choose from materials which are based on real product catalogs.
For every construction material that you opt to put in your drawing, a realistic pricing list is included. In addition, the plans also specify the lumber sizes that you need, the types of roofing, posts, windows and doors. With such, you can be sure that your garage design is an accurate depiction of a space that meets all your specific needs and requirements.
Big Hammer Do it Yourself Garage Designer also has multiple views for the drawings such as Plan View, Post Layout View, 3D View and Dimension View. You also have the option to generate detailed printouts which can be used for building permits.
A 3D visualization setup is also available which can be used to produce presentation format plans and photorealistic perspectives. Aside from working drawings and 3D perspectives, this design software can also be used to produce other construction documents like Complete Bill of Materials, Metric Reports and Material Usage Lists.
BigHammer has a variety of Internet Explorer-based programs that you can use in order to design all kinds of things in and around your home. The Garage Designer program is one of the top options from the company to use. This program lets you prepare a garage based on the materials you want to use in the construction project and the positioning of doors and other features.
Easy Garage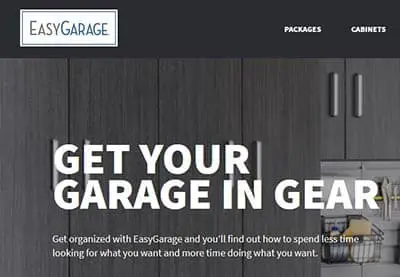 Site: https://www.easygaragestorage.com/
Easy garage is a company that specializes in designing, manufacturing and installing durable and high quality storage systems for garages. The company originally started producing storage systems but they branched out to garage design.
They can assist you if you have design requirements, but they also offer an online interactive design tool which you can use to plan your garage storage system. The best thing about their software is that you can use it for free and save as many designs as you want when you create an easy garage account. In addition, Easy garage is a web based program which means you can use it in any type of browser as long as you are connected to the internet.
Easy Garage makes garage planning quick and easy. Their website offers short video tutorials which will walk you through the process of designing a garage storage system. The software also offers two simple ways to get started on a garage design project.
One is to start with a package or a ready made template which you can edit and customize according to your preference. You can change the color, size and configurations, or add and remove products based on your specific garage design requirements. Another option is to build your own from scratch. You can select different cabinet styles, work surfaces and accessories to create an ideal storage solution which meets your taste and needs.
Easy Garage Storage offers all kinds of garage storage systems like cabinets,drawers and shelves. Aside from these, they also have different accessories which you can choose from such as baskets, bins, slatwall hooks, etc.
One big advantage of easy garage design software is that it makes the whole design process effortless– from creating the layout of your storage to ordering and installation. Whatever item you choose from their catalog includes a full description and specification as well as pricing. Once you have selected everything that you need, the total cost of your garage storage system is displayed on the screen, so you already have an idea of what you need to prepare for your budget.
Virtual Architect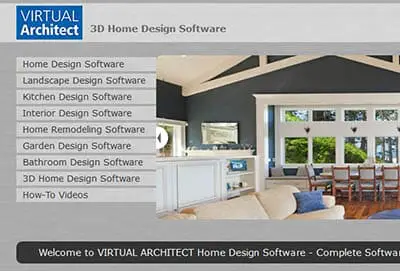 Site: http://www.homedesignsoftware.tv/
Virtual Architect can be used to design any part of your home, including your garage. This software is available in both free and paid versions, but the latter has more features. Visual Architect can be used to draft 2D plans and 3D format drawings. This design software is fairly easy to use and does not require any professional experience. Their website also offers tutorial videos that can help you get started with your project.
Creating a floor plan using this design software is uncomplicated. It gives you to option to either start drawing from scratch or use their design wizard feature. With this, you can upload a photo of your garage to the software which will be analyzed by the design wizard. The design wizard then automatically generates a layout which you can adjust based on your requirements.
Individual features of the design such as the dimensions,wall heights and widths can be tweaked and other components such as doors, windows, storage and furniture items may be added as you go along the way. Materials and finishes may also be incorporated into your drawings to make it more detailed.
You can also use Visual Architect to create a 3D view of your garage plan. Lighting, shadows and reflections may also be added to produce a more photo realistic view of your garage. Aside from the 3d, a live walk-through is also another bonus feature of Virtual Architect.
American Garage Builders Designer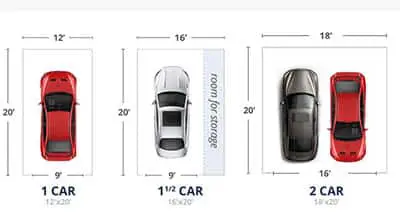 (Software currently offline) Site: https://www.americangaragebuilders.com/
American Garage Builders is a Wisconsin and Illinois based company which specializes in garage design, consultation and construction. They developed their own web-based software program to help customers customize their garage design according to their requirements and experience the designing process first hand.
American Garage Builders Designer allows you to create a top view or a 2D floor plan of your garage and put other design elements into it to make it more detailed. You can choose the size of your garage and then drag premade components into your plan such as different sized vehicles, bicycles, motorcycles and other furniture pieces like benches and storage. Additionally, you can put windows and doors according to your specific size requirements by selecting from their library.
American Garage Builders Designer is a software which is highly suitable for beginners. It is fairly simple and easy to work with so it is a great software to start working with. This design program is not as detailed and as advanced as the other software mentioned here, however, it works really well in giving you an overall idea, visualization and layout of how you want your garage to look like.
This software also focuses more on organizing your garage and is specifically designed for planning extensive garage building projects.
Top Garage Design Software – Paid Options
Aside from the free design software available for download online, you can also opt to buy garage design software. But, why do you need to use the paid version, if you can already create your drawing using the free version? Sometimes, you may need more detailed plans and a complete set of working drawings to finish a remodeling project.
In general, the main difference between paid design software programs and free design software programs are their features. More advanced programs would allow you not only to make simple 2d plans and basic 3D drawings, but instead it can be used to create complete technical working drawings, photorealistic 3D perspectives and live walkthroughs.
Here is a list of Top Free Garage Design Software which you can use for your different requirements:
Sketch Up Pro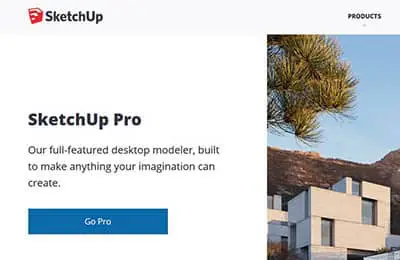 Site: https://www.sketchup.com/products/sketchup-pro
Sketch Up Pro is one of the most recommended design tools used by designers, architects and artists. It offers the same features that the free version has, plus many more. Sketch Up Pro includes both 2d and 3D program which enables you to create floor plans and perspectives.
This design application also has plug ins which are available for download such as lighting tools, renderers and Vray. The plug ins help enhance the perspective of your plan using reflections, shadows and lighting effects. You'll be surprised with the photorealistic outcome Sketch Up pro can create.
For someone who has enough background in computer applications, Sketch Up Pro is fairly easy to use and developing a floor plan and 3D can be easily learned. First, you can start by making a top view or floor plan of your space by entering the dimensions and using the "line" tool – an icon which looks like a pencil. Then once you have finished the layout, you can start extruding the walls using the "push or pull" icon.
Adding other design elements in Sketch Up pro is also much easier because instead of drawing each item from scratch, you have the option of downloading storage, furniture pieces, accessories, appliances and other furnishings from their 3D warehouse (a library of models available for use without an added cost. And to make your model more realistic, you can add the finishing details like paint or different textures using the material library.
This application is not a web based program, which means you have to download it and install it on your computer. Additionally, you do not have to be connected to the internet to use it. With the Pro version, you can also export other file formats such as CAD and PDF and produce construction working drawings. Other special features enable you to generate lists, make reports and export animation videos. Walk throughs can also be created using any 3D model you have drafted.
Room Sketcher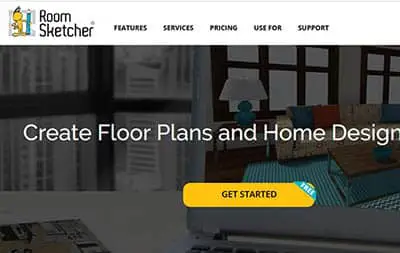 Site: https://www.roomsketcher.com/
RoomSketcher is a home design tool which you can use to create floor plans and perspectives. It also allows you to decorate, furnish and accessorize your layout so you can fully visualize it in 3d. While you can try it for free, the paid version offers complete features to make your 3d more realistic.
RoomSketcher basically offers three things, (1) create high quality 2D and 3D Floor Plans, (2) produce stunning and realistic 3D Photos and 360 Views and (3) generate interactive Live 3D walkthroughs.
Creating and drawing floor plans is easy, but if you do not have the luxury of time to do it yourself, Room Sketcher has an extra service which enables your floor plans online so an expert illustrator can do it for you. You simply need to upload the sketch or blueprint of your room or home and expect to have the sketched plan ready the next day.
The drawings which you can create in RoomSketcher are also detailed. 2D floor plans have measurements, dimensions and areas. The 3D plans can be generated by a simple touch of a button and the resulting images are very realistic.
You can furnish and decorate your plan with different textures, colors, materials, and furnishings. Aside from 2D and 3D, Room Sketcher also hs 360 panoramic views of your plan, so you can visualize the shape of your space more. But if you want the full experience, you can also generate a Live 3D walkthrough of your floor plan. This feature provides an interactive way to virtually tour your project.
Room Sketcher is available in both free and paid versions and can be used either online or offline in a computer, tablet or any mobile device. It also allows you to sync your works in different devices via the cloud so you can access it anytime and anywhere. You can also download your works in different formats, have it in multiple scales and render it in high quality versions for a more photorealistic print.
Elecosoft 3D Architect Home Designer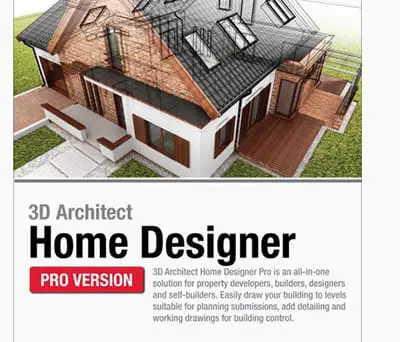 Site: https://www.3darchitect.co.uk/3d-architect-home-designer-pro.html
Elecosoft 3D Architect Home Designer is another design tool which enables you to create both 2D plans and 3D perspectives. Just like the other softwares mentioned, it has both a free and paid version — the latter unlocks more features which can help you produce more detailed drawings. The software is easy to use and does not require any knowledge of CAD, making it one of the most used design software by both design professionals and enthusiasts alike.
Making a floor plan using 3D Architect is easy. You can either draw the walls one by one or use their " pre-sized features" by just clicking and dragging. The design software also features an advanced wall editor that allows you to create a space that fits all your requirements.
The editor allows you to adjust the components and parameters such as the thickness of the walls, doors and windows. Aside from the wall edition, 3D Architect also has a custom roof design feature. Additionally, you can customize the materials, finishes, textures and colors, as well. Once you have a 2D layout in 3D Architect, you can convert it into a 3D perspective with just a click of a button.
The best thing about Elecosoft 3D Architect Home Designer is that it has a section that is dedicated for garage design. Just like any space, you can create a full detailed drawing of your garage to get a careful look of how it will look like.
Chief Architect Home Designer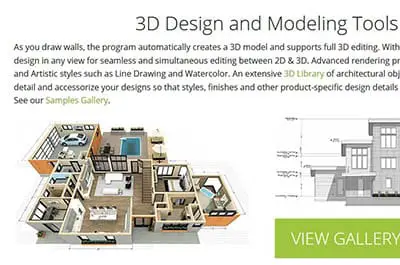 Site: https://www.chiefarchitect.com/
Chief Architect Home Designer is another great design tool which you can use to get a full detailed visualization of your home design plans and working drawings, including your garage. It also offers both 2D layouts and 3D perspectives in day and night views.
Chief Architect Home Designer has a premium version or paid version which has a full support for a variety of rooms, including garages. Aside from the paid and free version, Chief Architect is the only software which allows you to "rent" the software. Renting the software enables you to use all the features of the product but only for a limited amount of time. This option costs less than buying the whole product.
With Chief Architect, you can design floor plans and adjust the walls and components like the windows and doors. Other parameters such as the thicknesses and lengths, heights and sizes can also be customized. It also has pre-designed plans which makes your work easier. In addition, the software also automatically adjusts the roof, framing and foundation of your plans if you make changes in the walls.
3D drawings can also be created easily using the different design tools that Chief Architect offers. Because this program allows you to add materials, textures and colors to your drawings and perspectives, the resulting 3D views are more realistic and visually appealing.
When it comes to garages, Chief Architect has a section dedicated solely to this type of space. Aside from pre loaded floor plans, you can also choose vehicle sizes, material finishes and fixtures which you can add to the drawings. The items, although virtual, are based on realistic dimensions, so you have an exact idea of how the fixtures, storage and cabinets in your garage will take up the space.
Another important feature of Chief Architect is the cost calculator. It gives an estimate of the potential cost of your project based on the items that you add into your floor plan.
Virtual Architect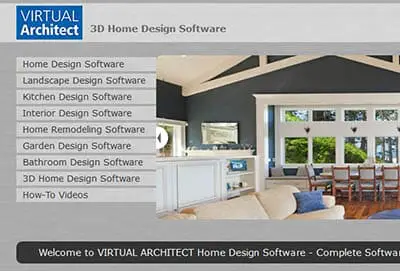 Site: https://www.homedesignsoftware.tv/
Virtual Architect can be used to design all parts of your home, including the garage. Just like all the software programs mentioned above, this application enables you to create floor plans, layouts and generate 3D drawings, perspectives and walk-throughs.
However, one feature that sets Visual Architect apart from the others is that it has a Design Wizard. With this, you can upload a photo of your existing garage to the program and have it analyzed. The design Wizard gives you an approximate idea of your garage's existing layout. Then, you can easily adjust other details and features of your space based on your requirements, specifications and preferences.
Virtual Architect's website highlights three major features of the software namely : (1) sketch, (20 customize and (3) furnish. The program allows you to sketch and draw new rooms with just a simple drag and drop command.
Other design components such as garage doors and windows can be added to your drawings too and you can choose from different types of doors in its library, such as sliding, French, bi-fold, even garage doors. The same goes for windows – choose any size or any type, such as hung, sliding, bay, or louvered.
Once you have added your architectural component into your garage plan, you can also make your drawings more detailed by customizing the materials and finishes such as cabinets, lighting, window coverings, flooring, paint and more. Its extensive material library also includes paint, stains, and fabrics from leading national brands. Additionally, furniture, appliances, electronics and fixtures can also be selected and put into your drawing too.
Visual Architect can also convert your 2D floor plan into impressive 3D drawings. The software renders your design in a photo realistic manner and can also be used to create a 3D Walk-through or a visual tour of your space so you can get a full experience.
With Visual Architect, you can also import any file type straight into the software. This is especially useful if you already have an existing plan or CAD file. It also automatically generates blueprint-style plans so you have a precise plan to follow once your garage remodeling takes place.
SmartDraw Building Design Software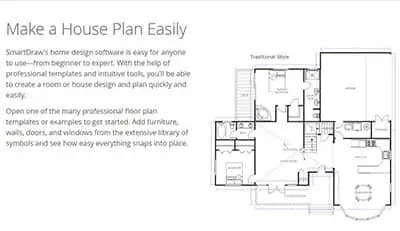 Site: https://www.smartdraw.com/floor-plan/home-design-software.htm
SmartDraw Building Design is a computer program that focuses more on 2D drawings like blueprints, floor plans and other building design working drawings. SmartDraw Building Design can be used as a n alternative to Auto CAD which are a bit more complicated.
This building design software is more basic and is easy for anyone to use — even for beginners and those who do not have prior knowledge on other design tools. It can be installed on a computer or tablet and has a free trial version downloadable online.
With the SmartDraw interior design program you can easily and quickly create floor plans using a number of templates that are readily available for editing. You can select the closest one to your project and adjust and customize it according to your requirements and needs.
SmartDraw enables you to create a complete, detailed floor plan and layout of your space, including your garage. You can start with a basic layout that includes all significant annotations, your garage dimensions and measurements like the lengths of the walls, sizes of windows and doors and the total area of the space.
You can then add other building components such as the doors and windows. From that basic drawing, you can also develop a furniture layout using thousands of ready made symbols which you can find in their extensive library. Textures and other materials for walls, floors and counters are also available in SmartDraw.
In terms of garage design and drawings, individual items like storage units, cabinets or even tool boxes can be added to your plan. The program gives you full control; on how you can make your garage layout more efficient, functional and suitable to your requirements.
SmartDraw's design tools are all easy to use, mostly needing only a simple drag and drop action to use. The walls also snap and align easily, so your drawings are more accurate and are quicker to finish, as compared to adjusting the walls one by one.
CADPro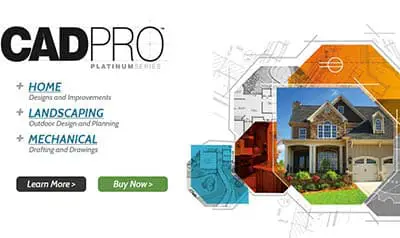 Site: https://www.cadpro.com/
CADPro is another popular drafting software which can be used to create simple to more advanced working drawings for home design, mechanical and technical design and landscaping. CADPro has 2D and 3D options This computer-aided design tool can be used for all parts of the home, including your garage. It is an ideal option if you are looking to produce high quality garage working drawings.
CADPro has a user friendly interface and includes a wide range of intuitive design tools. Starting a floor plan is easy because it gives you the option to download free plans and projects which you can adjust and customize based on your home's existing plans or your remodeling requirements and specifications.
Aside from this, you can also opt for their "Sketch Tracing" feature, which allows you to trace an existing sketch you have. You just simply need to sketch your home design on a piece of paper and then scan it. The program then converts the scanned sketch into a traceable template which you can modify.
Another notable feature of CADpro is "Photo Tracing", which is almost similar to sketch tracing, but instead of uploading a sketch, this option requires you to upload a photo of the space you want to design. Say if you are looking to design your garage, you just simply need to take a photo of it using a digital camera or a smartphone, import it into the software then it converts it into a traceable template.
To make your plan more detailed, you can add custom items like furniture, door opener, storage, fixtures and equipment. Physical parameters such as the measurements and dimensions can also be added to make your working drawing easier to understand.
Aside from the 2D plans, you can also use CADPro for 3D views which gives you a more detailed and realistic approach to garage design. With this option, you can have a full grasp of how the space will turn out once constructed.
Visit our garage makeover page to see more ideas related to this topic.
[expand title="Show Image Sources" swaptitle="Hide Image Sources"]
(1) Tmib from Flickr (Creative Commons License)[/expand]