Welcome to our guide to portable garages including details about garages vs carports, material types, popular sizes and DIY kits.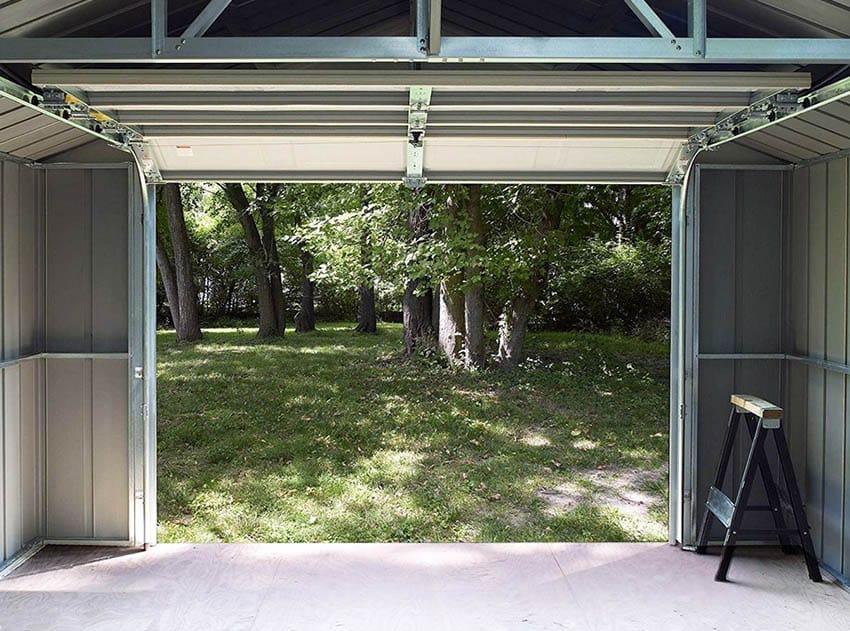 Storage space is necessary for any home. This is how homes have enough space not only for someone to live but for organizational use and the addition of recreational space as well. Sometimes, though, this space must be manufactured.
For example, you might not have a full garage to protect your vehicles and general belongings and you might not want one. An alternate option is to try out a portable garage which brings its own benefits to the table such as added convenience and mobility. Detached portable garages stand out as a beneficial choice for homeowners looking for some extra space.
What Is a Portable Garage?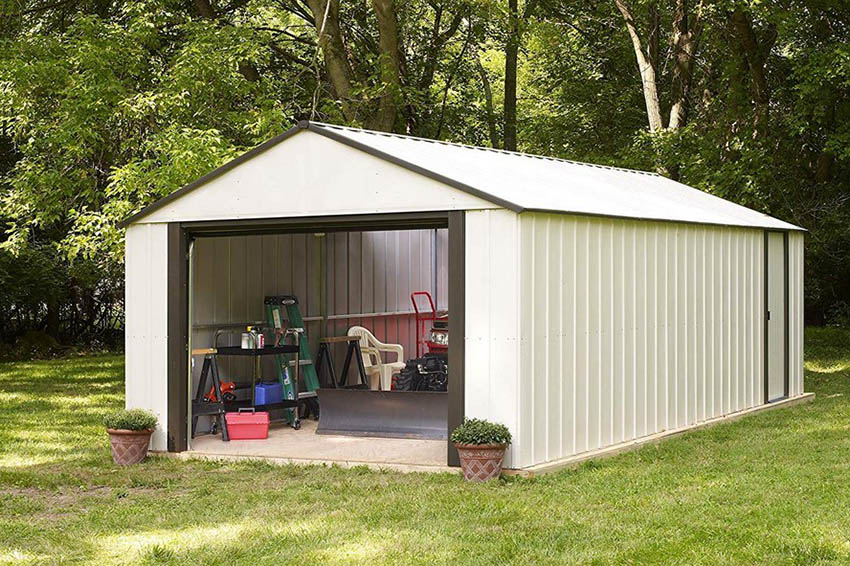 Portable garages have the same purpose as a standard, fully-constructed garage. It offers you a storage space for vehicles and other smaller equipment that you might want to be covered and protected from the adverse weather elements.
The biggest difference between a portable garage and a traditional garage is that portable garages are temporary. Instead of being permanently fixed in the ground, a portable garage is made with metal poles and a removable cover. When you're ready to move the garage, all you have to do is take it apart and reassemble it later when you need it again. This assembly and disassembly are usually designed to be as straightforward and painless as possible.
When planning your yards layout you can use one of the top garage design software programs to visualize the area before purchasing anything.
Portable Garage vs. Carport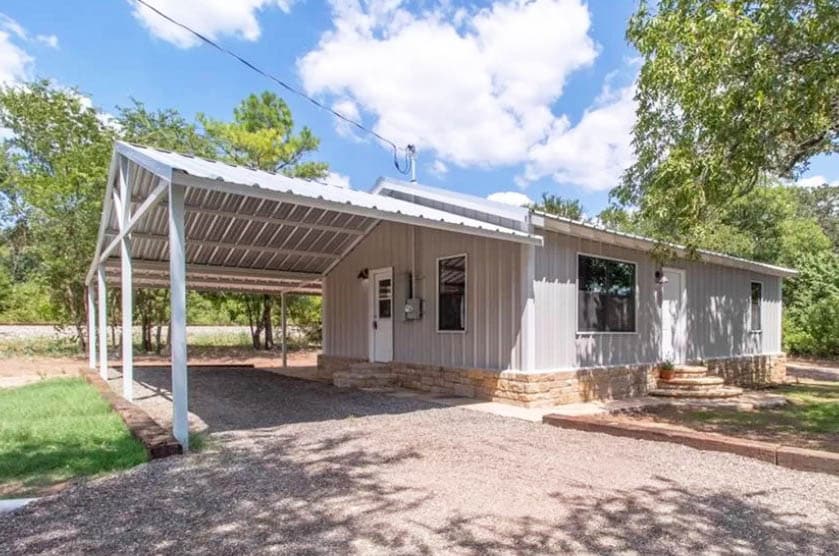 The biggest differentiating factor between a portable garage and a carport is how much coverage the structure offers. Portable garages, much like traditional garages, offer full coverage and are designed as a full structure. Carports, on the other hand, only have a roof without walls. Even without walls, these carports offer suitable protection from the elements such as keeping falling snow off of windshields. Read more about the different types of garage doors for the home here.
Both portable garages and carports come in multiple sizes. These are usually measured, in the most straightforward terms, in the number of vehicles they hold. Single structures or structures with two or three-car support are the most common sizes.
Portable Garage Materials
Portable garages aren't a one-size-fits-all type of investment. Rather, there is a wide array of models and designs that homeowners can choose from. One of the most fundamental features that can change the design of a portable garage is the material it's made from.
Fabric Types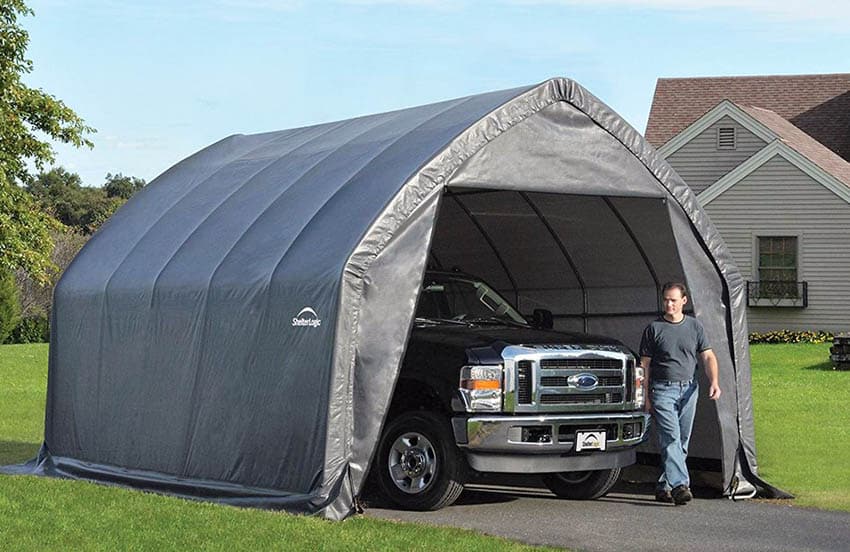 See this portable garage kit on Amazon
Fabric portable garages don't refer to the same fabric in your clothes. Rather, these are made of materials such as polyethylene or sturdy canvas. These are strong enough not to tear easily under pressure or collapse under a heavy weight load. They also work well at keeping moisture out and are often less expensive than more heavy-duty materials.
That being said, there are some comparative downfalls. For example, materials like steel and aluminum are consistently stronger and more stable than fabric covers because they're more rigid than their fabric counterparts.
Steel
Steel is a well-known material for being one of the strongest commonly used materials in construction. It isn't likely to get damaged even in tough conditions and it'll last a long time. This material also doesn't require a high level of maintenance to keep it in top condition over time.
When left untreated, steel does have the downfall of a predisposition for corrosion and rust but certain treatments can help. Steel isn't well-known for being the most aesthetically pleasing material to use thanks to it's distinct and sometimes industrial appearance.
Aluminum
Aluminum sheds have a lot of the same benefits as steel sheds but it also includes a few key differences. For one, it is naturally resistant to rust and corrosion. This makes it slightly easier to maintain in wet conditions than steel.
A feature that has both pros and cons is the lightweight design of aluminum. This makes it easy to use but it also makes aluminum more malleable than steel. So, if you have to use the garage in harsh weather such as hale, you're more likely to see signs of damage.
Wood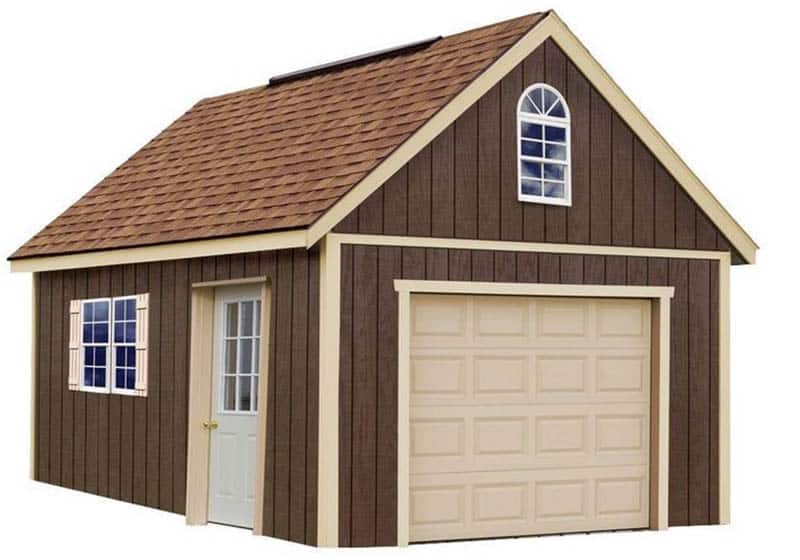 The appearance of a wood portable garage is one of its biggest advantages. Wood can be designed in a number of different ways and the different types of wood used can alter the appearance of portable garages or any carpentry product.
You will want to carefully maintain wood. The biggest concern to worry about is treating the wood for pests. An infestation of carpenter ants or termites can spell the beginning of the end for a wood structure.
Most Popular Size for Portable Garage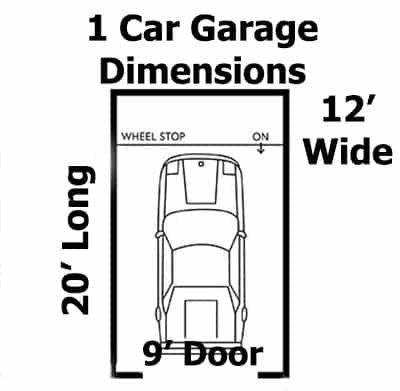 When you're planning on purchasing or building a portable garage, you'll need to consider how much room you have and how much room you need. As mentioned earlier, they're often defined as single, two, or three-car sizes. However, the exact measurements are important when determining the space you need as well.
A standard, single portable garage measures 12 feet wide by 20 feet long with a 9 foot wide doorway. Larger garages are 18 feet wide which is enough for most types of vehicles. For a two-car portable garage, this width extends up to 24 feet but an additional 6 feet is a good idea if you need additional storage space. Triple portable garages are 26 to 30 feet wide and offer the most space. Read more about the standard garage door dimensions here.
How Much Does It Cost to Build a Portable Garage/Carport
Carports come at an average installation cost of around $6,000 for a two-car port. The full range of costs usually falls within a $4,000 to $7,100 range.
Portable garages come at different costs depending on the material you're using. Simple canvas garage ports can be purchased for under $1,000. Models made of materials like wood that are modeled after traditional garages can fall within a range fo $4,500 to $13,000.
By comparison, the average two-car garage traditionally costs between $7,500 to $14,200 to build. A three-car garage can cost up to an estimate of $42,700.
Portable Garage Kits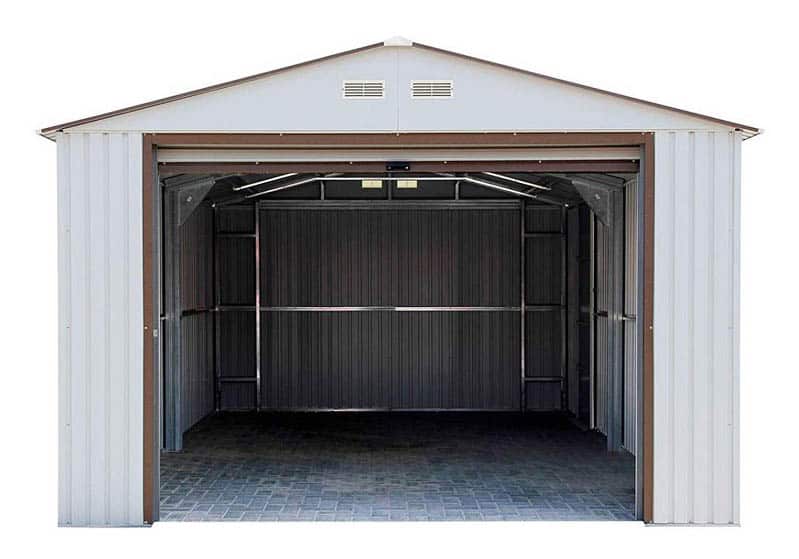 See this portable garage kit at Amazon
When you're interested in adding a portable garage to your home, you have a few options. If you're a particularly skilled DIY fan, you can make your own. You can even contract someone to create a portable garage for you.
A middle ground to creating something yourself and having it created for you is to invest in a portable garage kit. These give you everything you need but allow you to put the pieces together yourself. Kits like these come in multiple sizes and styles, so you still have plenty of variety to choose amongst to match your tastes and needs.
Anchoring a Portable Garage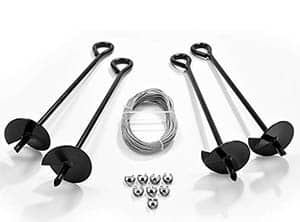 Portable garages don't simply sit on the ground with nothing tethering them in place. Instead, they have to be anchored into place. This ensures that it doesn't fall or shift even when the weather gets rough.
The first thing to do to ensure you secure your portable garage correctly is to check the manufacturer's instructions. Beyond that, you can invest in additional anchors made for portable garages. You can simply affix the anchor into place, much like when you pitch a tent. Even once these anchors are installed, it doesn't take away from the portability of the garage since they can be removed whenever needed.
Portable Garage Accessories
Portable garages aren't without their handy accessories either. Whether included or added to a purchase, these accessories will add to the functionality of your portable garage.
Portable Garage Floor
While many full portable garages, as compared to carports, have walls as well as an overhead shelter. However, not all of them have a built-in floor with them.
Portable garages with floors do come with a few essential benefits. The biggest advantage is an additional level of protection. If you have a garage floor, you're less likely to suffer a wet surface to base the garage after harsh weather. While this might not be essential if you're only storing your vehicle, but it can be extremely helpful if you're storing other items like boxes in the portable garage.
Ground Anchors/Weights
We've already covered that portable garages and carports can't be left untethered once it's set up. Without being properly grounded, the garage is likely to shift out of place. This is especially true when you're using the garage in rough weather conditions.
This is what ground anchors and weights are for. These tools are here to ensure that your portable garage is safely secure but they don't add a level of permanence to the use of the garage. When you're ready to move or store the garage, these weights and anchors can be removed and replaced. Ground anchors often are made of galvanized steel for protection from the outdoor environment with wire and clamps to secure the roof of the structure.
Electricity Hookups
By nature, portable garages are simple. This makes them easy to set up and take down when you're ready and it keeps storage stress-free. Yet, this doesn't mean that you have to live without extra amenities in your portable garage if you're interested in them.
An accessory such as electrical hookups which, of course, allow you to add electricity to your portable garage, will help you add these amenities. This can be particularly helpful if you plan to work in the garage so that you can add lights for added visibility.
Portable Motorcycle Garage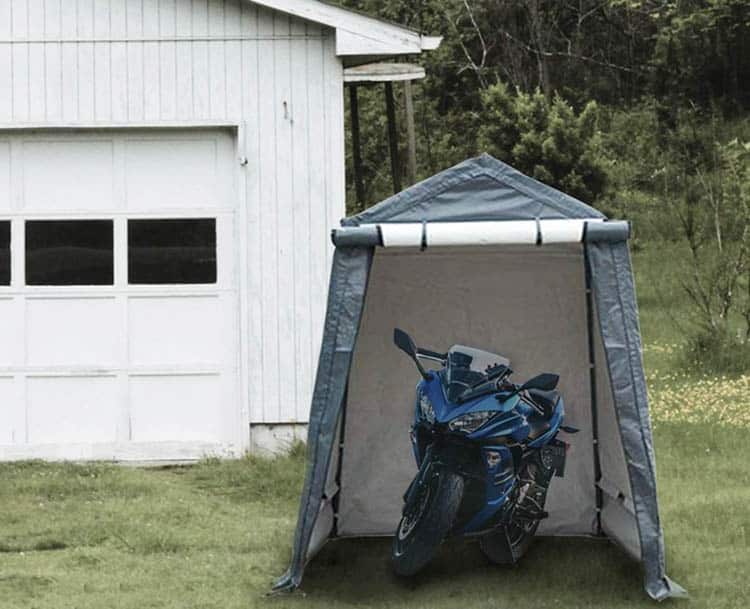 See this portable motorcycle garage at Amazon
While full car-sized garages fit the needs of most drivers, they can be an unnecessarily large structure for motorcycle owners. After all, these homeowners don't need as much space to store and protect their vehicles.
This is why specialized portable motorcycle garages are so important. They don't require the same width to protect the motorcycle, so this can save you space in your driveway or yard. By most recommendations, motorcycle owners will want a storage space of at least 6′ x 8′ to comfortably keep the motorcycle out of the weather.
Portable Garage FAQs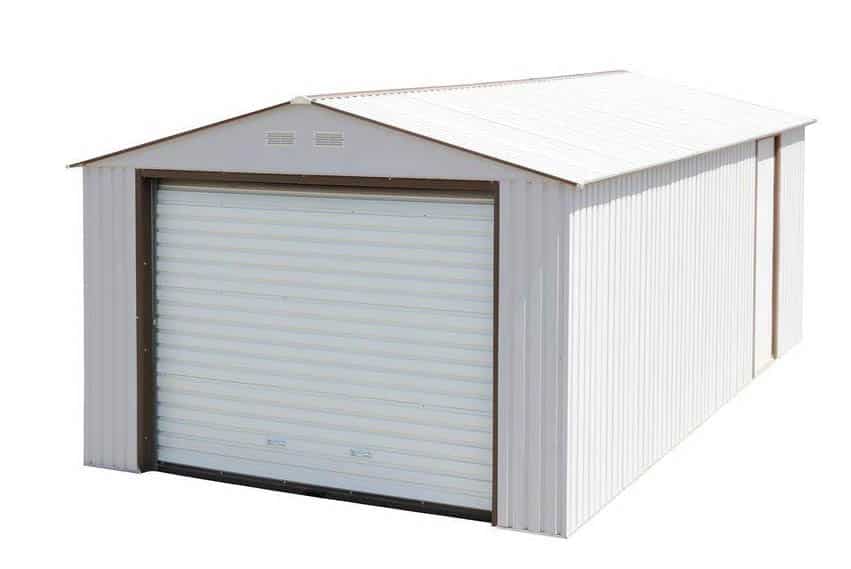 See this garage on Amazon
How Long Do Portable Garages Last?
Portable garages have a lot of benefits ranging from ease of use to the cost of the garage. However, another huge factor to consider is how long the purchase of a portable garage will last. After all, if you have to frequently replace your portable garage, you aren't actually saving money.
Luckily, if you purchase a heavy duty portable garage, it will last you within a range of 10 to 20 years. The exact lifespan depends on a few factors such as the quality of the portable garage, the material it's made of, the conditions it's exposed to, and how well maintained it is.
Do I Need a Permit for a Portable Carport?
When you're building a structure, such as a permanent, traditional garage, you'll need a permit. Even if you're building it on a property that you own, you'll likely need special permission to start construction. However, this isn't the case for a portable carport. If you want to have a portable carport on your property, you don't need to worry about obtaining a permit to keep going. However, if you live in an area with a Homeowners Association it's a good idea to check with them to ensure having a carport or portable garage does not go against any of their rules.
Best Portable Garage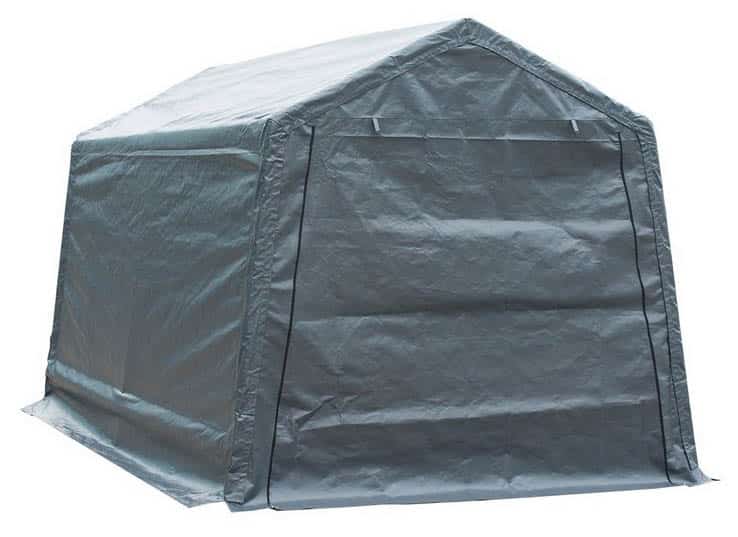 See this portable carport canopy at Amazon
One of the best choices you have when it comes to portable garages is the Abba Patio Storage Shelter. It comes in four sizes including measurements of 6' x 8', 7' x 12', 8' x 14', and 10' x 10'. With this many options, you have plenty of options to help you find the size that you need personally.
The garage is made with a 1 ½-inch powder-coated steel frame and a polyethylene cover. This keeps the garage safe from rust, corrosion, and UV fade as well as protects your car and belongings from any unfortunate weather. It's also made to be easy to set up, collapse, transport, and store which makes it truly portable.
Best Portable Garage for Snow Load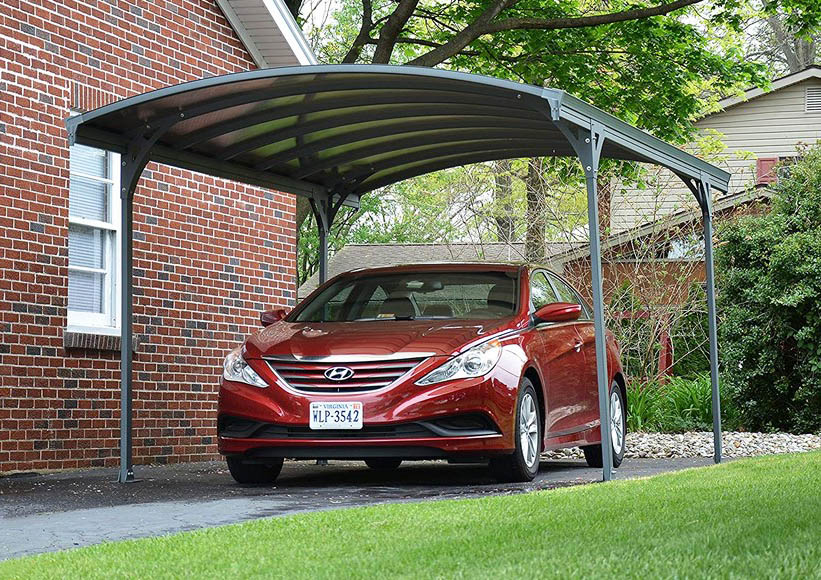 See this carport cover at Amazon
If you live in a colder climate, you might be worried about the snow load on your car rather than all-encompassing protection. In these cases, a carport like the Palram Vitoria Carport & Patio Cover is a great choice.
The carport is 16' x 10' x 8' and gray. While it doesn't have walls, it does feature a roof made with 6 mm polycarbonate panels. These panels aren't going to break under the weight of heavy snowfall and they're shatter-resistant. Since they also feature UV protection, you won't have to worry about discoloration over time. With a 10-year warranty for U.S.-based customers, you have a safety net to fall back on in this carport as well.
For more related information, see our article about attached vs detached garages.